Article updated 7/1/23

It should come as no surprise that Manhattan has an exceptional number of outdoor venues to choose from for your event. The art of event planning is finding which one pairs perfectly with your guests and makes for an ideal night. 
One of the keys to picking an outdoor event space in NYC is making sure it matches your audience and your ambiance. From sprawling spaces that normally house massive concerts to more intimate, refined rooftops, the type of event you are throwing will determine which type of space is right for you. 
We've done the research and curated our top picks. Whether you're throwing a company offsite, a massive club night, or a wedding ceremony on the water — we have venues for you.
What Are The Major Considerations When Searching For Outdoor Event Spaces?
There are many things to consider when booking an outdoor space for your event. For example, one of the venues on our list is a yacht. If you're throwing a get-together for a group of chronically-late friends, maybe you don't run the risk of the group literally missing the boat, and go for a more stationary event space.
We'd suggest considering the location of your venue, its capacity, and the types of amenities it offers – from food, to drinks, to A/V equipment — before signing on that dotted line and booking your spot.
The Top Outdoor Event Venues In NYC
There are no shortage of options for outdoor events. We've refined this list from hundreds and hundreds of venues to bring you a wide range of options, but still offer a tailored selection of venues we love and keep coming back to.
1. Museum of the City of New York
Neighborhood: East Harlem
Capacity: 300
It's rare that you get the opportunity to cut loose on a gorgeous rooftop that's just a hop, skip, and a jump away from centuries of priceless art. The Museum of the City of New York offers you that opportunity at its Pontarelli Terrace.
This certified New York City landmark is located just a few blocks away from Central Park and offers a generous view of the park from its rooftop. It's clear top tent ensures that your guests can dine under the stars in peace, rain or shine.
This iconic venue hosts 300 seated guests or 225 standing guests and offers 3,000 square feet of space.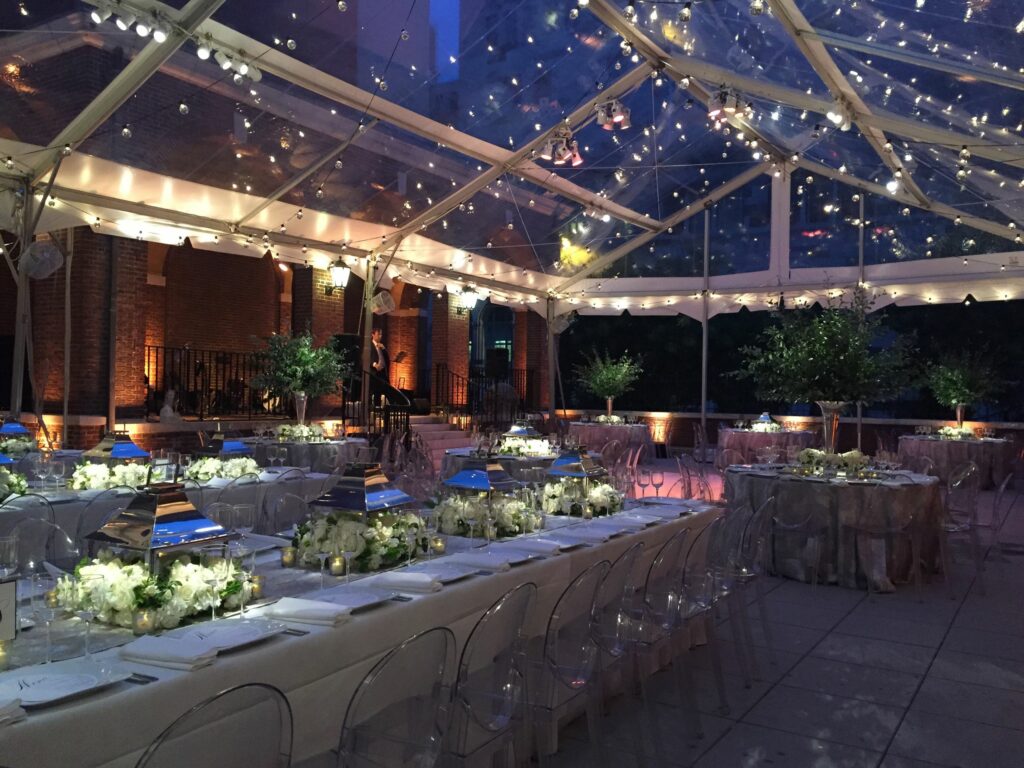 2. The Foundry
Neighborhood: Long Island City
Capacity: 180
The Foundry pairs pools of natural light flooding in from its skylights and large industrial windows against exposed brick and sleek finished concrete floors. The result is a spacious and inviting venue that you can make all your own.
The 19th century building is covered in ivy extending from the street, up the facade of the space, and alongside its rooftop. Standing in its lush outdoor courtyard or rooftop terrace, you can take in views of the New York skyline or its indoor greenhouse. The outdoor space feels more like a stately Scottish castle than a historical building in Brooklyn. We'd call that a plus.
The venue offers a number of different spaces for your event, including The Courtyard which accommodates 165 seated guests or 180 standing guests.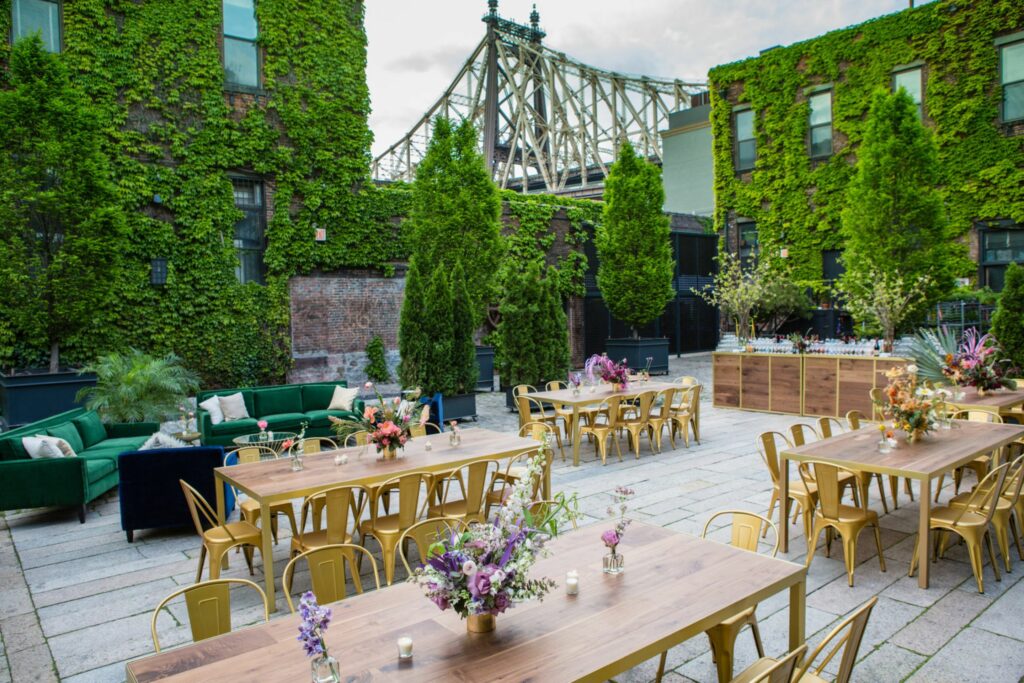 3. Company
Neighborhood: Midtown
Capacity: 250
Company is a newly renovated space with a rooftop at 335 Madison Avenue that showcases exceptional views of Grand Central and the city below. Company's massive outdoor venue spans an entire city block, overlooking Midtown's east side.
The rooftop terrace itself is refined and minimalist, making it perfect for larger gatherings such as cocktail parties or company offsites. It can accommodate 73 seated guests or 250 standing guests.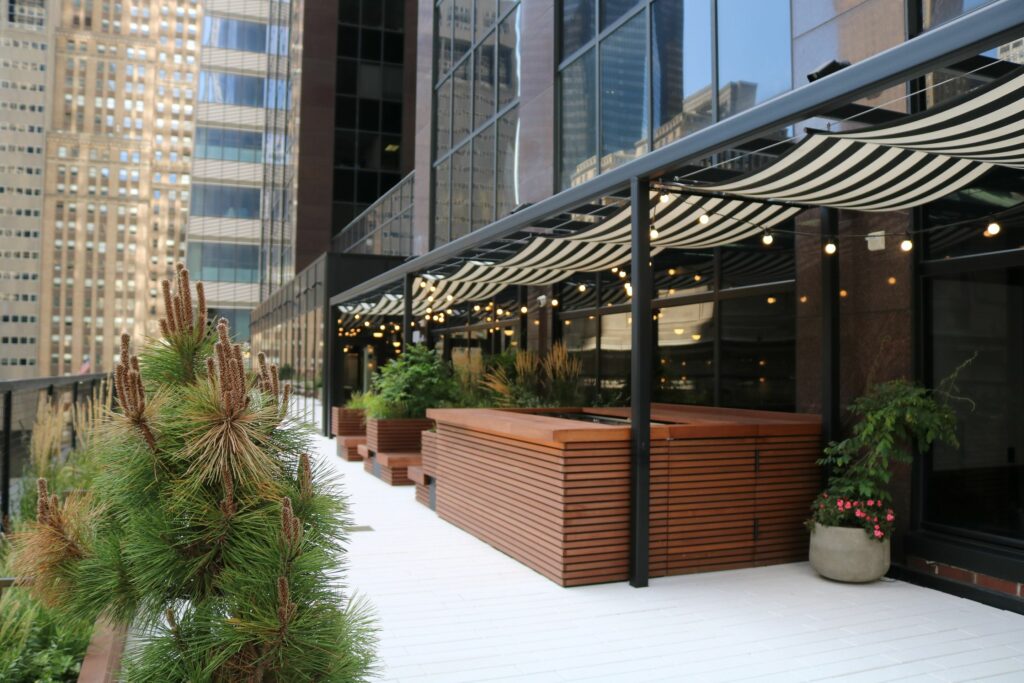 Planning a cocktail party?
Browse real cocktail receptions for fresh inspiration.
4. Knockdown Center
Neighborhood: Maspeth
Capacity: 4,500
If you've got your sights set on a big, big event, Knockdown Center is a great choice. This venue typically hosts massive musical performances, accommodating over 4,500 guests at a time.
The venue itself is spacious and flooded with light and exposed brick throughout its interior. Its outdoor patio offers you a wide open space for music or other sorts of lively entertainment.
This venue has a whopping 50,000 square feet of space that you can use as a blank canvas to bring your ideal event to life.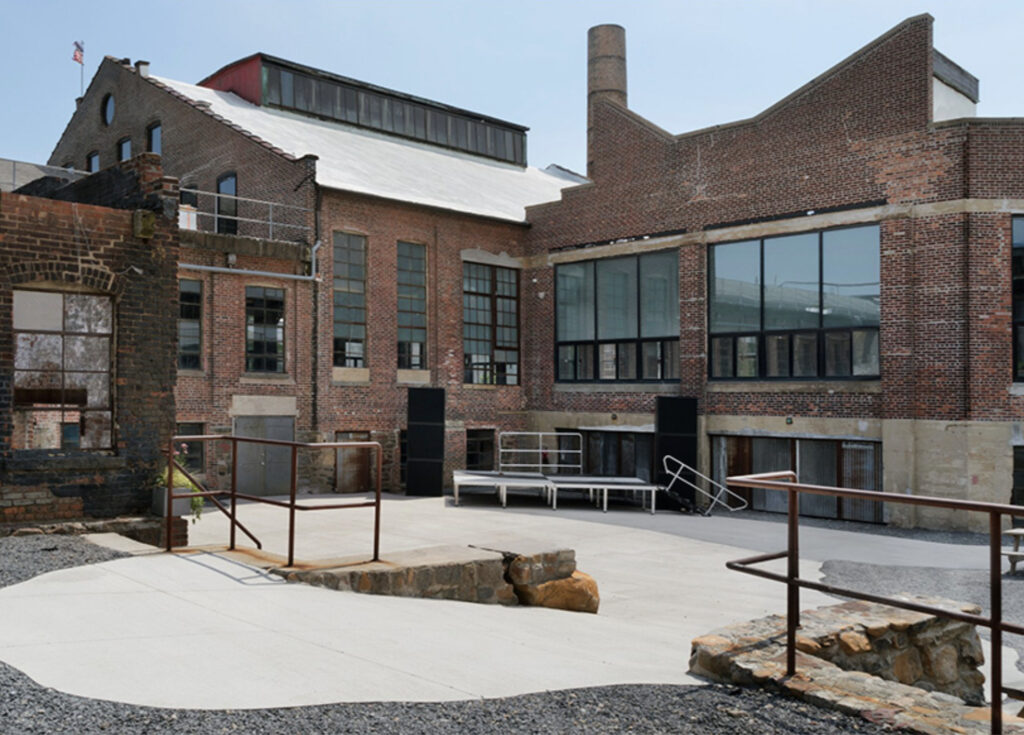 5. Hudson Roof
Neighborhood: West Village
Capacity: 300
Hudson Roof in the heart of the West Village offers sweeping views of the city. The venue itself feels refined, with crisp white stone bars and countertops lining its balcony overlooking the city. Stretches of succulents and lush greenery are paired alongside the stone setting, adding a welcoming ambiance to the space amidst its incredible views.
The venue accommodates 150 seated guests and 300 standing guests.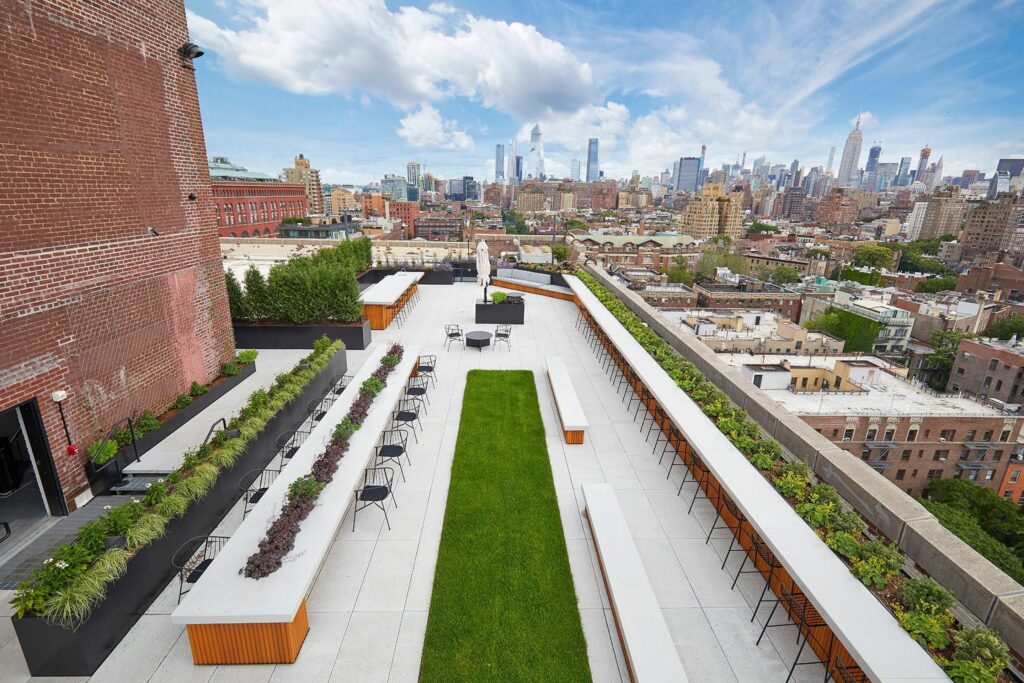 6. Gitano Garden of Love
Neighborhood: SoHo
Capacity: 200
Let's say you're not looking for sleek, stone-lined venues. You want something more natural and lush. If you're going for a more jungle-themed event, Gitano Garden of Love is the spot for you. The outdoor space is lined with massive, tropical plants whose foliage practically leans into your table to welcome you.
Gitano Garden of Love began as a small bar and kitchen tucked away on a beach in Tulum, Mexico. Now, its beachy charm and exceptional cocktails are available for any New Yorker.
This special spot also has a stellar selection of mezcal to offer your guests. It accommodates 120 seated guests and 200 standing guests.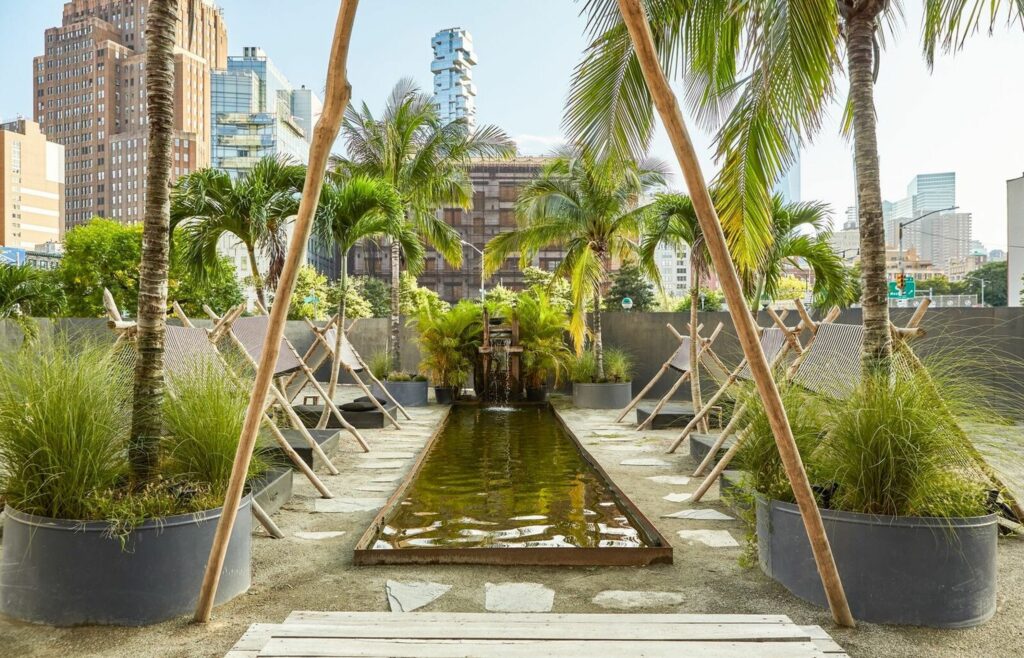 Ready to find the perfect venue and start planning your event?
Browse the best venues in NYC.
7. Spyglass Rooftop Bar
Neighborhood: Midtown
Capacity: 60
The aptly-named Spyglass Rooftop Bar doubles down on its exceptional vantage point high above Manhattan. The Empire State Building towers over the rooftop's terrace, accentuating the buzz of the city a few stories down. In between well-crafted cocktails and delicious bits from Spyglass, you can look through their classic viewfinder located on their terrace to see just what's happening on the streets below.
This elegant, rooftop bar is a taste of old Mad Men-era New York. It offers two different spaces, the Empire Bar Room, which is perfect for a party of 43 seated guests or 60 standing guests, and the Back Lounge + Terrace which can accommodate 32 seated guests or 40 standing guests.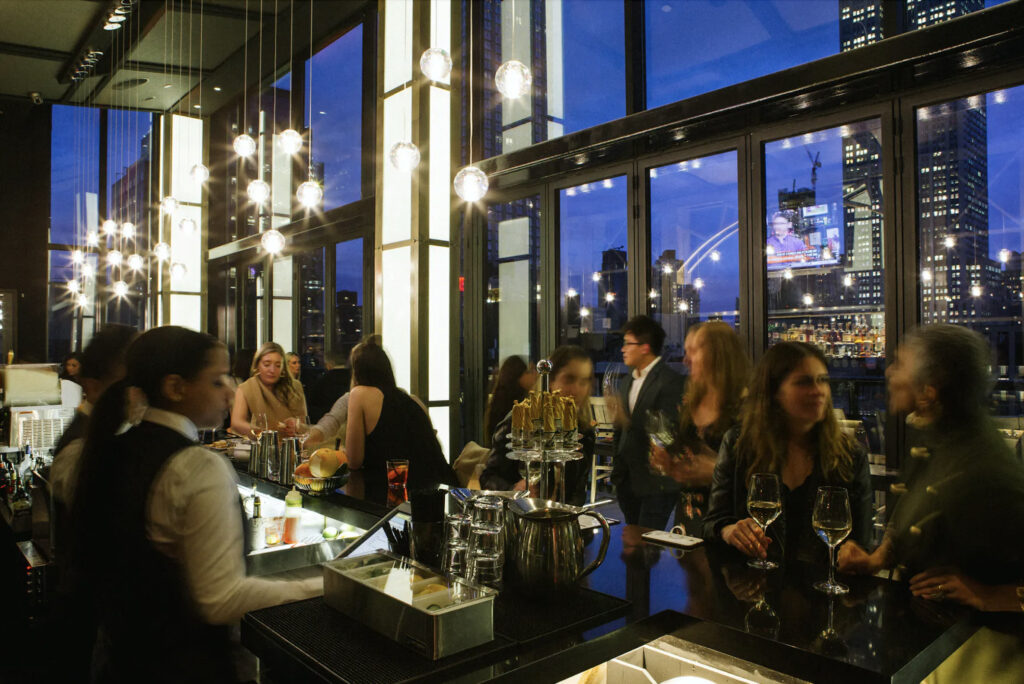 8. Avant Gardner
Neighborhood: Williamsburg
Capacity: 1,100
It would sell Avant Gardner short to simply call it a venue. It's more of a sprawling territory that contains four exceptional venues. The 80,000 square foot space encapsulates heralded music venue Brooklyn Mirage, the spacious Great Hall, Kings Hall, and the otherworldly space, Lost Circus.
If you're throwing an event here, we'd recommend you make sure it's going to draw a sizable amount of guests. Avant Gardner's four venues are suited for rolicking, lively parties of epic proportions.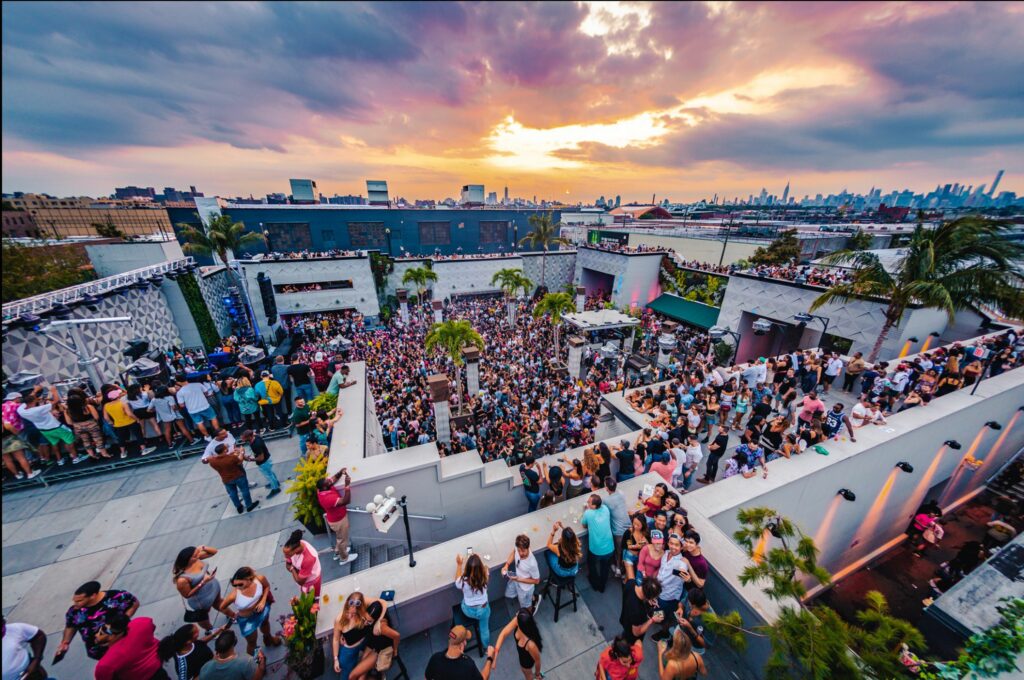 9. Cooper Hewitt
Neighborhood: Upper East Side
Capacity: 1,000
The Cooper Hewitt's outdoor space is full of history and charm. The Cooper Hewitt museum itself is actually part of Andrew Carnegie's sprawling mansion located right on the edge of Central Park.
The museum's outdoor venue, The Arthur Ross Terrace and Garden, is spacious, vibrant, and feels like an extension of Central Park has been tucked away just for your party. It can be modified to fit your group's needs, whether that's bringing out banquet-style tables for a large party or adding a see-through tent to keep things covered without obscuring the Hewitt's natural surroundings.
This generous event venue can accommodate 500 seated guests and 1,000 standing guests.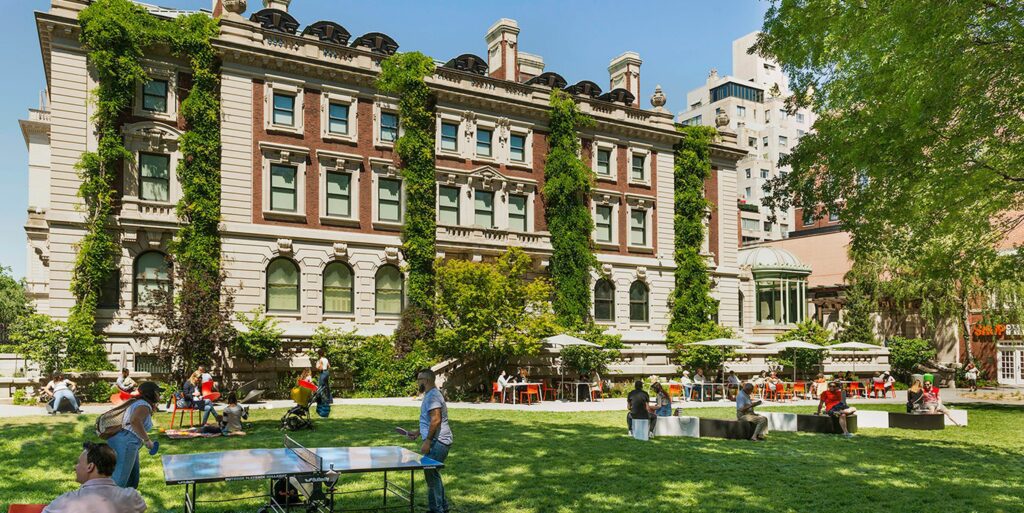 10. Yacht Events
Neighborhood: Hell's Kitchen
Capacity: 1,200
There are venues you rent, and venues you take out on the water. This is the latter. Yacht Events offers you a chance to throw your party, wedding, or company retreat on an opulent yacht that you can take for a cruise around the island of Manhattan,
Whether you have a few dozen guests, a few hundred, or over a thousand, Yacht Events has yachts that match your needs. Yacht Events LLC options can accommodate up to 1,000 seated guests and 1,200standing guests.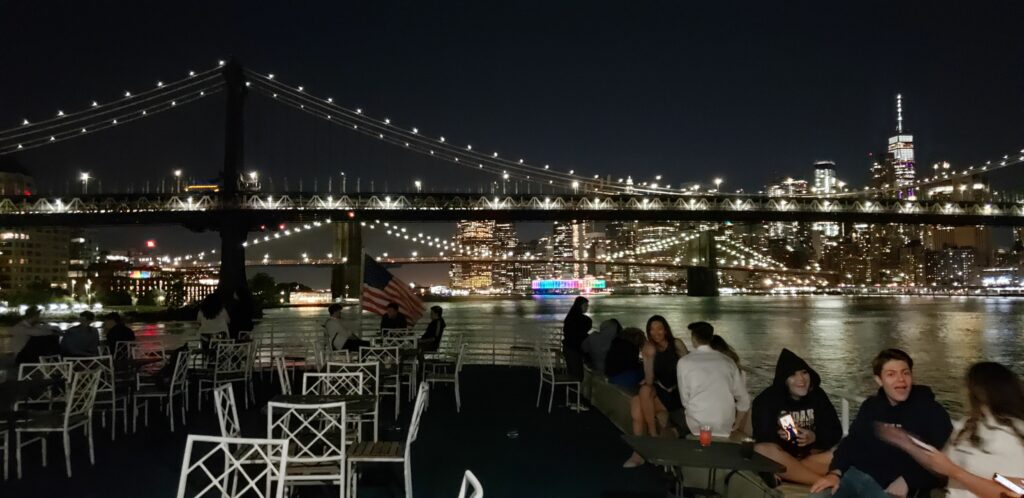 What Questions to Ask When Booking an Outdoor Event Space
When it comes to organizing a successful corporate event, choosing the right outdoor space at a suitable venue is a pivotal decision that can significantly impact the overall experience. This careful selection process involves not only evaluating the aesthetics of the space but also delving into practical details that ensure the event's seamless execution. As you embark on the journey of booking an outdoor space for your corporate event, a series of important questions come to the forefront, each serving as a vital piece of the puzzle. These questions are designed to help you gather crucial information, align your expectations with the venue's offerings, and ensure that your event stands as a testament to your company's professionalism and attention to detail. By asking the right questions, you set the foundation for an event that not only meets but exceeds your goals and leaves a lasting positive impression on your attendees
What Facilities and Amenities are Provided?

Inquire about the facilities available in the outdoor space, such as seating options, restrooms, power sources, lighting, and any additional amenities that might be needed for your event.

What is the Inclement Weather Plan?

Given the unpredictability of weather, ask about the venue's contingency plan for inclement weather. This could involve providing tents, relocating the event to an indoor space, or having a rain date available.

Are there Any Noise or Time Restrictions?

Check if there are any noise restrictions or time limitations imposed by the venue or local regulations. This is especially important if your event involves amplified sound or runs late into the evening.
How The Vendry Can Help You Find The Best Outdoor Event Spaces In New York City
The Vendry is here to streamline the entire process of event production, to entertainment booking, to logistics to help you relax and enjoy the night. From sourcing proposals, to helping you pick your favorite vendors, we'll manage it all with you alongside for the ride.
From lush, jungle-themed mezcal bars, to refined classic cocktail bars perched high above the streets of Manhattan, you have a wide variety of venues to choose from when throwing your outdoor event. We're here to help make that choice easy and bring your event to life.
Read More:
The Best Private Dining Rooms in NYC
The Best NYC Rooftop Venues for Your Next Event
The Best Rooftops in Miami
Planning an event in NYC and don't know where to start? Check out our NYC Event Planning Guide to get started!