Whether your team works in-office, remotely, or hybrid, an in-person offsite meeting/company retreat is more invaluable than ever. By leaving your usual work environment — whether that's your sofa at home or a cubicle in an office building — you are able to mix it up in an outside the box way. Heading to an offsite location is a creative safe space; a chance to reaffirm and strengthen professional relationships. You can share feedback, celebrate success, brainstorm, and fine-tune conflict resolution.
It brings teams and leaders together in a place to have organic, productive conversations and ask questions in a way the normal grind and pace of the day may not allow. Plus, it's fun, and a chance to show your coworkers you appreciate their work. Why not have your next business meeting by a riverside campfire? Or host a strategy session at a luxury hotel on the beach? Why not try talking team goals over a picnic in the Catskills? There's nothing like bonding over a zip-line course… Going offsite is a concept with proven returns. Here, we've rounded up eight of the best offsite locations for your next company retreat near New York City, all within a three(ish – do your traffic research) drive of Manhattan.
1. Collective Governors Island
Location: Governor's Island
Capacity: 100
A quick eight minute ferry ride from downtown, Collective Governors Island is 173 acres of offsite utopia. Collective Retreats is the brainchild of Peter Mack, an industry professional and graduate of the prestigious Cornell School of Hotel Administration. Mack cut his teeth at Starwood Hotels (W, St. Regis, Westin) and then behind-the-scenes at endurance goliath Tough Mudder (!). Inspired to create new experiences in beautiful locations, retreats include — or will debut in — the Texas Hill Country, Vail, Montana Big Sky Country, the Green Mountains, and more. The Governors Island Collective is available for booking through Halloween, and "glamping" doesn't really do it justice.
The Collective has redefined luxury outdoor hospitality. Its private tent and shelters feature designer lighting, Byredo bath products, high thread count bedding, complimentary in-tent breakfast, and a private deck. Have an in-tent massage while you're at it or take a meditative walk to ponder new work strategies. A team yoga session followed by talking shop over drinks on the Sunset Terrace with views of Lady Liberty practically instagrams itself. Farm-to-island al fresco dining and s'mores by the bonfire round out the epicurean side of things.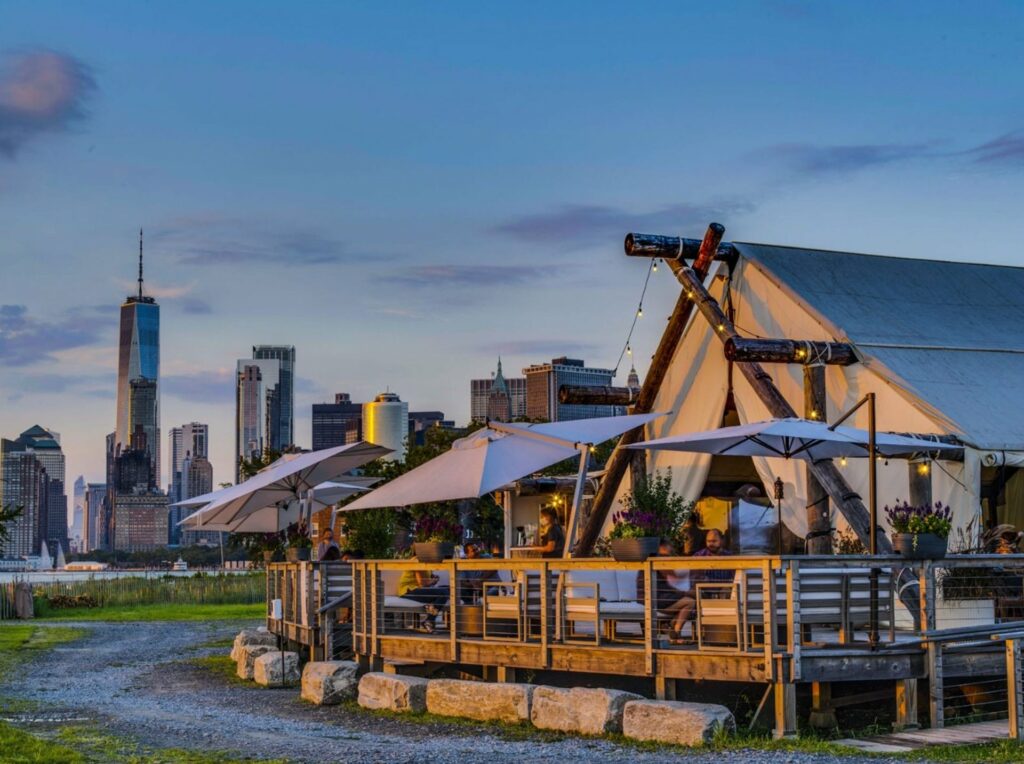 2. The Rockaway Hotel & Spa
Location: Rockaway Park
Capacity: 500
The outer boroughs of New York City are no longer the neglected stepsiblings of Manhattan when it comes to boutique hospitality; a fact The Rockaway Hotel & Spa epitomizes. Dubbed "the Irish Riviera," due to its large Irish-American population, Rockaway Beach offers the quintessential boardwalk experience and all that comes with it: playing beach volleyball, enjoying a hot dog, or even surfing (it has the distinction of being NYC's only legal surfing beach). The 53 room luxury hotel and spa itself has a beachy urban aesthetic with high-end resort amenities. A heated pool, rooftop bar, ocean terrace, and a full-service spa are just some of the offerings that make this an ideal company retreat to mix business and pleasure.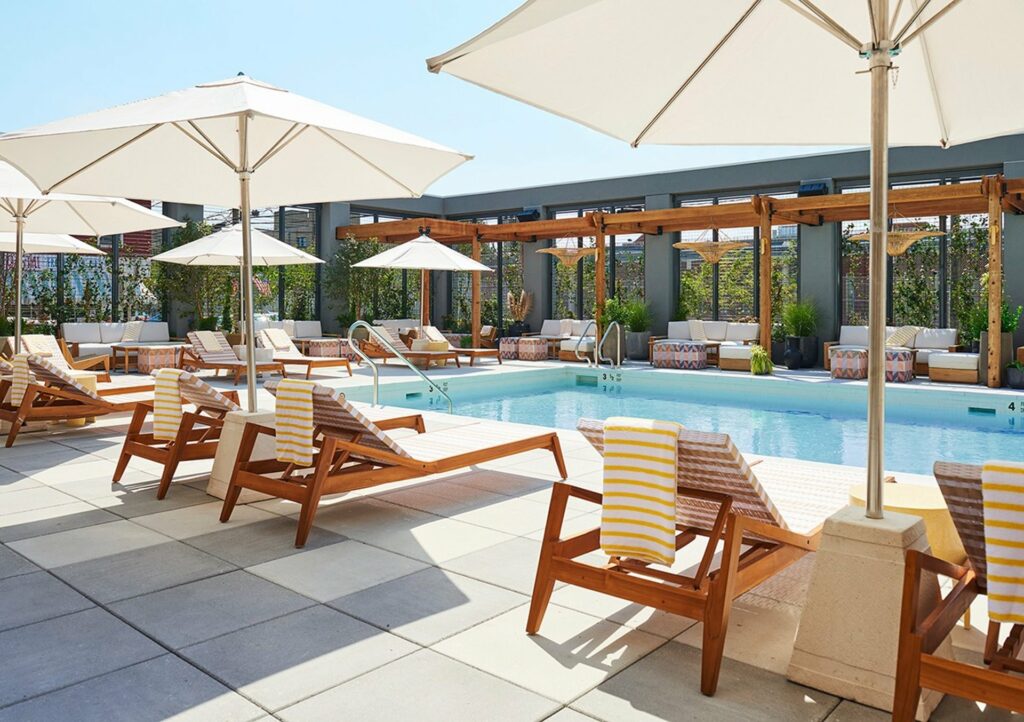 3. The Dutchess
Location: Hudson Valley
Capacity: 100
Ever since COVID began, the expatriate New York Cityites population in Hudson Valley is higher than ever. Whether you're a local or a visitor to the bucolic area, The Dutchess (as in Dutchess County two hours north of Manhattan) is a drop-the-mic rural offsite spot. First off, you know you're in for an exclusive experience when there's, quite literally, no sign. If you go to their website you are simply greeted with a whimsically-illustrated key and the tagline "A secret experience in the Hudson Valley… Contact Us." It's like a farmland speakeasy.
Dig a little deeper, and here's a taste of what you can expect at the secluded woodland location: 252 gorgeous acres, three rustic but luxe centuries-old structures, multiple greenhouses, a yoga barn, and much more. The restaurant's mostly vegan farm-to-table menu is curated by Eleven Madison Park alum Mark Margiotta and changes with the seasons and what's growing. A win-win all around for a company retreat. If you can find it.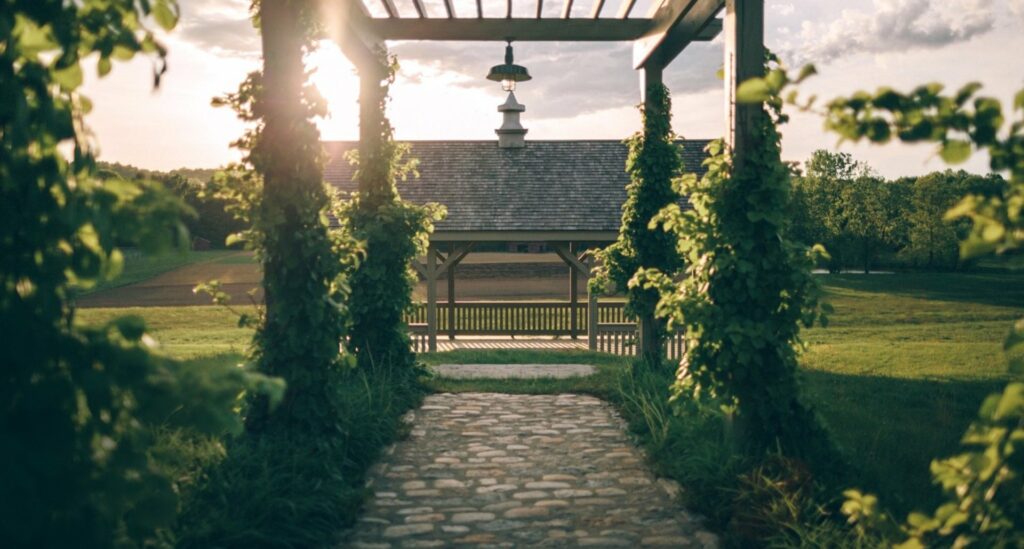 Looking to find the perfect customized gifts for your employees?
4. Hutton Brickyards
Location: Kingston
Capacity: 4,000
Also drive two hours north of New York City albeit in a different direction and you'll find yourself in Kingston, New York, home to Hutton Brickyards. This charming and historic town on the west bank of the Hudson River is aptly situated with its proximity to Rhinebeck, Woodstock, New Paltz, and other desirable valley enclaves. Hutton Brickyards is a sprawling complex–you can seat up to 3,500 people at a time if need be. At this offsite location you can replicate a summer camp bonding experience, with its 30 cabins for overnight stays and activities like archery, croquet, kayaking, and paddle boarding on offer. Learn about beekeeping and then roast marshmallows in one of the firepits. Heading there in the winter? Try snowshoeing or cross country skiing. Its Shaker inspired architecture perfectly compliments the riverbank setting for a laid back vibe but with a sense of occasion. Did we mention the spa?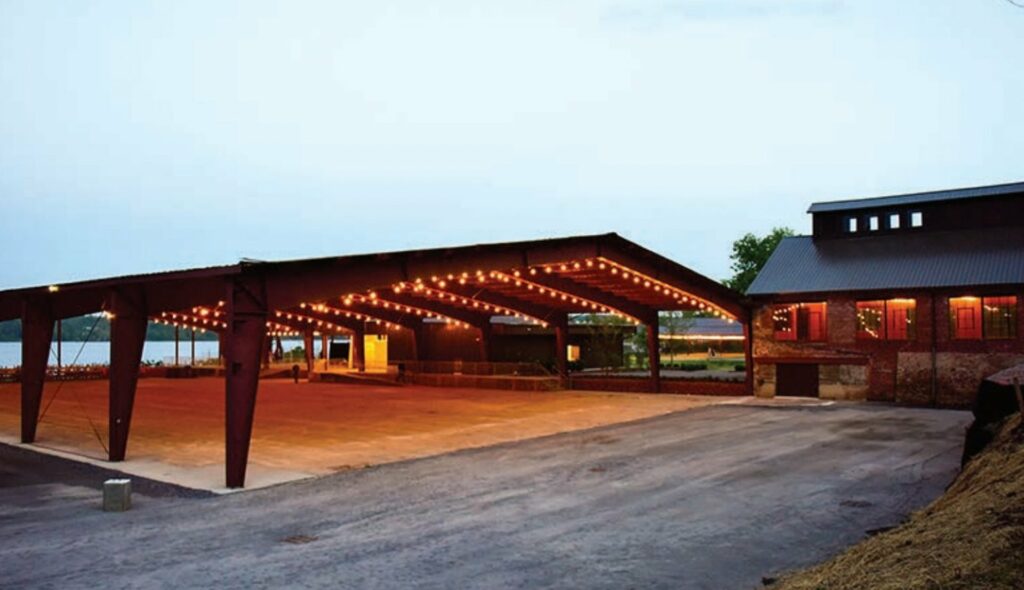 5. Honor's Haven
Location: Ellenville
Capacity: 600
Honor's Haven Retreat and Conference is an ideal one-stop-shop for any and all offsite spaces you could possibly need. They have summit rooms, a ballroom, a training center, an exhibition center, and even a lakeside tent on its 260 acres in Ellenville, New York (once again about a two hour drive north of NYC). Also at this luscious respite: a labyrinth garden, zipline, fitness center, indoor/outdoor pools, mountain trails, and more. 232 guest rooms mean that you can dream big people-wise with how to best utilize this yogi-paradise for your company retreat needs.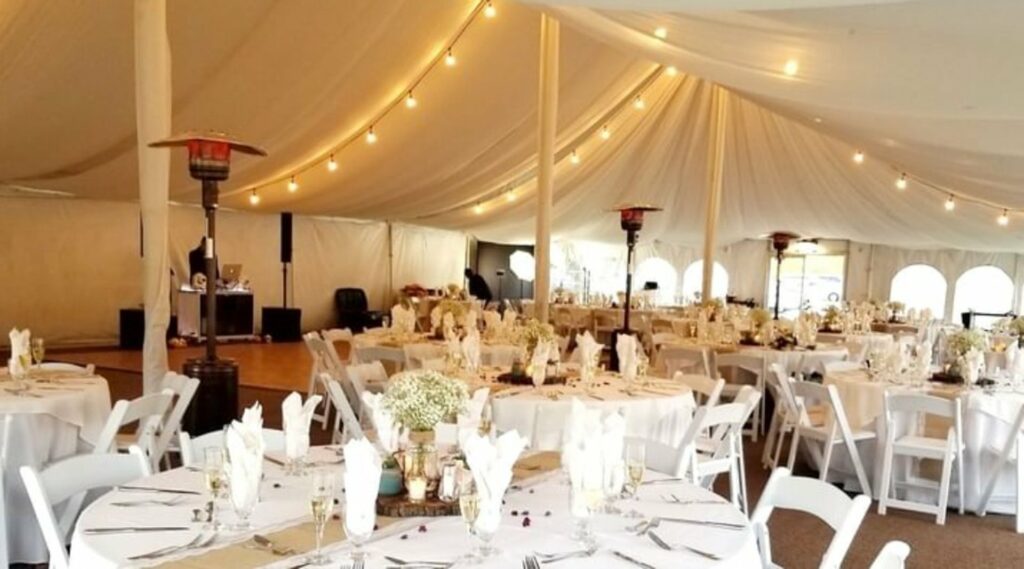 6. Sound View Greenpoint
Location: North Folk
Capacity: 200
The North Fork, aka Long Island's Wine Country, is an ideal setting for a NYC offsite location just 90 miles from the city. Whether you're looking for a vineyard tour and tasting or the beachside experience, Sound View Greenport Hotel serves up the best of the area. This 55 room locale, with sweeping views of Long Island Sound, evokes a sense of nostalgia with its Piano Bar, library slash private dining area, and all-around beachside aesthetic of yesteryear. (P.S. It's easy to forget just how historic this area really is…. some hamlets date back to the 1600s.)
The Sound View is all about shared experiences, whether you're at a beach bonfire with an acclaimed artist leading a thought-provoking discussion, or doing a ballroom class on the Greenport boardwalk. ("Ballroom on the Boardwalk" sounds like a forgotten 1950s song, no?) The Halyard, its award-winning restaurant, gets its nautical name from the rope you use to raise or lower a sail, adding to the overall seaside appeal of the place.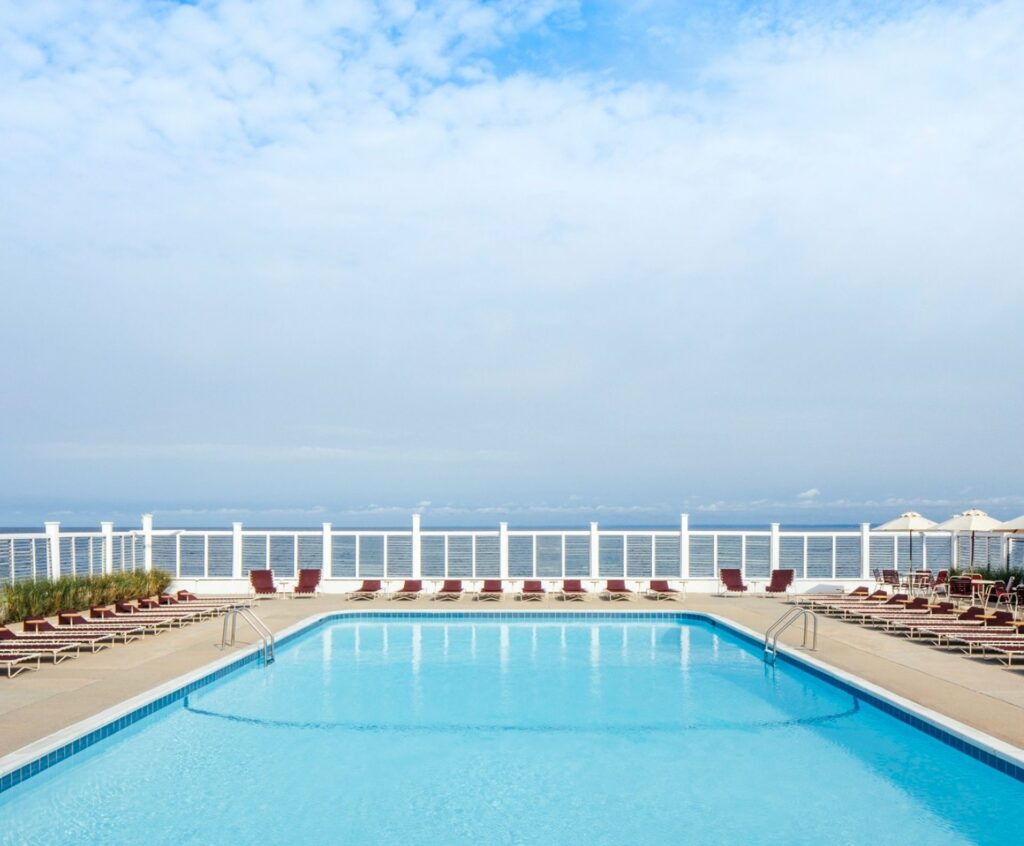 Planning an offsite in Long Island?
Read How to Host a Corporate Offsite on Long Island and let us help you create the perfect itinerary!
7. The Arnold House
Location: Livingston Manor
Capacity: 100
At The Arnold House you will find Catskills country living at its best. The 16 room retreat, located on an unbeatable 80 acres on Shandelee Mountain, features a main building, tavern, greenhouse, and barn. It is an understandably popular location for NYC-based team retreats with myriad activities on offer and an easy two hour drive northwest of the city.
Treat your team to a picnic on the meadows overlooking sweeping views, or sign up for a garden workshop to get inspired. Go hiking to enjoy the unparalleled vista or even try fly fishing. If you go in the summer try to coincide with their music summer series, or indulge in some friendly competition with a team trivia night. If you really want to mix it up you can always take an alpaca tour for some animal networking.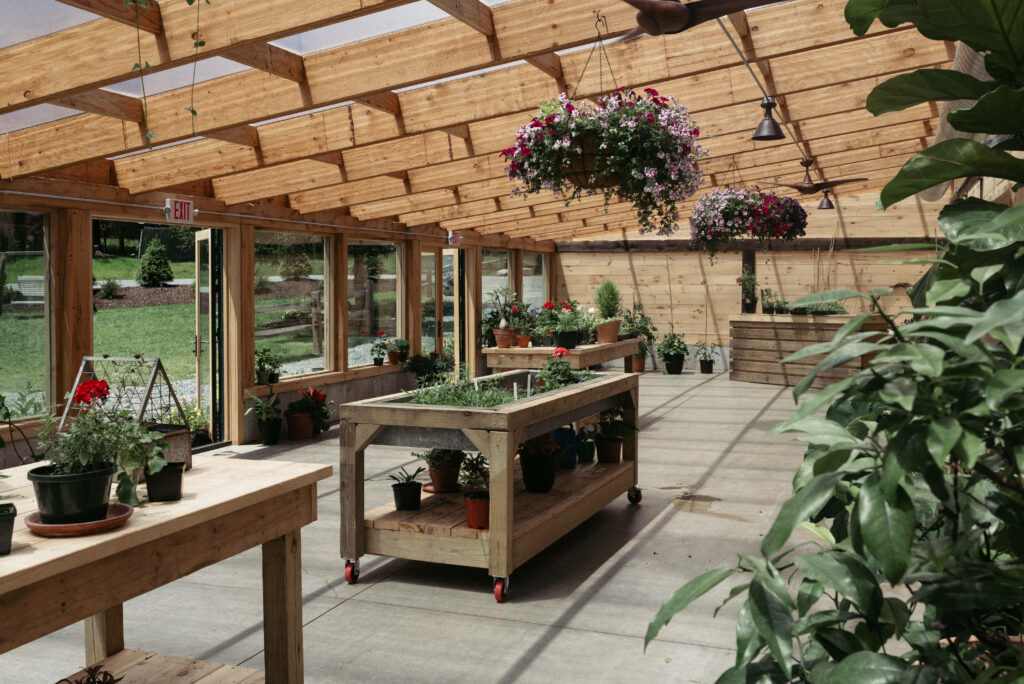 8. Gurney's Montauk
Location: Hamptons
Capacity: 500
The iconic Hamptons retreat Gurney's Montauk is nearing its centennial. In 1926 a local, Maude Gurney, created an intimate vacation spot to share his charming beach town with others. What started as a small 20 room inn all those years ago has evolved to its current incarnation: a resort with 158 rooms, suites, and beachfront cottages, with a sister location in Newport, Rhode Island. Montauk, or "The End" to those in the know, has historically been a melting pot of sorts. There's been a thriving artistic community for decades. Ditch Plains Beach has long been a surfing mecca and, like everywhere else in the Hamptons, you have the city-set with second homes.
Gurney's Montauk, a three hour drive from downtown (traffic depending), is a reflection of the best of all the area has to offer and the perfect setting for any offsite needs you may have. Wellness is now a top priority here, with their Seawater Spa set to open soon which will include marine-based therapies and a bathhouse. For food or drink the Scarpetta (Italian cuisine), The Beach Club, The Firepit (light bites), The Regent Cocktail Club, and Tillie's (American kitchen) will keep any of your attendees sated. Arrange a mixology class while you're at it in lieu of team happy hour.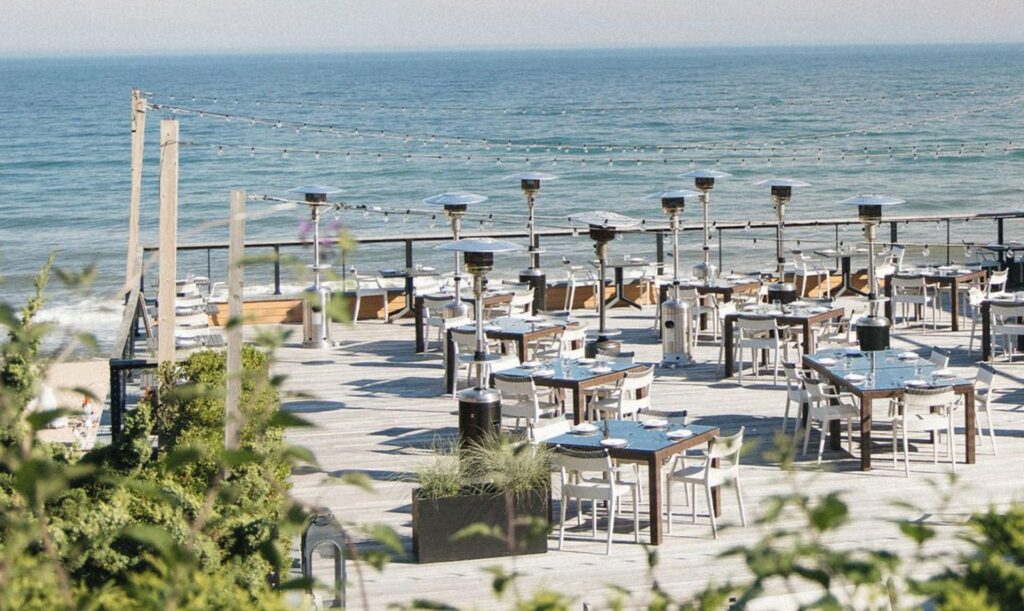 Booking an Offsite Near New York

Whether you're thinking Hudson River Rustic or Beach Town Chic, the aforementioned destinations–all within a reasonable radius of Manhattan–are ideal for creating special and bespoke company retreat experiences. It's a chance to bond and grow as a professional group on the macro and micro. The Vendry is here to help jumpstart that offsite planning, whether it's downtown, upstate, or out east. Start sourcing great venues now.
Read More:
How to Host a Corporate Offsite on Long Island
How to Optimize Your Offsite: Connection
How to Plan an In-Person Offsite or Corporate Retreat Right Now