As of late, Orlando has found itself time and time again on "best of" lists for its vibrant food scene. A town known for its bustling tourism and big business traveler draw, Orlando has proven itself a delightful surprise to the Florida culinary landscape. There's more to this vibrant area than just Shamu and Mickey – look deep in the historic brick streets of downtown to find some of the greatest and creative eats in the state.
If Orlando is calling you to visit, and you need to book a private dining space to treat your clients, employees, or guests, there will be lots of great options from which to choose. Big groups are welcome all over the city, and small gatherings in the most intimate spaces are widely available to discuss important business. Take a look at The Vendry's carefully curated list below of the finest private dining choices in Orlando and its surrounding neighborhoods.
Incredible Private Dining Rooms in Orlando
1. Bohemian Wine Room
Neighborhood: Central Business District
Capacity: 16 to 26 seated
Deep within the rich jewel tones of the famous Boheme restaurant, sits two stunning private dining spaces: The Bohemian Wine Room and the Peacock Private Dining Room. European opulence is the name of the game at this elevated restaurant, where you will have the opportunity to choose your menu featuring classic dishes with carefully selected wine pairings. These two exclusive private dining options are all within the Grand Bohemian Hotel Orlando, making it an elegant place to both host and house your guests.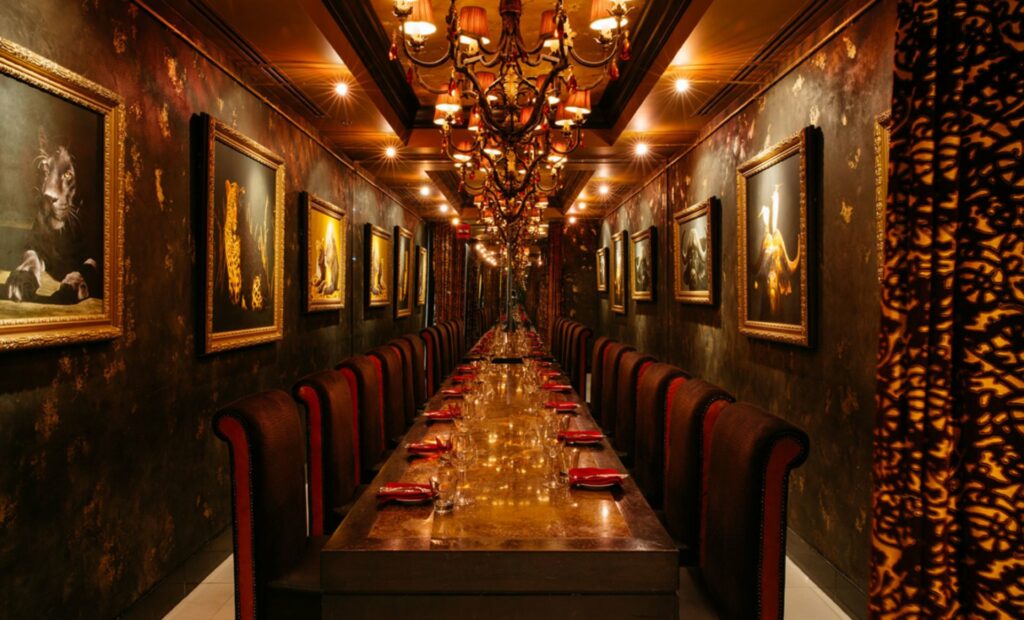 2. Capa Steakhouse & Bar
Neighborhood: Golden Oak
Capacity: 36 seated
Perched on the 17th floor of the Four Seasons Resort Orlando, sits Capa Steakhouse & Bar, a Michelin-starred rooftop steakhouse featuring prime cuts. The Spanish influence of Capa can be felt throughout its menu, from small plates to fresh seafood. There are two private dining rooms from which to choose: one sits 30, and the other 36, and both offer the option for a custom prix fixe menu. Sprinkle in some intrigue and invite your guests to slip out on to one of Capa's two terraces to take in the nightly fireworks over Disney World.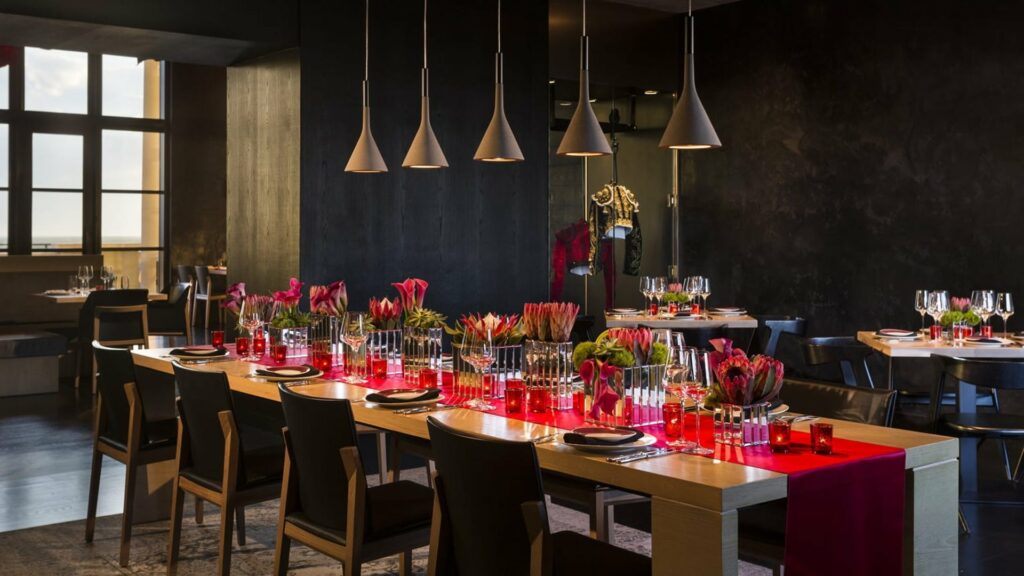 3. The Monroe
Neighborhood: Creative Village, Downtown Orlando
Capacity: 250 standing, 120 seated
Brought to you by the seasoned Good Salt Restaurant Group, The Monroe is situated in Creative Village, a mixed-use, urban infill neighborhood perfectly suited for this forward-thinking spot. At this mid-century modern, airy restaurant, there are a whopping six options to choose from for your private event. A full restaurant buy-out would avail 8,000 square feet to fit your needs. Be sure to look at the Front Porch, which can accommodate 200 standing, and serves up sunshine and canned cocktails. If your group is looking for something more intimate, the Swan Room is a real jewel with its ability to seat 56, showcasing The Monroe's unique hospitality and varied menu.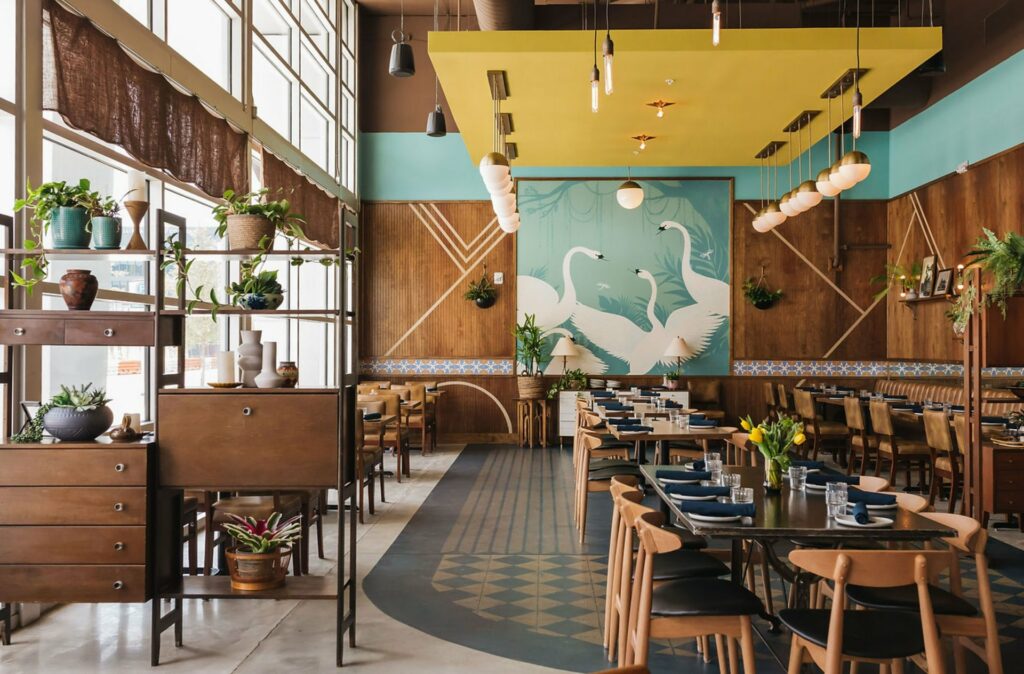 4. STK Steakhouse Orlando
Neighborhood: Disney Springs
Capacity: 800 standing, 435 seated
STK Steakhouse Orlando tops the list as the area's most visited steakhouse. Located at the popular Disney Springs, the Orlando version of this sophisticated nationwide restaurant does not disappoint, both in options and fare. There are 11 (you read that right) private dining spots within this swanky spot, varying from a full restaurant buy-out to seating for just 18. The Rooftop Level is the real star if you are looking to host 200, and comes with the main dining room, an indoor/outdoor wraparound bar, a balcony, a terrace, and even a roaring fire pit. There's not a bad table in this swinging joint.
5. Reyes Mezcaleria
Neighborhood: North Quarter District, Downtown Orlando
Capacity: 200 standing, 120 seated
If you are looking for authentic food, carefully crafted cocktails, and genuine culture, take a look at the private dining options at Reyes Mezxaleria. The Good Salt Restaurant Group strikes again with this gem, offering Oxacan fare like elotes, tamales, and line-caught Veracruz snapper, all within a relaxed, festive setting. For your corporate outing, retire to Reyes' private dining room which comfortably seats 50, right after having cocktails on their outdoor patio. Or take over the entire restaurant for a full dinner buffet of chef Wendy Lopez's dynamic Mexican cuisine.
Show your guests your appreciation! Check out these unique corporate gift ideas for 2023 .
6. The Osprey
Neighborhood: Baldwin Park
Capacity: 200 standing, 120 seated
Modern coastal is the name of the cuisine game at The Osprey, a sophisticated spot that highlights the bounty of Florida's copious seafood. Overlooking busy New Broad Street, the West Dining Room is perfect for larger groups around 80, and has a peek right into the open kitchen with easy access to the bar. If a smaller room for around 45 people is more your speed, slip into one of the camel-colored leather booths of the East Dining Room, perfect for an intimate dinner for your top clients. But the pinnacle of dining at The Osprey is in fact the Chef's Table – an elongated seating of 12 in a private space, offering a moody vibe and flowing wine to compliment your custom menu selections.
7. Bull & Bear
Neighborhood: Bonnet Creek
Capacity: 26 seated
Be one of the first to experience the newly renovated Bull & Bear, located within The Waldorf Astoria in the booming Bonnet Creek development in Orlando. This elegant spot offers farm-to- tableside preparation, all in a fresh new space. Book their beautifully appointed Private Dining Room for your client dinner or team meeting, perfect for 24. If you are looking to make an impression with unparalleled service and presentation, this is your spot.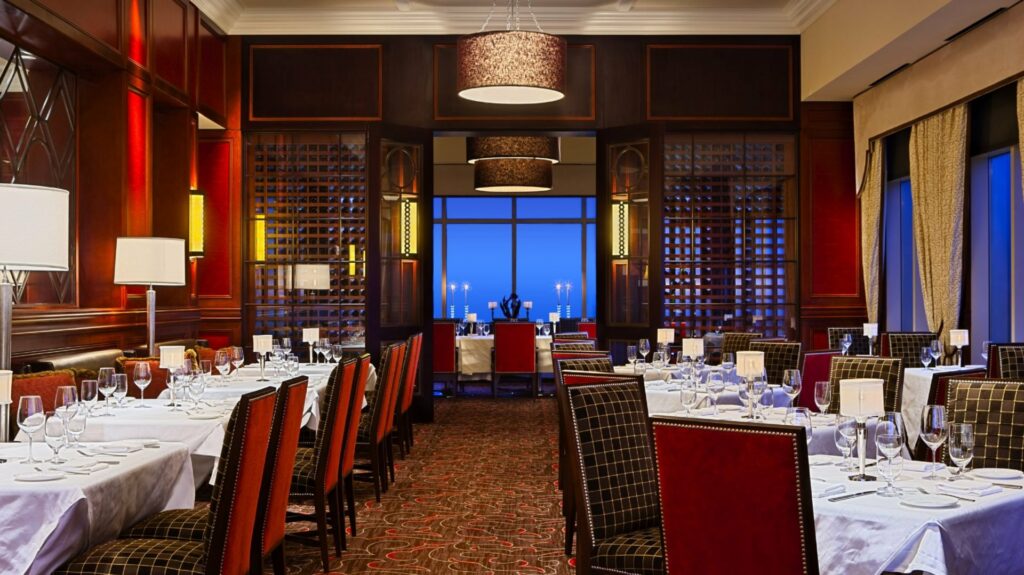 8. Highball & Harvest
Neighborhood: Grand Lakes
Capacity: 250 standing, 180 seated
There are many private dining options to suit all your business needs at Highball & Harvest, a Ritz-Carlton located restaurant that gives a nod to Florida's railroad system that brought the bountiful agricultural harvest to the state throughout the 19th century. Invite your employees or clients to step back in time, and host a private event in one of their six event spaces. Their Fountain Courtyard is the perfect place for cocktails or a seated dinner under the palm trees. Perhaps the Outdoor Terrace that seats 50 overlooking the lake and grounds of the Ritz-Carlton is more your style. Or invite your small group of eight or less to embrace the real, artisanal fare Highball & Harvest has to offer at the Chef's Table, featuring a one-on-one experience with their passionate chefs.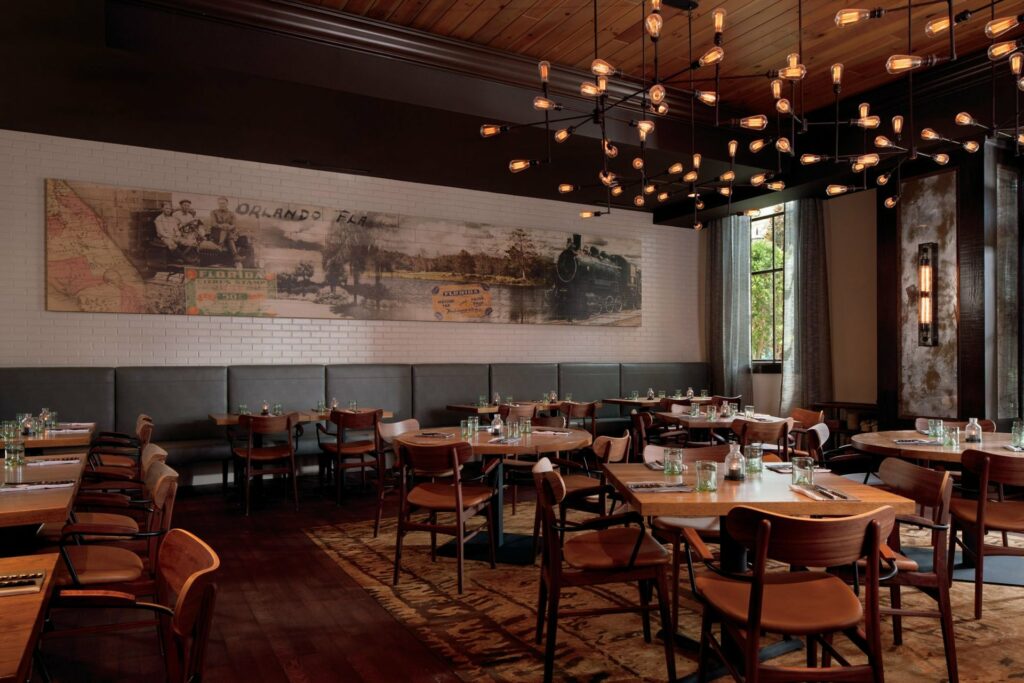 9. The Tea Room Experience
Neighborhood: South Eola
Capacity: 30 seated
Sometimes a private corporate event calls for more. Enter The Tea Room Experience. Accommodating 30 guests for an intimate event, this modern spot honors the time-honored tradition of afternoon tea in the most elevated of ways. The brightly decorated, airy room will be yours for the afternoon, all directed by your own event coordinator ensuring every step is free of stress. Seasonal menus that include finger sandwiches, scones, and petite desserts will be delivered on three-tiered platters as an assigned Tea Sommelier helps your guests with their choices. A delightfully set table of fine china and lace will truly make your guests feel special. And no worries on tech: the Tea Room Experience offers a Bluetooth-enabled speaker system for any business you'll have to take care of. Pinkies up!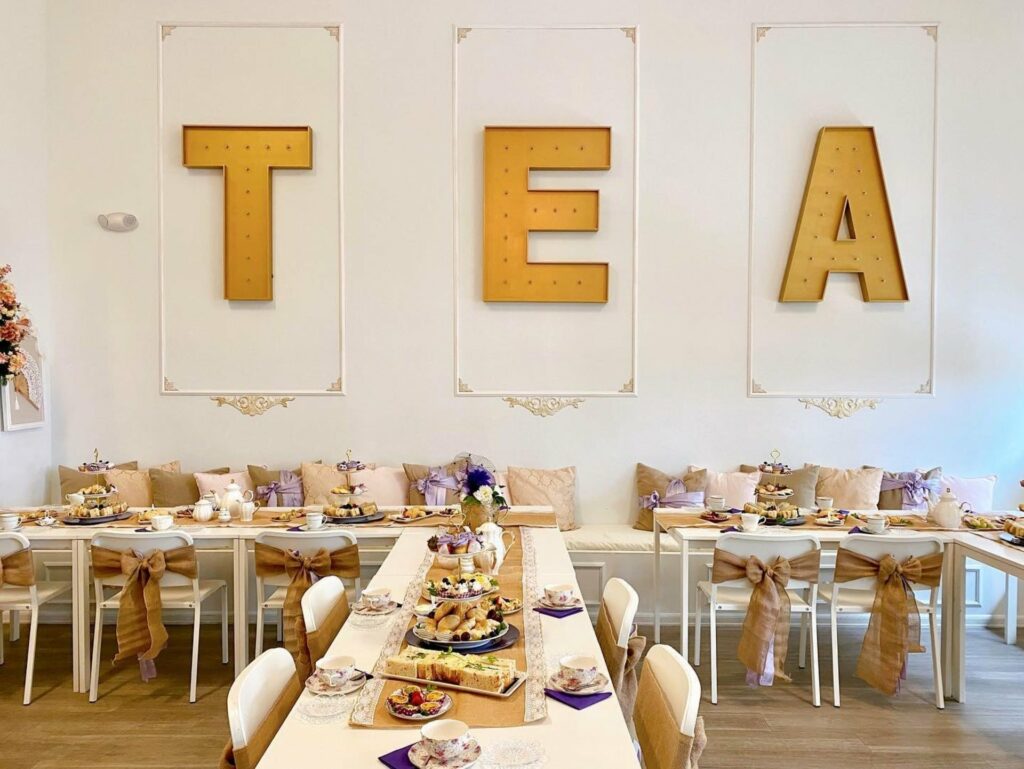 10. Ember Orlando
Neighborhood: Central Business District
Capacity: 1,272 full buy-out
The largest full venue buy-out on this list, Ember Orlando is a premier supper club in historic Downtown Orlando. The easy-going, Mediterranean vibe of this spot will make your guests feel like they've been plucked out of central Florida and dropped into southern Europe. In addition to the entire restaurant, there's five other choices for private dining here, many offering attractive indoor/outdoor functionality. Book the Outdoor Patio Terrace, and treat your guests to such fare as Explosive Shrimp and innovative flatbreads. Don't forget the cocktails, as this lively spot has some of the best sangrias this side of the Atlantic.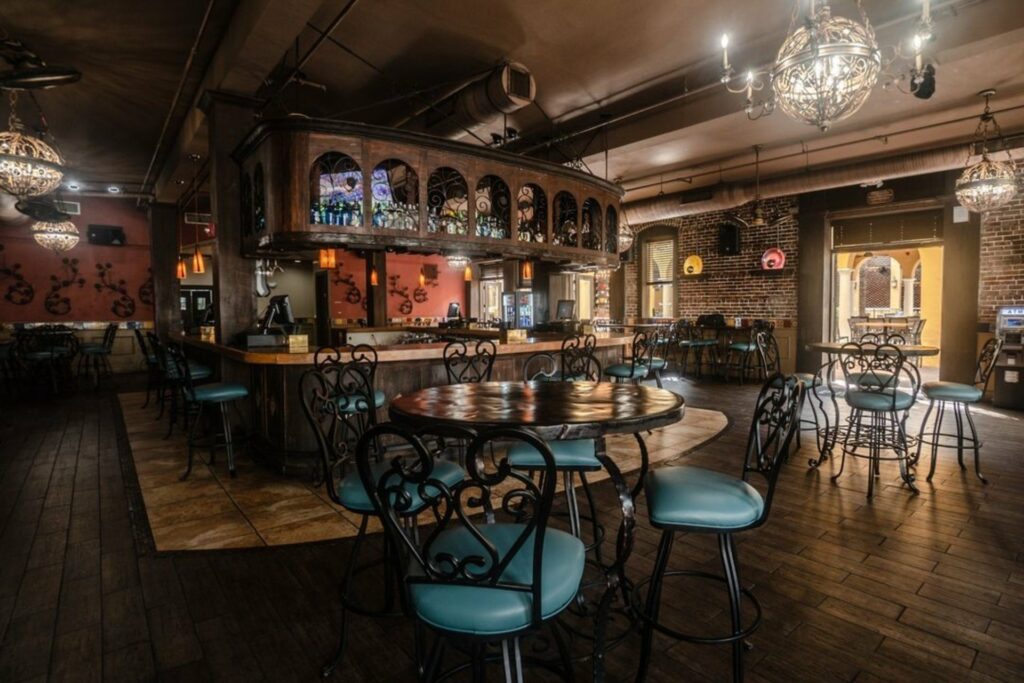 11. Ocean Prime
Neighborhood: Orlando Convention Center
Capacity: 200 standing, 80 seated
Classic and delicious, Ocean Prime does more than fit the bill if you are looking to host a private business luncheon or dinner. The staff at Ocean Prime is committed to making sure your event goes off without a hitch, and no one leaves hungry. With more than six rooms to choose from, there are semi-private as well as completely secluded rooms at the ready. Prime Room 1 and 2 can be combined to seat 38, and the bright Club Room can seat 14. Just as the name suggests, this refined locale features some of the freshest seafood and heartiest cuts of meat in Orlando.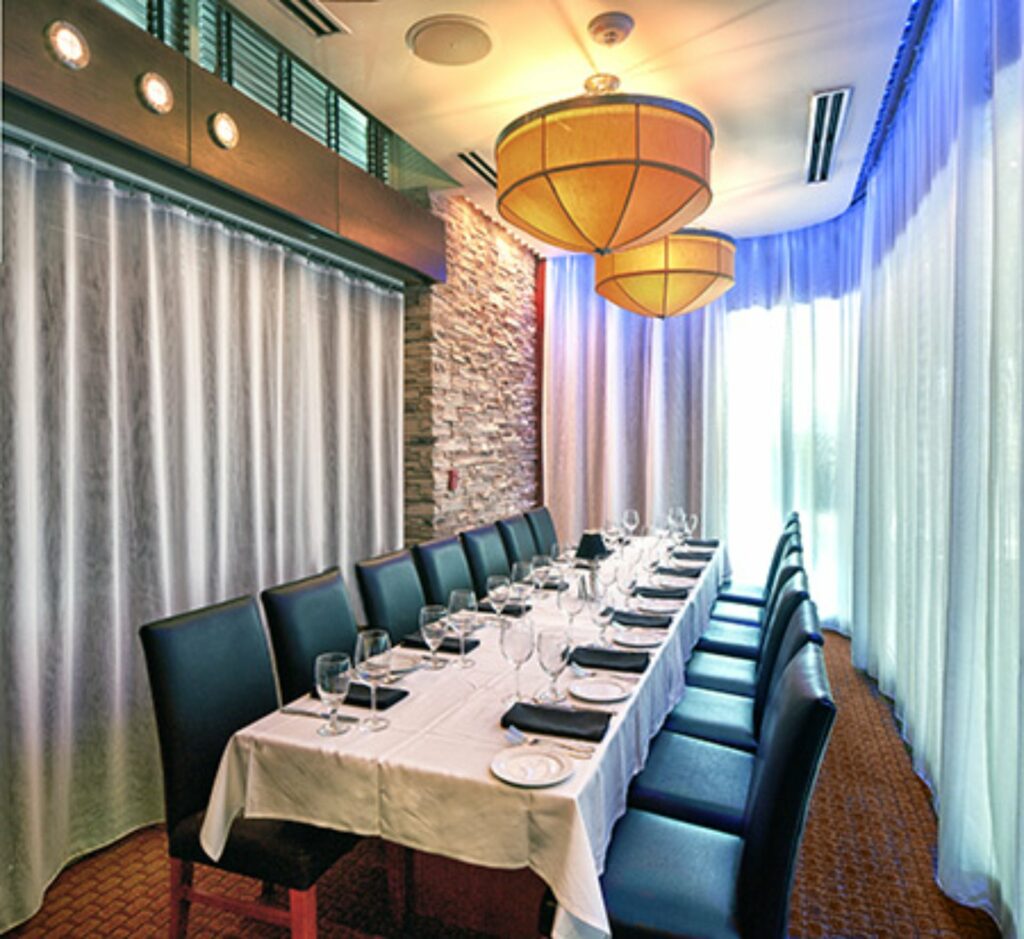 What to Look For When Choosing a Private Dining Room for Corporate Gathering
Booking a private dining experience in Orlando for your clients, employees, or guests can be simple if you know what to look for in a space. Begin with a few easy steps to land on your perfect spot:
Room capacity. Be certain to firm up your guest list. Even a small swing of 10 or so guests can really change the vibe – and location – of your private room.
Cuisine and service. Knowing what kind of food your guests are into is a great place to start, but do make sure to know what the restaurant can offer you before you book. For instance, will you have a waitperson assigned to your event all evening? What about dietary restrictions?
Aesthetics. The look and feel of the event space can make or break your guests' experience. If the atmosphere of the restaurant doesn't quite line up with your organization's sensibilities, you might want to look elsewhere. Good news is that you are in Orlando and will have tons of options.
Cost. It goes without saying you'll have to factor in a budget, but what extras does the private dining space offer? Will you need audio/visual? Favors? Transport? Look at all the factors in addition to the room itself.
How to Find the Right Private Dining Room on The Vendry
Orlando is a busy city that knows good food and even better atmosphere. Use The Vendry to search private dining restaurants in Orlando, and request a proposal directly from your search!
Read More:
The Best Venues to Host a Coachella Event 2023
The Best Large Event Venues in Orlando in 2023
The Best Private Dining Rooms in NYC