When it comes to hosting a large-scale event in one of the busiest cities in the country, everything about Orlando says, "go big or go home." According to VisitOrlando.com, 74 million people visited this bustling city in 2022. Orlando has major attractions, theme parks, and world-class dining. It's a city of forward-thinking hotels and resorts, and its central location makes for ease of access. And let's not forget about that glorious and seemingly consistent Florida sunshine.
Your customers, clients, employees, or guests will not be without world-class entertainment, dining, or accommodations in Orlando. With all these perks in one place, Orlando really seems to be the location with all the answers for your large scale event or meeting queries. Take a look below for a mix of some of Orlando's finest options for holding your next big corporate outing, conference, product launch, or networking event in what so many call "The City Beautiful".
Incredible Large Event Venues in Orlando for Your Next Big Event
1. Waldorf Astoria Orlando
Neighborhood: Bonnet Creek
Capacity: 1,070 standing, 1000 seated
Elegance meets functionality at the Waldorf Astoria Orlando, which offers an impressive 60,000 square-feet of multi-purpose meeting space at their location in the richly developed Bonnet Creek area. Logistical experts await to make sure your every need is met – from staging to award-winning catering, you will have a partner to make certain your meeting or event goes off without a hitch. The Grand Ballroom I and II can be combined together and set up any way you choose, from theater-style to reception. Invite your clients out on to the 1000+ person Promenade for cocktails after a hard day's work to enjoy the warm Florida evening.
2. Orange County Convention Center
Neighborhood: Convention Center District
Capacity: 64,000
The Orange County Convention Center (OCCC) is the beating heart of meetings and conventions in Orlando. Only 15 minutes from the Orlando International Airport, this two-building behemoth of architecture redefines flexible working space. There is 7,000,000 square-feet of combined meeting and public space at the OCCC, and is widely considered one of the most premier facilities in the country for conducting business. All your tech needs will be met here, with 1,110 access points in both buildings, as well as one of the most robust convention center wireless networks in the nation. Onsite business centers, food courts, parking, and guest services abound. Invite your employees or clients to stay at one of the four neighboring hotels, as the OCCC provides pedestrian bridges to all hotels for ease.

3. Amway Center
Neighborhood: Holden/Parramore
Capacity: 1,000 standing (non-stadium)
Yes, the Amway Center is home to the NBA's Orlando Magic, but it's much more than just a stadium. The Amway Center delivers state-of-the-art meeting and event spaces off the hardcourt. The Conference Rooms and Banquet Rooms and their tech abilities can be combined together to suit your event needs. Invite your 550 guests to step outside to the 8,100 square-foot Budweiser Baseline Bar on the Terrace Level. But the real star is the Disney Atrium, an open space directly in the entrance of the Amway Center, featuring 70,000 square-feet of floor-to-ceiling windows and an enormous video board.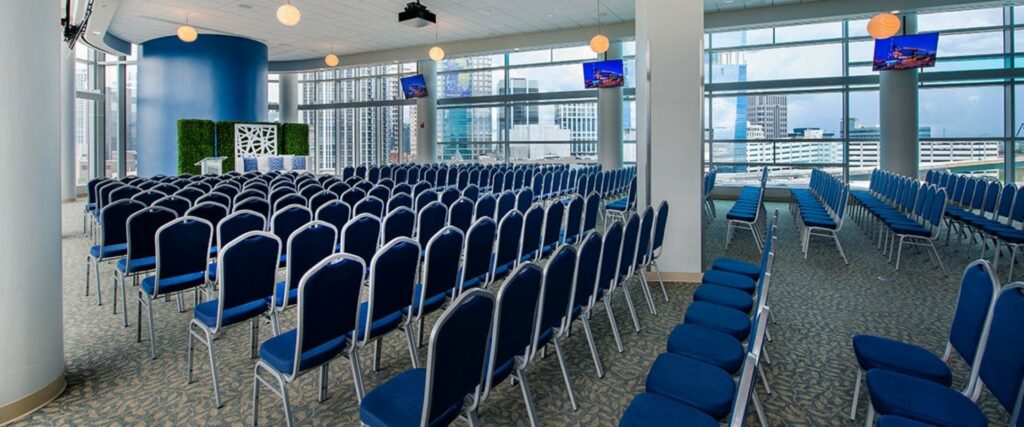 4. Conrad Orlando
Neighborhood: Evermore Bay
Capacity: 1,496 seated, 1,350 standing
A retreat within a lush 1,100 acres, the Conrad Orlando, a Hilton property, promises to take your event "beyond the conference room." This spot truly feels like an oasis with over 65,000 square-feet of indoor/outdoor event space, all inspired by the tropical nature around it. For an event as small as 19 guests in their Lotus Boardroom, to a large-scale meeting in the Acacia Ballroom for 1,350, the Conrad Orlando makes each event, no matter the size, feel special. But the real standout event space is the Lyonia Lawn, which can accommodate 800 standing on the sweeping grass, adjacent to the beach and tranquil waters of the lagoon. This spot is Florida at its best.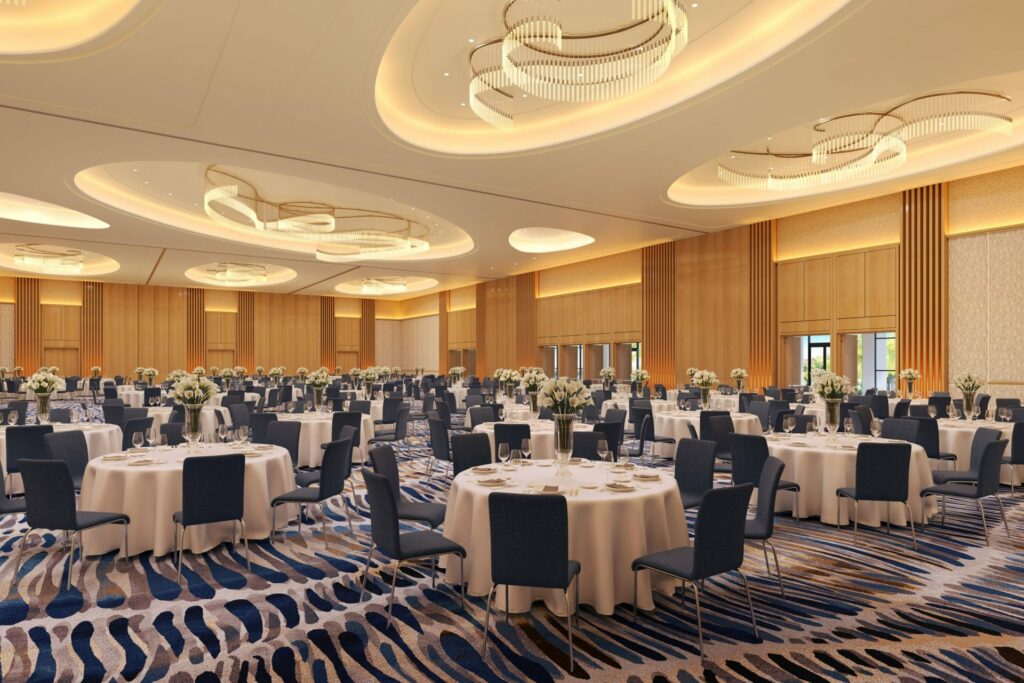 Booked the venue but need accommodations? Check out the best Orlando hotels.
5. SeaWorld Orlando
Neighborhood: SeaWorld
Capacity: 1,800 standing, 750 seated
Of course SeaWorld Orlando is a theme park, aquarium, and zoo, but did you know they can host your private event? Add an unexpected adventure to your next team meeting or networking event at SeaWorld, which boasts seven unique event spaces/experiences. The Ports of Call Ballroom – a space that can hold 750 guests in 12,000 square-feet – can host your traditional meeting, but after hours is when the fun can begin. March your guests through the "Antarctica: Empire of the Penguin" to encounter the frozen lands of a 200-penguin habitat with closer-than-ever animal connections. Or entertain 1,200 at the Key West-inspired Manta, a space featuring Stingray Lagoon, Dolphin Cove, and the thrilling Manta Ray rollercoaster. The event pros at SeaWorld will make sure all your needs are met and every experience is unforgettable.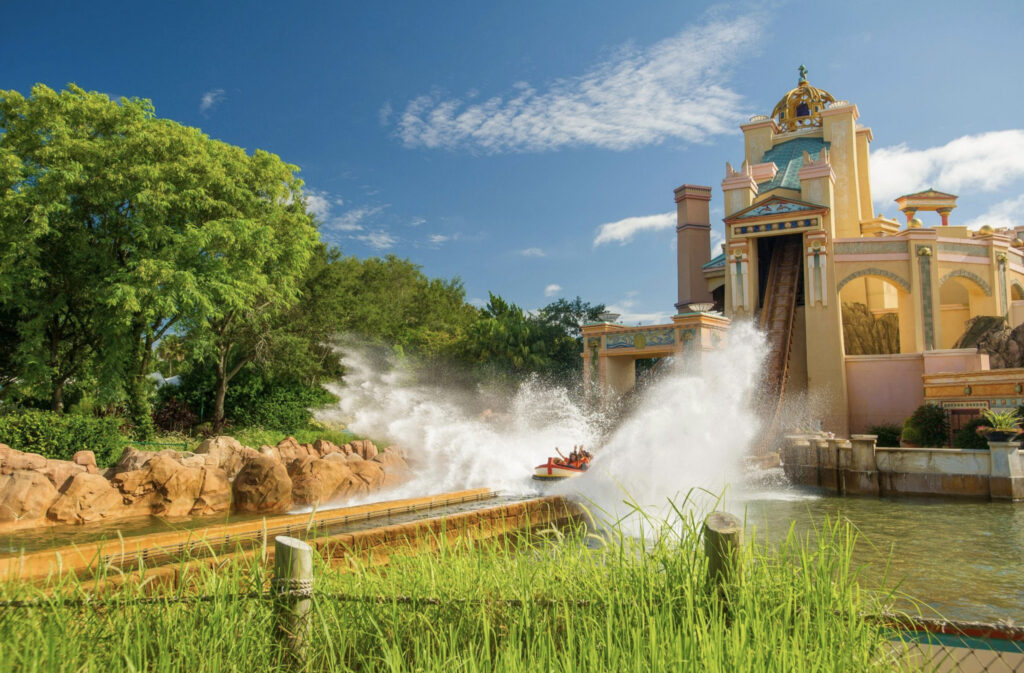 6. Four Seasons Resort Orlando at Walt Disney World Resort
Neighborhood: Golden Oak
Capacity: 895 standing
If versatility with a sprinkle of sophistication is the desire for your next meeting or event in Orlando, then look no further than the Four Seasons Resort Orlando at Walt Disney World Resort. They have the credentials to back up their flawless reputation: the hotel is a AAA Five Diamond Resort. There are 27 meeting spaces at this luxury resort, from seating for 12 all the way to a Grand Ballroom accommodating 895. Foyers, multiple terraces, and boardrooms are abundant at the Four Seasons Resort Orlando, just like the first-class service and treatment you and your guests will receive.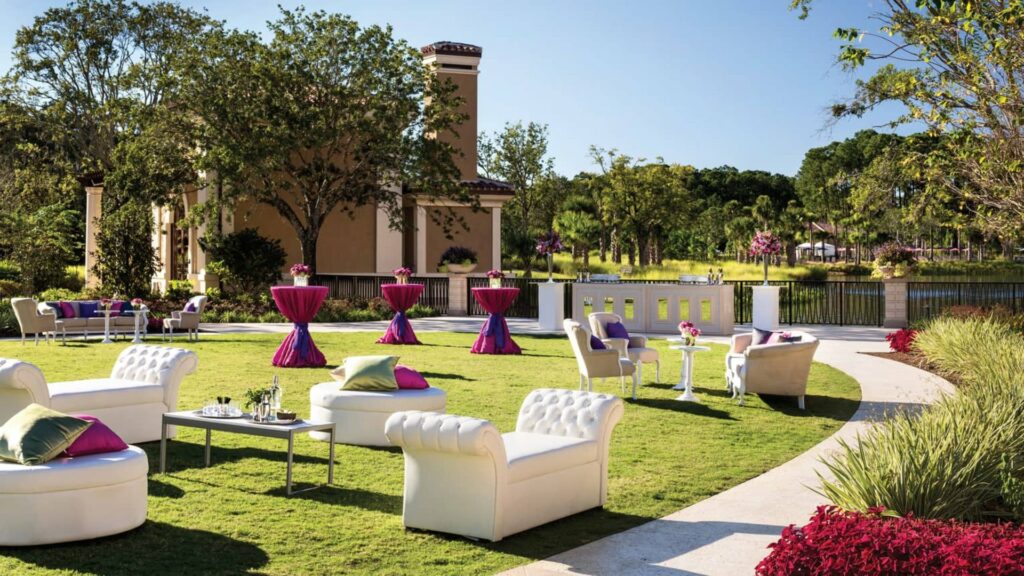 7. Kavas Tacos & Tequila
Neighborhood: Pointe Orlando
Capacity: 500
Take your employees up and away from the hotel and convention center scene and drop them into the lively Kavas Tacos & Tequila, a spirited Tex-Mex restaurant full of colors and flavors. Say hola to their full restaurant buy-out, which accommodates your group of 500 guests all within 7,000 square feet. Kavas offers audio-visual capabilities and specialized group menus featuring some of the freshest flavors this side of the Gulf of Mexico.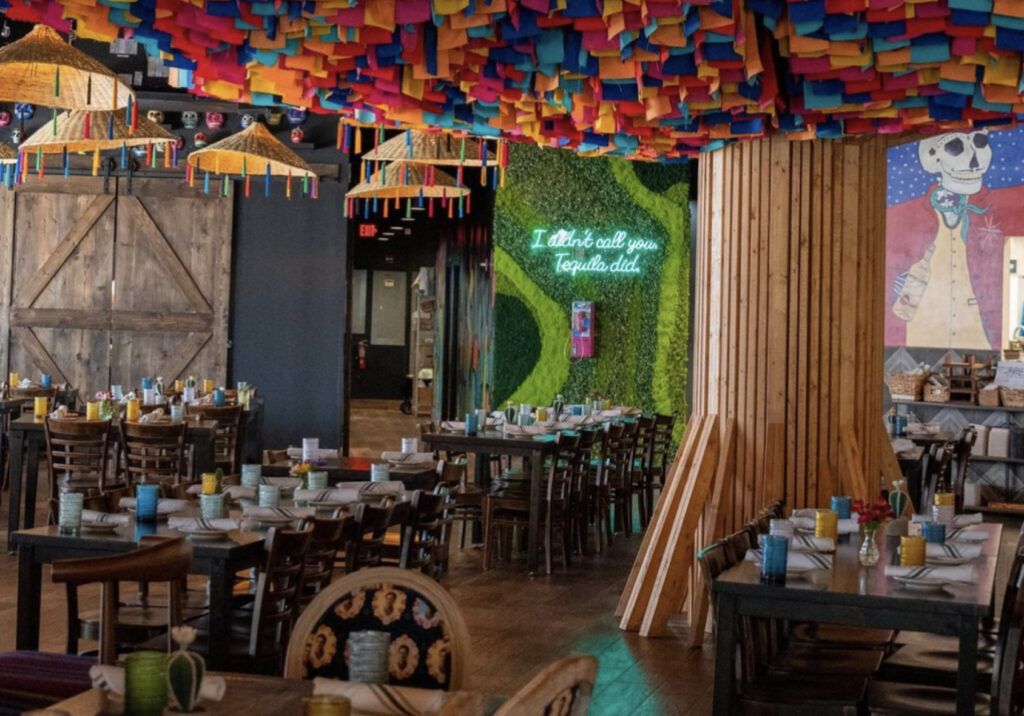 8. Orlando World Center Marriott
Neighborhood: World Center Drive
Capacity: 10,000 seated, 8,750 standing
Get ready for, 500,000 square-feet of indoor/outdoor meeting space, 104 event rooms, 2009 hotel rooms, and endless possibilities. The Orlando World Center Marriott is a mainstay on the Orlando meeting scene and for good reason. New to this already beloved property is the Magnolia convention space, which features 24 equally-sized rooms that can combine together to create 8 ballrooms of 3,600 square feet. And the staff here are some of the most hands-on you'll find. They've seen and done it all and are ready to make your event pop.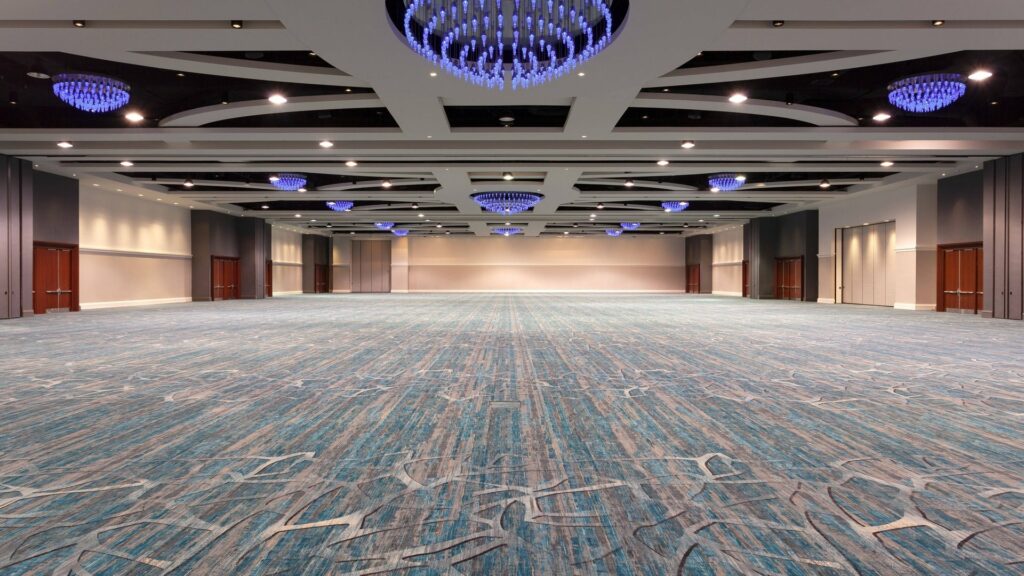 9. Loews Royal Pacific Resort at Universal Orlando
Neighborhood: Florida Center
Capacity: 5,000 standing
Feel the rush of excitement from the rollercoasters dotting the background of the Loews Royal Pacific Resort at Universal Orlando, where the choices for meeting spaces are plentiful. There are 63 combine-what-you-need event spaces within this vast resort, each tech ready to meet all your meeting needs. The in-house catering here is a huge plus. This might very well be the spot, as the Loews Royal Pacific Resort promises to engage, inspire, and entertain.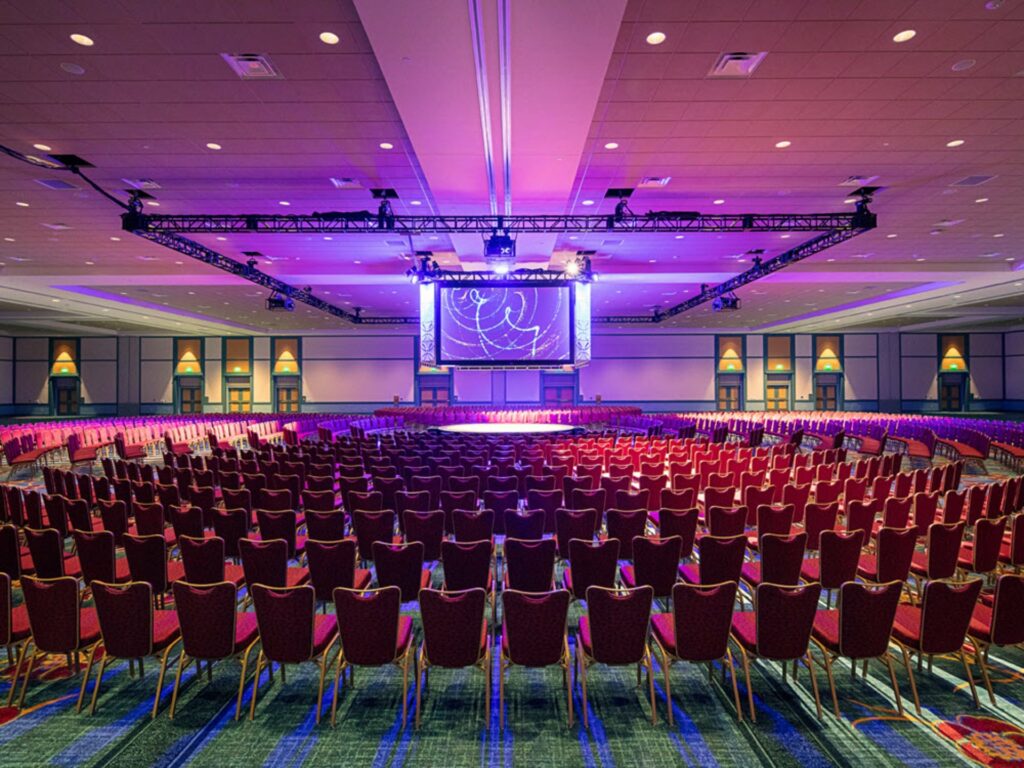 10. The Plaza Live
Neighborhood: Colonial Town Center
Capacity: 1,250 standing, 930 seated
There's good news if you want your presentation or product launch to be a bit out-of-the-lines: The Plaza Live. Built in 1963 as a movie theater, this historic spot is now a live-performance (or live presentation) venue that can be transformed from a seated space to SRO in a snap. There's 40,000 square-feet of workable space complete with great lighting and dynamite audio-visual capabilities. The best part? With high-ceilings and unobstructed sightlines, there is not a bad seat in the place. And your organization's name will look great in lights on the outdoor marquee.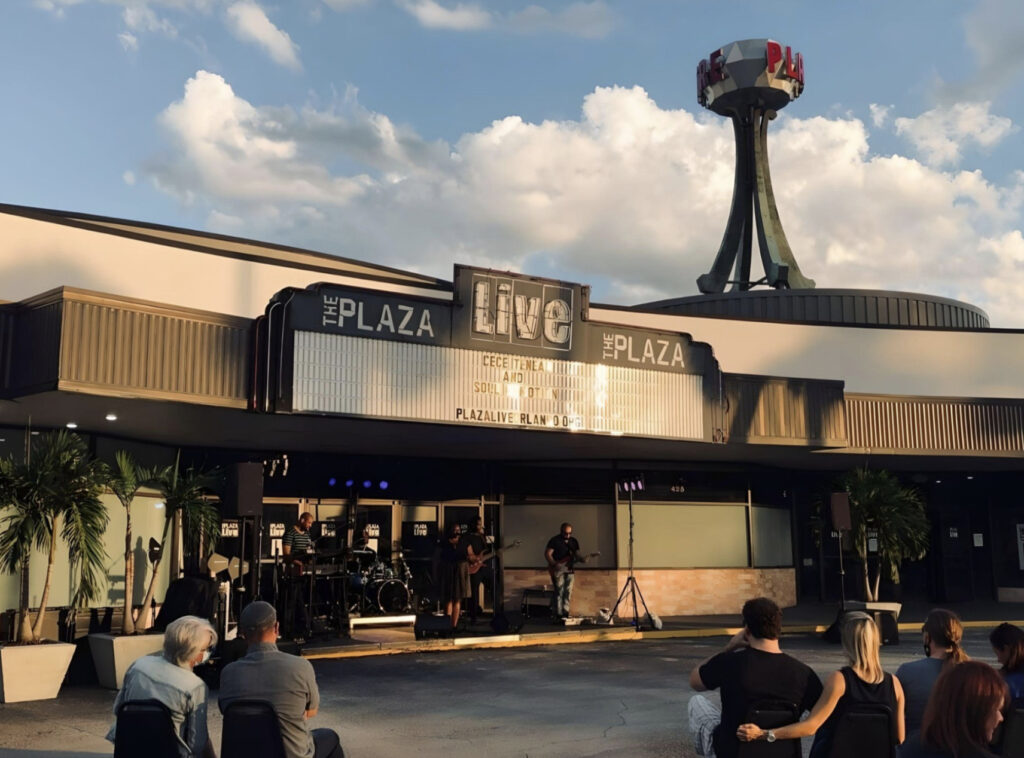 What to Look for When Choosing a Corporate Event Venue
Just like the city where they reside, each venue in Orlando has its own personality. From expansive to intimate, Orlando event spaces give you lots to consider. But before you nail down a spot, contemplate the following:
Crowd size. There is no bigger factor when hosting a large scale event than the size of your crowd. Attendee count makes all the difference, not only in your venue but your event format. Seated, standing, theater-style…the art of crowd control can only be performed on the right footprint, so choose wisely!
Budget. When it comes to a large scale event, your venue will likely be your biggest cost. Outlining a budget before diving in is always the smartest move. Some venues come chock full with amenities like rentals or a killer sound system, and others don't. Always ask up front what is included in the price to avoid any costly surprises.
Location, location, location. Will transportation be required for your guests from their hotel to the venue? Will they want to be able to leave the convention center for a breather each night? Make certain the location of your event makes sense for what you have planned, as well as the needs of your guests of honor.
Use The Vendry to Find the Perfect Venue
Finding the perfect venue for your meeting, convention, or employee retreat can be less stressful when you use The Vendry. Source venues on The Vendry for large groups – you'll be just a few clicks away from requesting a proposal and planning your important event!
Read More:
Gorgeous Raw Event Spaces in New York City
The Most Uniquely Stunning Venues in New York City to Host an Event
The Best Venues in Los Angeles for Your Holiday Party