The April air that surrounds Indio, a small town nestled in the otherwise quiet Coachella Valley of California, begins a slow swell of excitement each year in anticipation of one of the largest outdoor music gatherings in the world. The Coachella Valley Music and Arts Festival, held over the back-to-back weekends of April 12-14, and April 19-21, 2024, is a sensory explosion in the coolest of ways. For those lucky enough to score a ticket, Coachella never fails to deliver musical acts and artists of all genres, as well as some of the most innovative, interactive art installations experienced during this century.
This see-and-be-seen music fest is ripe for partnerships, sponsorships, and experiential activities. With over a quarter million attentive fans who bring in a reported $1.5 billion in revenue, Coachella has grown in its 20+ years from an indie-rock festival to a marketing musical behemoth. Just take a spin on the Ferris wheel overlooking the ground's 600 acres to see for yourself.
Need a venue during one (or both!) of the weekends of Coachella? Whether you are looking for a spot to host a cocktail party, after-party, pop-up shop, or whatever your needs, check out some of the swankiest spots the Indio area has to offer.
The Best Coachella Event Venues
Looking for something that's desert chic? Laidback vibe? Oasis atmosphere? The Vendry offers up top recommendations for venues in and around the Coachella Valley during the musical festival's dates in April. Spoiler alert: some even include lodging for a totally encompassing guest experience!
1. Mirabella
Neighborhood: Indio
Capacity: 20 guests for events, 8 bedrooms with 13 beds
A true "oasis to experience", Mirabella is an iconic private estate perfect for both events and guest lodging deep in the heart of the Coachella Valley. After an amazing day at Coachella (only five minutes away), imagine guests winding down on the lush green spaces at the Mediterranean-influenced Mirabella, complete with a saltwater pool and 5-hole pitch and putt golf course. Steps beyond the pool is a private lake that boasts kayaks and a paddle boating dock. They broke the mold with Mirabella – guests will never forget your event or their stay at this elegant property.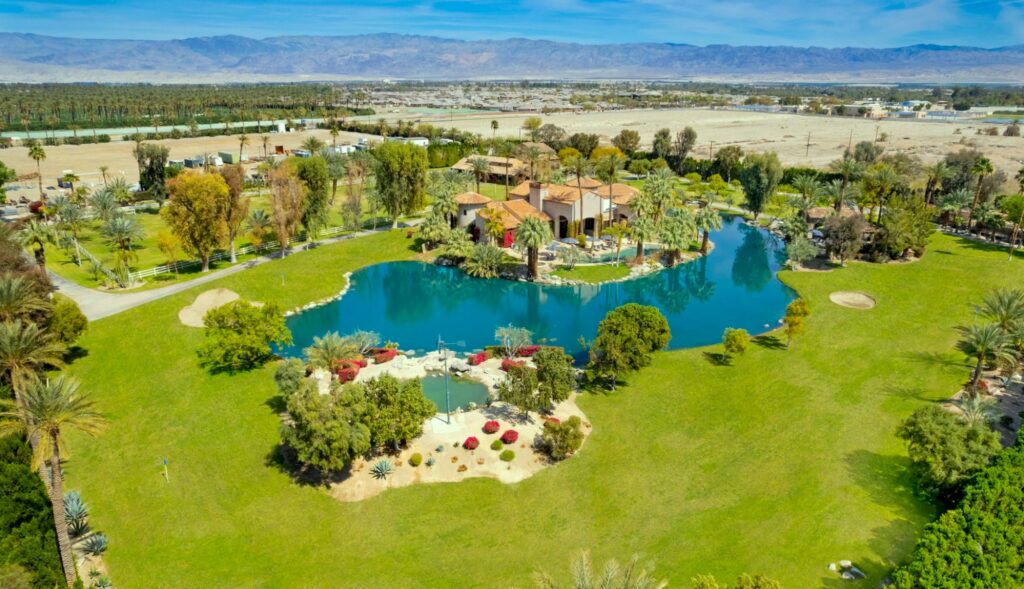 2. Desert Ridge Estate
Neighborhood: Indio
Capacity: 20 overnight guests, 50 cars for parking
Desert Ridge Estate sets the bar high with over 5,300 square-feet of workable space in the main estate, as well as a large guest house, which provides next-level accommodations, like eight bedrooms, a well-stocked kitchen, a theater, and indoor fitness area. The natural stone and brick set against the backdrop of a private lake strikes the perfect tone of desert life with indoor/outdoor luxury living. Even though the vibe is low-key, all your technology needs will be met. From smart systems that monitor lighting and room temperature to a state-of-the-art security system, the property is outfitted for the comfort and safety of your guests. Coachella weekends are a four-night stay minimum.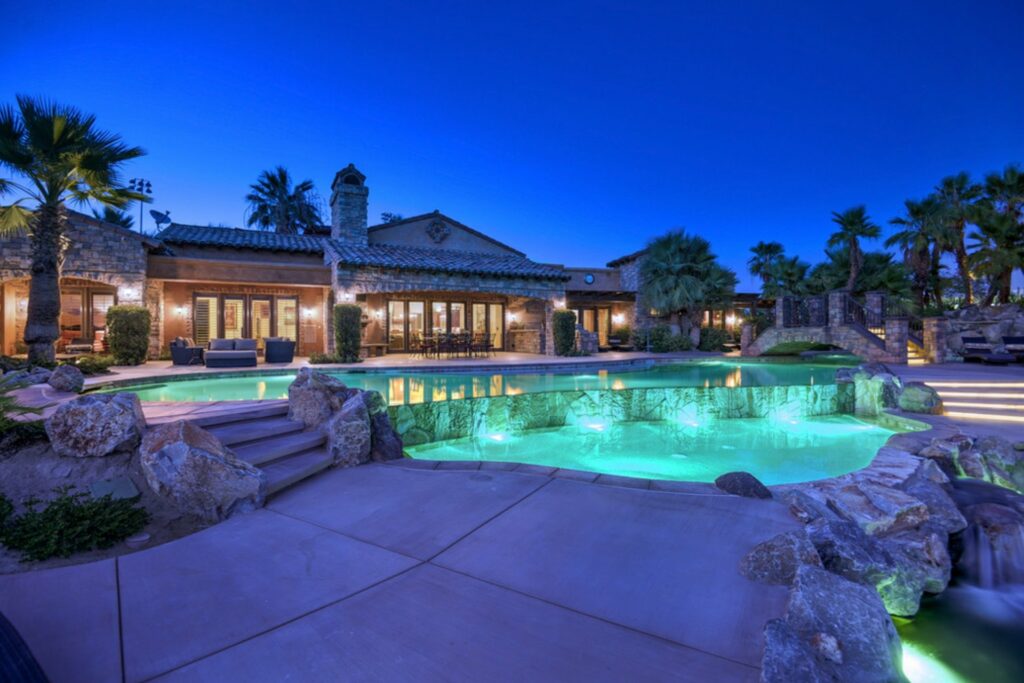 3. The Ranch at Thirty-Eight
Neighborhood: Indio
Capacity: 300
A desirable location to unwind after Coachella, The Ranch at Thirty-Eight showcases the best of the quiet Coachella Valley. Customization is the key at this elegant locale. From a lit tent on the grounds to cocktails along the pool, your event will pop with sophistication. The event masters at The Ranch at Thirty-Eight will provide you with a long list of event professionals, from caterers to floral, and everything in between. Perfectly secluded from Coachella's hustle and bustle, your guests will thank you for the respite this venue offers.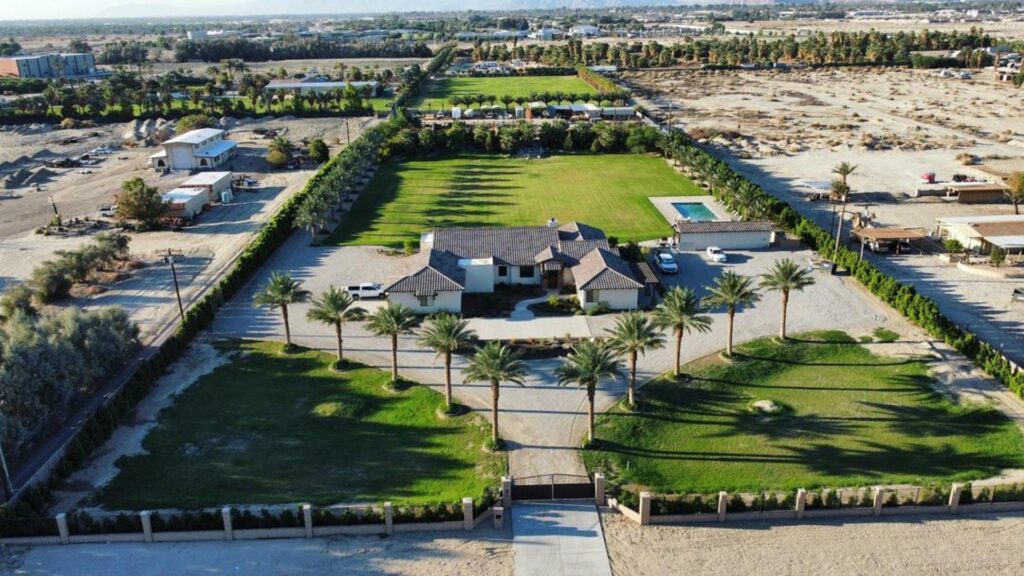 4. The Coachella Valley History Museum
Neighborhood: Indio
Capacity: 450 seated, 650 standing
Need to go big? Look no further than the Coachella Valley History Museum, an event space offering plenty of options and functionality for your large group during the music festival. Steeped in the rich history of the Coachella Valley, the History Museum offers their sweeping Gazebo Lawn which can accommodate up to 650 people for a cocktail reception. If a presentation or lecture is on the event schedule, book the Medjool Auditorium. The Coachella Valley is the main star at this unforgettable venue.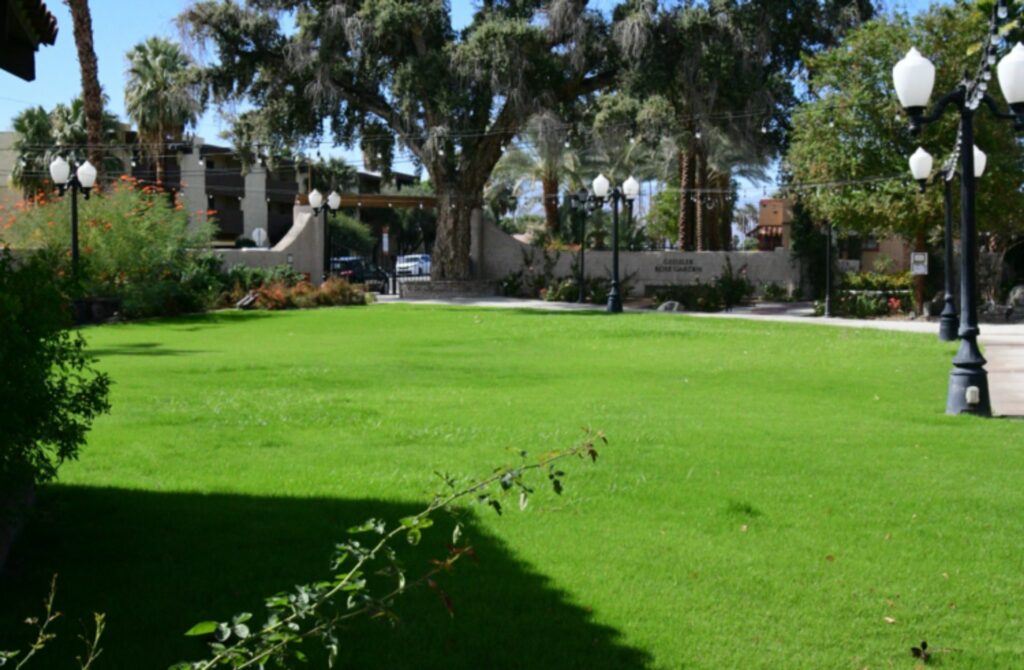 5. The Zenda Estate
Neighborhood: Indio
Capacity: 28 overnight guests
With nine acres of beautifully manicured lawns held within a gated community, it might be hard to look past The Zenda Estate. Part of the Canopy Vacation Rentals group, the Zenda Estate is where your guests can rest their heads on a Casper mattress at night. But the real jewel of this property is the 3,300 square-foot Barn. Natural light abounds in this playful space, perfectly versatile for sit-down meals any time of day, to a full bar and state-of-the-art movie theater sure to impress your guests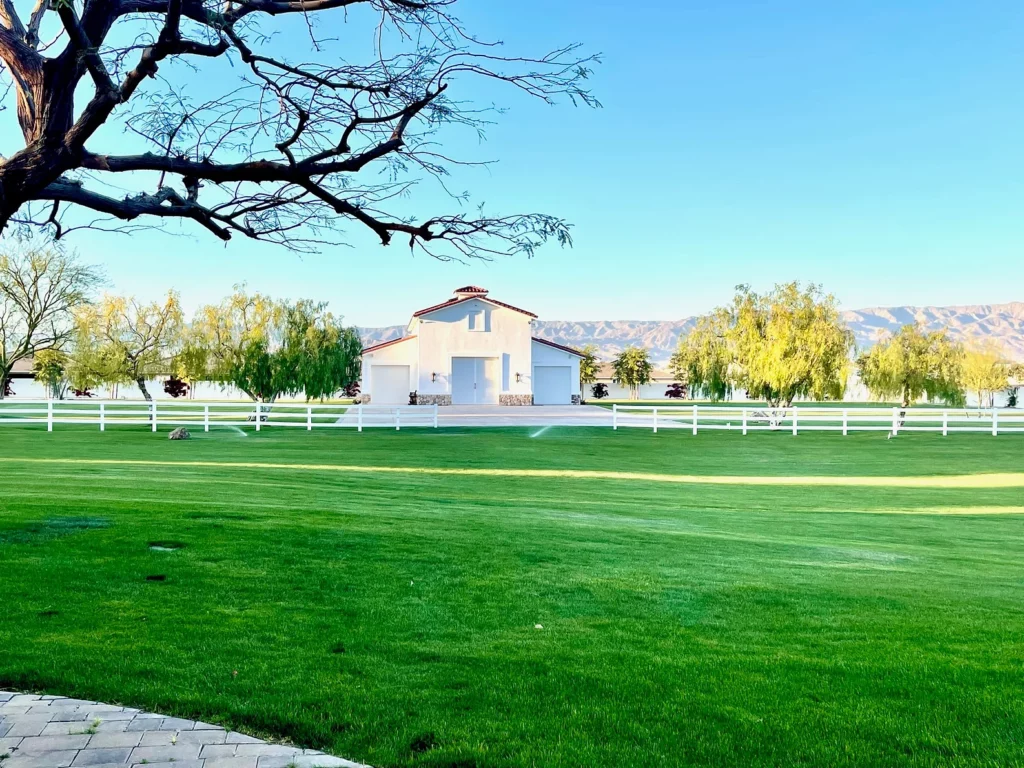 Want to take your Coachella venue to the next level? Check out these Coachella events from our inspiration gallery.
6. The Emerson Estate
Neighborhood: Thermal
Capacity: 1,000 seated for full buyout, 26 seated for the villa
Feel the essence of Coachella Valley at the luxurious Emerson Estate, a Mediterranean wonder on a walled 20-acre gated compound. Guests will delight as they enter down the long, palm-lined drive to find ample parking for 500 cars. A full property buyout will allow for entertaining 1,000 guests, or simply book the 8,600 square-foot villa for a more intimate event. Complete with its 13 bedrooms, this magnificent property embodies the indoor/outdoor lifestyle of Coachella Valley.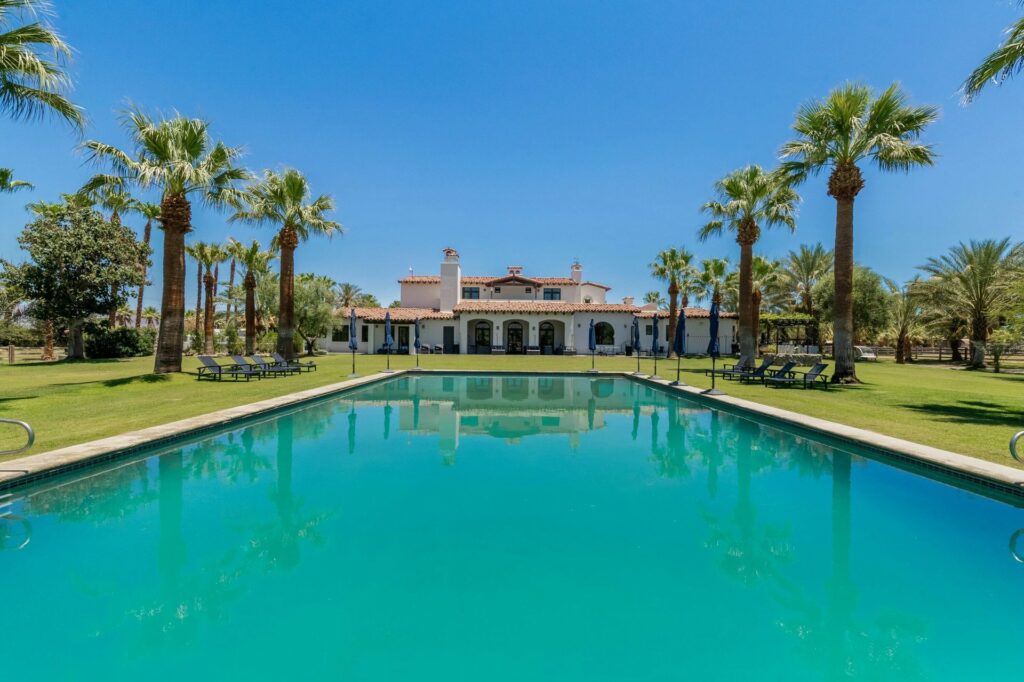 7. L'Horizon Resort & Spa
Neighborhood: Palm Springs
Capacity: 100 seated, 50 overnight guests
Intimacy is the name of the game at the stunning L'Horizon Resort & Spa, an elegant hotel with the finest appointments in nearby Palm Springs. This mid-century modern wonder that attracted the likes of Marilyn Monroe and Betty Grable so many years ago, remains a fixture in the Palm Spring landscape of boutique hotels, as well as a desirable event destination for post-Coachella refinement. Host a dinner event at the dramatic SO×PA, where your guests will dine alfresco at the 26-foot live edge walnut communal table. Earth elements like fire pits and foundations abound, sure to wrap your guests in Southern California relaxation.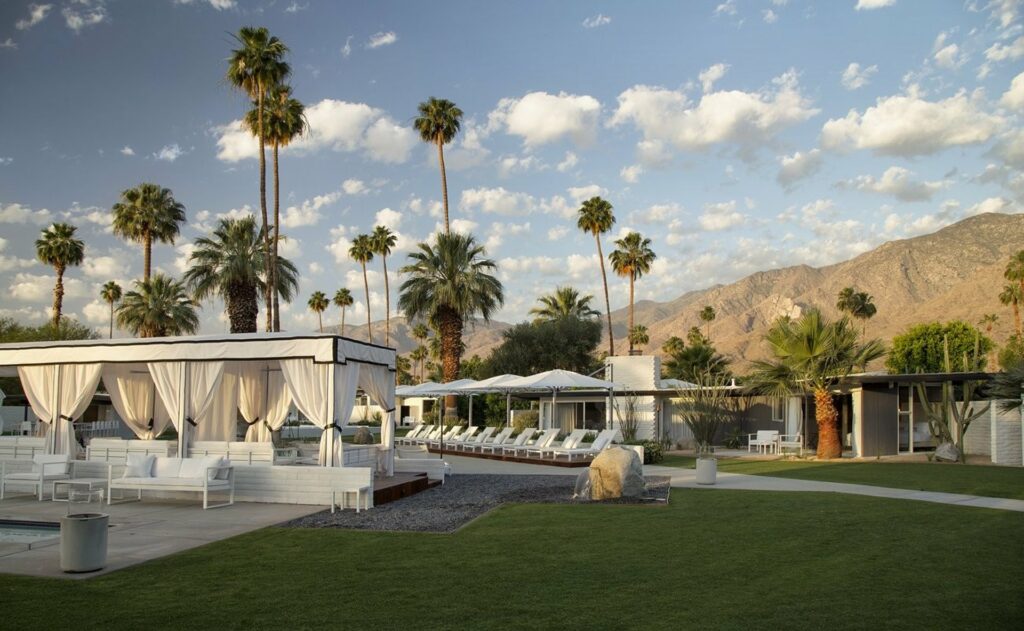 8. The Bistro
Neighborhood: Indio
Capacity: 16 seated
Hosting a small group you need to impress at Coachella this year? The Bistro in Indio is your answer. Minutes away from the music festival, this restaurant serving fresh seafood, sushi, steaks, and chops will delight all who need a great meal after a long day at the music fest. Book their private patio seating 16 to enjoy the murmur of palm trees blowing in the desert wind.
9. Casa Cody
Neighborhood: Palm Springs
Capacity: 30 overnight rooms, 200 seated
Choose from four charming venue options when booking your event at Casa Cody, a luxury hotel located about a half hour away from the Coachella grounds. Harriet's Lawn – named after pioneer and hotel namesake Harriet Cody – can accommodate 200 guests for a seated dinner on its lawn. Allow your guests to cool off after a hot day at Coachella by booking the Apache Pool and Lawn, a private 100-person deck and pool with on-site catering.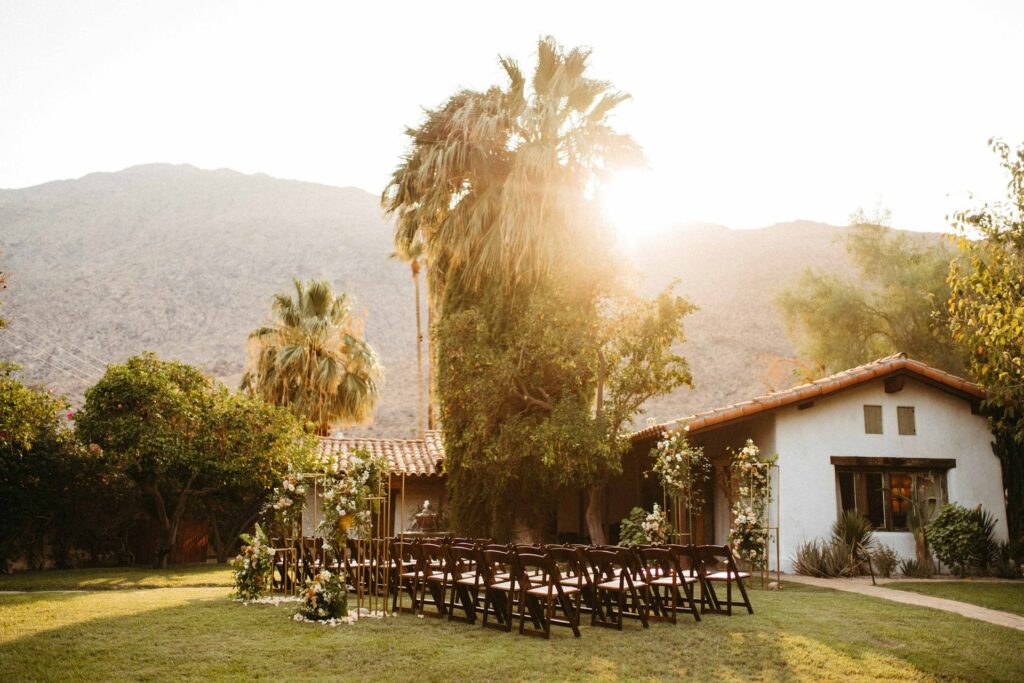 10. Two Bunch Palms
Neighborhood: Desert Hot Springs
Capacity: 200 standing, 185 seated
If you want flawless choices for event spaces that will make a big impact, Two Bunch Palms is the place. Two Bunch Palms is a contemporary wellness escape with 65 rooms about a half hour from Coachella. Choose to host your event in the unique Yoga Dome, a circular indoor retreat that can hold 150 sitting and 200 standing. It is an unforgettable 3,000 square-foot passive solar earth-mount structure, with a partial open air ceiling. Or try The Pond, which feels like a real life desert oasis with water views and manicured lawns.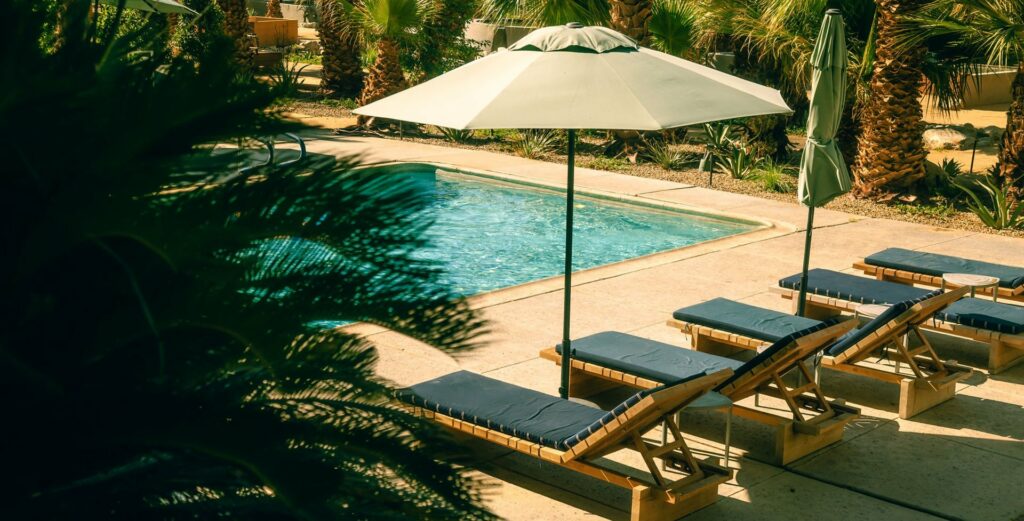 What to look for When Choosing an Event Venue at Coachella
Before you jump in with both feet to book an event venue around Coachella, consider a few items:
What fits in your budget. It is always wise to consider your budget first, and ready yourself for some price hikes surrounding the festival weekends. Make a list of your important needs like a caterer, rentals, or a sound system, and be sure to search The Vendry for local vendors in and around Indio.
Where the venue is located. Coachella is definitely a festival where people are driving a lot (aka, traffic), but how easy will it be for your guests to get to and from your venue? Consider how all your guests will be transported during this congested time in Indio.
The importance of food and drink. Coachella is wonderful, yes, but it is also known for long food and drink lines. Your guests will want serious sustenance when they arrive to your party, so be sure an ample amount is available to them. Be their oasis in the desert!
Guest comfort level. Coachella is a desert climate, which means the days are quite hot and the evenings can get down to 40 degrees. Most venues have an indoor/outdoor functionality for their event spaces, but check on fans or water misters for the day and heaters for nighttime.
Find Your Next Venue for Coachella on The Vendry
Whether you are hosting a rocking after-party, pop-up shop of your hottest goods, or an unprecedented experiential event, let The Vendry help you find the right spot to host your event at Coachella. The Vendry will help you source venues, vendors, and more at Coachella and beyond.
Read More:
The Best Big Event Venues in Los Angeles for Corporate Events
The Best Rooftops in Los Angeles for Your Next Event
The Best Venues in Los Angeles for Your Holiday Party