Known for its vibrant culture, delicious food, and iconic landmarks, New York has also become synonymous with its trendy and luxurious hotels. From chic boutique hotels to grand five-star establishments, New York City has a wide range of options for those seeking an unforgettable stay. In this article, The Vendry explores some of the trendiest hotels in New York City's west side that are perfect for hosting events and gatherings. Whether you're looking for a sophisticated and modern space or a classic New York experience, these hotels are sure to impress.
8 Trendy Hotels on New York's West Side
Despite the city's wide array of hotels to choose from, choosing the right venue for your NYC event still proves to be a challenge. New York's west side is filled with unique, luxurious, and up and coming spots perfect for an event that guests would be thrilled to attend. Ensuring your choice is the trendiest, coolest, and most fabulous is not an easy task, which is we've gathered the chicest and trendiest hotels on the west side for your next New York City gathering.
1. ModernHaus Soho
Neighborhood: Soho
Capacity: 125
ModernHaus SoHo seamlessly blends style and substance to create an unparalleled guest experience. Its collection of museum-worthy artworks pays homage to the neighborhood's rich history, while our selection of outdoor spaces allows visitors to escape the hustle and bustle of the city below. Jumpin Jacks, its trendy all-day eatery on the second floor, transforms into an intimate lounge at night, providing guests with the perfect atmosphere to unwind. Whether you're looking to explore the dynamic SoHo neighborhood or relax within the comforts of your residential-inspired guest room, it has something for everyone. Indulge in the culinary delights of Michelin-starred chef George Mendes at its Veranda restaurant or soak up some sun while taking in the stunning city views from the rooftop pool bar, Jimmy.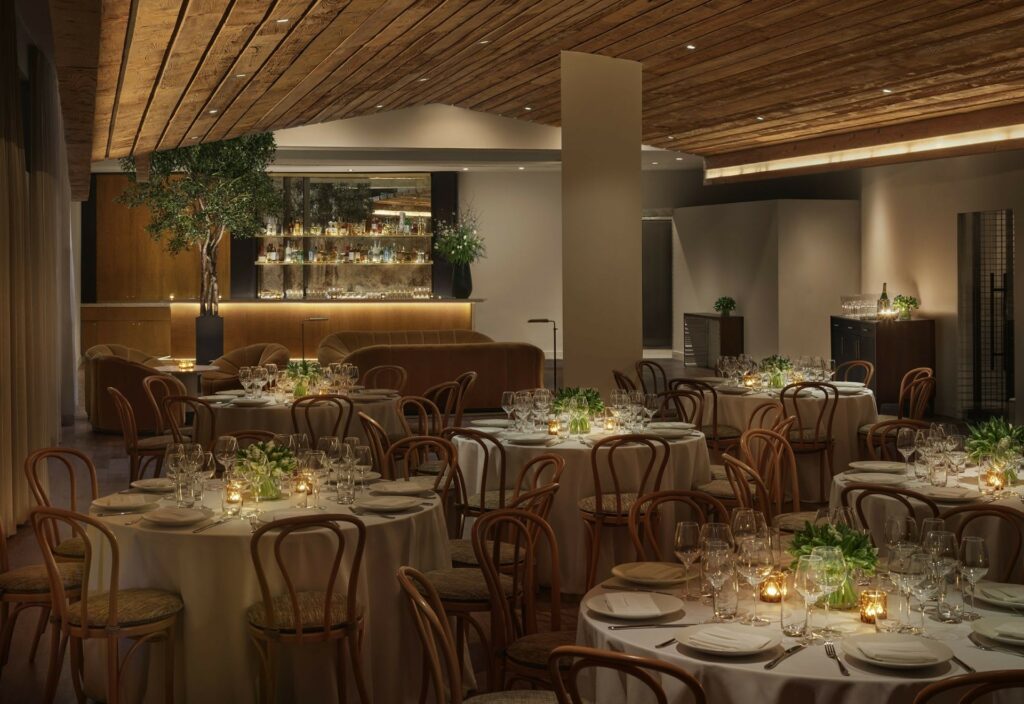 2. Hotel Barrière Fouquet's New York
Neighborhood: TriBeCa
Capacity: Contact for more info
The Hôtel Barrière Fouquet's New York brings the charm of the famous Champs-Élysées hotel to the picturesque streets of Tribeca, imbued with a warm, family-run atmosphere. The hotel boasts a range of amenities, including a stylish brasserie, a sophisticated bar, a serene spa, a glamorous cinema, and elegantly appointed rooms and suites with a residential feel, all designed by Martin Brudnizki with a distinctly French flair. Guests can enjoy the quintessential Parisian way of life in the city that never sleeps. The 97 rooms and suites feature high ceilings, large windows that provide stunning city views, and tasteful pastel tones, refined materials, and Art Deco-inspired furnishings, creating an atmosphere of refined relaxation.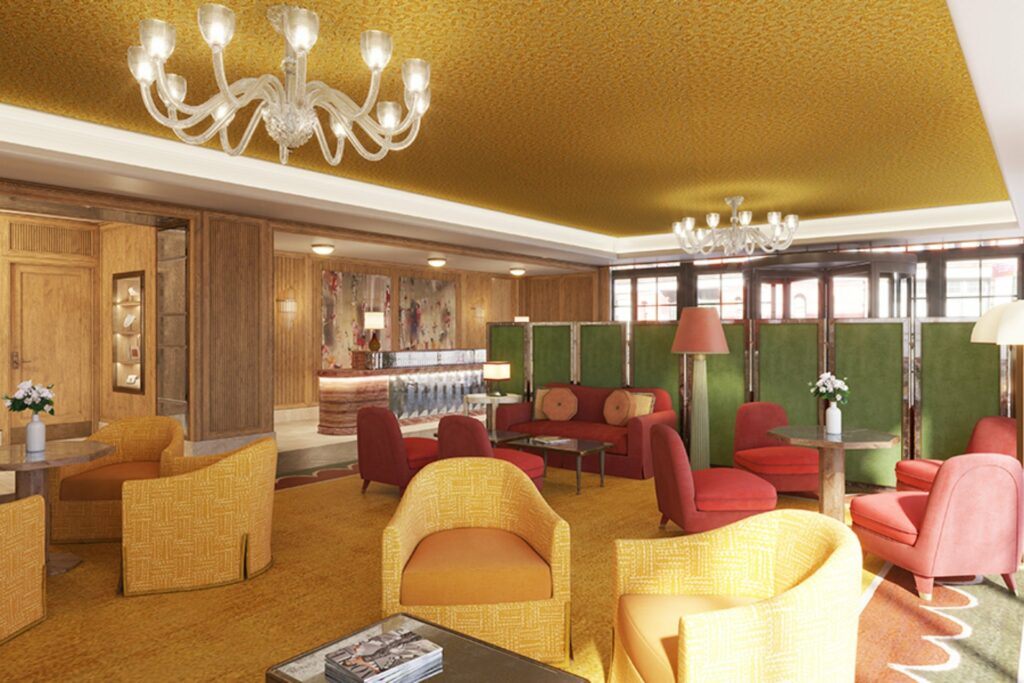 3. Soho Grand Hotel
Neighborhood: Soho
Capacity: 530
Soho Grand, situated at the center of Manhattan's most celebrated neighborhood, captures the vibrant and cultured essence of SoHo, steeped in its historic past. The hotel is conveniently located a stone's throw away from internationally acclaimed art galleries, boutiques, and dining establishments. Recently refurbished, the hotel's guest rooms, terrace suites, and two lavish penthouse Lofts are tastefully designed to reflect the opulence and creative spirit of the neighborhood, featuring a stylish, spacious, and bright aesthetic.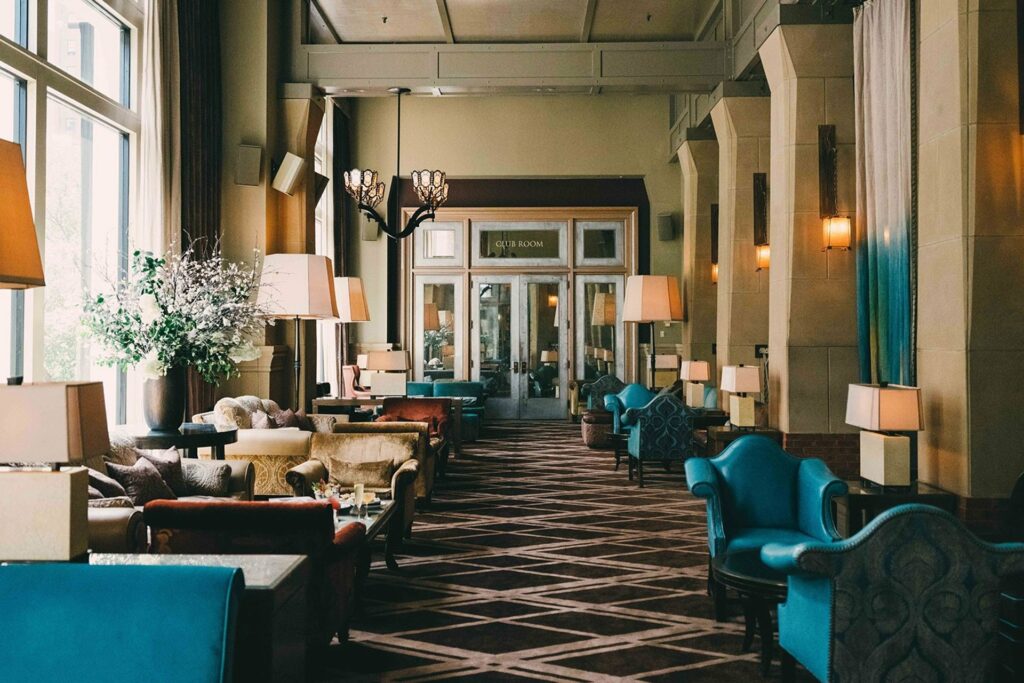 4. The Hotel Chelsea
Neighborhood: Chelsea
Capacity: 125
Located in the iconic Chelsea neighborhood at the center of New York City, Hotel Chelsea is surrounded by historic landmarks, museums, galleries, and restaurants. The hotel features a range of beautifully restored historic spaces suitable for any event, from small dinner parties to grand celebrations, providing a captivating setting for gatherings of any size.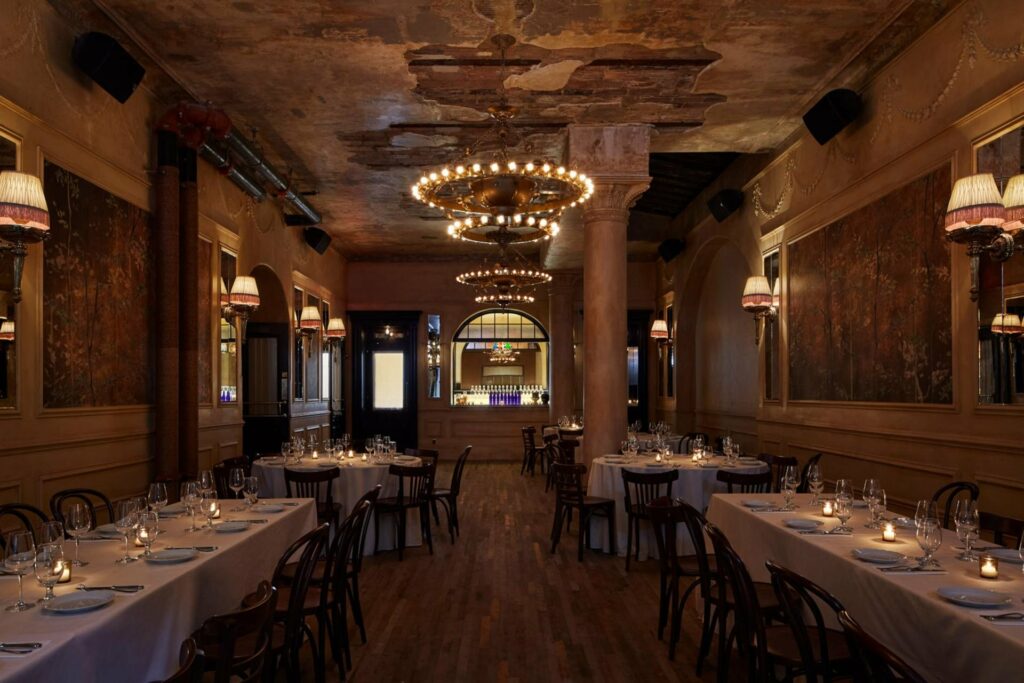 5. Mandarin Oriental NYC
Neighborhood: Upper West Side
Capacity: 1000
Mandarin Oriental, New York is an exquisite blend of contemporary design with elegant oriental influences, offering stylish guest rooms and suites with awe-inspiring views of Manhattan and unparalleled Five-Star service. Guests can enjoy luxurious amenities such as the MO Lounge, providing an exceptional all-day dining experience with stunning views of Central Park and the Manhattan skyline, a 14,500 square-foot Five-Star Mandarin Oriental Spa, and a state-of-the-art fitness center complete with a 75-foot lap pool. Ideally located in the Deutsche Bank Center in Columbus Circle, this hotel is just steps away from world-renowned dining, shopping, and entertainment options, including Broadway Theaters, Lincoln Center, and The Shops at Columbus Circle.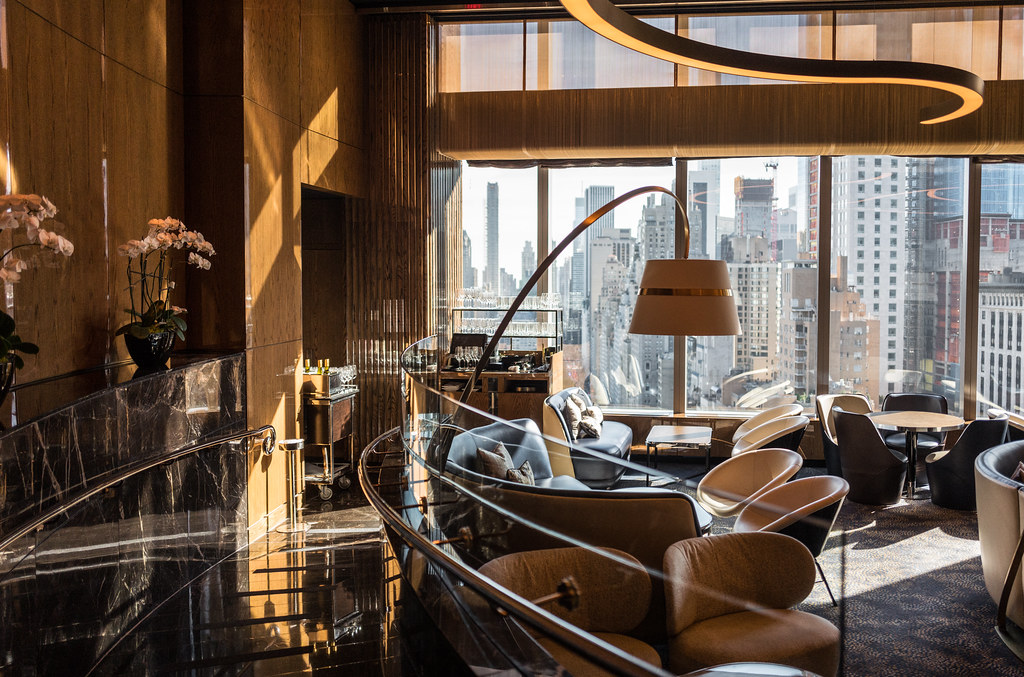 Find the hotel you're looking for. Browse now!
6. Hotel Hugo
Neighborhood: Homestead
Capacity: 115
Hotel Hugo is a fashionable hotel located in the West SoHo area of Manhattan, between SoHo and the Hudson River. The hotel is home to two of the trendiest rooftops in the city,. Bar Hugo Rooftop is a magnificent event space that provides a stunning backdrop of lower Manhattan for elegant events. This glass-enclosed space spans two floors and can accommodate up to 115 guests for private events. Azul On The Rooftop is an informal venue for socializing during the warmer months in New York. This colorful rooftop retreat, inspired by Old Havana, offers handcrafted cocktails and Cuban cuisine in a vibrant atmosphere.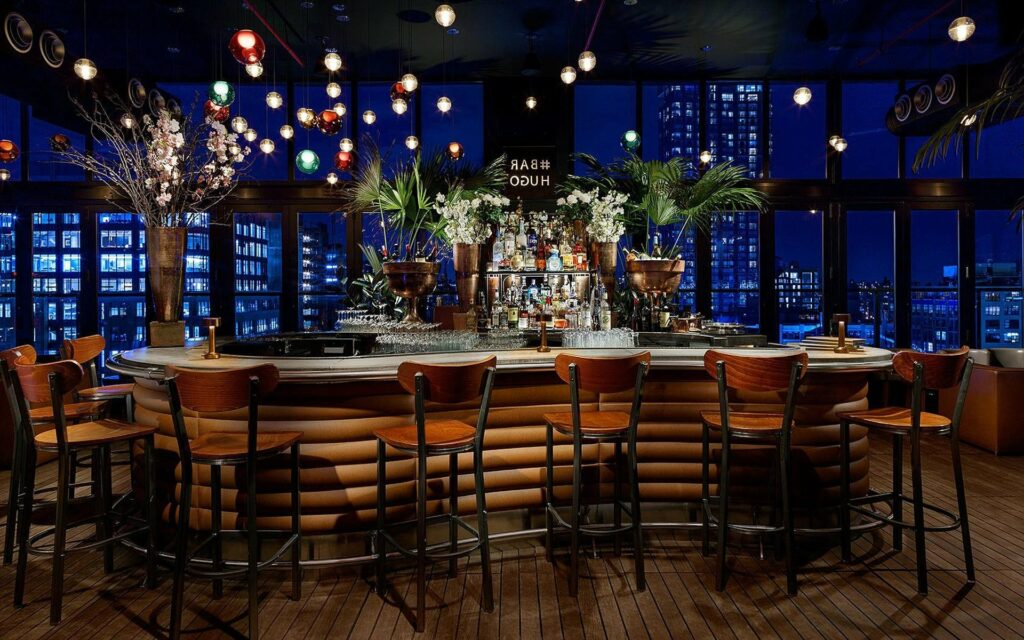 7. The Standard Highline
Neighborhood: Homestead
Capacity: 200
The Standard, High Line is a unique hotel that stands tall above the popular public park in downtown Manhattan, which was created from a former elevated railroad. This hotel, unlike other Standard hotels, was constructed from the ground up. It boasts 338 stylish rooms with breathtaking views of the Hudson River and the uptown skyline. The hotel is situated in a modern 18-story tower that overlooks the High Line park and the Hudson River. It is located a short 12-minute walk from the nearest subway station and just four blocks from the vibrant nightlife in the Meatpacking District.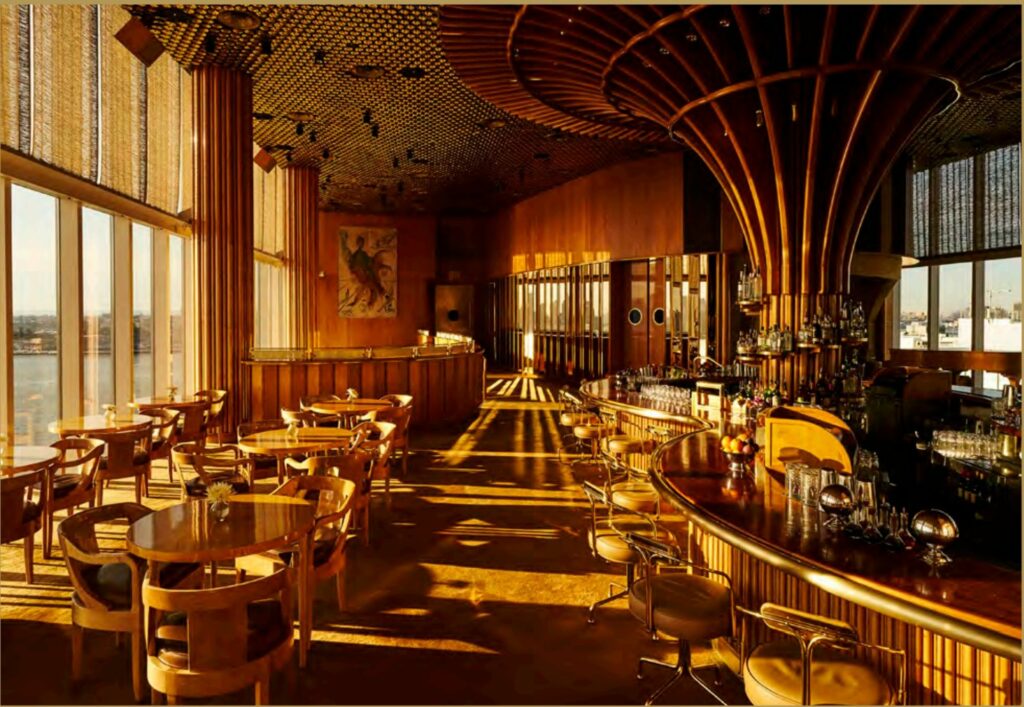 8. Four Seasons Hotel New York Downtown
Neighborhood: TriBeCa
Capacity: 175
Experience the epitome of sophistication and elegance in the heart of Tribeca at the Four Seasons Hotel Downtown New York. Take memorable pictures on their iconic staircase, hold meetings in thier contemporary conference rooms, or celebrate in style in the Greenwich Ballroom. Whether it's a cozy family gathering or a grand charity gala their downtown hotel is well-known for its refined event spaces, imaginative cuisine, and exceptional Four Seasons service - all of which come together to create truly unforgettable experiences.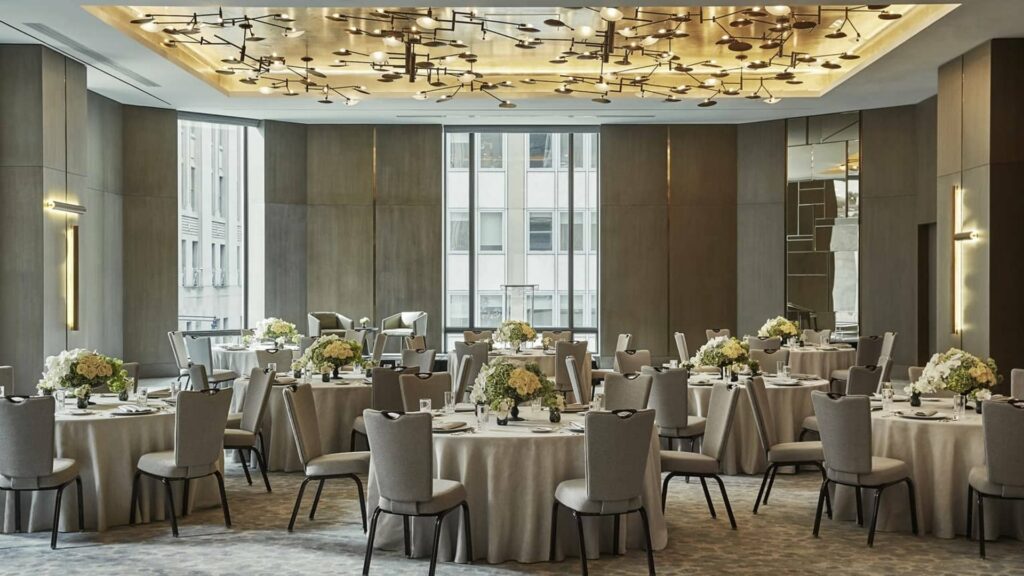 Why Choosing the Best Hotel for Your Event is Important
Planning a successful event for your company starts with choosing the the right venue. The venue sets the tone for the entire occasion and can significantly impact the success of your event. From the location to the size, the layout to the amenities, there are numerous factors to consider when selecting a hotel for your event.
Find the Trendiest Hotels on The Vendry
Looking for the trendiest hotels on West Side New York exposes you to some of best spots the city has to offer. Whether you're planning a business conference, or a special celebration, these hotels offer the perfect blend of style, sophistication, and convenience. From modern and minimalist design to classic New York charm, there is a hotel to suit every taste and capacity. So, if you're looking to host an event that your guests will never forget, consider booking one of these trendy hotels in New York City.
See the full list here:
Read More:
9 Stylish Venues in Midtown for Your Next Meeting in New York City
The Most Uniquely Stunning Venues in New York City to Host an Event
Top Corporate Event Venues in NYC for Your Next Event