New York City is one of the most vibrant and exciting cities in the world, and its Midtown neighborhood is at the heart of it all. It's a bustling area filled with skyscrapers, world-class restaurants, and cultural landmarks. If you're looking to host a meeting or event in Midtown, there are plenty of options to choose from. Whether you are based in NYC or gathering the team for an offsite meeting in the Big Apple, there are plenty of meeting spaces to choose from. Here, we'll explore the best options for booking a New York City meeting space in Midtown, for meetings of all types and sizes.
9 Stylish Midtown Meeting Spaces in NYC
With thousands of great venues in NYC, it can be daunting to find the right one. Narrowing in on Midtown is a first great step. Midtown is filled with amenities, such as top-rated restaurants, hotels, and shopping destinations, which can enhance your guests' overall experience and create an unforgettable event. But we know that searching for a venue can be a daunting process so we've put together the top NYC midtown meeting venues that won't disappoint.
1. Convene at 101 Park Avenue
Neighborhood: Murray Hill
Capacity: 144
Just steps from Grand Central Station, Convene at 101 Park Avenue is a great option for teams that are commuting in from neighboring cities and states. The space is the perfect set up for meetings of any kind as it boasts multiple boardrooms and meeting spaces, all equipped with sleek and minimalist furnishings. At over 20,000 square feet, Convene at 101 Park Avenue can accommodate large groups as well with their reception lounge that holds up to 200 standing guests.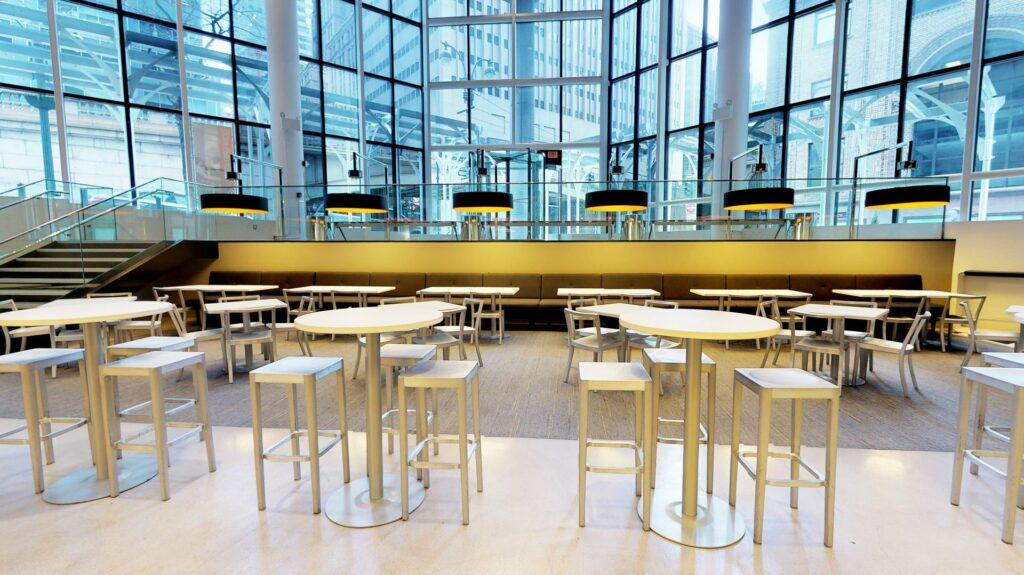 2. Whitby Hotel
Neighborhood: Midtown
Capacity: 130
The Whitby Hotel is located in the central area of upper midtown Manhattan, near 5th Avenue. This hotel is renowned for its modern art and design. Its location is strategic as it is only a couple of blocks away from Central Park, and some of the top-notch restaurants, galleries, and museums in New York, including MoMA. The Whitby can host meetings of all sizes. From the intimate Anrep Room which seats 30 to The Whitby Theater that can accommodate up to 130, each room is unique in both design and functionality.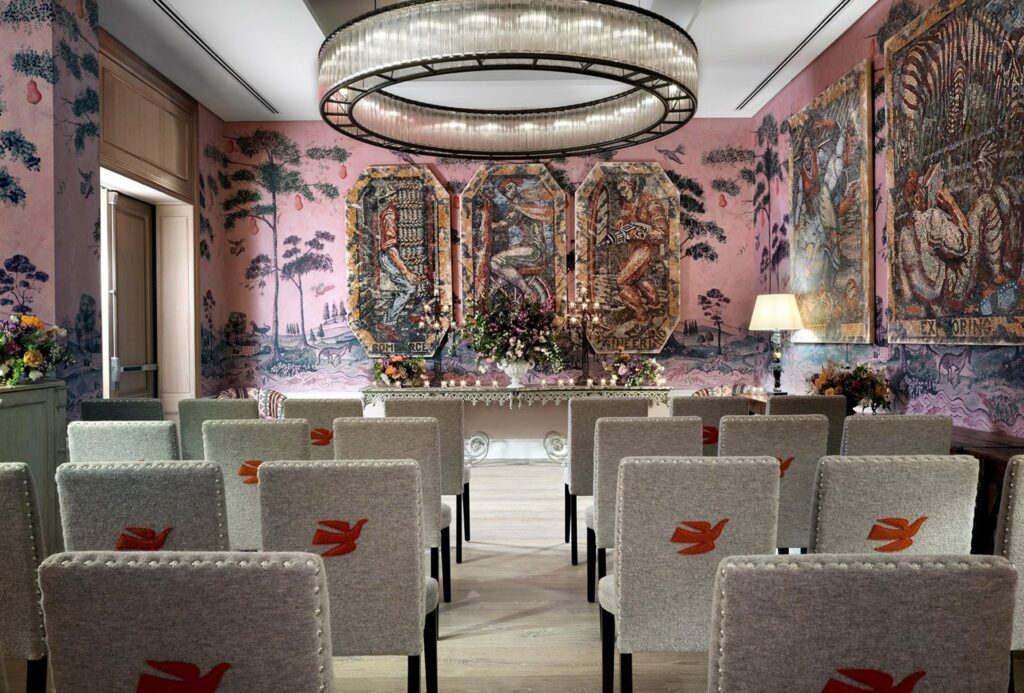 3. @Ease 605
Neighborhood: Murray Hill
Capacity: 200
The flexibility at @East605 is what makes this meeting space so appealing. Multiple meeting spaces — all decked out with modern furniture and their signature touch of green — makes this Murray Hill space a stylish option for your next meeting. From the large oasis Assembly room to the intimate city view Maple Boardroom, there are multiple spaces that can accommodate groups of any size.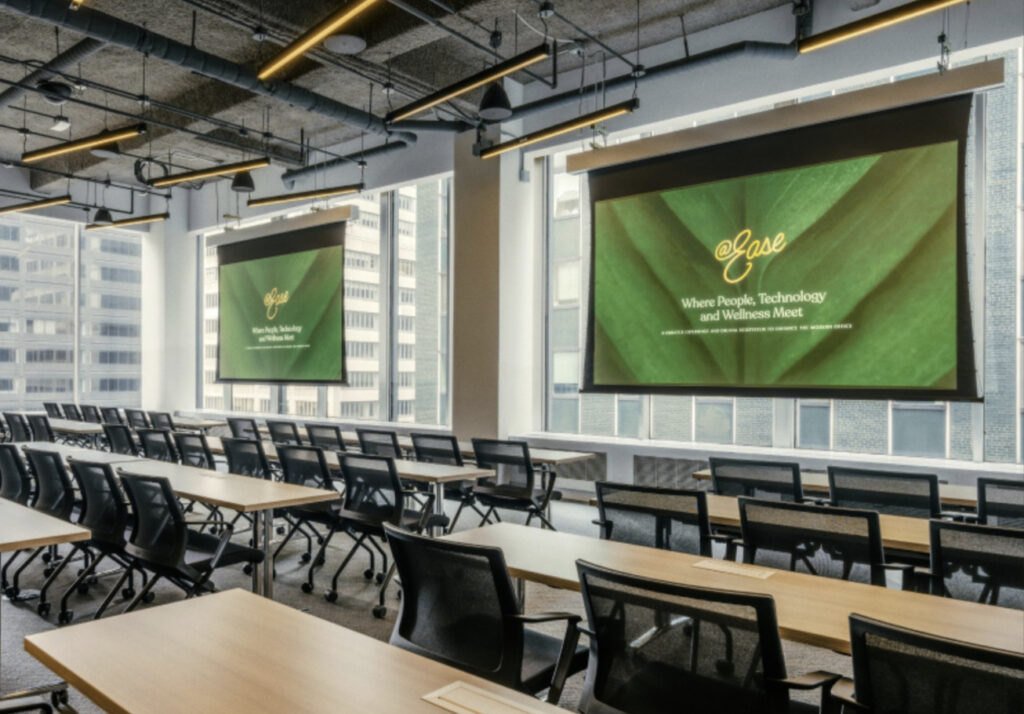 4. Convene at 237 Park Avenue
Neighborhood: Midtown
Capacity: 250
Elevate your next meeting by booking one of the stunning spaces at Convene at 237 Park Avenue. The Midtown location is conveniently located near Grand Central — the mecca of opportune subway lines. Black and white furnishings give this venue a sleek and modern feel providing a great backdrop to creative brainstorming sessions or quarterly sales meetings. Want to host a collaborative meeting? Check out The Library Space which is equipped with a 90" LED display.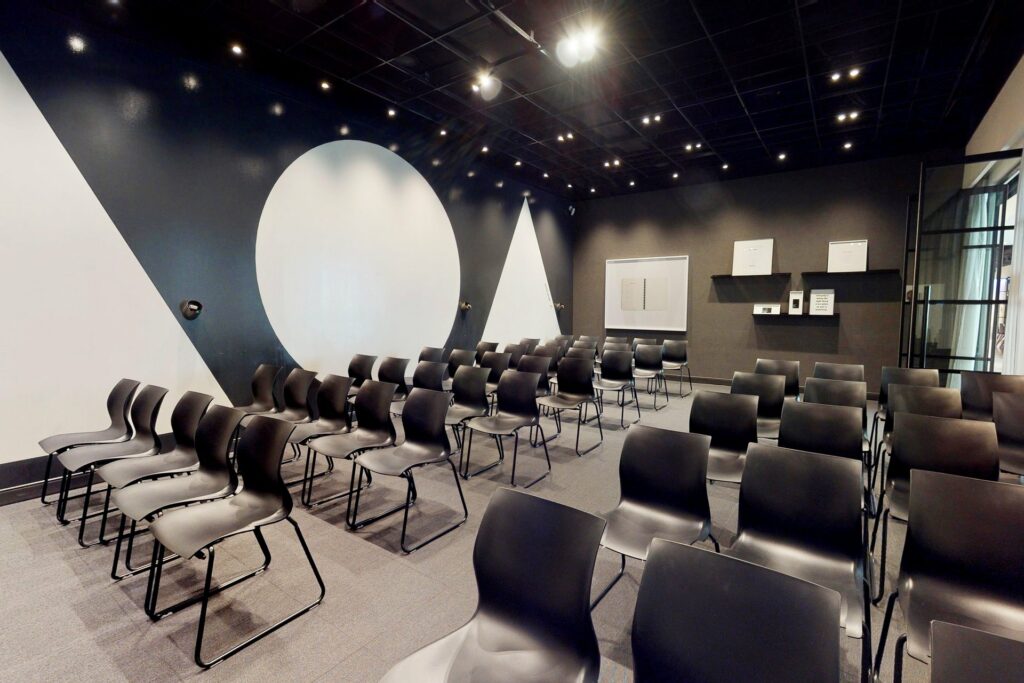 5. Space530
Neighborhood: Midtown
Capacity: 14
Intimate meeting spaces are the Space350 speciality. Five welcoming meeting spaces which can seat anywhere from four to 15 guests allow for intimate group sessions or collaborative brainstorms. Each uniquely designed and equipped with start-of-the-art AV. If you are looking to include catering into your day, full-service catering is also available.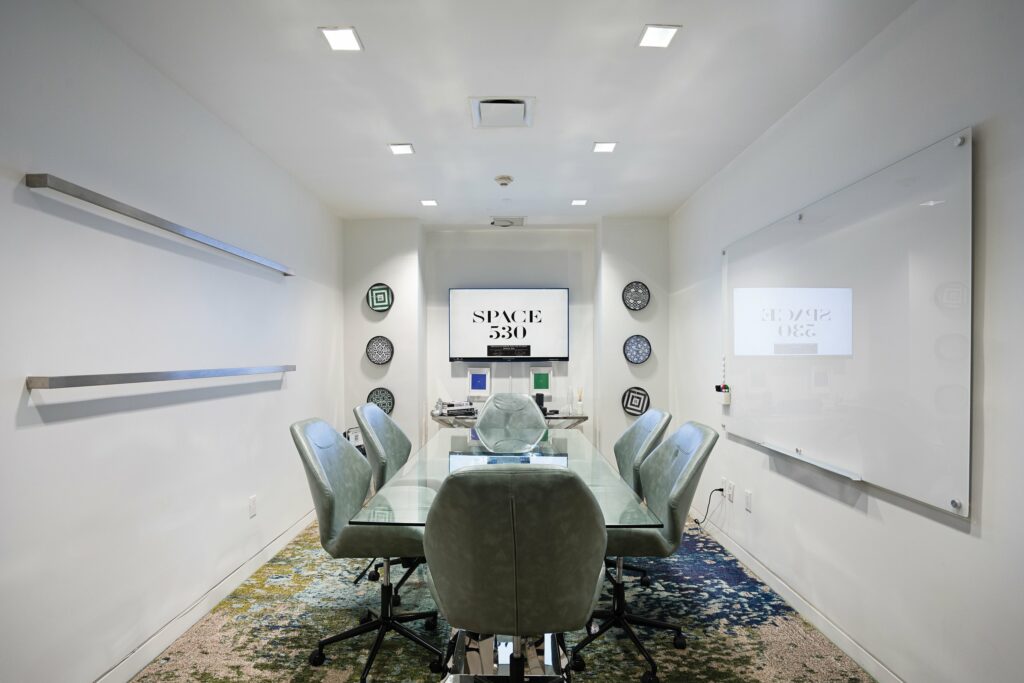 Finding a meeting space in New York City just got easier. Browse now!
6. Swedish Gateway
Neighborhood: Midtown
Capacity: 40
For a classic meeting space option, head to Swedish Gateway located on 3rd Avenue in Midtown. Choose from two boardrooms to host your team meeting — the Swedish Gateway Boardroom for a more traditional looking space, or the Swedish gateway View for a more open and airy feel. Swedish Gateway includes AV systems within their boardrooms, making each meeting setup a breeze.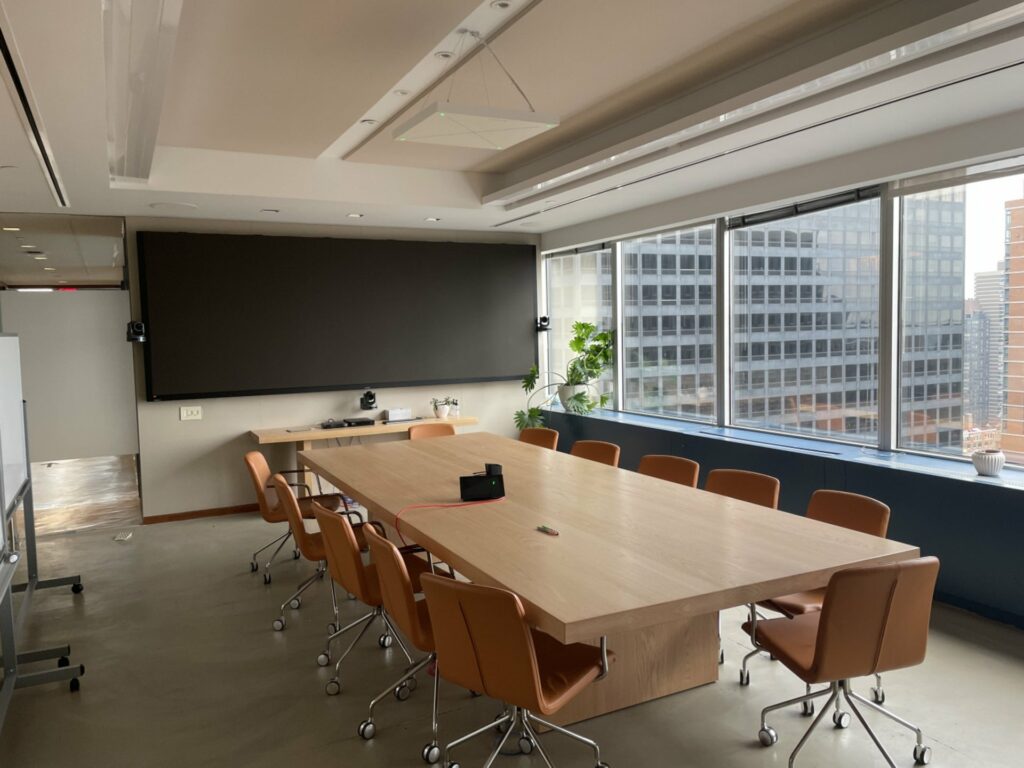 7. Pendry Manhattan West
Neighborhood: Chelsea
Capacity: 30
Pendry Manhattan West is an all-in-one venue for your next business meeting. Within the hotel, there are multiple spaces to utilize including the Ballroom for larger meetings or the Boardroom for more intimate brainstorming sessions. The Boardroom boasts floor-to-ceiling natural light and modern, stylish furniture. If hosting out of town clients, Pendry Manhattan West can also serve as accommodations for your guests.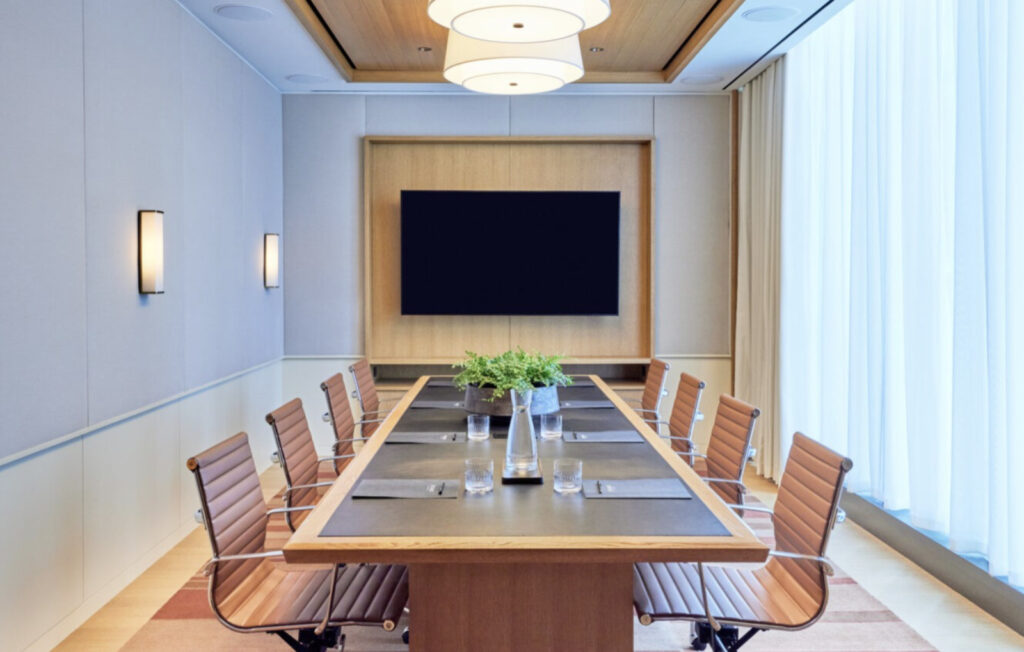 8. Kimpton Hotel Eventi
Neighborhood: Chelsea
Capacity: 302
Whether you're hosting a large conference or small networking event, the Kimpton Hotel Eventi has the space for you. From their Ventana Ballroom to their stylish Invent space, there are rooms for meetings of any size. Located on the edge of Chelsea and Nomad, this centrally located hotel is the perfect hub for any business meeting or event.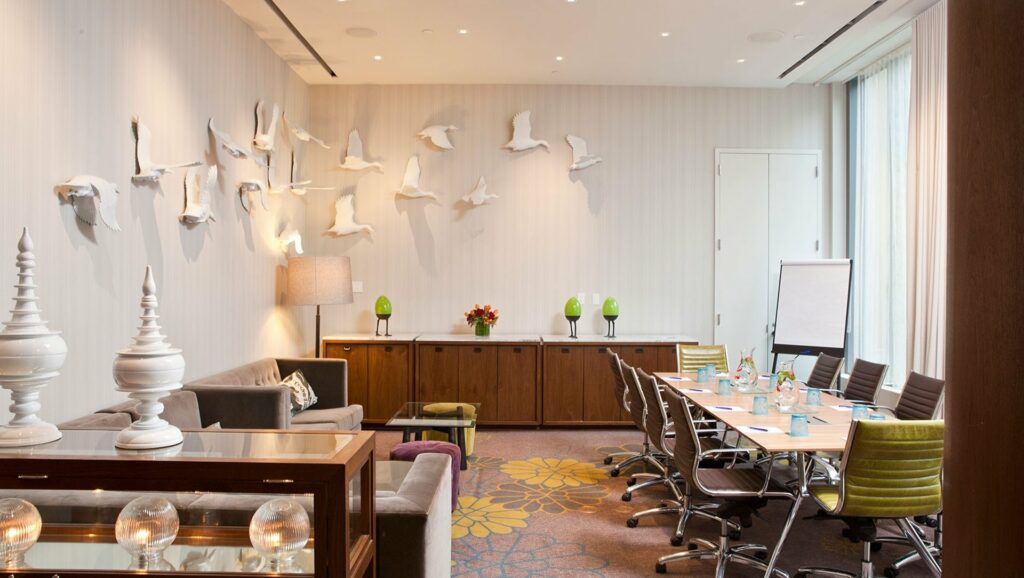 9. Refinery Hotel
Neighborhood: Midtown
Capacity: 100
Centrally located in the Garment district of Midtown, Refinery Hotel is an ideal venue for a business meeting or a company event. Accommodating up to 35 guests, their Hatbox space offers a distinctive atmosphere and unparalleled ambiance. The 700-square-foot event space pays homage to its industrial roots which can be seen in its industrial design.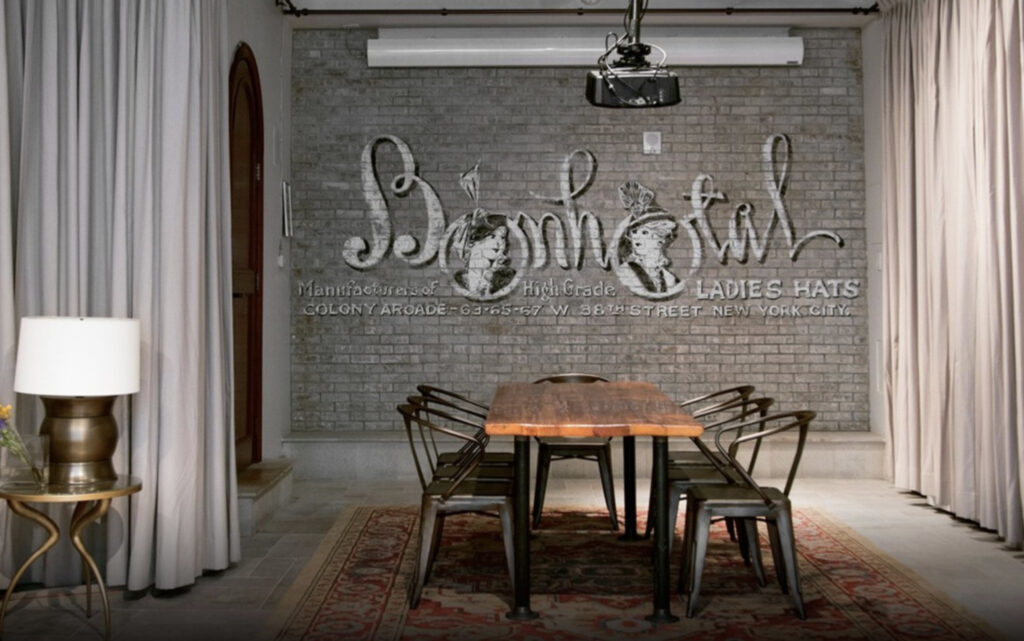 Why Choosing the Right Meeting Space is Important
Choosing the right venue for your meeting is crucial for the success of your event. The right space can create a conducive environment for productive discussions. The space you choose should meet the specific needs of your meeting, including the number of attendees, the type of meeting, and the technology required. It should also be easily accessible and have adequate facilities, such restrooms, refreshments and parking when needed. A well-chosen meeting space can help set the tone for a successful event and increase the chances of achieving your meeting goals.
Find the Best Meeting Spaces on The Vendry
Booking a meeting space in Midtown Manhattan can be a great decision because of its prime location in the heart of New York City. With a variety of options available, from traditional conference rooms to innovative co-working spaces, there are meeting spaces to fit every budget and style. Streamline your venue search and utilize The Vendry when booking your next venue. With the ability to search by location, capacity, vibe, and more, The Vendry can help make your event planning process stress-free and even fun!
See the full List here:
Read More:
The Most Uniquely Stunning Venues in New York City to Host an Event
Gorgeous Raw Event Spaces in New York City
The Eight Best Offsite Locations Near York City