In the city that never sleeps, the workday hustle often leads to a craving for relaxation and camaraderie once the clock strikes five. That's when New York City truly comes alive with its vibrant happy hour scene, offering a diverse array of bars and restaurants that cater to every taste and ambiance. Whether you're a local looking to unwind or a visitor eager to savor the city's nightlife, we've got your guide to the Big Apple's best happy hour spots. From the trendy rooftops with breathtaking skyline views to cozy speakeasies hidden beneath the bustling streets, we'll take you on a journey through the top establishments that promise to elevate your team's evening. So, join us as we raise a glass and delve into the heart of New York's lively happy hour culture, where every hour is an opportunity to celebrate.
The Best Happy Hour Spots in NYC
Hosting an after-work happy hour in this vibrant metropolis is more than just an event — it's a chance to create lasting impressions, forge meaningful connections, and celebrate achievements in a city that thrives on innovation (and style!) Now let's delve into where you can curate this perfect corporate after-work gathering in the heart of NYC.
1. Féile
Neighborhood: Chelsea
Capacity: 200
Nestled in the heart of Chelsea, Féile is a cozy Irish pub with a capacity for up to 200 guests during a full buyout. This inviting establishment is known for its warm hospitality, craft beers, and traditional Irish cuisine. Whether you're planning a smaller corporate gathering or an intimate networking event, Féile's charming ambiance and centralized location makes it an excellent choice. Looking to host a small private happy hour? Check out the 'Nook' space at Félie that can host up to eight seated or 14 standing. Guests can savor classic Irish dishes while enjoying the relaxed, convivial atmosphere that defines Irish pub culture. It's the ideal spot to foster connections and unwind with colleagues after a productive day at the office.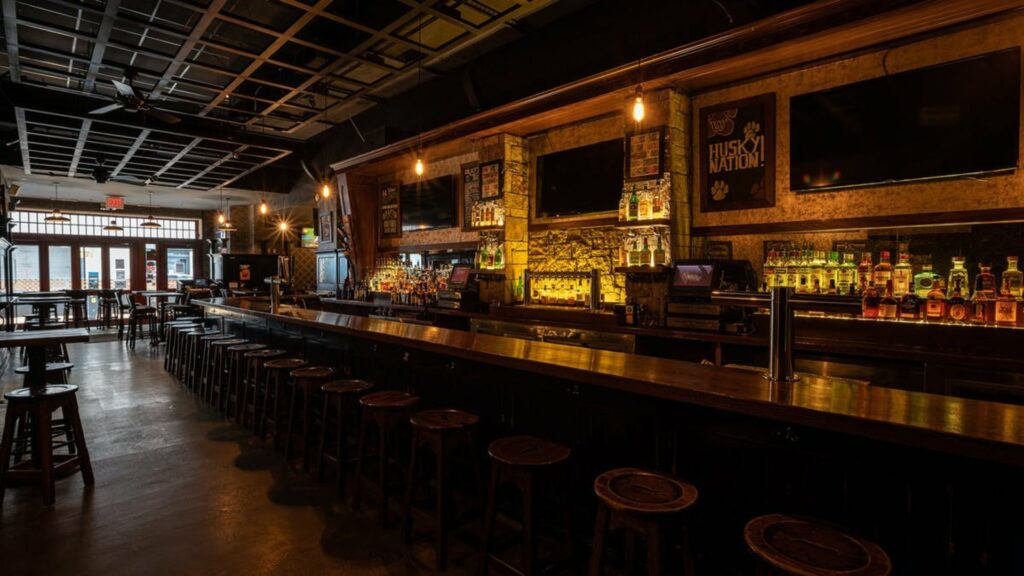 2. Harta
Neighborhood: Midtown
Capacity: 100
Harta is the perfect spot for an after-work happy hour, especially for corporate teams seeking a delightful escape from the hustle and bustle of Midtown Manhattan. With Mediterranean-inspired cuisine curated by the renowned Apicii hospitality group, Harta offers a tasteful and refreshing twist to traditional happy hour fare. Its convenient location in Midtown makes it easily accessible for corporate professionals looking to unwind and connect after a busy workday. The chic ambiance and carefully crafted menu make Harta an inviting destination to relax, savor delectable dishes, and enjoy quality time with colleagues, making it an ideal choice for post-work gatherings in the heart of the city.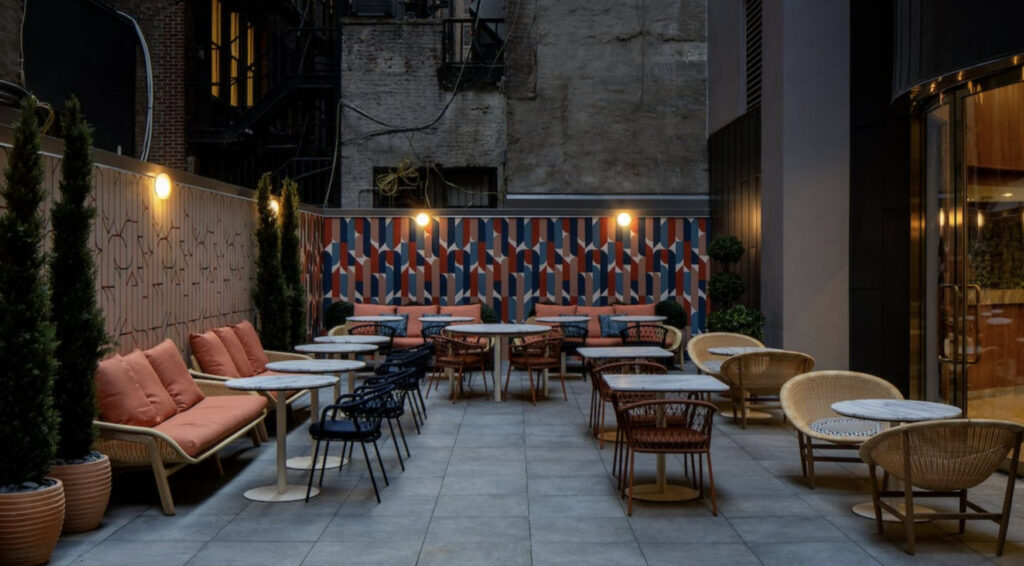 3. Stout Bryant Park
Neighborhood: Bryant Park
Capacity: 300
Stout in Bryant Park stands out as an excellent choice for an after-work happy hour or corporate event due to its centralized location and welcoming, laid back atmosphere. Nestled near the iconic Bryant Park, this spacious Irish pub offers a versatile and inviting setting. Its proximity to Midtown offices makes it a convenient option for professionals seeking a quick escape from the hustle and bustle of the workday.
Stout's cozy interior, reminiscent of a traditional Irish pub, fosters a sense of camaraderie, making it ideal for team bonding and networking. The extensive beer selection and hearty pub fare cater to diverse tastes, ensuring that your colleagues or clients will find something to enjoy. Whether you're planning an informal get-together in The Mezzanine or a larger corporate event utilizing the whole space, Stout in Bryant Park provides a comfortable and relaxed ambiance for meaningful connections and memorable moments.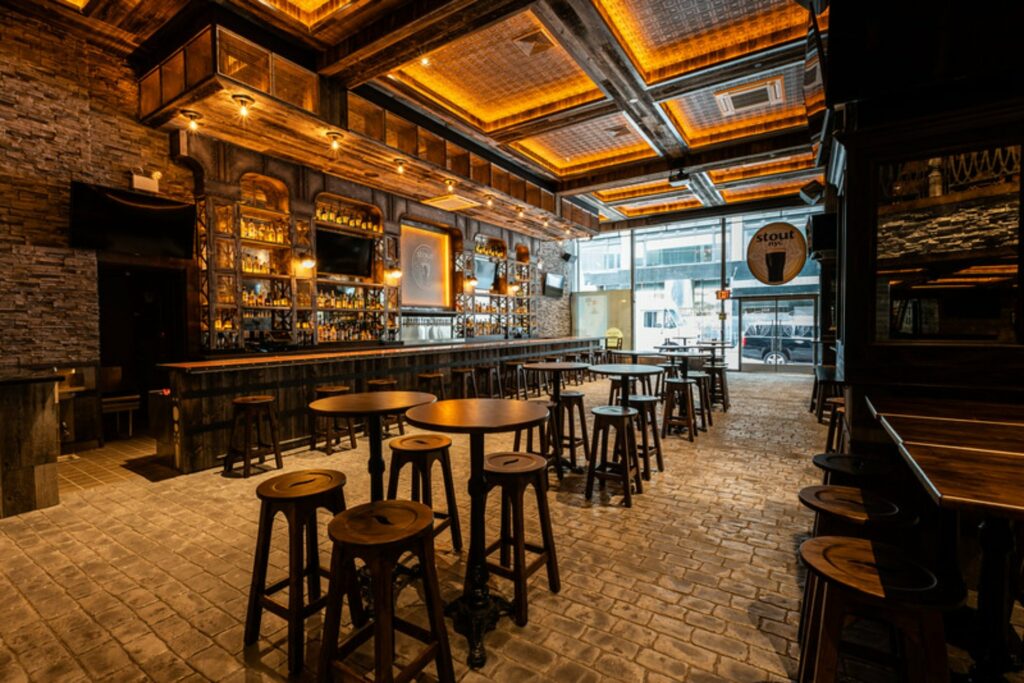 3. Refinery Rooftop
Neighborhood: Midtown
Capacity: 100+
In the middle of Midtown with sweeping views, Refinery Rooftop offers a trendy rooftop bar experience with a capacity for 100+ guests. The highlight of this venue is its panoramic views of the city skyline, making it an exquisite location for glamorous corporate gatherings under the stars. With a contemporary and sophisticated atmosphere, Refinery Rooftop is perfect for those looking to impress clients, colleagues, or partners. Enjoy a wide range of handcrafted cocktails and appetizers while taking in breathtaking views of Manhattan. If you're searching for a venue that combines luxury and ambiance, Refinery Rooftop should be at the top of your list for after-work events in New York City.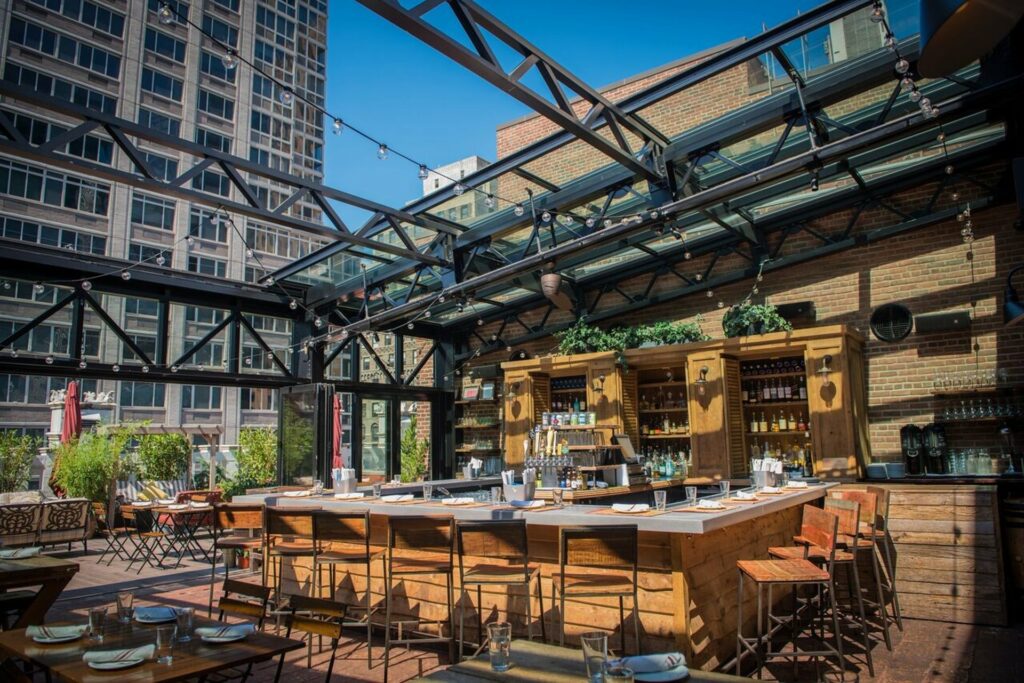 4. The Long Room
Neighborhood: Theater District
Capacity: 200
The Long Room is a chic and upscale bar with a capacity for up to 200 guests. The venue boasts an impressive whiskey selection and serves modern American cuisine. If you're aiming for a sophisticated corporate event, The Long Room provides the perfect backdrop. The Long Room offers full buyouts, great for large team company parties, but also offers smaller spaces like The Trinity Room and St. Andrew's Corner for smaller happy hour events.
Its elegant setting, complete with a well-stocked bar, offers an ideal space for networking and socializing. Whether you're celebrating a successful project or simply enjoying quality time with colleagues, The Long Room is an excellent choice for those seeking refinement and style in their after-work happy hour experience.
5. Joyface
Neighborhood: East Village
Capacity: Available upon request
Landing the spot on many 'best bar' lists is Joyface — a trendy bar in the East Village, perfect for after-work outings. If you're looking for a spot to grab a drink and stay for the night, then Joyface is your spot. Dimly lit, and open late, this bar is especially useful when trying to impress clients or guests. A short walk from the L train and surrounded by amazing bars and restaurants makes Joyface not only cool but also accessible.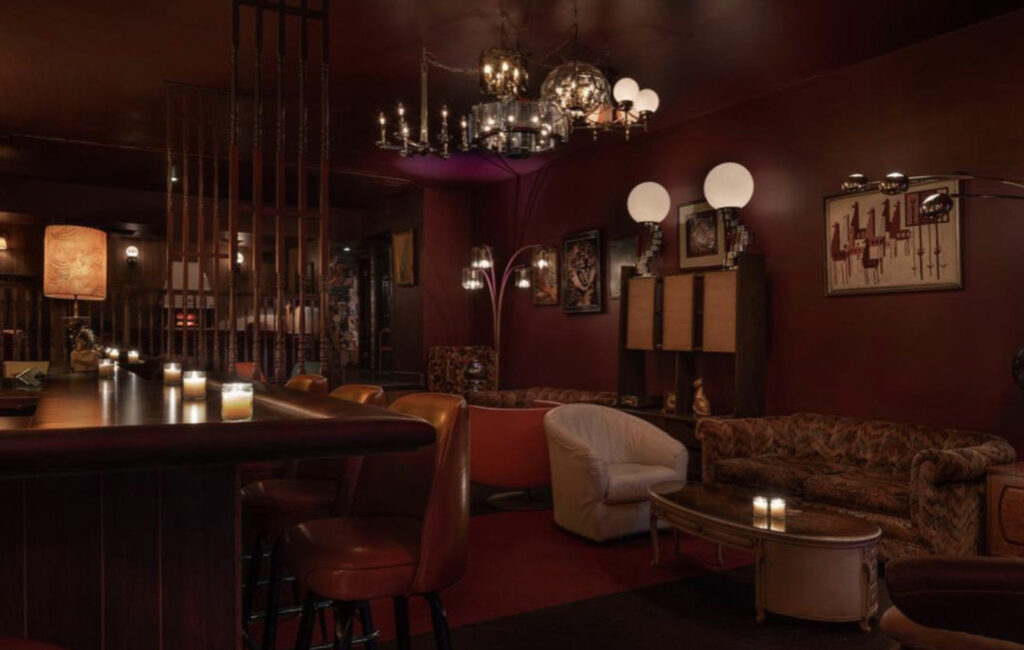 6. Stout at Penn Station
Neighborhood: Chelsea
Capacity: 400
When you're looking for a centralized location and a guaranteed good time, look no further than Stout at Penn Station. Stout at Penn Station is a bustling Irish pub that can accommodate up to 400 guests — which is great when you're looking to throw a large after-work company gathering. This expansive venue is perfect for large corporate gatherings and offers a lively and spirited atmosphere. With an extensive beer selection and delicious pub fare, Stout provides a taste of Ireland in the heart of New York City. Whether your colleagues are looking for traditional Irish dishes or a wide variety of brews, this spot has it all. The friendly staff and energetic vibe make it a great choice for unwinding after work or hosting a corporate event.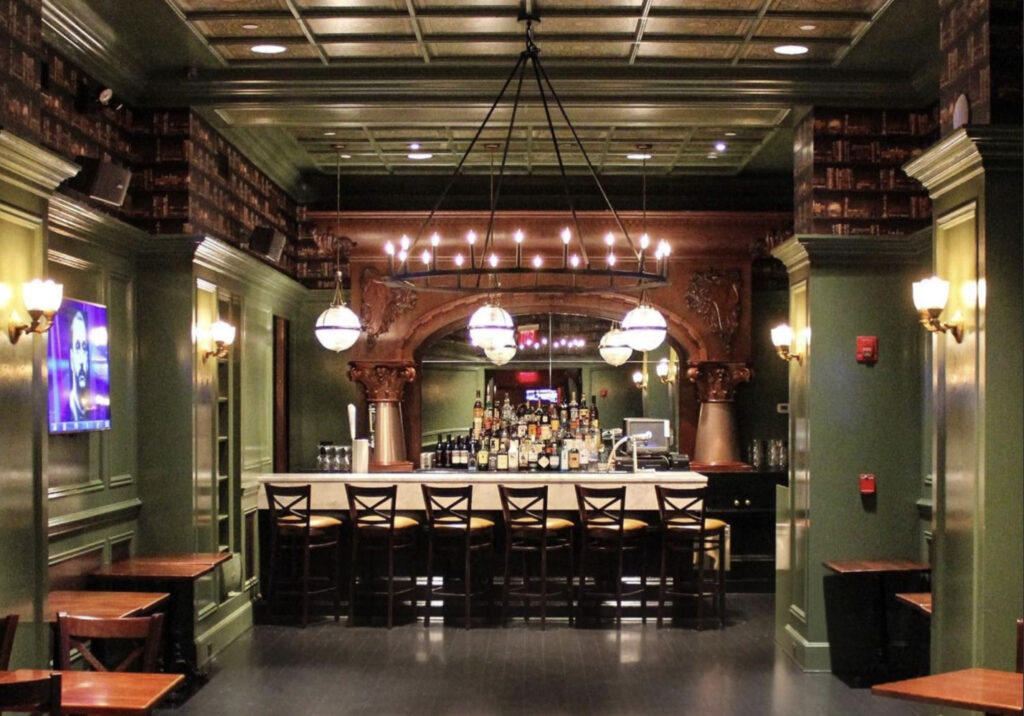 7. The Biergarten at The Standard Highline
Neighborhood: Chelsea
Capacity: 100+
Hosting an after-work happy hour at The Biergarten at The Standard Highline is great for planners seeking a memorable and enjoyable experience for their clients and colleagues. Nestled in the heart of the vibrant Meatpacking District, this iconic New York City beer garden offers a unique blend of relaxed charm and sophistication. The expansive communal tables and lively atmosphere create the perfect setting for networking and team bonding, fostering a sense of camaraderie that is quintessentially New York.
With a wide selection of beers on tap, including craft brews and international favorites, there's something to satisfy every palate. The delectable pretzels and Bavarian-inspired fare add a delicious twist to the traditional happy hour experience. Plus, the picturesque views of the High Line and the surrounding urban landscape make for a backdrop that's both refreshing and iconic. Whether you're planning a casual get-together or a corporate celebration, The Standard Biergarten offers a winning combination of ambiance, libations, and location, ensuring your after-work event is a resounding success.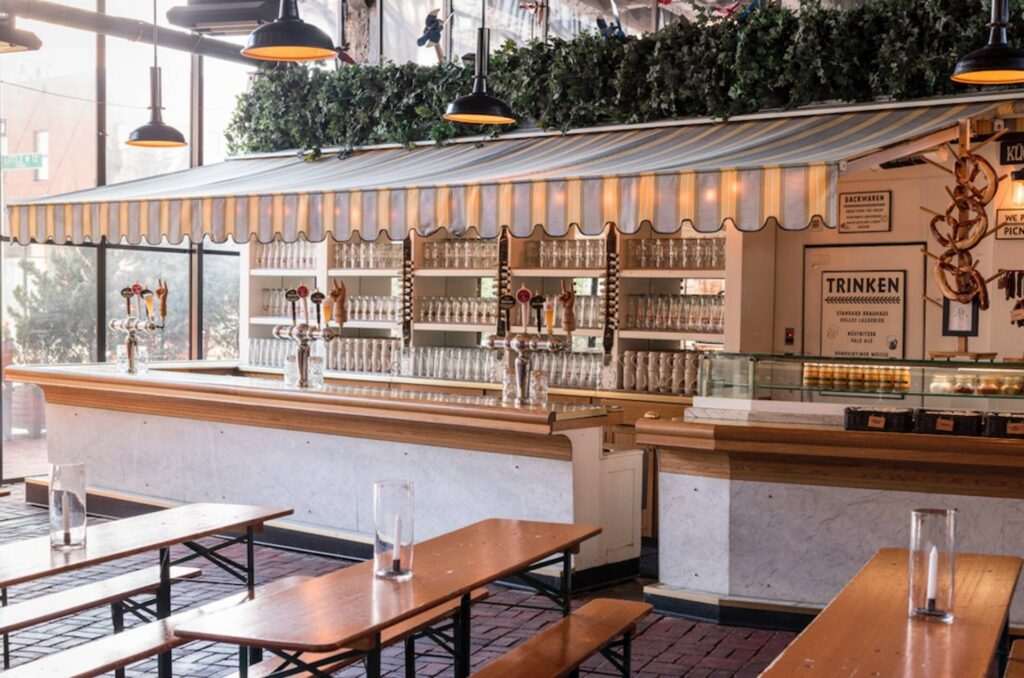 Offer your guests something they cant refuse! Find the top gifts and swag vendors in New York for your next event!
8. Attaboy
Neighborhood: Lower East Side
Capacity: 28
Attaboy is a standout choice for hosting a corporate happy hour thanks to its distinctive blend of sophistication and intimacy. Nestled in the heart of Manhattan's Lower East Side, this renowned cocktail lounge offers an ambiance that effortlessly caters to both casual conversations and more formal networking. With its prohibition-era speakeasy charm, Attaboy exudes a timeless elegance that sets the stage for memorable interactions. The skilled mixologists craft bespoke cocktails tailored to individual preferences, elevating the happy hour experience to a higher level of refinement.
The intimate setting, complete with cozy seating arrangements and an absence of menus (bartenders create cocktails based on your preferences), fosters a sense of exclusivity and a space for meaningful connections. Whether you're celebrating achievements, fostering team bonding, or impressing clients, Attaboy's artful blend of ambiance, craftsmanship, and personalized service ensures that your corporate happy hour will be an unforgettable occasion.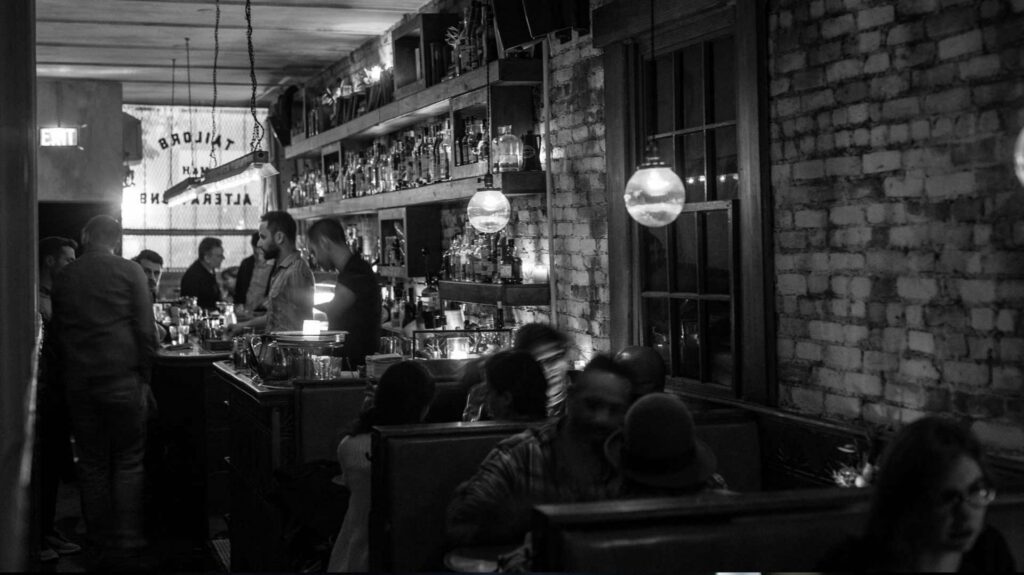 9. The Irish Exit
Neighborhood: Midtown
Capacity: 100
Located in the heart of Midtown Manhattan, The Irish Exit offers a welcoming and spirited atmosphere that's ideal for networking and team-building. With its Irish pub charm and friendly staff, it provides a relaxed yet vibrant setting — perfect for those after-work hangs. The bar boasts an impressive selection of beers, including Irish drafts, and a menu featuring classic pub fare, ensuring that everyone's taste buds are satisfied.
Additionally, the Irish Exit's spacious layout and comfortable seating make it accommodating for both small, intimate gatherings and larger corporate events. Its central Chelsea location, within walking distance of major offices and attractions, adds to its convenience. When you choose the Irish Exit Bar for your corporate happy hour, you're selecting a venue that combines the best of Irish hospitality with the energy of New York City, guaranteeing a memorable and enjoyable experience for your colleagues and clients alike.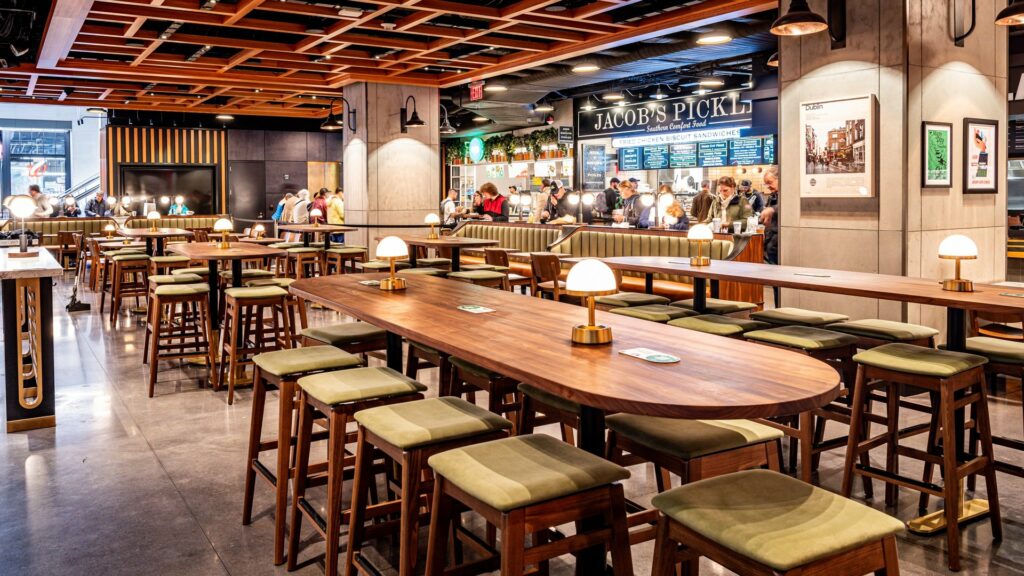 10. Faces and Names
Neighborhood: Midtown
Capacity: Available upon request
Nestled amid the bustling streets of Midtown Manhattan, Faces and Names offers a unique and creative ambiance that sets it apart from the crowd. The bar's distinctive feature lies in its collection of celebrity caricatures adorning the walls, creating an atmosphere that's both intriguing and entertaining. These faces, accompanied by clever and witty names for each cocktail, add a touch of humor and charm to the experience, fostering a relaxed and convivial atmosphere for networking and team-building.
With an array of expertly crafted cocktails and a diverse menu of appetizers, Faces and Names ensures that guests have a delightful culinary experience. The central location of this venue makes it easily accessible for corporate professionals from various parts of the city, further enhancing its appeal. For corporate event planners looking to infuse creativity, humor, and sophistication into their happy hour events, Bar Faces and Names presents a captivating and engaging backdrop for a memorable evening in the heart of Midtown NYC.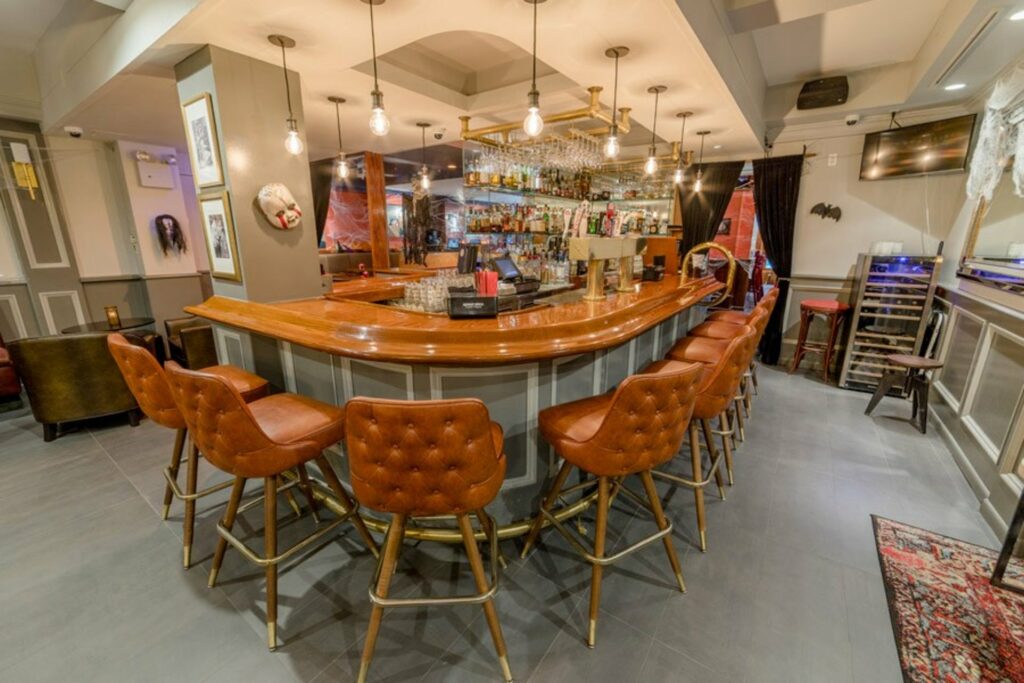 11. Acme
Neighborhood: Noho
Capacity: 120

Acme is fantastic choice for hosting a happy hour during a corporate outing due to its dynamic and versatile atmosphere. Located in the heart of downtown Manhattan, this stylish venue seamlessly transitions from a chic dining spot to a vibrant cocktail lounge. Its spacious layout and modern decor provide ample room for networking and socializing, making it an ideal space for corporate gatherings.
Acme's well-curated drink menu offers a wide selection of cocktails and beverages, ensuring there's something to please every palate. Whether you're planning a casual team-building event or a more formal corporate outing, Acme's contemporary charm and central location offer the flexibility to cater to various corporate needs. With its vibrant ambiance and attentive service, Acme sets the stage for a memorable and productive happy hour for your team, clients, or colleagues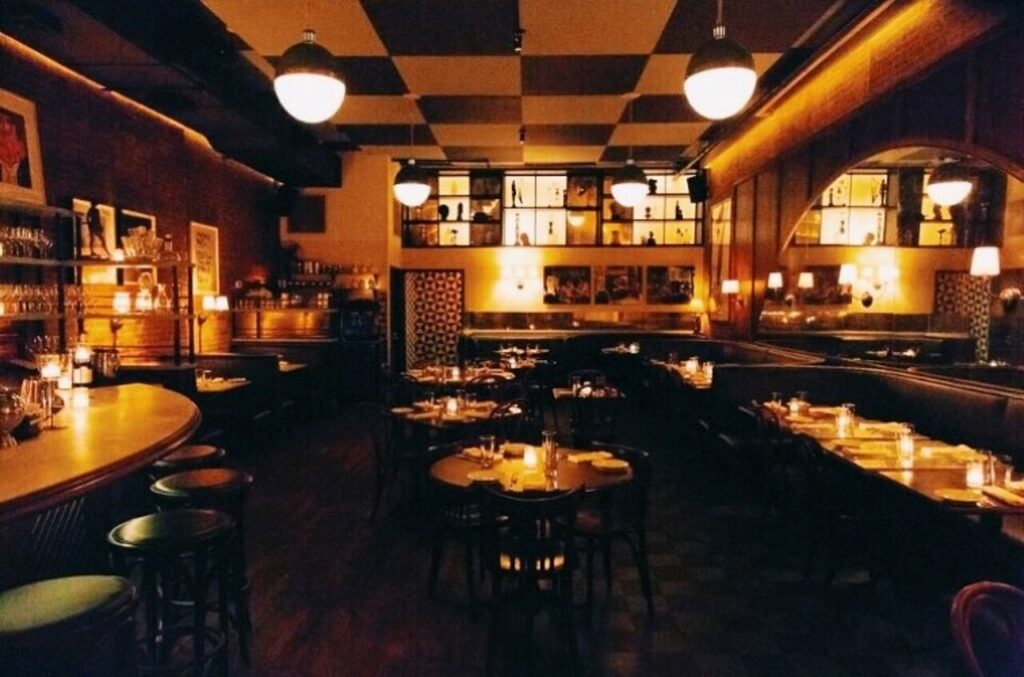 12. Ray's
Neighborhood: Lower East Side
Capacity: Available upon request
Ray's in New York City's Lower East Side is an exceptional choice for hosting a corporate after-work happy hour event that's sure to leave a lasting impression. Its unmistakable dive bar vibe, complete with a retro disco ball and an inviting pool table, adds a touch of nostalgia to the modern corporate setting. This unique combination of old-school charm and contemporary amenities creates an atmosphere that's perfect for relaxed networking and team building.
Ray's is known for its diverse beverage offerings, serving up a variety of beers and craft cocktails that cater to every taste. Whether you're clinking glasses with colleagues or engaging in a friendly game of pool, this unassuming gem in the Lower East Side offers an effortlessly cool and inclusive ambiance that encourages conversation and connections. With its offbeat character and excellent libations, Ray's is a surefire way to inject some fun and authenticity into your corporate after-work event, making it an unforgettable experience for everyone involved.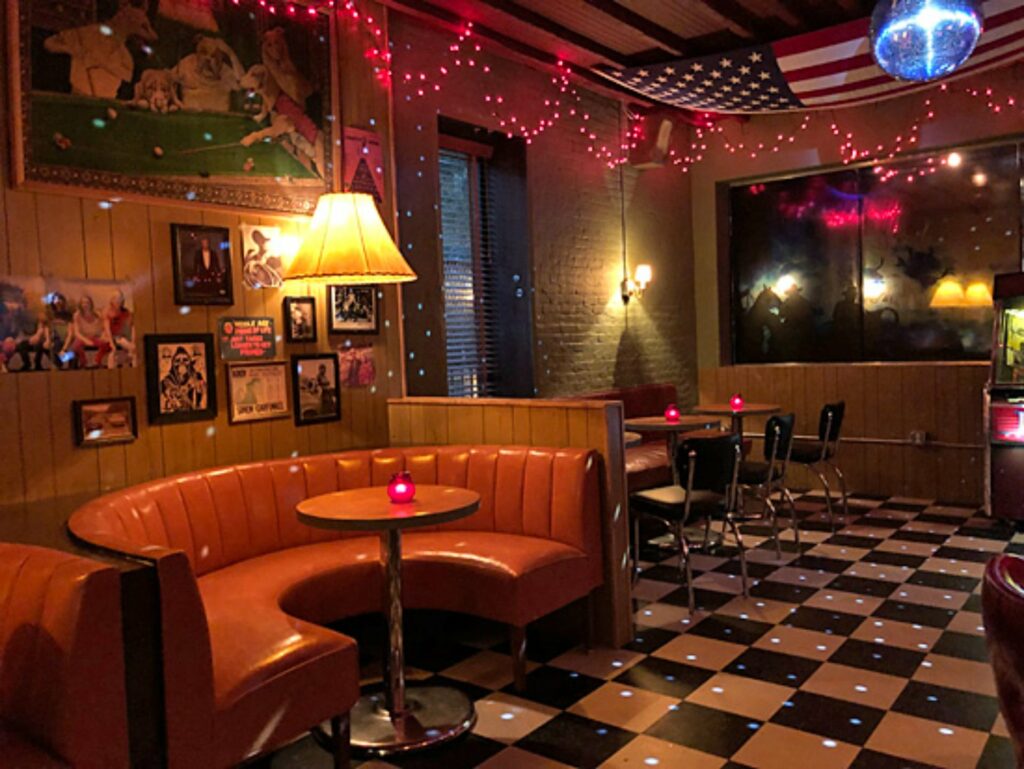 Why Finding the Right Venue for a Team Outing is So Important
Finding the right venue for a team outing is paramount because it sets the stage for the entire experience. The venue choice can profoundly impact the atmosphere, engagement levels, and overall success of the event. A well-chosen venue not only provides comfort and functionality but also reflects the values and objectives of the team outing. It fosters a sense of excitement, unity, and camaraderie among team members, enhancing morale and productivity. Whether it's a relaxed picnic in a park, an inspiring conference space, or an adventurous outdoor adventure, the venue becomes the canvas upon which memories are painted. So, getting it right means creating an environment where teams can bond, unwind, and recharge, ultimately leading to stronger relationships, improved teamwork, and a more motivated and satisfied workforce.
Find the Best Corporate Happy Hour Spots in NYC
In the dynamic and ever-evolving landscape of New York City, finding the best happy hour spots for corporate events is not just about location; it's about creating moments that leave a lasting impact. As you explore the myriad options this city has to offer, keep in mind the unique preferences and dynamics of your team.
Whether it's the sleek sophistication of a rooftop bar, the relaxed charm of a cozy pub, or the eclectic energy of a trendy lounge, the right happy hour spot can set the stage for team building, networking, and celebration like no other. NYC's vibrant tapestry of venues ensures that you can find the perfect backdrop for your corporate event, one that reflects your team's spirit and goals. To find that perfect spot, allow The Vendry to guide you in your search! Cheers to your next successful corporate event in the heart of New York City!
Read More:
Gorgeous Raw Event Spaces in New York City
The Most Uniquely Stunning Venues in New York City to Host an Event
The Best Venues in Los Angeles for Your Holiday Party