As the sunny and dry season gratefully rolls into Seattle, professionals in the area delight when an invite arrives at a destination that includes a rooftop. In general, planing an event in Seattle is a must if you're looking for a city with both an urban feel and a gorgeous backdrop. Aside from the ability to feel the sunshine or take in the twinkling skyline, events held on rooftops in Seattle immediately offer exclusivity to your cocktail or networking event. Rooftop venues stand out by nature, especially in The Emerald City where many offer views of Lake Union or the Puget Sound. And because the outdoors is the Pacific Northwest's most stunning virtue, a rooftop corporate event or employee outing showcases the best of what this special area in the United States has to offer.
The Best Rooftop Spaces in Seattle for Your Next Gathering
Let's be honest…events held on rooftops are more fun. Hosting high in the sky allows an event to be more creative with the food, drink, and décor. Setting this type of tone – especially these days when fresh air is a welcomed element – will make all your customers, clients, and employees feel at ease. Help create a relaxing mood for your next corporate event in Seattle by looking in to The Vendry's rooftop choices below.
1. Smith Tower Observatory Bar
Neighborhood: Downtown
Capacity: 80
The OG of Seattle rooftops, Smith Tower is iconic. You'll have a tough time deciding between Smith Tower's two options: The Observatory and The Lookout. Towering high up on the 22nd floor is the sleek but warm Lookout, featuring 1,300 square feet of interior reception space that blends into their outdoor deck. Whisk up to The Observatory, a 1,000-square foot room that includes a 360-degree viewing deck of Seattle. Smith Tower provides all its own catering, with lively options that give a nod to its home city. Know these two spots are for cocktails only, but your guests will get over not having a plated dinner when they take in one of the best views Seattle has to offer.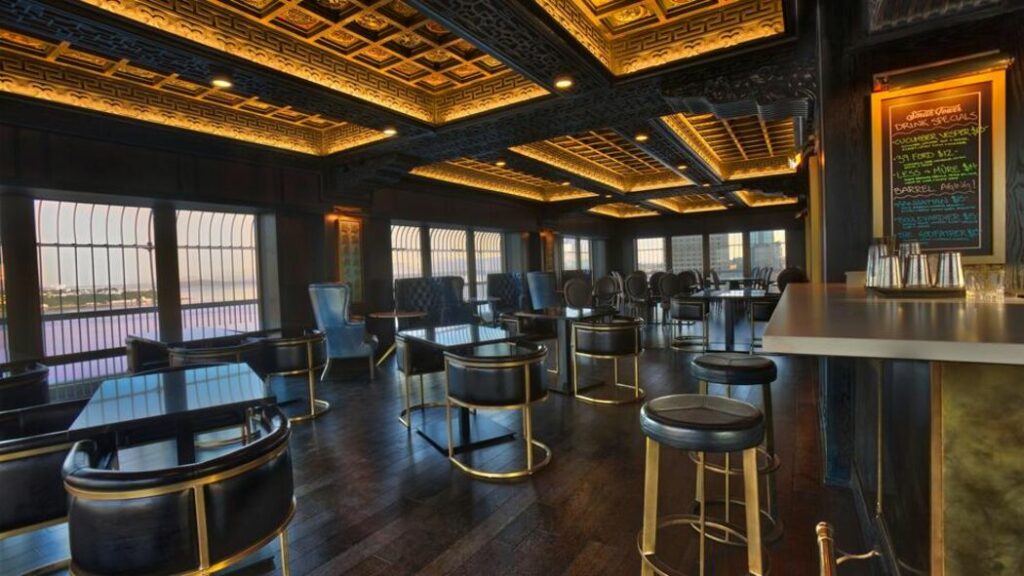 2. Purple Café and Wine Bar
Neighborhood: Downtown
Capacity: 100
The secret is out about Purple Café and Wine Bar's rooftop patio. While the whole town over loves this lively hotspot's twisting staircase around the giant wine tower, their rooftop above is a pleasant discovery. Entertain 100 here for a memorable networking event. The outstanding wine selection withstanding, your guests will delight in the menu's offerings of items like poutine or lobster mac and cheese.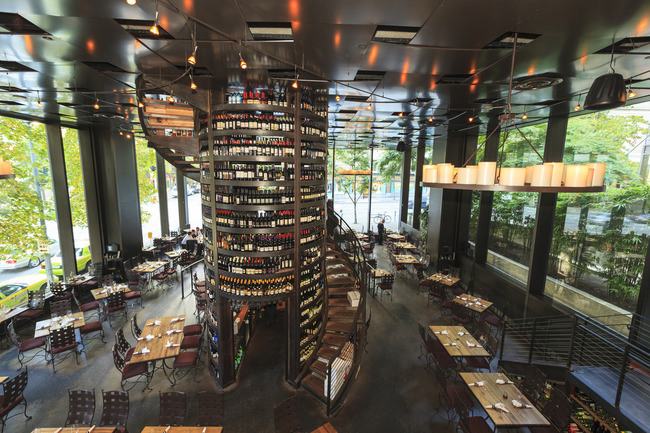 3. Ben Paris
Neighborhood: Downtown
Capacity: 30
The State Hotel is home to Ben Paris, a bright, American-inspired joint, that serves their fare at an ultra-modern rooftop space on the 8th floor. Just begging to host your next corporate outing and able to seat 30, this rooftop overlooks the ferries coming in and out of Elliott Bay, the Olympic Mountains, and the iconic Pike Place Market. The State Hotel, built in 1904, is about as classic Seattle as it gets. Your guests will definitely vibe off the energy of the city's waterfront at Ben Paris.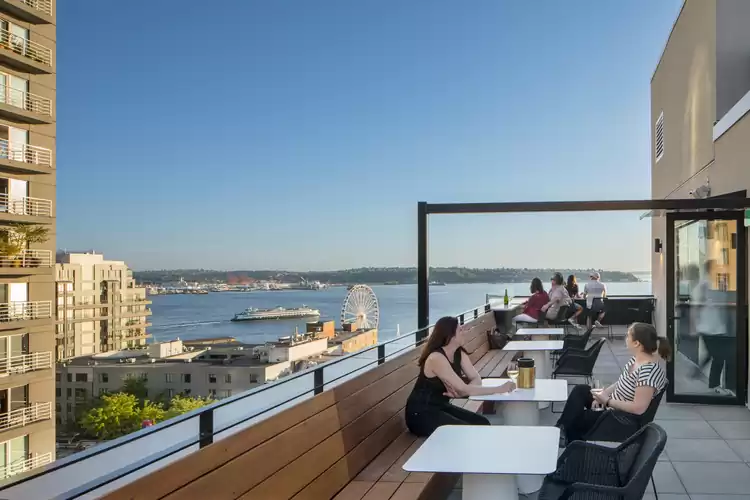 4. Fog Room
Neighborhood: Downtown
Capacity: 200
Perched high above downtown Seattle on the 16th floor of the Charter Hotel is Fog Room. This rooftop makes a playful jab at Seattle's typical atmospheric occurrence, featuring the moody décor to match. Book out the entire Fog Room, Lounge, and Rooftop to enjoy 3,772 square feet of modern, sleek space for your next corporate outing. Want to know the best part? The indoor/outdoor functionality of this intimate spot is fully covered, so guests can enjoy the fresh air no matter what Seattle skies throw at them.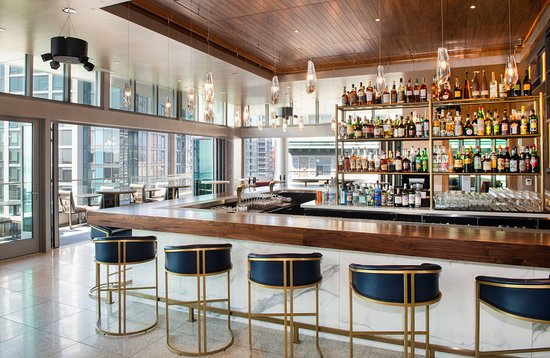 5. The Nest
Neighborhood: Downtown
Capacity: 250
On the 12th floor of the Thompson Hotel is The Nest, a sophisticated rooftop with unreal views of Seattle and Elliott Bay. Here you will have two options: book a full buy-out for 250 guests, or enjoy a 1000-square foot semi-private area for 80 people. On this modern and plush rooftop, your guests will have no problem finding a cozy corner to have breakaway conversations high above Puget Sound. Handcrafted cocktails and seasonally-inspired small snacks are the culinary highlight here, each showcasing the best the Pacific Northwest has to offer.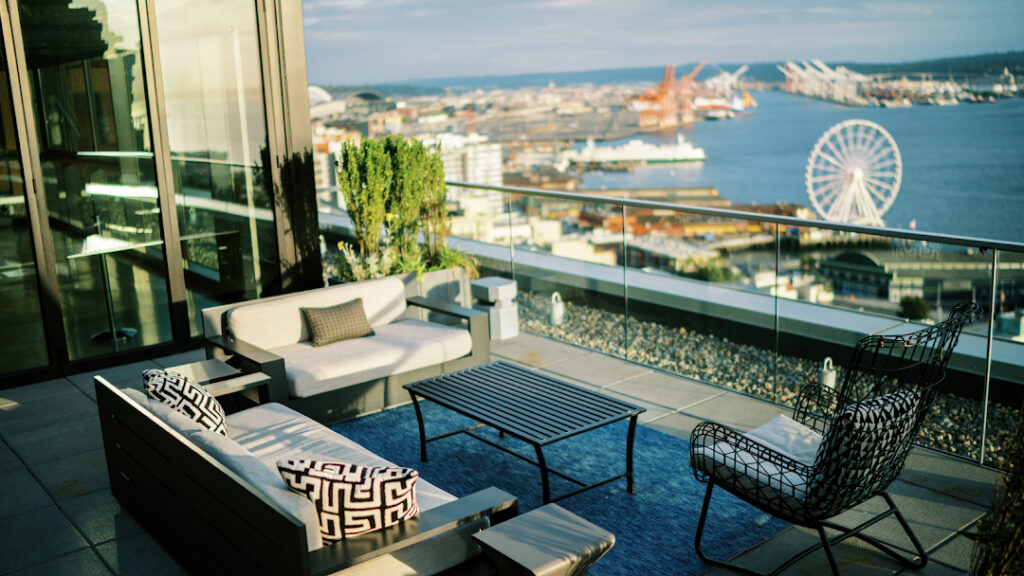 Don't forget those finishing touches! Find the top floral designers in Seattle.
6. Frolik Kitchen + Cocktails
Neighborhood: Downtown
Capacity: 260
Frolik Kitchen + Cocktails lives up to its light-hearted name. Located on the 4th floor roof of the Motif Hotel, this is a terrific spot to allow your after-hours, team-building plans play out. There's 4,000 square feet of escape featuring long fireplaces and colorful ping pong tables. A rooftop that is as fun as it is functional, its heated during the winter months, and perfectly cool in the summer. Sleek and chic, Frolik does it right.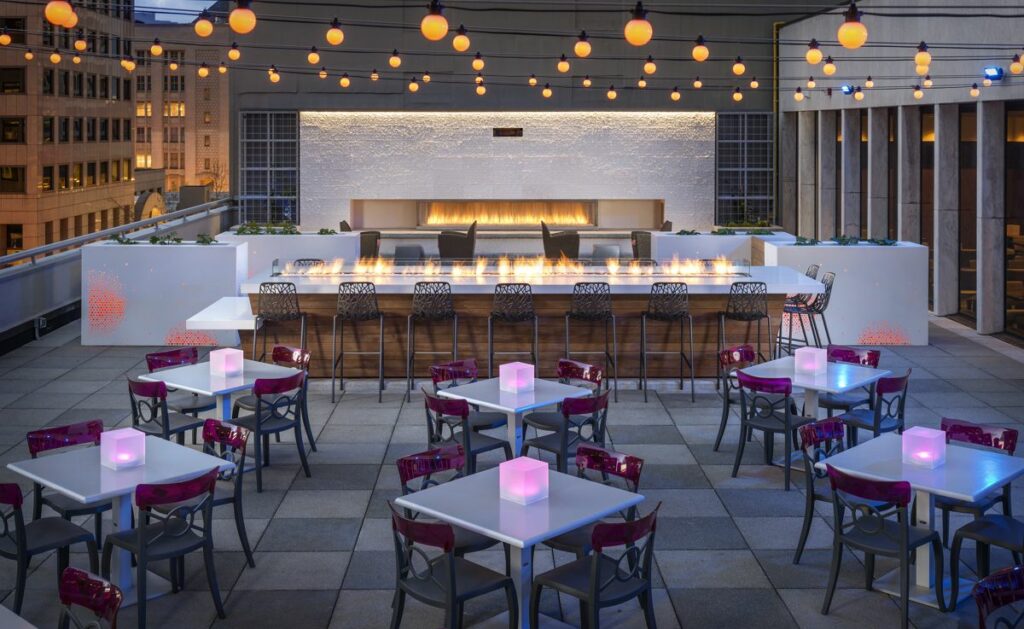 7. Maximilien
Neighborhood: Pike Place Market
Capacity: 120
A French spot with incredible views, Maximilien has a roomy rooftop that's a hidden gem. This gourmet mainstay on the waterfront has been a part of the Seattle dining scene for more than 30 years, and has the experience to back it up. If you want a corporate event or networking dinner that has out-of-the-world cuisine and attentive staff, Maximilien is your spot. Eating delicate escargot dripping in butter while overlooking Elliott Bay? Yes, please.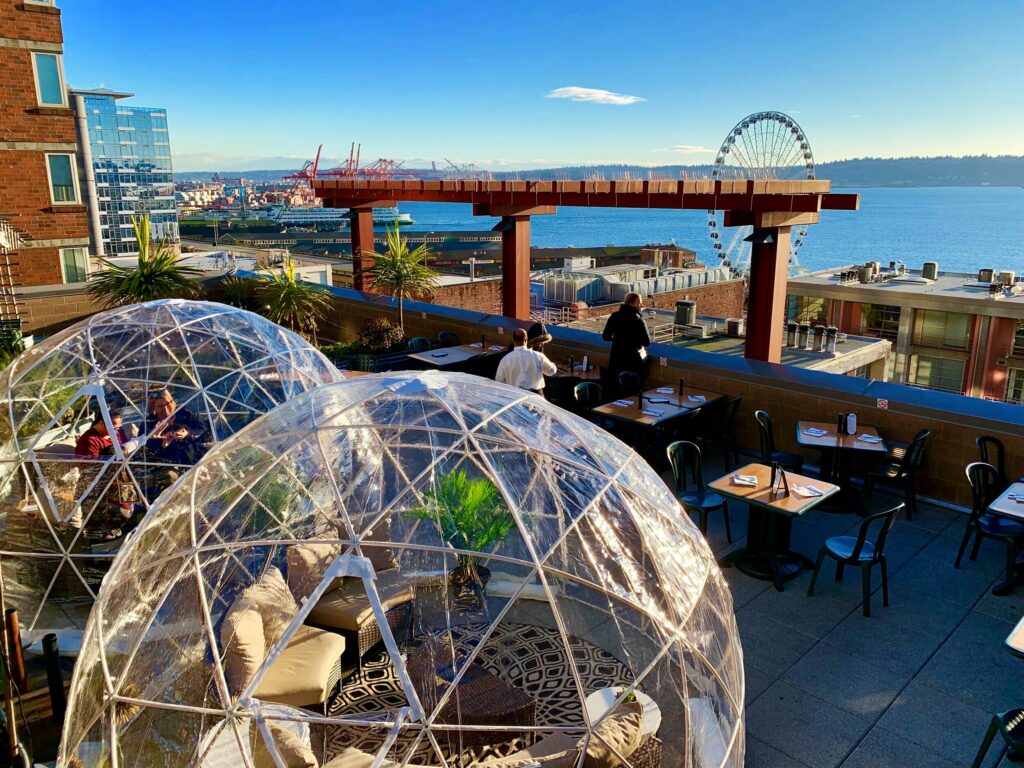 8. Olympic Rooftop Pavilion
Neighborhood: Ballard
Capacity: 150
High atop the Hotel Ballard sits The Olympic Rooftop Pavilion, and urban wonderland perfect for a private, professional outing. A venue with a peaked, vaulted ceiling and 20-foot skylight, The Olympic offers unreal views of Seattle's mountains and waterways. Enjoy the best of both worlds – not only do the window-walls of the south and west open fully, there's an open-air outdoor patio. There's an inviting fireplace on the patio, a built-in sound system, and catering by acclaimed Chef Stoneburner from his restaurant down below. This spot is ready to host a crowd.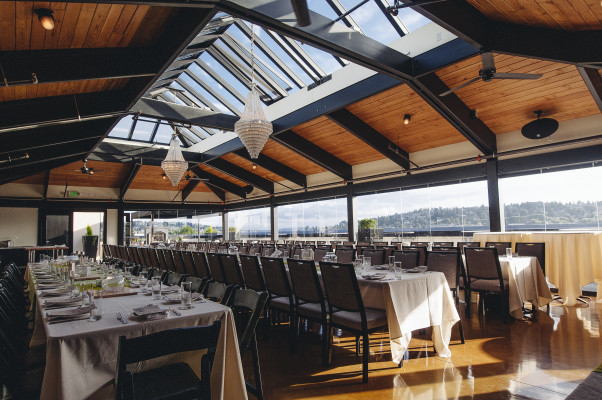 9. mbar
Neighborhood: South Lake Union
Capacity: 175
If you'd like unparalleled views of the Space Needle, Queen Anne, and Lake Union from high above Seattle, mbar is the place to host your next event. Brought to you by the experienced folks of Capitol Hill hotspot mamnoon, it's hard to argue when mbar describes itself as "rooftop decadence". There's 2,800 square feet of space up on the 14th floor, and it features Middle Eastern fare with unique cocktails. Casually chic, this rooftop – thanks to its capacity and marvelous views – should find itself on your short list.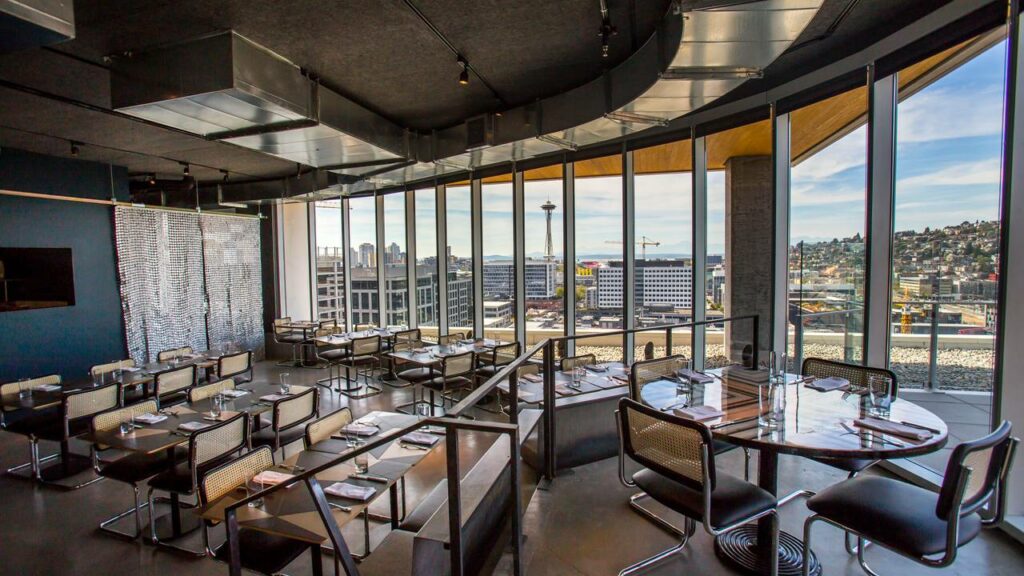 10. Mountaineering Club
Neighborhood: U District
Capacity: 70
Mount Rainer is in full view from the rooftop of Mountaineering Club, high up on the 16th floor of The Graduate Hotel in the hot U District of Seattle. If you are into the aesthetic of the outdoor/hiking/camping life, but can't bother with the actual activities of it all, then Mountaineering Club is your jam. Snowshoes, sophisticated plaid, deep leather couches, and other outdoor accoutrement grace this Pacific Northwest spot. The Club Terrace has an indoor/outdoor functionality that works well for Seattle's climate. And get ready for some of the most creative cocktails you can order this side of the Puget Sound.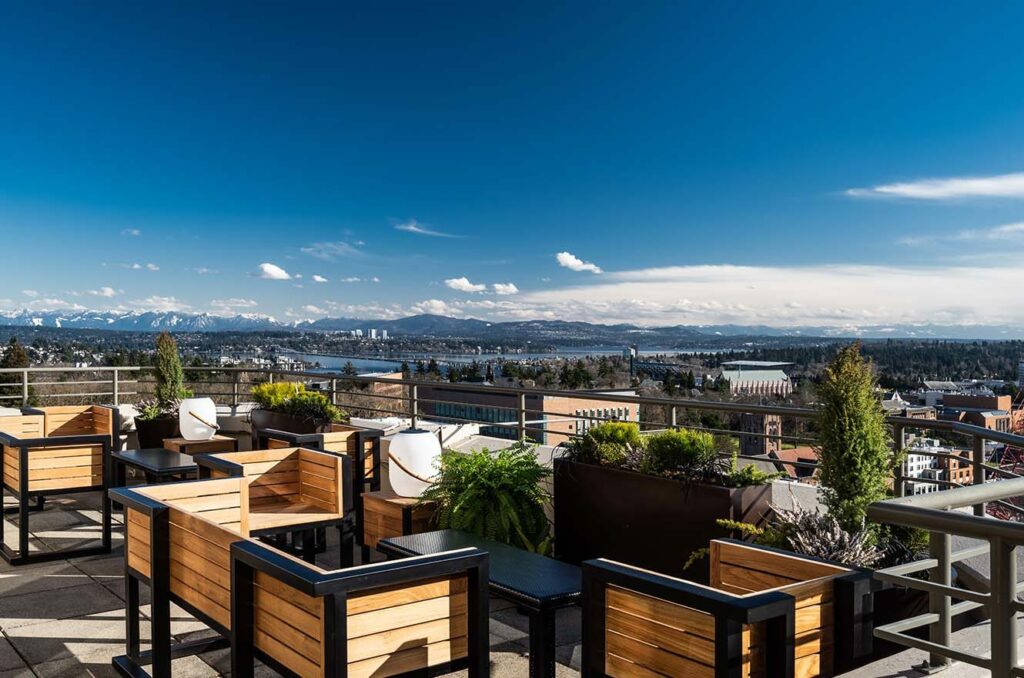 11. Rooftop Brewing Co.
Location: Queen Anne
Capacity: 49
Home of 10 taps and killer views of Salmon Bay, Rooftop Brewing Co. is a casual spot in Queen Anne. Just as the name implies, their full open-air tap room looks across the Lake Washington Ship Canal high up on the rooftop of their building. Have your guests sample from their daily line-up of food trucks, or plan to bring in your own catering. This spot is very laid back, complete with picnic benches and multiple offerings of seasonal ales.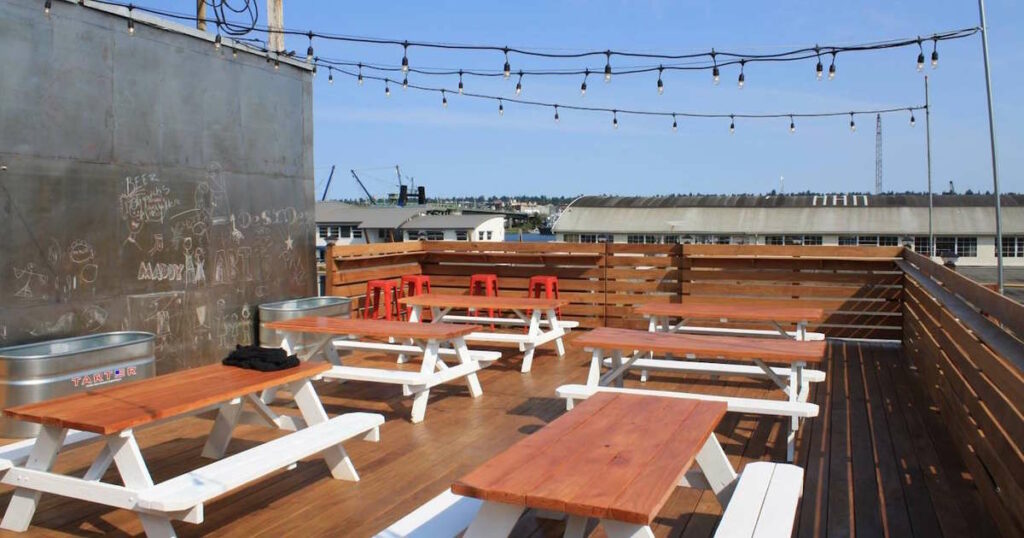 Top Things to Consider When Booking a Rooftop Venue
Before booking a rooftop for your corporate outing or networking event, there's always so much to think about. Since the rooftop you choose will likely be your costliest item, give this important step in your event planning process its due. Always try to lay your eyes on the physical space before you book a venue (if at all possible). Here are some other items to consider before signing on the dotted line.
Weather. This is, after all, Seattle. The rainy season in Seattle is definitely in the winter months, but the area sees a good amount of precipitation all year. July is considered the driest month, so plan accordingly.
Location. Is your group gathered at the Seattle Convention Center all day? Maybe look at a rooftop downtown. Or even book the event at the hotel where everyone is staying. Keeping travel light makes every guest arrive in good spirits.
Layout. If presentations or speakers is on the agenda, make sure your rooftop accommodates your space-related needs.
Ambiance. What is the tone you are trying to set? Seattle is already a beautiful city, but each rooftop is going to have its own ambiance. Vibe is felt, not seen, so choose wisely.
Capacity. Make sure you have a space large enough for your big crowd. These days, everybody seems to love a little socially distanced elbow room, so keep that in mind.
Amenities. Will you need audio/visual? Do you have to bring in your own rentals? Ask loads of questions on what your rooftop will provide.
Plan B. What if it starts to pour? Make sure your rooftop has a plan in place if you need to pivot
Find the Best Outdoor Spaces on The Vendry
The Vendry makes it easy to book your next rooftop corporate gathering or special dinner in Seattle. Click on "Plan Your Next Event" and search Seattle. When it comes to Seattle, The Vendry offers the most locations and flexible pricing with their partners.
Read More:
Not Your Average Venue: The Most Unique Venues in Seattle
Host Your Next Offsite at One of these Stellar Venues Near San Francisco
Top Corporate Event Venues in NYC for Your Next Event