Article updated 10/24/23

f you're looking for an offsite location, San Francisco is spoilt for choice. Within a 2.5ish hour driving radius you have options that will make many East Coasters green with envy. Planning an event in or near San Francisco has many upsides. Wine country, ancient redwoods, the Pacific Ocean… Northern California is a topographical playground. Venues take full advantage of the natural perks, from lodges reminiscent of a summer camp to Five Star boutique hotels. Read on for 15 of our favorite offsite locations near San Francisco.
16 Fantastic Offsite Locations to Host you Next Company Retreat
Whether you're going for rustic charm with WiFi or elegant upscale respite, there's something for everybody in this compendium. Herewith, offsite venues San Francisco edition.
1. Flamingo Resort & Spa
Location: Santa Rosa
Capacity: 440
Nestled in The Valley of the Moon, The Flamingo Resort & Spa is a mid-century marvel that showcases iconic architecture crafted by master architect Homer A. Rissman, characterized by natural materials and distinctive angular silhouettes. Encompassing a sprawling 10-acre campus, it offers an unparalleled combination of city accessibility and a tranquil retreat atmosphere. The property boasts an impressive array of amenities, including 20,000 square feet of private and communal gathering spaces, 170 sanctuary rooms (including 14 suites), the inviting Lazeaway Club Restaurant, an Athletic Club and spa, two refreshing swimming pools, a rejuvenating hot tub, and even an invigorating ice bucket shower. With its blend of architectural elegance and diverse facilities, The Flamingo Resort & Spa provides an ideal backdrop for corporate offsite events, promising a perfect blend of productivity and relaxation for attendees.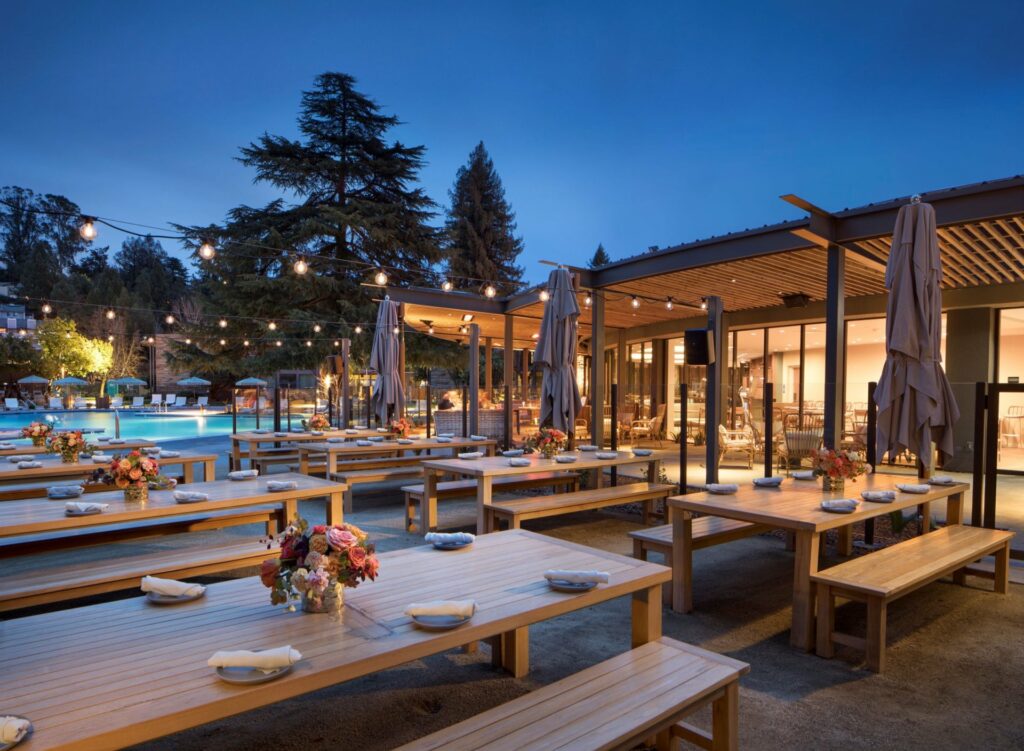 2. The Land
Location: Philo
Capacity: 606
A 2.5 hour drive north from the city center and you'll land at The Land. This idyllic destination has 606 guest rooms so you can go big with your company retreat, but there's still an intimate, rustic feel. Mindfulness is front and center here, an ethos which inherently lends itself to an offsite location. There are plenty of places for team meetings and presentations both inside and outside, but other perks include a yoga studio, saltwater pool, meadows, redwoods, a 2-acre flower garden, and more. If things have been particularly hectic post-pandemic, this is a very zen atmosphere.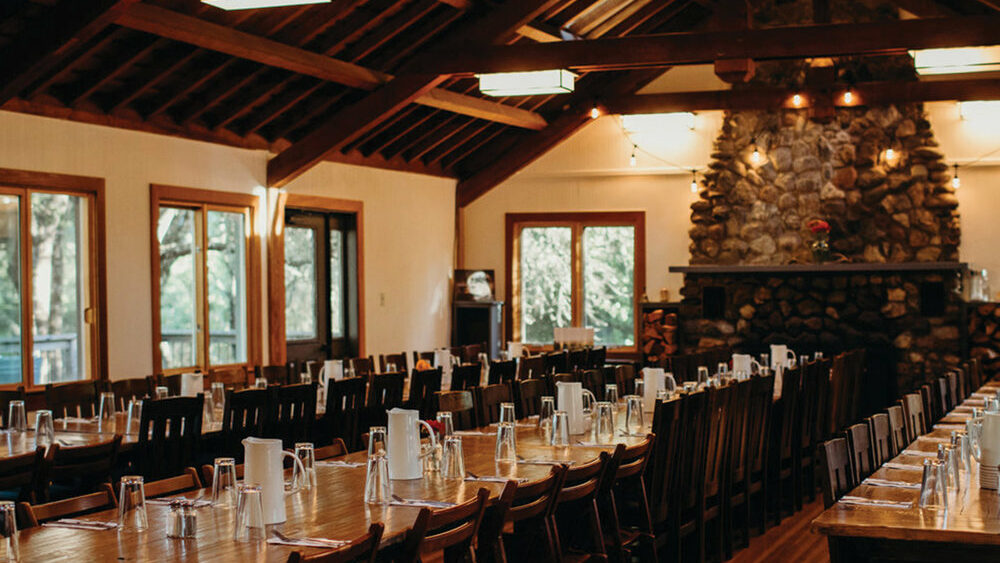 3. Triple S Ranch Napa
Neighborhood: Calistoga
Capacity: 34-60
Triple S Ranch Napa is essentially an adult summer camp, and in the best way possible. The heart and center of the property is the lovingly restored "Grand Victorian" farmhouse which perfectly complements its mountside location. Accommodations at this offsite are where those camp vibes really kick in. Treehouse? Cabin? Glamping? Barn-beam bunk room? All are on offer, as is the 2,200 square foot vintner's barn and 10,000 square feet of outdoor entertainment space.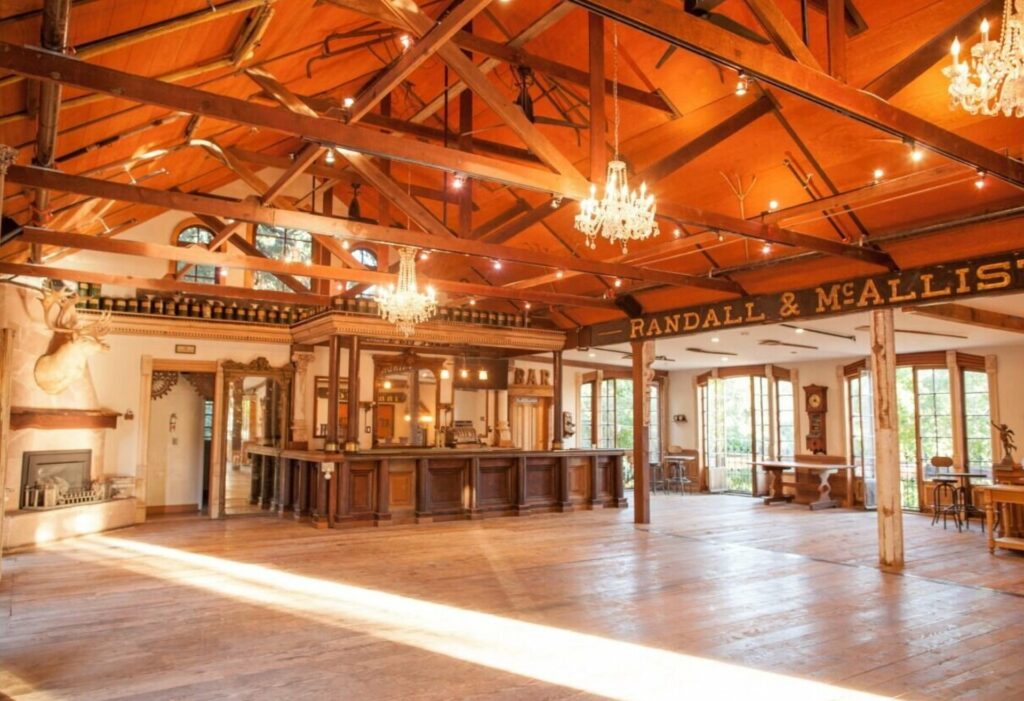 4. Rosewood Sand Hill
Neighborhood: Menlo Park
Capacity: 121
If you're looking for an offsite under an hour from the city center then Rosewood Sand Hill checks a lot of boxes. Aptly situated in the heart of Silicon Valley near all the tech hubs, this offers a well-appointed layout over 16-acres. It has the benefit of urban access and all the amenities you would want in a high-end hotel, but there's still a tranquility that permeates throughout. Plenty of meeting rooms, fine dining options, and an enviable spa round out the experience.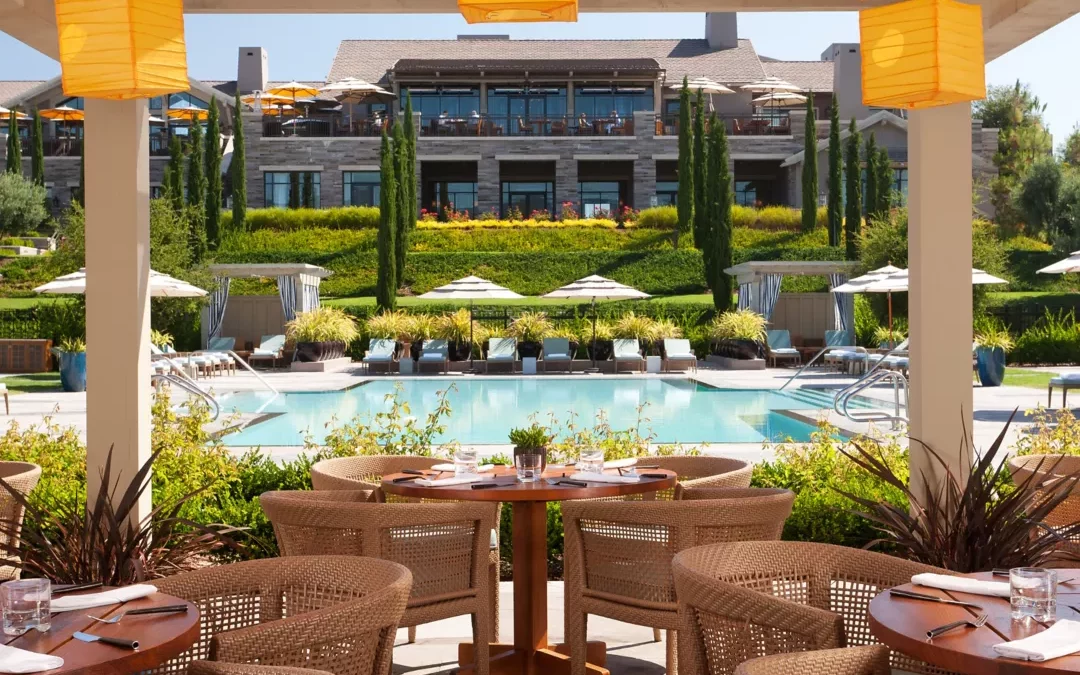 5. Costanoa Coastal Lodge
Neighborhood: Pescadero
Capacity: 39
This quintessential California camp, just under 1.5 hour drive from the city center, is perfect for a company retreat where the outdoors are an integral part for your offsite plans. At Costanoa Coastal Lodge you can integrate yoga, kayaking, horseback riding, hiking, biking, birdwatching, star gazing, and wine tasting into your meeting schedule. You can also incorporate a scavenger hunt to get the creative juice flowing. While it's an outdoor activities-oriented paradise the tech offerings are still cutting edge, so it's really the best of both worlds.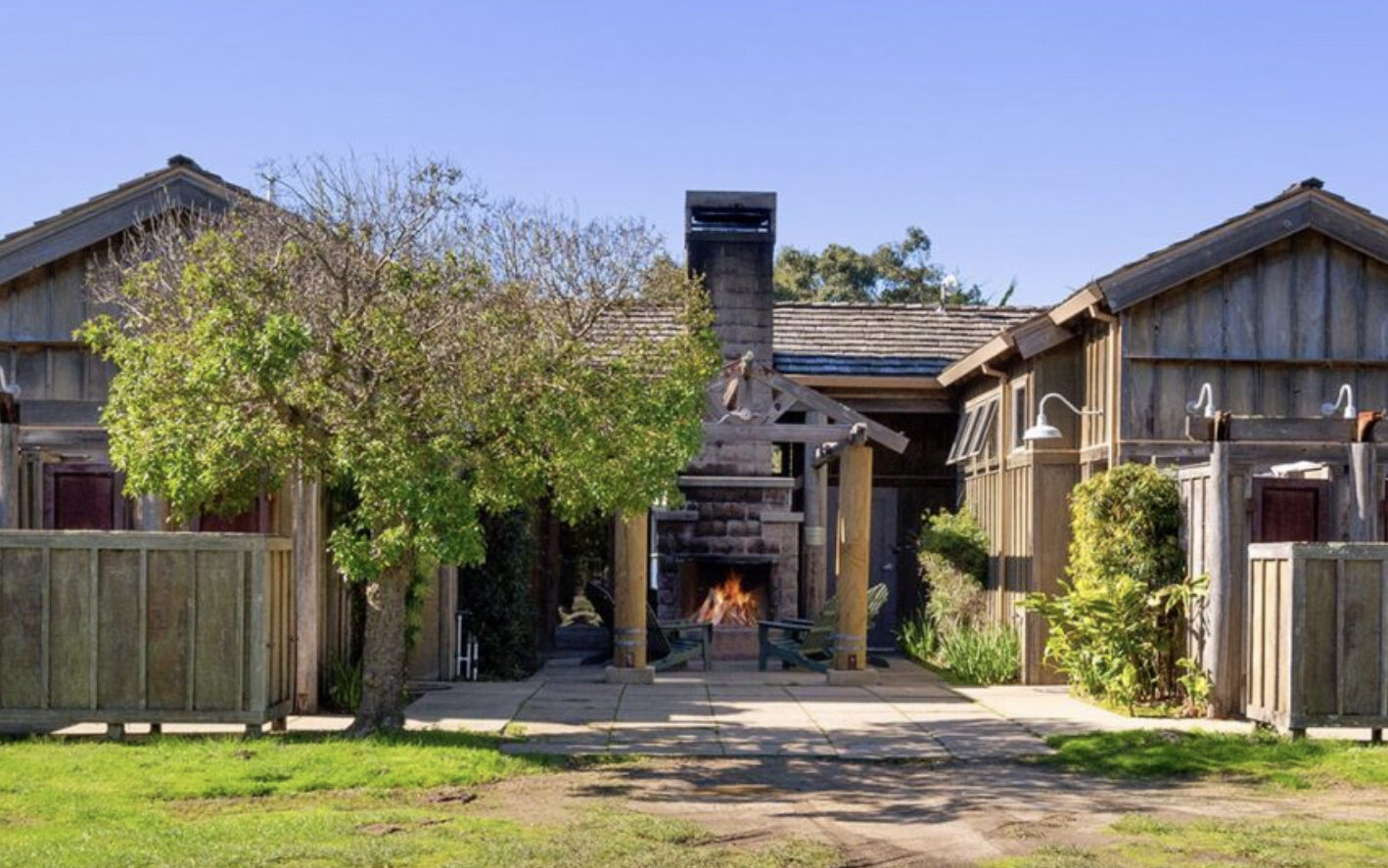 6. Ventana Big Sur
Neighborhood: Big Sur
Capacity: 59
There are few more breathtaking California vistas than Big Sur. Seaside cliffs, an often misty coastline, the Santa Lucia Mountains to the east and Pacific Ocean to the west… It's an enviable backdrop for any occasion. Ventana Big Sur encompasses 12,000 square feet of venues and a unique assortment of architecture, like the Glass House and Ocean Meadow Lawn area. Give or take, you're perched roughly 1,000 feet up from the Pacific Ocean so the sunset views truly don't get any better.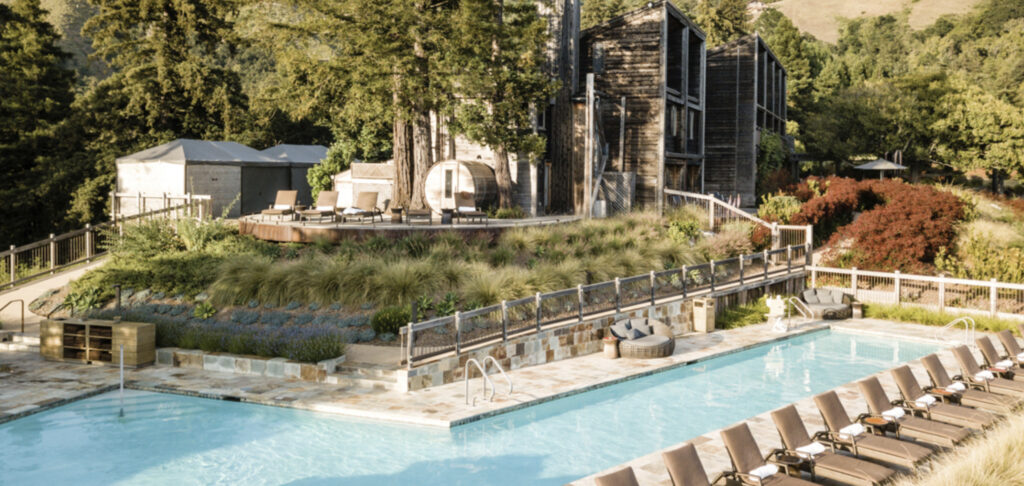 Bring your team closer with these Group Activities in San Francisco, CA!
7. Spring Ranch
Neighborhood: Mendocino
Capacity: 50
Spring Ranch has one of those uniquely California stories. The land and preserve, which now totals 350 oceanfront acres, has at times been owned by a Gold Prospector and 40s movie stars. It's now owned by self-professed antique aficionado Derek Webb, and he meticulously renovated the complex with salvaged architectural pieces from around the world. There's nothing like talking strategy on a wrap-around porch or in front of a giant outdoor stone fireplace, but your team can also be inspired through trips to the Mendocino Art Center, canoe excursions on Big River, hiking in state parks, and much more.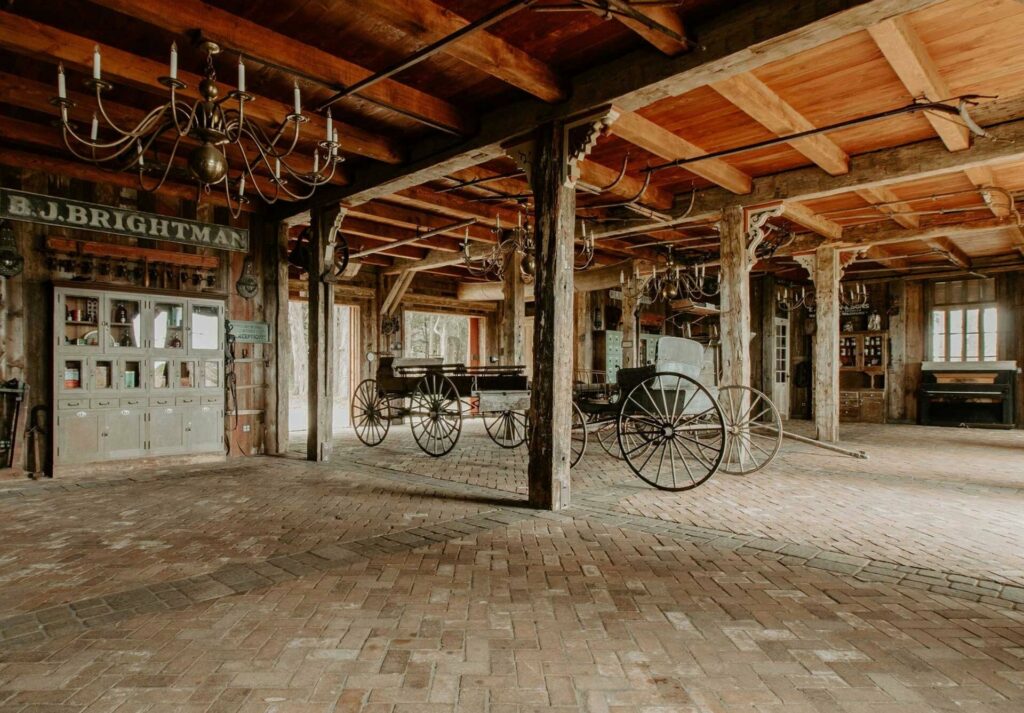 8. Bodega Bay Lodge & Spa
Neighborhood: Bodega Bay
Capacity: 83
Bodega Bay Lodge & Spa, which is less than a two hour drive from downtown, is a particularly sleek option for an offsite. It's a place that really caters to the corporate world, and they will help create bespoke itineraries to inspire the team. State-of-the-art meeting rooms and panoramic views over the rugged Sonoma Coast complete the package.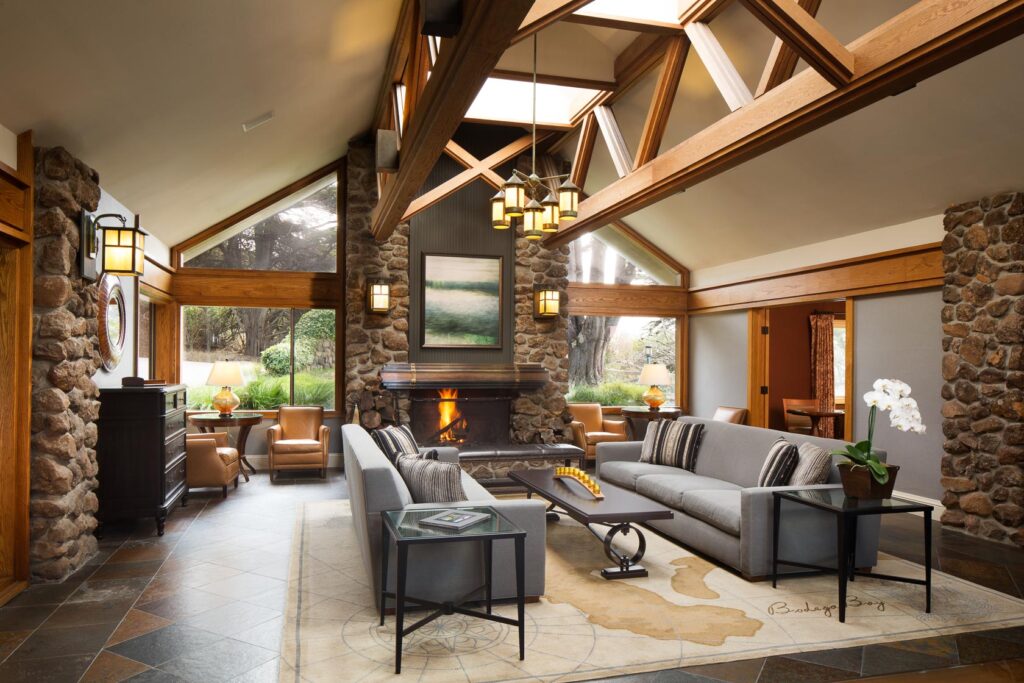 9. Solange Calistoga
Neighborhood: Calistoga
Capacity: 100
Calistoga is a small city in Napa Valley, about an hour and 45 minute drive from the city center. It's known for historic landmarks, hot springs, mud baths, and, of course, the wine. Solage Calistoga is an ideal spot to mix business with pleasure. Chic and airy interiors help create a real indoor-outdoor flow throughout, and there's a variety of venues here to work with for your offsite needs. Tapping into "the good life" is the motto here, and that's not hard to do. This location is part of the coveted Auberge Resorts Collection, and as such the offerings top to bottom–from the spa to the food–are top notch. However, in typical California fashion, it's a Five Star experience without a hint of stuffiness.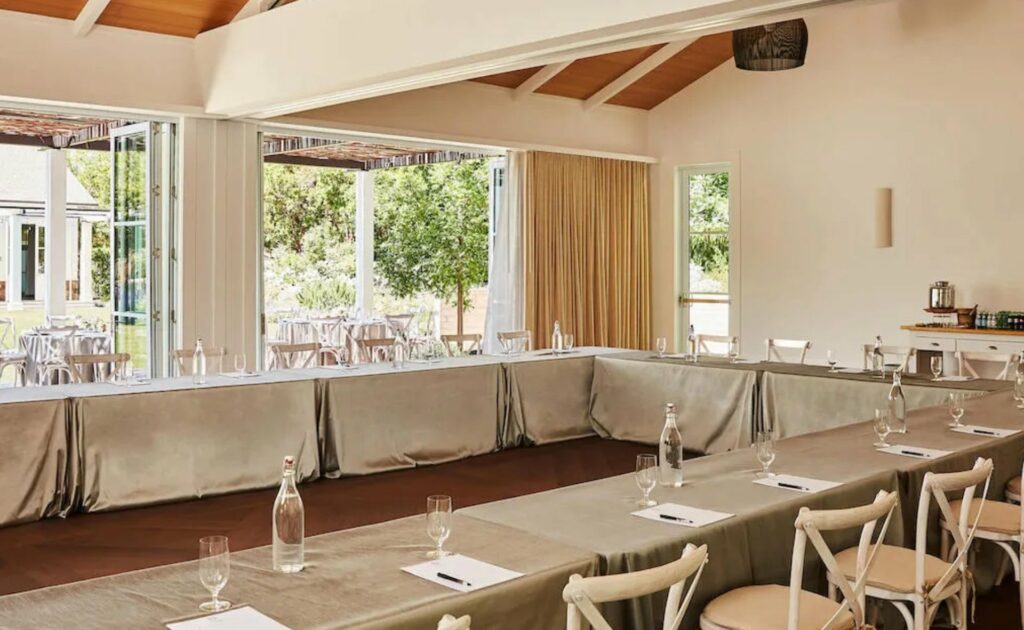 10. Camp Navarro
Neighborhood: Philo
Capacity: 32
If you find yourself feeling more relaxed when you're spending time around trees — or even just looking at them — you're not alone. There's actually a plethora of scientific evidence that they make you happier. Being around trees lowers your blood pressure, reduces stress (it literally reduces your cortisol), and improves your mood. When it comes to offsites, Camp Navarro wins on this front. Two hours north of the Bay Area, this resort is nestled in the Redwoods. A.K.A. America's O.G. trees.
They advocate a "back to nature" theme here, a mission very much accomplished throughout the 200 + acres. Accommodations range from open air cabins to teepees in the glamping tradition. Despite the rustic charm, this spot meets all your offsite tech needs with its massive WiFi system and power infrastructure. As its name suggests, activities here mirror a summer camp experience, be it rock climbing, archery, or lawn games. It's been written up in The New York Times, Forbes, and The New Yorker so the secret is officially out.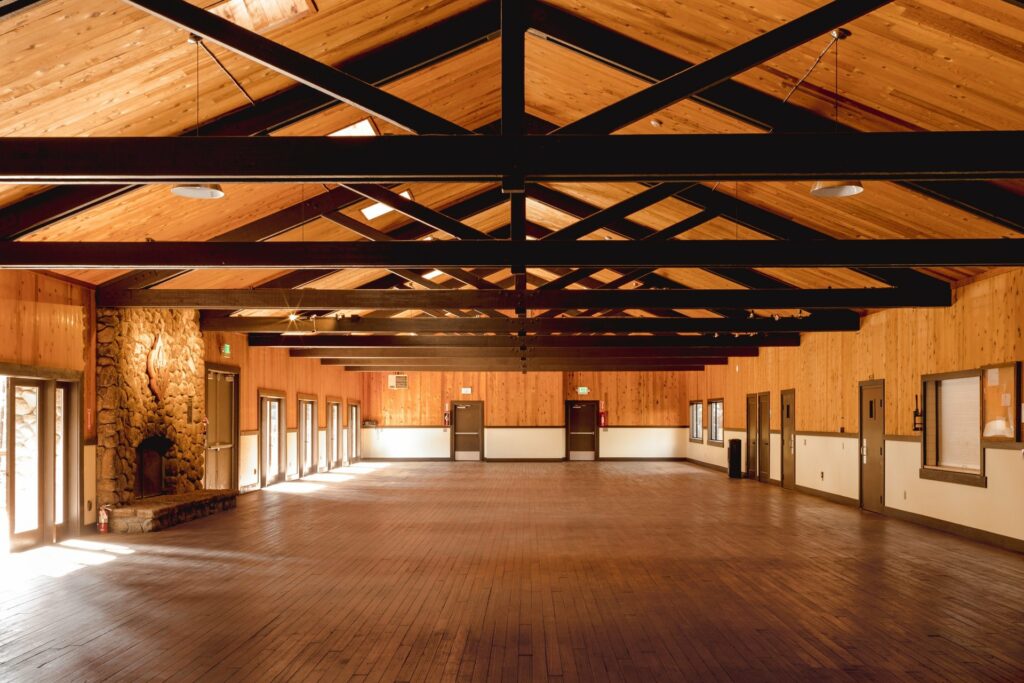 11. Cavallo Point Lodge
Neighborhood: Sausalito
Capacity: 68
Drive 30 minutes out from the city center — or there's the ferry of course — to Sausalito, a gorgeous Marin County spot known for its houseboat community, restaurants, galleries, views, and more. Cavallo Point Lodge is an exceptional facility by any standard, but they have particular well-earned bragging rights when it comes to sustainability which they strive towards through a variety of initiatives. Their efforts on this front have been recognized by a variety of organizations, and it earned prestigious awards from Travel + Leisure and National Geographic.
In addition to their admirable ethos, here's what else you'll get here: unparalleled views of San Francisco, top notch meeting facilities, and bespoke group activities which they like to say promotes "playing with purpose." If you're looking for an offsite close by for a shorter stay than this does the trick… and then some.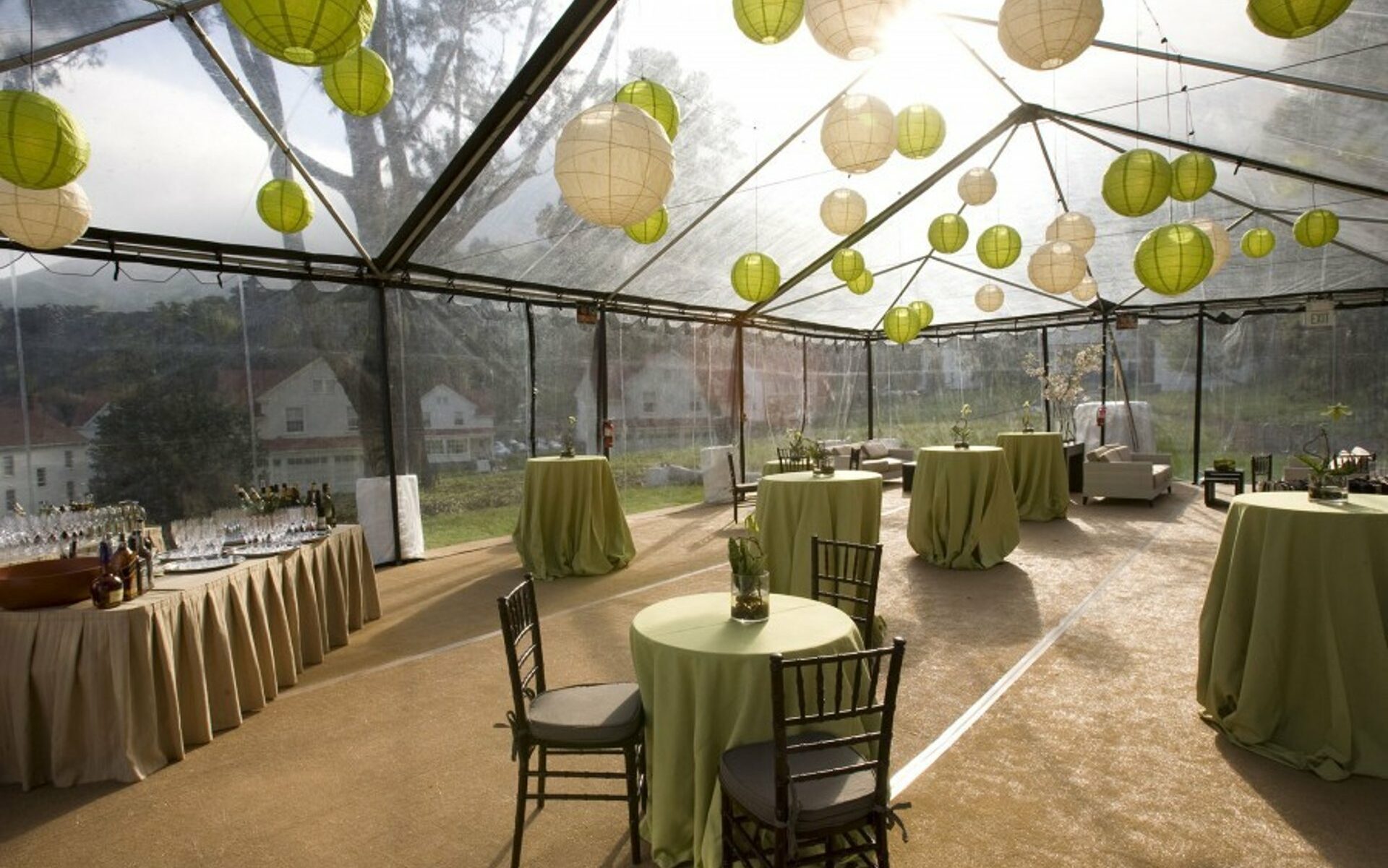 12. Hotel Healdsburg
Neighborhood: Healdsburg
Capacity: 130
If you've been to Healdsburg, California then you know you've tapped into someplace special. You'll routinely find it on Top 10 Small Town-esque roundups. It's not hard to see why. About a 1.5 hour drive from downtown, Healdsburg is uniquely situated at the confluence of three wine-producing valleys: Russian River, Dry Creek, and Alexander. Its topography, location, and world class restaurants make it a coveted destination all around. Hotel Healdsburg is located off the town's historic 19th century town plaza, so there is the benefit of being able to go out and check out a farmer's market without needing transportation. The hotel itself checks all the offsite boxes and its lauded Dry Creek Kitchen is a major bonus.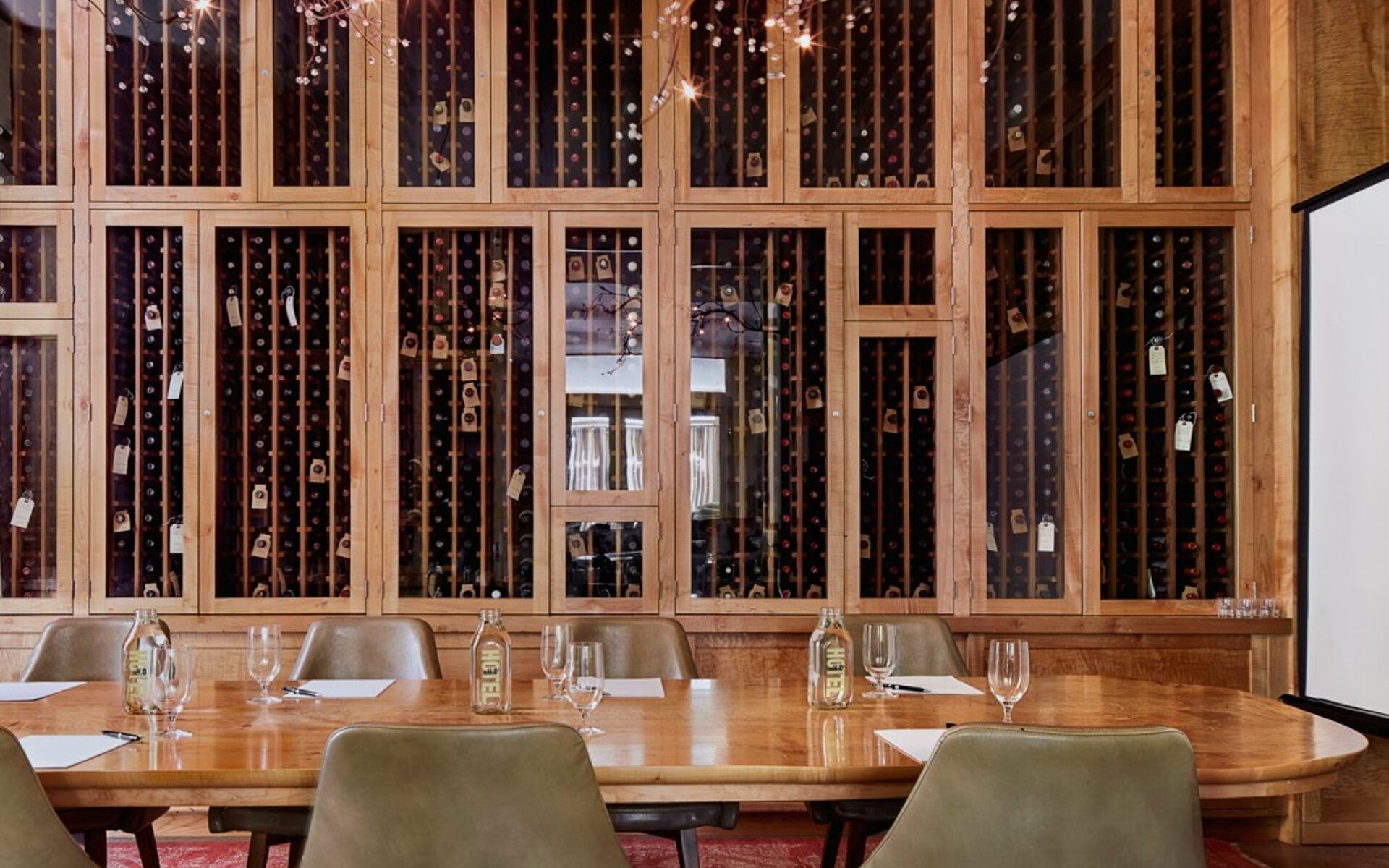 13. The Mountain Terrace
Neighborhood: Woodside
Capacity: 120
The Mountain Terrace is an incredibly popular event venue for San Franciscans, and it's not hard to see why. A mere 45 minute drive from downtown you get the ultimate combo of soaring redwood trees and sweeping views. It's idyllic but also flat out fun—the team building activities they offer up includes a murder mystery dinner.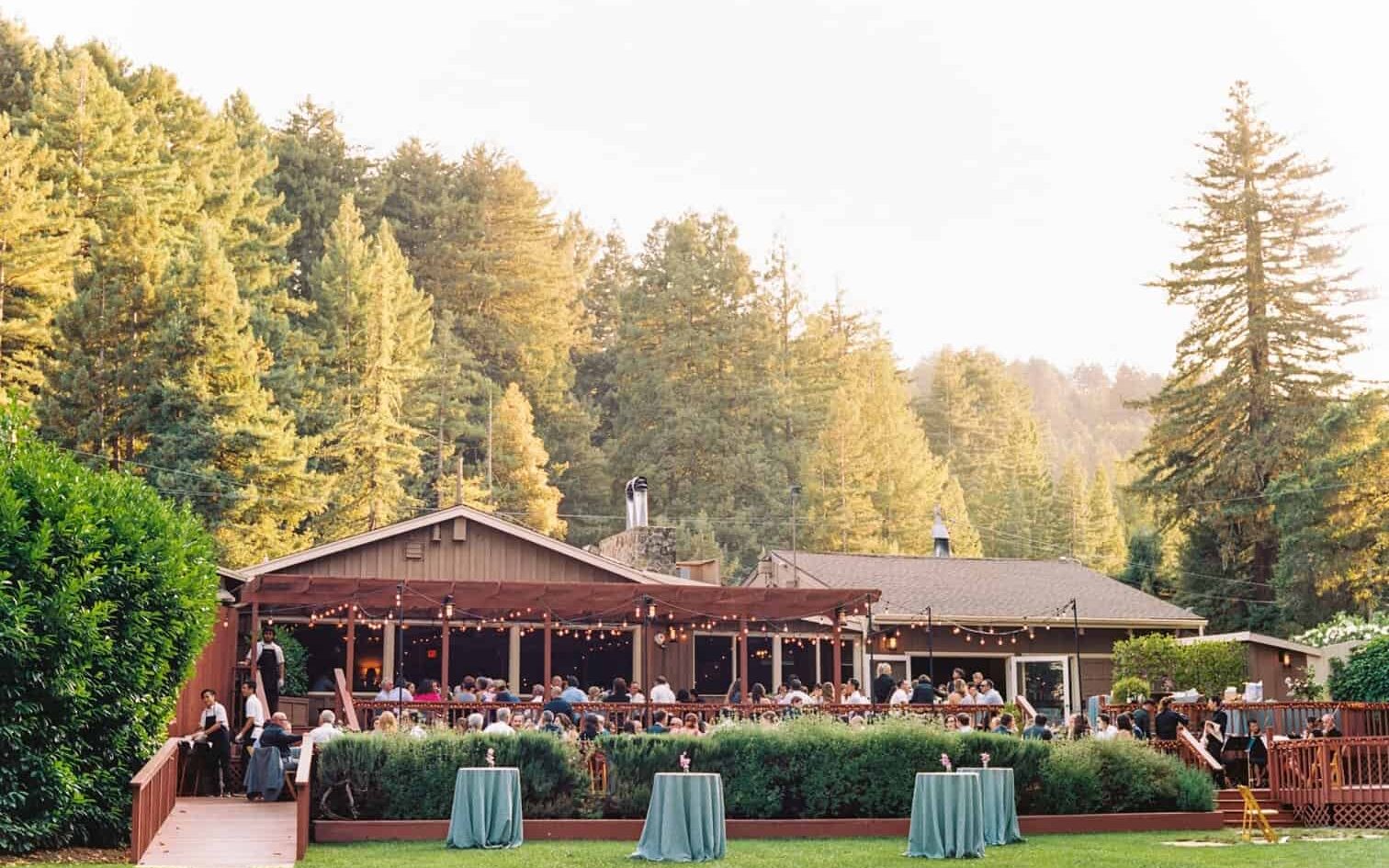 14. Alila Napa Valley
Neighborhood: St. Helena
Capacity: 68
Alila Hotels are known for their luxe boutique offerings and the Alila Napa Valley is no exception. It too ticks all the offsite boxes if you're looking for a more traditional hotel setting, albeit in bucolic wine country: myriad meeting spaces, epicurean delights, views over vineyards, and a fantastic spa. We can probably all agree that kids are (mostly) wonderful but sometimes can be a bit of a distraction when they're in the work background. That's a non-issue here since it's an 18+ plus hotel.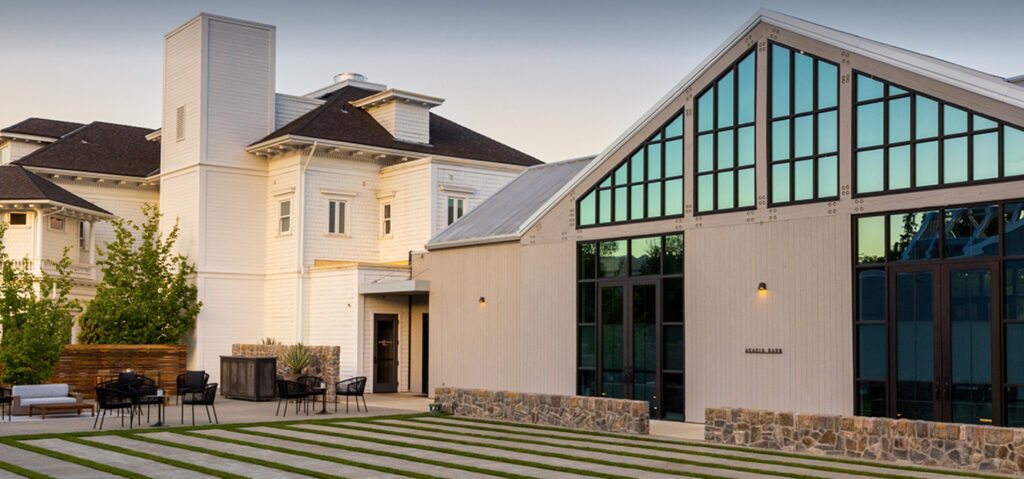 15. Casa Madrona Hotel & Spa
Neighborhood: Sausalito
Capacity: 64
Back closer to the city center, Casa Madrona Hotel & Spa is a sleek combination of new and old. The building has Victorian roots, and has a well-earned spot on the National Register of Historic Places. Hosting any kind of event here is a flawless experience with their dedicated in-house staff, but for offsites and any corporate needs it offers state-of-the-art contemporary amenities.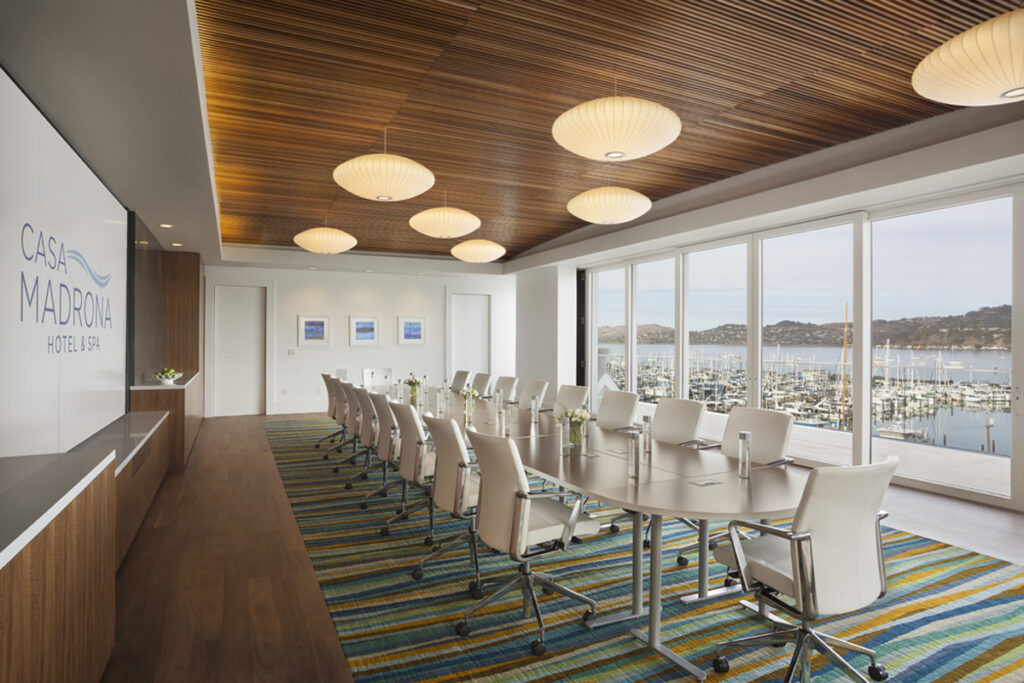 16. Claremont Resort and Spa
Neighborhood: Berkley
Capacity: 279
A hop, skip, and a jump over in the East Bay the historic Claremont Club & Spa is a 1915 gem. It's stately but doesn't feel imposing, and depending on traffic is probably the closest offsite to the city center in this roundup. Views out over San Francisco, gorgeous facilities, cutting edge meeting needs, and an inviting pool are especially ideal if you're looking for an offsite experience close to downtown that is relatively short and sweet.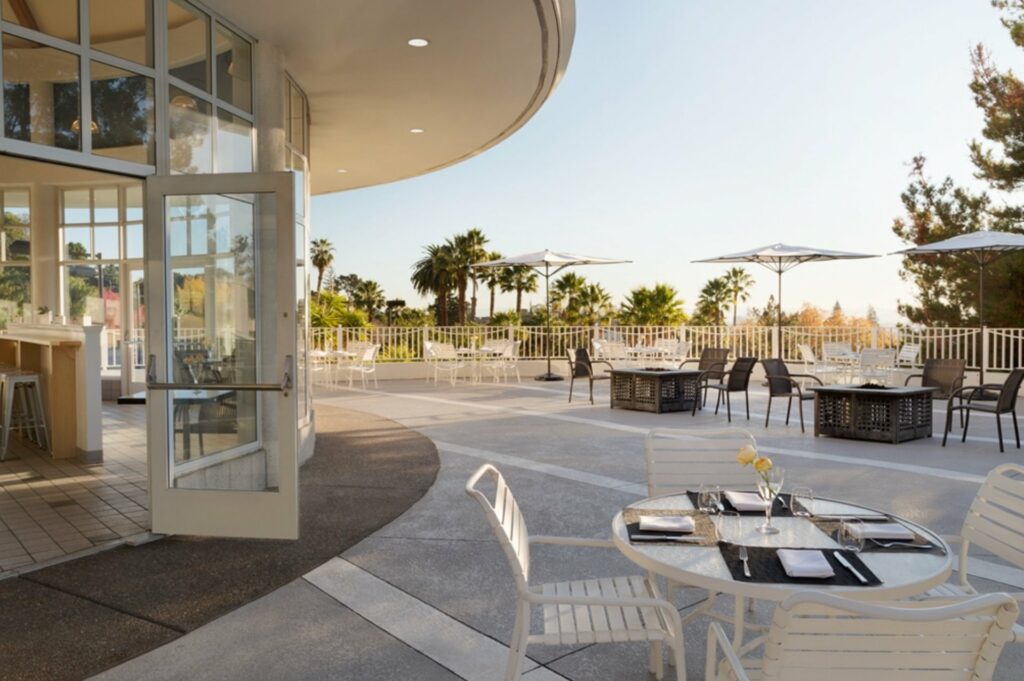 Why Finding the Right Venue for your Company Retreat is Important
Organizing an offsite for your company and/or team is a real "two birds" situation. It's a time where really creative and productive work conversations and strategy can be fostered, but by treating everyone to something different you're also recognizing their contributions and rewarding their efforts. Finding the right venue that meets both those needs sets the tone.
Top Things to Consider When Booking an Offsite
As always your planning needs will be unique to you and your team, but here's some questions to get you started:
How far do you want to be from your company's HQ?
Where are your employees coming in from?
What's the duration of your offsite?
Is the space fully private?
Find the Best Offsite Locations on The Vendry
The Vendry has been fortunate enough to help bring myriad events to fruition, from small product launches to massive celebrations. Whether you need a venue breakdown by location, ambiance, size, or anything in between, we're here whether you're still window shopping or ready to start a proposal.
Read More:
Festive Venues in San Francisco for Your Next Corporate Holiday Party
The Most Fabulous Large Event Venues in San Francisco
The Eight Best Offsite Locations Near New York City