Article Updated 7/25/23
The holiday season is a magical time of year, especially in San Francisco —the vibrant neighborhoods buzz with excitement, and the weather is brisk, but never too cold. It's also the time of year your company, clients, social club, or other social group is ready to celebrate the end of the year and kick back over some food, cocktails, and live entertainment or games. This is where San Francisco's many eclectic event venues come in.
16 Festive Large Holiday Party Venues in San Francisco
If you're planning an event in San Francisco, you've come to the right place! Whether you're looking for a space to host a live band and hundreds of guests or a more intimate dinner with just 20 people in a historic setting, we've compiled 15 of the best holiday party venues in San Francisco. From chic rooftops with unparalleled views to a laid-back ping pong hall to a wilderness retreat among majestic redwoods and 30 minutes from downtown SF, we have something that is bound to wow your guests for your holiday party. Check out our favorite picks below.
1. The Archery
Neighborhood: Mission
Capacity: 220
The Archery in San Francisco is an ideal venue to host a corporate holiday party, creating an unforgettable experience for you and your colleagues. This sophisticated and modern venue features flexible and spacious event spaces that can accommodate a wide range of party sizes and configurations. The venue's professional event team will work closely with you to customize your holiday party to your exact specifications, ensuring that every detail is successfully executed. The main hall is connected to a commercial kitchen, perfect for an event dishing up delectable bites. No matter the size or theme, The Archery guarantees a memorable holiday event that will be the talk of the office for years to come.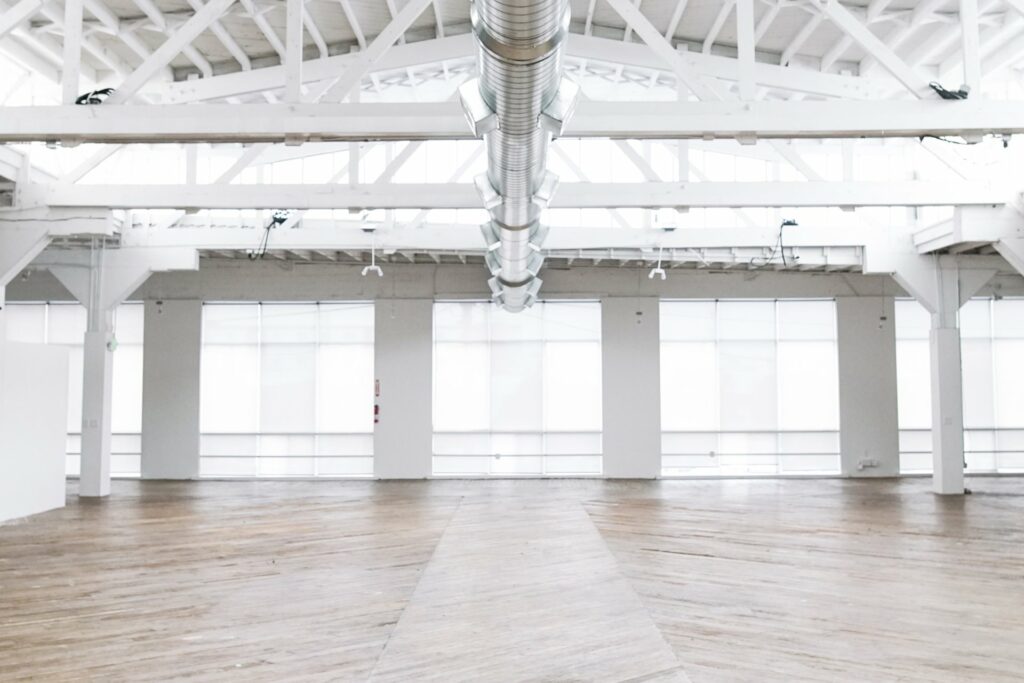 2. Foreign Cinema
Neighborhood: Mission
Capacity: 60
If you're looking for sophistication and style, Foreign Cinema should be on your radar. For a remarkable span of eighteen years, Foreign Cinema Chefs Gayle Pirie and John Clark have upheld the distinction of being featured in the esteemed "Top 100 Restaurants" list by the San Francisco Chronicle. Their collaborative visions ingeniously blend together elements of cuisine, wine, cinema, and art, resulting in a uniquely harmonious and captivating atmosphere.
The best part? There are private dining options, galore. The spaces cater to various occasions, from intimate gatherings adorned with hors d'oeuvres and cocktails, to grand formal affairs. The largest private dining room, Modernism West Gallery, can seat up to 60 guests, while their Directors Table seats a cozy 12.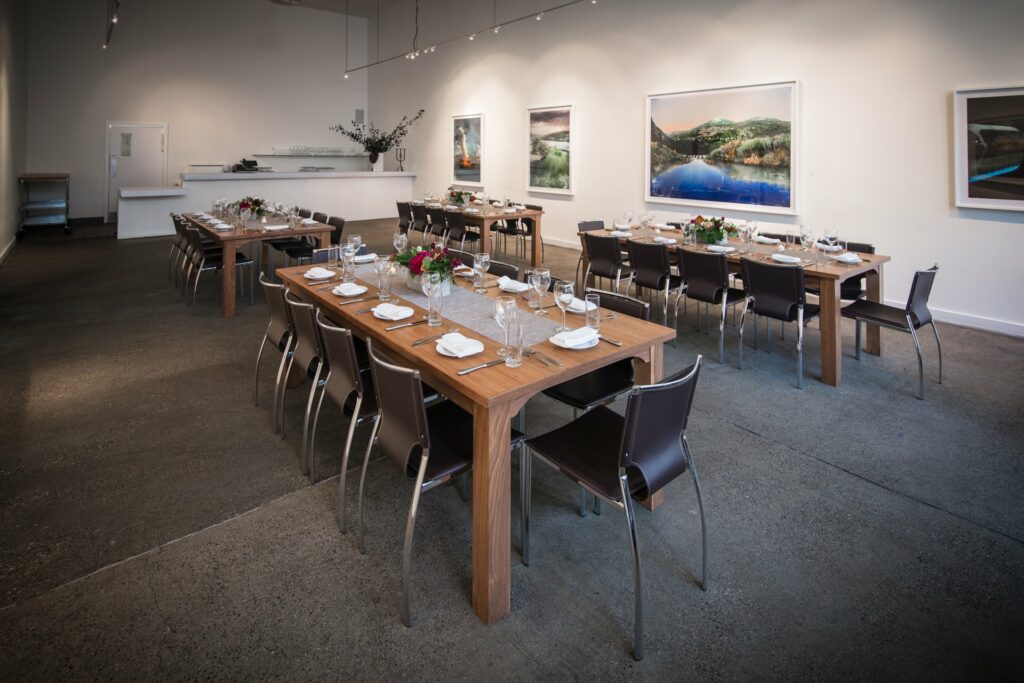 3. The Midway
Neighborhood: Central Waterfront
Capacity: 2,500
The Midway is an interactive venue with an astounding 40,000 square feet of space — described as an 'innovative urban canvas'. It consists of several spaces, including the Ride, which is a is The Midway's largest space — ideal for dancing and live performances and can accommodate up to 700 seated and 1,500 standing. Gods and Monsters, a lounge with a more VIP experience can be used during large full-buyout events or for stand alone single-stage events — accommodating up to 200 seated and 400 standing. If you want to bring things outdoors, The Patio is an open-air sanctuary with custom murals that provides an immersive experience and can hold 500 standing (230 seated). If you're looking to throw a blow out bash, a full buyout of the venue is also available to accommodate up to 2,500 people standing (max 700 seated).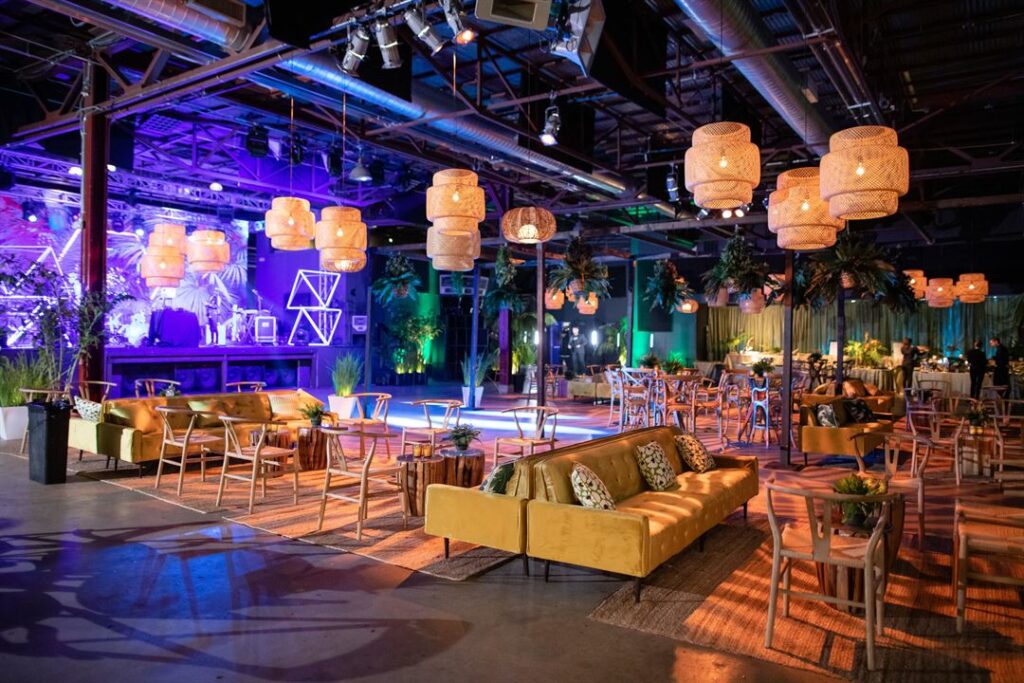 4. 25 Lusk
Neighborhood: South of Market
Capacity: 350
25 Lusk offers a more casual vibe with one of the most sought-after rooftop venues in SF. The rooftop at 25 Lusk is heated and serves up a selection of artisanal fare like hand-crafted pizzas, tuna tartare, house salads, speciality cocktails, and more. The restaurant and social is also available for events, and 25 Lusk can accommodate events from 10-500 guests, seven days a week. The venue has a team of on-site experts who can help you create the perfect holiday party experience.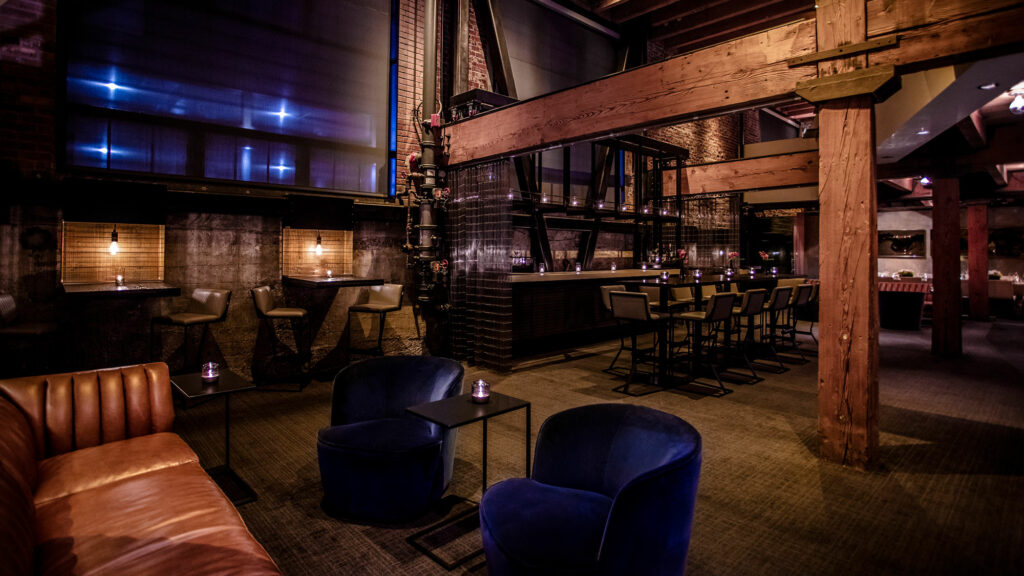 5. The Battery
Neighborhood: North Beach
Capacity: 100
The Battery is a luxury boutique hotel and members-only club designed by world-renowned interior designer Ken Fulk. The venue has five event spaces including the Penthouse, which can accommodate 100 seated / 100 standing; the Living Room, which can fit 12 people seated; the Library, which holds 6 seated; the Wine Cellar, which can fit 35 standing, and the Garden. Located in the Financial District, The Battery is in the heart of the city's business center. One major perk of hosting a holiday party at The Battery is the ability to accommodate out-of-town guests: the hotel rooms feature chic rooms with hardwood floors and original artwork, plus suites with sitting areas and/or balconies.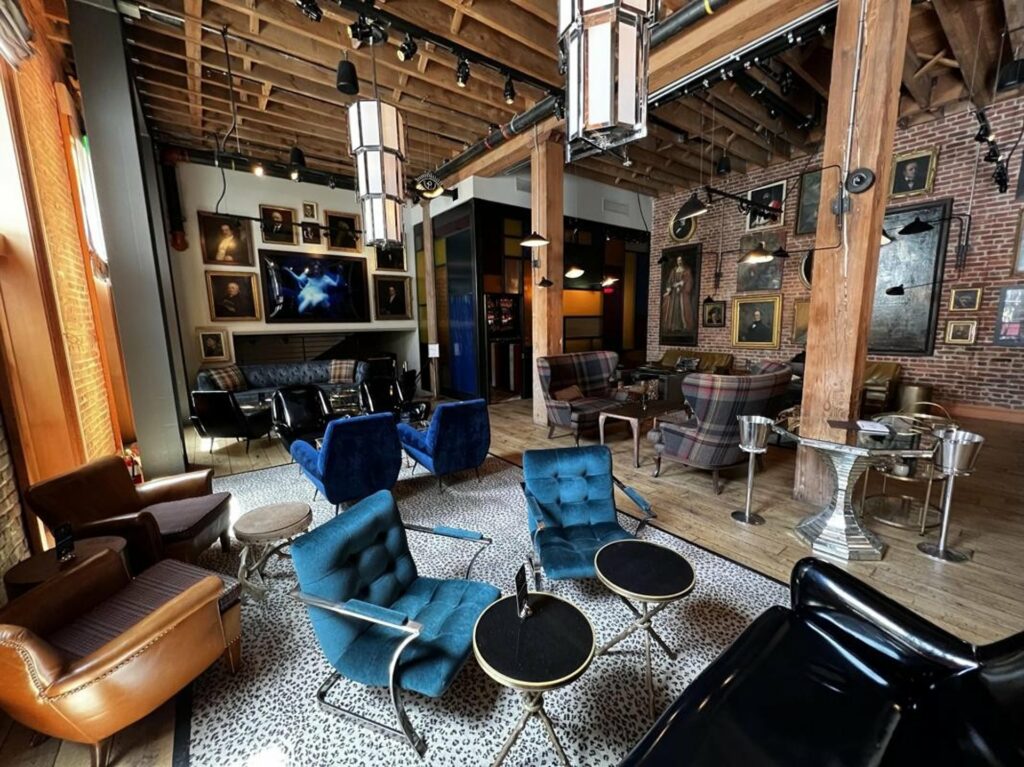 6. SPIN San Francisco
Neighborhood: South of Market
Capacity: 500
Looking for a holiday party venue that offers more than just food and drinks? SPIN San Francisco is an excellent casual spot that includes reserved areas to play ping pong, set food and beverage menus (including holiday packages and seasonal cocktails), dedicated event servers and hosts, and more. There are three spaces available to book: a private room, Center Court, and the main space, which can accomodate up to 500 people standing.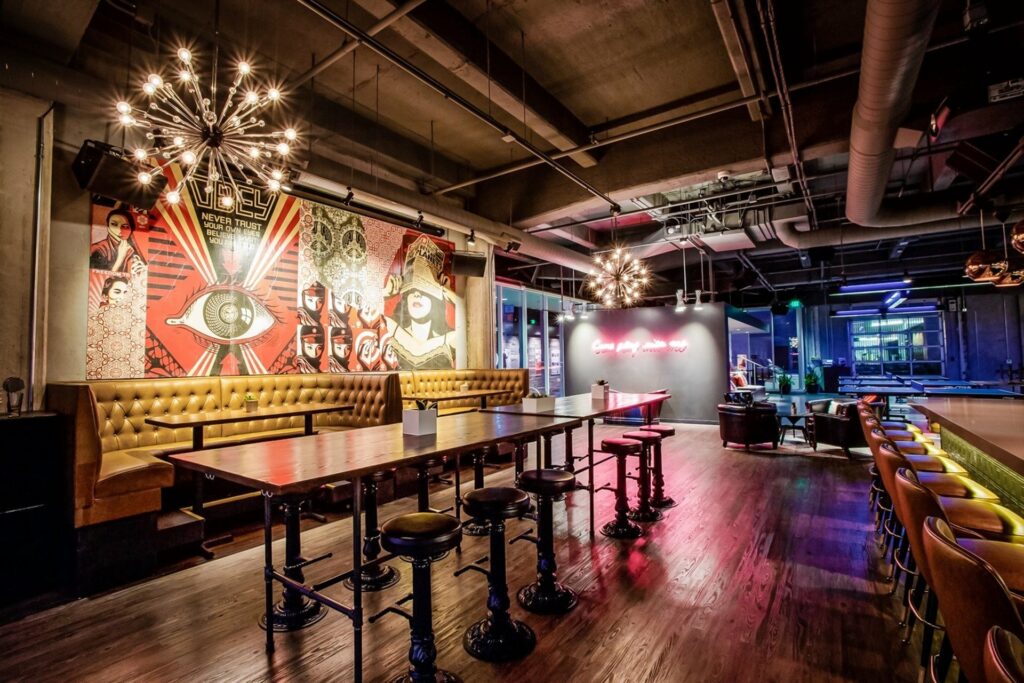 7. The Mountain Terrace
Neighborhood: Woodside, CA
Capacity: 300
Although The Mountain Terrace is a 30-minute drive from San Francisco, it is a beautiful retreat from the city offering indoor and outdoor spaces. The indoor space can accommodate up to 100 guests, while the gorgeous meadow outside can host up to 300 guests. The menu offers seasonal flavors and award-winning wine with refined, yet comfortable service. Whether you're looking for a one-night event or a multi-day retreat, The Mountain Terrace is the perfect spot in the heart of Silicon Valley. If you really want to up the ante for a company holiday party, the venue also offers team building activities, such as rock climbing, puzzle solving, murder mysteries, and more.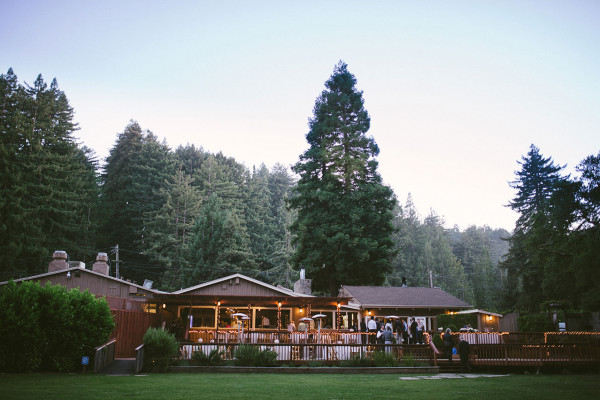 Don't forget the finishing touch! Find the top floral designers in San Francisco.
8. Public Works
Neighborhood: Mission District
Capacity: 1,200
Public Works in the Mission District is an expansive, versatile venue that can accommodate events from 15 to 1,200 people. You can rent out individual rooms or the entire venue, depending on what vibe you are going for. Public Works has experience hosting a whole range of events, including corporate events, team outings, and birthdays, so it's ideal for either personal holiday parties or a company holiday party. There is a dedicated in-house support team to work with you to create your event, and the venue features state-of-the-art audio-visual equipment along with multiple bars with skilled mixologists, sprung hardwood floors (great for dancing!), and art direction and design services available to fully customize your event.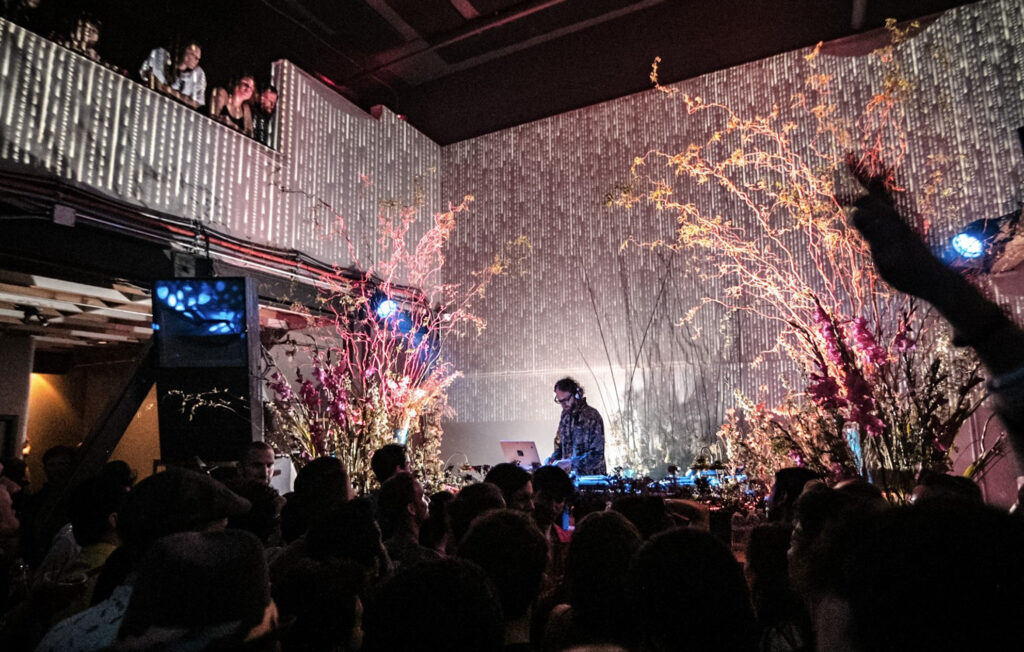 9. The Box SF
Neighborhood: South of Market
Capacity: 80
The Box SF is a former William Randolph Hearst Printing Plant and is currently a unique private meeting and event venue that spans four floors with six spaces total. On the ground floor, there's an antiquarian paper and advertising store—the largest one in the United States. The largest space, the Gate Room, is on the third floor and can accommodate 50 people for a seated dinner. The Buddy suite can host 2-30 guests, and the Willy and Webster suites can each hold max 10 standing and seated. Each suite can be rented by the hour with a four-hour minimum. You can also book the historic Pressroom and Mercantile room that can hold a max 50 people seated or standing.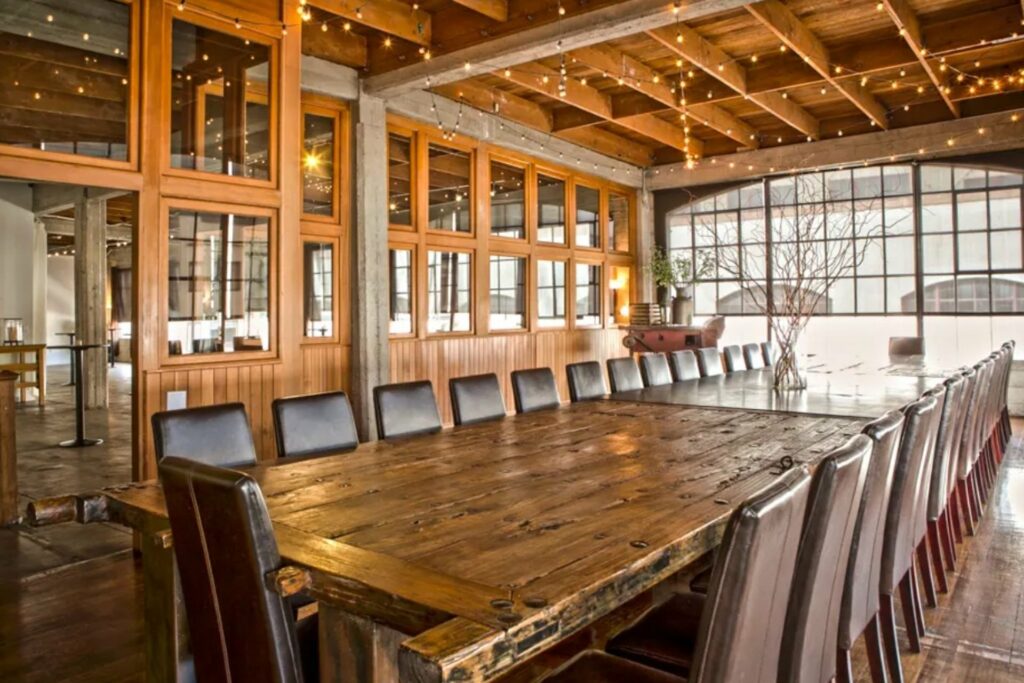 10. The Armory
Neighborhood: Mission
Capacity: Contact for more info
The Armory is an expansive event venue spanning six floors including a concourse and roofdeck. Although The Armory was renovated in 2020, it has a rich history: it was built in 1909 as the National Guard Armory and housed a gym, pool, indoor rifle room, and more. The venue has a total of 250,593 rentable square feet, so it's perfect for big corporate events like company holiday parties. With high ceilings 11 to 14 feet, you can customize the space to fit your aesthetic.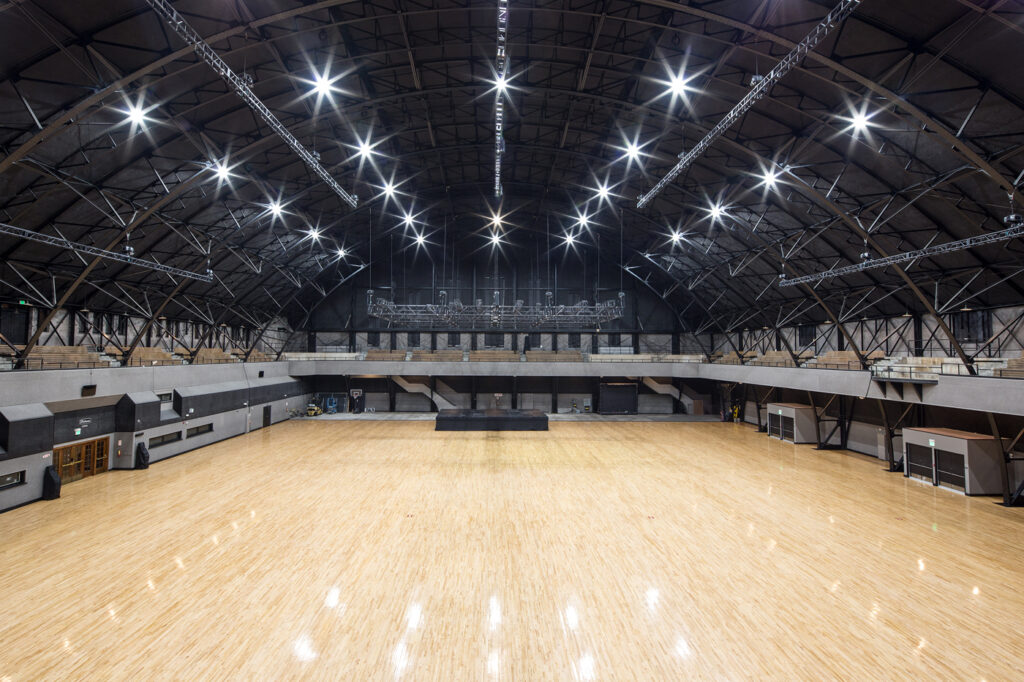 11. Wingtip
Neighborhood: Financial District
Capacity: 350
The Club at Wingtip sits atop the historic 1908 Bank of Italy building in downtown SF and is a modern spin on the classic social club. The venue offers a full buyout that can accommodate 350 guests, or three separate spaces. The Penthouse offers floor to ceiling windows with stunning views of the city and can accommodate 50 seated and 120 standing. The Lardmark rental offers a more intimate experience and can host 16 seated and 40 standing, while the Wine Cave offers a backdrop of 2,000 bottles of temperature-controlled wine and can accommodate up to 65 people standing and 26 seated.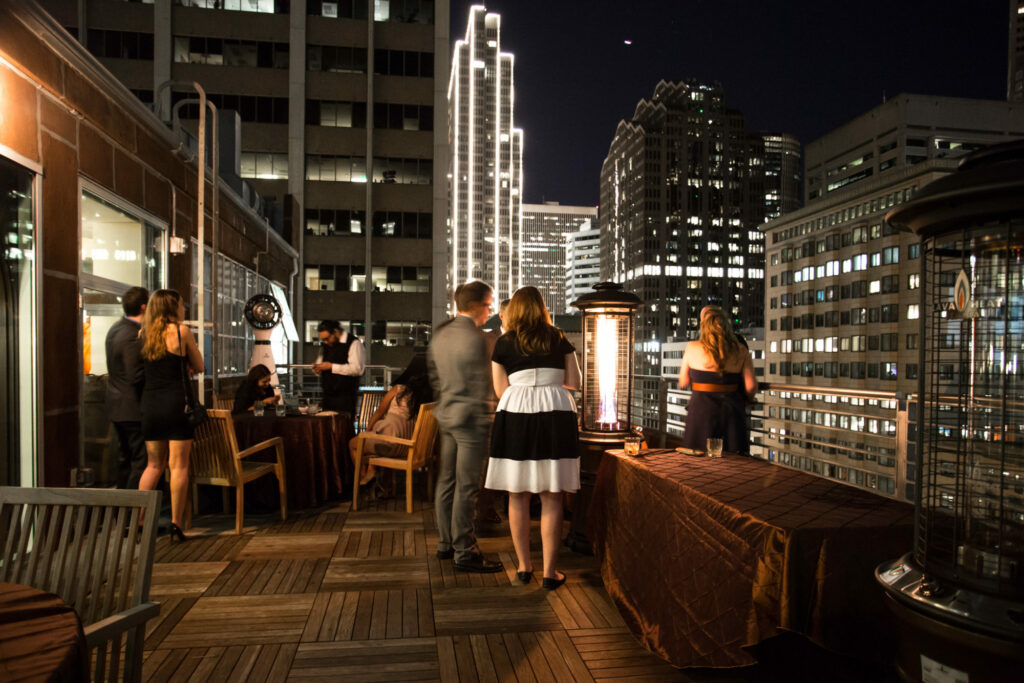 12. The Hibernia
Neighborhood: Tenderloin
Capacity: 1,500
The Hibernia is an iconic SF landmark built in the late 1800s that was transformed into a regal event venue. The Hibernia consists of four unique and flexible spaces, including the Main Hall, which has a standing capacity of 1,500; The Gallery, which can fit 123 standing; 1 Jones, which can accommodate 400 standing; and The Tobin Suite, which can fit 57 standing. The Main Hall is one of the largest special event venues in San Francisco, and is an expansive 16,330 square feet. For a more intimate feel check out The Gallery, which is a loft-style space at 2,745 square feet.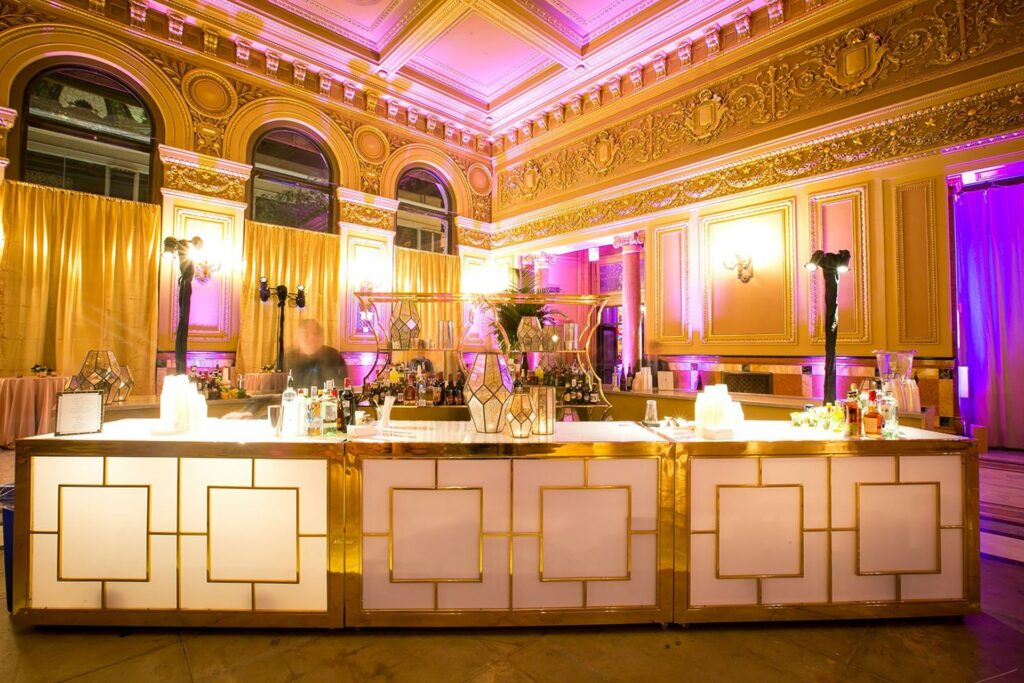 13. Press Club
Neighborhood: South of Market
Capacity: 450
Press Club is a wine bar and lounge that offers several event spaces for more intimate dinners of 20 to a bigger group of over 400. A partial full buyout (140 standing), full buyout (300 standing) and a full venue + tent buyout (450 standing) options are available, as well as a bar buyout (85 standing), private dining room and bottle lounge (45 standing), and tasting bay (65 standing). Press Club serves up seasonal small plates, a selection of California's finest wines, and beer for your event.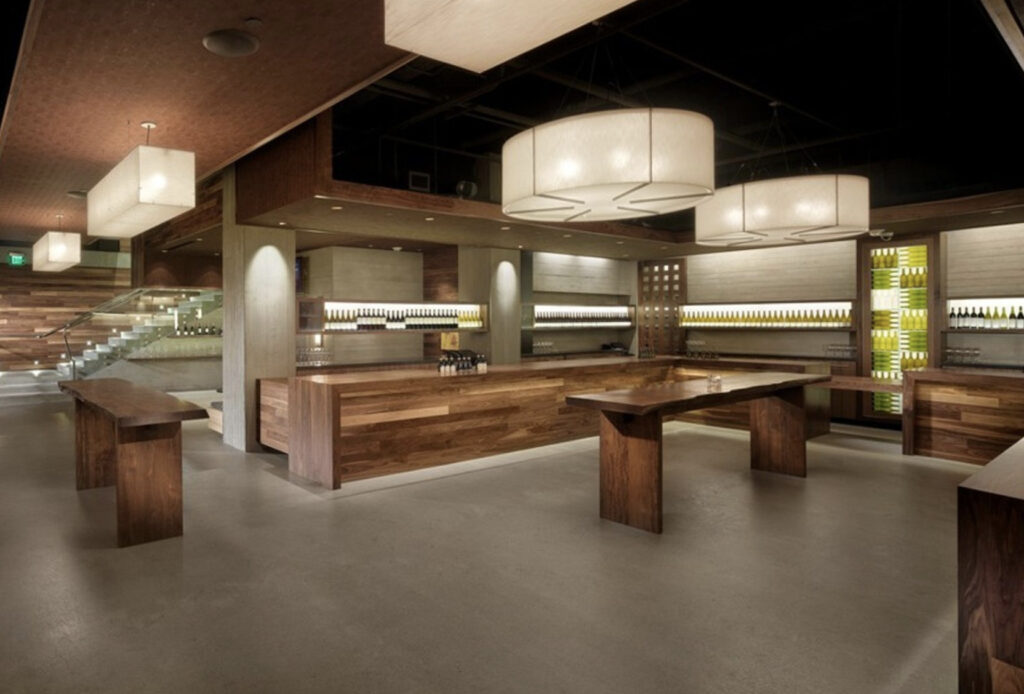 14. Tupper and Reed
Neighborhood: Downtown Berkeley
Capacity: 185
Tupper and Reed is a craft cocktail and live music spot located in the heart of downtown Berkeley with a menu serving up a selection of innovative cocktails. A full buyout of the venue hosts 185 people total, but you can also book the Rhoades Green Room (can service up to 35 people) or the balcony bar (can service up to 80 people). The venue can provide up to five bartenders, a host, and security. Live music is also encouraged and they will welcome full service catering from outside vendors.
15. Charmaine's
Neighborhood: Tenderloin
Capacity: 725
Charmaine's is one of the most stunning venues in San Francisco. Located atop the Proper Hotel, Charmaine's sits 120 feet above Market Street and has been described as having "the energetic chic of a European terrace meets the laid-back vibes of 'California cool.'" There is indoor and outdoor space available, and the menu offers bar snacks and cocktails created by partners from BVHospitality. Charmaine's can accommodate 100 people seated and 200 standing, perfect for bigger holiday parties when the weather is nice.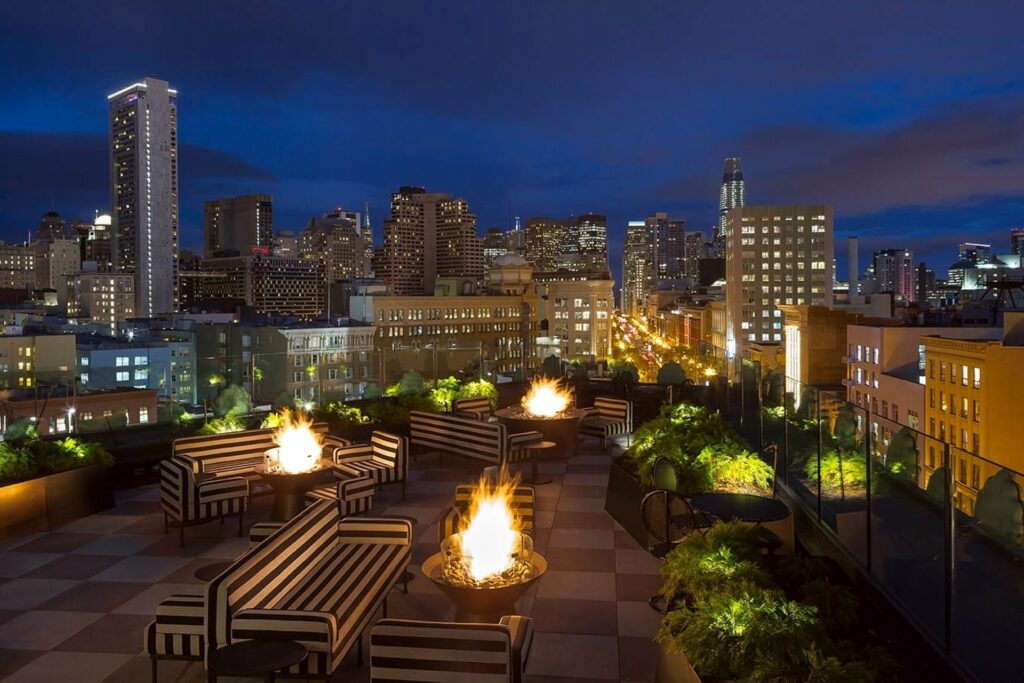 16. August Hall
Neighborhood: Union Square
Capacity: 950
August Hall is a unique versatile event space that boasts three distinct rooms: the Music Hall, a historic space with 100-year-old architecture and 32-foot ceilings equipped with a stage and balconies for live music and events. There's also the Green Room, which is a plush cocktail room that can be used on its own or as a side space from the main Music Hall. Another fun option is Fifth Arrow, which is a cocktail, dining, and gaming parlor with three bowling lanes. August Hall also offers three full bars and food by Fifth Arrow.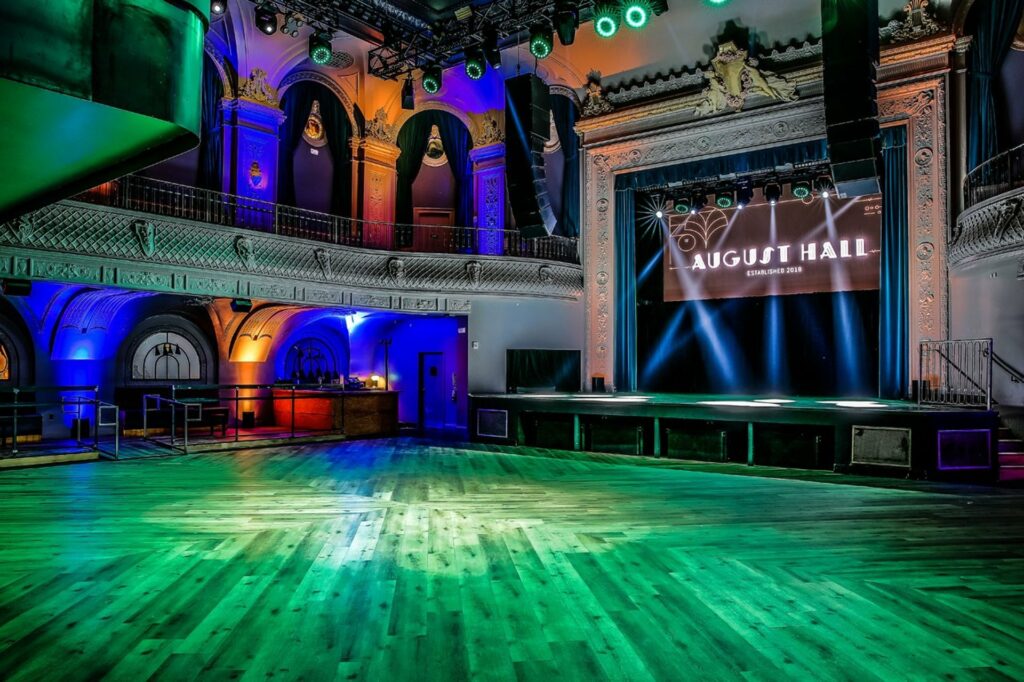 17. The Pearl
Neighborhood: Dogpatch
Capacity: 500
The Pearl is a modern multilevel event space in Dogpatch that consists of four event spaces: the Main Floor can hold up to 300 people seated and 500 standing, and is like a large blank canvas for your event—it has direct access to the main bar, kitchen, and back-of-house space. The Mezzanine is often used as a transition space for the Main Floor for events like cocktail hours and breakout spaces and can hold 80 seated and 60 standing. The Rooftop was voted #1 rooftop bar in San Francisco by Time Out and boasts beautiful views; it can hold 220 seated and standing. You can also book School Night, which you can rent on its own or in conjunction with other spaces at The Pearl. School Night is a more intimate space that can hold up to 100 standing or 50 seated.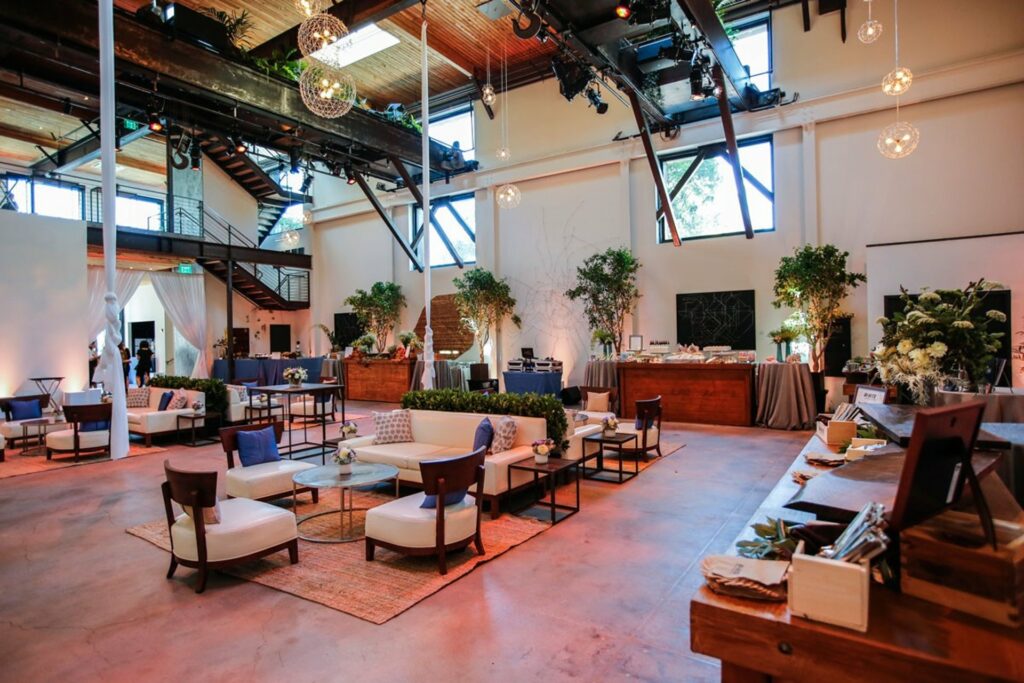 Why Finding the Right Venue for Your Event is Key
One of the best parts about San Francisco is its eclectic neighborhoods and people, which are reflected in SF's many event venues. The venue you select for your holiday party will set the tone for how you want to celebrate your guests this holiday season, so keep in mind if you want to go more laid-back and casual, or something more elevated and professional. As the home to world-renowned chefs and mixologists and its proximity to Napa Valley, one thing is for sure—the food and drinks won't disappoint, no matter where you book your event.
Top Things to Consider When Booking an Event Venue
Think about what vibe and aesthetic you want to set for your holiday party — do you want your guests to let loose with live music and a dance floor, play games like ping pong and bowling, or have a more refined sit-down dinner? You'll need to consider how many guests will be in attendance, if the location is convenient to get to by car and public transit (or if guests will be coming from out of town and need to stay nearby), and what kind of audio-visual requirements you'll have for your party. Of course, food and drinks are key to any holiday party, so make sure you lock down if you can get all the food and drinks on site or need to coordinate vendors like caterers and bartenders.
Find the Best Corporate Event Venues on The Vendry
Whether you're gathering employees from Silicon Valley, guests from the Bay Area, or flying in people from all over the world, San Francisco is an ideal location for a holiday party. From small, intimate spaces to large-scale venues that can accommodate hundreds (or more), SF has it all. If planning your holiday party and booking a party seems overwhelming, let The Vendry be your go-to resource. The Vendry can help you find the perfect venue for your event and let you filter by ambiance, neighborhood, and more.
Read More:
The Best Private Dining Rooms in San Francisco
The Best San Francisco Rooftop Venues For Your Next Event
The Most Fabulous Large Event Venues in San Francisco