To Miami's credit, subtlety is not the driving theme here for, well, pretty much anything. That includes venues, where even raw spaces come with something a little extra. If you're window shopping for the corporate event venues Miami has on offer, we've rounded up 15 that range from a historic bank vault to a tropical oasis and from an opulent ballroom to the roof of a bustling food hall.
15 Festive Venues to Host Your Next Holiday Party
Head out into the sunshine and poor a margarita as you dive into our roundup of the best corporate event venues in Miami.
1. SKYDECK ROOFTOP Miami
Neighborhood: City Center
Capacity: 249
SKYDECK ROOFTOP Miami epitomizes the city's aesthetic: it's sleek and sumptuous. The 3,700-square foot aerie features enviable 360° views over South Beach and the Atlantic Ocean. Just under 250 guests can attend a corporate event here by using a private elevator, and the adjustable lighting and high-quality A/V systems are excellent. The bespoke furniture is from acclaimed international interior designer Karine Rousseau, another stylish and functional bonus.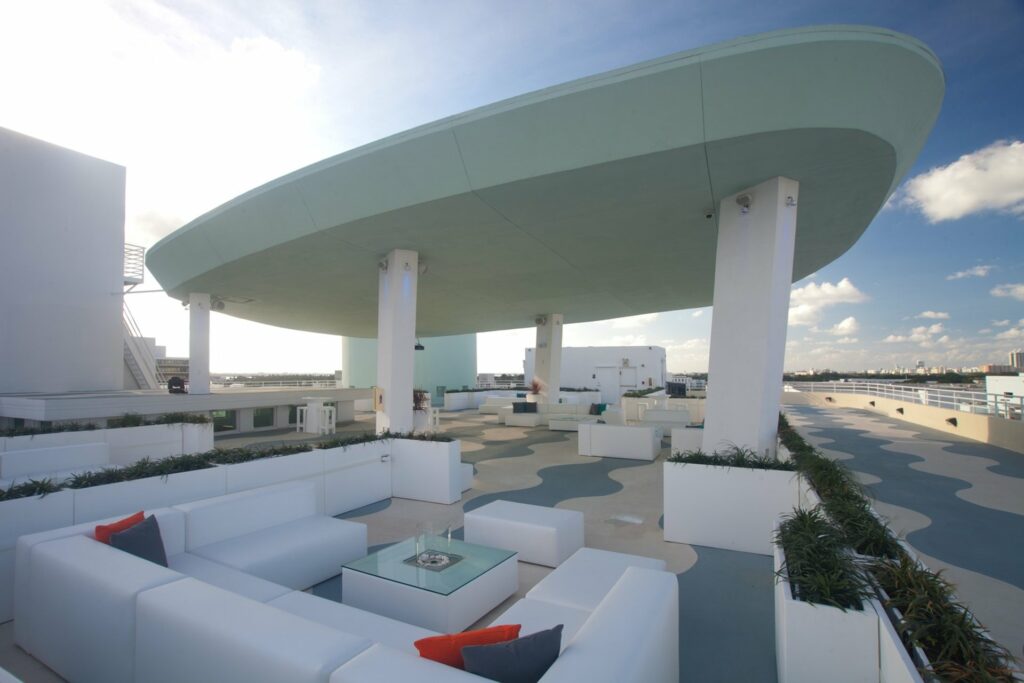 2. Moxy Miami South Beach
Neighborhood: South Beach
Capacity: 340
Moxy Miami South Beach ticks all the boxes and then some for a corporate event venue. There's 25,000-square feet of meeting and event space (including nine designated event rooms), but if your event includes out-of-towners this is a great place to put them up simultaneously. It's a real playground for off-times between the 72-foot pool, multiple eating and drinking venues, free hotel fitness classes, sweeping views, and much more. Also good to keep in mind—South Beach is only about a 20-30 minute drive from the airport.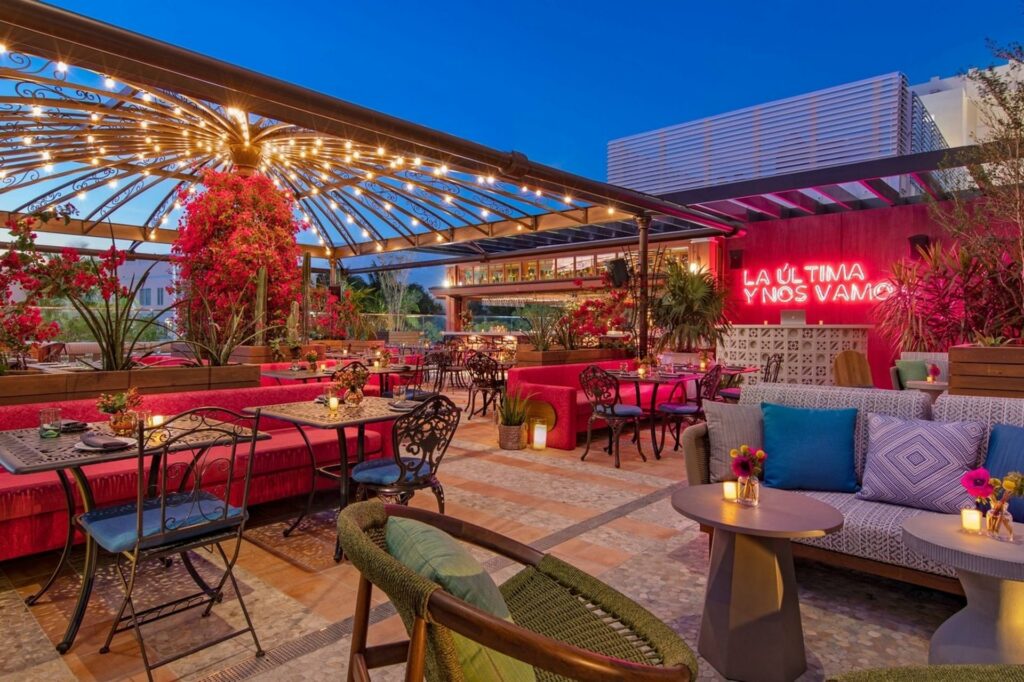 3. Moore Building
Neighborhood: Design District
Capacity: 2,000
The Moore Building is a sleek (the word comes to mind a lot in Miami) design gem, fitting since it's the Design District's most historic venue. It was originally built in 1921 as a furniture showroom for Moore and Sons, but it's now a massive 21,000-square foot blank space over four floors that can accommodate 1,000 seated or 2,000 guests. Iconic architect Zaha Hadid created the "Elastika" installation in the atrium, which is meant to both compliment the space but also show the contrast from when it was originally built.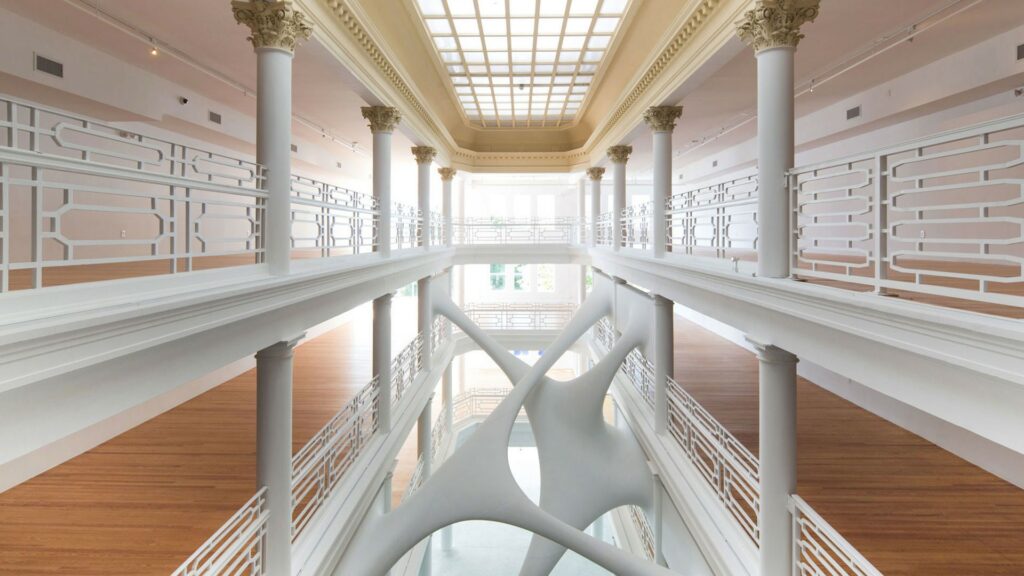 4. Marion Restaurant
Neighborhood: Brickell Village
Capacity: 250
While the food at Marion Restaurant is New American meets Asian, the atmosphere feels distinctly European. After hours it turns into a bit of a party scene, so don't be fooled by the fine-dining setting, people come to eat but also to listen to music and let their hair down. If you're having a corporate event for 135 seated/250 standing where the ideal atmosphere is dimmed lights, great food, and chic surroundings, this would be a two thumbs up locale.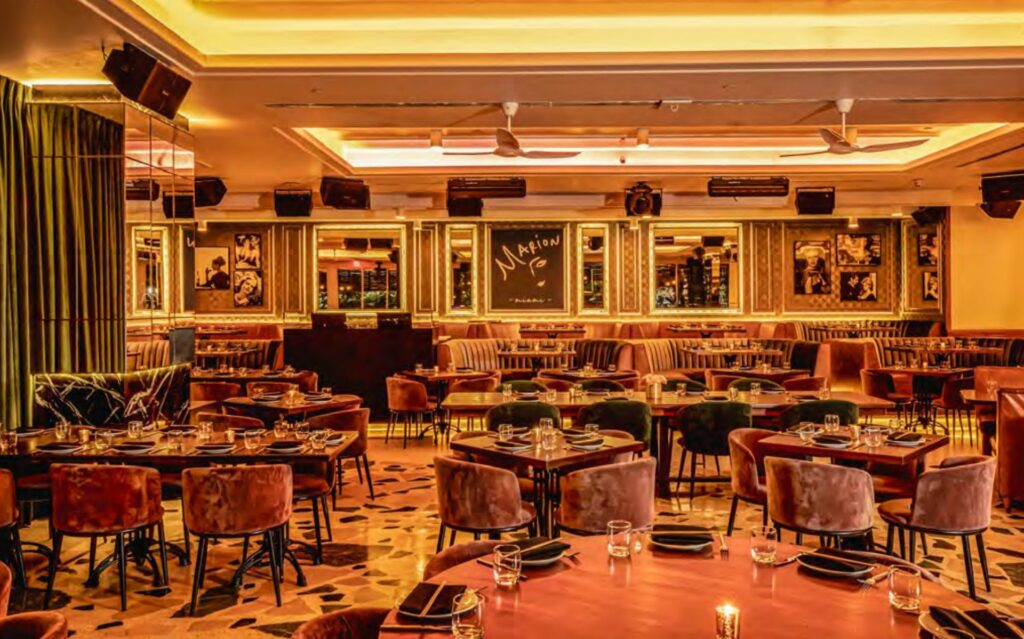 5. The Temple House
Neighborhood: Brickell Village
Capacity: 250
The Temple House is pretty legendary when it comes to Miami venues. You may recognize it from music videos be it One Direction or Pitbull, or for design buffs you may have heard of it because of the notable 1930s Art Deco by designer L. Murray Dixon. This 16,000-square foot venue used to be the largest single residence in Miami, and now it's a versatile canvas to make a real splash for 300 seated/500 standing.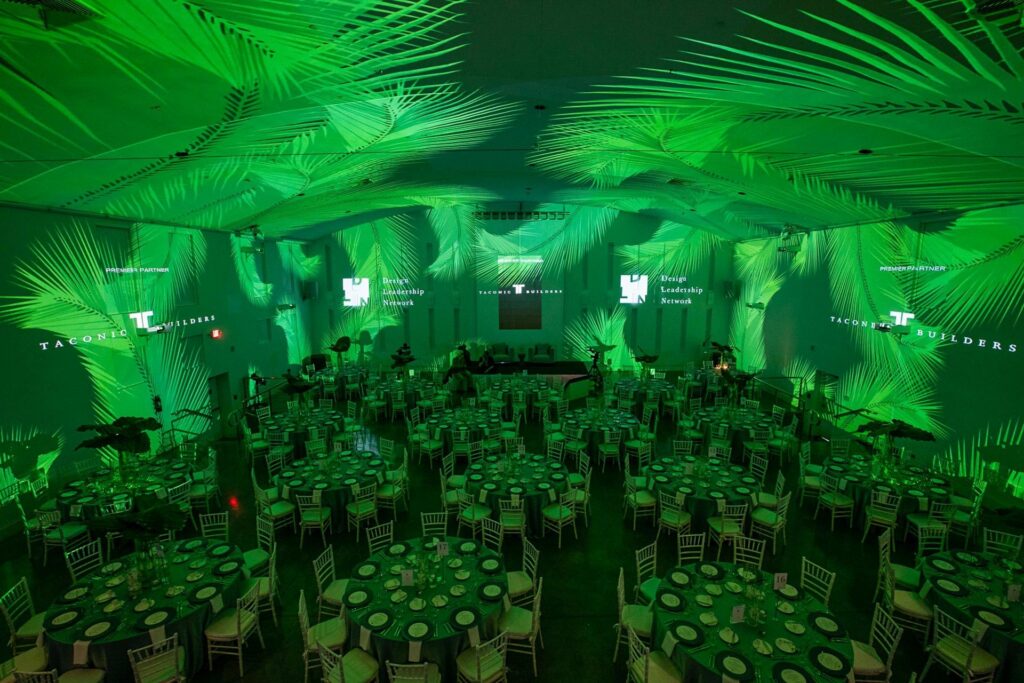 Whether it's dinner or light bites — food matters! Browse the top caterers in Miami!
6. Alfred I. Dupont
Neighborhood: Central Business District
Capacity: 550
Alfred I. DuPont Building is named for the eponymous industrialist whose bank was the principal tenant when this historic building was built. This venue is grandiose in that quintessential 1920s and 1930s way you see in some Art Deco architecture. (Enter the aforementioned Temple House.) The exterior itself is made from limestone and black granite while the floors and walls are polished marble. Intricate hand-painted ceilings, ornate iron gates… If you're envisioning a white-glove/black-tie corporate event, this is the place to do it. Within this venue you can choose between two ballrooms: the 2,000-square foot North Ballroom or the larger 6,500-square foot South Ballroom that can hold up to 550. Both are spectacular but our personal favorite is the North Ballroom because it's inside the former bank vault where the bartender stands behind an original iron-wrought bank teller window.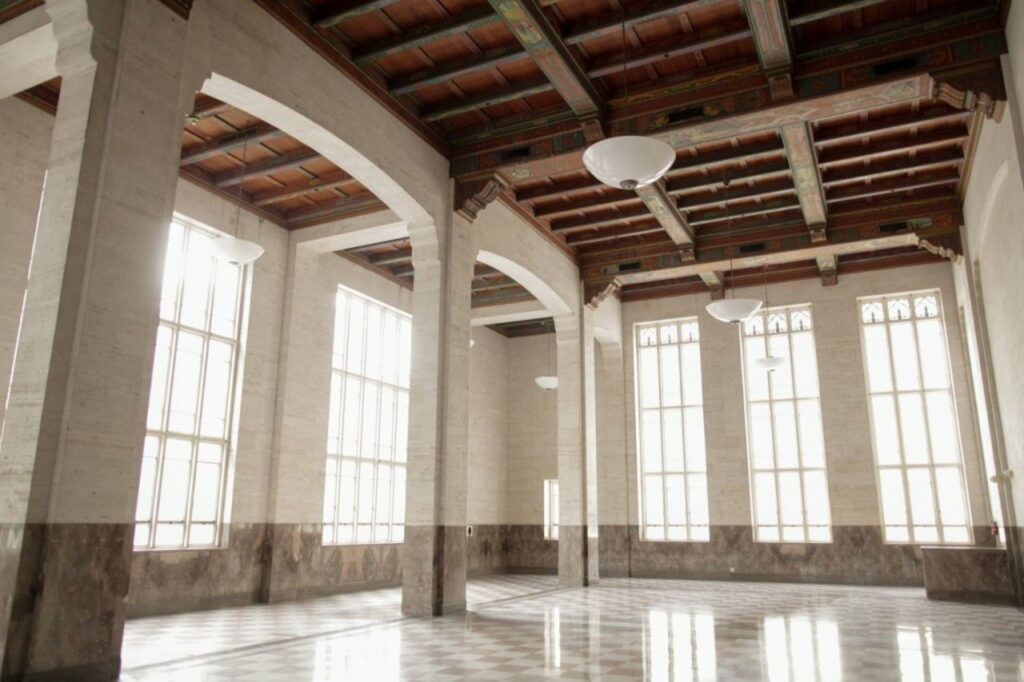 7. Freehand Miami
Neighborhood: Mid-Beach
Capacity: 250
Freehand Miami is a boutique hotel a mere 5-minute walk from Miami Beach. It's perfect for an event that's centrally located in a buzzy area but also provides the sense of an urban oasis. There's three spaces to choose within, including their 27 Restaurant and Bar or Secret Garden (shade c/o a giant mango tree). The largest however is The Broken Shaker, a 1,800-square feet area where the pool is happily front and center.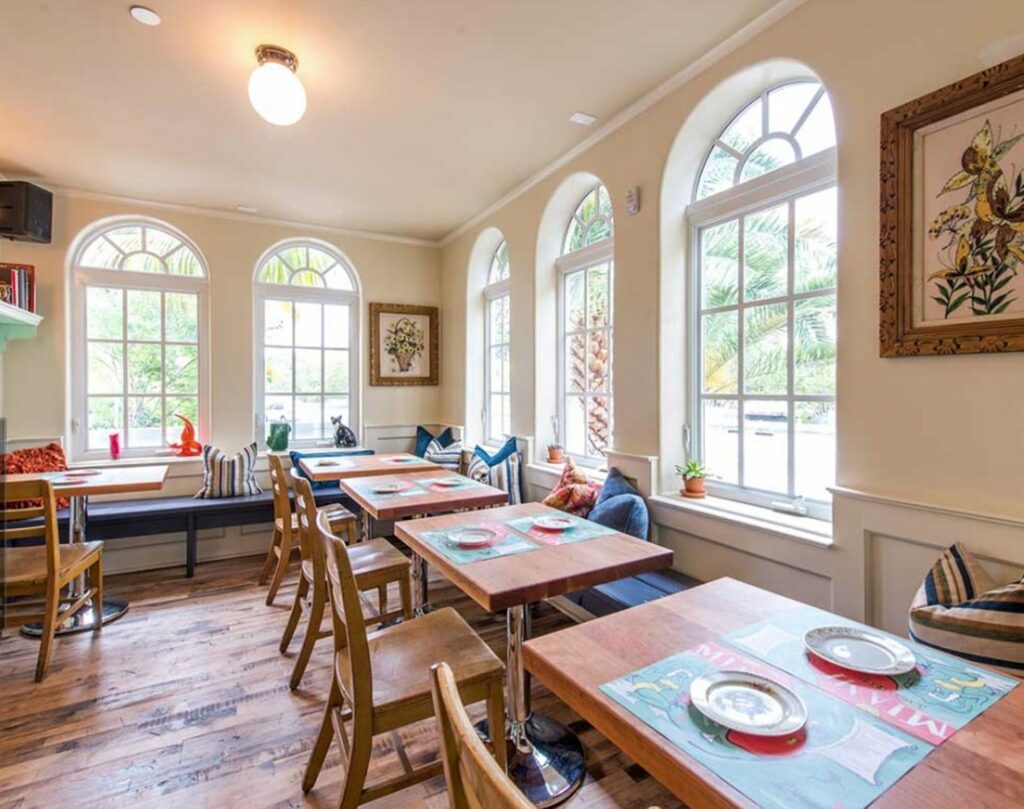 8. The Cruz Building
Neighborhood: Coconut Grove
Capacity: 700
Miami is not exactly known for being understated, and The Cruz Building doesn't disappoint on that front. Where to begin? 10,000-square feet, three floors, soaring atrium ceilings, massive stained-glass windows, marble staircases, European and French/New Orleans antiques, outdoor terraces… It will most certainly leave a lasting impression on any corporate event of up to 700 people.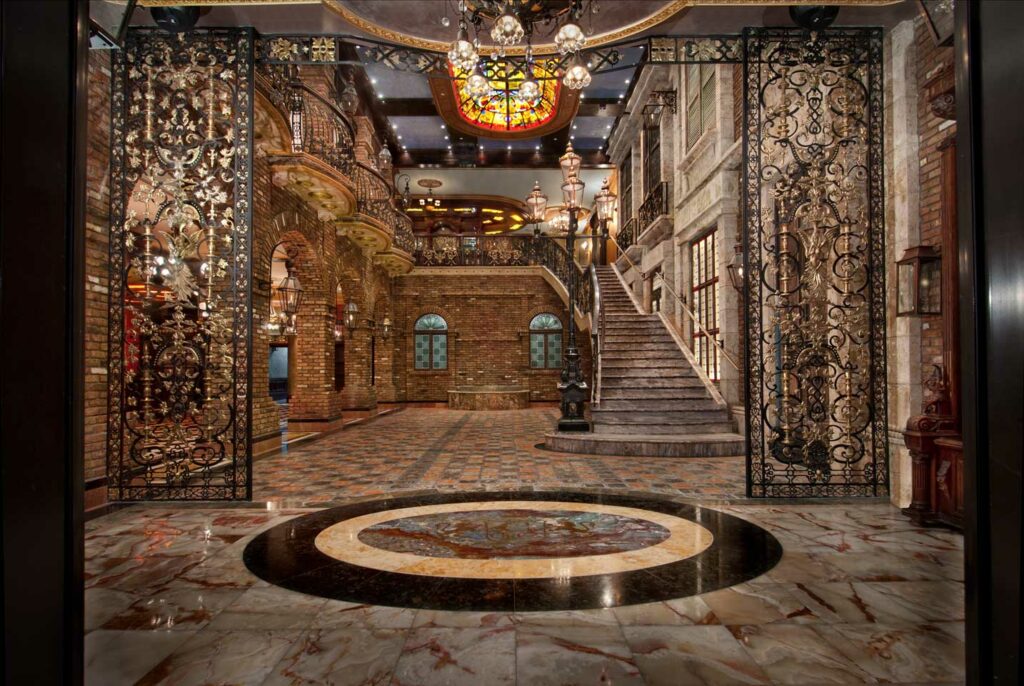 9. Faena Hotel Miami Beach
Neighborhood: Miami Beach
Capacity: 1,000
Faena Hotel Miami Beach is a luxurious 5-star establishment where any sort of event in their myriad spaces will be gorgeous and top-notch. That said, do consider their event venue jewel called Faena Forum, designed by legendary architect Rem Koolhaas and co. It can hold up to 1,000 people, and the unique exterior gives way to equally impressive interiors which includes a rose marble amphitheater.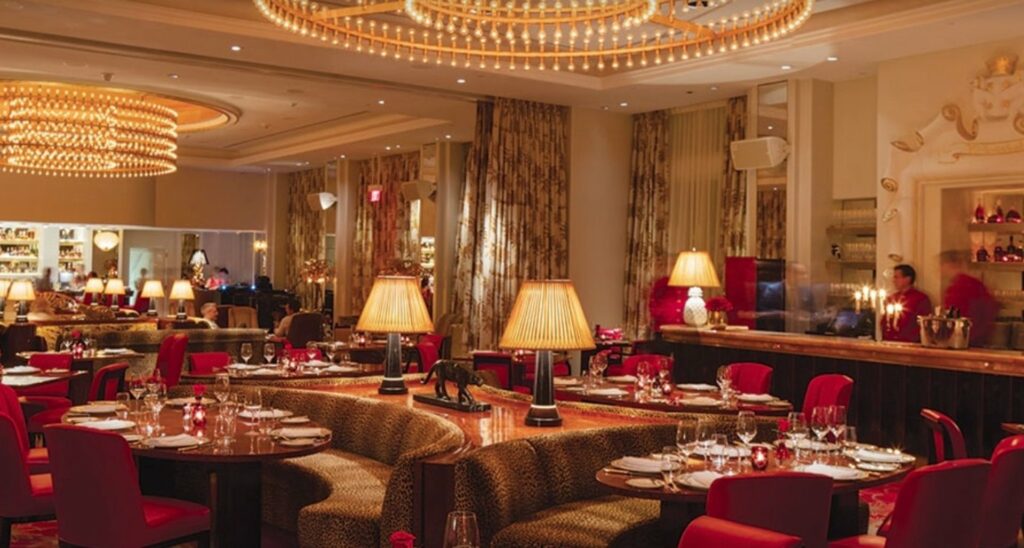 10. The Citadel
Neighborhood: Little River Gardens
Capacity: 250
The Citadel is a block-long 1950s building that has been through a number of incarnations but these days serves as a very cool food hall. The 5,000-square foot rooftop is a desirable en plein air corporate event venue with sweeping views over the city. Their bar program is * chef's kiss * and will be a sure hit with your 200 seated/250 standing guests. (Make sure to try their Citadel Colada.)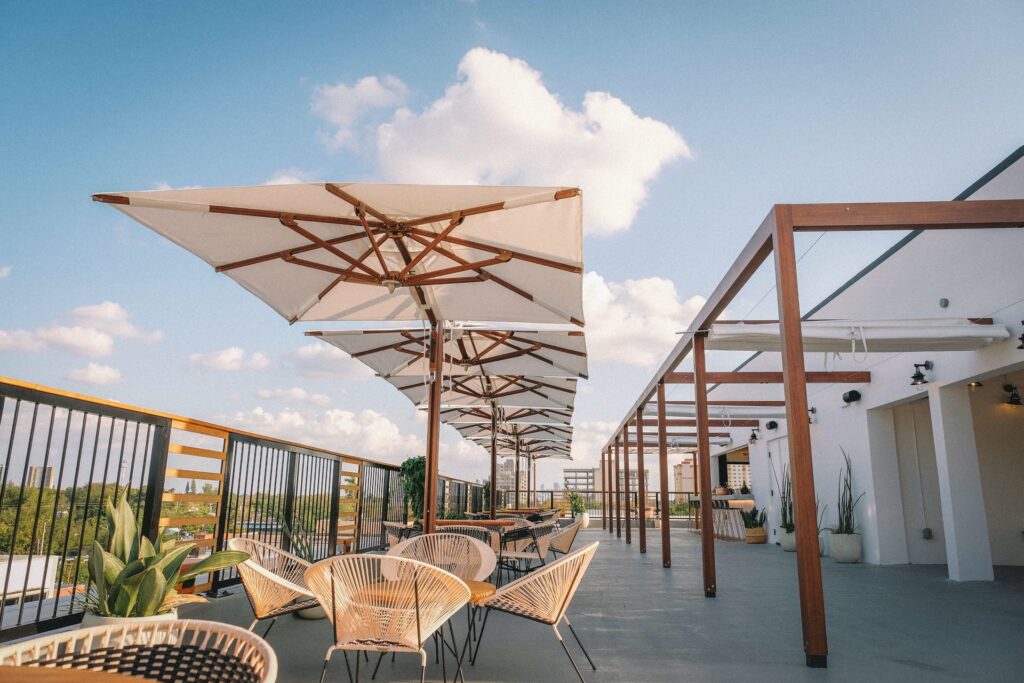 11. The M Building
Neighborhood: Wynwood Arts District
Capacity: 500
The M Building is a meticulously renovated 1950s manufacturing warehouse in the heart of the eclectic Wynwood Arts District. This tropical modernist structure (which yes, is in fact a thing) spans 12,000-square feet over two stories. Five gallery spaces are inside with a stunning tropical garden outside. As a corporate event space for up to 500 you can treat it as a raw space inside, but the overall package remains distinctly Miamian.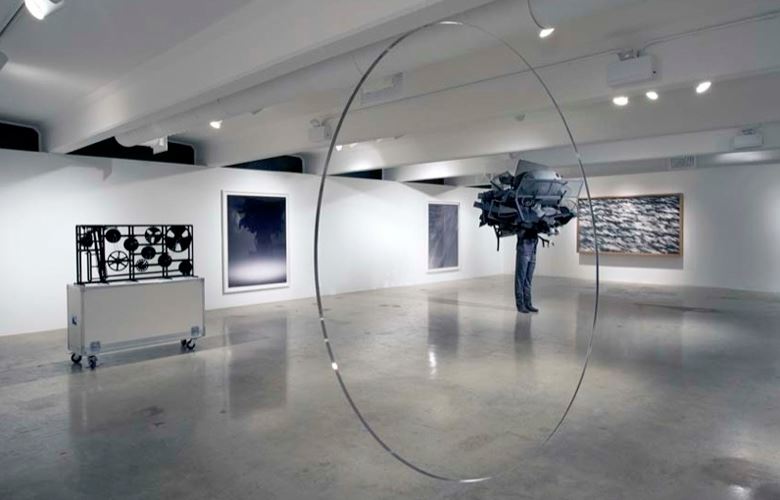 12. The Grove Sanctuary
Neighborhood: Coconut Grove
Capacity: Contact for more info
The Grove Sanctuary lives up to its name—it's an actual zen garden. This magical spot has hosted pop up dinners, film and photo shoots, meditation meetings, and much more. If you're looking for a venue that speaks to a calming, laidback corporate event this is a fabulous option.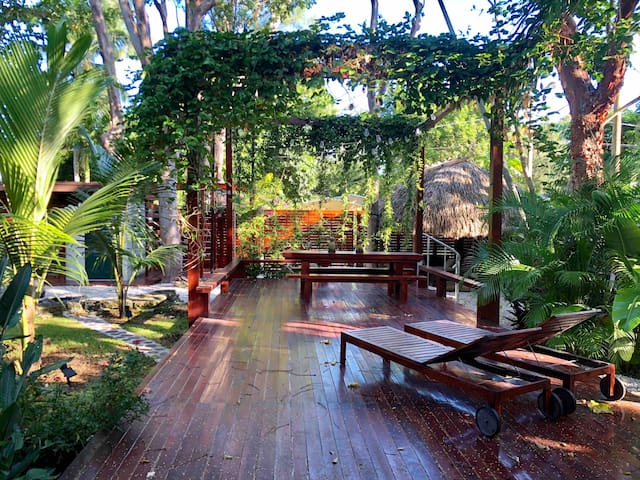 13. Palm House
Neighborhood: Miami Beach
Capacity: 500
If you want to lean into the beach thing–which makes sense for a Miami event – Palm House is practically a real life Pinterest board. It's a tropical setting for any kind of event of up to 500, and with 17,000-square feet you have room to spread out before strolling along the beach. The dome-like roof adds even more sense of space on top of that.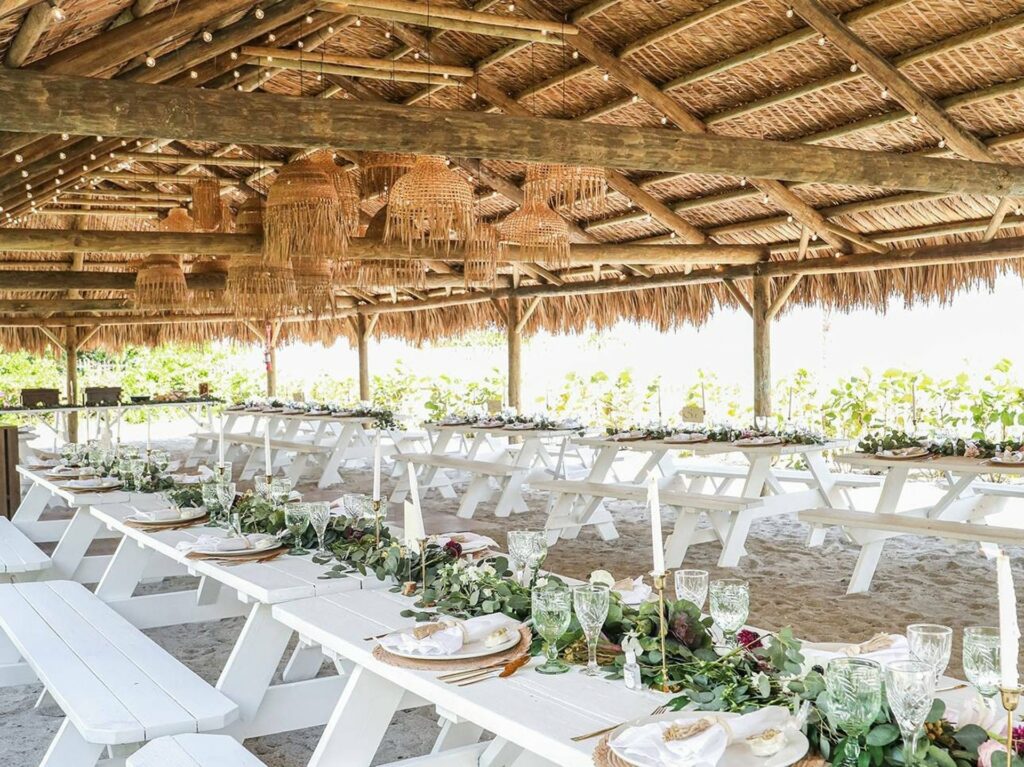 14. North Beach Event Space
Neighborhood: Miami Beach
Capacity: 240
It's all about the ocean views at North Beach Event Space, a stunning contemporary event venue beachside. A great location and an enviable vista have made it a coveted event destination for everything from weddings to holiday parties of up to 240. This is a Bill Hansen Hospitality Group venue so you're in great hands regardless of the occasion.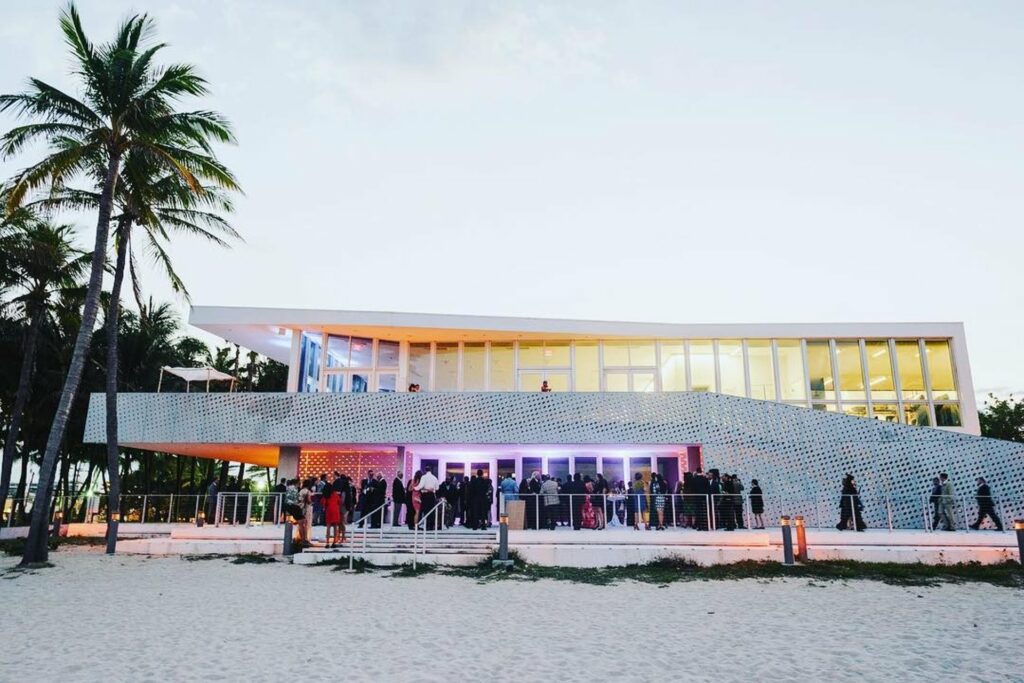 15. Juvia
Neighborhood: City Center
Capacity: 100
Juvia gets its name from an indigenous Brazilian tree nut, and so the lush rooftop setting feels particularly appropriate. The incredible food here is a mix of French, Japanese, and Peruvian cooking styles—a combo that probably doesn't immediately jump to mind but is actually a seamless and delicious blend. Panoramic views over the city and harbor round out the whole venue package for 100.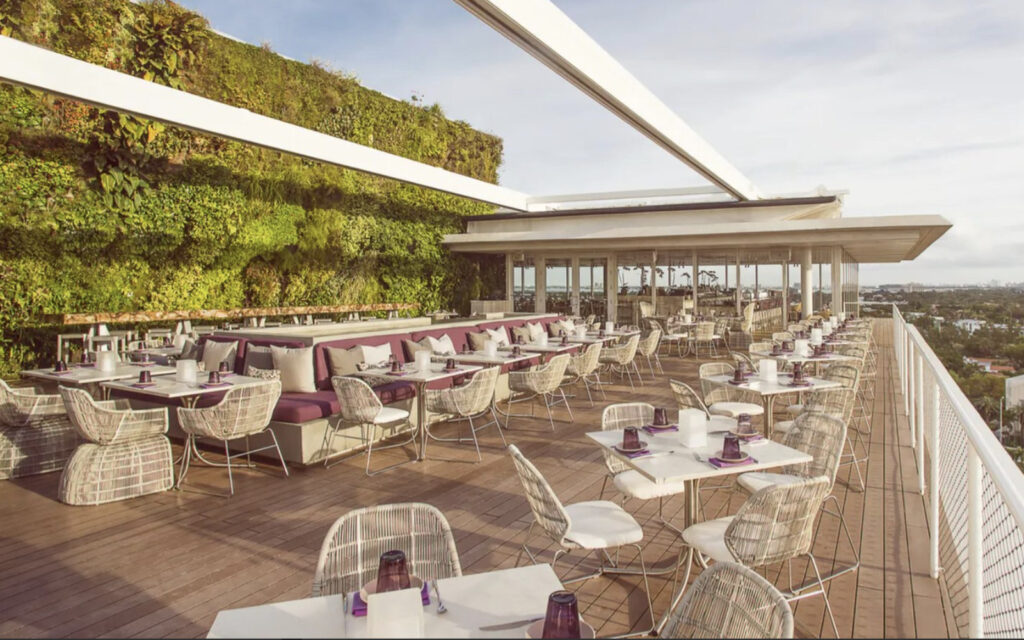 How Finding the Right Venue Can Make an Event
The venue really sets the tone from top to bottom. Even when you're looking to plan an event you have to consider the whole package. What's the ambiance? What is the food situation? It all matters.
Important Things to Consider When Booking an Event Venue
When finding the right venue, there is a lot to think about. Keep all the usual things in mind —budget of course, location, etc—but with Miami you will also want to keep the timing of your event in mind. If it's not easily rebookable make sure to read the fine print in any force majeure clauses because Hurricane Season is a real thing to contend with in this part of Florida.
Find the Best Corporate Event Venues on The Vendry
The Vendry knows that planning an event is in the details, from sourcing the right vendors to the parking. We're here to help get a proposal started for a streamlined, seamless planning experience. Get Started on your venue search today!
Read More:
Unique Venues in Miami That Will Wow Your Guests
Stunning Raw Event Spaces in Miami for Your Next Event
The 17 Best Large Event Venues in Miami