Choosing a venue is truly an event-by-event process. Sometimes you can fall in love with a spot, but logistically it just doesn't tick all the boxes for your projected headcount. Then sometimes the answer is really leaning into a place where it's all about your own vision and not so much the venue itself. When looking for a Miami raw space or places that can be transformative and customizable there is still a lot to consider. Planning an event in Miami is a no brainer if you're looking for an overall 'good time'. Miami has the trifecta of warm weather, thriving nightlife, and beautiful beaches (with beautiful people) so there's a lot of venues to choose from in this destination wonderland. Herewith, we've narrowed it down to nine Miami venue blank spaces that you can really put your own stamp on.
The Top Raw Event Venues in Miami
From fully raw event venues, to customizable studios, there's something for everyone in the Magic City. Read on for our curated list of Miami's most versatile venues.
1. IRONSIDE
Neighborhood: Upper East Side
Capacity: 500
Aptly located in the warehouse district of Miami's historic Upper East Side, IRONSIDE is an organic development and design community from noted Miami visionary Ofer Mizrahi. There's a few areas within this European-style complex to choose from–including a lemon grove, because Florida–but the main 10,000-square foot event space can hold up to 500 standing and takes a cue from the NYC loft-style aesthetic. It's a relatively raw space to work with, albeit one with sustainable finishes and an urban oasis atmosphere complete with Rainbow Eucalyptus trees, honey bees, and butterfly patches.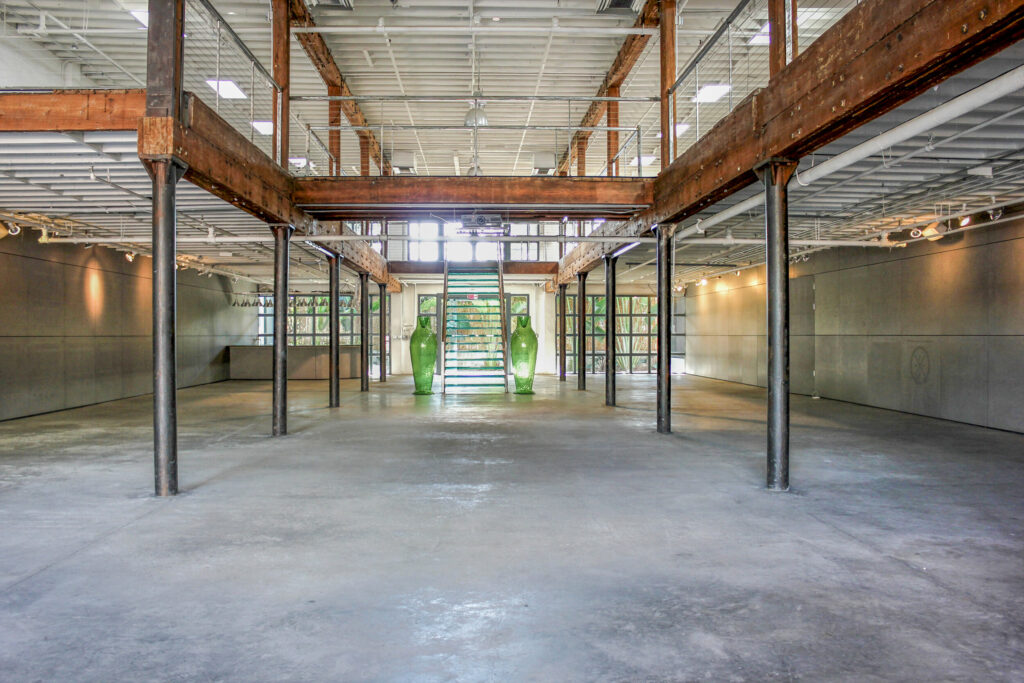 2. Warehouse 13
Neighborhood: District 13 (Fort Lauderdale)
Capacity: 175
Warehouse 13 also leans into the loft feel in this transformable spot. Light and airy, this clocks in at 3,600-square feet over two floors. The kitchen area has all the mod cons–as the British call it–you need for prep. You can pretty much do whatever you want with this, but they do have some furniture on hand to use if you'd like, including two hanging chairs which always seem to be a hit at events.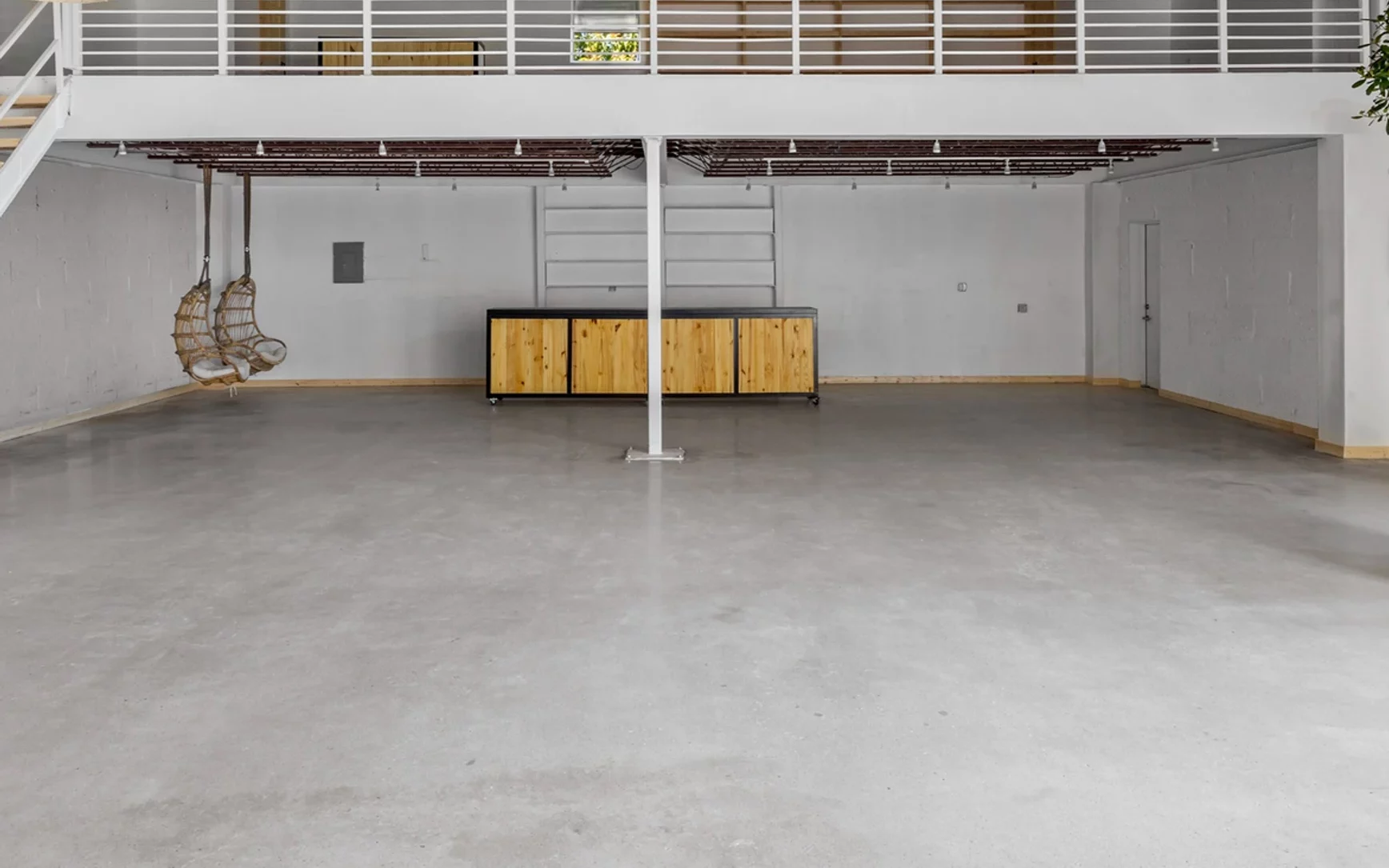 3. The Temple House
Neighborhood: South Beach
Capacity: 500
If you're looking for the quintessential South Beach/Miami Beach experience then The Temple House is a brilliant choice for any occasion. It's fully customizable but is simultaneously an Art Deco gem, and there's a lot of spaces within The Temple House to work with over 16,350-square feet. The super sleek Grand Room is definitely the largest with space for 300 seated or 500 standing, but other areas include the "Grecian White Oasis" second floor outdoor space, complete with three waterfalls.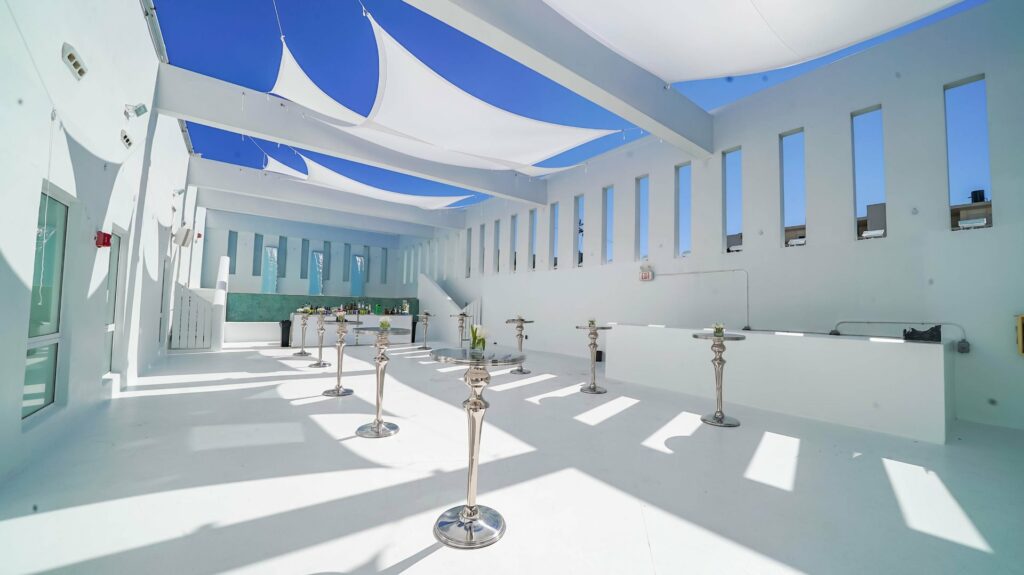 4. Little River Studios
Neighborhood: Little River
Capacity: Contact for more info
Little River Studios is any event planner's dream. The complex encompasses about 10,000-square feet total, including their Green House, two 1920s beach cottages, a Greek Set facade that mirrors Santorini architecture, a studio with an infinity cover, and more. However, when it comes to white box Miami blank space the real jewel here is their Cape Cod Barn. This gorgeous, classic 1880s barn can be tailored and decked out for any occasion. That said, you have a huge leg up already: there's 20 skylights, original wood flooring, eight French doors that open to a skylit white porch, and double sliding doors. The ultimate canvas.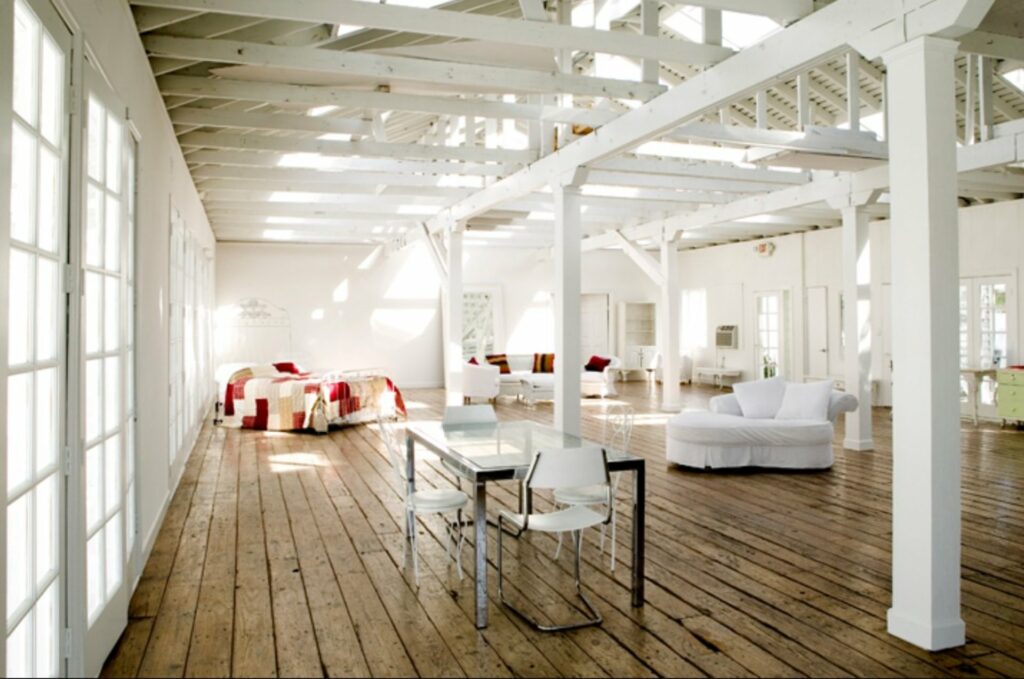 5. Lounge 360
Neighborhood: Little River
Capacity: 100
The trendy Lounge 360 is 2,000 transformable square feet that's ideal for a gallery showcase, conference, product launch, work parties, birthdays, and really anything else up to 100 guests. While it's ready for you to make your mark there's a lot they can provide as needed. They can provide you with an in-house planner, catering service, DJ, bartenders, waiters, valet parking attendants, and more.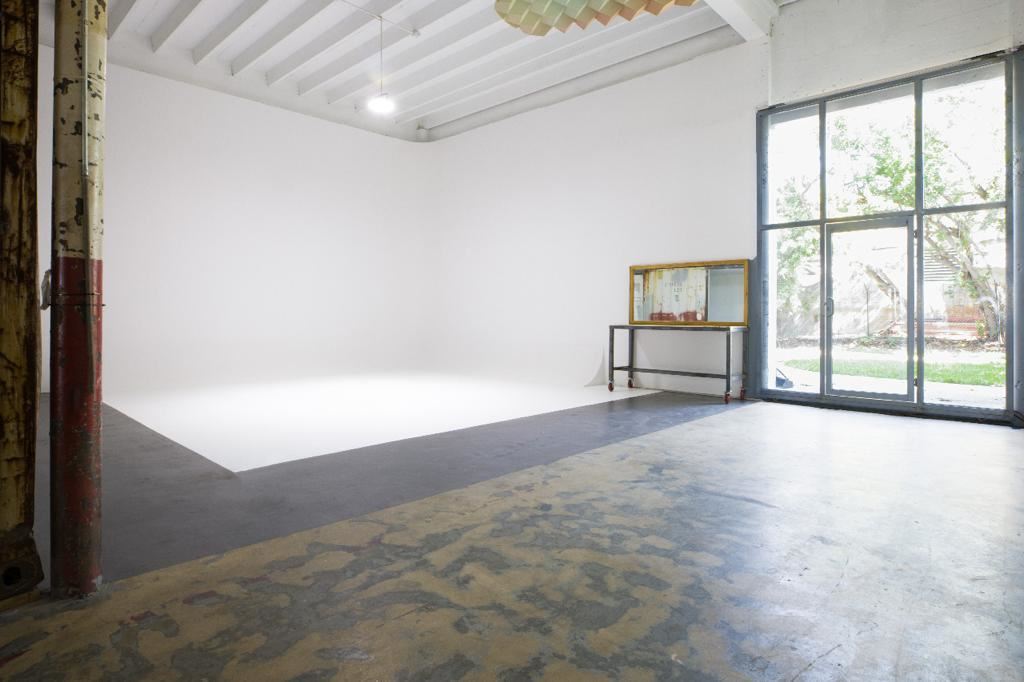 No event is complete without good food. Browse the top caterers in Miami!
6. Rubell Museum
Neighborhood: Allapattah
Capacity: 400
Don and Mera Rubell started collecting art in 1965 when Don was in medical school and Mera was the breadwinner, working as a preschool teacher. They had an eye for up-and-coming talent and started accumulating sculptures, paintings, and photographs from then newbies like Jean-Michel Basquiat, Jeff Koons, Cindy Sherman, Rashid Johnson, Keith Haring, and Cecily Brown. (For any Nicholas Sparks fans out there, it's basically Ira and Ruth in The Longest Ride.) Their collection is now one of the most significant contemporary art assemblages in the world with over 7,200 works by 1,000 artists. The newly expanded Rubell Museum that houses these works opened in 2019. While there are a few spaces at the venue to choose from, the East Wing is a particular draw. It was specifically designed as an event space, and is a spacious 7,300-square feet for 350 seated or 400 standing. It's a transformable space, albeit one in a particularly cool spot.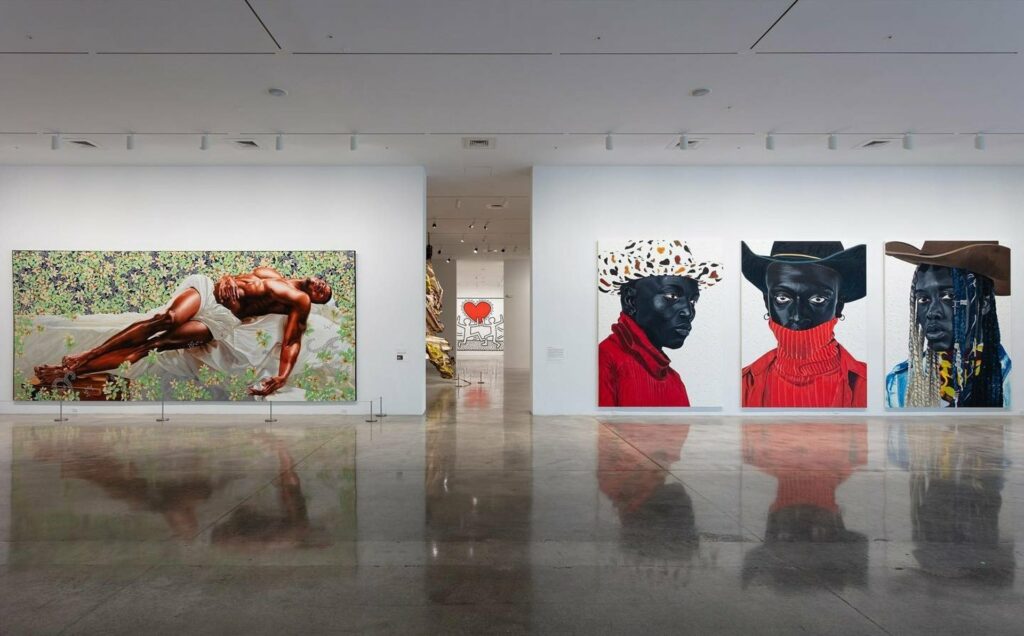 7. MAPS Backlot
Neighborhood: Wynwood Arts District
Capacity: 500
MAPS Backlot is a highly coveted space for events. First off, it's the only outdoor professional photo studio in Miami, which is somehow surprising. There are a lot of perks here for a huge group of up to 500. The 10,500-square feet includes 1,200-square feet of interior space for the true indoor/outdoor feel. Other bonuses: two cyc walls, two wet bars, drive-in capabilities, and equipment rental department, and much more.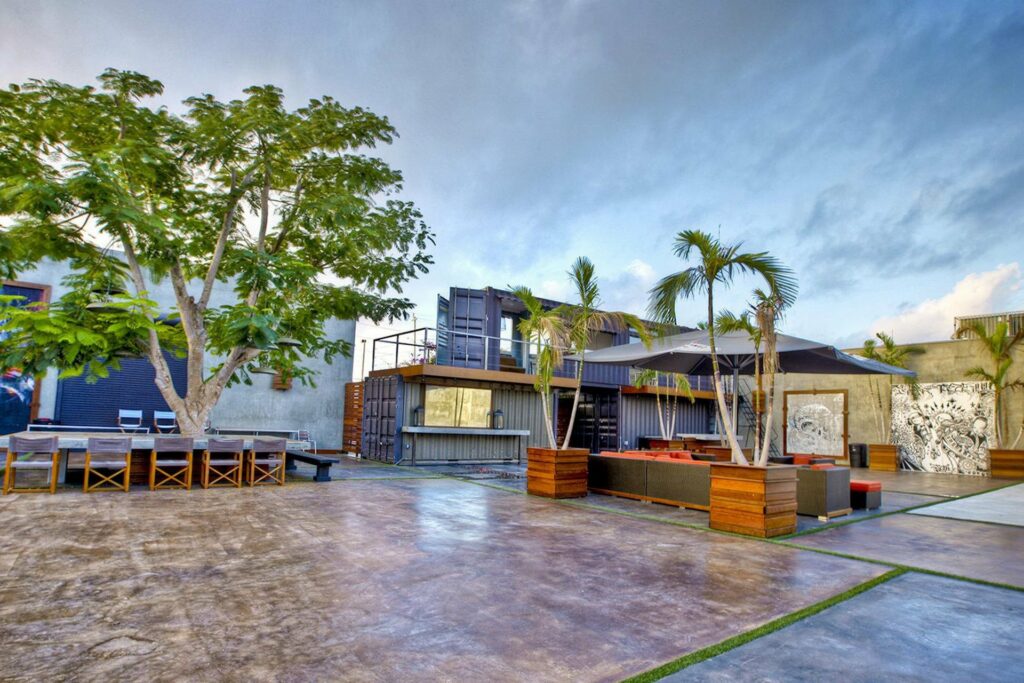 8. Palm Court Event Space
Neighborhood: Design District
Capacity: 500
Palm Court Event Space is a pristine white box three floors up with views over the surrounding Design District. It's just under 5,000-square feet and sleek from head to toe, ready for your own imprint. The venue itself feels and looks very modern, perfect for gallery exhibits, presentations, cocktail receptions, and weddings for up to 500 people. There is an indoor/outdoor flow with its custom system of retractable, folding hardwood doors.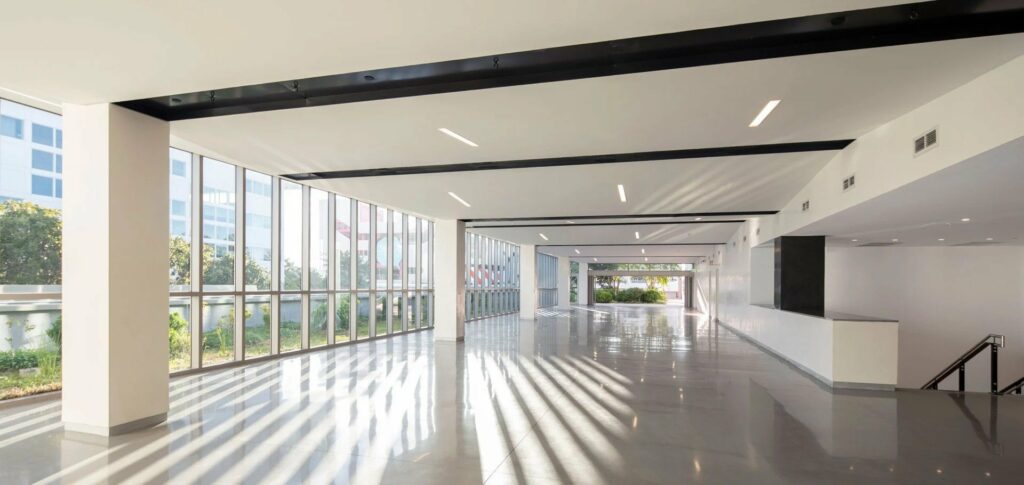 9. Emanuel Luxury Venue
Neighborhood: Miami Beach
Capacity: 400
Emanuel Luxury Venue lives up to its name and then some. If you can picture a blank canvas, albeit a sumptuous one, then this Miami Beach destination is a real winner. The venue is next door to Temple Emanu-El so while it's an understandably popular destination for weddings and Bar/Bat Mitzvah celebrations after a religious ceremony, you can use it for pretty much whatever floats your Miami boat. Its large stage, acoustics, and A/V capabilities also lures performers here for concerts—jazz, rock, blues, folk, and even stand-up comedy shows have all operated out of this luxe locale. The venue is 12,000-square feet over the Lower Ballroom and the bigger Grand Ballroom, which can host 400 standing visitors.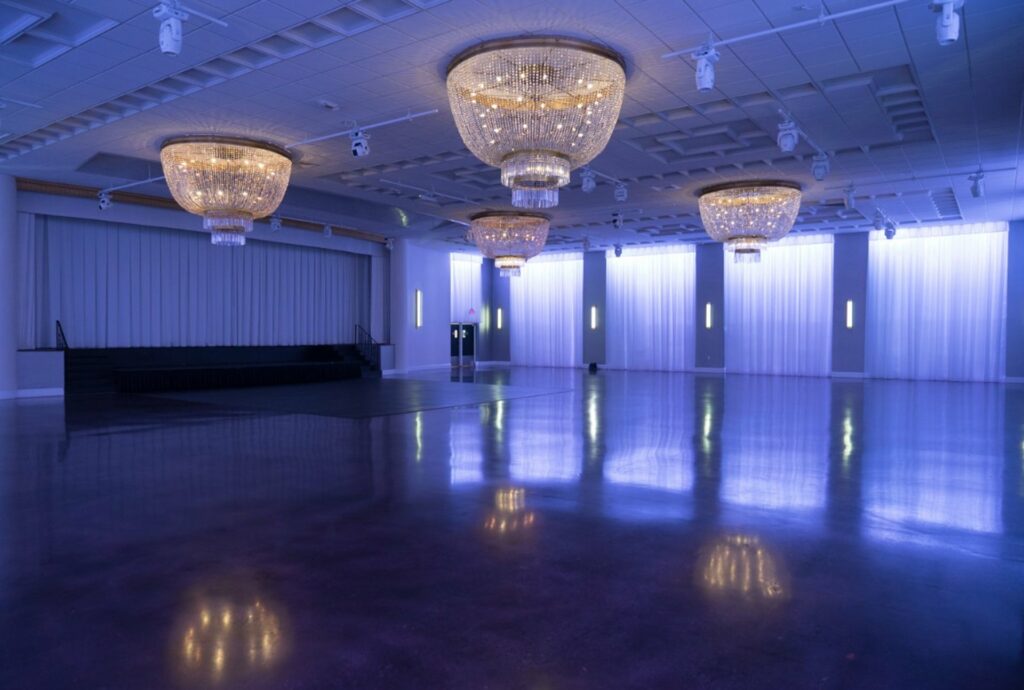 Why Finding the Right Venue is So Important
Even when you're looking for raw space that is more about your event conceptualization than anything else, choosing the right venue is still of the utmost importance. What is the overall setting? What are the amenities? Location always matters…
Top Things to Consider When Booking an Event Venue
Consider the aforementioned questions, but even with raw spaces you still need to keep in mind:
Find the Best Corporate Event Venues in Miami
At The Vendry we love rounding up the big, the small, the unique, and the blank when it comes to venues. We're here whether you're window searching for that perfect event space, or ready to start on a proposal.
Read More:
The 17 Best Large Event Venues in Miami
Venues in Los Angeles Great for Your Next Corporate Event
Top Corporate Event Venues in NYC for Your Next Event