Looking to turn up the heat on your next big corporate outing, product launch, or team meeting? How does a locale with amazing weather and killer views sound? Plan your next social gathering on a rooftop in Miami. This glittering city in southern Florida is hot hot hot right now. No doubt your guests' bags will be packed the second they receive your invitation. Rest assured, the views from any Miami rooftop venue are truly unparalleled. Whether offering up sparkling ocean vistas during the day, or twinkling downtown lights at nighttime, a rooftop venue in this sizzling city will set your event or meeting apart from the rest.
The options for rooftop venues in Miami are delightedly abundant, but there's lots to take into consideration when making your selection. Here's a list of what to think about when hosting an event in the Magic City, as well as the top 9 locations for your vision to play out. Have no fear where ever you choose – the backdrop of Miami is hard to beat.
Why Hold Rooftop Parties Or Events?
Rooftop events, especially in a city like Miami, stand out by nature. You've taken your guests up and away from the hustle and bustle of the street. That sense of exclusivity makes your team feel important, demonstrating you've taken the extra steps to show them a good time. Weather will always be a factor when hosting via rooftop, but in more consistent climates like Miami, you can feel more confident in the outdoors. A party held on a rooftop also lends itself to a bit more fun, allowing you to be more playful with the theme, food, drink, decorations, and activities. And in light of the pandemic, your guests might even feel more comfortable mixing and mingling in an open-air, outside venue ventilated by Mother Nature, as opposed to a stuffy room.
What Type of Events Can Be Held on Rooftop Venues?
Now that you've landed on Miami, here are the types of events you can host in this pulsating city of lights, sounds, and flavors.
Corporate/Team Building Events. Where better to strengthen bonds and bolster creative thinking than on a private rooftop, away from noise and distraction? Planning a destination corporate retreat? Miami is where it's at.
Product Launch. Your guests already want to see your new product. Give them a buzzworthy space to talk about, too.
Fundraisers. If you are looking to host a good number of donors – and want to thank them for their generosity with a real "wow" factor – invite them to a rooftop with a breathtaking view.
Private Parties. Bridal showers, anniversary parties, birthday dinners, or intimate gatherings lend themselves to be rooftop affairs your guests will be talking about for years to come.
Top Factors to Consider When Choosing a Venue for a Rooftop Event
The rooftop you choose in Miami will likely be the biggest ticket item on your punch list, par for the course when planning an event. It will set the tone of your meeting or event, so making the right venue choice is crucial. If possible, always visit the physical space before booking to make sure all your boxes are checked.
Before you hit the pavement, make a list of what your event requires.
Location, accessibility, and parking – Make certain your guests can get to your event without any hassle, make special arrangements for anyone who needs it, and communicate clearly to them where they can park or take public transport.
Capacity – This one is a no-brainer, so make sure not to get your heart set on a rooftop that can't host your 300-person affair.
Ambiance – Even up in the sky, you'll want to concern yourself with the vibe. Will the space have the right feel for what your event is trying to achieve?
Amenities – Always ask about what services and amenities are available at the venue like catering, rentals, audio-visual, clean-up, and wi-fi accessibility.
Weather – Should inclement weather roll in, how will your event space adapt? Ask about retractable roofs or alternate indoor space should the skies open up.
10 Outstanding Rooftop Event Venues in Miami
1. Astra Miami
Neighborhood: Wynwood Industrial District
Capacity: 500
Flying high atop Miami's artsy Wynwood neighborhood, the Sky Garden at Astra Miami is a perfectly landscaped, open-air terrace just ripe with possibility. With a seating capacity of 320, and standing at 500, this spot checks all the boxes if you are looking to host a large-scale event that requires an intimate feel. When it comes to event options, there are semi-private or full-venue buy-out choices. But whatever the party size, guests will be wowed by the panoramic view, all the while enveloped by the Mediterranean greenery of olive and citrus trees surrounding the terrace. Hand guests a crafted cocktail as they lounge in one of the many couches or cabanas. A vibrant place of leisure, Astra offers a wide-ranging menu, and their staff will work with you on creating a memorable event. The Astra Miami Sky Garden is arguably the most Instagrammable spot in Wynwood.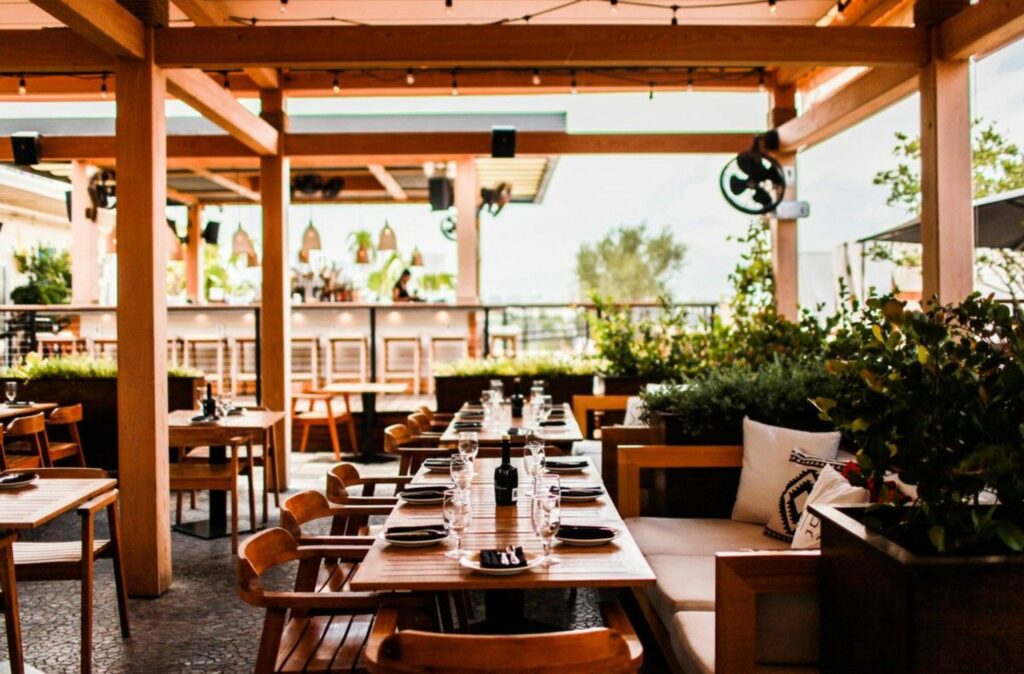 2. Serena Rooftop
Neighborhood: Flamingo / Lummus
Capacity: 500
Watch South Beach come alive on the second floor of the Serena Rooftop, where an enchanting, colorfully tiled venue of life and libations awaits. Host alfresco cocktails and hors d'oeuvres for up to 340, or a sit-down dinner of 500, on this totally charming terrace that harkens old Miami. There's even a Back Lounge, boasting privacy for a seated dinner for 40. Lush with greenery and captivating with ocean views, Serena's atmosphere really captures the feeling of Oaxaca and Mexico City. And the cuisine reflects just that – the catering menu bursts with Latin influence and flavors. Watch the sun fade into the ocean, as the smell of tropical bougainvillea fills the air.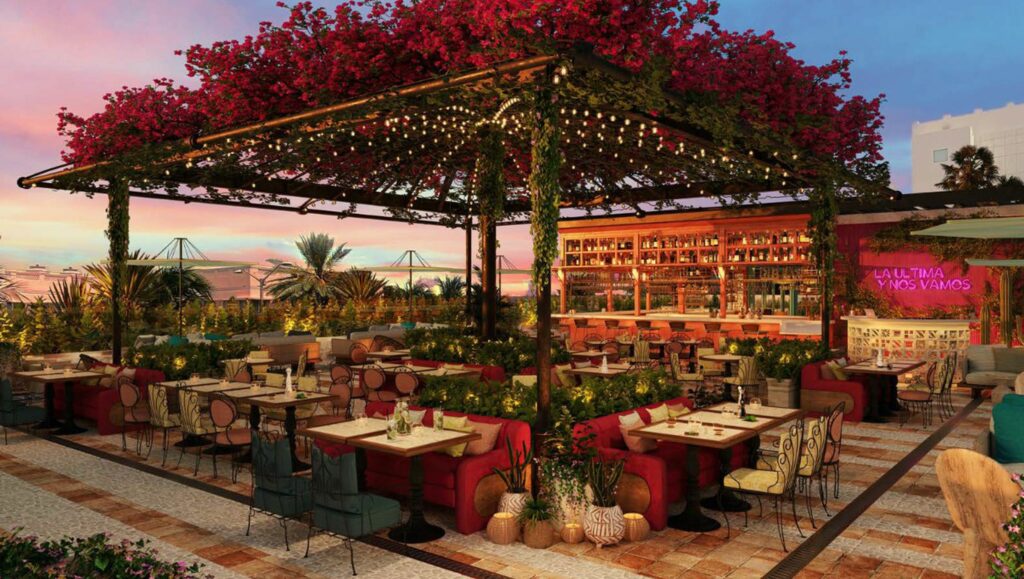 3. Bahia
Neighborhood: Brickell Business District
Capacity: 200
The Four Seasons Hotel Miami is home to Bahia, the 7th floor, rooftop and poolside restaurant and bar in the heart of the city. Mexican-inspired plates are sprinkled with Caribbean, Latin American, and Europeans flavors at this innovative spot, known for spectacular sunsets. If it's an evening event you'd like, Bahai sets the scene with flickering lanterns reflecting off the pool. The venue can accommodate 120 for a seated affair, and up to 200 standing. The excitement of the bustling hotel makes this an ideal spot for travelers and locals alike.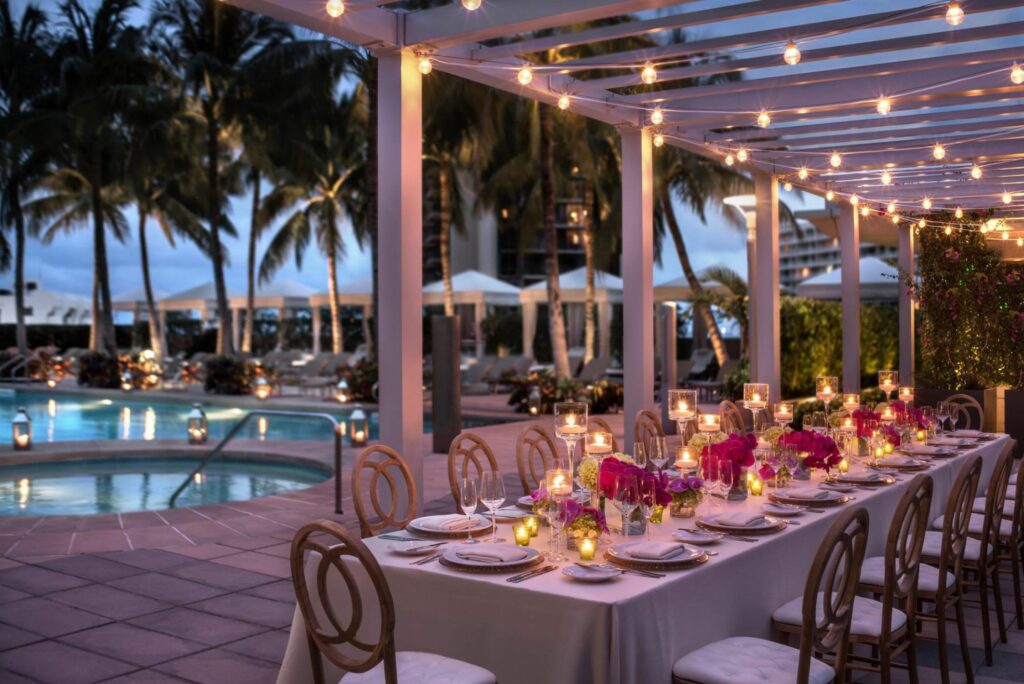 Happy hours lead to happy people.
Browse the best bars and restaurants in Miami to let loose post-work.
4. SKY YARD at the Lincoln Eatery
Neighborhood: City Center
Capacity: 225
If you want your rooftop event in Miami to go off with a bang, leave it to restaurant veterans Maximiliano Mele, Benjamin Collins, Roberto Fernandez, and Andre Chirinos of Knock Out Hospitality Group. Their SKY YARD rooftop bar is aloft the popular Lincoln Eatery in the prominent dining and shopping district of Lincoln Road. You can feel their "created for locals by locals" vibe amid this green rooftop space with remarkable Miami views. Wear out your guests with some outdoor games like golf simulators, pool tables, and ping pong under the pergolas. Steakhouse-inspired bites and raw dishes dot the innovative menu, as well as refreshing cocktails. The SKY YARD comfortably seats 100 for dinner, or 225 for a cocktail event.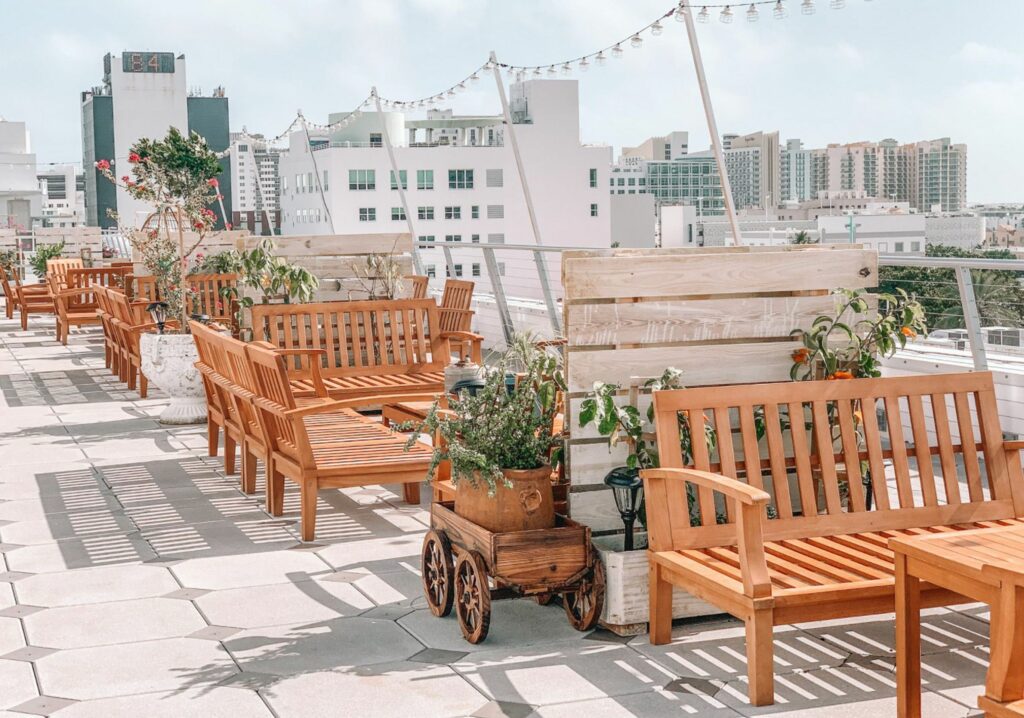 Ready to find the perfect event space? Book a one-of-a-kind Miami venue today.
5. The Terrace at Giralda Place
Neighborhood: Coral Gables
Capacity: 171
If a sleek and sophisticated venue is on your list of must-haves, then look no further than The Terrace at Giralda Place. With views of pretty Coral Gables from every window, The Terrace is the perfect rooftop setting for a company training, workshop, or event. With over 4,200 feet of workable square footage, The Terrace comes furnished with couches and seating arrangements, all encapsulated in Mediterranean-style architecture and design. There's the outdoor space itself, an indoor lounge, and even a classroom space completely equipped with all your tech needs. This functional and elegant indoor/outdoor space accommodates 171 standing, or 100 seated guests. You'll have to source out a caterer, which is a fairly simple task in fashionable, forward Coral Gables.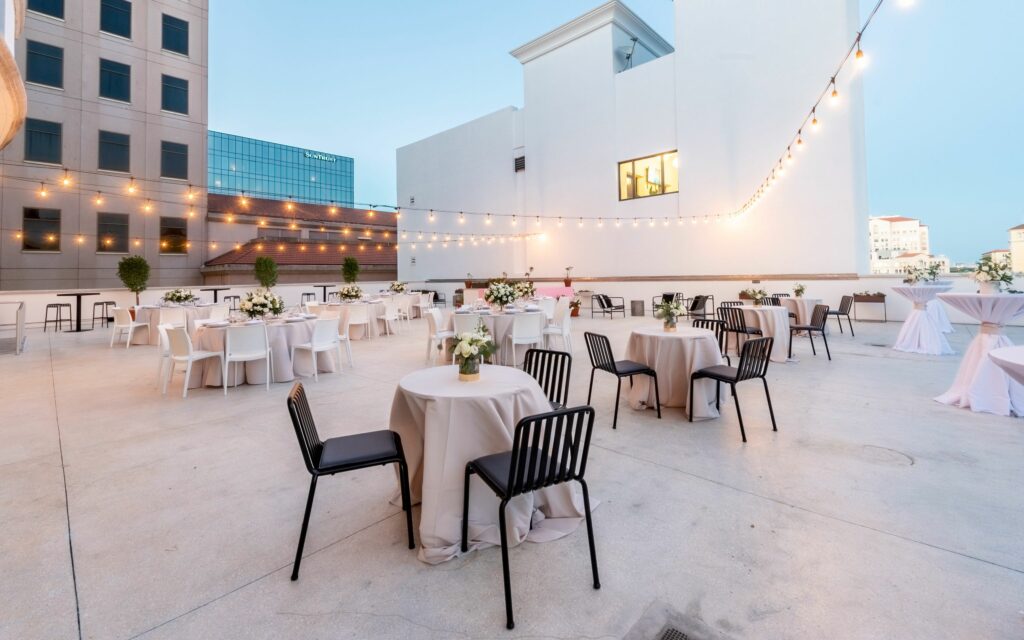 6. The Terrace at Ponce de Leon
Neighborhood: Coral Gables
Capacity: 188
A full-service terrace sitting high atop Coral Gables, The Terrace at Ponce de Leon offers a remarkable outdoor space for your next corporate function, networking event, or private party. This sprawling venue can accommodate 100 seated, or 188 standing. The views are to die for, as your guests relax under the Mediterranean-inspired grapevine trellis in comfy sectional couches. The transition from the work day to evening is effortless, as bistro lights light up the breathtaking nighttime views.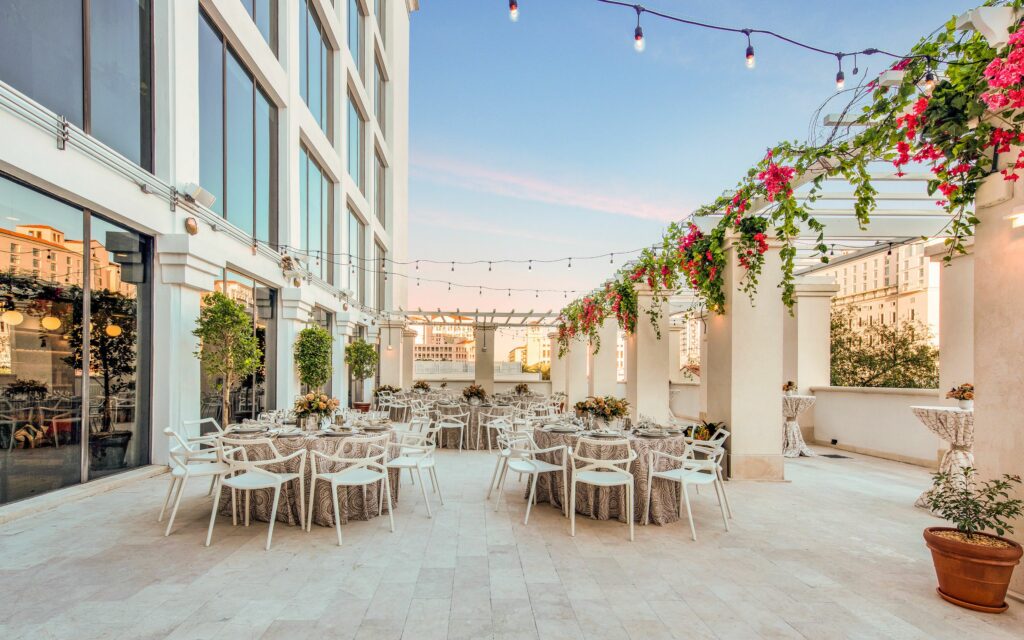 7. WATR at the 1 Rooftop
Neighborhood: South Beach
Capacity: 395
When it comes to finding a rooftop space in Miami that hosts a crowd, it's pretty hard to beat WATR at the 1 Rooftop. Perched 18 stories above Miami Beach, WATR can service 395 guests for a seated dinner, making this unique space perfect for a product launch or large corporate gathering.
And talk about those views – an obstructed, panoramic vista will really leave guests feeling like they dined amongst the heavens. Should a little rain roll in? No problem, as there is a built-in retractable canopy that fully expands across the restaurant, allowing guests to enjoy their dinner under the raindrops. Puerto Rican-born Culinary Director Fernando Cruz's vision of farm-stand fresh, Florida local fare is felt throughout the space's menu offerings. Japanese and South American flavors abound, with a cocktail menu sure to please any palate.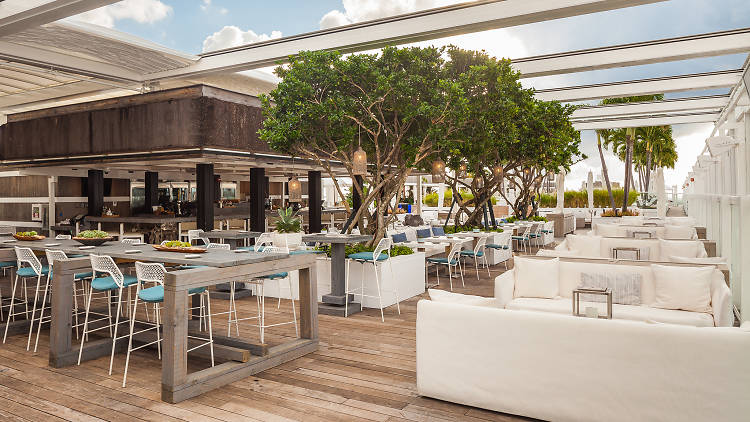 8. Mamey on 3rd
Neighborhood: Coral Gables
Capacity: 100
Your guests will be on island time when they cross the threshold of Mamey on 3rd, an extension of the popular Mamey in Coral Gables. Located inside the Thesis Hotel Miami, Mamey on 3rd is the brainchild of James Beard Nominee and Food & Wine Best Chef 2020 Award Winner, Niven Patel. The menu plays out as an extension of Patel's travels, complete with creative cocktails and fare with Caribbean, Asian, and Polynesian flavors. The laid-back environment can host 85 seated, or 100 standing guests.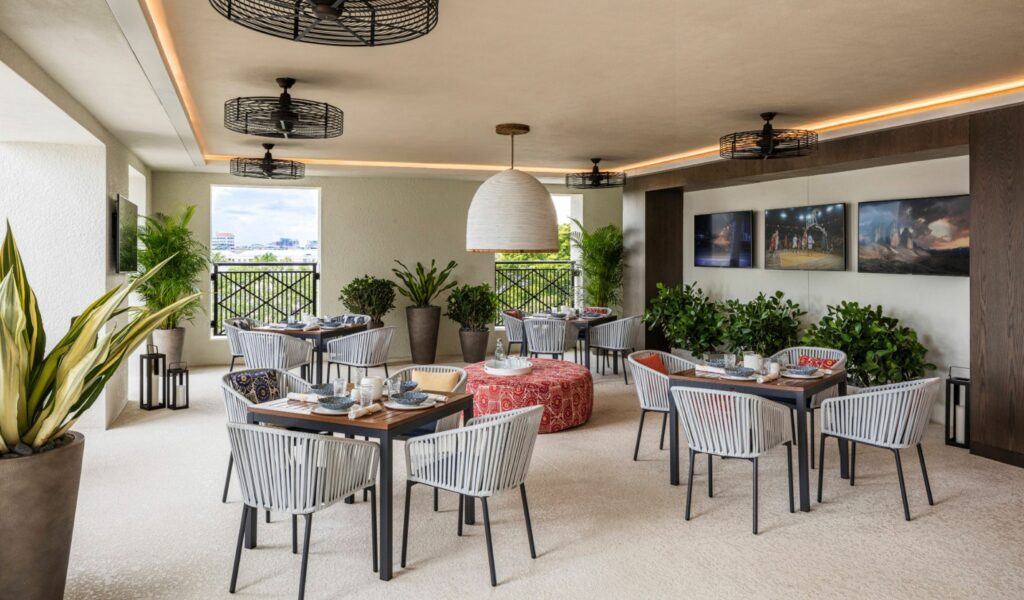 9. The Upside Rooftop
Neighborhood: Flamingo / Lummus
Capacity: 300
If you're looking to take in sweeping views and truly embrace all that Miami has to offer, look no further than The Upside Rooftop. Located in the Moxy Hotel, this 5,020 square foot whimsical space will impress guests and take your breath away with 360 views of the Atlantic Ocean, South Beach, and the downtown Miami skyline. With all this space your event options are endless — accommodating 150 seated, 300 standing.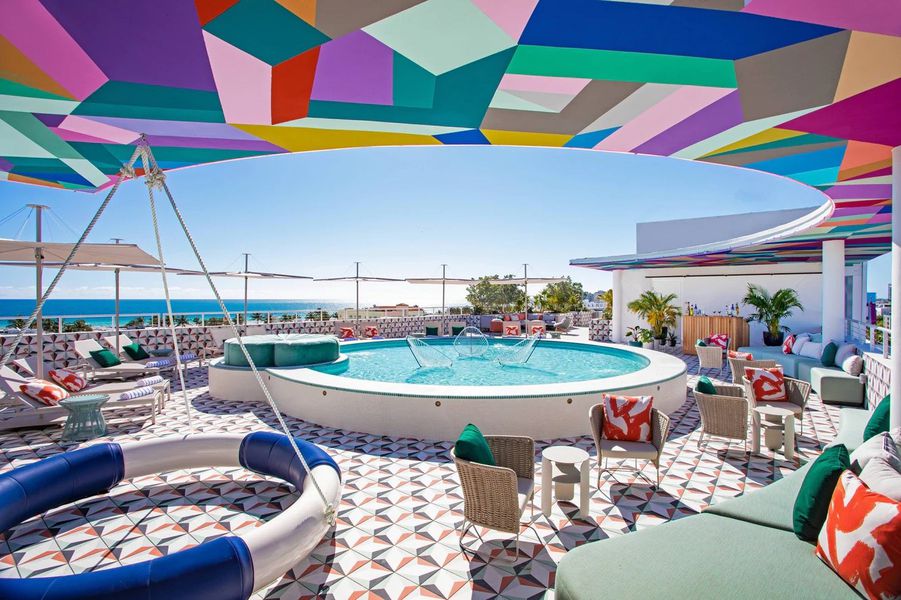 How The Vendry Can Help You on Finding the Best Rooftop Event Spaces in Miami
With so many good options, choosing the right rooftop venue in Miami can feel like a huge task. Let The Vendry narrow down Miami's options for you with just a few clicks:
Locations. Filter down your choices in The Vendry's large database to Miami venues to browse the options.
Request For Proposal. Click directly within the page to start a proposal for your event.
Vendors. From caterers to florists, find the top local professionals in the know.
Transport. Become knowledgeable on how to get around Miami.
Inspiration. It's just good planning to check out other successful events in Miami.
With so much to consider when hosting a rooftop event in Miami, The Vendry can help streamline your process. The rooftop's the limit!
Read more:
The Best Private Dining Rooms in Miami
The Best Private Dining Rooms in NYC
The Best Rooftop Venues in NYC
Planning an event in Miami and don't know where to start? Check out our Miami Event Planning Guide to get started!