New York City, the vibrant and bustling epicenter of business, provides an array of exceptional hotel options for hosting a successful sales kickoff event. Selecting the perfect venue is crucial to inspire, motivate, and energize your sales team as they embark on their journey to achieve new milestones. From luxurious accommodations to cutting-edge amenities and strategic locations, these top NYC hotels offer the ideal setting for launching your sales initiatives with a bang. Let's explore the best options in the city that never sleeps, where your team can come together, strategize, and celebrate their successes.
10 Best Hotels in NYC for a Sales Kickoff
As we delve into the world of the finest NYC hotels for a sales kickoff, it's essential to consider the unique features each venue offers to ensure a memorable and productive event. From stylish interiors to state-of-the-art facilities, these hotels have been carefully selected to meet the varying needs of sales teams. Prepare to embark on a journey through the top hotels in New York City that not only provide exceptional accommodations but also inspire and foster team synergy for a successful sales campaign launch.
1. Park Hyatt New York
Neighborhood: Midtown
Capacity: 450
Located in the midst of Midtown Manhattan, Park Hyatt New York is a prestigious five-star hotel situated directly opposite Carnegie Hall and just a block away from Central Park. Among the four Residence Rooms, the most spacious is the 650-square-foot boardroom, featuring an abundance of natural light and integrated AV equipment—elements that are hard to come by in New York City. An adjacent 1,050-square-foot private outdoor terrace adds versatility and visual charm. The hotel also offers three individual rooms, with spaces varying from 350 to 650 square feet, all equipped with floor-to-ceiling windows, natural light, and contemporary original artwork.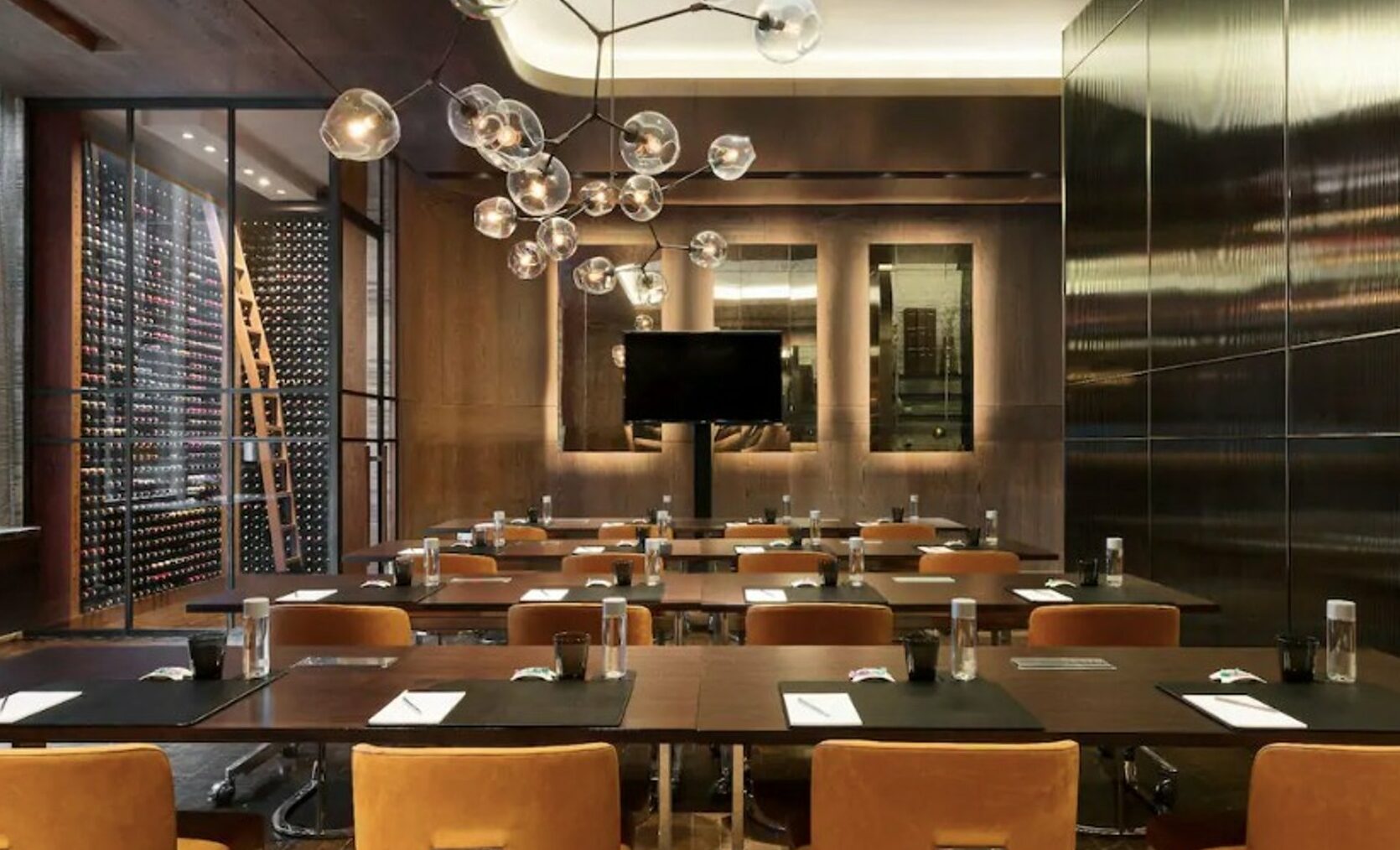 2. Wythe Hotel
Neighborhood: Williamsburg
Capacity: 225
The Wythe Hotel, characterized by its distinct Williamsburg chic design, offers seven adaptable event spaces that can cater to various functions, from intimate dinners for 10 guests to receptions accommodating up to 350 attendees. The hotel's venues provide an inviting setting for gatherings and festivities to thrive. The Screening Room, situated on the cellar level, features 62 classic theater seats, the original vaulted ceiling, and exposed brick walls, enhancing the charm and ambiance of the space.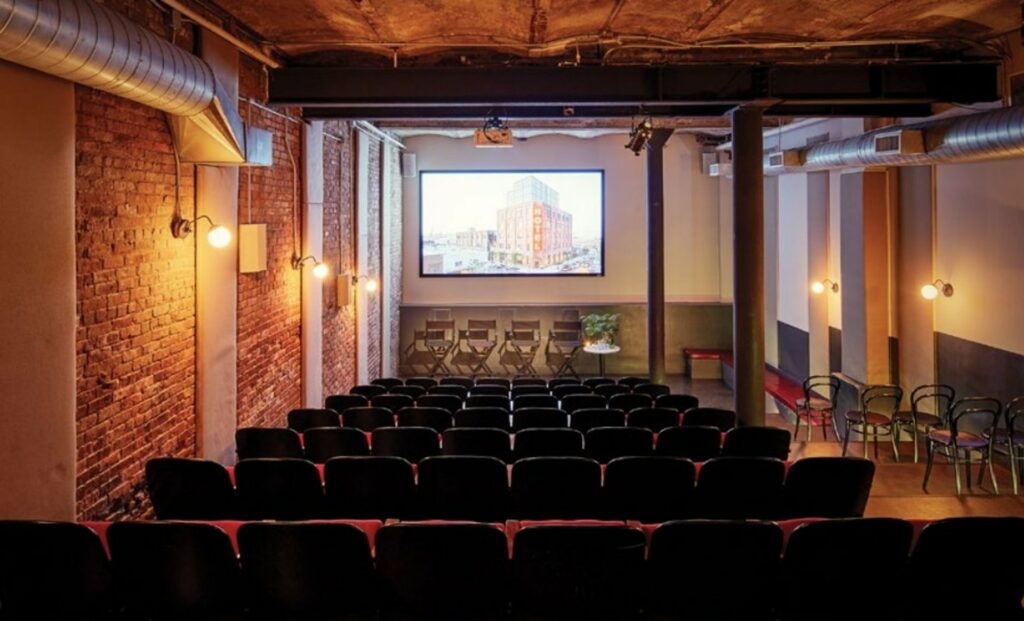 3. The Park Lane Hotel
Neighborhood: Midtown
Capacity: 300
Nestled on the prestigious Billionaires' Row, Park Lane New York serves as an exceptional and welcoming sanctuary for a diverse clientele. Managed by the renowned hospitality management firm Highgate, the 47-story establishment houses 610 guest rooms, with almost half of them offering breathtaking park-facing vistas. Additionally, the hotel boasts 11,000 square feet of revamped indoor and outdoor event spaces. These versatile event spaces are equipped with state-of-the-art visual and video technology, accompanied by on-site support, virtual video conferencing, and webcasting capabilities.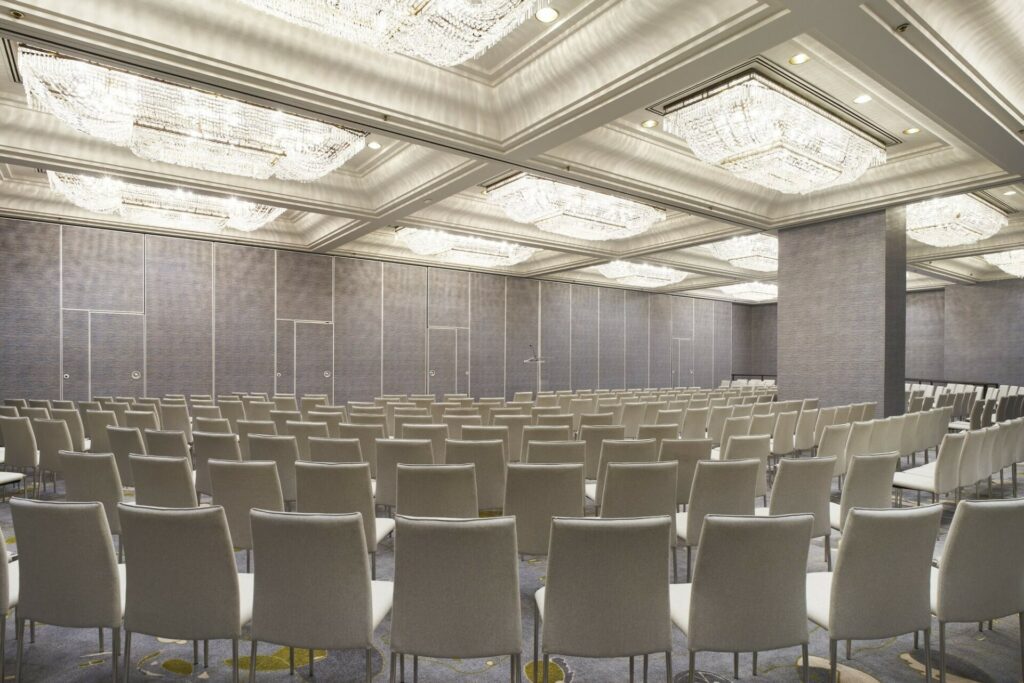 4. The Knickerbocker Hotel
Neighborhood: Theater District
Capacity: 250
Featuring avant-garde venues, advanced amenities, tailored services, and exquisite Charlie Palmer cuisine, The Knickerbocker is the go-to destination for event planners searching for a modern and sophisticated New York City meeting space. This fully revamped landmark luxury hotel transforms business functions and social gatherings into unforgettable experiences. The state-of-the-art meeting facilities can host up to 250 guests, while the lavish indoor/outdoor spaces set the stage for one-of-a-kind events in the heart of the city.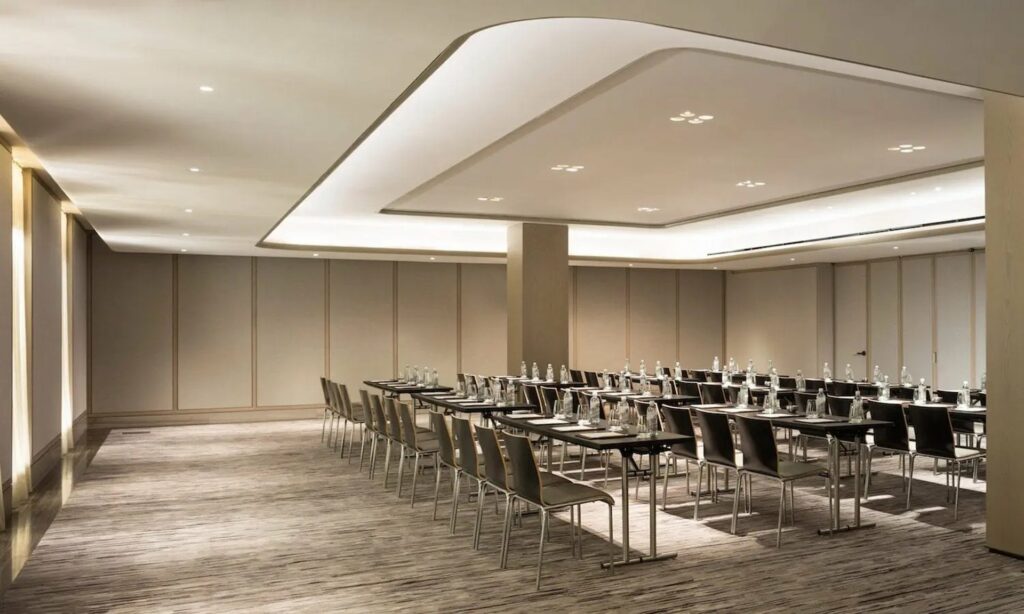 5. Public Hotel
Neighborhood: Lower East Side
Capacity: 350
Public presents an extensive selection of distinctive and inventive private event spaces spread across multiple levels, encompassing pre-function and outdoor zones, cutting-edge technology, and bespoke chef-crafted menus. Ranging from the luminous 17th-floor private venues offering stunning 360-degree panoramas of the city, to the avant-garde performance area featuring a multimedia entertainment theater, there is no business or social gathering too big or small for these adaptable spaces to handle.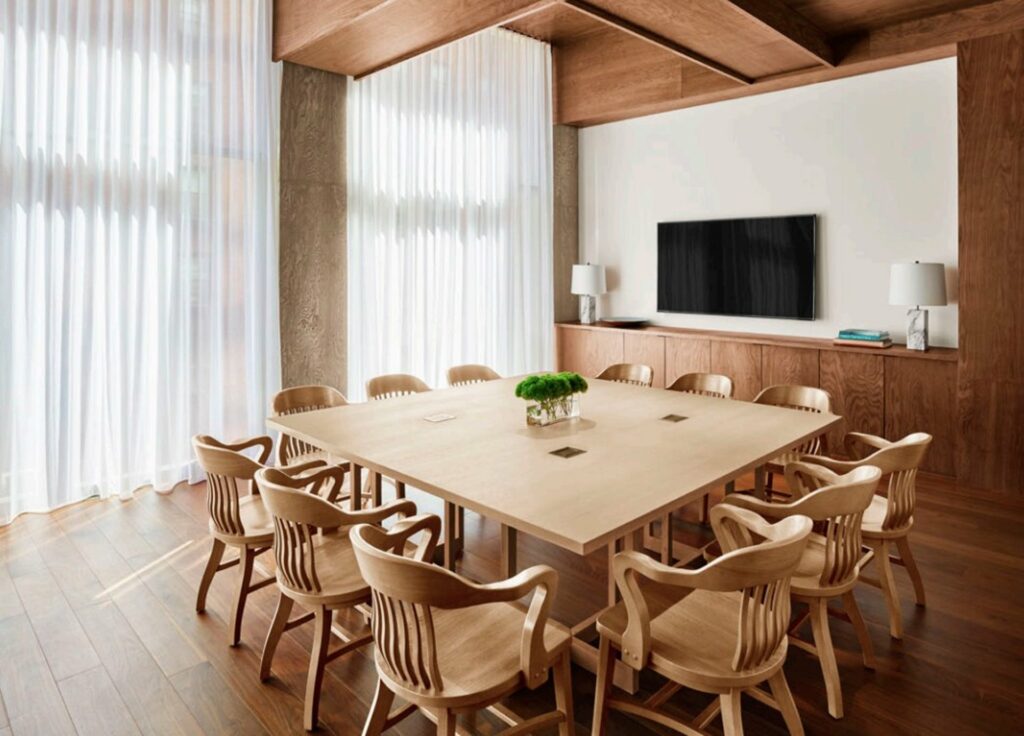 Find the perfect hotel for your company's offsite. Browse now!
6. Graduate Roosevelt Island
Neighborhood: Roosevelt Island
Capacity: 150
Positioned between Manhattan and Queens Graduate Roosevelt Island hotel boasts uninterrupted skyline vistas and serves as an excellent location for any upcoming celebration or offsite gathering. Providing 3,800 square feet of adaptable meeting and event spaces, both indoors and outdoors, the hotel features a range of unique settings to accommodate groups of all sizes. For those needing extra meeting space, the neighboring Verizon Executive Education Center presents 15,000 square feet of cutting-edge meeting facilities.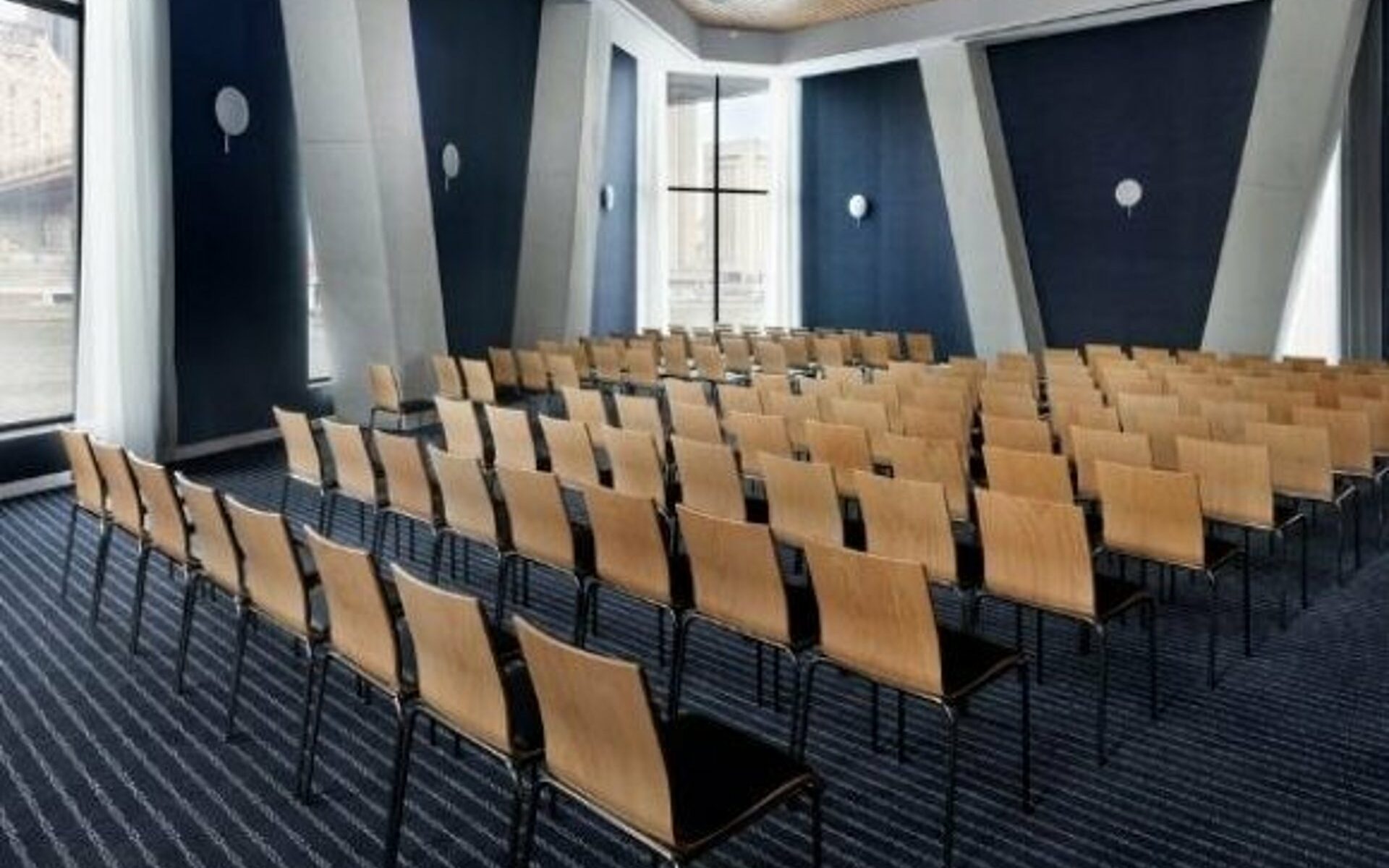 7. Kimpton Hotel Eventi
Neighborhood: Chelsea
Capacity: 350
Situated in the historic Chelsea neighborhood, Kimpton Hotel Event, adorned with local artwork, is just an 8-minute stroll from the Empire State Building and 0.8 miles from Times Square. Surrounded by over 20,000 square feet of magnificent meeting space, guests can choose from flexible indoor event rooms, two outdoor t erraces, and two hospitality suites. The hotel's impressive 4,000-square-foot ballroom features soaring 16-foot ceilings and has two additional meeting spaces including its Boardroom and Screening Room.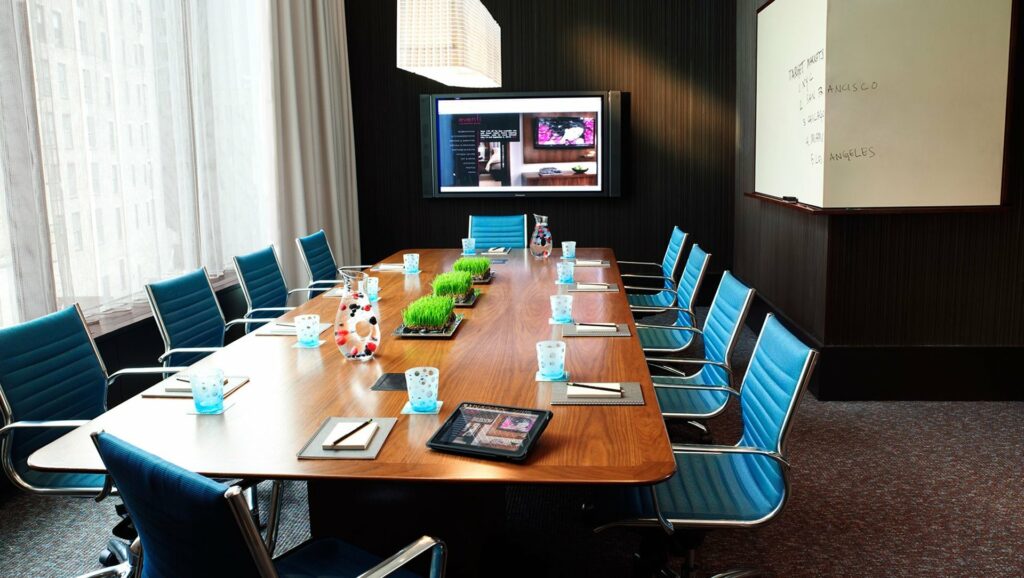 8. New York Marriott Marquis
Neighborhood: Theater District
Capacity: 2800
New York Marriott Marquis, situated in the center of Times Square, serves as a prominent landmark in the city and provides effortless access to a variety of exhilarating attractions, such as the renowned Theater District, Rockefeller Center, and Radio City Music Hall. For upcoming events, the hotel's cutting-edge meeting spaces offer exceptional options, covering over 100,000 square feet and equipped with the latest technology. The hotel has 74 event spaces that include projector rooms, conference rooms, and ballrooms.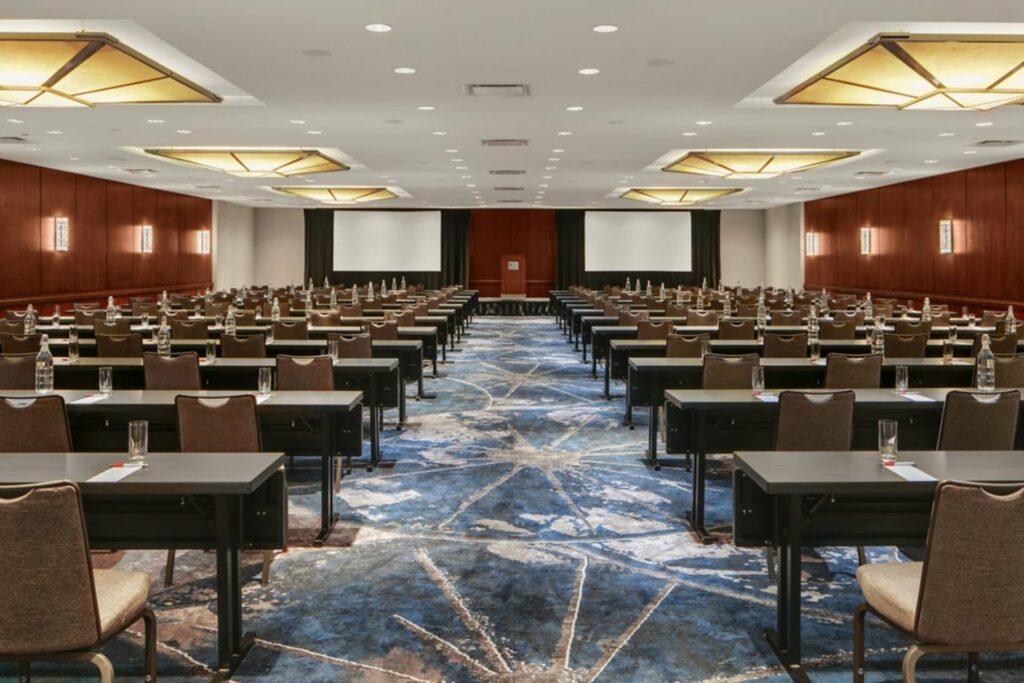 9. Whitby Hotel
Neighborhood: Midtown
Capacity: 100
The Whitby Hotel features 86 uniquely designed bedrooms and suites, each boasting floor-to-ceiling windows, with numerous rooms offering a private terrace and remarkable views of the Manhattan skyline. The interiors have been crafted by Kit Kemp in her acclaimed contemporary British style. The hotel is equipped with three distinct private rooms that can be tailored to suit various event formats, making them ideal for a wide array of gatherings. Additionally, a cutting-edge screening theater with a seating capacity of 130 people is available for use.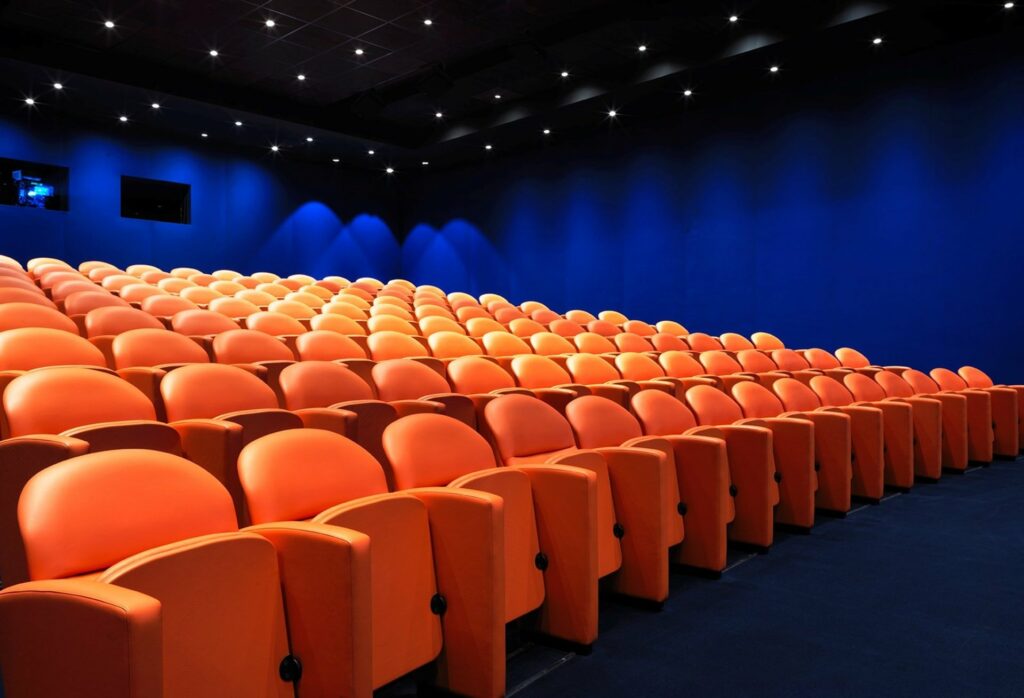 10. Sofitel New York
Neighborhood: Midtown
Capacity: 190
Located in Midtown New York City just steps away from Times Square is Sofitel New York. This hotel presents an array of indoor and outdoor meeting and event spaces, spanning from 300 to 2,580 square feet. The majority of meeting rooms are situated on the hotel's second floor, offering both privacy and easy accessibility. Each of the nine rooms showcases expansive windows, allowing an abundance of natural light to flow in. The most spacious room, Le Grand Paris Ballroom, covering 2,580 square feet, can accommodate up to 190 attendees for a variety of meetings and events.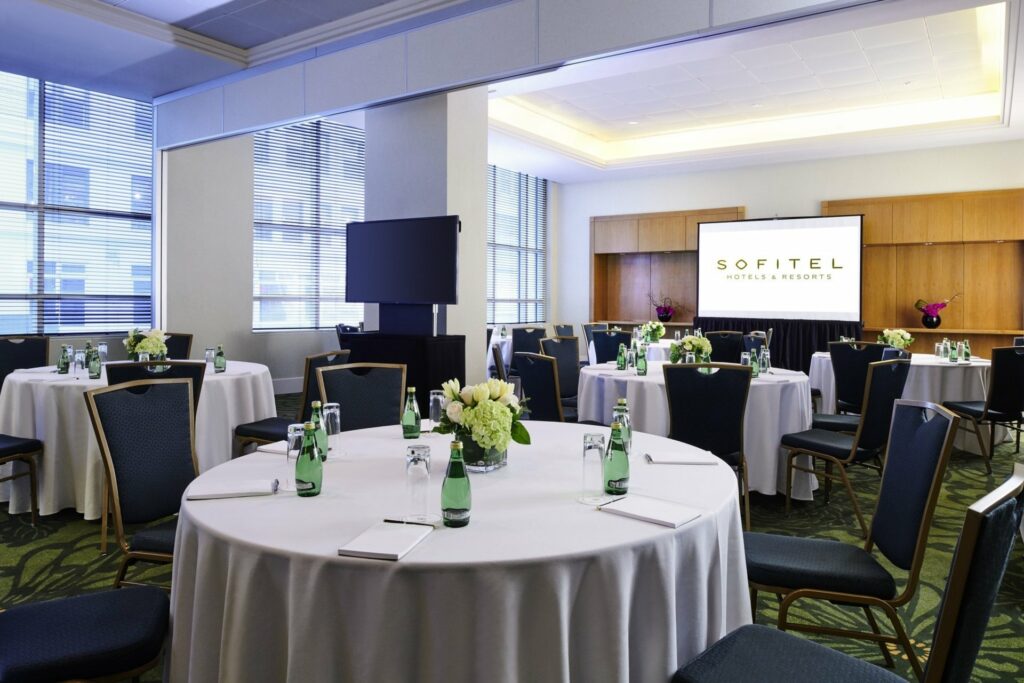 How to Choose the Best Hotel for Your Event
When choosing a hotel for your event, it's essential to ask the right questions to ensure the venue meets your needs and expectations. Here is a list of questions to ask:
What is the hotel's capacity and availability on my preferred event dates?
Can the hotel accommodate the expected number of attendees and provide the required event spaces, such as ballrooms, breakout rooms, and outdoor areas?
What types of audiovisual equipment and technical support are available, and are there any additional fees for their use?
What catering options does the hotel offer, and can they accommodate special dietary needs or requests?
Find the Best Hotels on The Vendry
In conclusion, the best NYC hotels for a sales kickoff cater to a diverse range of preferences and requirements, ensuring that your team embarks on their sales journey with renewed energy, motivation, and enthusiasm. Each of these remarkable hotels boasts exceptional facilities, prime locations, and unmatched services, providing the perfect backdrop for a successful event. As you explore these top-notch venues, you'll be one step closer to selecting the ideal hotel that aligns with your team's needs and goals, setting the stage for a triumphant sales campaign and celebrating the limitless potential of your team in the vibrant and inspiring city of New York.
See the full list here:
Read More:
The 8 Chicest and Trendiest Hotels on the West Side for Your Next New York City Event
Versatile Venues in New York City for a Pop Up Event
Gorgeous Raw Event Spaces in New York City