New York City is known for its vibrant energy, diverse culture, and impressive skyline. It's no surprise that the city is a popular destination for hosting events, whether it's a launch party, corporate function, or a grand celebration. With so many venues to choose from and a large guest list, it can be overwhelming to select the perfect location. To help you out, we have curated a list of the 12 trendiest venues in NYC to host a large event. From blank spaces to elegant ballrooms, these venues offer the perfect blend of style, sophistication, and functionality to make your event an unforgettable experience.
12 of New York's Top Trending Venues
For those looking to host a large event, the New York City does not disappoint. The city is teeming with trendy, versatile spaces that effortlessly blend style, functionality, and elegance, ensuring that your event will be the talk of the town. From sleek, modern event spaces to historical, luxurious ballrooms, let's dive into the 12 trendiest venues in NYC that offer the perfect backdrop for your next memorable gathering.
1. The Pool Lounge
Neighborhood: Midtown
Capacity: 750
The Pool Lounge has been known New York's premiere event space for decades. The space offers a captivating cocktail bar that offers a view of the main area. The 20-foot vaulted ceilings provide unobstructed visibility for presentations and speeches, while the numerous rigging points offer boundless creative possibilities for decorations. The adaptable furniture can be rearranged or repurposed to develop customized floor plans tailored to your event requirements. THE POOL serves as an ideal venue for cocktail and dinner parties of up to 180 guests or standing receptions for up to 450 attendees.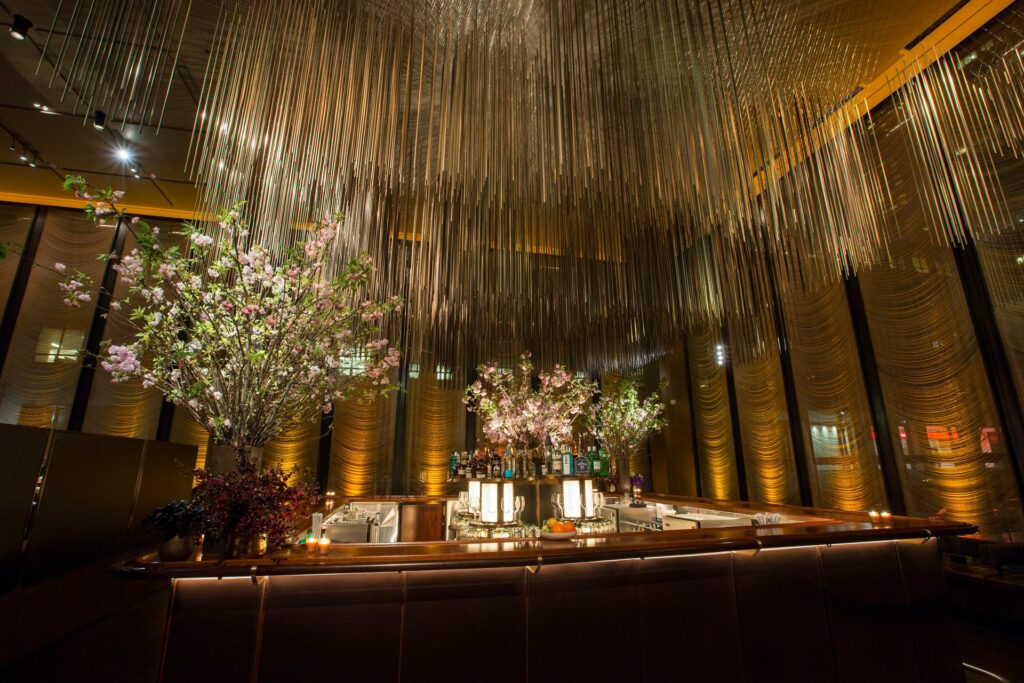 2. The Glasshouse
Neighborhood: Hell's Kitchen
Capacity: 1850
The Glasshouse boasts a lobby adorned with complementary hues and materials, offering the flexibility to incorporate additional lighting, audio, and branding installations to realize the envisioned design. The sunlit pre-function lobby provides direct access to the terrace and is equipped with production facilities. The space also supports further enhancements, including video walls, brand activations, product showcases, step and repeats, and beyond.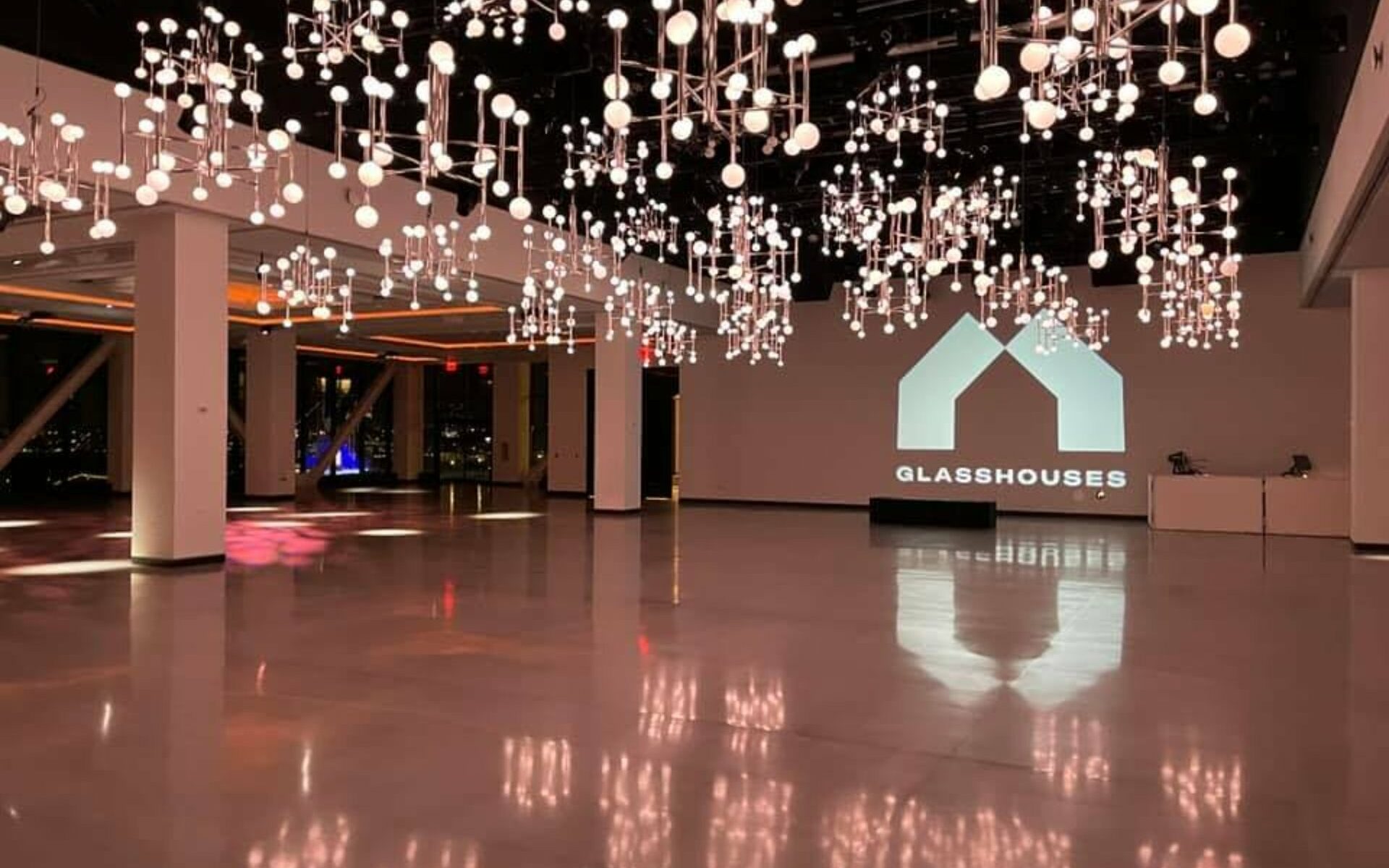 3. Bathhouse Studios
Neighborhood: East Village
Capacity: 300
Bathhouse Studios is one-of-a-kind venue provides all the advantages of an extensive professional studio, along with an intimate atmosphere that is unparalleled. The Studio grants complete privacy with its exclusive street-level floor access, making it an ideal choice for high-profile or celebrity photoshoots. A comprehensive assortment of rental equipment is readily available on-site, with staff to assist in sourcing any specialized equipment that may be necessary.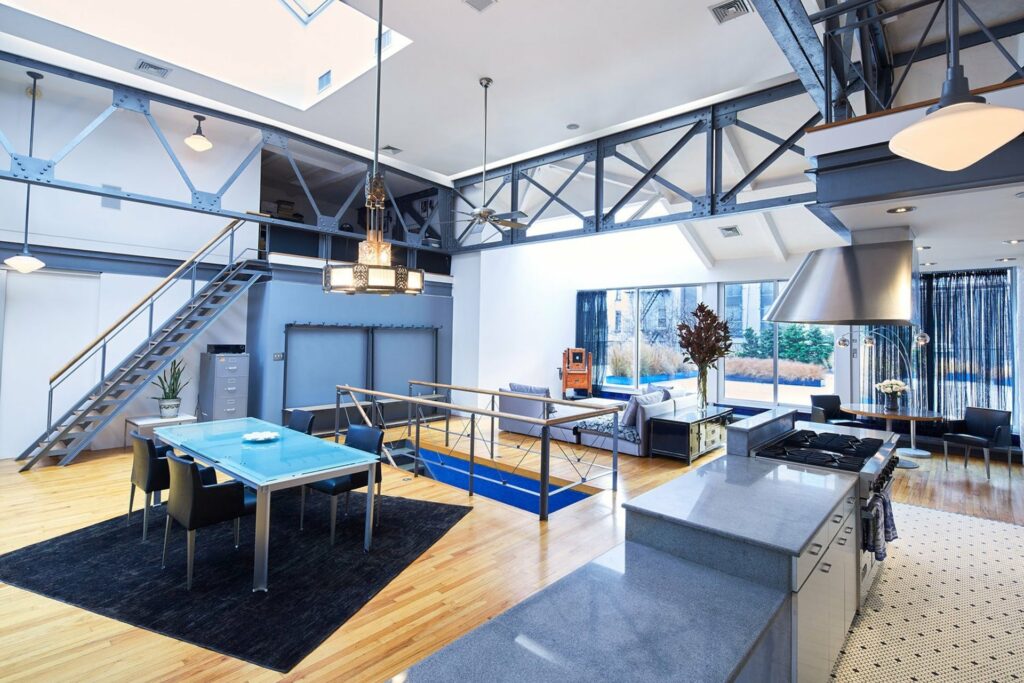 4. Studio 525
Neighborhood: Chelsea
Capacity: 270
Encompassing 5,000 square feet, Studio 525 in New York serves as a catalyst for top-tier events and immersive experiences. Its distinctive approach involves active engagement with the artistic communities in its vicinity and meticulous selection of clientele, which includes numerous renowned global brands. Blending the adaptability of a blank canvas space with the charm of genuine historical features, 525 offers an inspiring environment for memorable occasions like product unveilings, fashion showcases, cocktail parties, and marketing experiences.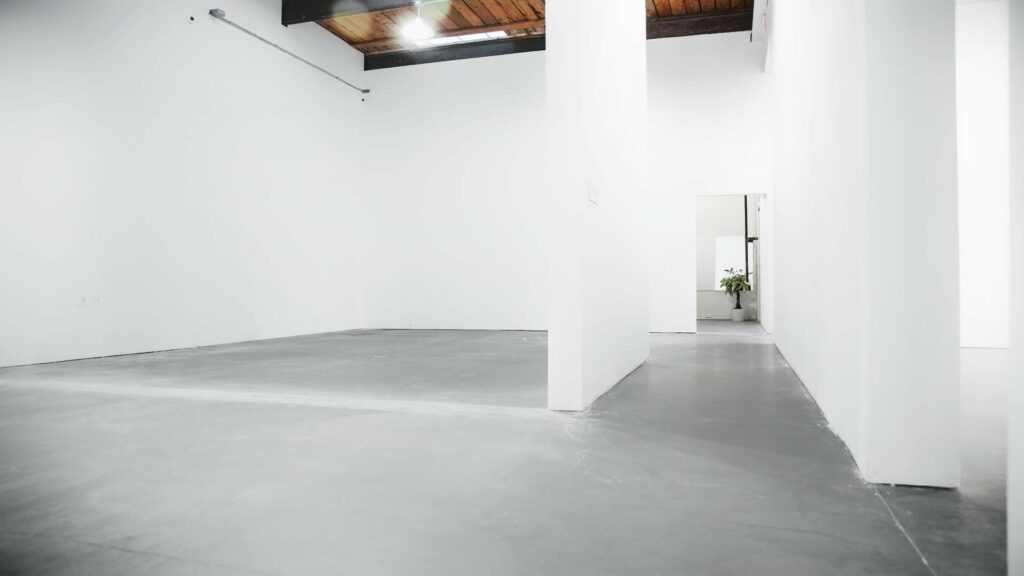 5. Spring Studios
Neighborhood: TriBeCa
Capacity: 800
Boasting 45,000 square feet of column-free open floor space, Spring Studios' versatile event feature 30-foot-high ceilings and floor-to-ceiling west-facing windows. The Studio's striking architecture and design enable fully immersive brand experiences. Situated in Tribeca, Spring Studios offers top-notch service, state-of-the-art technology, and accommodating spaces for gatherings ranging from 10 to 800 guests. The facility is equipped with multiple elevators and a freight loading access area, complete with loading docks.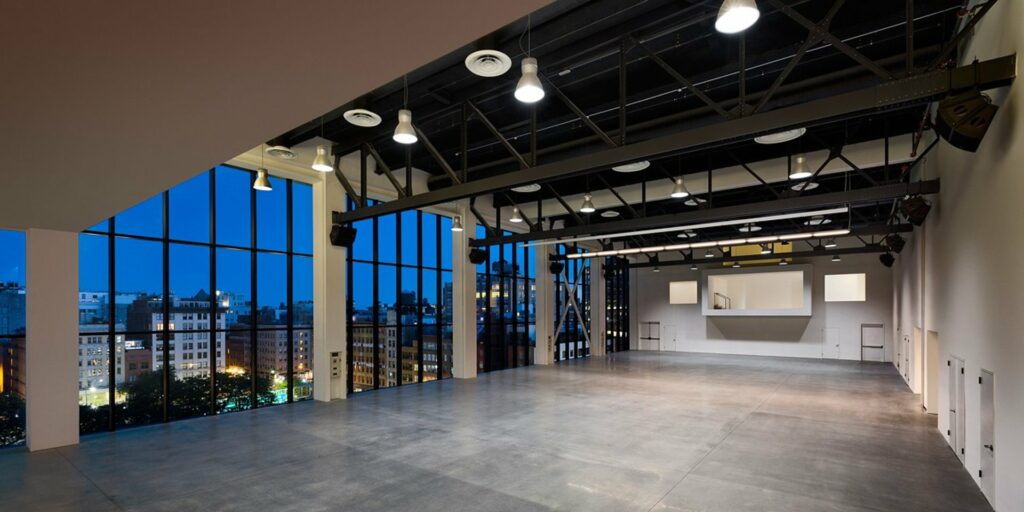 Find the perfect venue for your corporate event. Browse now!
6. Park Avenue Armory
Neighborhood: Upper East Side
Capacity: 1200
Blending regal elegance with an industrial aesthetic, Park Avenue Armory facilitates unconventional creations in performing and visual arts that surpass the constraints of a standard proscenium theater, concert hall, or white-wall gallery. Featuring a colossal 55,000-square-foot Wade Thompson Drill Hall and an assortment of vibrant period rooms including the Reception Rooms, the venue is perfect for a cocktail reception for up to 800 people and events in the main hall for up to 1200 guests.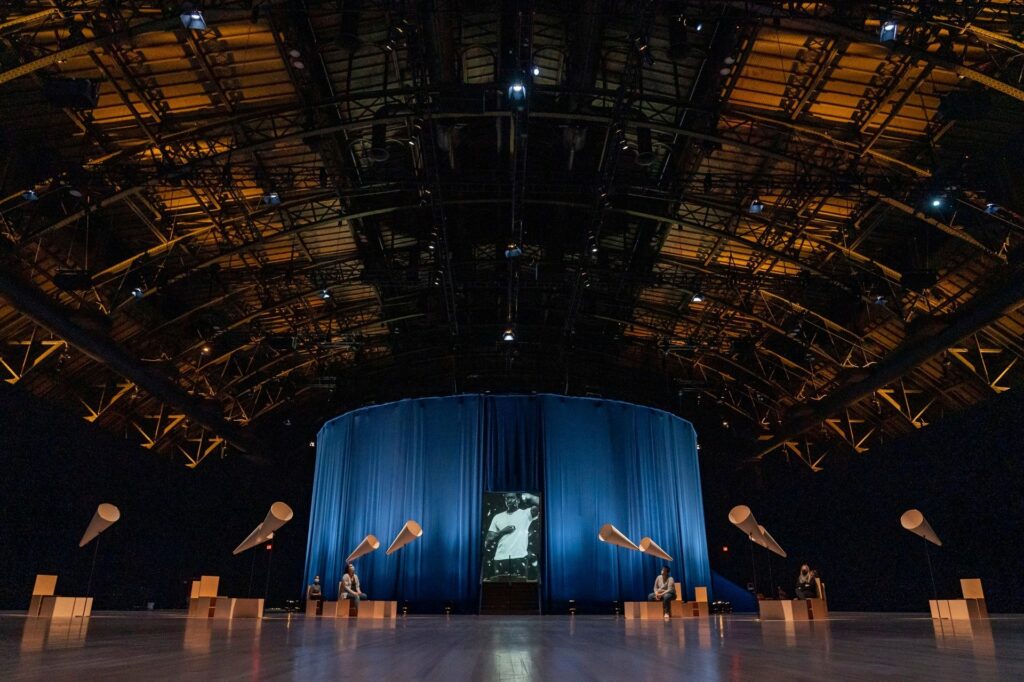 7. Capitale
Neighborhood: Little Italy
Capacity: 1500
Capitale stands as a sophisticated and distinguished venue, catering to those in pursuit of unparalleled quality. Spanning 40,000 square feet, this event space is ideal for hosting your next sizable gathering, featuring a Grand Ballroom with a capacity for 1,500 guests and a selection of two exclusive rooms to accommodate your needs.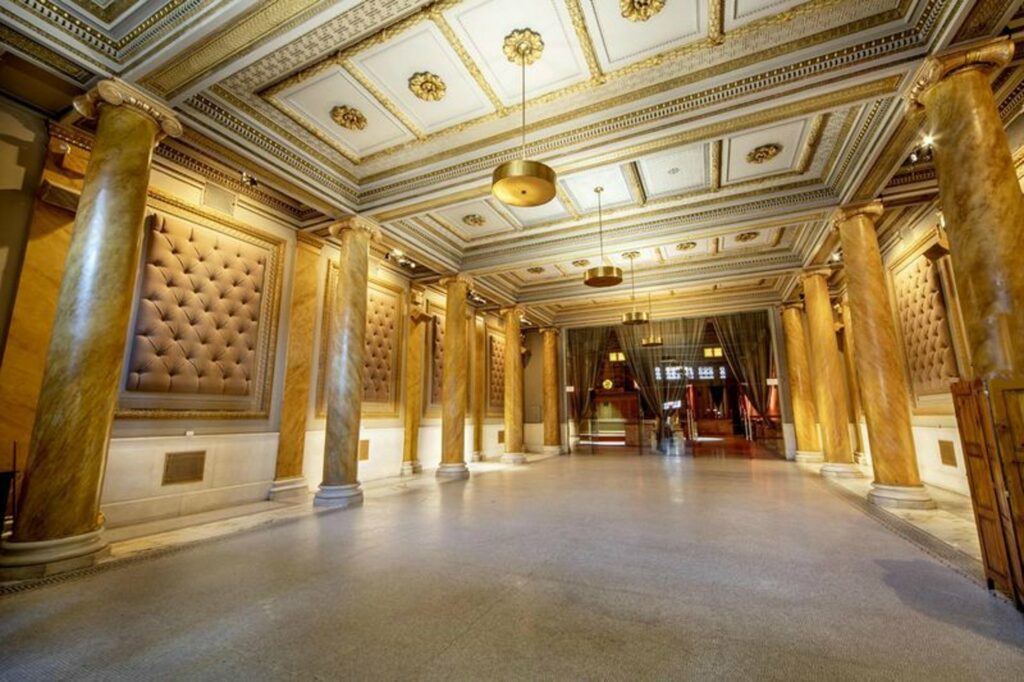 8. Cipriani 42nd Street
Neighborhood: Murray Hill
Capacity: 1800
Cipriani 42nd Street is home to a magnificent four-story banquet hall, adorned with elegant marble pillars that soar up to 65-foot-high ceilings. The room and its furnishings boast a diverse array of marble hues, enriching every architectural aspect and detail. The venue houses a Grand Ballroom, with the capacity to host up to 1800 guests, as well as a Chapel that can comfortably seat 300 individuals.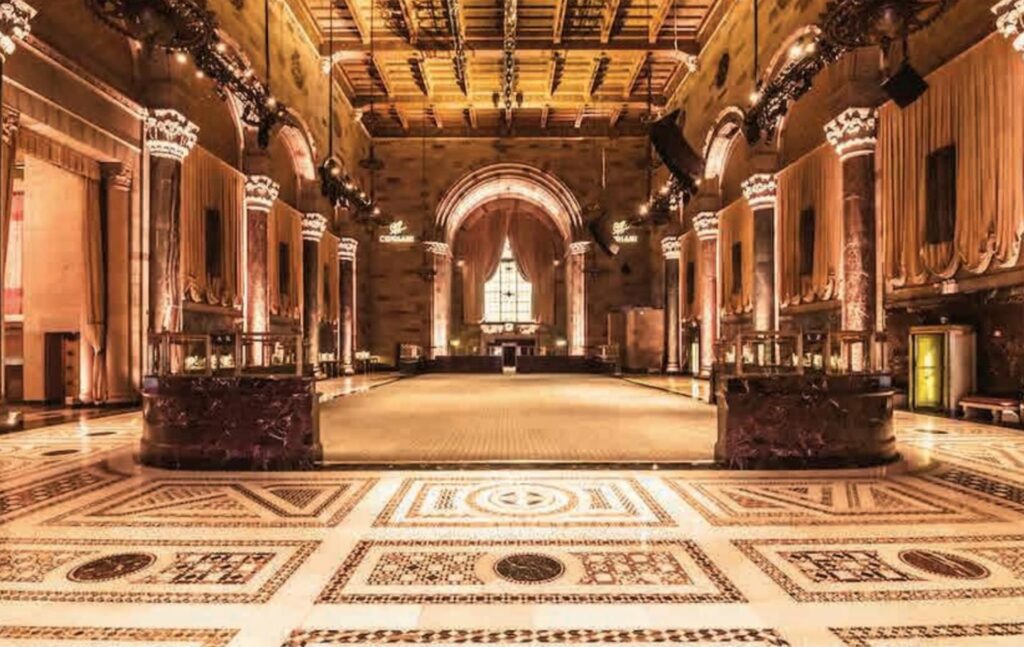 9. The Prince George Ballroom
Neighborhood: Midtown
Capacity: 400
The Prince George Ballroom, an iconic and elegant venue, is situated in the heart of Manhattan and offers a stunning setting for any grand event. Steeped in history, this beautifully restored ballroom features exquisite architectural details, including high ceilings, ornate moldings, and shimmering chandeliers that evoke a sense of timeless sophistication. With a spacious and flexible layout, the ballroom can comfortably accommodate a large number of guests, and includes three other spaces including the Ladies' Tearoom, the English Tap Room, and the Hunt Room.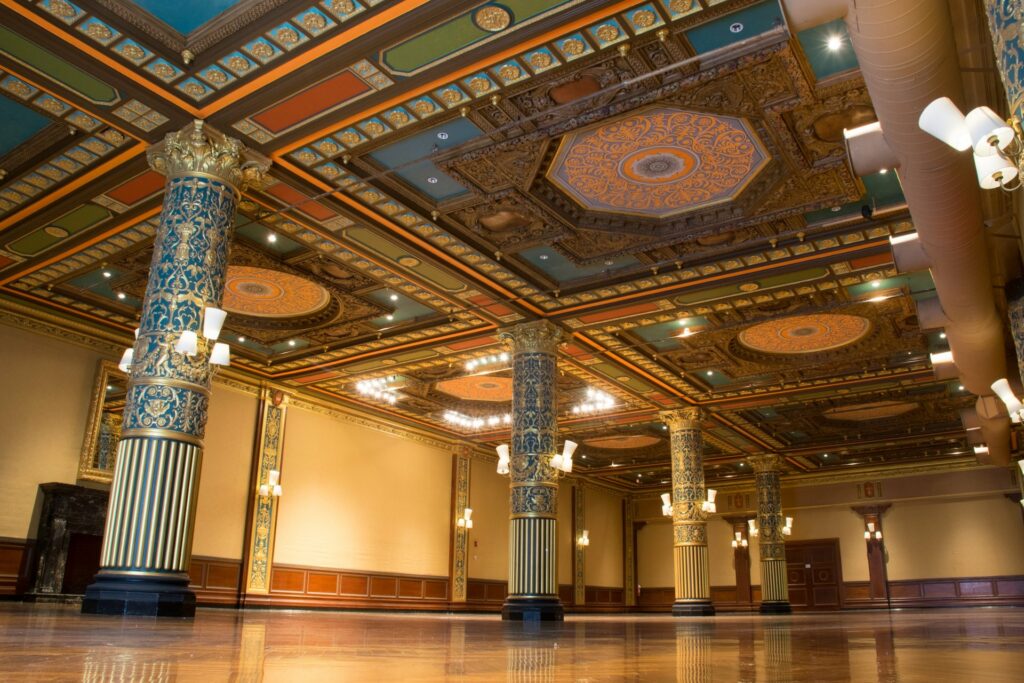 10. Iron23
Neighborhood: Flatiron District
Capacity: 750
Iron23 is a beautifully refurbished venue that showcases traditional ironwork elements in its design. Its expansive layout extends between entrances on W 23rd St and W 24th St, bordered by authentic iron columns and a mezzanine that provides a bird's-eye view of the entire area. Boasting ceilings as high as 17 feet, the space can easily accommodate several vehicles and provides generous backstage facilities. Additionally, Iron23 presents exclusive branding prospects with 1,000 square feet of highly visible, street-level exposure.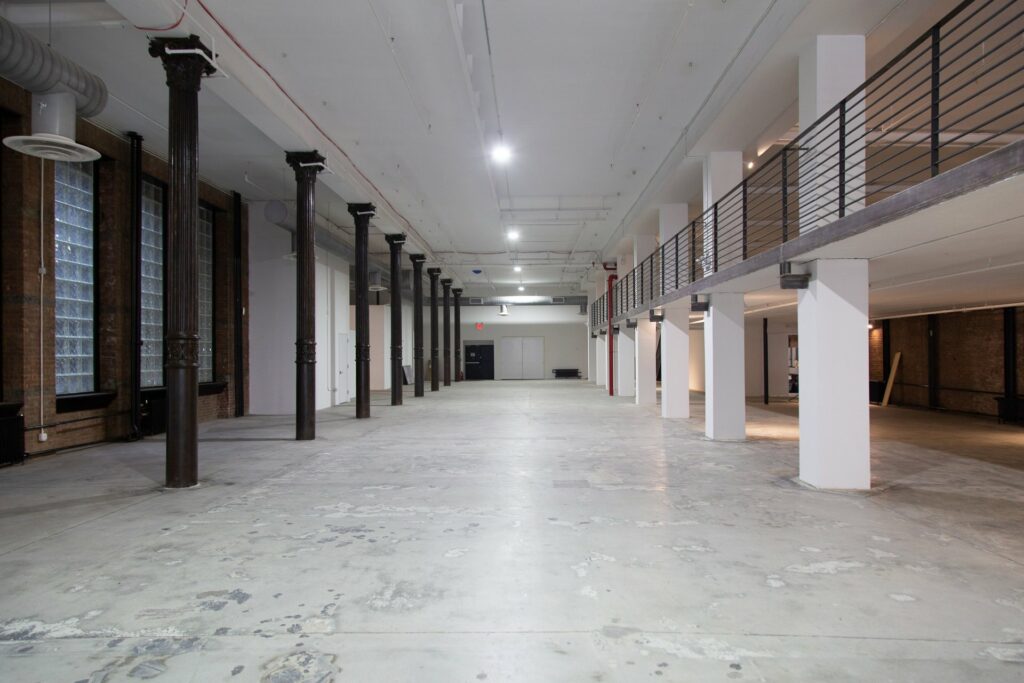 11. Cipriani South Street
Neighborhood: Financial District
Capacity: 1000
Located in the Battery Maritime Building, Cipriani South Street has become the go-to destination for New York's most thrilling and significant events. The second level boasts an exclusive entrance hall and an impressive staircase, a pair of distinct pre-function areas, and the expansive Great Hall, which can comfortably seat up to 800 guests in its 9,000 square-foot space. Sunlit pre-function rooms provide separate locations for cocktail receptions, ceremonies, and breakout sessions, including a unique outdoor terrace that extends the entire width of the building. Additionally, two secluded green rooms, each offering breathtaking views of the East River, perfectly complement the setting.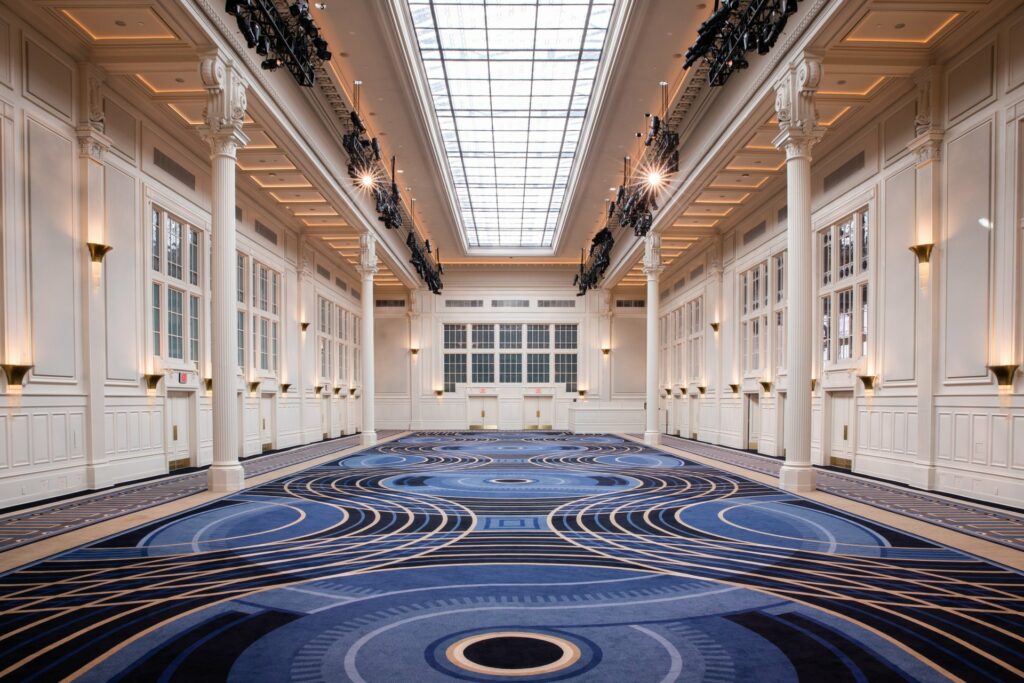 12. The Shed
Neighborhood: Chelsea
Capacity: Contact for more info
The Shed stands out as a hallmark of versatility in New York, offering limitless possibilities for hosting exceptional events. With the absence of permanent seating, constricted walkways, or a sole entryway, this venue embraces a variety of gatherings, including live shows, digital interactions, runway displays, conferences, and movie debuts. The venue offers three different event spaces that can all be transformed to meet varying needs.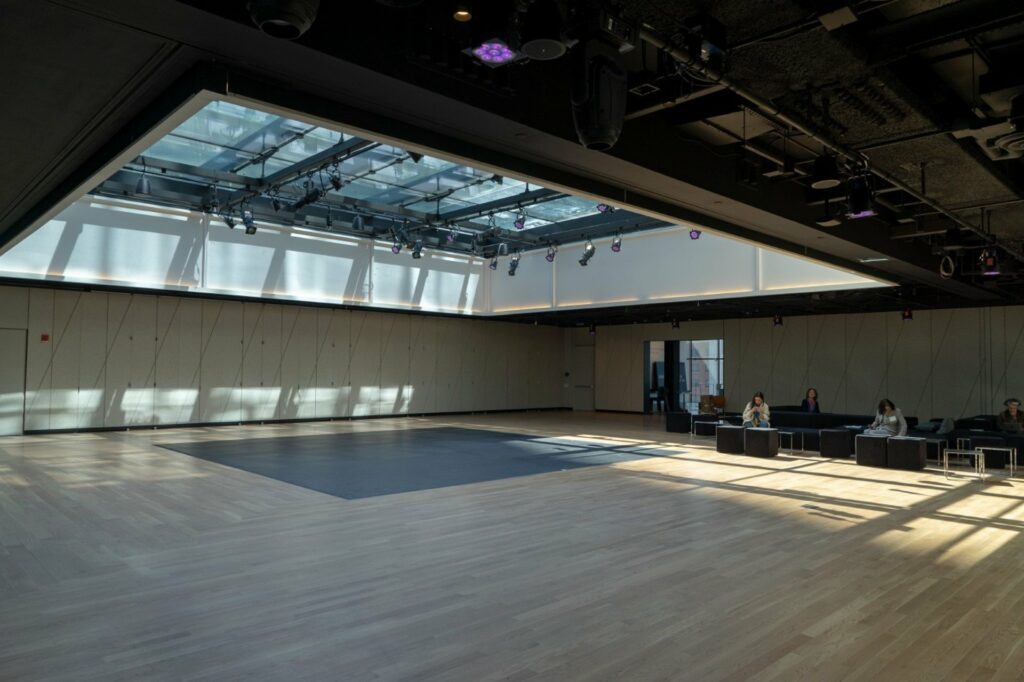 What to Consider When Choosing the Best Venue for a Large Guest List
When selecting a venue for a large guest list, it's essential to consider several factors to ensure a smooth and successful event. Here are some key questions to keep in mind during the planning process:
Capacity: Can the venue comfortably accommodate the anticipated number of guests? Make sure there is ample space for seating, standing, and movement throughout the event.
Layout and flow: Does the venue offer a suitable layout for your event's activities? Consider how guests will move between different areas, such as dining, dancing, or presentation spaces.
Accessibility: Is the venue easily accessible for all guests, including those with mobility issues or disabilities? Consider factors such as parking, public transportation, and wheelchair access.
Location: Is the venue conveniently located for your guests, taking into account travel time, traffic, and nearby accommodations?
Find Your Next Venue on The Vendry
Hosting a large event in New York City can be an exciting and memorable experience, and choosing the right venue is key to making it a success. Use The Vendry to book your next venue and tailor your unique requirements for your event. With numerous venues at your disposal, you're sure to discover the ideal location for any occasion, from a business conference room to a temporary setup for a product debut.
See the full list here:
Read More:
The 8 Chicest and Trendiest Hotels on the West Side for Your Next New York City Event
Versatile Venues in New York City for a Pop Up Event
Gorgeous Raw Event Spaces in New York City