What does NYFW Stand For? When is NYFW 2022?
As the world continues to work its way towards a B.C. (Before Covid) mentality, September saw the celebratory return of New York Fashion Week. After an 18-month hiatus, NYFW brought a vibrant and optimistic energy to the city along with stylish bold-face names, masks in tow. The Spring/Summer shows were a success both on and off the runway, as fashion week events have become as much a part of the week as the actual shows.
From pop-up shop events downtown to global collaboration launch parties in well-appointed venues, the Vendry has been fortunate to help bring myriad NYFW events to fruition. Whether the aim is to create buzz, to celebrate, to launch a line, or all the above, the Vendry has become the leading destination to help you with your next event, whether it's virtual, hybrid, or live. As you plan for your next NYFW 2022 event, herewith we look back and ahead as we digest September and prepare for February.
Short History of New York Fashion Week
Since time immemorial fashion has been a direct reflection of the zeitgeist. In ancient times wearing purple was reserved for royalty and society's elite as a status symbol, due to the cost of the dye. The discovery of King Tutankhamen's tomb in the 1920s led to the popularity of eyeliner. Designer Louis Réard named the then scandalous bikini after the Bikini Atoll, where the U.S. carried out nuclear testing. (He wanted it to be as big a shock as the atom bomb.) NYFW, too, evolved from historical happenings.
Originally dubbed "Press Week," NYFW was the brainchild of iconic fashion publicist Eleanor Lambert. (Lambert would also gain fame for starting the original International Best Dressed List, bequeathing it to four Vanity Fair editors when she died.) As World War II raged on in Europe and the Pacific, Lambert had the auspicious idea to host press at the Plaza Hotel for presentations, as travel to Paris for fashion shows was no longer viable. It simultaneously became an opportunity to showcase American designers, long neglected by the U.S. press for their European counterparts. As a direct result, American fashion innovations began to take up more real estate on the pages on Vogue which translated to sales. Lambert was even once credited with impacting the United States GDP for helping to make the American fashion industry a global business. "Press Week" eventually became "Press Week of New York" and then "Fashion Week." NYFW is now considered one of "the Big Four" weeks, along with London, Milan, and Paris.
While fashion week was born from a World War, decades on a global pandemic ground fashion week to a halt. Amidst its triumphant return, there were sobering moments to mark the 20th anniversary of the September 11th attacks, which had occurred right before fashion week was supposed to start two decades ago. Among the tributes, Thom Browne lowered the lights and held a moment of silence in remembrance.
Planning a New York City adventure around New York Fashion Week? Check out our New York City Event Planning Guide to get started.
Where is New York Fashion Week 2022?
NYFW is a biannual event, with shows taking place in September and February. It ran from September 8th to 12th 2021 and will return February 10th through the 13th 2022. While most of the 91 shows and presentations were IRL, a few went the digital streaming route, including Oscar de la Renta and Pamella Roland.
The official home of NYFW remains Spring Studios, but some designers and brands showed elsewhere. On Brooklyn Grange's rooftop farm Hillary Taymour, the creative director of sustainable label Collina Strada, debuted her eclectic collection ranging from bright lightweight dresses to cargo pants evocative of 90s grunge. Prabal Gurung fittingly held his American Girl-themed presentation—and yes, this included a collaboration with the actual doll company—by the water in Battery Park with views of the OG American Girl, the Statue of Liberty. Jack McCullough and Lazaro Hernandez's Proenza Schouler debuted bold colors, flat shoes, and fringe on Little Island with views over the Hudson River, while Tom Ford closed out the week with his "disco glam" designs at Lincoln Center.
How do I get tickets to New York Fashion Week 2022?
While most show seats tend to be reserved for the press or those in the fashion industry, industrious ticket hunters can keep an eye out for shows open to the public. Other ways to be physically present include volunteering your time and services to organizers. However, the advent of some shows being digital and livestreamed could be an interesting trend that continues even after our masks have become an outdated accessory. Perhaps live streaming a show from an event space could be a burgeoning trend... And while there are many exclusive New York Fashion Week shows, there are also complementary events before and after the traditional shows that can sometimes be open to the public.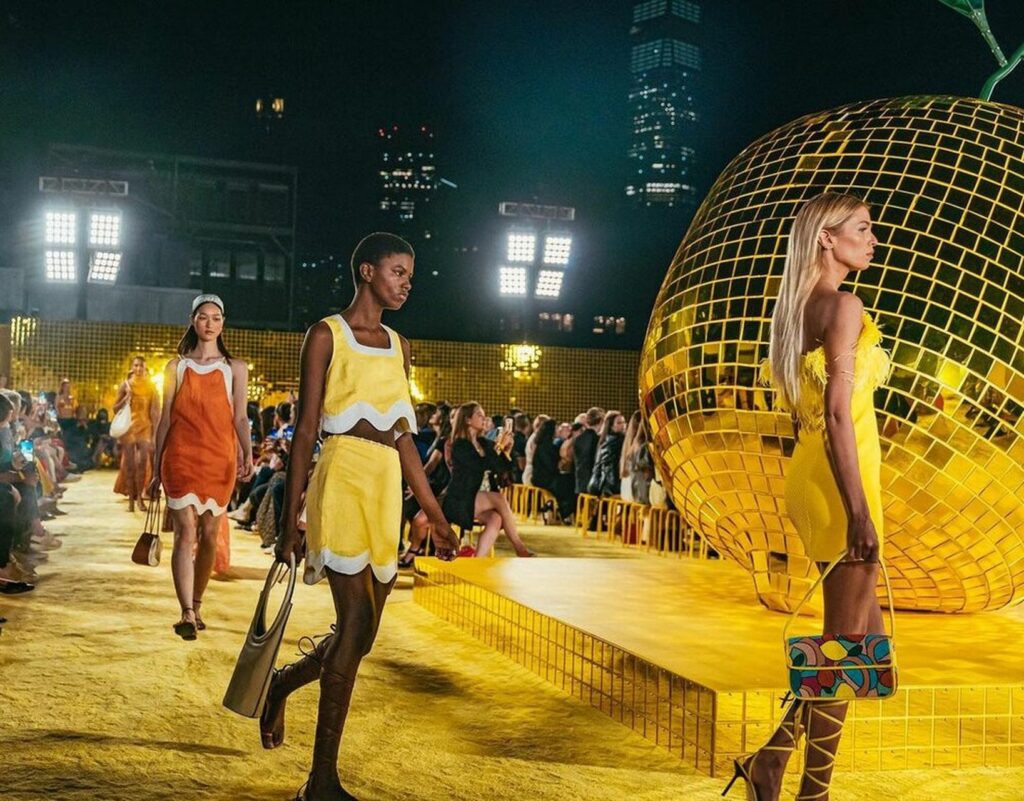 What Trends are Coming Back in NYFW 2022?
With the return of live shows in September 2021, gone were yoga pants—second only to the face mask when it comes to pandemic aesthetic—and in were big sartorial statements. While designs ran the gamut from shiny metallics to neutral on neutral, a common denominator was clear across the shows: it's all about the bra top, regardless of size or age. Whether it was paired with a tuxedo jacket or flowy pants, the bra top was on display in a variety of looks. Perhaps inspired by pandemic hobbies, knitwear married style with comfort while bubble skirts appear to be a new favorite hemline. As has increasingly been the case, sustainable fashion continues to gain popularity with upcycled materials thrown in the mix—a trend sure to continue with the February 2022 shows.
Who is Attending New York Fashion Week 2022?
It was a veritable who's who across the board. Vice Presidential stepdaughter Ella Emhoff, who has developed something of a cult-like fashion following of her own since she sported an embellished Miu Miu tartan coat at the inauguration, was spotted at Collina Strada and Proenza Schouler with her boyfriend, GQ editor Sam Hine. Taraji P. Henson was stunning in yellow at Moschino while Mindy Kaling and Dan Levy flexed their funny bones at Tom Ford.
Septuagenarian model and tech matriarch Maye Musk attended red carpet-favorite Brandon Maxwell while emerging athleisure mogul Kate Hudson headed to Michael Kors. Ryan Murphy muse Sarah Paulson was photographed at a Saks Fifth Avenue event and YouTube darling Madelaine Petsch stopped by Jason Wu. It was a family night out for actor Ansel Elgort and his parents, renowned fashion photographer Arthur Elgort and opera director Grethe Barrett Holby. They headed to the Rainbow Room for The Daily Front Row's 8th Annual Fashion Media Awards with Casamigos. South African model and philanthropist Candice Swanepoel was spotted at the same event.
How to Attend New York City Fashion Week
Organizers at IMG worked closely with the state to ensure best practices were instituted in September. Safety was paramount at the shows with a strict and comprehensive protocol for attendees, designers, makeup artists, models, and everybody in between. Full vaccination status and masks were required to attend, and while the landscape of the pandemic continues to evolve, it is unlikely the vaccination requirement will change in February.
Complete Schedule of NYFW 2022
While the complete schedule of NYFW 2022 is still in the works, it feels certain to say that the show will go on - likely better than before! There was ultimately a collective sigh of relief in September, confirming that the show can in fact still go on. Safety precautions worked, with no reported outbreaks linked to NYFW. As the industry prepares to wind up preparations for NYFW's February return, there are fun questions to ponder: will the Fall/Winter collections be bold and colorful, or will more neutral tones gain steam? Where will you hold your next NYFW 2022 event? Will live streamed shows gain steam as a new modus operandi? Regardless, NYFW has confirmed one very important thing: style and safety are not mutually exclusive.
Hosting a NYFW event? Find the best New York City venue that meets all your needs.