If you're looking for a rooftop venue, Denver is a great place to start — you're already technically a mile high. In a city where it's sunny 300 days a year, Coloradans have figured out how to maximize views—be it mountain or cityscape—and incorporate a well-placed fire pit into a variety of settings. Another common theme in this city? Beer is very, very important at any building height. Planning an event in Denver? We've got you covered. Read on for The Vendry's 15 Denver rooftop favorites. 
15 Amazing Rooftop Venues in Denver
Rooftop venues in Denver range from former mortuaries to repurposed 1800s mills. It's never boring here.
1. The Red Barber
Neighborhood: River North Art District
Capacity: 225
The Red Barber is a 3,300-square foot rooftop atop Denver's Catbird hotel, which is what all hotels should be named from here-on-out. You get 360° views from the downtown skyline to up on the mountains. This venue has five flex spaces to consider, but the largest is by far the Event Deck with room for 225. It's year-round, providing a natural breeze in the warmer months and heating systems in the colder ones.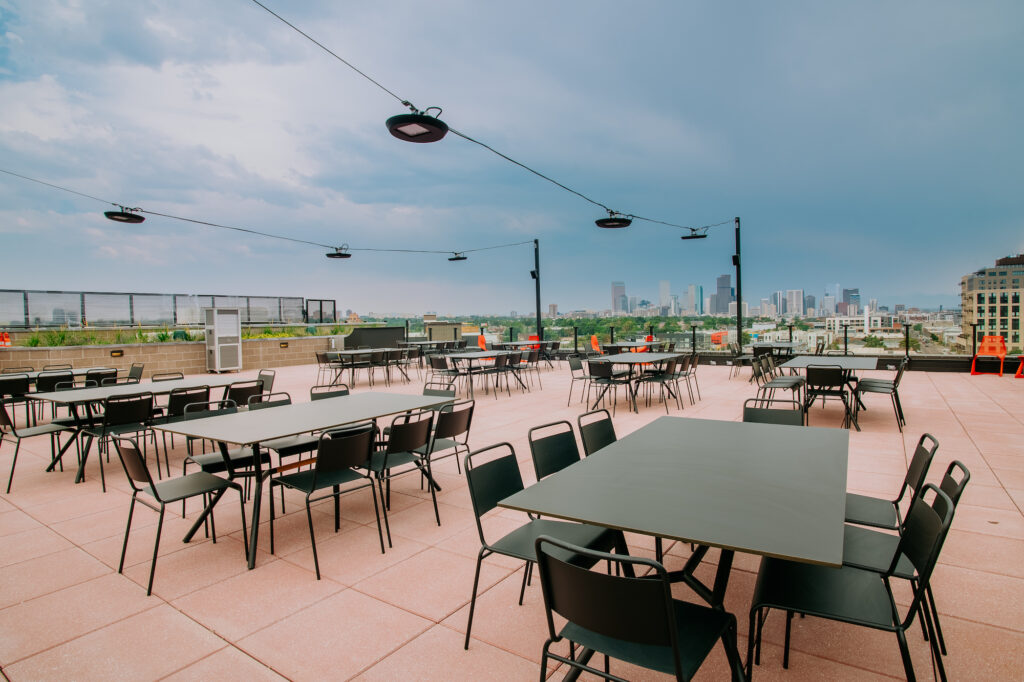 2. 54thirty
Neighborhood: Downtown
Capacity: 125
54thirty is Denver's highest open-air rooftop bar, which you can find by taking the elevator all the way up at Le Méridien Denver Downtown. There's space for 125 where the city views are front and center. When the sun sets the twinkling lights and fire pits do their thing for an upscale but relaxed indoor/outdoor experience.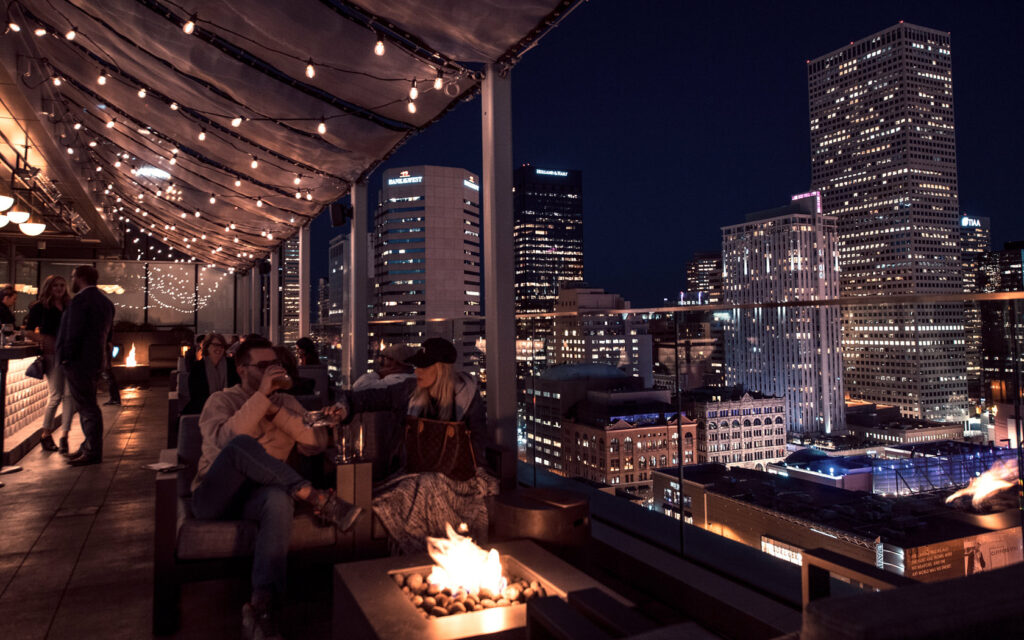 3. Grow & Gather
Neighborhood: Englewood
Capacity: Contact for more info
There's farm-to-table and then there's Grow & Gather. This unique enterprise is housed in a renovated and historic auto shop which now serves as an urban farm, restaurant, market, and coffee shop. It's a farm and table under one roof here. That roof is a greenhouse and deck space, providing stunning views of the Rockies while housing the growing ingredients that ultimately end up on your plate. It's an organic experience at another level. Literally.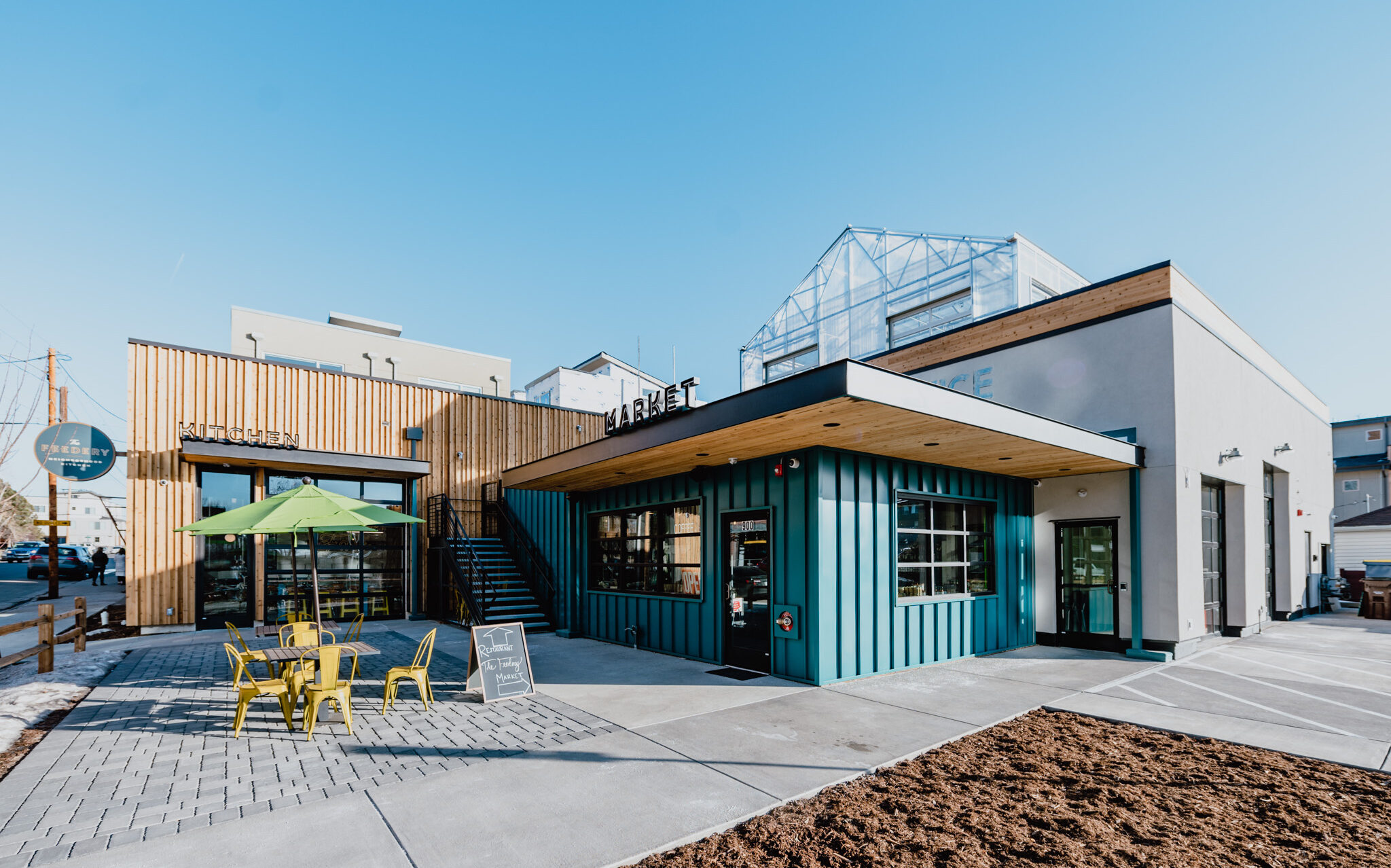 4. Tamayo
Neighborhood: Downtown
Capacity: 150
Tamayo by Chef Richard Sandoval brings the bold and earthy flavors from his native Mexico and peppers them with international ingredients while using creative cooking techniques. The result? Delicious. Tamayo has a few private event spaces to consider up top and closer to the ground, the largest of which has room for 150 people. A convivial atmosphere is guaranteed.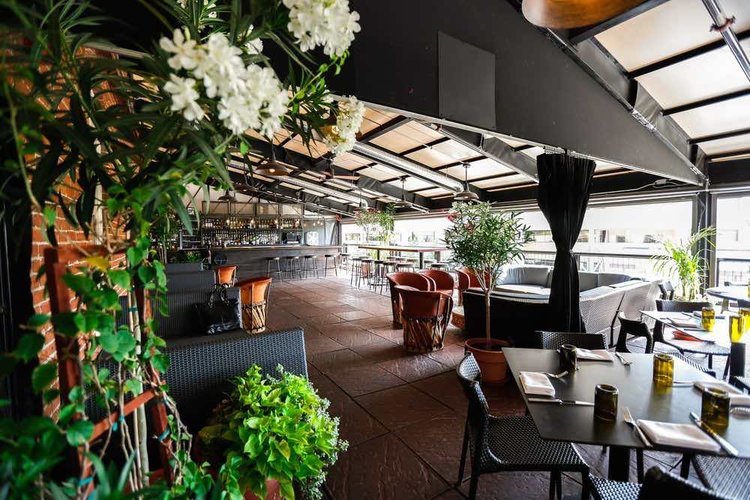 5. Avanti Food & Beverage
Neighborhood: Highland
Capacity: Contact for More Info
Avanti Food & Beverage is Denver's answer to European food markets. This collective eatery has seven different restaurant concepts primarily housed in modified shipping containers. The rooftop here is a little closer to the ground than others, but it's a unique setting with great views over the Highland neighborhood. The location itself has also become an important part of Denver's culinary zeitgeist.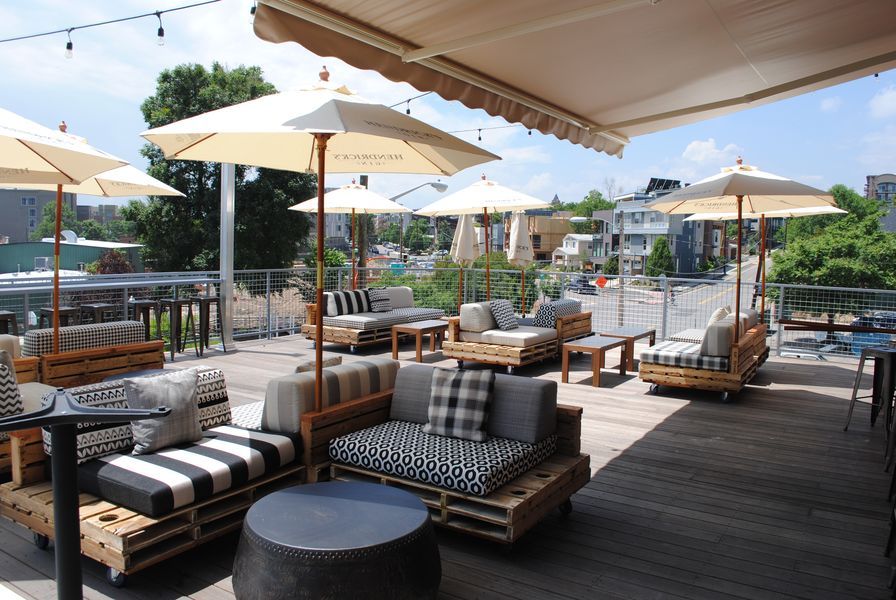 Make sure your guests don't leave empty handed! Browse the top gifts and swag providers in Denver!
6. Sky Bar
Neighborhood: Aurora
Capacity: 30
Sky Bar is where Pan Am cosplay gloriously comes to life. It's a relatively intimate 550-square foot space for 30 in Aurora's Stanley market space, but one that makes an enduring impression. It replicates a 1960s era airport lounge, a time that was known as "The Golden Age of Air Travel." Fans of JFK's TWA Terminal will be delighted. Sunset views over the Colorado landscape and signature cocktails also included.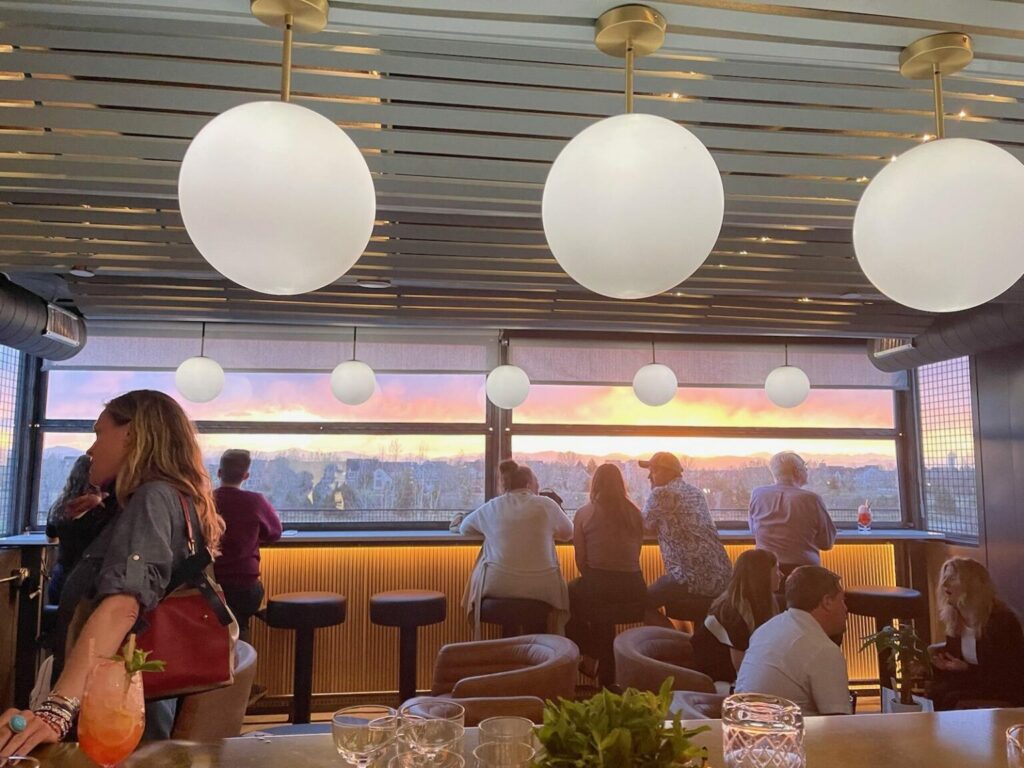 7. The Woods
Neighborhood: River North Art District 
Capacity: Contact for more info
The Woods is eight floors up at The Source Hotel + Market Hall, a very cool space in-and-of-itself. It's a collection of independent restaurants, retail, and 100 "design forward" hotel rooms, so it's more of a complex. Up top does not disappoint, either. The views? Denver skyline and Rocky Mountains included. Craft beers and drinks? Excellent. Food? Delish.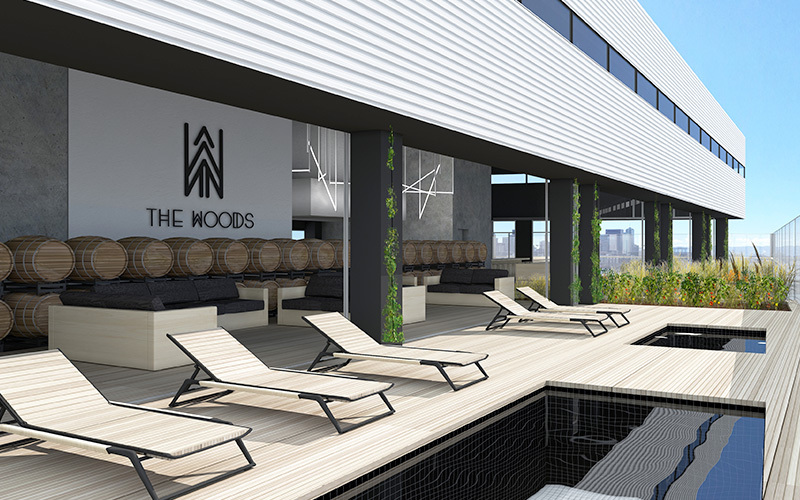 8. Tap Fourteen
Neighborhood: Union Station
Capacity: 300
The city of Denver has always taken its beer seriously. In fact, the first building here was a saloon because, priorities. Tap Fourteen Rooftop Bar & Beer Garden celebrates this tradition with 70 Colorado draft beers and 50 + Colorado whiskies to consider. The name of the place, which can accommodate 300, is also a celebration of its home state where there are 58 peaks over 14,000 feet. This is mere steps from the aptly named Coors Field, home of MLB's Colorado Rockies, which is also on theme.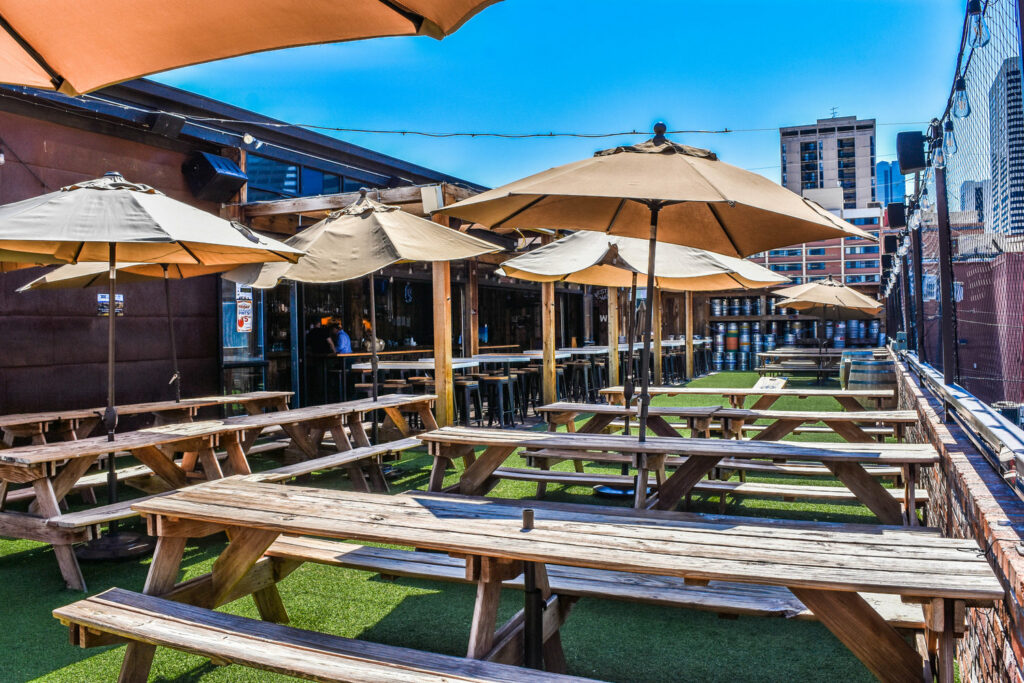 9. Reynard Social
Neighborhood: LoDo
Capacity: Contact for more info
A mischievous spirit is welcome at the 1,638-square foot Reynard Social, which takes its name from the European mythological rogue, Reynard the Fox. Speaking of Europe, this lounge is like a very high-end Alpine chalet. The food is inspired by Aprés-ski bites and while the Alps are not included in the views, you'll get some of the best Denver city vistas from this summit.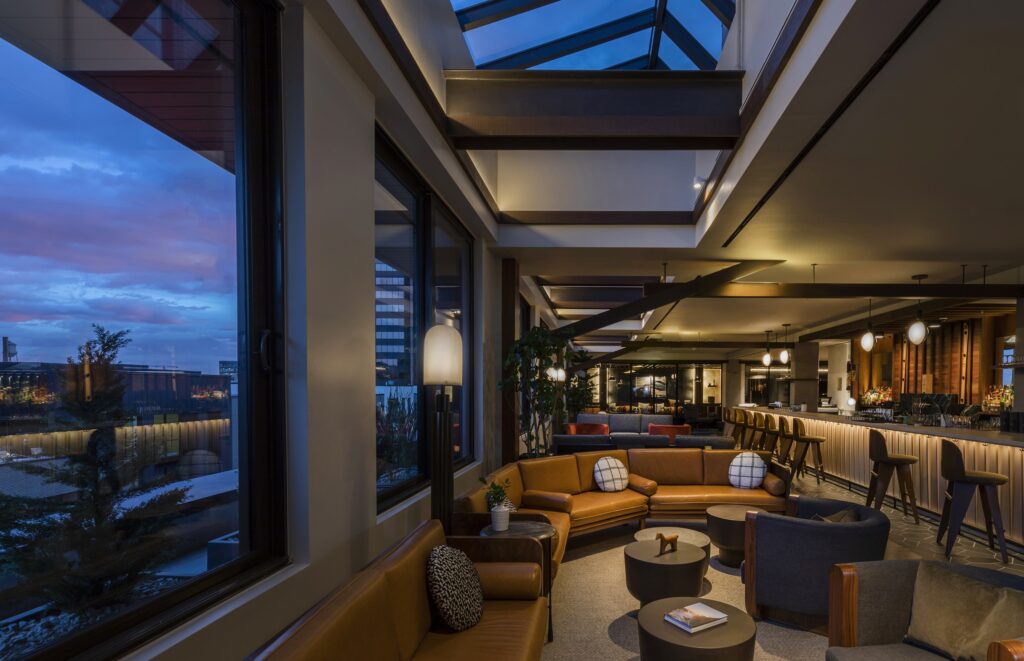 10. The Golden Mill
Neighborhood: Golden
Capacity: 575
The Golden Mill began life in the 1860s as a grain mill in this town west of Denver. It's now a completely reimagined place to experience a variety of food and drink, in the same vein as Avanti Food and Beverage. The 5,000-square feet rooftop patio holds 575 and has a self-pour wall of 16 taps. Views include a trifecta of North and South Table Mountain and Mt. Zion, and to round out this insanely gorgeous setting, The Golden Mill is situated on Clear Creek.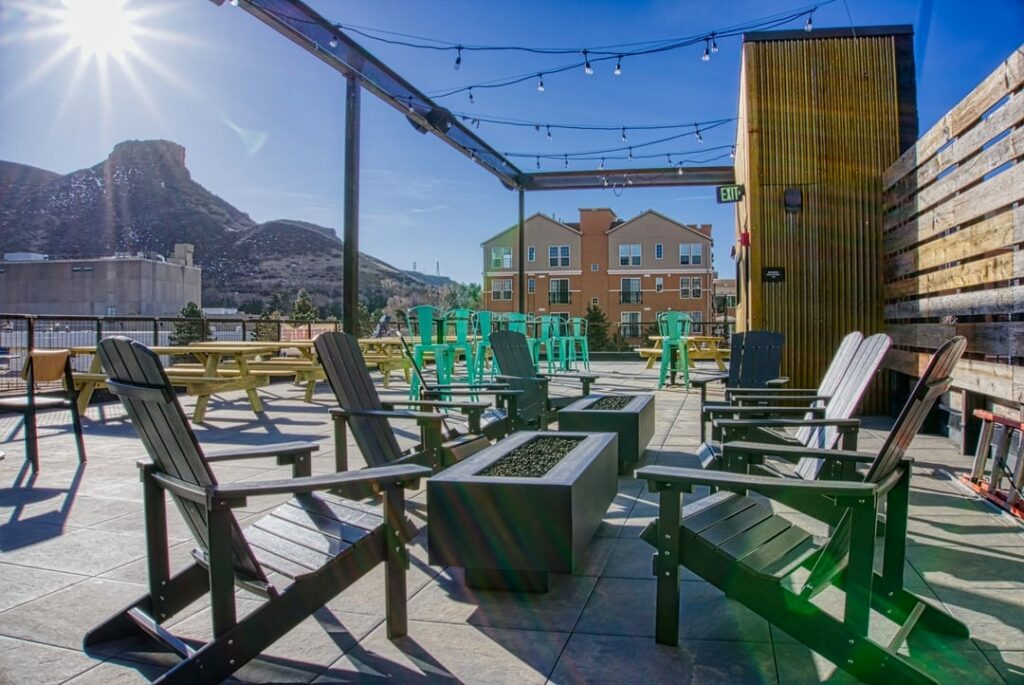 11. Peaks Lounge
Neighborhood: Central Business District 
Capacity: Contact for more info
Peaks Lounge is about as high up as you can go for a drink in Denver—you're 27 floors up here at the Hyatt Regency. The views are endless, but to sum it up, spectacular. The Rockies, the city… you name it. The ambiance here is sophisticated but not pretentious, and promotes local fare as well as international dishes. This spot is centrally located and adjacent to the Colorado Convention Center, so it is a great option to consider in tandem with other corporate events.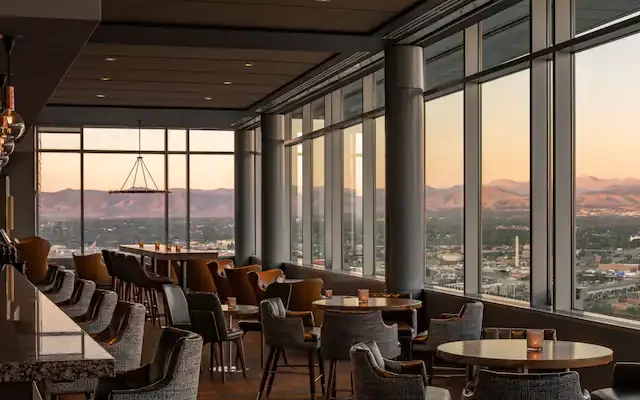 12. El Five
Neighborhood: Highland Park
Capacity: 250
El Five, part of Edible Beats hospitality group, is inspired by the Straights of Gibraltar, the access point to all Mediterranean regions. The epicurean approach here is not meant to reflect one single part of the Mediterranean but all of the,, so you'll get a mix of a bit of everything from that part of the world. You can host 250 here and it's indoor/outdoor which is always a plus.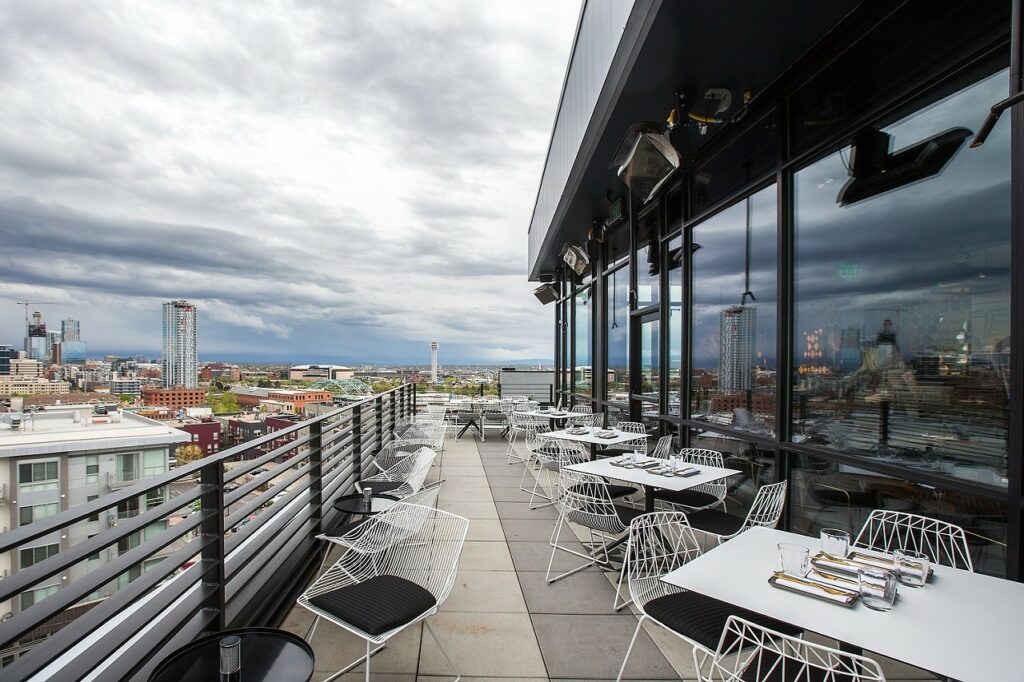 13. ViewHouse Ballpark
Neighborhood: Ballpark
Capacity: 300
ViewHouse has a couple locations throughout the greater Denver area, but their Ballpark location has become something of an establishment near Coors Field. There's an indoor rooftop bar and a larger outdoor one that will host 100 seated or 300 standing. There's stone fireplaces, a DJ booth, cabana seating, a wrap around bar, and great views out over the neighborhood and city. A solid choice for a laidback rooftop party.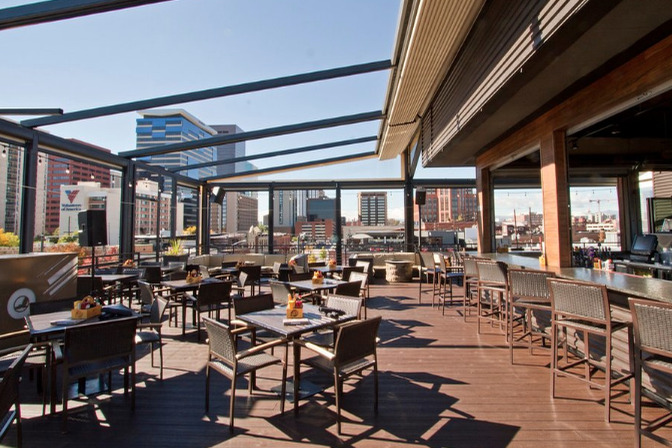 14. Linger
Neighborhood: Lower Highland
Capacity: 100
Linger is a sister location to the aforementioned El Five, both under the umbrella of the Edible Beats group. One thing to get out of the way: it's housed in a former historic mortuary, but they've embraced it and the décor actually really works throughout. Their rooftop patio can hold 100 and has great neighborhood views. There's a dash of retro/vintage charm, too, where a 1975 GMC RV is the bar while a repurposed food truck is the kitchen.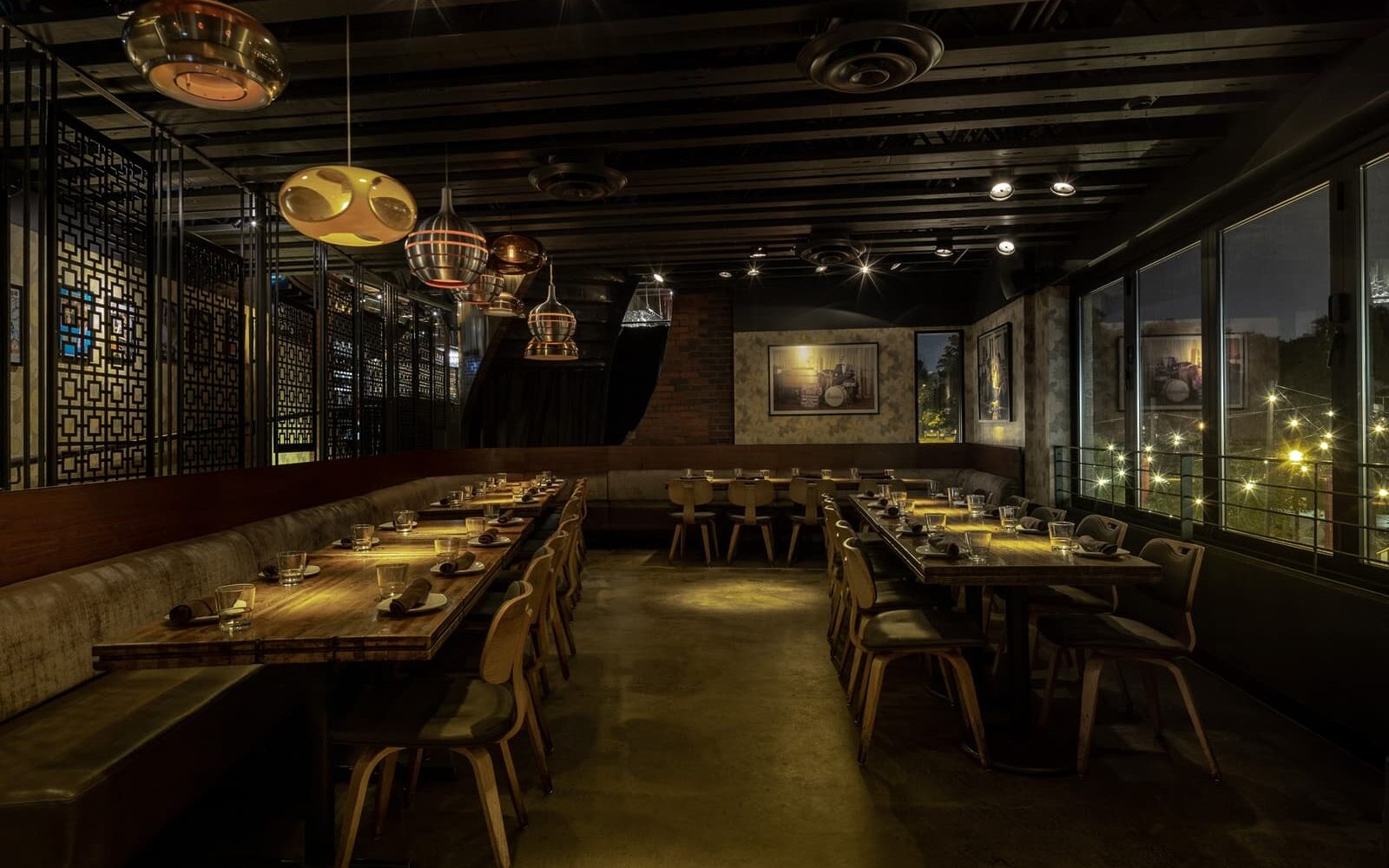 15. FIRE Restaurant and Lounge
Neighborhood: Capitol Hill
Capacity: 35
The rooftop terrace at FIRE Restaurant and Lounge is perched four-floors up at the ART hotel. Views reach out over to the bustling Broadway Street below out to the city's Museum District and History Convention Center. The vibe is modern and the standard high. There's room for 35 but you can push that number by including an adjacent inside area.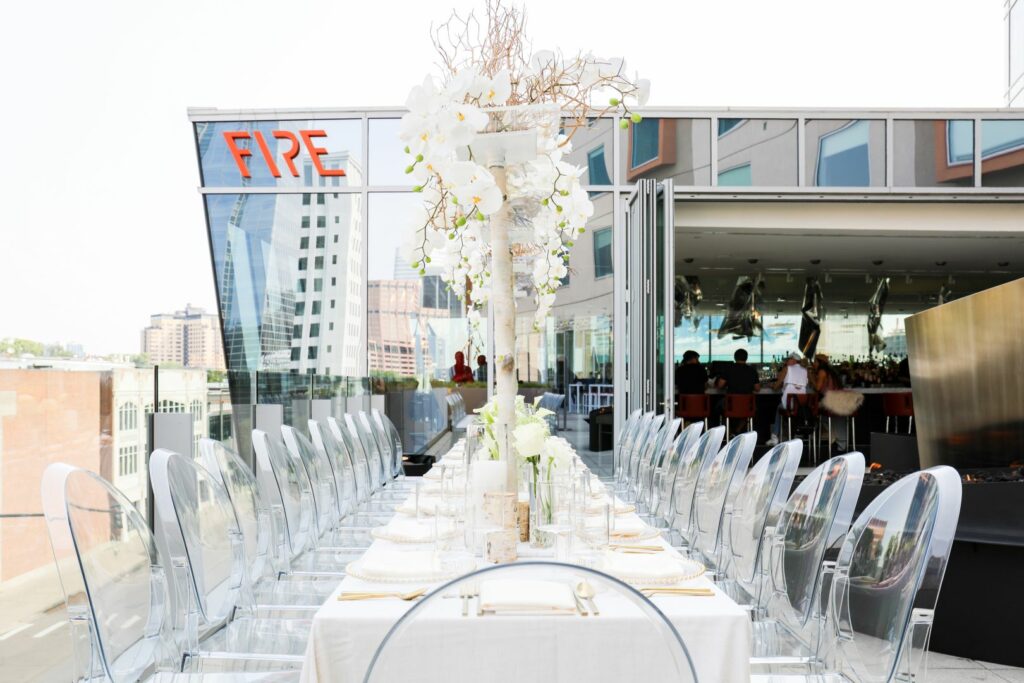 Why Finding the Right Venue is So Important
It all ultimately starts and ends with the venue so finding the right venue is key. It's the top of the planning tree from which all other items branch out from. Take your time with the selection, and whenever possible visit in person first. 
Important Things to Consider When Booking a Rooftop Venue
Keep all of your regular checklist items in mind, but for rooftop venues in general underline weather contingency plans, even for a city where it's sunny 300 days a year.
Find the Best Event Venues on The Vendry
The Vendry has been fortunate to help bring myriad events to fruition from coast-to-coast. Whether you've simply window shopping Mile-High City venues or ready to start a proposal, we're here to to get you started. Start your venue search today.
Read More:
Jaw-dropping Rooftop Venues in Brooklyn You'll Fall in Love With
Fresh Air and Stunning Views at One of These Amazing Rooftop Venues in Boston
Rooftop Venues in Seattle Perfect for Your Next Gathering