If you're planning an event in New York, remember that the borough of Brooklyn has a lot to offer including venues with stunning views and so many epic rooftop spaces. In fact, rooftops in Brooklyn are as varied as the city and borough itself. If you're looking for the poolside, frosé-flowing summer spot with skyline views that's certainly on offer. Maybe you're hoping to mix industrial and rural chic for a company gathering — there's rooftop farms for that. Well-appointed lounge setting with a sweeping city vista? Not if... but where. Herewith, we've rounded up some of the best rooftop venues Brooklyn has to offer for your next plein-air event.
The 12 Best Rooftop Venues Brooklyn
It's New York City, so you likely won't be surprised to find out that there's over 450 event venues in Brooklyn. (That count is likely on the conservative side, too.) Less is more when sorting through event venues though, so we've curated a dozen spaces that serve up the best in hospitality, alfresco style.
1. Harriet's Rooftop
Neighborhood: Brooklyn Bridge Park
Capacity: 350
Brooklyn Bridge Park is an 85-acre waterfront playground where you can engage in a variety of activities — from ping pong to pickleball — year round. It's also where you'll find the 1 Hotel Brooklyn Bridge, and atop that you'll land in/on Harriet's Rooftop. This relaxed, lounge-style 2,800 square-foot space comes complete with a pool and Manhattan skyline views over the East River. Its indoor/outdoor layout is large enough to accommodate 350 people, but the flow enables an intimate gathering without feeling overwhelmed by the space. 
It's also a venue with a heart: This summer try their Sunflower Cocktail — sunflowers are the national Ukrainian flower – and a percentage of the proceeds will go to Save the Children's Ukraine Fund.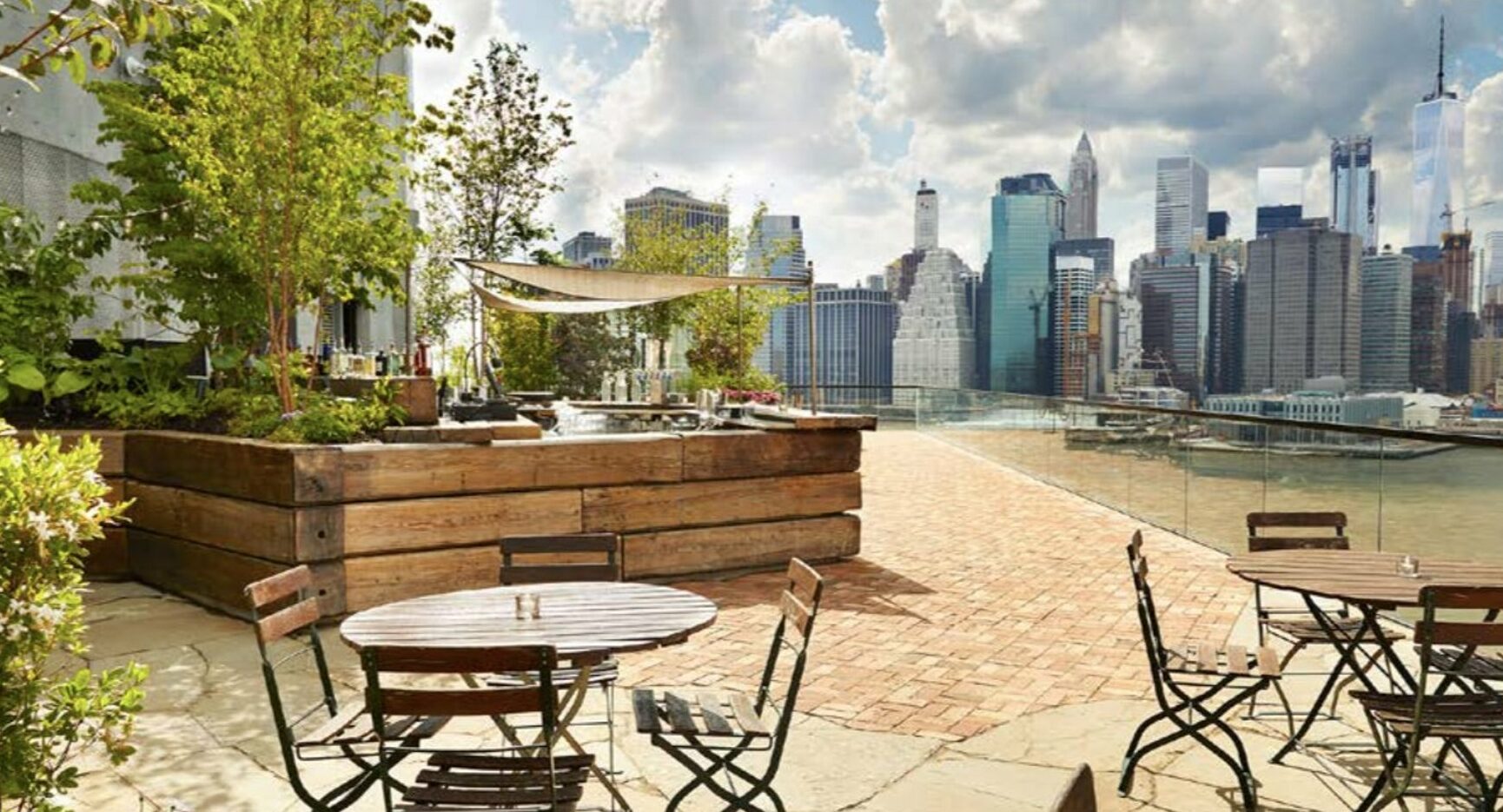 2. Westlight at The William Vale
Neighborhood: Williamsburg
Capacity: 200
Clocking in at a spacious 6,853 square-feet, Westlight offers delicious food, top shelf drinks, and sweeping views for your event trifecta. Your guests can snack on bites from celebrated chef Andrew Carmellini or sip on a classic signature cocktail while playing a game of bocce. The design is sleek and contemporary but it's really all about the view. Floor to ceiling windows separate the outside terrace from the bar area, so views are on offer rain or shine for 200.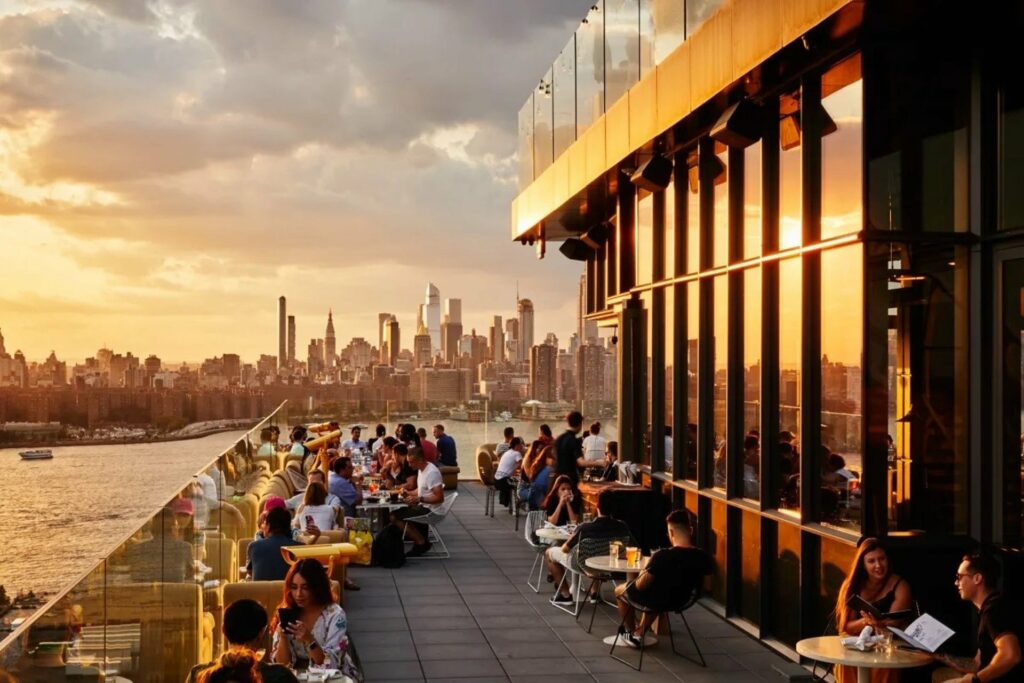 3. 74Wythe
Neighborhood: Williamsburg
Capacity: 400
74Wythe is quickly becoming a coveted event venue, and it's easy to see why. The building dates back to around 1929 and began as a spice blending factory called Super Ingredients. Buildings that originated as factories tend to be venue-friendly in general: it's a lot of open, loft-like space. This is true of 74Whythe, with four different venues within–or in this case, on–the building, which includes the 5,000 square-foot roof. The 2,300 square-foot retractable glass pergola ensures views and an indoor/outdoor feel year round, so there's no need to book backup inside space for your 400 standing guests.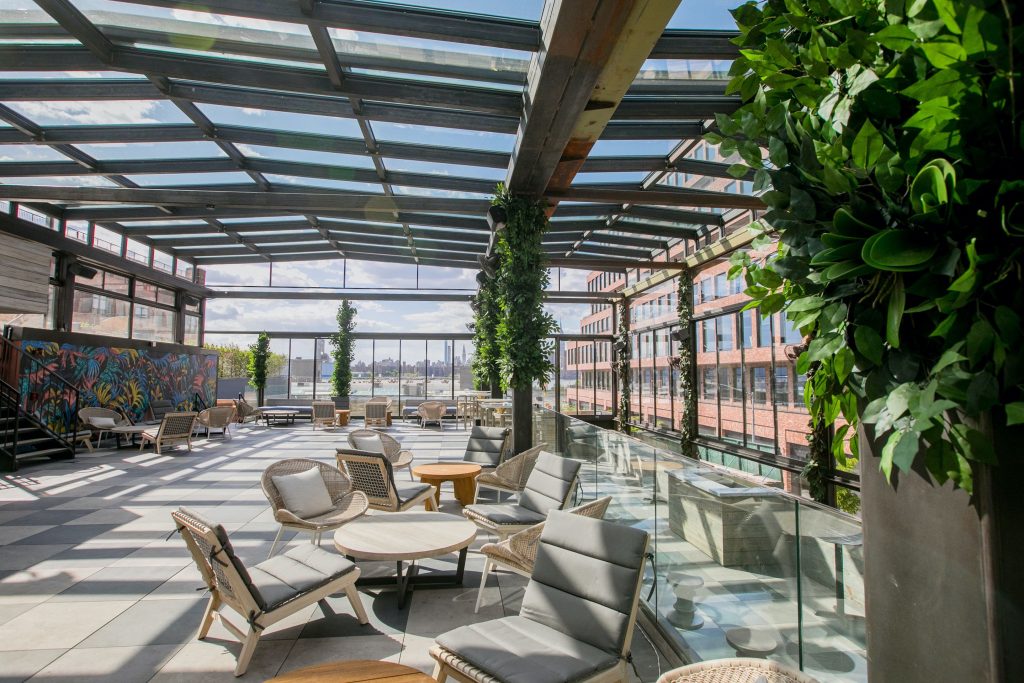 4. Fornino at Pier 6
Neighborhood: Brooklyn Bridge Park
Capacity: Contact for more info
Fornino at Pier 6 replicates a relaxed picnic-esque atmosphere, albeit one with views of lower Manhattan and the Statue of Liberty. Situated among the beach volleyball and playgrounds of Brooklyn Bridge Park, Forino's–a beloved pizza joint with two Brooklyn locations– also serves up signature cocktails, delectable sandwiches, artisanal sodas, and ice cream. The venue is great throughout, but the rooftop beer garden is understandably a summer favorite for laidback corporate and social events.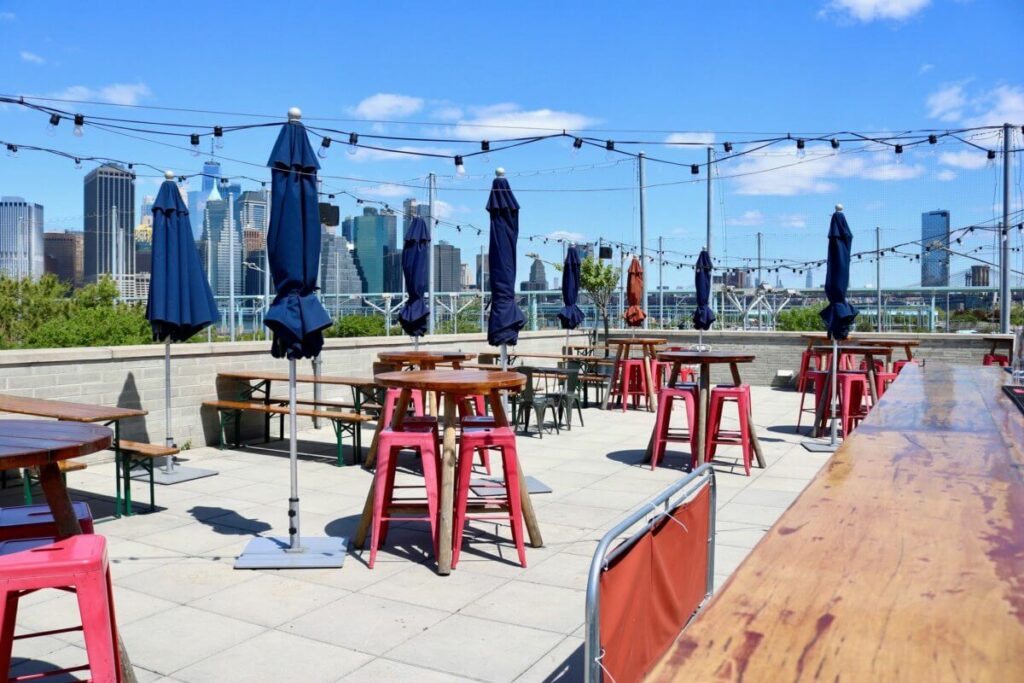 5. Rooftop Reds
Neighborhood: Brooklyn Navy Yard
Capacity: 75
Rooftop Reds has unique bragging rights: it's the first and only rooftop vineyard in NYC. New York State has a robust viticulture industry, although it's usually associated with Long Island or upstate. Enter this 14,800 square-foot rooftop for a touch of wine country in the city. Your 75 guests will love sitting and socializing amongst the vines, but they're not just for show—this is very much a working winery. Finger Lakes industry leaders and Cornell University have helped create a rooftop terroir with a custom planter system that yields 20-25 cases of wine a year. In honor of summer make sure to try their Dry Rosé vintage. Its white peach aroma with notes of bright citrus is easy on the senses as you take in the views.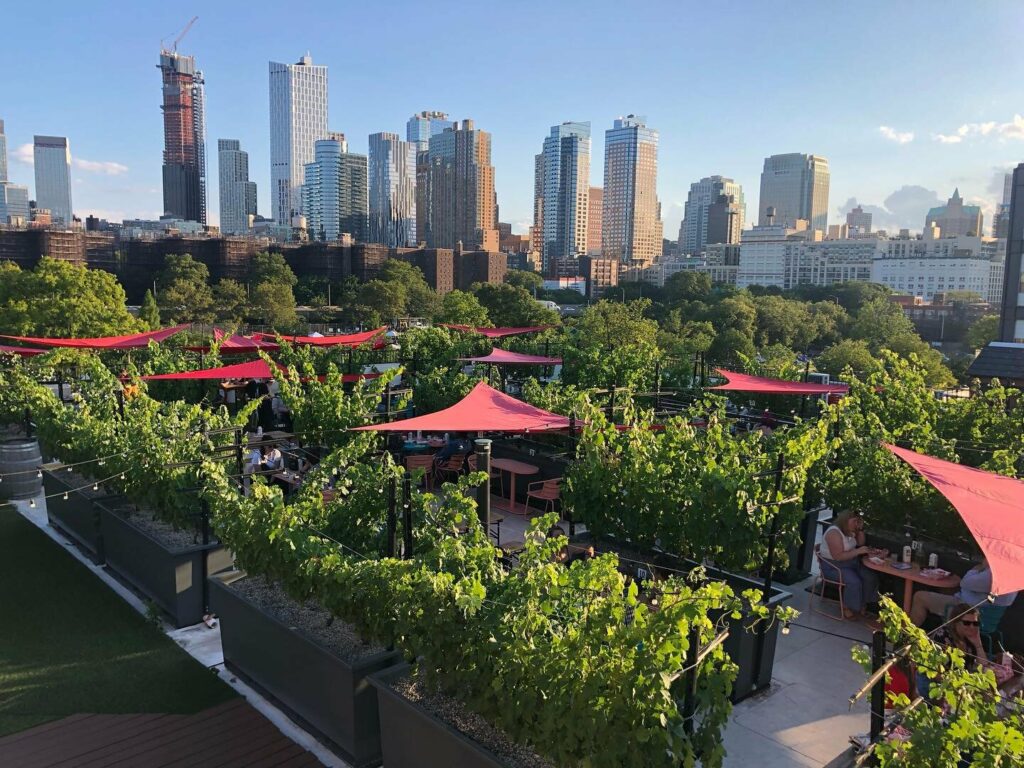 Need something a bit bigger? Go Big With Your Event at One of These Large Event Venues in Brooklyn!
6. Elsewhere
Neighborhood: Bushwick
Capacity: 500
Elsewhere is a multi-room music, nightclub, and arts space that brings together a motley mix. They proudly welcome "rockstars and rappers, metalheads and ravers, vinyl nerds and punks, folk singers, old-school house heads, baile funk crowds, hyperpop producers, and probably anything else." Their rooftop–open seasonally from May to October–reflects the buzzy energy of the complex and hosts an assortment of open-air events for up to 500, with music usually at the core. The sunset views do not disappoint whatever your musical tastes.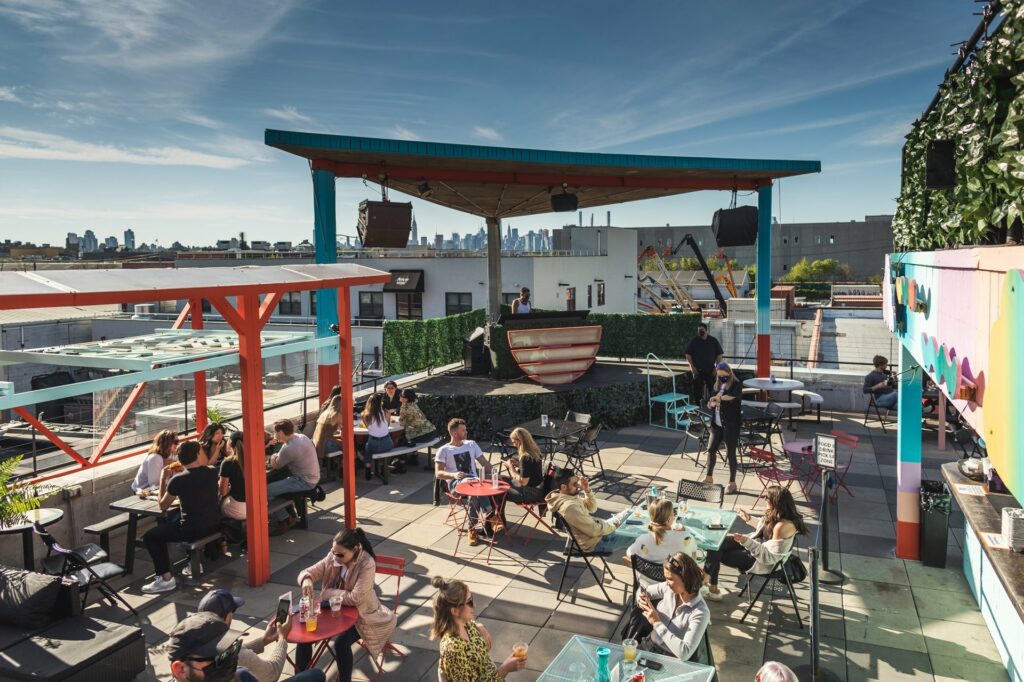 7. The Rooftop at the Williamsburg Hotel
Neighborhood: Williamsburg
Capacity: 250
The boutique Williamsburg Hotel is a quintessential Brooklyn destination, down to the bespoke lobby wallpaper by Beastie Boy Mike D. It features iconic borough scenes and figures, from the Notorious B.I.G. to Nathan's Hot Dog Stand. However, head to The Rooftop Bar & Pool Lounge and you'll arguably get a hint of SoCal. The pool takes center stage, surrounded by luxury striped sunbeds and clamshell-shaped cabanas. The aesthetic evokes a Slim Aarons vibe, and craft cocktails and alfresco bites compliment the breezy atmosphere. While there's a Water Tower Bar accessed via the roof–a very New York image–the rooftop itself is a perfect combination of Brooklyn and Beverly Hills for your event of 250.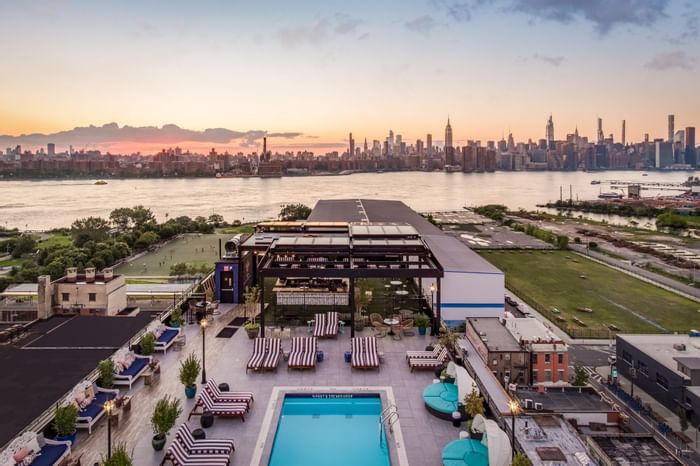 8. Brooklyn Grange
Neighborhood: Brooklyn Navy Yard
Capacity: Contact for more info
Brooklyn Grange brings farm-to-table and sustainable urban living to the borough. Their operation is impressive to say the least, and while it's worth an extracurricular deep dive on your own, here are some fast facts: It encompasses 5.6 acres of farms across three rooftops and yields over 100,000 pounds of organically-grown produce each year. They're community and environmentally minded and really pay it forward. When it comes to events you also can't go wrong, whether you opt for the Brooklyn Navy Yard or Sunset Park location. Private workshops, dinner parties, and team retreats are popular here, but it's not hard to see why this has become a coveted wedding destination. The combo of sunflowers and skylines is wedding hashtag-friendly.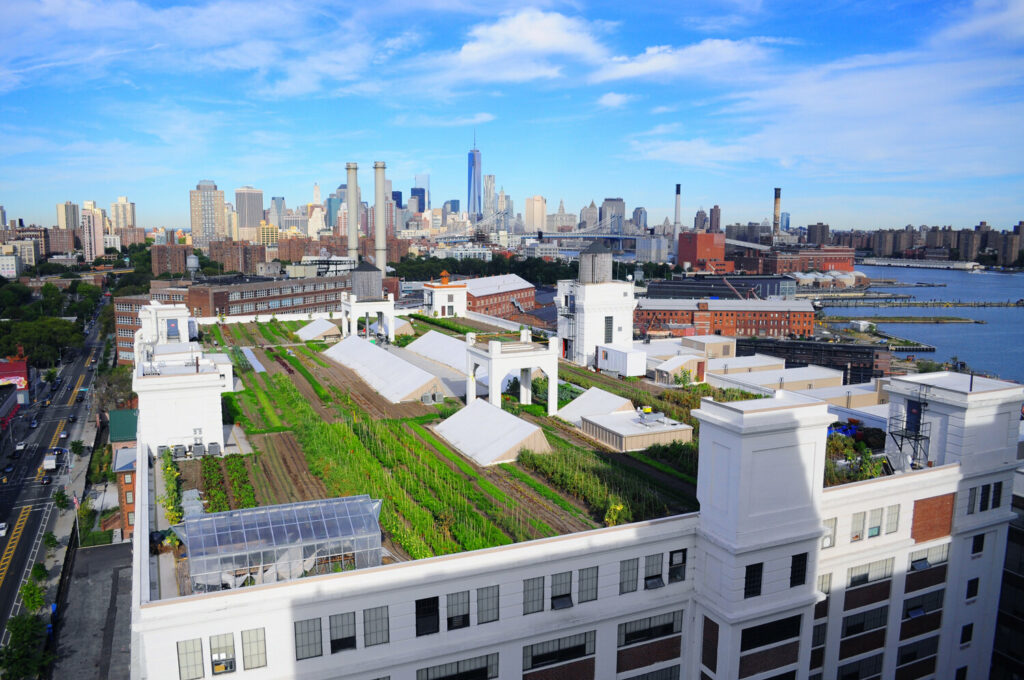 9. Kimoto Rooftop
Neighborhood: Downtown Brooklyn
Capacity: 250
Kimoto seeks to elevate the senses through Asian-inspired food, drink, and design. The name refers to a particular Japanese brewing method, or it appears as a surname which translates to "one who lives beneath the trees." Kimota highlights both those definitions with its beverages and garden lounge setting. The 5,000 square-foot venue is spread out over the Sheraton and Aloft Hotels, and up to 250 patrons can enjoy the flower and graffiti wall art, gorgeous views, and live DJ. It's all about "American comfort food through an Asian lens in a Zen garden setting" here, a welcome respite above the downtown area. That said, it's a great place for a lively party.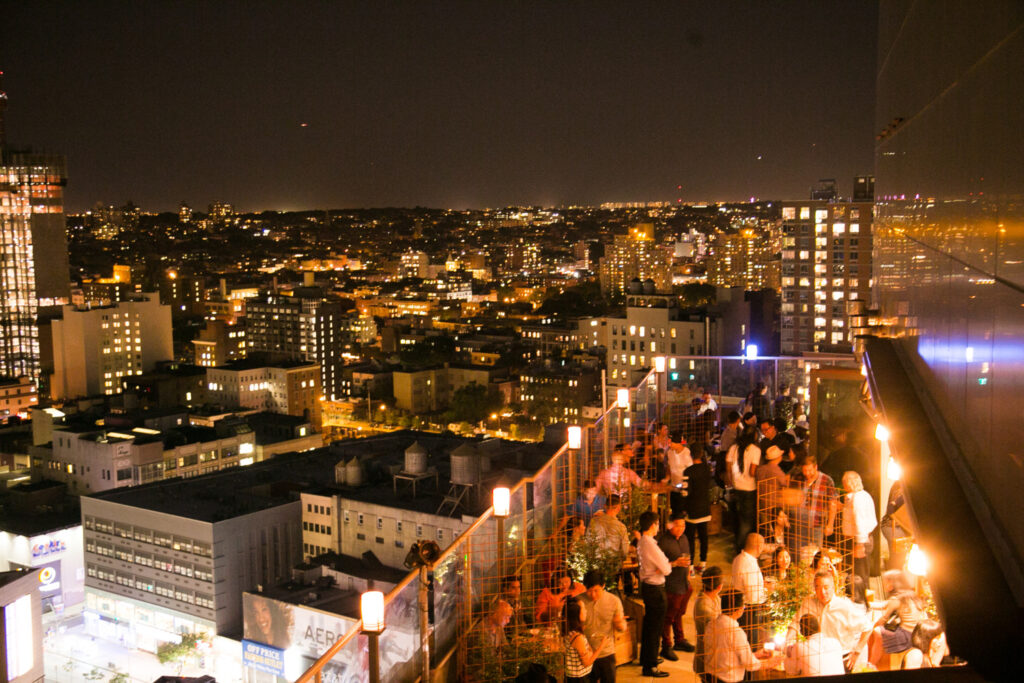 10. Laser Wolf
Neighborhood: Williamsburg
Capacity: Contact for More Info
If you've seen the iconic musical Fiddler on the Roof then you'll remember Lazar Wolf, the village baker. The Laser Wolf moniker is a nod to that character, and the place itself offers up the very best in Israeli cuisine. It's a "shipudiya" or "skewer house." The menu is centered on the ancient and customary charcoal grill cooking technique. It's said finding a shipudiya in Tel Aviv is as hard as finding a pizzeria in New York. Sip on a "Get Shishlik'd" (literally "Get Skewered") and nibble on brisket kebab while taking in city views. Situated atop The Hoxton, this place is a carnivore's dream. However, the veggies are equally delicious for your event's more plant-focused guests.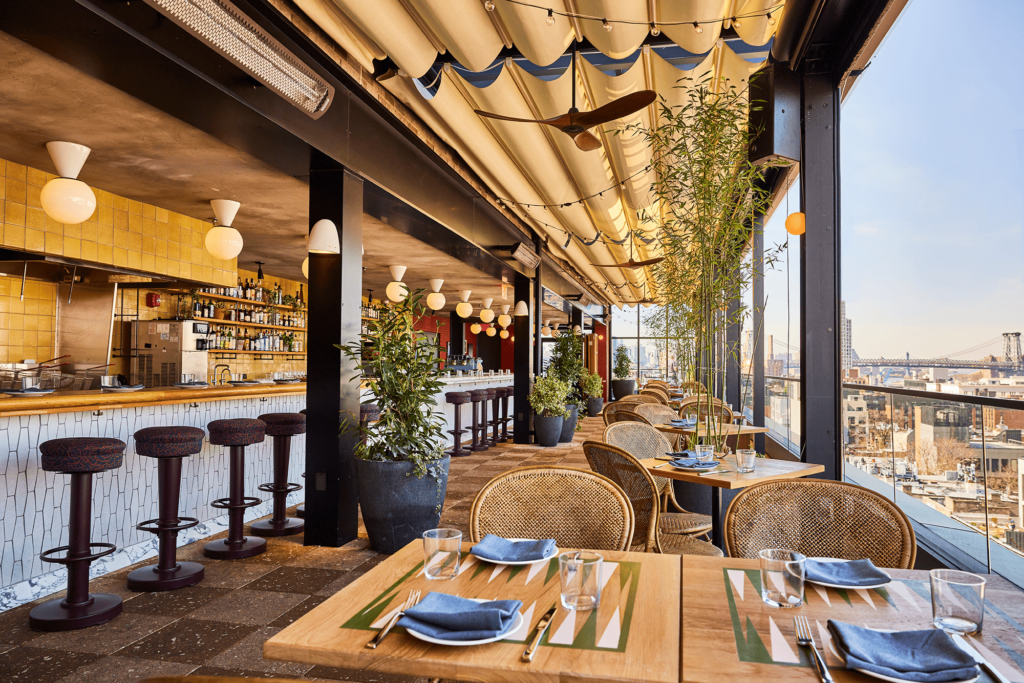 11. LoHi
Neighborhood: East Williamsburg/Bushwick
Capacity: Contact for More Info
LoHi is the perfect place for a relaxed party, be it a corporate event, birthday, content release shindig, or art opening. The roofdeck is 3,000 square-feet and the inside space adds an extra 2,000. The views out over the borough are impressive enough that this spot is also used as a film/space rental. It's all very Brooklyn in the best way possible, down to the Edison string lights.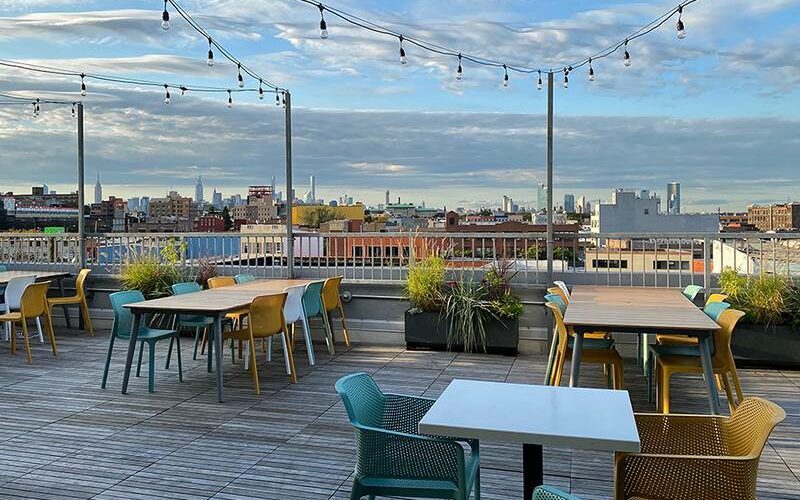 12. Alma
Neighborhood: Cobble Hill
Capacity: Contact for More Info
Alma is a landmark Mexican restaurant which has been attracting Brooklynites for twenty years. The seasonal rooftop dining area looks right over the East River with the lower Manhattan skyline front-and-center. The food is delicious to say the least and caters to omnivores, vegans, and everyone in between. Their tequila and mezcal selection is also much-appreciated by patrons from all boroughs—the signature frozen margarita is the perfect way to cool off at any summer event.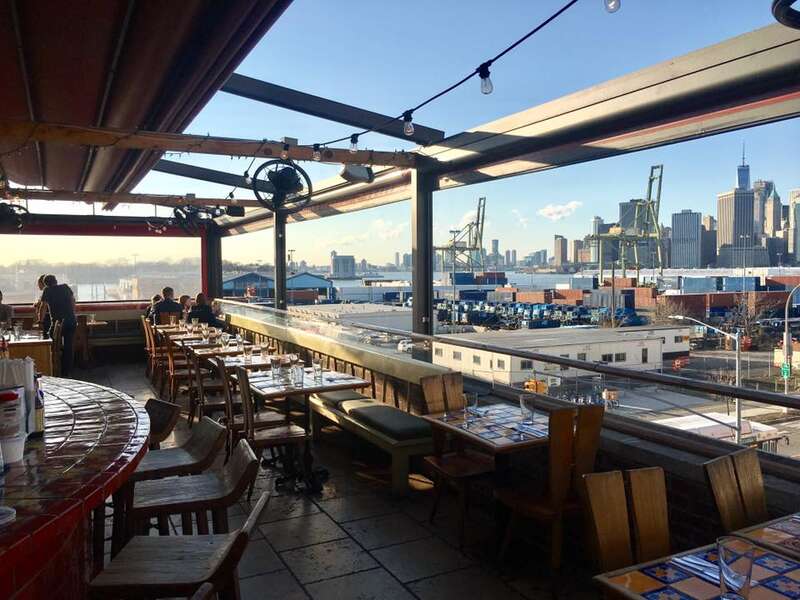 The Importance of Finding the Perfect Venue
As an industry professional, you are spoilt for choice with New York City. There really is the perfect place for any type of event, but one of the hardest parts of the process can ironically be narrowing down the list. The Vendry is here to help streamline that process from start to finish.
The Top Things to Consider when Booking a Rooftop Event Space
Booking a rooftop event space involves a thought process that has a lot of overlap with any other venue booking. There's location, budget, etc. Other things to always keep in mind:
Catering: In-house or provide your own? Are there minimums?
Season/Climate: Some rooftop venues are only open seasonally, and those that are open year-round vary in terms of heating/AC. We can't control the weather, but if your event is weather-dependent make sure there's some covered options. While rain may not seem ideal it can actually be really cozy and atmospheric looking out over a cloudy urban landscape, so don't fret if the day calls for rain.
Transportation: You don't need to build an event around a subway stop, but proximity is nice to take into consideration with New York venues in general. One of the big perks of NYC events is that parking isn't usually a stressor.
Find the Best Rooftop Event Spaces on The Vendry
The Vendry has been thrilled to help event industry professionals bring myriad events to fruition. Rooftop venues are a particular favorite for planners and clients alike, and we are here to help you get started on your venue search.
Read More:
Rooftop Venues in Seattle Perfect for Your Next Gathering
Plan Your Next Event at One of the Hottest Rooftops in Atlanta
Fresh Air and Stunning Views at One of These Amazing Rooftop Venues in Boston