Atlanta seems to have it all these days – culture, nightlife, and impressive culinary fare. But even with all its modern-day swagger, nothing beats the vintage hospitality of this Southern city, especially when it comes to throwing events. Planning an event in Atlanta seems to be the right move these days, with all that the city has to offer. The views from any Atlanta rooftop are sure to take your next corporate cocktail party, new product launch, or client appreciation dinner to the next level, literally. Rooftop events provide exclusivity, bring in the fresh air of the outdoors, and give your guests an unbeatable vista sure to be talked about for years to come. Explore The Vendry's finds for the hottest up-in-the-air rooftop spots ATL has to offer. Afterall, the sky's the limit!
The 15 Best Rooftops in Atlanta
From city chic to Southern charm, these rooftop venues in Atlanta provide your guests with sweeping views of the city and beyond. Read below to find the spot best suited for your next company get-together.
1. Estrella
Neighborhood: Old Fourth Ward
Capacity: 150
High aloft the upscale Parisian-inspired market Bazati, Estrella is a world away, offering up a unique Latin American vibe in the Old Fourth Ward neighborhood. Estrella means "star" in Spanish, and its aesthetic lives up to its name. The fresh-squeezed margaritas flow in this space of white, crisp lines, as Latin music fills the air. Your guests will enjoy the third floor view of Atlanta's soft canopy of trees, and the Eastside BeltLine trail below. Voted "best rooftop" by the Atlanta Journal-Constitution several years in a row, Estrella is the perfect spot for client cocktail event or wrap party.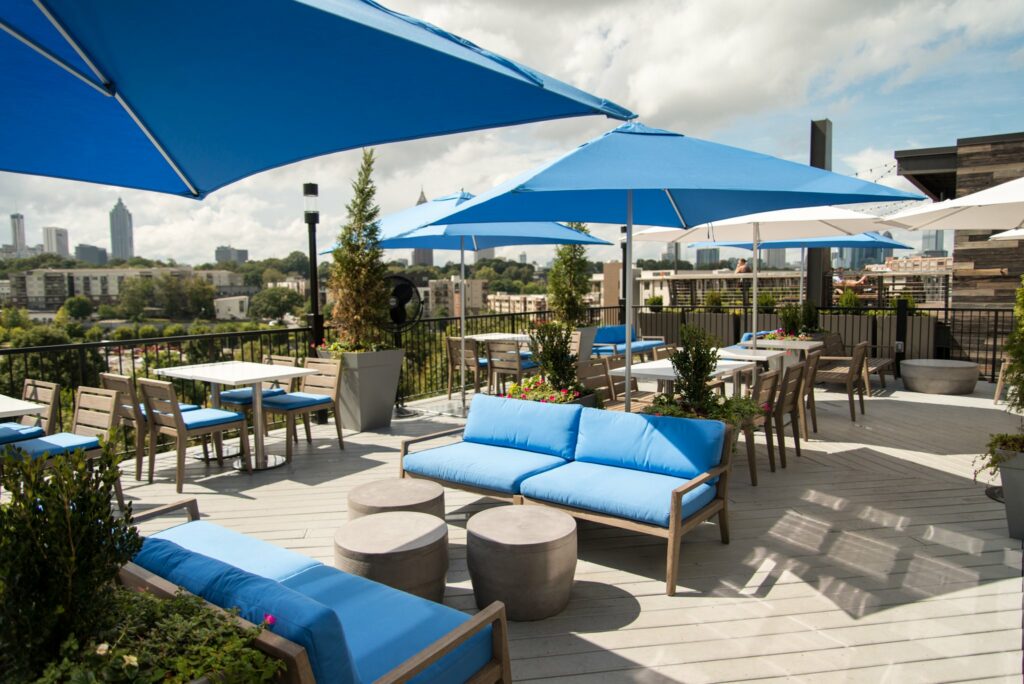 2. Grana
Neighborhood: Piedmont Heights
Capacity: 100
A perfect spot for a luncheon event or company cocktail hour, Grana offers up "peasant cookery" of southern Italy with wood-fired Neapolitan pizzas and homemade pastas, all within an industrial-chic, rooftop setting. No worry on the temperature, as Grana's top floor rooftop is heated and outfitted with cozy firepits. Allow your guests to enjoy this Italian culinary fare served up by Executive Chef Pat Pascarella, who once ran restaurants all over the East Coast, offering meatball flights and build-your-own cannoli desserts.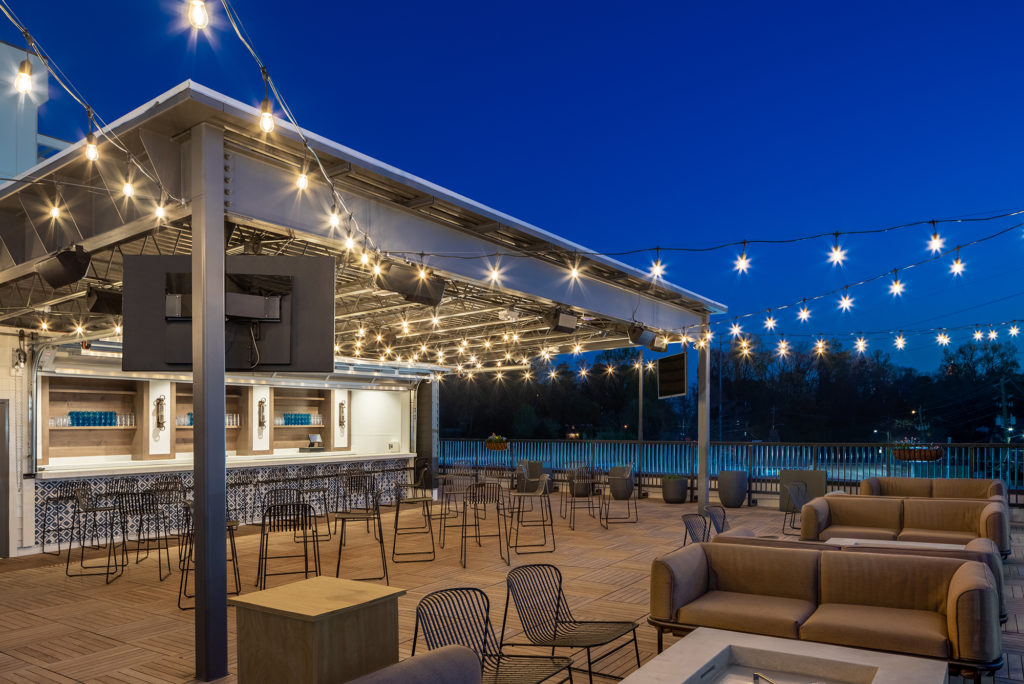 3. Whiskey Blue
Neighborhood: Buckhead
Capacity: 300
Perched atop the sleek Hotel Colee, Whiskey Blue is a rooftop locale offering an indoor/outdoor experience with two rooftop spaces. The Atlanta Terrace can seat ten guests, with 50 standing, and showcases remarkable views of Downtown. The Buckhead Terrace seats 50, or 75 guests for cocktails, and has sweeping views of Peachtree Street and Lenox Mall. Both are on the 12th floor and have enjoyed recent renovations, including a floor-to-ceiling light installation and plush leather couches. Rent out the full venue for 300 people, inviting all your guests to enjoy their locally brewed craft beers and lite bites.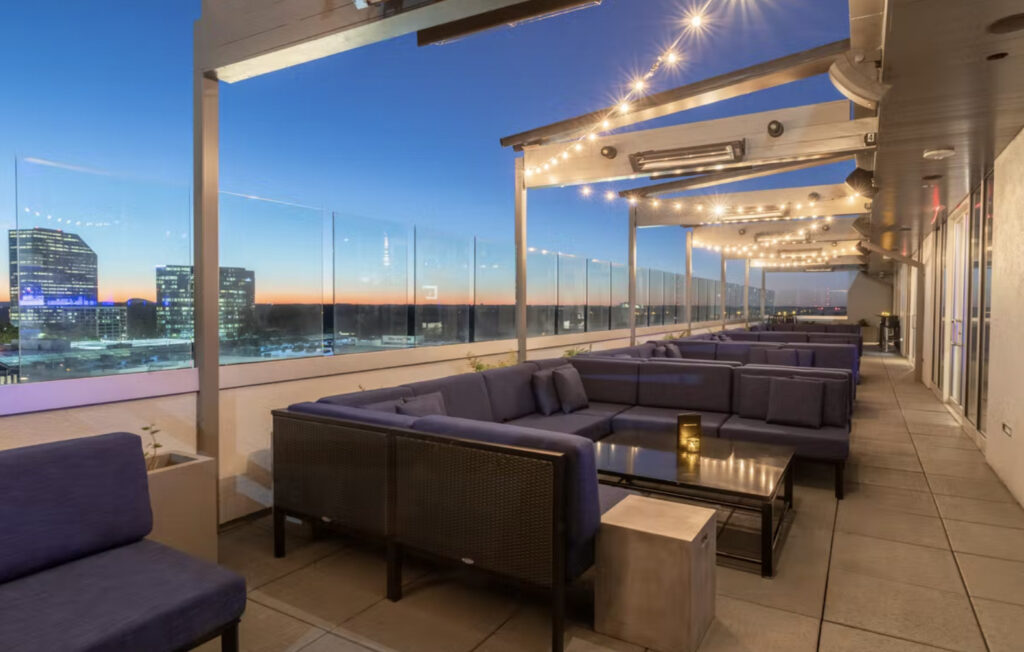 4. New Realm Brewing Company
Neighborhood: Old Fourth Ward
Capacity: 170
If your team is ready to end their work day in a casual atmosphere, or you need a rock solid, well-oiled space to host your next client cocktail event, New Realm Brewing Company is your spot. Their rooftop terrace has panoramic views of the BeltLine and Atlanta skyline, as well as audio/visual capabilities with five, large-screen televisions. Their rooftop is heated, so not to worry if the Atlanta evening gets a little chilly. All this and the beer…oh the beer. If you are throwing an event, you'll be delighted at the large menu, full of their award-winning pilsners and classic IPAs. Top it off with choices from Chef Jonathan McDowell's "approachable" menu that draws from Atlanta's diverse food scene, and you've made a memorable night for your employees or clients.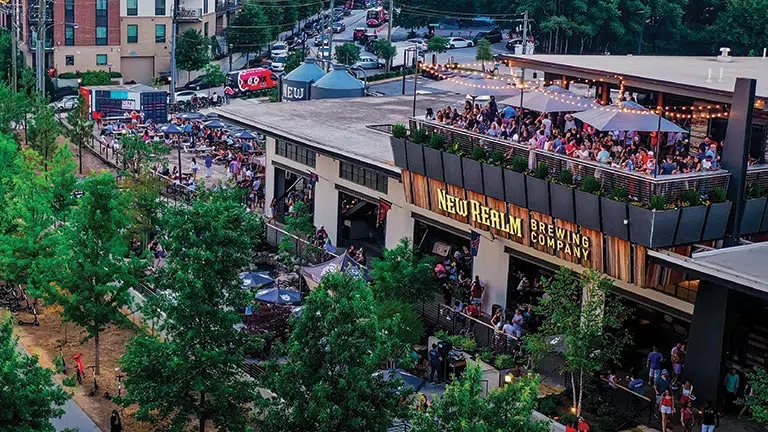 Ever wonder what it take to be an event planner? Well, first read What Type of Event Planners Are there? Find Your Niche and learn the ins and outs!
5. SkyLounge
Neighborhood: Downtown
Capacity: 150
Just as the name suggests, SkyLounge will genuinely elevate your next corporate outing, wrap party, or clientele cocktail event. Pleasantly striking the balance between city chic and Southern front porch, this rooftop bar located atop the Glenn Hotel in downtown Atlanta has breathtaking views. Rest easy planning your event here, as most of this 2,000 square-foot rooftop is covered with an awning, and even has panels that can close off the space. There's valet parking, an exclusive elevator entrance, and a 75" television perfect for presentations. Your menu will be well curated, as Glenn's Kitchen within the hotel serves up new American cuisine with a Southern flair, as well as crowd-pleasing craft cocktails.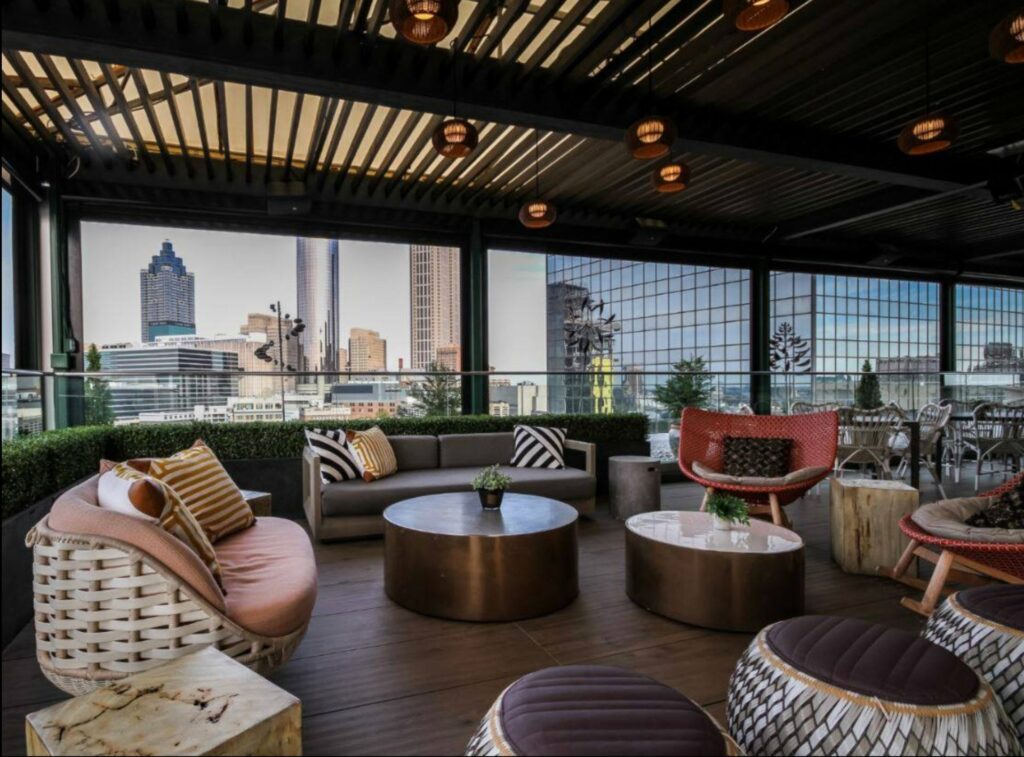 Make your event an unforgettable experience! Browse the top experiential agencies in Atlanta.
6. Nine Mile Station
Neighborhood: Old Fourth Ward
Capacity: 400
Located in the heart of Atlanta, 9 Mile Station can host an intimate party of 40, to a large business presentation of 400. This popular destination sits on the top floor of the famed Ponce City Market, and offers an indoor/outdoor space with unobstructed views of the Atlanta cityscape, from Downtown to Buckhead. Lush trees and clean lines make this space feel very welcoming. Your clients will revel in 9 Mile Station's offerings of New American Food, craft beer, an expansive wine list, and crafted cocktails.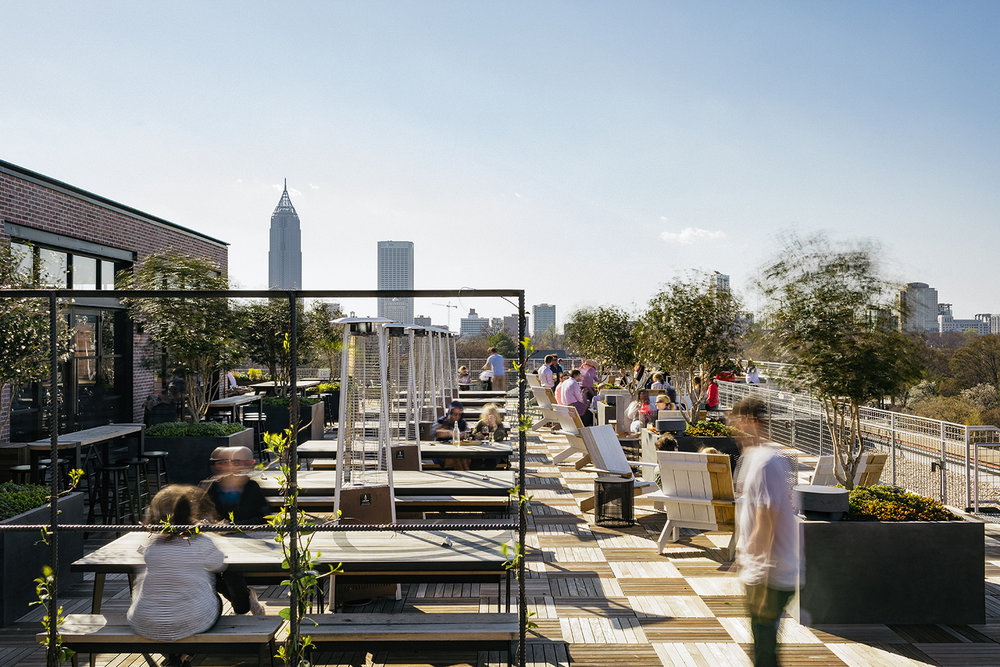 7. The Warren City Club
Neighborhood: Virginia-Highland
Capacity: 150
A mainstay on the Atlanta signature dining scene since 2003, The Warren City Club is located above the hustle and bustle of the crowd in the Virginia-Highland neighborhood. Their pretty rooftop terrace, located on the third floor, offers up views of the city skyline and creates a perfect backdrop for a business lunch or client meeting. While The Warren City Club is a private club, the public is welcome to rent out its facilities, as their talented and experienced staff is happy to work with you and your event's needs. Their indoor/outdoor optionality proves to be a great spot for an offsite business meeting or team building event. The Warren gives a classic Atlanta experience with simply awesome views.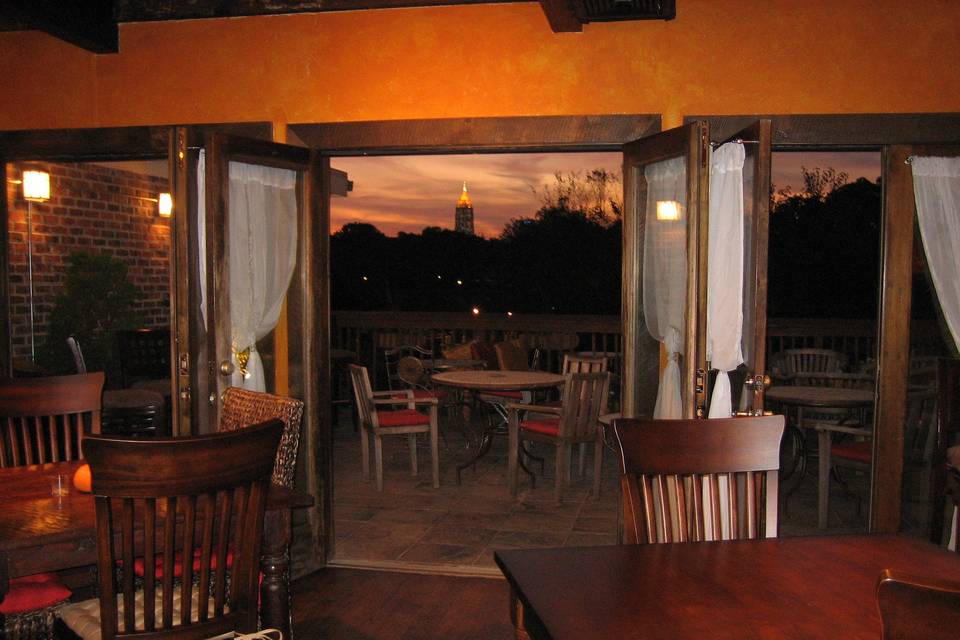 8. Sun Dial Restaurant, The View
Neighborhood: Downtown
Capacity: 120
If your main objective is to impress, then this is the place. Boasting unreal views of Atlanta without the worry of inclement weather, Sun Dial Restaurant's "The View" will blow away your guests. While this space is completely enclosed, not a single guest will mind as they float 72 floors above downtown Atlanta. The Sun Dial calls The Westin Peachtree Plaza home, and is truly Atlanta fine dining at its best. The restaurant itself is technically three levels, but The View is the space to write home about, accommodating 50-120 guests, and offering eight viewing platforms. And the food is just as remarkable as the view.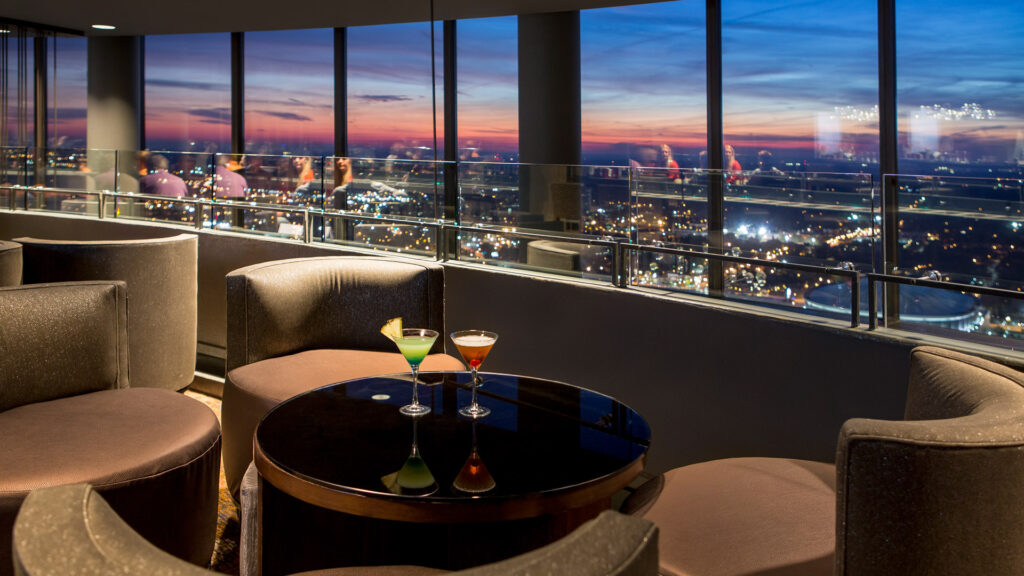 9. O-Ku
Neighborhood: West Midtown
Capacity: 50
Simple. Clean. Delicious. O-Ku Atlanta is an innovative and fresh take on Japanese cuisine, situated in the West Midtown neighborhood. This spot stands out because its offerings are rare and its rooftop is easy. The space is enclosed but lets the outdoors in, and can hold up to 50 guests for your next client cocktail party. Executive Chef Masatomo Hamaya sources seafood from the finest fish markets in Tokyo and Hawaii and pairs them with local ingredients, for memorable sashimi and specialty rolls.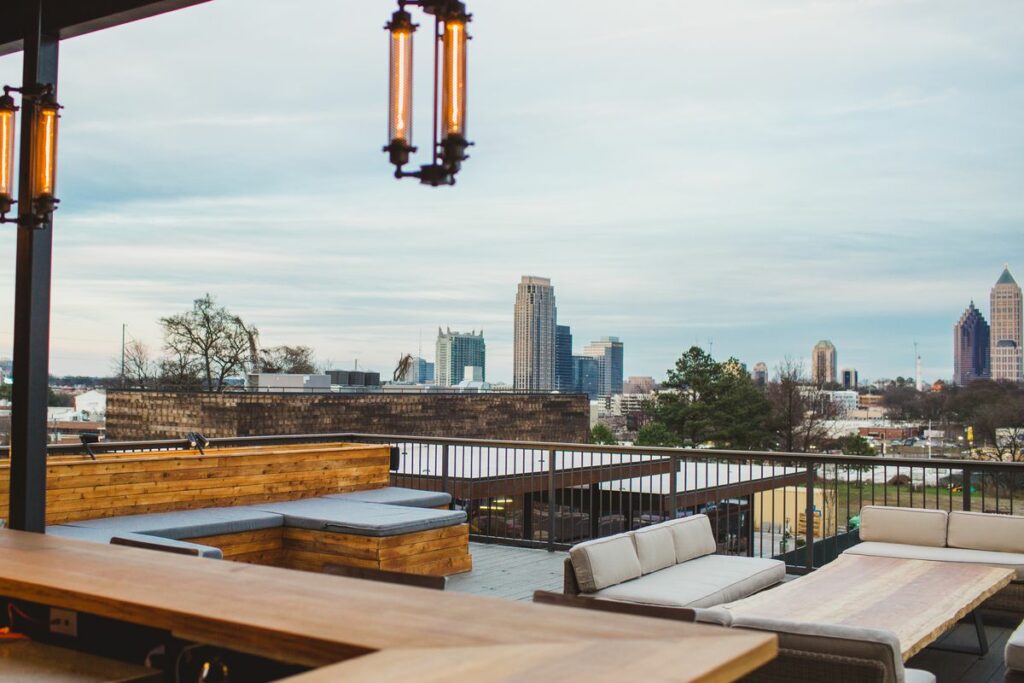 10. The ROOF at Ponce City Market
Neighborhood: Old Fourth Ward
Capacity: 2,000
Looking to host a large scale event on a rooftop? Look no further than The ROOF at Ponce City Market, as this spot lives to host corporate outings. Boasting a breathtaking perspective of Atlanta's three skylines (Buckhead, Downtown, and Midtown), a "wonderland" awaits here, with food, drinks, and even an entertaining amusement park. Due to its large size and unique offerings, networking events and off-site meetings can be a snap, as the pros at The ROOF offer dynamite food and beverage, in-house tables and chairs, linens, and built-in activities (like mini golf) all in one spot. If you can dream it for 2,000 guests, The ROOF can make it happen.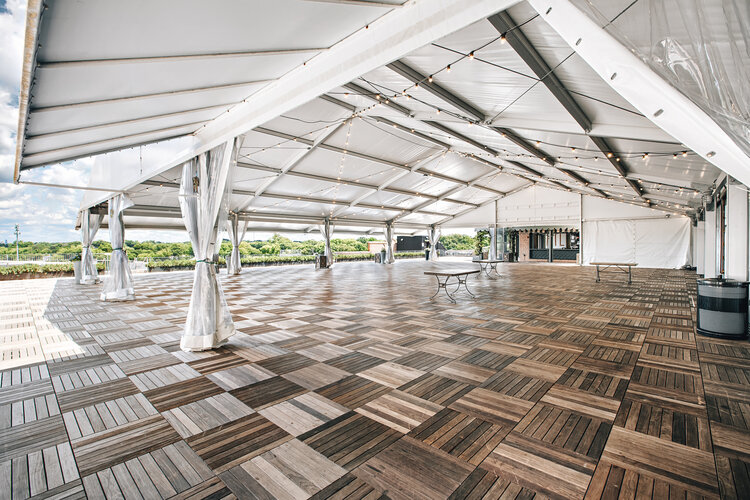 11. Ventanas
Neighborhood: Downtown
Capacity: 300
Ventanas is a premier event space in Downtown Atlanta, high atop the Hilton Garden Inn Hotel, complete with a truly glamorous vibe perfect for networking events or formal business dinners. Situated on the 14th and 15th floors, Ventanas makes an impression with its 10,000 square feet of combined indoor/outdoor space with rooftop access, creating room for 550 guests. It can be argued Ventanas is in a perfect locale, as it is just steps away from the CNN Center, Mercedes-Benz Stadium, Philips Arena, and Georgia World Congress Center.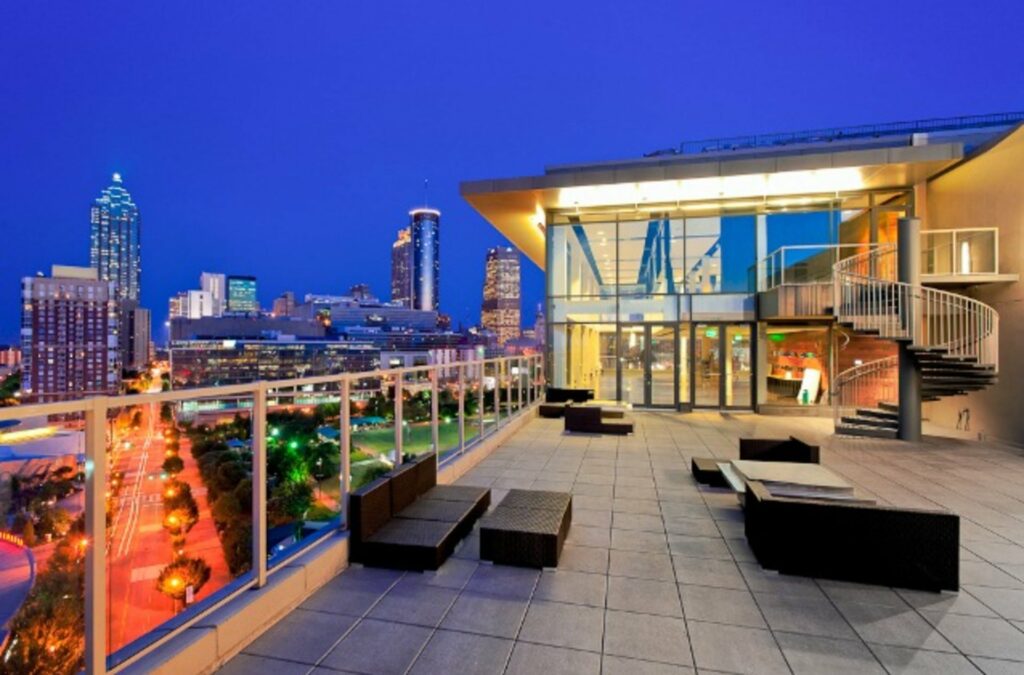 12. High Note Rooftop Bar
Neighborhood: Midtown
Capacity: 40
If you are going for a laid-back vibe with elegant undertones for your event, take a look at High Note, an upscale rooftop in Midtown connecting the AC Hotel and Moxy Atlanta Midtown Hotel, located on the 6th floor. Invite guests to enjoy the open-air seating in overstuffed sofas, as they sip quirky cocktails like the "Patio Pounder" and "Probably Wrong". This is a popular spot between the two hotels, so be sure to book well in advance.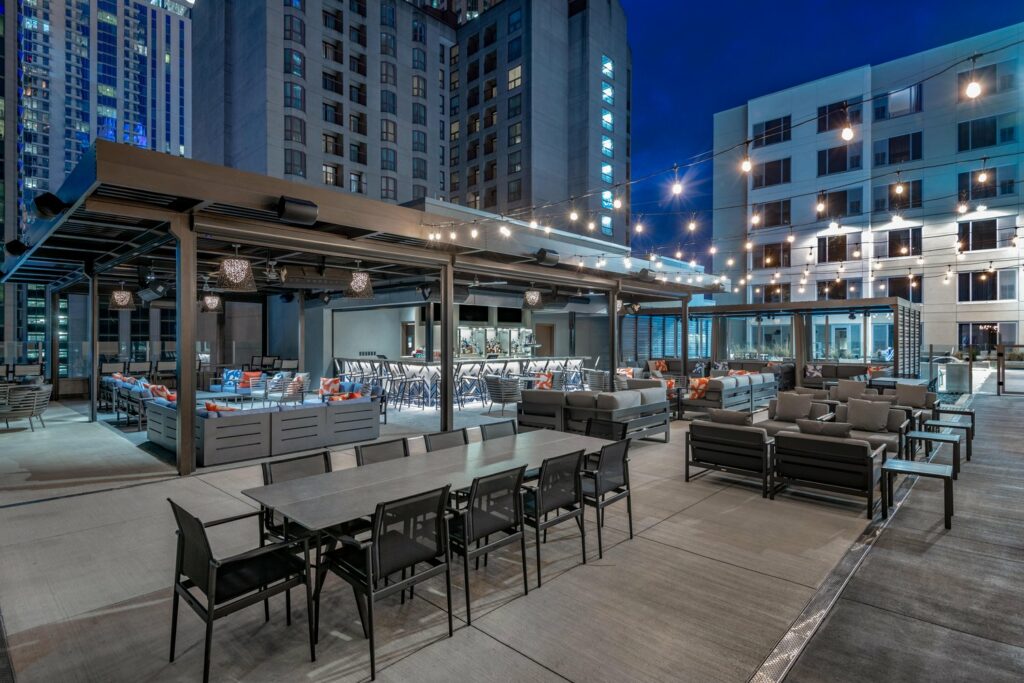 13. Drawbar at Bellyard
Neighborhood: Interlock, West Midtown
Capacity: 62
Up on the third floor of the Bellyard West Midtown Atlanta Hotel, you'll find Drawbar, a perfect spot to host a client cocktail event or employee outing. Fantastic views of the Atlanta skyline abound over the terrace which seats us to 62 guests. The indoor/outdoor capability of this chic space makes it desirable, while the 250+ spirits featured on the menu keep people coming back. Think about this place to host your next morning meeting, as its open early for delicious, eye-opening breakfasts as soon as 6:30 a.m.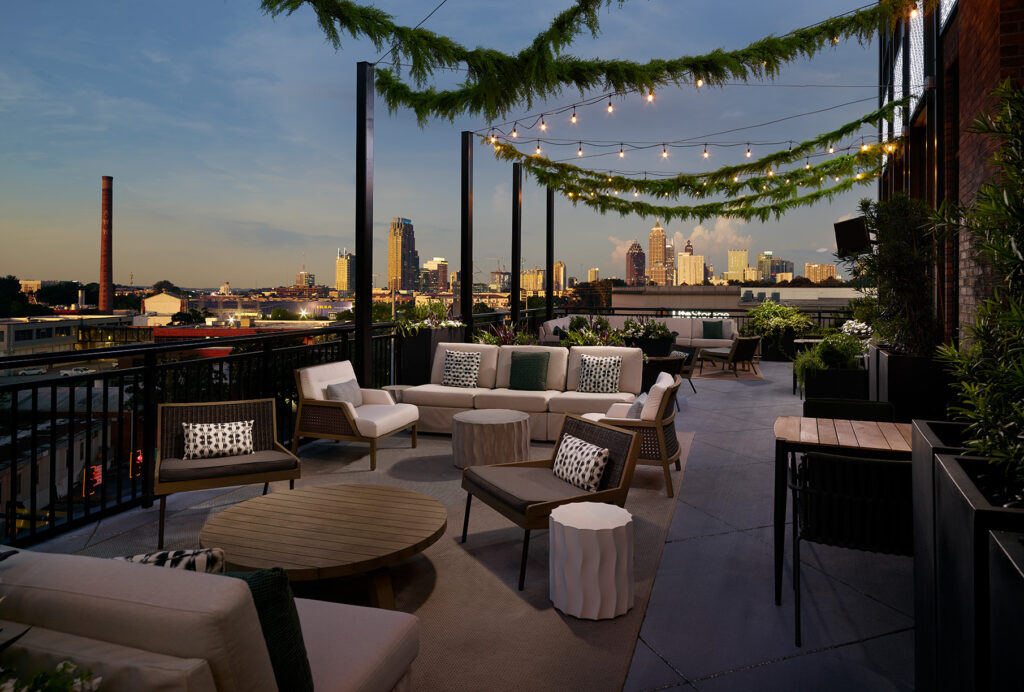 14. Gypsy Kitchen
Neighborhood: Buckhead
Capacity: 300
Gypsy Kitchen should top your list of venues if hosting a lively and fun event is your priority. Flamenco music delightfully hangs in the air at this buzzy, expansive rooftop in Buckhead. Sweeping views of Peachtree Street set the tone for this colorful indoor/outdoor venue, which serves up Spanish fare accented with flavors from Morocco and India. The Tapas-style food always inspires people to mingle, if the festive atmosphere and sangria by the carafe hasn't taken care of that already. You can use the patio for your event of 75, or rent out the entire restaurant for 300.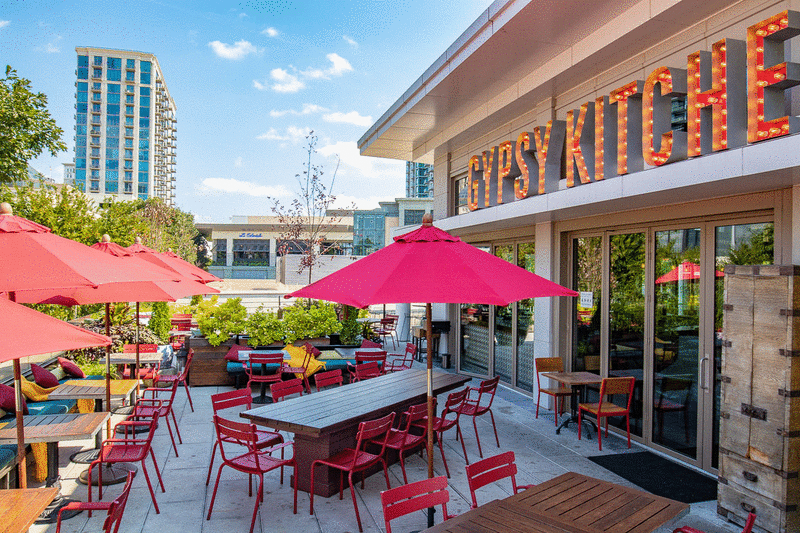 15. St. Julep
Neighborhood: Buckhead
Capacity: 80
Sitting high atop the ninth floor of the Kimpton Sylvan Hotel, St. Julep is truly the space to take your event to the next level. Planning an evening at this playfully detailed hotspot in Buckhead is truly a stress-free affair, as their indoor/outdoor option ensures your meeting or cocktail event happens seamlessly – no matter the skies. At almost 1,000 colorful square feet of workable space, St. Julep is the place for your upcoming networking event. 
Why Finding the Right Venue for Your Event is So Important
Choosing Atlanta as the host city for your employee outing or client event was the easy part — now landing on the right venue is the next big step. Before you book your venue, be certain your Atlanta event space can accommodate the number of guests you plan to have, and is simple for your guests to get to and find. What about connectivity? Will all your guests need access to Wi-Fi? Be sure your tech needs are met, both for your guests and your audio/visual must-haves. In the case stormy weather rolls in, connect with your venue on what the plan will be, or what measures they already have in place. The right venue sets the tone. While in Atlanta, you'll want to set the right one. 
When Should You Consider Booking a Rooftop Venue?
A rooftop event in Atlanta is going to be a unique experience all on its own. When you book a rooftop event, your customers or employees will be swept up and away from the busy streets of Atlanta. This might lead to a sense of exclusivity – a feeling that you have gone above and beyond to show them what their loyalty means to your company. In this day and age, many guests might very well welcome an outdoor event, where fresh air is abundant and guests can spread out. In most parts of the country, hosting an outdoor event can be dicey, but the warm temperatures of Atlanta prove that good weather will likely be on your side. And, honestly, aren't rooftop venues simply more fun? You can be more playful with the décor, drinks, food, and activities when you are perched high above a cityscape.
Important Factors to Consider When Booking A Rooftop Space
Event venues are no small expense. The space, the drinks, the food, and the rentals will cost your company, so choosing wisely makes all the difference to your bottom line. The right venue will set the tone of your meeting or event, so be judicious. Consider the following:
Capacity: Is your spot big enough to hold all your guests?
Décor: Does your venue give off the tone your company wants to set?
Locale: Is your rooftop easy to get to? Have its own elevator? Is there parking nearby?
Amenities: Is your venue ready to roll with linens? Rentals? Tech? Audio/visual?
Preparedness: Should bad weather roll in, is your venue ready? What is their cancellation policy?
Find Rooftop Venues on The Vendry
It's hard to go wrong in Atlanta with all the plentiful rooftop options, but it can be daunting to know where to start. Visit The Vendry to check out vendors, transportation, and venues around Atlanta. Start finding your perfect venue today. Filter by items like neighborhood or ambiance, and get a head start on being in the know. 
Read More:
The Best Large Venues in Atlanta
The Best Private Dining Rooms in Atlanta for Team Outings
Soak in the Sun at One of the Top Rooftop Bar Venues in Washington D.C.