The Mile High City is known for its lively arts and culture scene, 300 days of annual sunshine, and proximity to the mountains (hence the gorgeous views!). With so much going in in Denver, it's no wonder it's become a hot spot for hosting large events, from conferences to networking events to charity galas and more. Plus, Denver International Airport is one of the busiest airports in America, so getting to Colorado's capitol city should be convenient for out-of-town guests. Event venues in Denver are popping up left and right, making this an amazing event destination.
13 Fabulous Large Venues in Denver for Your Next Big Event
Whether you want your event to have a turn-of-the-century industrial vibe, artsy flair, or something more modern, there's bound to be a venue that fits your vision. We know finding a venue that checks all the boxes for your event isn't easy, so we've got you covered with this roundup of 13 fabulous large event venues in Denver.
1. CoClubs
Neighborhood: Capitol Hill
Capacity: 2,483
CoClubs is a collection of eclectic event spaces located in the lively South of Colfax Nightlife District (SOCO) and near the Denver Art Museum, Colorado History Museum, the Denver Public Library, and the Colorado State Capitol building. CoClubs can accommodate events ranging from 20 people to more than 2,000, and you can rent out individual spaces or do a full venue buyout. The spaces at CoClubs include The Church (seated: 677, standing: 1,354), Club Vinyl (seated: 1,241, standing: 2,483), Milk Bar (seated: 413, standing: 827), Bar Standard (seated: 376, standing: 752), and 1134 Broadway (seated: 287, standing: 475). The spaces include rooftop patios with amazing views, DJs, live music, and an experienced staff to help customize your event experience and making planning a breeze.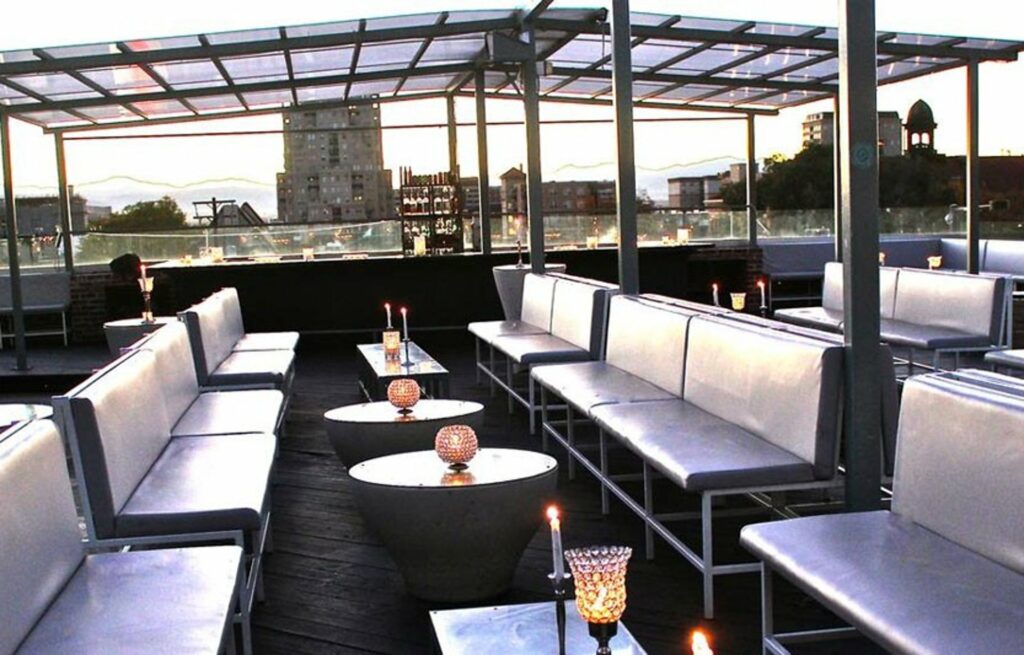 2. Mile High Station
Neighborhood: Auraria/Jefferson Park
Capacity: 1,200
Mile High Station in the TK neighborhood used to be the Midwest Steel and Ironworks building and dates back to 1897 where it used to house hundreds of iron workers and craftsmen. The venue has maintained its industrial architecture with exposed brick and large windows and includes an elevated mezzanine (perfect for cocktail hour!). The venue can accommodate groups ranging from 100 to 1,200 guests and offers parking for more than 200 vehicles. Mile High Station is ideal for corporate events, fundraisers, expos, trade shows, and more large events.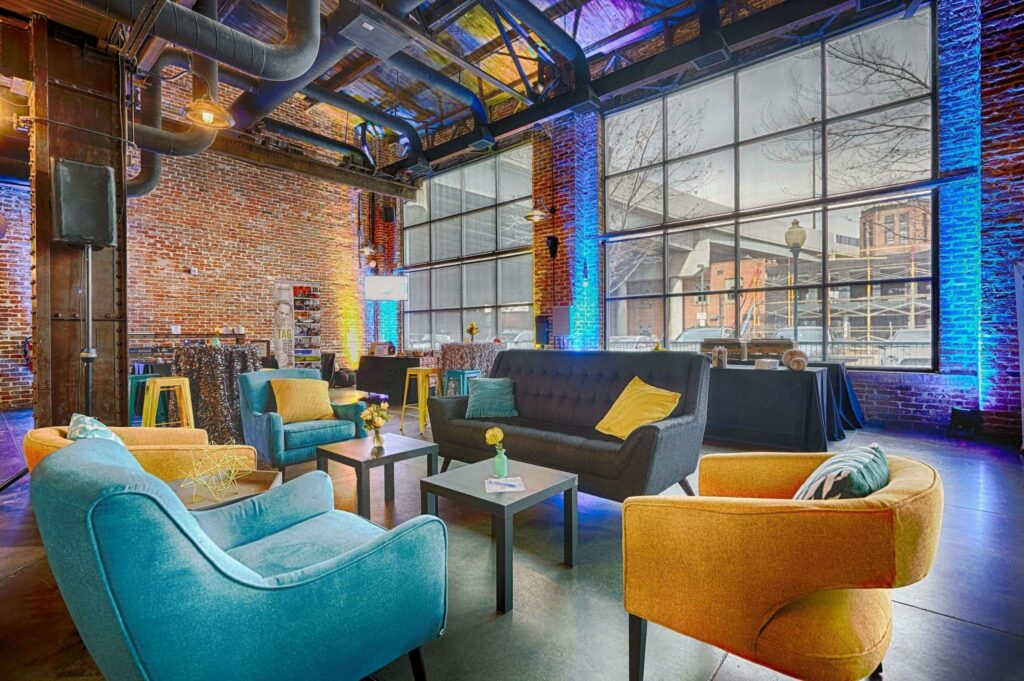 3. Wright Room
Neighborhood: Central Business District
Capacity: 75
The Wright Room is located in the historic Denver Masonic Building downtown, overlooking the city. The space includes two private rooms, the Observatory and the Overlook, but you can also rent both for a combined suite. The full suite is 3,300 square feet and can accomodate 125 people seated and 250+ standing, whether you want your event to be seated or reception style. One perk of hosting your event at the Wright Room is that the owners, who have more than 20 years in hospitality, host each event. The venue also has in-house chefs and complimentary A/V: 109-inch HD projection, six-way stereo with subwoofer, AppleTV, streaming live TV, video conferencing, and more.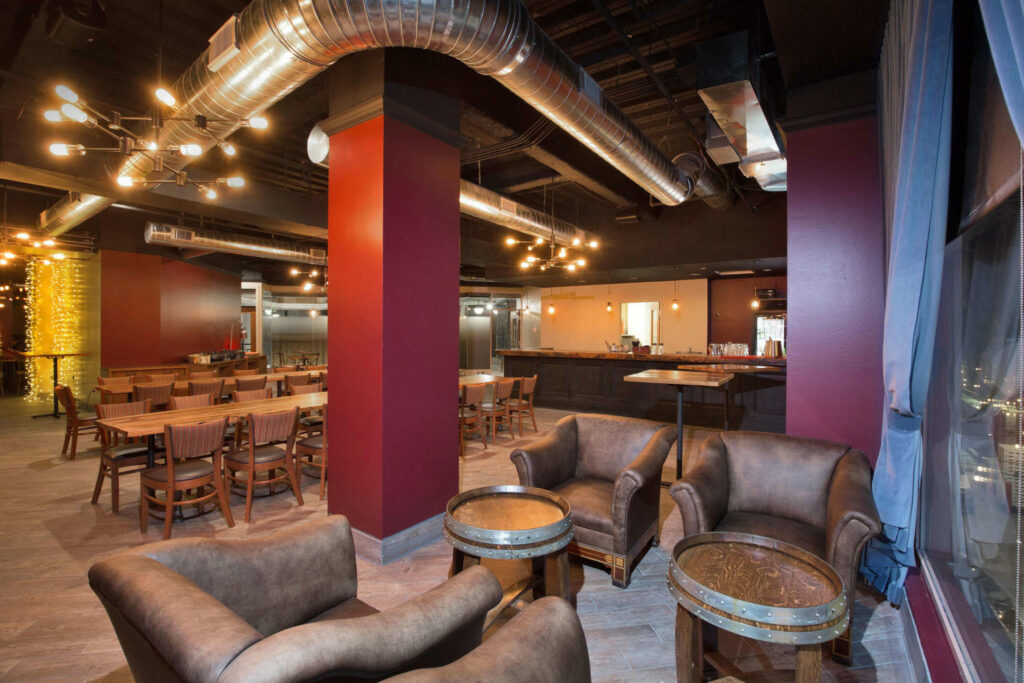 4. Field House
Neighborhood: Sun Valley
Capacity: 317
The Field House in the Sun Valley neighborhood can accommodate up to 255 people theater-style and 317 standing. Although it's a popular spot for weddings, Field House is also well known as a host to corporate events, and even offers discounts for events for 501(3)c nonprofits. The venue boasts 3,200 square feet of an open floor plan, wrap-around bar, evelevated stage, original Douglas Fir beams, garage door windows, and views of the Empower Field at Mile High where the Denver Broncos play. Field House offers rental blocks of eight or 12 hours, lights and sound equipment, four projector screens, room darkening curtains for stage, and welcomes outside caterers. It's located conveniently off 1-25 and public transportation and offers wheelchair accessible and ADA restrooms.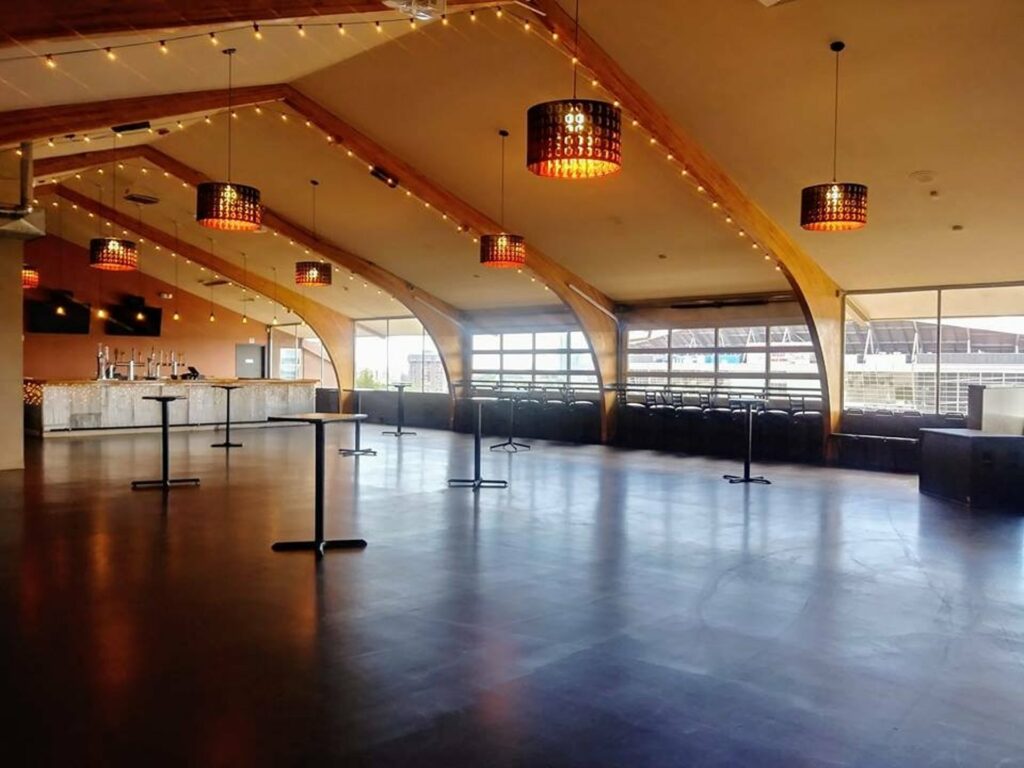 5. Colorado Convention Center
Neighborhood: Downtown
Capacity: 5,000
Colorado Convention Center is the premiere space for large events and hosts more than 250 events a year, from executive board meetings to to large conventions. There are six individual halls available and outdoor terraces that show views of the Rocky Mountains and the Denver skyline. One of the most appealing aspects of the Colorado Convention Center is the Bellco Theater, which seats 5,000 people and is a versatile space. The space boasts 584,000 squar feet of exhibit space on one level, a 35,000 square-foot Four Seasons Ballroom, and 50,000 square-foot Mile High Ballroom. Plus, renting an event includes a staff of their Guest Service Greeters to direct your attendees to the event.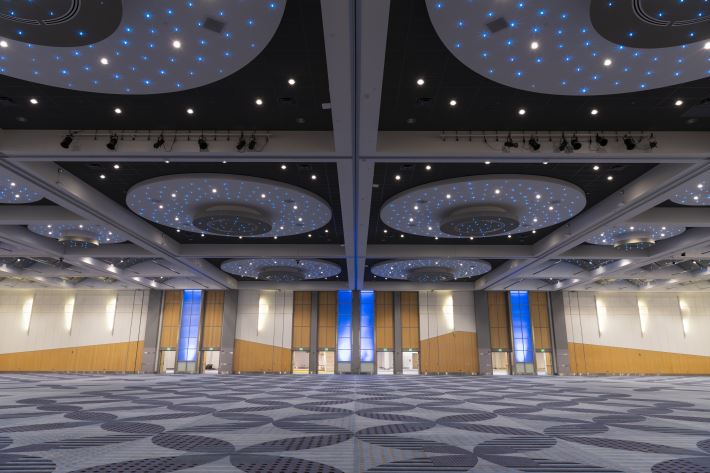 Give your guests the ultimate experience! Browse the top entertainment companies in Denver!
6. Lionsgate Event Center
Neighborhood: Lafayette
Capacity: 450
Lionsgate Event Center is encompasses three elegant spaces: The Gatehouse (350 seated, 450 standing), The Dove House (150 seated, 200 standing), and The Chandelier Barn (110 seated, 130 standing). The Gatehouse is a ballroom with vintage features and an attached garden. The Dove House is a historic 1920s mansion that is surrounded by lush gardens, while The Chandelier Bar is a stunning space with customized vintage chairs, wrought-iron staircase, and 32 hand-crystaled chandeliers. Lionsgate Event Center is a popular location for corporate events and offers catering partners, audio-visual partners, and entertainment.
7. Summit
Neighborhood: Union Station
Capacity: 1,350
Summit is a popular location known for its concerts and musical events, but it also offers full service event production that can host up to 1,200 for a full buyout. The venue is a whopping 12,500 square with a multi-level Music Hall, smaller dining area, and a large bar. For private events, Summit offers state-of-the art lighting and sound, custom menus, and mixology to create an experience your guests will never forget. From corporate events to fundraisers to award ceremonies to weddings, Summit can help you make your event come to life.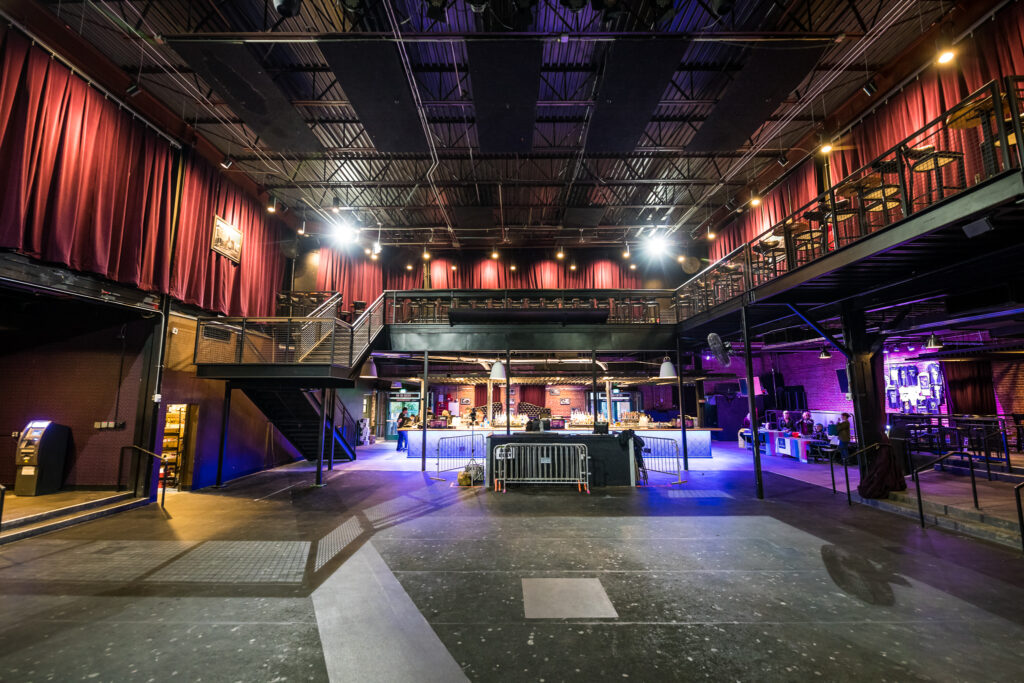 8. The Ritz Carlton Denver
Neighborhood: CBD
Capacity: 500
The Ritz Carlton Denver brings its contemporary aesthetic to the Central Business District, and the stunning ballroom within is no exception. The Ballroom boasts over 6,200 square feet and can accommodate up to 500 people. Perfect for conferences, networking gatherings, or other corporate events, The Ballroom is also near an outdoor terrace to guests can have access to indoor and outdoor settings. With decor and A/V equipment, you can really transform the space to fit your needs. One major perk of hosting an event at The Ritz Carlton is that out of town guests can stay at the property, and it's conveniently located five minutes from a light rail station.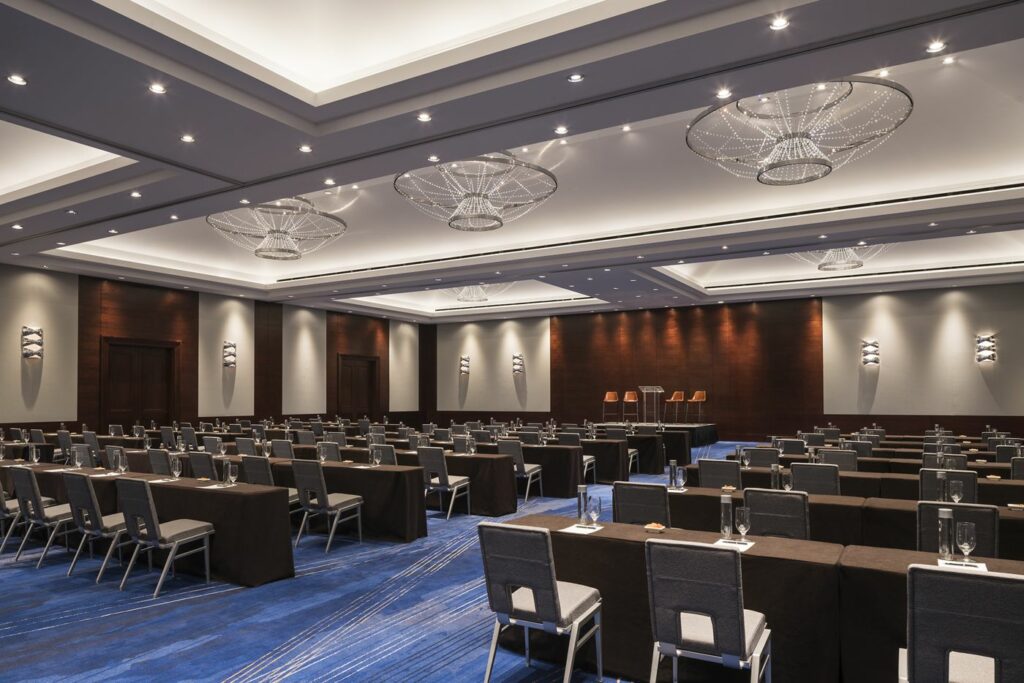 9. Skylight Denver
Neighborhood: Santa Fe Art District
Capacity: 300
Skylight is one of the Mile High City's most versatile venues. With white brick walls and and large skylights, the space has a stunning ambiance on its own. But it's also a flexible space that can transform to fit your vision. Located in the Santa Fe Art District, Skylight Denver can accommodate up to 300 standing (200 seated) and every rental comes with a private patio, tables and chairs, client concierge, and WiFi. The venue offers a curated list of vendor partners to choose from, from food to photography to audio visual to rentals. One reviewer noted on Skylight Denver's website: "They truly care about creating a wonderful experience for their clients and they treat them and their vendors with respect. Could not recommend this place more!"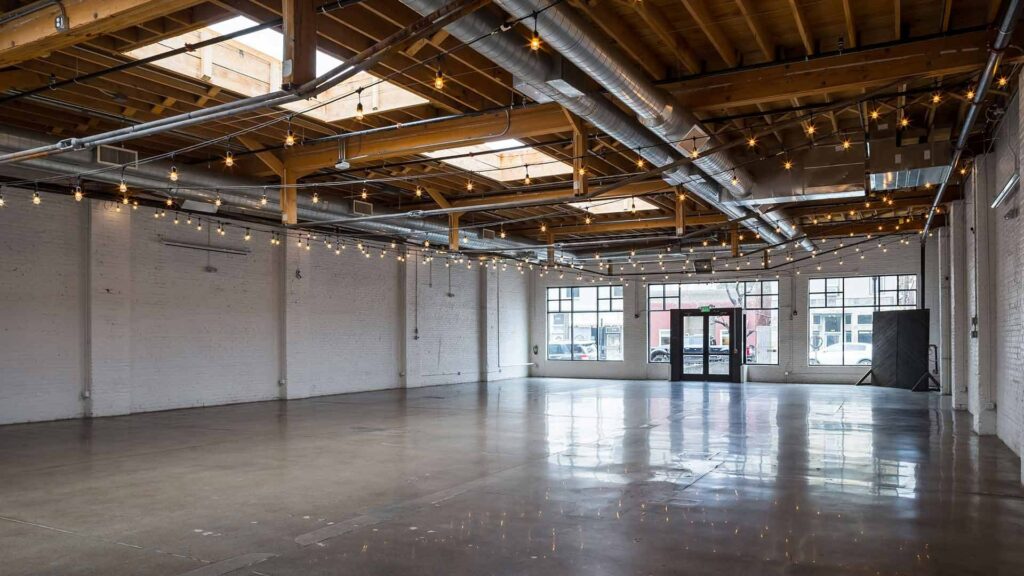 10. Ogden Theater
Neighborhood: Capitol Hill
Capacity: 1,600
The Ogden Theater, which opened in 1918, is an impressive spot for concerts and live performances, but is even more memorable for guests as a stunning private event space. It can accommodate virtual events, hybrid meetings, and livestream broadcasts with its world-class staging, lighting, and sound system. Ogden Theater is a multi-level event space with two full bars and can accommodate up to 1,600 people. Whether for a corporate event, award show, or benefit concert, Odgen Theater will give your guests and experience they'll never forget.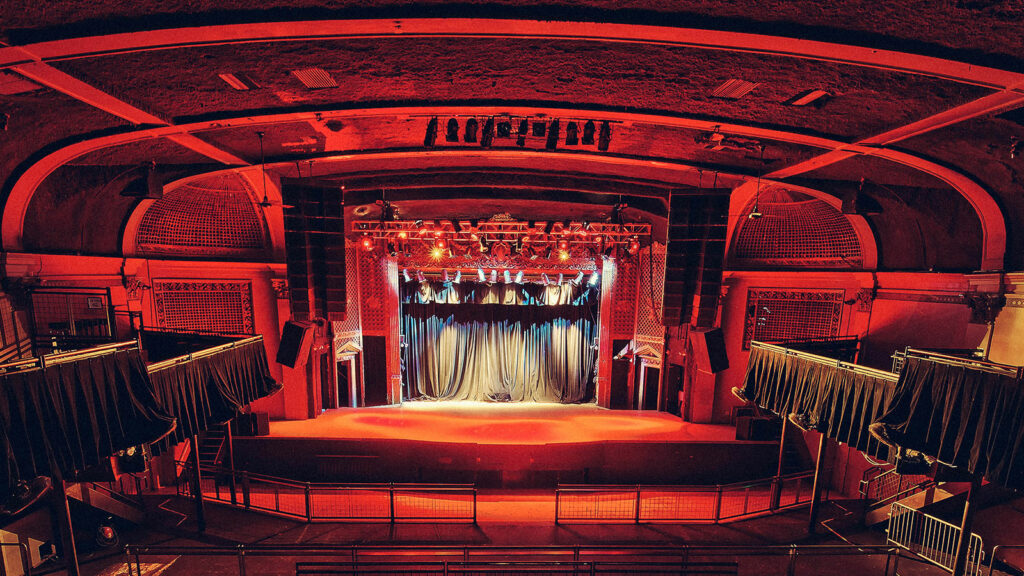 11. Moss
Neighborhood: Santa Fe Art District
Capacity: 300
Moss Denver was created by founders experienced in decorative woodworking, welding, and metalworking who set out to build a gorgeous and versatile venue. Although the space is beautiful enough as is, it's also flexible to incorporate decor and vendors as desired. The venue also offers three rooms for corporate events: Edison Room, Chandelier Room, and Conference Room. Located in the Santa Fe Art District, the magic of Moss lies in its staff who are committed to creating a customized experience for your event. They work with a handpicked team of vendors, and each rental comes with 10 hours of venue access (four hours for setup, five hours for the event, and one hear for teardown), with additional hours available for a price.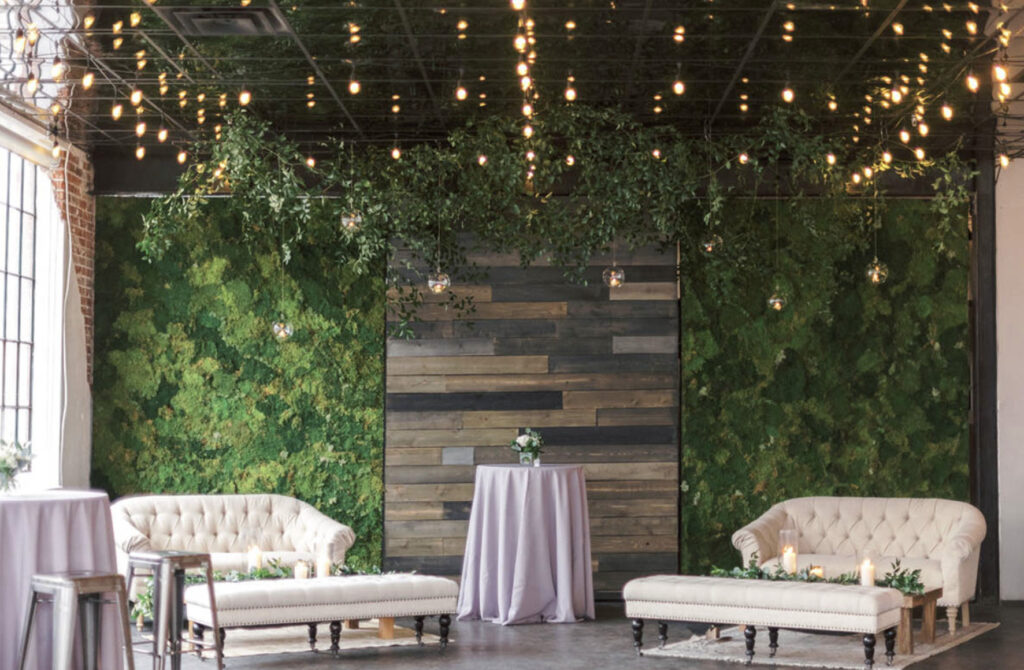 12. Temple Denver
Neighborhood: Capitol Hill
Capacity: 1,250
Temple is a three-story immersive event space with awe-inspiring lighting system, including floor-to-ceiling addressable lights and 20-foot LED panels. You can rent out the full venue or select rooms, such as the Main Room (max 1,250 people standing), Mirus (max 350 people standing), and LVL (max 200 people standing). The venue can accommodate groups as small as 50 people or as large as 1,250 guests, and is perfect for corporate events with breakout spaces, meetings, presentations, happy hours, and other group gatherings. Temple is a full-service venue offering custom menus, curated music, bar packages, performers, and more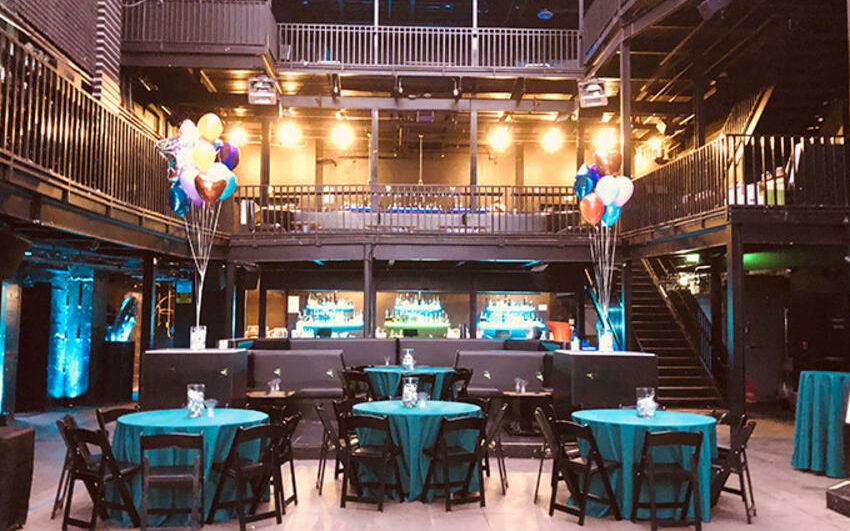 13. Upper Larimer
Neighborhood: River North Art District
Capacity: 340
Upper Larimer may be located in the trendy RiNo neighborhood, but its history dates back to the early 1900s when it was constructed. At 6,100 square feet of indoor space, the venue has a modern industrial aesethic with exposed brick, large windows, and wooden beams. Upper Larimer also has a gorgeous sun deck, which is perfect for cocktail hour or other outdoor gatherings and a great way to soak up Denver's 300 days of sunshine. The indoor capacity can accommodate up to 340 guests seated and the outdoor deck can hold 220 standing. You can bring in your own vendor or choose from their list of preferred vendors, and each rental comes with banquet tables and chairs, cocktail tables and chairs, WiFi, and full ADA accessibility.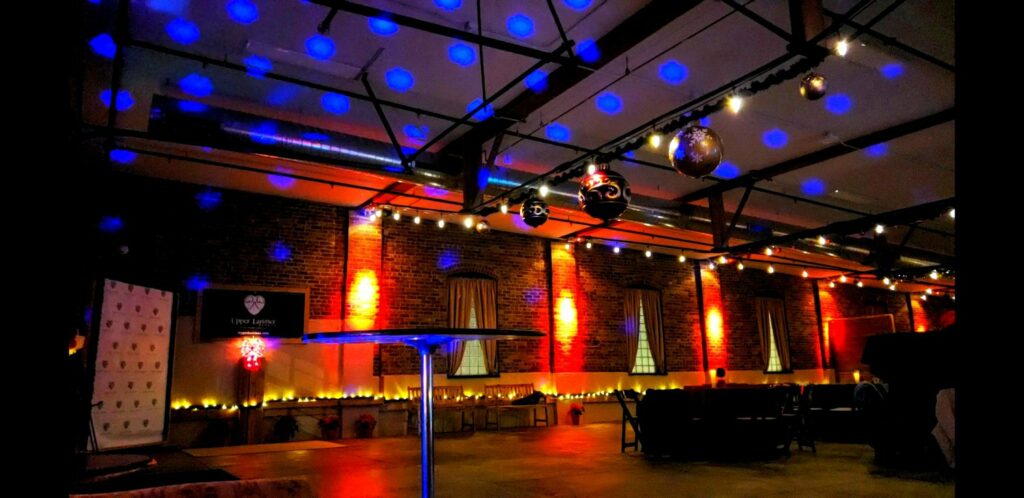 Why Finding the Right Venue is So Important
Depending on your event size and the aesthetic you are going for, booking the right venue is key. It's important to make sure the venue fits all the requirements you have, whether you are hosting a conference and need top-of-the-line A/V equipment, planning for a seated dinner or can host guests standing reception-style, or need to hire outside vendors for food and beverage.
Large events are representative of your company and brand, so it's imperative that the venue matches the aesthetic and experience you are aiming to give your guests. With so many options of large event venues in Denver, you can really wow your guests with impressive lighting and sound (like in the historic Ogden Theater) or transform a versatile space to make your vision come to life, like Skylight or Moss.
What to Consider When Booking an Event Venue
With its rich arts and culture scene and central location, Denver is an excellent city to host a large event in, whether your company is local or you're looking to host out-of-town guests. Some things to consider while looking for a venue to book include:
Number of attendees: you should have an idea of how many people will be attending and if you need to accommodate them seated, standing, or theater style for your event
Location: Is the location convenient to get to for your guests? Is it close to public transportation and easily accessible from the airport if you are hosting out-of-town guests? If the venue is further away from transportation or lodging, you'll have to provide guests with clear directions and options for how to get there (consider offering a shuttle or ride share service).
Food and beverage: Will you be serving food and alcohol? Does the venue offer these services on site or will you have to hire outside catering? And if you need to hire a vendor, does the venue have a list of preferred caterers they recommend or do you have to do your own research? You should know how you want to serve your guests, either seated or cocktail-style.
Price: Of course, it's important that the venue is within your budget, especially considering all the other costs of hosting a large event (vendors, transportation, decor, etc.).
Audio/visual needs: Does the venue provide the proper A/V equipment you need for your event, like projectors, video conferencing, sound system, HD video screens, and microphones? If not, you'll have to secure this equipment on your own and work with the venue for setup, testing / rehearsal, and tear down.
Parking: If most of your guests will be driving to the event, make sure there is convenient parking available at the venue or nearby.
Lodging: If you're planning on hosting a lot of out-of-town guests, consider a venue that has lodging on site or plenty of hotel options nearby, ideally within walking distance.
Find the Best Corporate Event Venues on The Vendry
While it can seem overwhelming to book a venue for a large-scale event—especially in a big city with so many options like Denver—The Vendry can be your go-to resource. The Vendry can help you search for the perfect venue for your event (of any size) and filter by city, ambiance, neighborhood, and more.
Read More:
Stunning Rooftop Venues in Denver for Your Next Event
Amazing Corporate Event Venues in Denver
Go Big at One of these Incredible Large Event Venues in Seattle