Reigning as the national ruler of entertainment, showmanship, and over-the-top playfulness, Las Vegas could teach a masterclass on how to "go big or go home". When it comes to hosting a large event in Las Vegas, there are perfect choices on every corner, either on or off The Strip. Sin City is home to state-of-the-art arenas, tech-savvy convention centers, and countless hotels sure to fit what you are looking for in a large event venue. Conferences, conventions, product launches, training sessions, or concerts can all make Las Vegas their home for a day, weeks, or months. Las Vegas is as flexible as it is hospitable, so get ready for some showy options in this oasis in the desert.
The Best Large Event Venues in Las Vegas
1. The Sphere
Neighborhood: Las Vegas Strip
Capacity: 17,500
A total next-generation, awe-inspiring addition to the Las Vegas landscape, The Sphere is as cutting-edge as it is functional. Images of its exterior – which boasts 1.2 million LED panels each the size of a hockey puck – have dominated social media for months. Inside this 580,000 square foot, 366-foot tall venue connected to The Venetian by tunnel is the most complete sound system on Earth, featuring 167,000 speakers. It's curved like a classical amphitheater and is overtaken by an LED wraparound screen that is four acres (that's right) in scale. This space-aged venue is owned by Madison Square Garden, so you know your experience within The Sphere will be extraordinary. A complete takeover of the venue will fit 17,500. If you want The Sphere experience without needing that volume, consider a partial buy-out, or utilizing one of their 32 suites. Have no doubt: The Sphere is the future of live performance venues.
2. The Las Vegas Convention Center
Neighborhood: Las Vegas
Capacity: 7,500 for meetings
Get ready for some serious stats about one of the busiest facilities in the world. The Las Vegas Convention Center has 2.5 million square feet of exhibit space, 225 meeting rooms, a 226,000-square foot welcome lobby, a 1440-person capacity theater, an 848-person capacity classroom, and access to one, 50-mph monorail. There's a reason why behemoth conventions like the International Consumer Electronics Show choose the LVCC as its home year after year. This place is so enormous that Elon Musk designed the Vegas Loop, an underground transportation system that connects all the Halls on the 200-acre LVCC campus. But don't be intimidated by the size – the Las Vegas Convention Center holds multiple events daily, so inquire about a meeting hall or space just right for the size of your group.

3. MGM Grand Garden Arena
Neighborhood: Las Vegas Strip
Capacity: 16,800 seated
The MGM Grand Garden Arena has been host to literally hundreds of events since opening its grand doors 30 years ago. From major boxing matches to college sports, and even The Grammys, this versatile venue helps bring in major traffic to Sin City. With the capability to host more than 16,000 in its seats, this giant venue offers everything you need for your major presentation like in-house catering, beverage, audio-visual, and tech. Consider hosting your product launch here to make a real splash.
4. Caesars Palace
Neighborhood: Las Vegas Strip
Capacity: 5555 seated
As the iconic backdrop to countless movies, Caesars Palace has become synonymous with the indulgence that is Las Vegas. There are more than 128 event spaces in this opulent venue, with double the amount of configurations and options to suit nearly any size group. Choose from ballrooms like the Augustus, Roman, Florentine, or Julius to find your perfect match of square feet per guest. Not only does Caesars Palace provide tons of in-house amenities for your convenience, but the event pros here have a long list of previous collaborators who know the space inside and out. With 4,000 hotel rooms just steps away, a large event at Caesars Palace is not only an easy choice, it's an accessible one.
5. Bellagio Hotel & Casino
Neighborhood: Las Vegas Strip
Capacity: 4785 seated
The dancing fountains will welcome your clients and customers with an elegance that can only be found at the Bellagio. It's only five-star treatment at this deluxe resort, with the choices to match. Consider the Grand Ballroom, which offers 45,000 square feet of customizable space. If that's just too much room for your needs, select from the Monet, Tower, Renaissance, or Galleria Ballrooms. Bellagio is a space that offers "alternative" venues as well, including lounges with plush furniture or even an art gallery. If you are looking for your corporate event to be more high-level, you should start and stop your search at the Bellagio.
6. Waldorf Astoria Las Vegas
Neighborhood: Las Vegas Strip
Capacity: 800 standing
From ballrooms to boardrooms, the refined and elegant Waldorf Astoria will elevate your next large corporate gathering. Experience first-class treatment – not only for your associates but for you, the planner. The Waldorf Astoria Las Vegas not only avails luxurious event spaces complete with all the trimmings for your event's every desire, but the premium hotel also invites you to build a custom website specifically for your attendees. Here, your guests can take advantage of special room rates at the lavish hotel, and check the agenda for their stay. No stone is unturned when you book an event at the Waldorf Astoria Las Vegas.
7. Four Seasons Hotel Las Vegas
Neighborhood: Las Vegas Strip
Capacity: 900 standing
An event at the Four Seasons Hotel Las Vegas feels like a private sanctuary in the middle of the lights of Las Vegas. The Four Seasons is one of the few non-gaming and non-smoking hotels on the Las Vegas Strip. Upscale event spaces abound at this luxury hotel, which effortlessly caters to any group size. Let the tranquility wash over you and your clients, as you invite your 400 guests for a cocktail reception at the Fountain Terrace. There are ballrooms, boardrooms, or pre-function rooms each available, all designed to raise your event to the next level.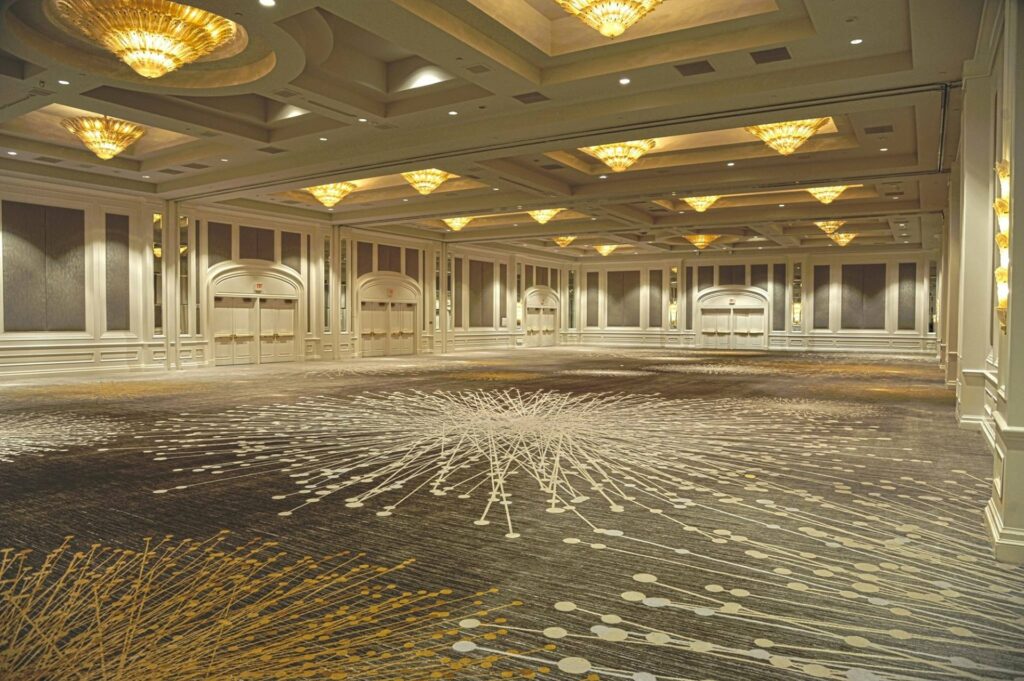 8. The Cosmopolitan
Neighborhood: Las Vegas Strip
Capacity: 5297 standing
As one of the most buzzworthy hotels on The Strip in recent years, The Cosmopolitan lives up to its reputation. Your colleagues, clients, and customers will enjoy the anticipation of your event at this intriguing hotel. There are loads of ballroom options, as well as salon-style classrooms, lounges, bars, and reception suites. Thanks to Cosmopolitan's in-house audio/visual partner, Encore, this hotel is just about as tech savvy as one can ask for – they offer presenter tools like video playback, multiple computer switching, and laser pointers. One meeting with the experienced staff will signify that you are in the spot that will bring your event's purpose to life.
9. Dolby Live
Neighborhood: Las Vegas Strip
Capacity: 5200 seated
Known the world over for its sound quality, the Dolby Live Theater is a treat not only for the ears but every other sense. Located right inside the posh Park MGM, this venue was designed to be an optimal, immersive audio experience. Dolby Live will blow your audience away, as it features the fully integrated Dolby Atmos audio systems with 402 speakers. It offers flexible space with versatile seating configurations for concerts, award shows, and even conventions. The stage is one of the widest in the world at 140 feet. And if that's not enough, there's a 240-foot wide projection surface with projection mapping technology, and nine HD and 4K projectors.
10. The Thomas & Mack Center
Neighborhood: Las Vegas, UNLV Campus
Capacity: 40,000 seated
Certainly, everyone knows The Thomas & Mack Center as the space where the University of Nevada Las Vegas Runnin' Rebels play basketball, but this enormous venue is home to lots of large assemblies and events. The production staff here is ready to help you pull together your large sporting event or convention, offering marketing, ticketing, and promotional services. There are 33 event spaces within The Thomas & Mack Center, and it can host seating configurations from 2,500 to 40,000. For over four decades, this landmark in the Las Vegas event landscape has been happy to serve the community it calls home.
11. Area15
Neighborhood: Rancho Charleston
Capacity: 15,000 standing
Area15 presents multiple event venues, innovative design, and groundbreaking technology all in an otherworldly place just a few minutes off The Las Vegas Strip. Transport your guests to another universe with the offerings of Area15, including blank or turn-key spaces. Leadership meetings, trade shows, team building events, or any other corporate need you might have can be met here. Book the Sanctuary, a bamboo-constructed 2,000-square-foot space filled with lush, live greenery, perfect for a workshop. Or invite your associates out to Art Island, an outdoor living gallery of art with larger-than-life pieces, perfect for after-work cocktails. Make Area15 your event's final frontier.
12. The Mob Museum
Neighborhood: Downtown
Capacity: 730 standing
What to plan an event at a memorable and iconic Las Vegas venue? Fuggedaboutit. Your large group will never forget their time at The Mob Museum, a historic building with interactive exhibits in downtown Las Vegas. Not only will this nonprofit venue love to host your event, but your guests will walk away with a new understanding of how the inner workings of organized crime had an impact on American history. A full buy-out of the joint includes the use of all three floors. Let their event management guide you on how to utilize their rooms – like the historic Courtroom for presentations – to best utilize the unique space. You won't be a rat booking at this venue: proceeds go straight to keeping this national treasure up and running.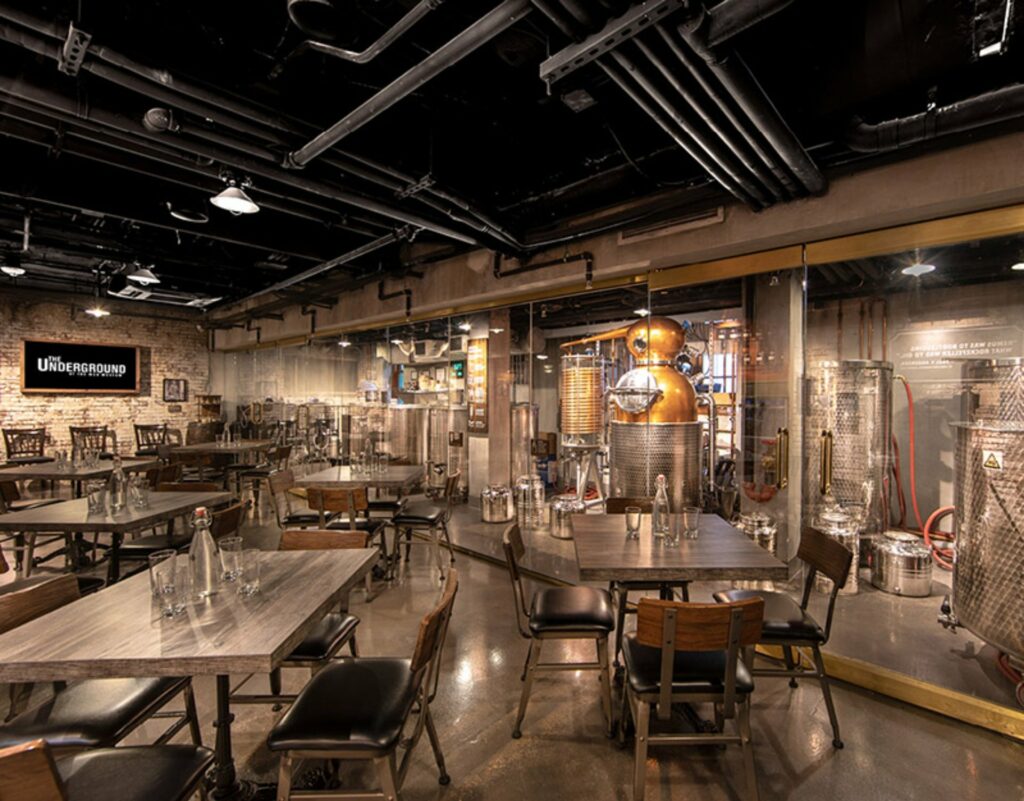 Need help planning your Las Vegas Event? Find the top agencies and vendors for your next event!
How to Throw a Large Event in Las Vegas
Some of the largest conventions in the world are held in Las Vegas for a reason. This is a town that is ready for everything you can throw at it. Vegas has seen and done it all – which is why it's a high-functioning, highly capable city able to take on your large event.
Here are some questions to ask when planning your conference, convention, employee training, product launch, or other large event in Sin City:
How large is my group? Size matters in Las Vegas. Almost all hotels and conference centers can host a large group, but what is the right size? The space should be ample but not overwhelm. And decide if you will need extra rooms for breakout sessions, product displays, or an experiential.
What is my agenda? If a major presentation is on the agenda, be certain your event venue has a stage, theater, and excellent audio/visual equipment. Also, after the day, will you need a restaurant to host a private business dinner?
What is my budget? It goes without saying, but the event space you select will likely be your biggest ticket item. Be sure to ask the venue about rentals, audio/visuals, and catering, and if all those items will cost extra.
Will I need transportation? Everything in Vegas seems a lot closer than it is. The scale of the buildings makes it feel like you can walk to everything, but the real truth is that each locale is pretty spread out. The Strip itself is four and a half miles (and if you've ever walked in Las Vegas, you know that's not in a straight line). Book transport of your guests if you plan other activities outside of the convention or meeting center.
Finding Large Event Venues on The Vendry
Search large event venues in Las Vegas by visiting The Vendry. Explore parameters like location, capacity, venue type, brand, and even popularity. From your long list, request proposals from your top options. Booking your next venue is just a few clicks away!
Finding Large Event Venues on The Vendry
Search large event venues in Las Vegas by visiting The Vendry. Explore parameters like location, capacity, venue type, brand, and even popularity. From your long list, request proposals from your top options. Booking your next venue is just a few clicks away!
Read More:
The Best Private Dining Rooms in NYC
The Best Private Dining Rooms in Orlando
The Best Private Dining Rooms in Los Angeles