Article updated 8/19/23

Halloween is right around the corner, so it's time to get planning your spooky Halloween soirée. From the costumes to the candy, Halloween is a low-stress holiday event that allows team members to interact in a laid-back setting as well as showcase their creativity. So for those planning on hosting a spooky shindig—in person, hybrid, or virtual—for employees, clients, or customers this year, we've rounded up a cauldron-sized list of corporate Halloween party ideas to help you get into the spirit of the season.
What Is A Halloween Party? What Do You Need For A Halloween Party?
First, a quick history lesson: Halloween celebrations originated with the ancient Celtic festival of Samhain, when people would light bonfires and wear costumes to ward off ghosts. Later (after the Roman Empire conquered Celtic territories), Pope Gregory III designated November 1 as a day to honor all saints. The holiday was called All-Hallows or All-Hallowmas and featured some of the same traditions as Samhain. The night before All Saints' Day became known as All-Hallows Eve, eventually turning into Halloween.
Today, Americans spend an estimated $6 billion annually on Halloween, making it the country's second largest commercial holiday after Christmas. Of course, modern-day Halloween parties have nixed the more gruesome bits of the old-school celebrations (like animal sacrifices) for cute stuff like trick-or-treating, jack-o-lanterns, and candy.
To get you started, here's a Halloween party checklist:
Invitations
Games or contests plus prizes
Masks and funny props for the photo booth
A spooky music playlist
Halloween-themed food and desserts
Halloween-themed punch and cocktails
Goodie bags
Decor such as spider webs, fall-scented candles, a witch's cauldron, tombstones, brooms, skeletons and skulls, pumpkins and jack-o-lanterns, and lanterns
Creepy entertainment and character performers
How To Make A Halloween Party Fun And Interesting
Like any event, a good theme can help you create a fun and entertaining Halloween party. It can inform your guests' costume choices, as well as the decor, food and drink, activities, and more. For example, if you're hosting a carnival, encourage guests to dress up as a scary clown or sideshow act. A carnival themed event is just one of many Halloween themes you can lean on in order to streamline your soirée. This will allow them to feel more involved in the overall festivities. Of course, the idea of Halloween itself might be theme enough, offering plenty of tried-and-true options for designing a scary soiree.
50 Fantastic Halloween Party Ideas To Host A Great Party
Looking for some wickedly wonderful Halloween party ideas? Keep scrolling to discover loads of ideas for event themes, menu items, cocktails, games and activities, entertainment, and more.
1. Plan a Murder Mystery
This whodunnit theme can include a mysterious plot line that runs throughout the party, where guests try to figure out who killed the victim. Attendees can also be assigned different characters to play; send invitations that include each attendee's role and backstory, as well as costume suggestions. The venue can then be decorated according to the time period and circumstances of the crime. Going virtual? No problem. Try something Zoom-friendly like a Murder Mystery party like Mystery IS Murder! by A Touch of Mystery & More Entertainment Group.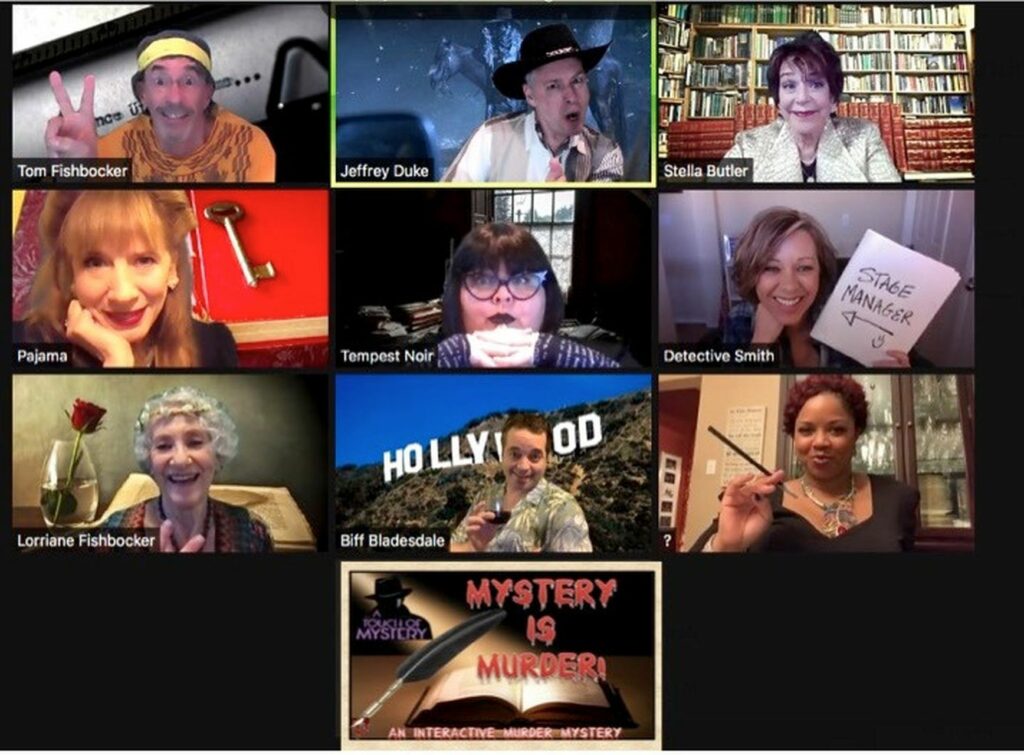 2. Release A Zombie Apocalypse
In recent years, zombies have taken on a life of their own, thanks to popular shows like The Walking Dead. Take advantage of this pop culture trend and host a zombie-themed event, complete with moody lighting, creepy cocktails, and finger foods (get it?) for a bloody good time.
3. Create A Haunted House
Whether you design your own version of a haunted house or organize an outing to an already spooky venue, this classic Halloween party idea will be sure to make your guests scream with delight. If gathering online, spooky sites like the Winchester Mystery House and the Pittock Mansion offer video tours that you can rent or watch for free.
4. Arrange a Superhero Party
From classic superheroes like Batman and Superman to newer characters like Shang-Chi, this theme offers plenty of ideas to play with, including pop art-style decor. And be sure to ask your guests to arrive as their favorite caped crusader. Superhero parties allow your guests to get in touch with their inner alter egos. Not to mention, the decor can be loud, colorful, and fun.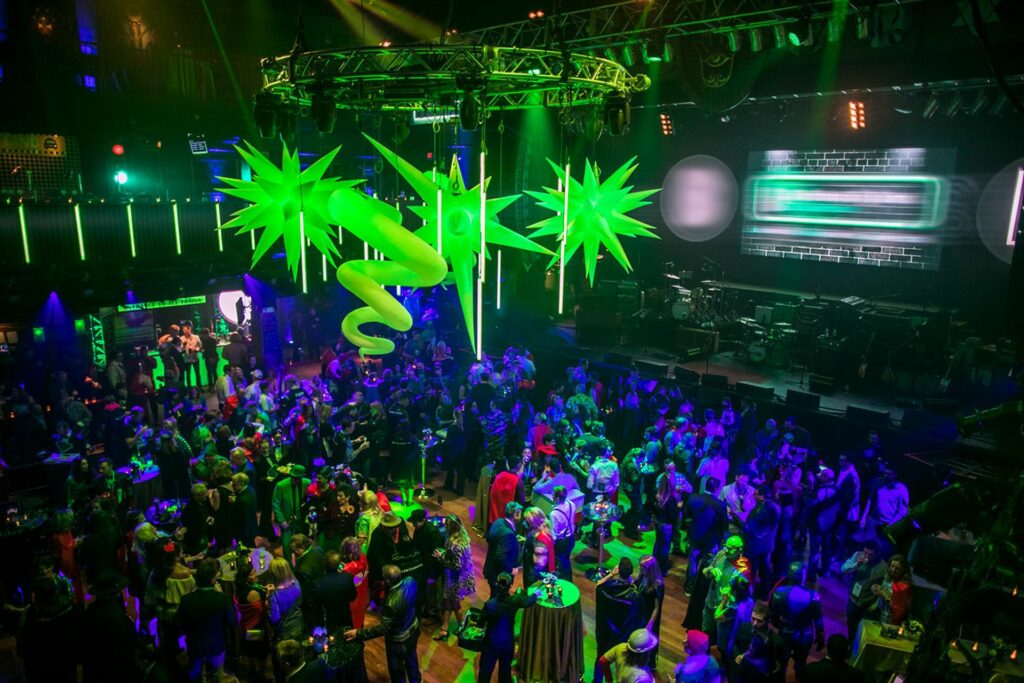 5. Host a Monster Music Fest
Program a playlist filled with holiday favorites or hire a virtual DJ to entertain your guests during the party. You can also plan a karaoke sing-along, if that's your thing.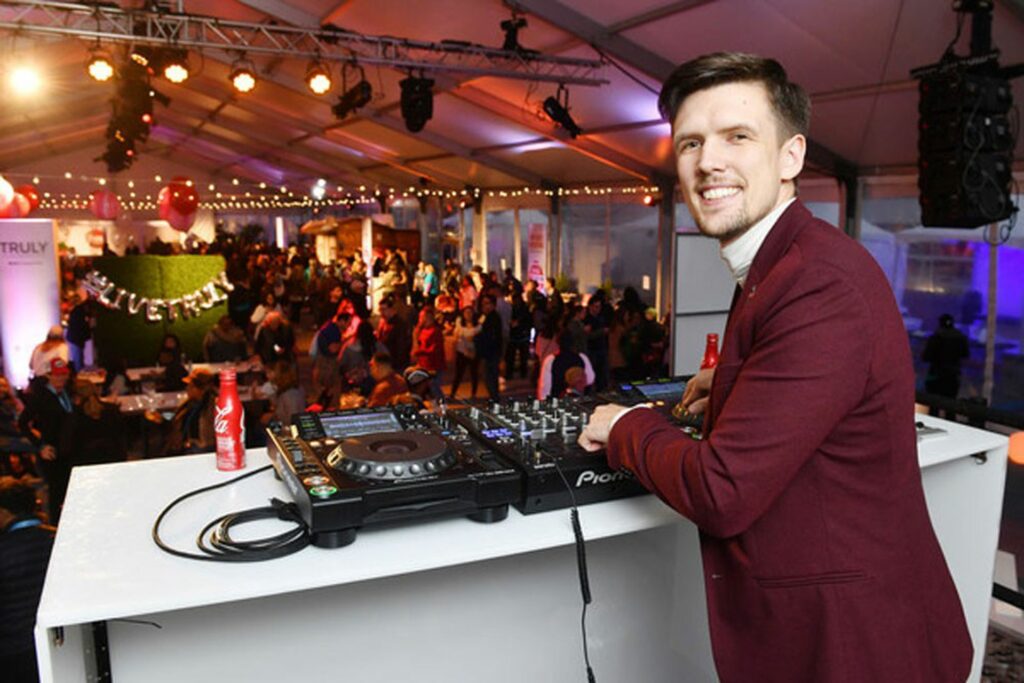 6. Mix Up Some Creepy Cocktails
Book a virtual or IRL mixology class and learn to make devilishly delicious cocktails as a group. You can also serve a batch cocktail like mulled wine inside a witch's cauldron for a creepy touch, or shake up drinks with seasonal ingredients like pumpkin.
Planning a spooktacular event? Find more Halloween themed events on The Vendry.
7. Consider Simple Yet Spooky Decor
Set up a spooky scene easily by hanging inexpensive realistic-looking cobwebs dotted with spiders throughout the venue to instantly transform the space. Or rent a smoke machine to create an air of mystery to any gathering.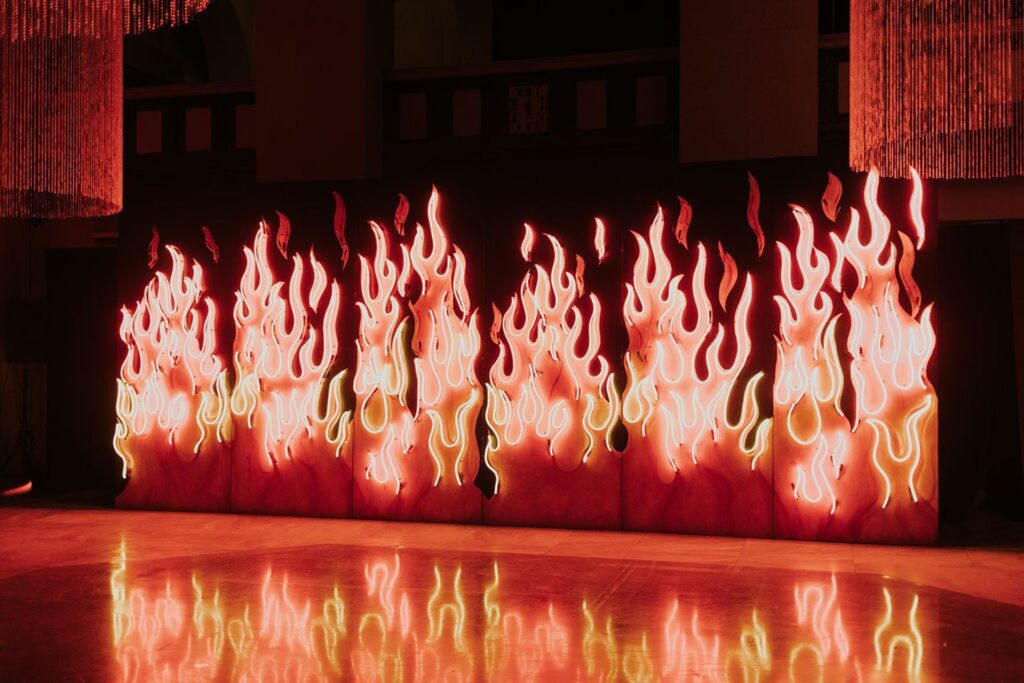 8. Play Games
Some bakers and bakeries offer virtual cookie decorating classes that you can book for a private group. Or you can plan your own version and arrange to have the necessary ingredients (or a shopping list) sent to the attendees ahead of time. This makes a good option for family-friendly work parties.
9. Showcase Evil Scientist Slime
Fill mason jars with ooey-gooey slime dotted with creepy crawlies such as fake eyeballs, skulls, snakes, body parts, and spiders. Then, label the jars with evocative titles to create a D.I.Y. laboratory.
10. Offer A Creepy Hand App
Give your party's charcuterie boards a leg up or, in this case, a ghoulish hand made of cheese and prosciutto. To make, combine cream cheese with a spreadable cheese, then sculpt the dip into the shape of a hand. (Try tracing your hand onto wax paper to use as a guide.) Layer prosciutto on top of the cheese and serve with crackers and other accoutrements.
11. Garnish With Eyeballs
Add an eye-catching garnish made from blueberries and peeled lychee fruit to your cocktails for a simply scary detail. To do: Insert a blueberry into store-bought peeled lychee. Then, skewer two "eyeballs" with a toothpick and place on the glass.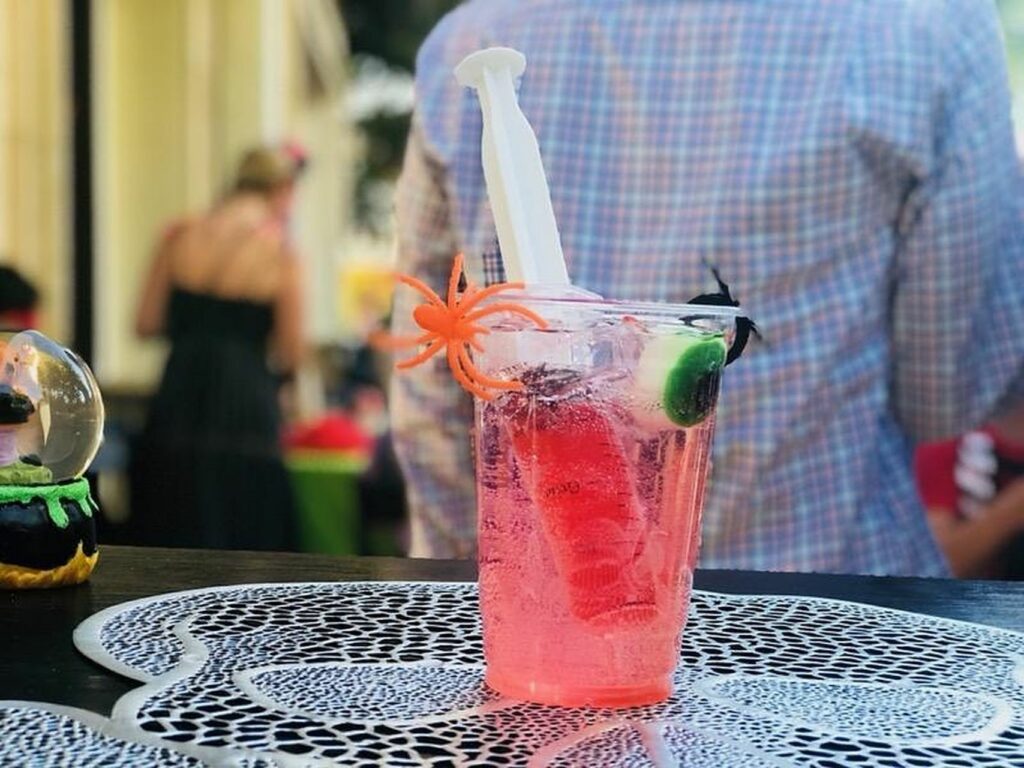 12. Bring A Bloody Brain
This no-brainer dessert idea plays double duty, serving as decor as well as a sweet treat. All you need is a plastic mold shaped like a brain and gelatin (preferably something red in color). Insert a cleaver into the unmolded matter for an extra dose of fright.
13. Do 'The Nightmare Before Christmas' Theme
Set the table (and the mood) with items featuring the popular Pumpkin King motif from "The Nightmare Before Christmas." This cult classic theme has become a go-to look for Halloween parties. Or simply stick to a dramatic black-and-white color scheme.
14. Make D.I.Y. Halloween Slime
Perfect for family-friendly Halloween parties, invite your guests to get their hands dirty with this activity. Set up a work station with all of the ingredients used in a traditional slime recipe, along with bowls or jars and creepy-crawly extras like plastic bugs, confetti, and squishy eyeballs. Also, provide plastic treat bags so guests can take their slimy stuff home.
15. Design An Easy Photo Booth Backdrop
Create a fall vignette with hay bales and florals like pansies, mums, and fountain grass. Or hire a vendor to supply a scary or sweet setting where guests can pose. Looking for the event to go viral? Create a hashtag so you can track the social media impact of your event.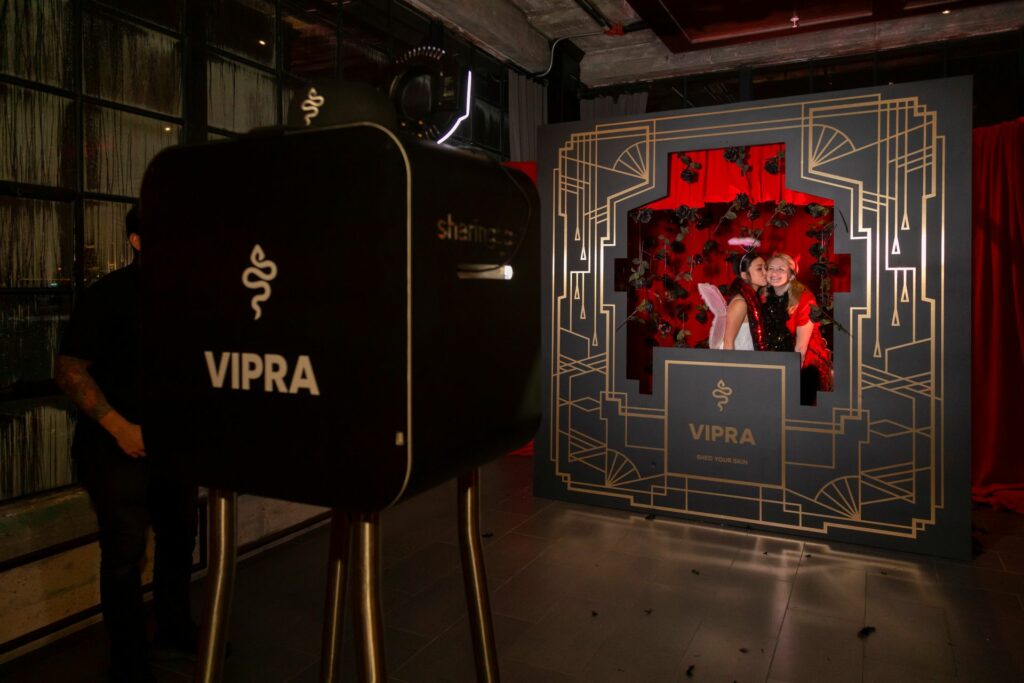 16. Set Up A Swag Station For Tricks And Treats
Let your guests go trick-or-treating by setting up a station filled with tubs, containers, and trays loaded with goodies, candy, and swag, so they can take home their own treat bags that says "from me to boo!"
17. Decorate Pumpkins
Ditch the slimy, seedy mess that comes with carving jack-o-lanterns. Instead, provide your guests—both big and little ones—with decorating kits containing stickers, markers, glitter, and more, and allow them to design their own D.I.Y. pumpkins that can serve as take-home gifts.
18. Host A Pumpkin Carving Contest
On the flip side, you could host a pumpkin-carving contest between team members, either in person or virtually. If it's a virtual Halloween party, send attendees pumpkin carving kits beforehand and then whoever creates the scariest, funniest, or wildest jack-o'-lantern wins a prize.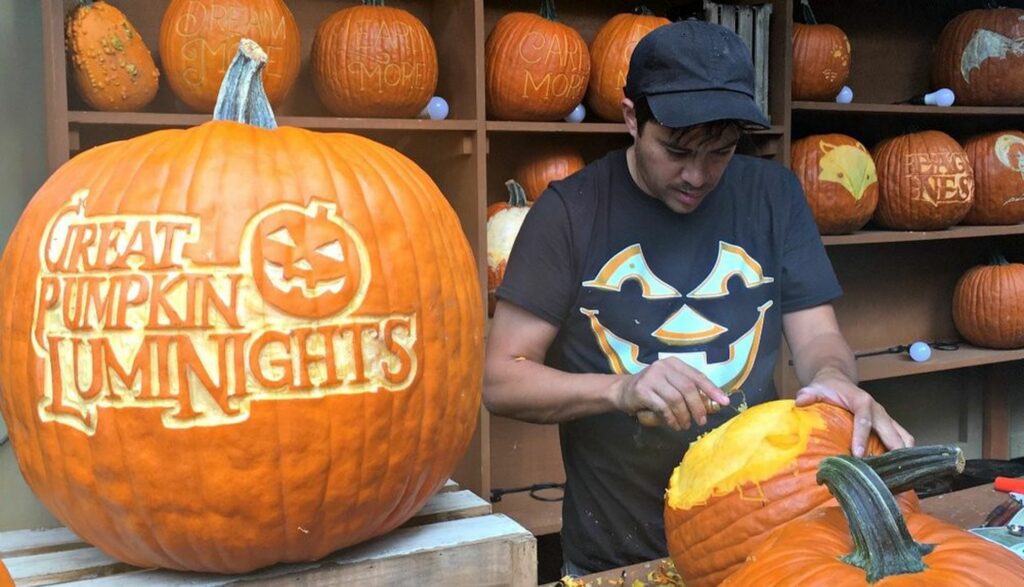 19. Make Mini Witch's Brooms
Turn some mini pretzel sticks and fruit roll-ups into cute snacks for guests to munch on. The sweet-and-salty combo is an easy and inexpensive option for D.I.Y. office parties.
20. Go To Summer Camp
Of course, ghouls and goblins don't have to be invited to every Halloween party. Host a fall-inspired, camp-themed event, complete with lanterns and crowd-pleasing fireside fare like hot dogs and s'mores. Take a summer camp theme and throw a little autumnal twist on it. An added bonus is that this Halloween party idea allows for both indoor and outdoor activies.
21. Celebrate Fall Harvest
Another idea that's festive without the fright, a fall harvest party can be an elegant way to celebrate the season. Think pumpkins and pumpkin spice, leaves, and haystacks. Serve up a spiced cocktail and autumnal treats like apple cake.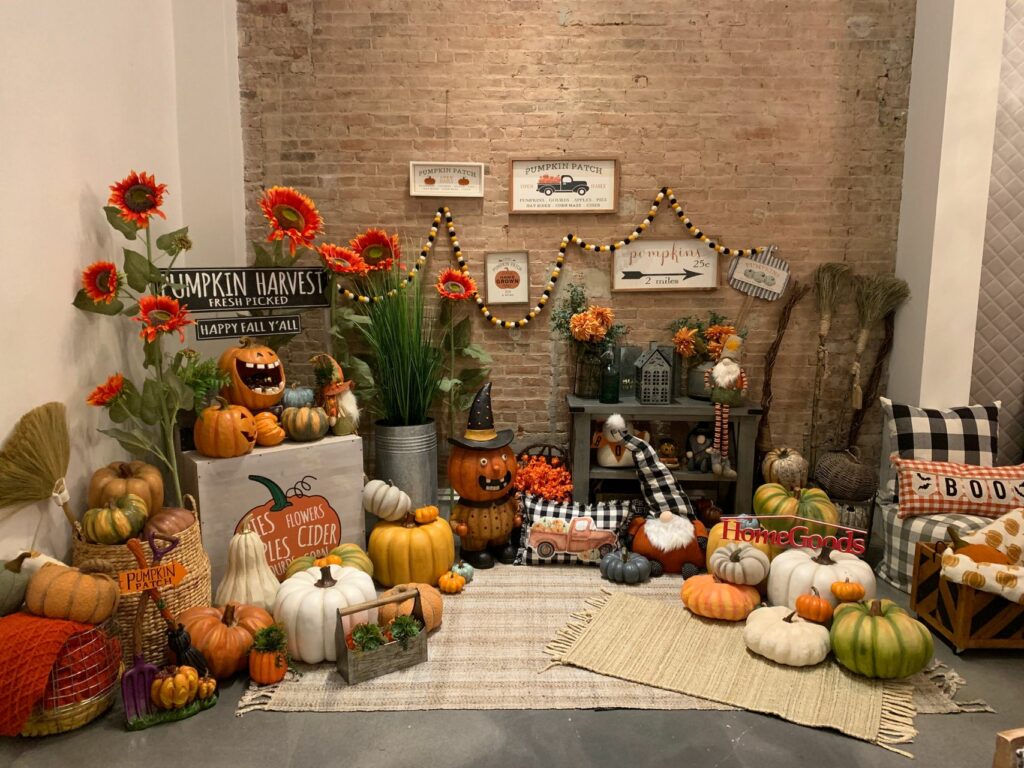 22. Look Back At A Decade
Searching for a theme for your Halloweeen party? Pick a decade, like the roaring '20s, and design the decor, food, and entertainment around that time. Ask guests to dress up in their favorite look from that period.
23. Watch Scary Movies
Organize a scary movie viewing party and watch classics like Psycho, Halloween, and The Shining. You can also ask guests to come dressed up as a character from their favorite horror film. You can also host virtual viewing parties via platforms like Netflix Party or Metastream for remote team members.
24. Create a Candy Buffet
Instead of a charcuterie board filled with meats and cheeses, build a smorgasbord piled high with sweet treats and creepy confectioneries for guests to grab throughout the night.
25. Host a Costume Contest
Before the Halloween party, announce the categories, such as funniest costume, scariest costume, most creative costume, etc. Then, attendees (either in person or virtual) can cast their votes for their pick in each category. If hosting online, guests can use the polling feature or private chat to vote. Award prizes to the winners.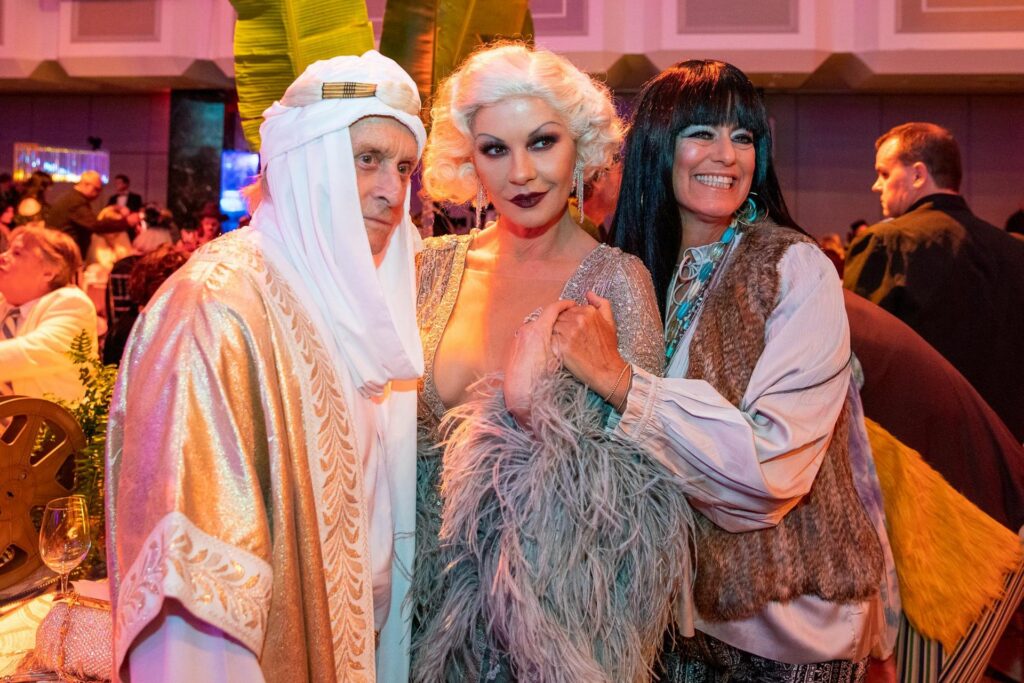 26. Plan A Scary Sit-Down Dinner
Invite guests to a drop-dead gorgeous dinner party with a spooktacular setting. Decorate with black linens, dishes, utensils, serving pieces, and candleholders, as well as creepy curiosities. Serve a menu featuring spooky spreads, black squid-ink pasta, and "bloody" cheesecake with cherries. Or, elevate your decor and keep things simple and streamlined but in a dark, moody color palette.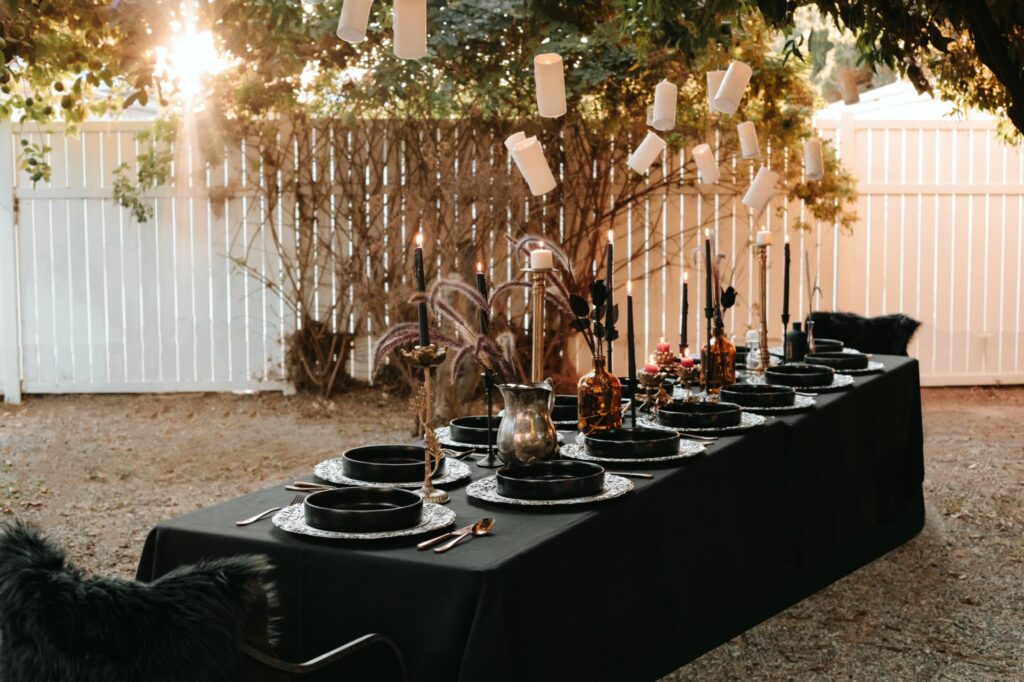 27. Serve Up Bloody Mary Syringes
To create this spooky cocktail, simply grab some food-safe syringes and fill them with a bloody mary mixture.
28. Make Mummies In A Blanket
A simple twist on the classic pigs in a blanket hors d'oeuvre, these snacks aren't too scary to eat.
29. Organize A Ghost Tour
Contact a local tour company to book a walking tour of a cemetery or other historical site.
30. Plan A Scavenger Hunt
Add a spooky twist to this standard team building activity by including seasonal items on the list such as jack-o-lanterns, candy corn, and more.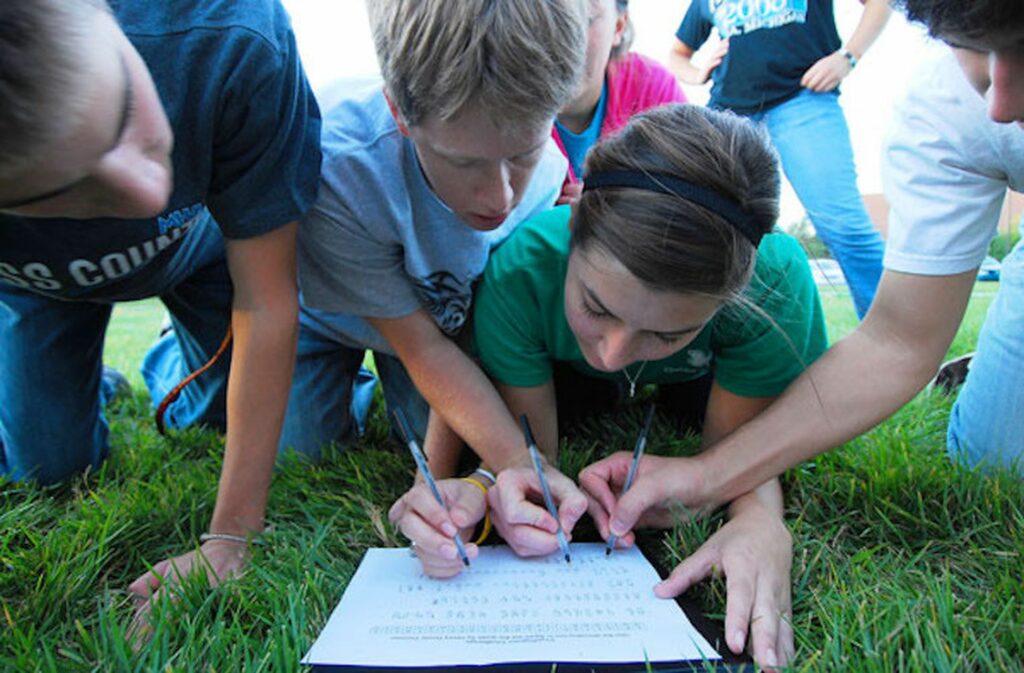 31. Book An Escape Room Experience
This other popular team building exercise can easily translate into a Halloween activity. For example, The Great Escape Room in Chicago has multiple themed rooms where you and a team can work together to solve the mysteries - and get out of the room in time for your great escape.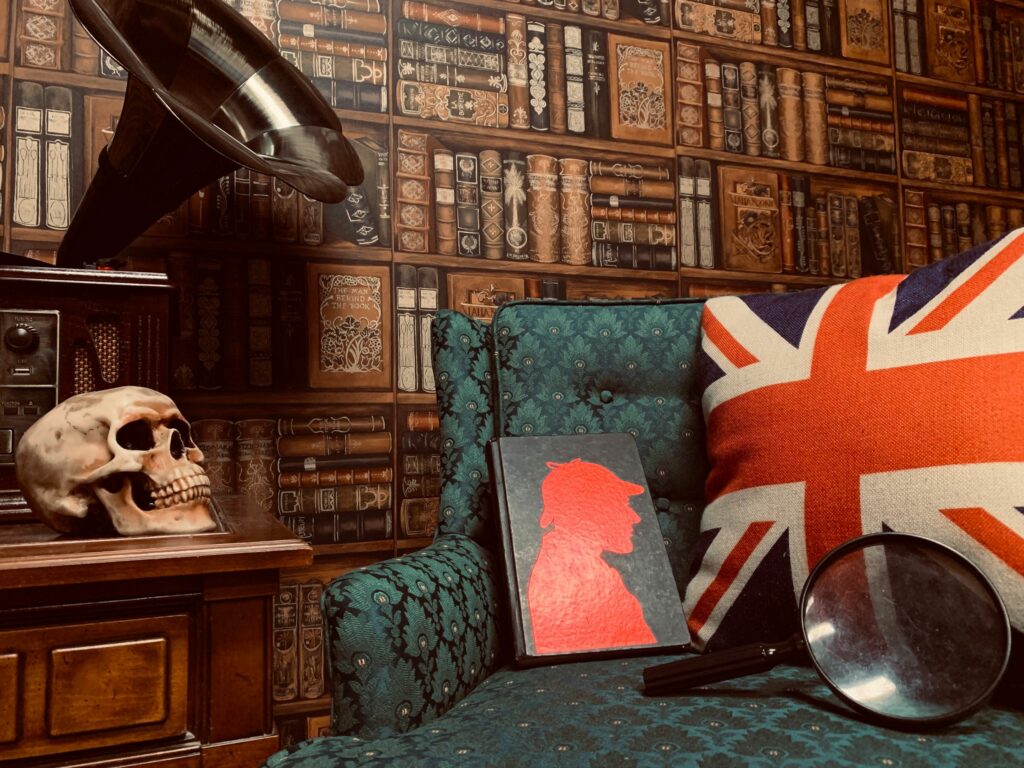 32. Organize Virtual Team Building Activities
For remote teams, book a Halloween-themed virtual team building activity. Teams can work as investigative sleuths, following clues, answering trivia, and working together to solve problems (and build relationships!).
33. Hire a Fortune Teller
For IRL parties, book an act that offers tarot card or palm readings. You can also consult a virtual Ouija board during a digital get-together if you're looking to invite the occult to the party.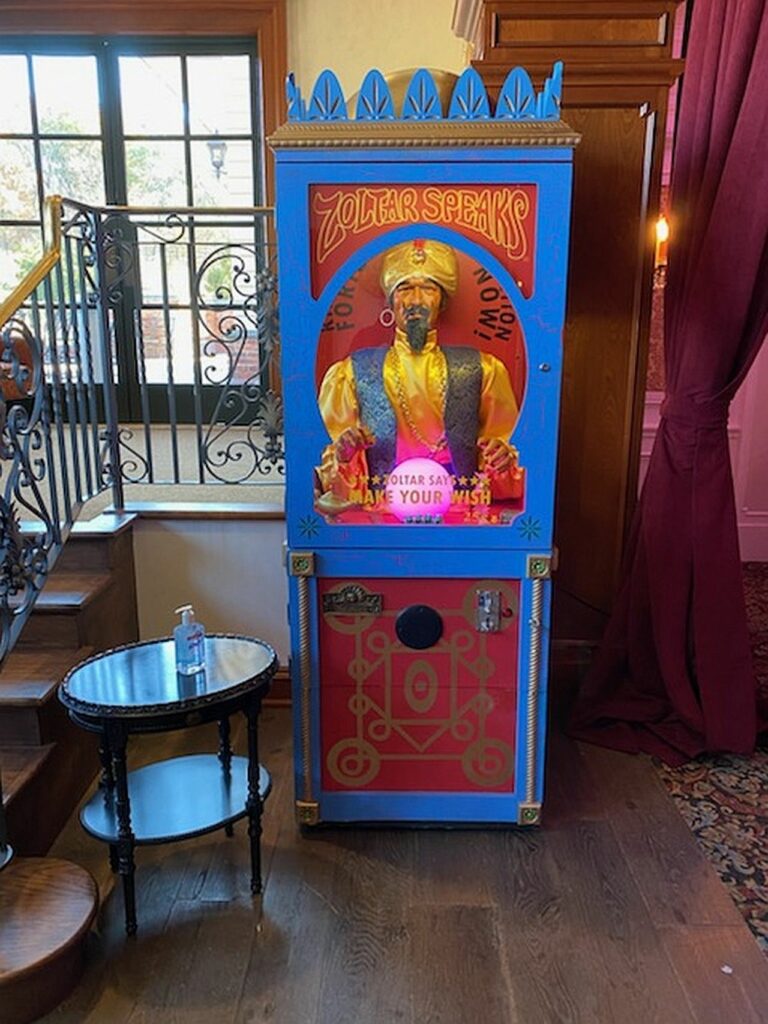 34. Volunteer
Arrange for employees to get dressed up in costume and visit a local senior center, or work with a meal delivery service for the day, delivering much-needed treats to residents.
35. Host A Halloween Happy Hour
Whether you're saying cheers virtually or clinking glasses in person, consider hosting a happy hour this Halloween. And remember to offer non-alcoholic options such as apple cider in addition to the usual wicked drinks.
Need more theme party inspiration? Browse some of the best and most interesting themes for a corporate event.
36. Plan A Dia De Los Muertos Party
Traditionally, this holiday honors loved ones who have passed and features party decor that commemorates the dead like sugar skulls, bright floral displays, and candlelit lighting.
37. Book A Beer Or Wine Tasting
Visit a brewery or winery to sample a selection of brews or vino—while in costume, of course. The beer tasting can also focus on pumpkin ales and other seasonal libations. Don't forget, you can always take your tasting virtual, and still have a hoppy time!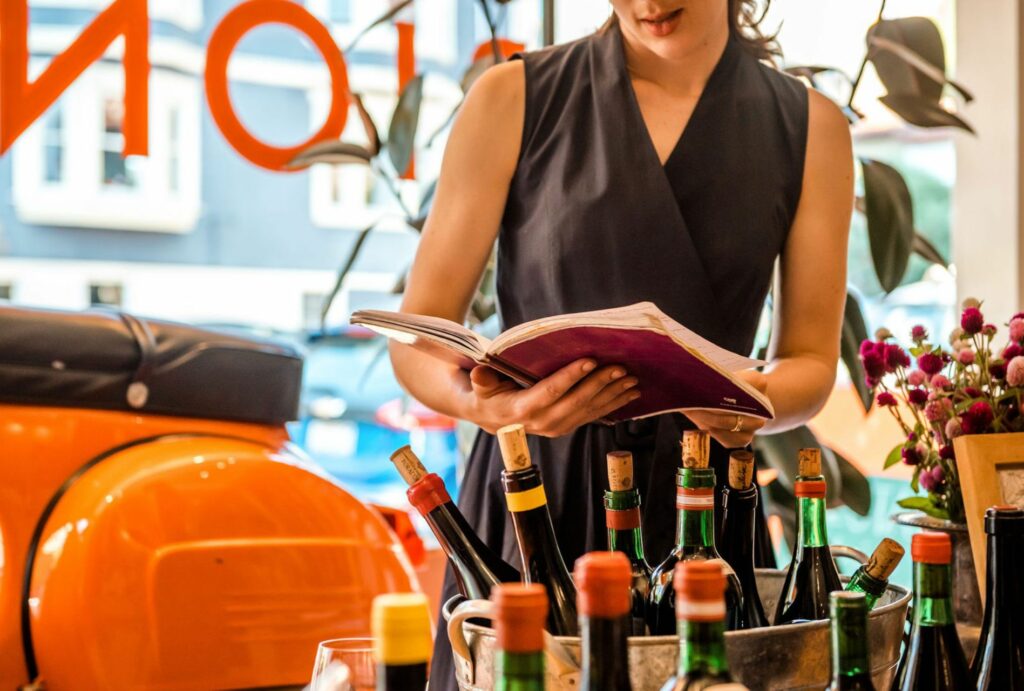 38. Go Glow In The Dark
Inspired by the totally tubular '80s, this party theme requires black lights, neon, and classic songs from the decade.
39. Book A Magician
A magician helps keep guests entertained with a spell-binding interactive performance. Having a magician at your event will give your atmosphere a touch of playfulness. Plus, it's a Halloween party idea that works for hybrid, virtual, and in-person events.
40. Host A Masquerade Ball
A more elegant version of a costume party, a masquerade ball works well as a Halloween-appropriate theme for a fundraiser. Ask guests to dress in more formal attire with an ornate mask.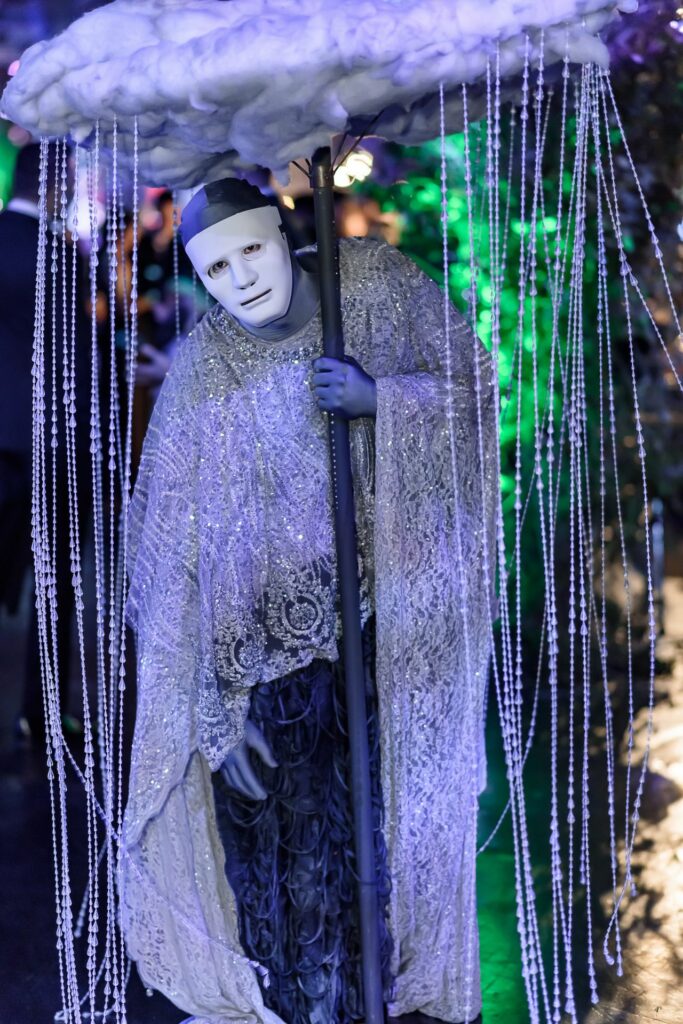 41. Hold A Trivia Contest
Test your team members' Halloween knowledge with some holiday-inspired trivia (such as, where does the term "jack o'lantern" come from?) in a game show-style competition either between individuals or teams.
42. Plan A Potluck
Hosting a small-group party at the office? Ask team members to bring a favorite dish to share. Be sure to pass around a sign-up sheet beforehand, so not everyone comes with pie.
43. Channel Hitchcock
Decorate with vintage taxidermy and glass terrariums for a macabre vibe. Think (faux) stuffed ravens and long tapered candles to set the eerie mood.
44. Incorporate Rich Jewel Tones
Halloween doesn't always have to mean black and orange. Consider decorating with rich jewel tones like deep purples and dark pinks for a warm, muted look that doesn't scream.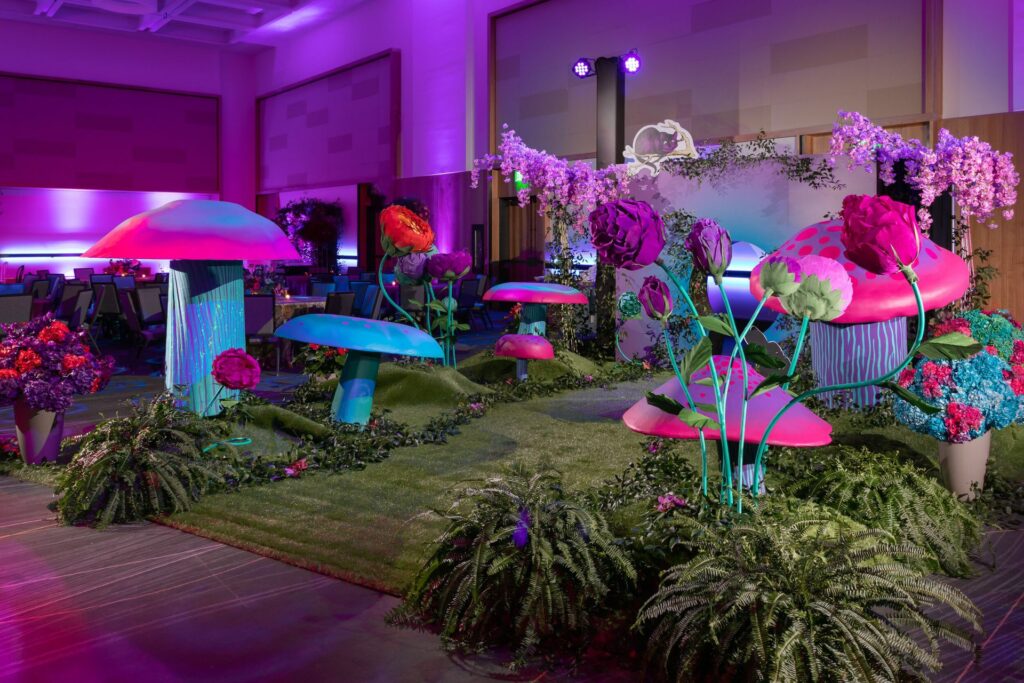 45. Opt For Dried Florals
Skip the fresh blooms and add dried arrangements to the space for a haunted look that's easy to care for.
Are you planning a virtual Halloween gathering for your work? Check out our virtual team building services.
46. Think Like Willy Wonka
It makes sense to celebrate a holiday devoted to candy in the style of everyone's favorite chocolatier. Set up candy buffet stations throughout the event space and include whimsical details like golden eggs as decor.
47. Host A Carnival
Perfect for hosting outdoors under a big tent, a carnival features plenty of games and activities to keep guests engaged. Serve up popcorn and cotton candy as snacks.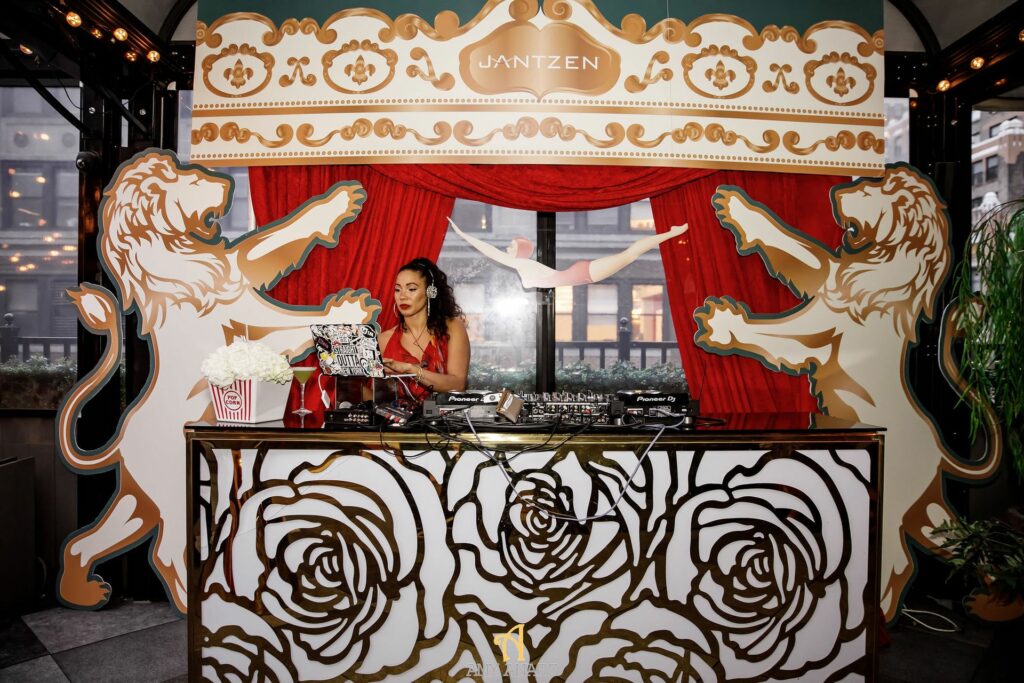 48. Revive The Alice In Wonderland Theme
Lewis Carroll's iconic "Alice in Wonderland" offers up lots of inspiration for a wild array of decor and menu ideas, which is why it's become a go-to trope for event planners. Invite guests to a tea party, perhaps asking them to come dressed as their favorite character such as the Mad Hatter, Alice, the Cheshire Cat, the White Rabbit, and the Queen of Hearts. Serve teas and finger foods like heart-shaped tarts, and provide games including croquet and cards.
49. Get Inspired By Rocky Horror Picture Show
Host a viewing party of this cult classic, teach guests how to do the "Time Warp" dance, decorate in vein of Dr. Frank-N-Furter's spooky castle with dark drapery and vintage knick-knacks, and serve a menu featuring themed items like lip-shaped cookies, meatloaf (in honor of the singer's appearance in the film), and frankfurters, of course.
50. Throw A 'Great Pumpkin' Party
Another classic Halloween flick, "It's the Great Pumpkin, Charlie Brown'' works well for family-family events. Consider including a pumpkin-carving contest, along with nods to the movie such as piles of leaves, buckets of apples, and treat bags.
Questions to Ask Before Throwing a Halloween-themed Event
As the spooky season approaches, the prospect of hosting a corporate Halloween-themed party presents a unique opportunity to infuse a touch of creativity and camaraderie into your workplace. Yet, before the eerie festivities ensue, a series of pivotal questions must be addressed to ensure the event's success. From defining its purpose and target audience to setting a budget and curating an enchanting ambiance, thoughtful planning is key. The following five questions emerge as a guide, illuminating the path towards orchestrating a memorable and engaging corporate Halloween affair.
What is the Purpose of the Event?

What is the main goal or objective of hosting a Halloween-themed party for the company?
How does this event align with the company's values and culture?

Who Will Attend the Event?

Who are the intended attendees? Is it open to employees, clients, partners, or a specific group?
What is the estimated number of guests?

What is the Budget?

What is the allocated budget for the Halloween-themed party, covering expenses such as venue, decorations, catering, and entertainment?
How will the budget be managed to ensure a successful event within financial constraints?

What Will the Theme and Atmosphere Be?

What specific Halloween theme or vibe are you aiming for? Is it spooky, festive, elegant, or a unique combination?
How will you create and maintain the desired atmosphere through decorations, lighting, and other elements?

What Activities and Entertainment Will Be Provided?

What activities, games, or entertainment options are planned for the event to engage attendees and enhance the Halloween experience?
How will these activities contribute to the overall event objectives?
Halloween Parties to Get You into the Spooky Spirit
Whether you're hosting family and friends or employees and executives, these Halloween party ideas are guaranteed to create a scarily good time. And hopefully this list helped take the fear out of planning your Halloween party! Don't know where to start? We're here to help. Start searching The Vendry for great ideas, now!