Article Updated 11/12/23
Everyone has worked hard, scored important wins, and closed big deals. The staff has earned it, so we say…let's party!
Holiday parties can do so much for an organization. They help boost employee morale and often build up company culture. Hosting one takes time, effort, and list-making. The first place to start is deciding on what kind of party you want to have. Themed? Off-site? On-site? Hybrid? No matter what you decide, watch your associates come together over team-building activities or bond over food and drink. A much-anticipated holiday party is something to look forward to, as well as a welcomed break from everyday tasks.
Let's get in to the spirit of things with some innovative corporate entertainment ideas just in time for the holiday season. The Vendry sat down with some industry pros to hear what trends they're most excited about as we close out 2023.
Here's some corporate entertainment inspiration from those who know best!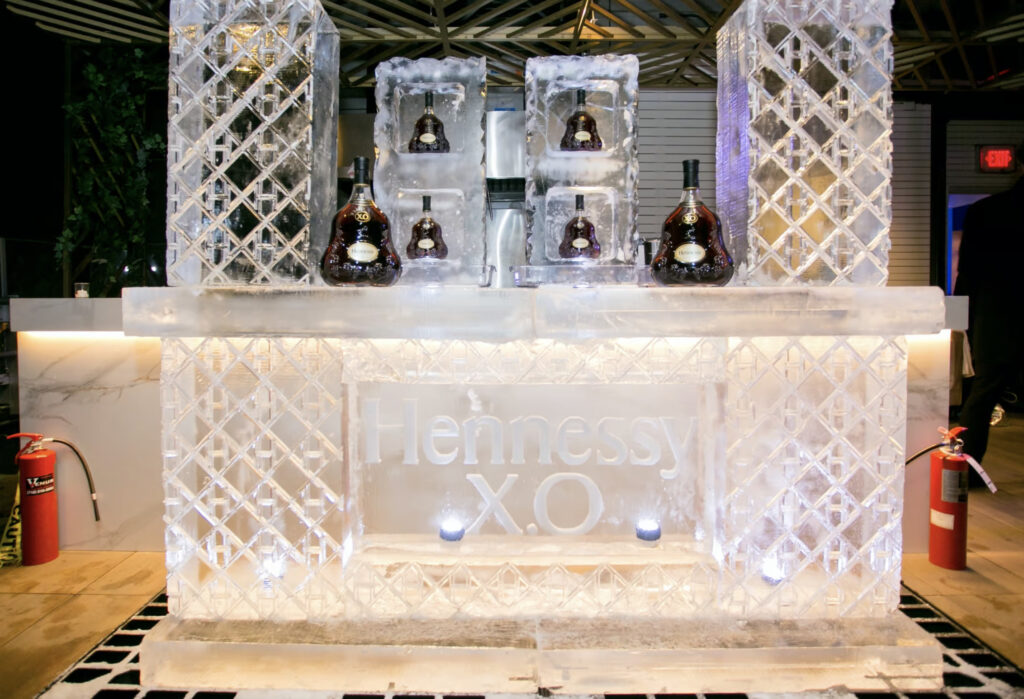 Fun and Engaging Corporate Holiday Party Entertainment Ideas
Themes
Plan your holiday party around a fun theme such as a winter wonderland or a favorite era like the '80s. Because of the current decade, some planners and hosts are looking back 100 years to the roaring '20s. Courtney Armbrust, owner and events director of Meridian Events, points out, "I think we've seen this quite a bit but the Roaring '20s theme is becoming very popular for obvious reasons!"
Always the star of the party: Food
Everyone always wants to know about what is being served at the holiday party. "We are looking at more passed hors d'oeuvres and food stations with fully composed small plates," said Anthony Navarro, creative director of Liven It Up Events. "We are still seeing more groups comfortable with food being passed or already plated. All they have to do is pick up a composed plate where they can take it and walk off with it."
Ally Grubb, senior event planner and marketing manager for Foxtail Catering & Events, says that "custom-designed mini food boxes and custom bottled beverages that match the holiday theme or are personalized to the guest are at every holiday party we are planning. For many events, we have replaced the 'late-night snack' with these items so that guests can take them home – a gift and a treat at the same time!" She added that "fabulous cheese and charcuterie boxes are really having a moment. They are beautiful and easy for guests to grab and go."
And food has become more inclusive this season, too. Be ready to offer more vegan, dairy-free, and gluten-free options at your holiday party.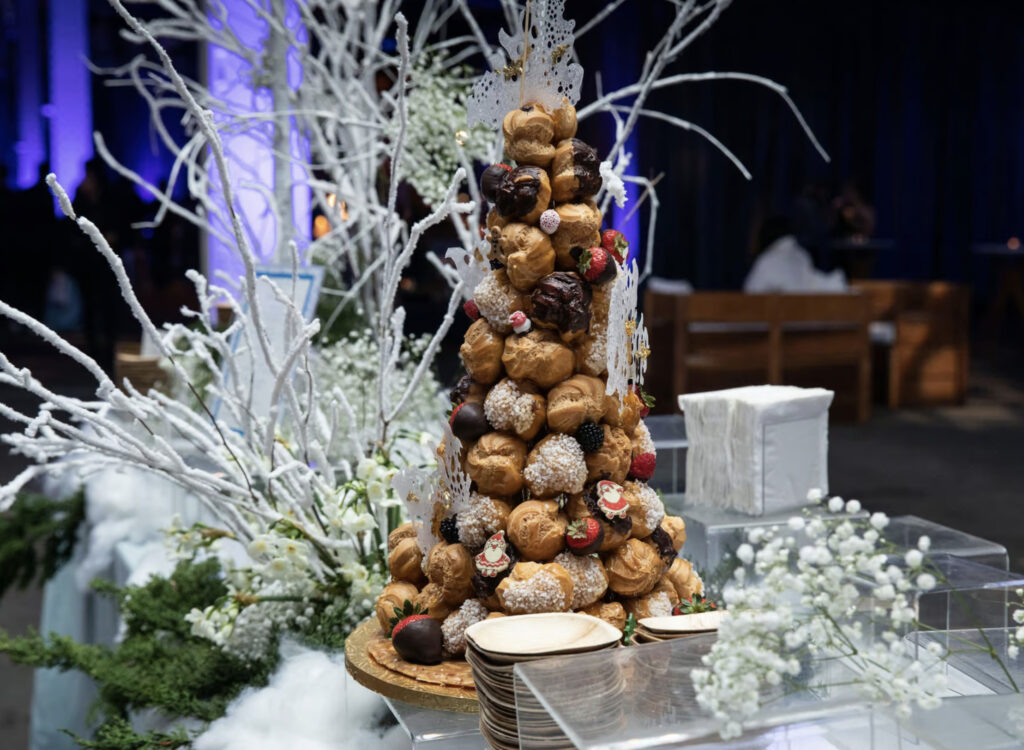 VR Entertainment and Simulators
Everything else is on screen, why not your holiday entertainment, too? Skiing, golf, or other sport simulators are a huge trend. Planners are embracing the latest tech trends like virtual reality (VR). To add some video gaming to your holiday party, seek out suppliers that offer mobile VR entertainment.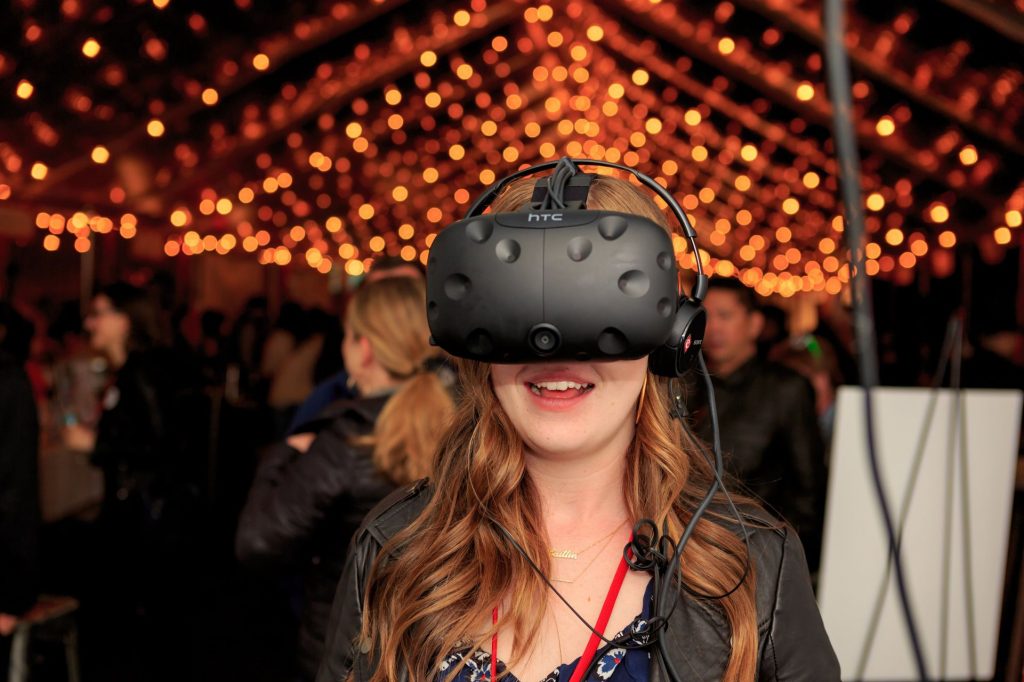 Experiential Activations
From mobile cooking classes or new product rollouts, events featuring experiential activations has taken the world by storm. There's a way to make this trend a part of your company's holiday celebration. Partner with a new small business in town and offer them the space and opportunity to give out their goods or feature their products. Everyone wins in a cross marketing partnership!
If you feel overwhelmed by creating these experiences in-house, look to a professional to assist with your planning. Event agencies like Coco Events can help you prioritize, plan, and execute your holiday extravaganza — from booking live entertainment to activating out-of-the-box photo booths.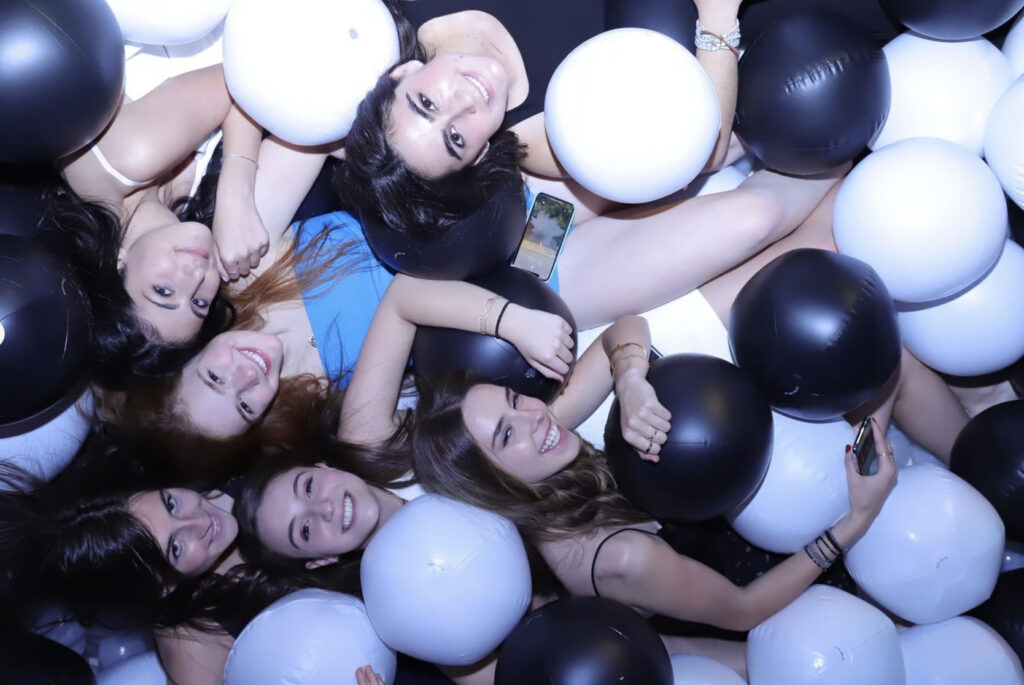 Incorporating WFH colleagues
With so many associates and colleagues working from home, in-house organizers are still planning virtual gatherings with WFH colleagues and clients. Always strive to make the experience extra special for those whooping it up at home. "Companies want these employees to enjoy the experience regardless! So we are seeing that some are going to invest in sending gifts and kits to these employees' homes that will either allow them to celebrate at home while virtually attending or just to provide them with a gift so they feel included even from afar," said Armbrust.
Madeline Raithel, communications specialist for Entire Productions, said "leaving those remote workers out is not an option, so consider a faster-paced, more engaging hybrid meeting event with your message, education, and team-building segments, seasoned with a scintillating musical performance, master magician/mentalist, celebrity appearances, giveaways, and more."
Photo booths or AI Apps
Over the past several years, photo booths have become an event staple, so don't forget to include one at your holiday event. Consider renting a green screen as a backdrop and allow attendees to choose their own festive scene such as a winter wonderland or Santa's sleigh. At-home attendees can still engage via a virtual photo booth, which can be browser-based or with an app, even incorporating AI imaging for shots to share.
Do A Little Dance
Is it even a party without festive tunes? For your holiday fête, be sure to choose a showstopping DJ or a heart pumping live band to get your crowd moving . Rocking music not only brings people to the dance floor, it will inspire your crowd to open up and share more with each other.
Entertainers and Impersonators
Capture the magic of the season with the help of an entertainer or impersonator. Celebrity impersonators, performers, or even a magician provide entertainment while interacting with the guests. Engagement with employees and leadership is always a win.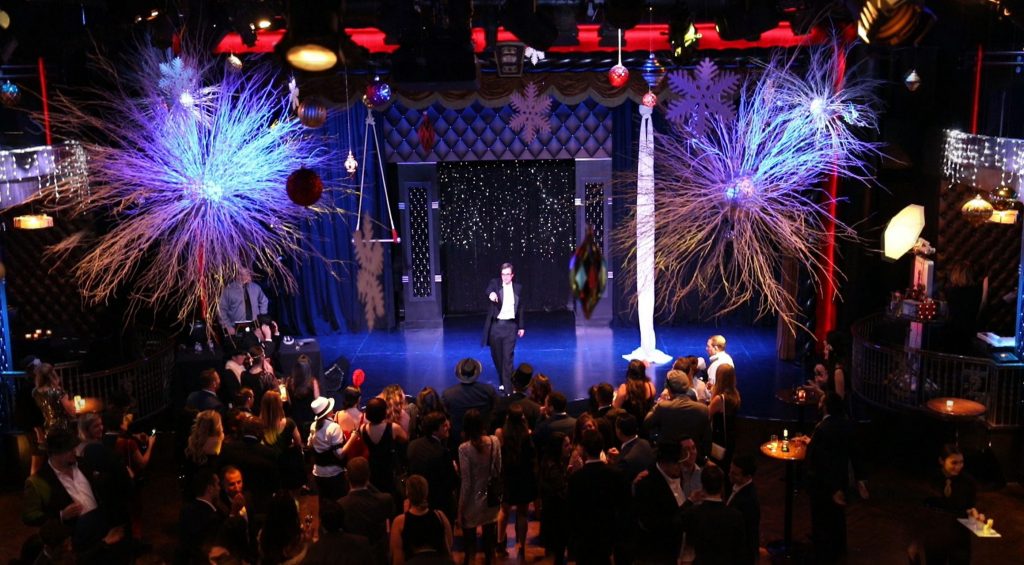 Think "essential"
When thinking about smaller holiday events, Armbrust said, "in terms of format, we're seeing a mix of smaller team holiday parties within one large company, as well as just one holiday party for the whole company. Many are even sending surveys to their employees to gauge their comfortability and what they'd prefer." Even with the pandemic well in our collective rearview mirror, many are still enjoying the feel of a smaller, more intimate holiday get-togethers with colleagues they see as essential to their everyday work life.
Or…Back to the Blowout
While some companies might choose to host small, intimate events, others are ready to party hard after missing out the last few years. "We are getting a lot of inquiries for corporate holiday parties, from early November to mid-December right now, and they are looking to go big," said Tyler Hollinger, owner of Highlife Productions. "I think that a lot of companies are still looking to lift everyone's spirits!"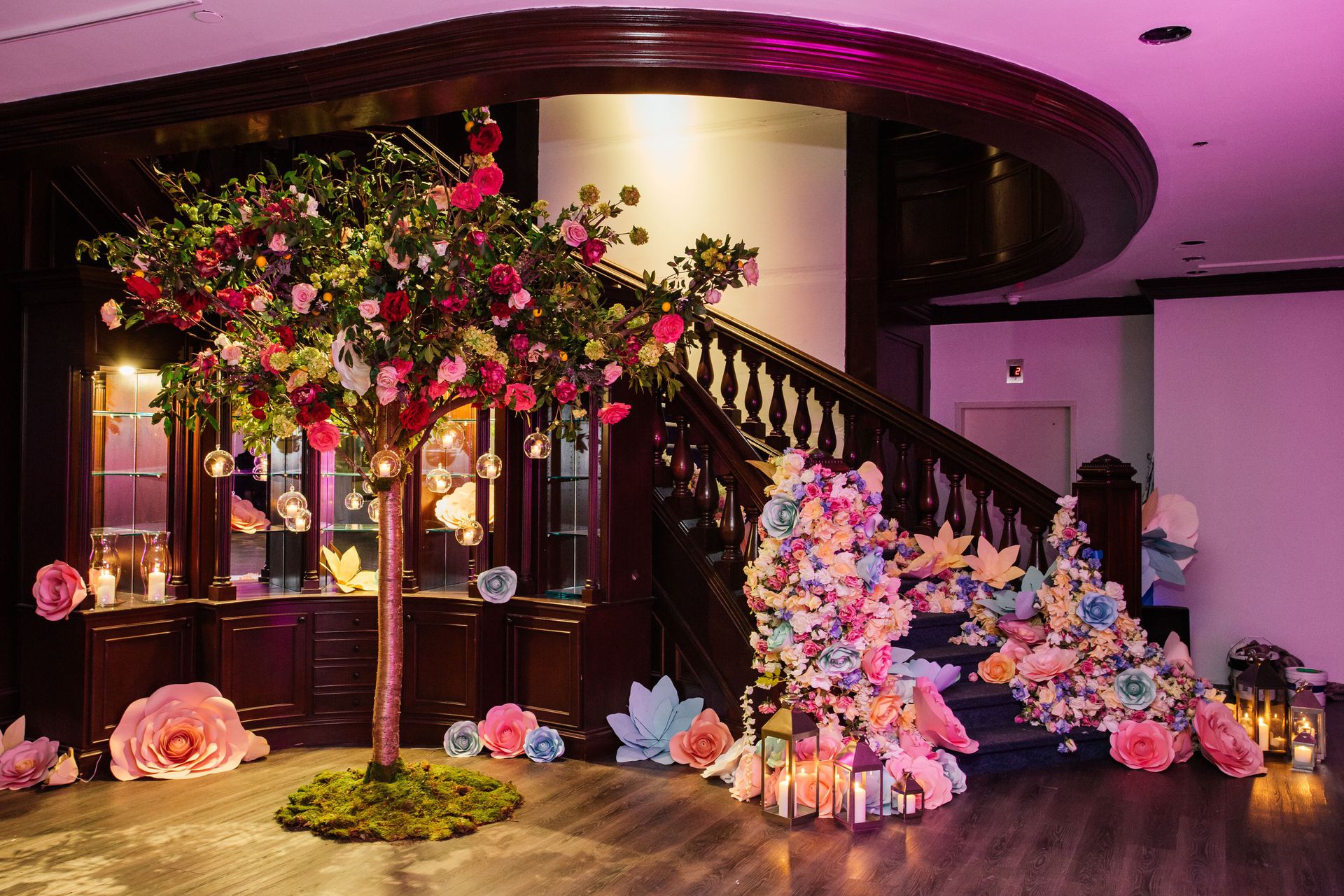 Keep it Sustainable
Over the past several years, more and more event pros have become mindful of the ecological footprint of the parties they plan, with some making a conscious effort to make the holidays more green. "We are very big on sustainability right now. All of our cuisine and mixology is locally sourced, hyper seasonal, and super delicious. So we are very stoked about all those fresh fall flavors," Hollinger said.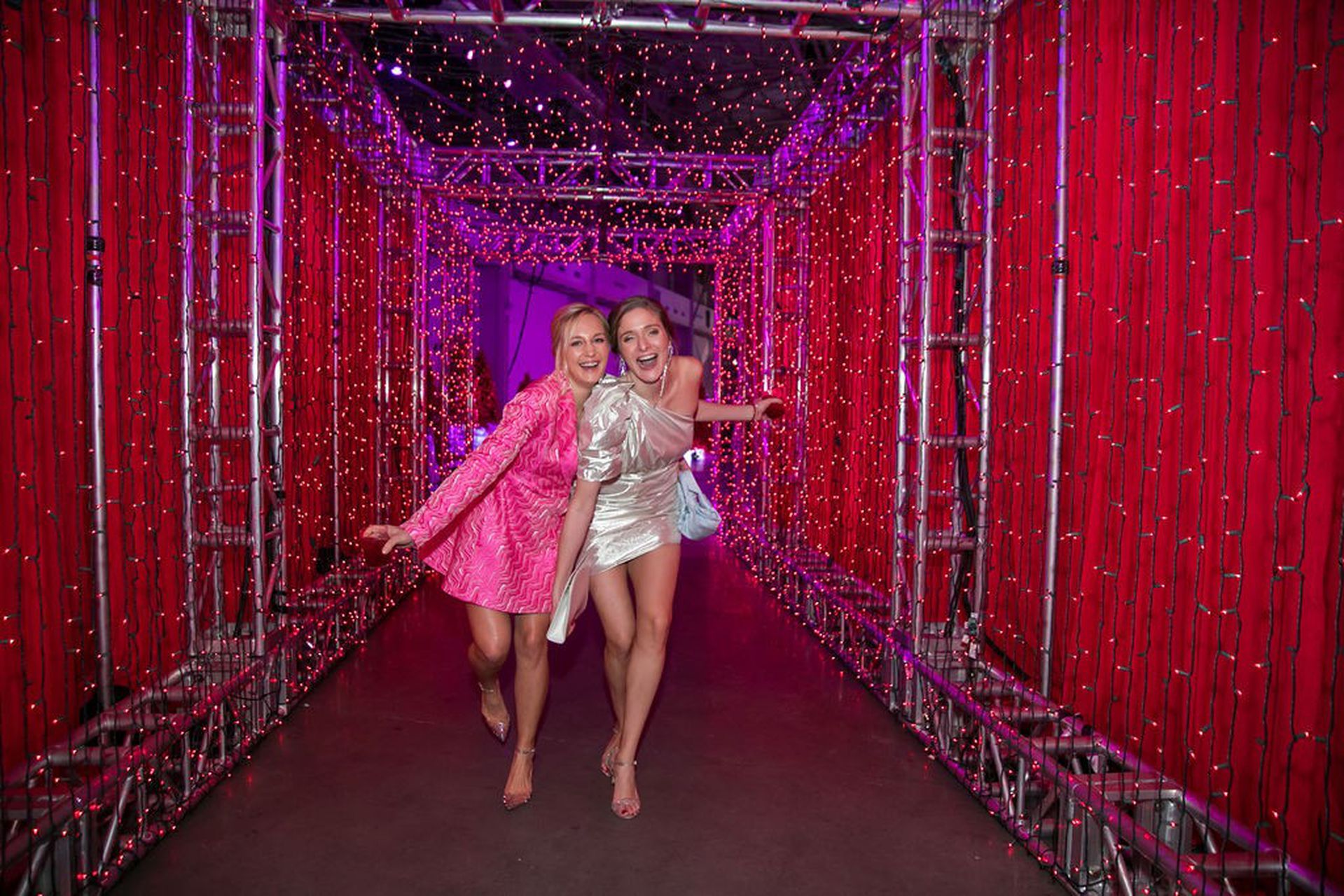 Office talent show
Allow employees to show off their hidden (or not-so-hidden) talents with an end-of-year talent show, which can be conducted in person or over Zoom. Ask attendees to sign up ahead of time and assign a host to keep the show flowing.
Giving Back
More than ever, employers and their staff are looking for ways to contribute and give back. For this year's holiday party, consider incorporating charitable C.S.R. (Corporate Social Responsibility) activities or the option for attendees to donate to a cause. "Giving back to employees or some sort of donation element as part of the event will be very popular," Armbrust said. "Companies have found that listening to their employees' needs, as well as giving back to their industries or communities requires more focus and they're delivering."
People Often Ask These Questions
Q: How do I throw a holiday party in 2023?
A: Conduct an employee poll to gauge people's interest in what they'd like to see, including options. Some cultures can't wait for the large party, while some would prefer department-only gatherings. Asking your people what they want is a great place to start.
Q: My company just isn't in the party mood. What do you do in lieu of a company holiday gathering?
A: Instead of a traditional party, plan an outing such as volunteering at a local food bank or animal shelter, host a potluck dinner, or simply give the employees an extra day off.
Q: How do you make a business event fun?
A: Work-related social events like happy hours or holiday parties allow employees and staff to connect on a personal level while participating in (hopefully) fun activities. Instead of awkward chit-chat, plan a few activities to keep people engaged and to help build camaraderie.
---
In a party planning rut? Browse Real Corporate Holiday Parties to find inspiration and ignite creativity.
---