Let's be real, because of the coronavirus pandemic, we're all in some sort of horror movie at the moment. And your work group as a whole might not be in a super celebratory mood. But for those WFH teams that are looking for a fun distraction, now's the time to start planning a virtual Halloween gathering.
To help you get started, here are some easy activities and ideas—from pumpkin carving to costume competitions—for hosting a scarily good virtual Halloween party.
1. Pumpkin-carving contest
If your staff includes families, especially with little ones, consider including a pumpkin-carving contest as part of the remote Halloween festivities. Folks can carve their pumpkins while chatting over Zoom; if you don't want to make a mess, suggest decorating them using Sharpies and other materials such as yarn and ribbon. (You can also send supply kits to the group.) Or attendees can simply show off their completed creations during the party. Then award prizes such as digital gift cards to the most gorgeous gourds.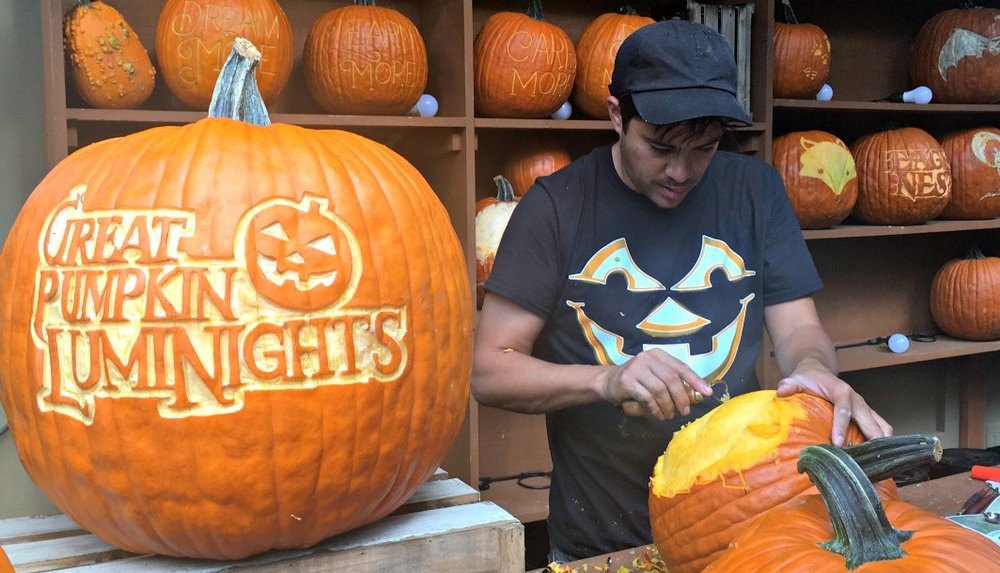 Interested in talking to the experts? Reach out to Maniac Pumpkin Carvers!
2. Virtual costume contest
Since venturing out to a costume shop might not be feasible, challenge your team to create their own costumes using items from around the house. Be sure to set guidelines, if necessary. (Like no x-rated costumes allowed.) You can then offer prizes based on different categories such as scariest, funniest, and cleverest.
3. Wine and candy pairing
This devilish twist on a virtual wine tasting follows similar rules. But instead of cheese, you're swapping in Reese's Peanut Butter Cups and Skittles. Plan ahead and select two to three wines, which the guests can buy beforehand, and the corresponding candies. For example, according to online wine marketplace Vivino, Glow-In-The-Dark Fun Size Snickers go well with Cabernet Sauvignon. Or you can host a pumpkin beer tasting or a happy hour with Halloween-themed cocktails.
4. Murder mystery game
A virtual teambuilding exercise disguised as a fun party activity, murder mystery games require remote teammates to communicate and use critical thinking skills to solve puzzles and riddles. Some vendors even allow you to customize the experience to your team. For example, A Touch of Mystery & More Entertainment Group can include up to five guests into the storyline using extra clues or the company can create a customized story from scratch.
5. Tarot card reading
In the spirit of the holiday, book a virtual psychic or tarot card reader to entertain your guests and host a digital fortune-telling session or seance.
6. Horror movie screening
Organize a group screening via platforms like Netflix Party or Metastream, and gather around virtually to watch creepy, scary, or silly Halloween movies like Friday the 13th, The Sixth Sense, and The Nightmare Before Christmas. You can also plan the event around the movie with specialty cocktails and snacks inspired by the film's theme.
7. Halloween karaoke
Set up a virtual karaoke bar with the help of Watch2Gether, where you can compile a queue of karaoke tracks (don't forget "Monster Mash"). Be sure to ask your team for song suggestions and their go-to tunes beforehand to speed up the process. And then get ready to scare your coworkers with your singing.
8. Treats delivery
Send your team members an instant party with The Rocky Horror Picture Show-themed boxes from Foxtail Catering. These tricked-out packages feature cheeky references to the cult classic including "Hot Patootie" pumpkin bisque-filled test tubes; "Frank-N-Furters" on a pretzel roll with Dijon mustard and sauerkraut; "Dammit, Jam It" hand pies; sour lip-shaped gummies; toast magnets; pink rubber gloves; and a Black Magic cocktail. You also add in the DVD for an extra dose of fun.
9. Sweets shipment
SugarWish lets guests fill their own gift boxes with their choice of candies, and for spooky season, recipients can load up on festive favorites like candy corn, gummy pumpkins and spiders, and caramel creams, all dressed up in the company's new Halloween packaging. The boxes, starting at $19.98, can be sent throughout the United States and Canada.
10. Virtual haunted house tour
Although you might not be able to meet up in person, you can still creep around a spooky location such as the Paris Catacombs, the Eastern State Penitentiary, or the Winchester Mystery House, a famous ghost hunting landmark, together through an online tour. To view the haunted spot as a group, designate a host to share their screen and scream as a team.
---
Are you planning a hybrid or live Halloween gathering? Get inspiration from photos of halloween events in our galleries!
---