In March, a piece by digital artist Beeple sold for a record-breaking $69 million at a Christie's auction. Unlike an actual physical painting, the pricey purchase is a high-tech doodad that you can look at but can't hang on a wall—not an IRL wall anyways. That's because the work is an NFT (short for non-fungible token) and only exists in the digital realm. It's the latest internet craze that everyone is trying to cash in on. But can NFTs play a role within the events industry? We asked some pros for their thoughts on the new fad and the impact NFTs might have on future events.
First, what is an NFT?
NFT stands for "non-fungible token" and it can hold anything digital—from drawings to animated GIFs to even concert tickets. It can either be a one-of-a-kind item like the Beeple art or a copy like trading cards. The value of NFTs is subjective and therefore fluctuates, kind of like stocks. Blockchain technology (which is a data system that's difficult to change, hack, or cheat) keeps track of who has ownership of the file. Because of the amount of energy it takes to keep this information up to date, many have begun to question the environmental impact of NFTs, especially given their recent surge in popularity.
Who's already using NFTs for events?
When Kings of Leon released its new album earlier this year, in addition to offering it on streaming services like Spotify, the band also made it available in the form of three different NFTs, all of which included art designed by the band's creative partner Night After Night. As part of the release, 18 "golden tickets" were created, six of which were auctioned off, the other 12 were put in a virtual vault. Each "golden ticket" unlocks actual concert tickets. Whoever owns the token is guaranteed four front-row seats to any Kings of Leon concert during each tour for life. The token owner also gets a V.I.P. experience that includes a personal driver, a concierge at the show, time with the band, exclusive lounge access, plus bags of merch.
In theory, this NFT strategy could be applied to all ticket sales. Every time an NFT is resold, a percentage of that money could go to the artist. A maximum resale price could also be established in order to deter scalpers. "From a ticket perspective, secondary market sales that actually benefit an artist would take the sting out of ticket resellers, but also allow an artist to own all data and communications related to their fanbase," explained Casey McGrath, C.C.O. of Night After Night. He also added that NFTs could be used to award bonus swag to fans who purchase merch at the on-site store; an accompanying NFT could unlock a similar item in the metaverse.
Multi-hyphenate artist and musician Young & Sick recently teamed up with Goldflyer, a fundraising initiative from Neon Gold Records, Venue Group, and All Things Go, to raise funds for independent music venues, in conjunction with the National Independent Venue Association (NIVA).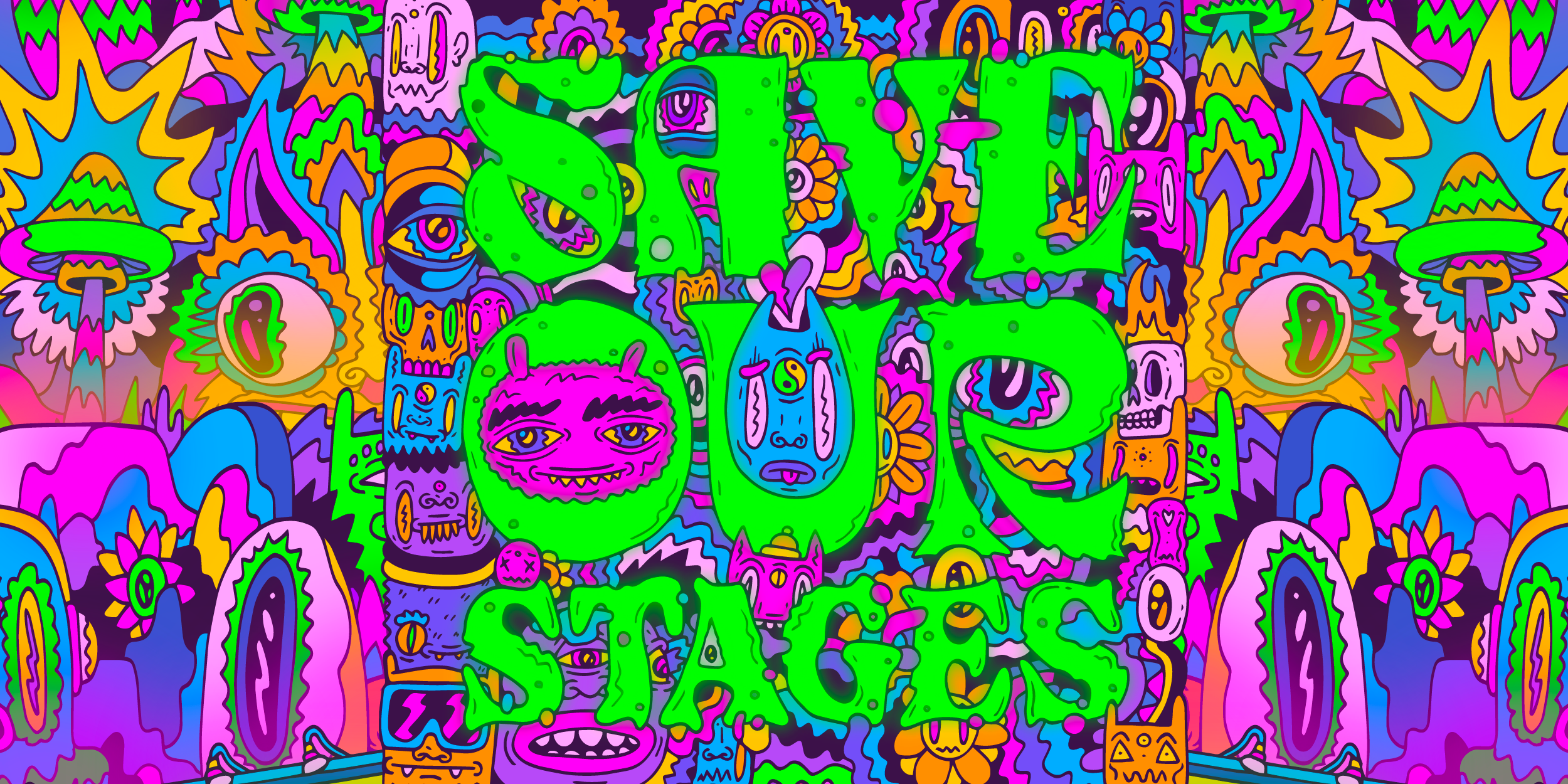 Each venue's one-of-one NFT art included a special "Golden Ticket" component that grants the owner exclusive perks like V.I.P. tickets to every show at that venue for one year, as well as other venue-specific rewards like the winner's name on the marquee at The Metro in Chicago, a guided tour of First Avenue in Minneapolis with a photo opp on Prince's motorcycle from Purple Rain, and more. Goldflyer collaborated with Offsetra, which works with companies to offset their carbon emissions, to create a carbon-neutral experience.
"We first started getting into the NFT space at the end of 2020, and after watching our Neon Gold artists Young & Sick and The Knocks recoup a year's worth of lost touring income in mere minutes on their debut NFT collections, we couldn't help but think of the incredible opportunity to harness the energy of the space to direct some much-needed relief to other sectors of the creative industry hit hard by the pandemic," explained Derek Davies, co-founder of Neon Gold Records, referring to Young & Sick's debut NFT collection that grossed over $1,000,000 in March.
As for the bigger picture, Davies echoes the sentiments of McGrath, saying he thinks that blockchain technology could "revolutionize the entire music industry in myriad ways…. Blockchain ticketing can offer the first real solution to the scalping and bot issues that have plagued the live industry for years, ensuring any secondary market sales flow through to the promoter or venue and tickets end up in the hands of fans and no one else."
Monetizing event moments
For this year's Kentucky Derby, the Churchill Downs Racetrack launched a limited series of blockchain-backed digital collectibles (a.k.a. NFTs) by Fanaply, which has created NFTs for Death Row Records, Olivia Rodrigo, Ticketmaster, and others. Four different NFTs, all inspired by popular IRL products, are being sold, including mint julep glasses; the post position graphic, which commemorates the starting gate order; and the official artwork that's featured on the commemorative posters and program covers.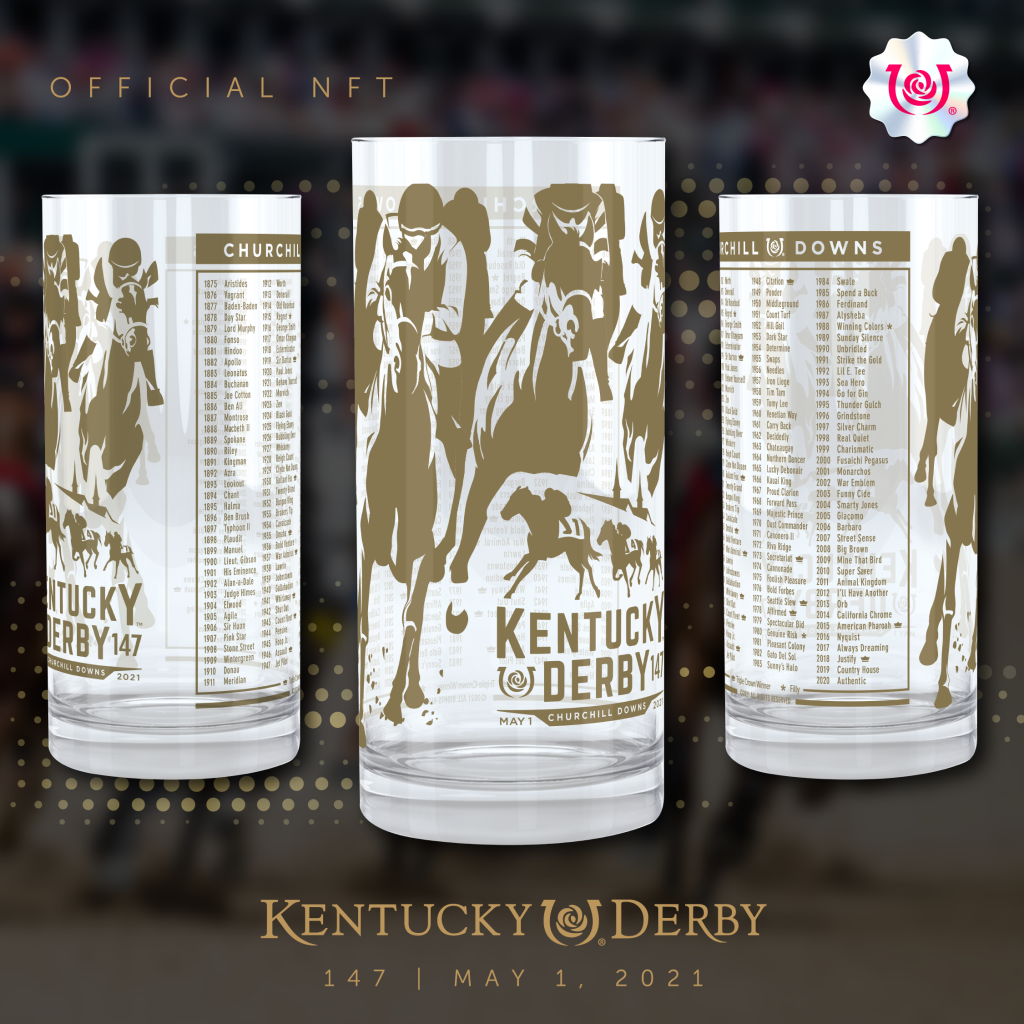 While the digital Derby collectibles represent physical stuff, the N.B.A. recently monetized actual gameplay, with the advent of N.B.A. Top Shot. Created by Vancouver-based startup Dapper Labs, which builds marketplaces for tokenized digital collectibles, the new platform lets users buy and sell N.B.A.-licensed basketball highlight videos called "moments." Like old-school trading cards, but cooler, the video-based trading cards each show a short clip of an N.B.A. athlete making a play. Right now, a clip of a dunk by LeBron James is going for $240,000. Top Shot only releases a limited supply of each moment, so rare ones cost more, as is the case with most collectibles. Although the marketplace has been open to the public since October, fans and investors just recently started getting in on the NFT action.
Turning event ideas into NFTs
Creative agency Manifold recently released the first-ever "Experience-based Concept NFT," which is the blueprint of an idea, a digital representation of a creative concept. Titled "VORTEX," the piece, which is available on OpenSea (a marketplace for digital items), is being presented in four parts. The first "drop" is a conceptual build drawing. The following three drops show its evolution into a fully realized concept.
The agency believes this type of NFT is a way to democratize access to creative thinking and disrupt the traditional creative agency model. "We believe that really anyone might be interested in buying an experience-based concept NFT—an individual, an agency, a brand," explained Kelly Long, co-founder and partner of Manifold. "Once purchased, it's up to the buyer what they do with the concept. For example, they can keep it, they can resell it, they can iterate on the idea, they can produce it in the real world, etc." Manifold will remain the original creator of the concept, as verified by blockchain.
"As a creative agency, concepting creative experiences is what we do all day," Long said. "We come up with hundreds of ideas that never see the light of day. We think this is a great way to put those ideas that may have been tossed to the cutting room floor out into the wild."
What does the future hold for NFTs and events?
Over the past year, many event planners and producers were forced to embrace the digital side of the industry—from livestreaming to XR and everything in between. But will they be ready to take on another technology like NFTs?
Marc Herron, senior vice president of strategy for Sparks, said that some of his agency's clients have already expressed interest in NFTs and predicts that by fall Sparks will be incorporating them into events. "Although we haven't currently incorporated NFT's into any virtual or live events we've done to date, we do see the potential integration of NFTs into events in the near future, especially when it comes to gifting, swag, and other unique items we can offer our attendees either pre-registration as an incentive to register and participate or during the event to amplify the experience," he said.
Right now, the idea of enhancing an IRL experience with digital perks and capturing some "cool kid" points seems to be the biggest takeaway when it comes to NFTs, especially in the B2C space. "NFTs can build an even deeper relationship between attendees and organizers without having to go through traditional ticketing platforms. Not only is there an opportunity for organizers to engage with their attendees well in advance of an event through the art and content that will come with the ticket purchase, but they can also surprise and delight fans with drops post-event."
Some critics are already questioning the sustainability of the NFT model and are wondering when the bubble will burst. But Manifold's Long anticipates the new tech will stick around and find its way into creative industries, including events.
"This landscape is so new and clearly there is still a lot of confusion around NFTs. There is education that needs to happen to make all of this accessible to the masses, but we are confident that NFTs, especially experienced-based concept NFTs, are going to have an incredible impact on our industry in the near future."
---
Check out our discussions page where you can share your questions, comments, and ideas about the impact of NFTs on events and all things events related with other industry pros!
---