New York City is known for its world-class dining scene, and with thousands of restaurants to choose from, it can be overwhelming to decide where to dine. For food enthusiasts, New York City is a haven of culinary delights, ranging from small family-owned eateries to fine-dining establishments with Michelin stars. In this article, we'll take a closer look at the 10 best acclaimed restaurants in New York City, recognized for their exceptional cuisine, innovative menus, impeccable service, and overall dining experience. New York City's best acclaimed restaurants have earned high praise from diners and critics alike, cementing their reputation as some of the best dining destinations.
10 of New York's Best Acclaimed Restaurants
From elegant fine dining to cozy bistros, these NYC restaurants have been recognized for their innovation, creativity, and exceptional service. Whether you're looking for a intimate dinner, a private party, or a celebration, these restaurants are sure to deliver an unforgettable dining experience. So, if you're planning your next event in New York City be sure to add these acclaimed dining destinations to your list.
1. Le Bernardin Privé
Neighborhood: Theater District
Capacity: 80
Le Bernardin Privé is a 3 star Michelin Guide restaurant that offers a lavish dining experience ideal for hosting your next special event. The salon is adorned with floor-to-ceiling windows that allow ample natural light to flow in during the day. The restaurant can cater to groups of two to eighty guests, and the seating arrangements can be tailored to accommodate various party sizes and requirements. Chef Eric Ripert and his team have meticulously designed the menus, which can be perfectly complemented with wine selections recommended by Wine Director Aldo Sohm.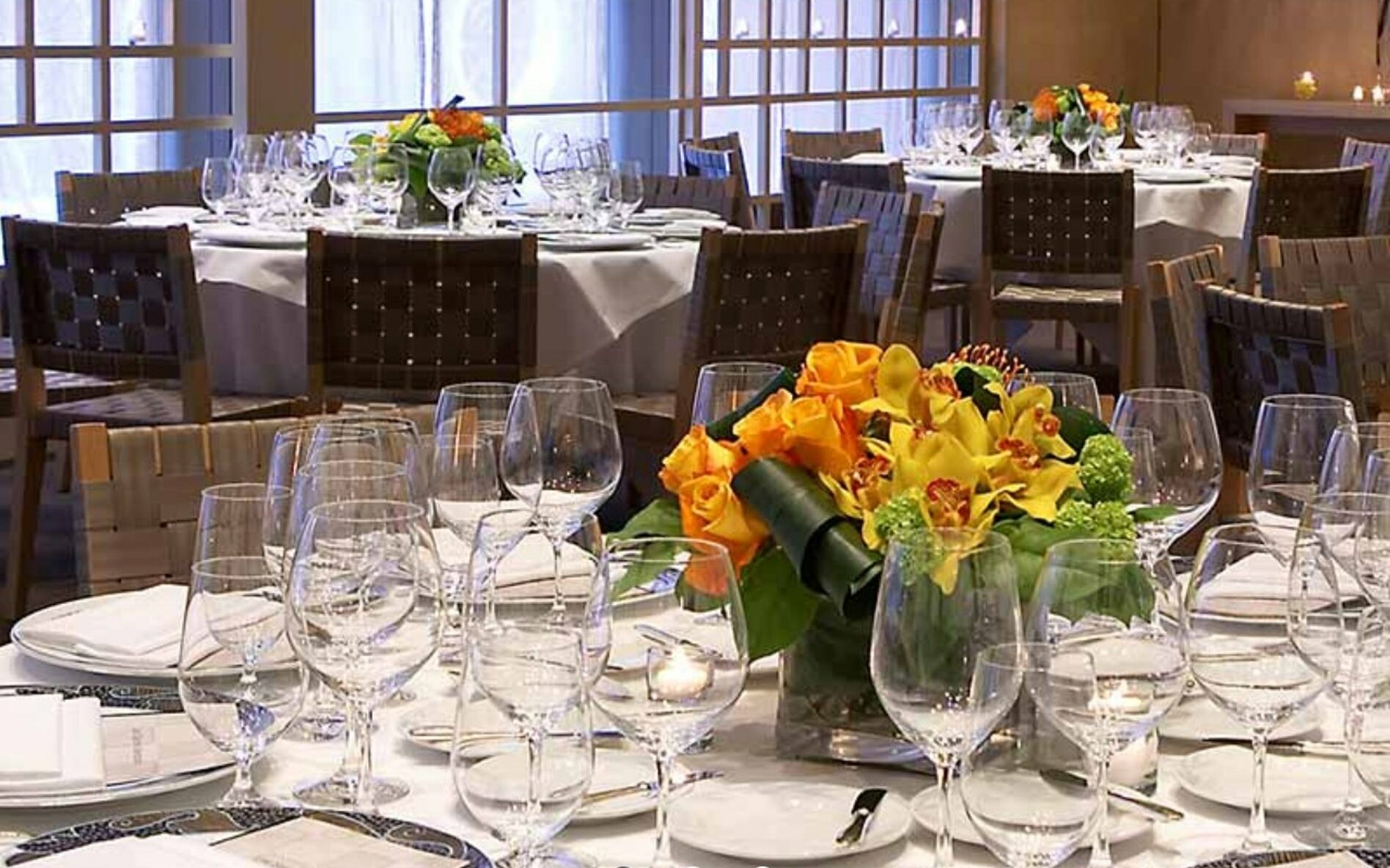 2. Le Rock
Neighborhood: Midtown
Capacity: 140
Le Rock is a New York Times 3 star French cuisine restaurant that specializes in classic French dishes and provides the perfect ambiance for events. The restaurant is housed in a 4000 square-foot space that includes a main dining area that can seat up to 92 guests and a private dining room that can accommodate up to 16 guests. Additionally, the outdoor terrace can accommodate an additional 50 diners. For seated dinner events, Le Rock can host up to 120 guests in the main dining room and an additional 50 guests on the outdoor terrace. For cocktail events, the restaurant can cater to up to 250 guests, with an additional 100 guests on the terrace. The private dining room is also available for groups of up to 16 guests, creating an intimate and exclusive dining experience with its dark wood, mirrored walls, and dim lighting.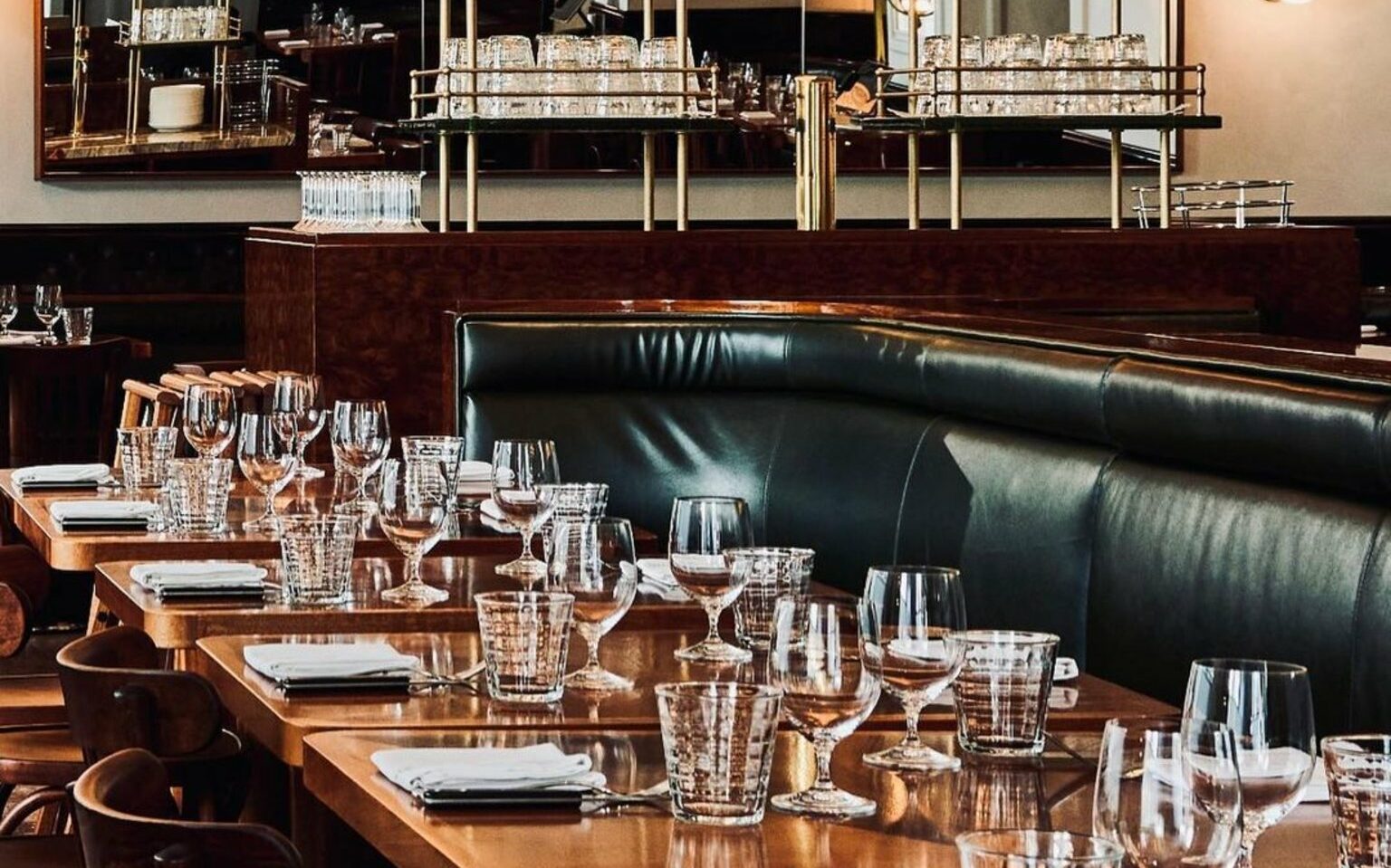 3. Don Angie
Neighborhood: West Village
Capacity: 55
Don Angie is an Italian-American restaurant situated in New York City's West Village and has been recognized as one of Esquire's Best New Restaurants in America. This Michelin-starred restaurant offers a private dining room that is completely separate from the main dining area. The private dining room has its own entrance, a cocktail area, and a kitchen that can seat up to 16 guests for dinner. If you have a larger group, the restaurant offers full buyouts that can accommodate up to 50 guests.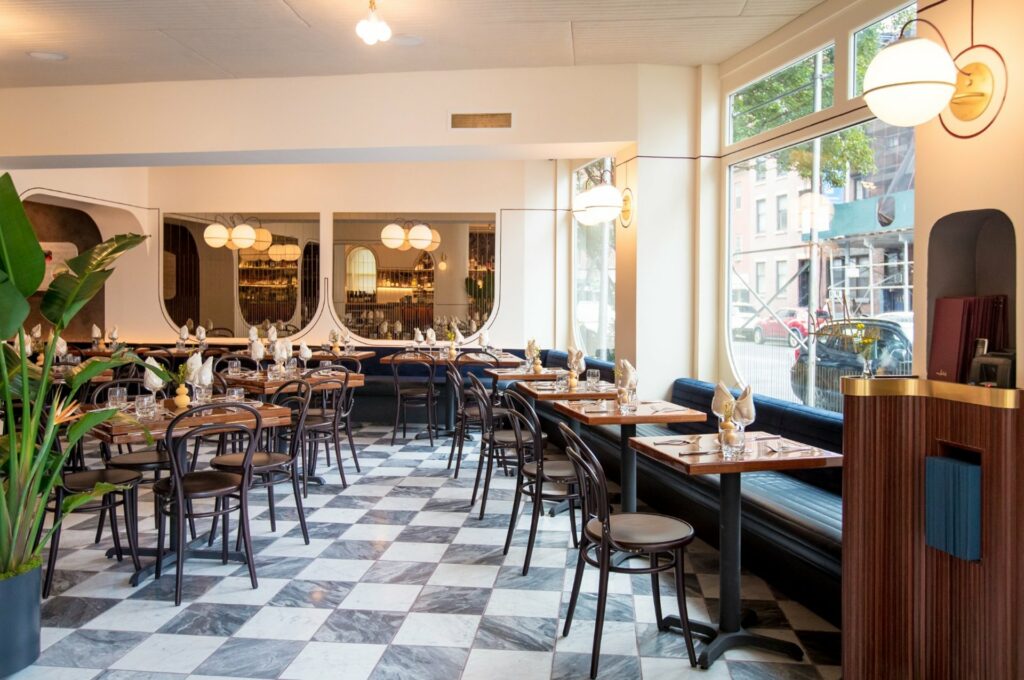 4. The Grill
Neighborhood: Midtown
Capacity: 250
THE GRILL is an American chophouse located in mid-century New York that has received a 3-star rating from The New York Times. This historically based restaurant is a predecessor to the NY Steakhouse and still upholds the intricate and elegant dining experience of that era. It's main dining area can seat up to 120 people while its private dining room can seat up to 22.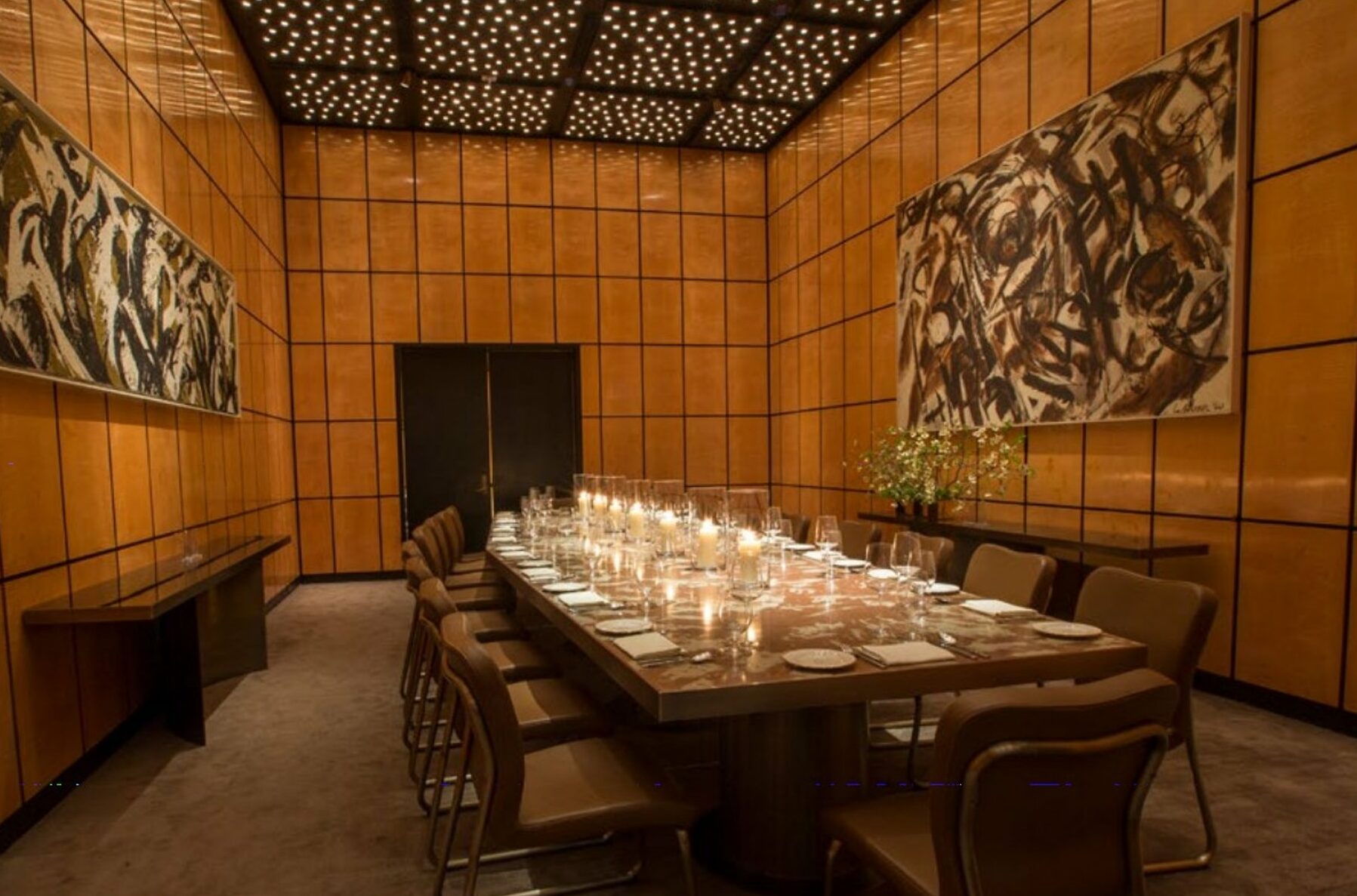 5. Sushi Nakazawa
Neighborhood: West Village
Capacity: 25
Sushi Nakazawa, an elegant Japanese sushi eatery situated on Commerce Street in Manhattan, has received acclaim for its excellence and meticulous preparation. The restaurant's offerings range from a 10-seat sushi counter and dining area to an off-site location, and Sushi Nakazawa is capable of tailoring omakase menus and beverage pairings to suit the specific preferences of all its patrons.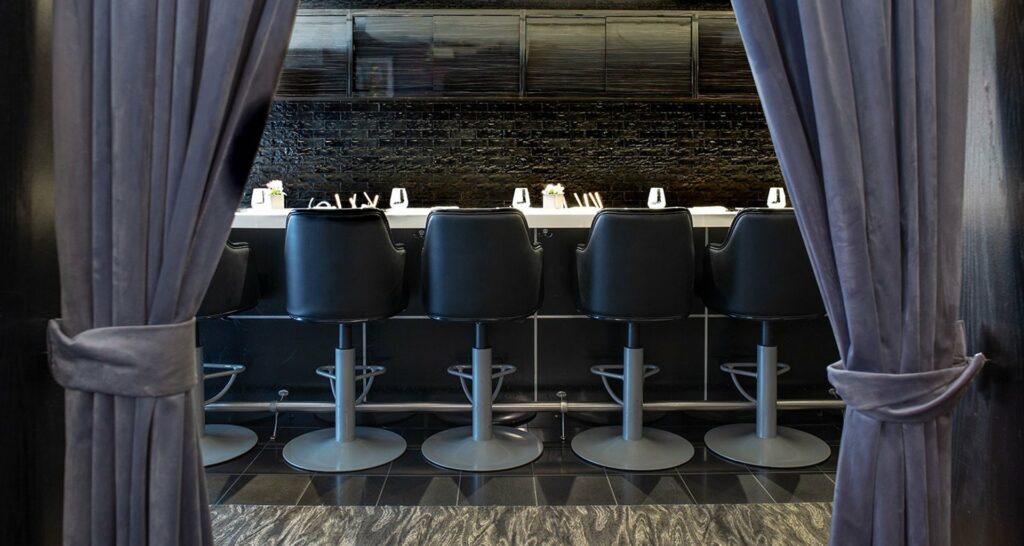 Find the perfect restaurant for your private dinner event. Browse now!
6. Gabriel Kreuther
Neighborhood: Midtown
Capacity: 150
Gabriel Kreuther, a Michelin Guide 2 star restaurant, offers exquisitely prepared, lavish cuisine. The eatery showcases refined French cuisine, presented in a trendy, open surrounding embellished with recycled wooden beams. Guests can indulge in either the Heritage or Carte Blanche Chef's tasting menus in the Main Dining Room or opt for elevated, Alsatian-inspired dishes. Its private dining room can seat up to 40.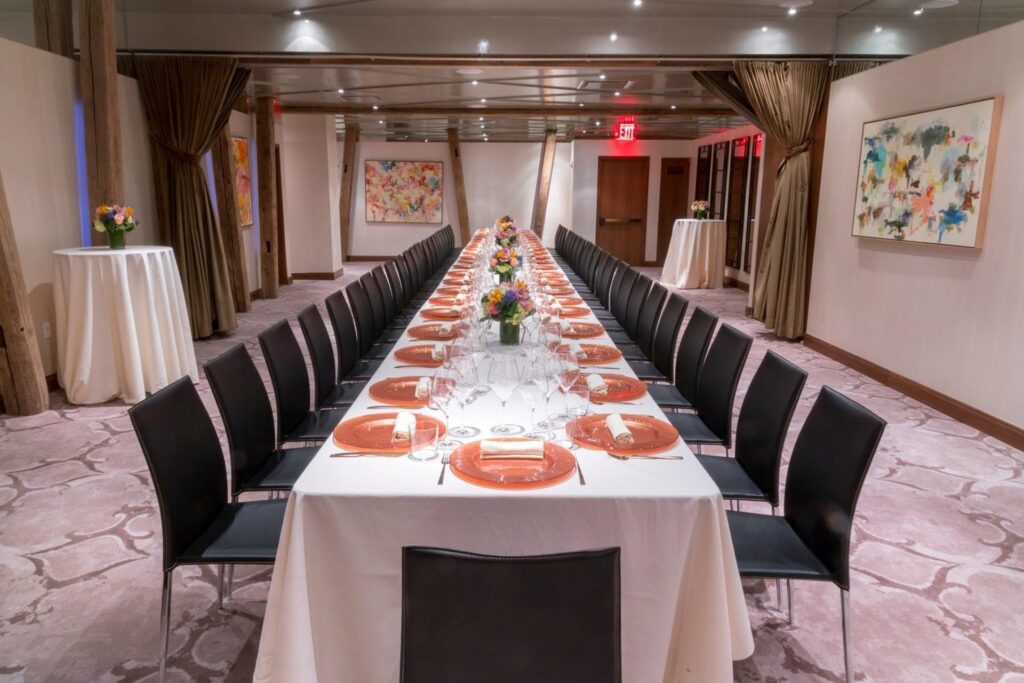 7. Saga
Neighborhood: Financial District
Capacity: 125
SAGA, an acclaimed fine dining restaurant, boasts a coveted Michelin Guide 2-star rating and is situated on the 63rd level of 70 Pine Street, an iconic Art Deco skyscraper located in New York's Financial District. SAGA's cuisine is firmly grounded in European culinary traditions, but its inspiration comes from a variety of sources, including the the eclectic food scene of New York City.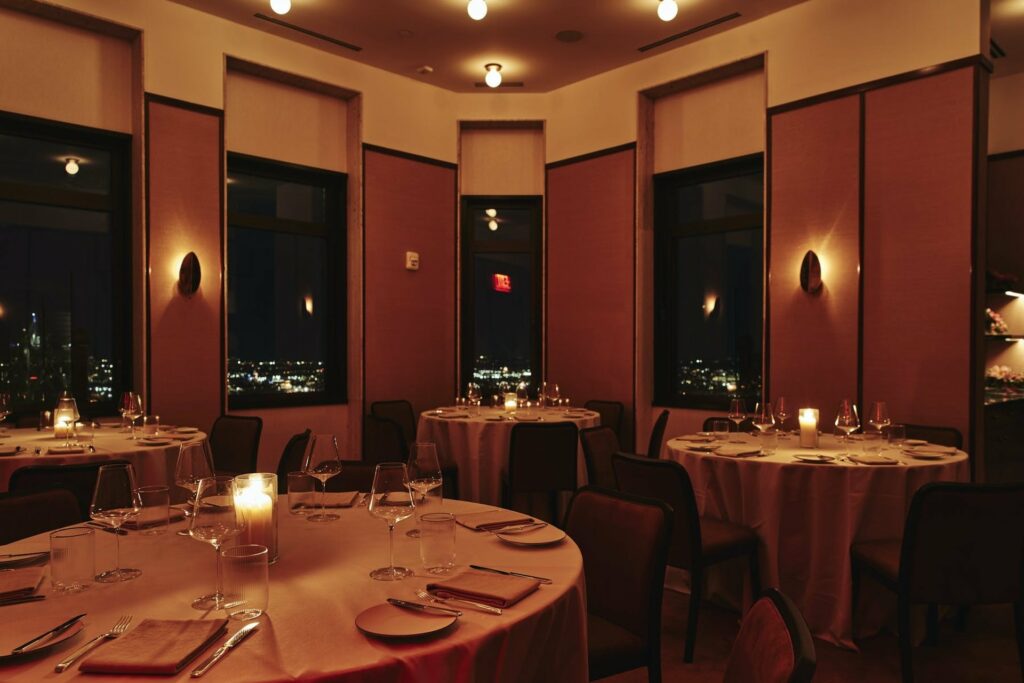 8. Momofuku Ko
Neighborhood: East Village
Capacity: 60
Momofuku Ko is a restaurant that upholds the Japanese kaiseki tradition and values seasonality, innovation, and the diverse culinary offerings of New York City. The establishment comprises of two distinct spaces, namely The Bar at Ko and the Main Dining Room. The Bar at Ko offers an ever-changing à la carte menu, while the Main Dining Room features a comprehensive tasting menu, complemented by a vast selection of beverages. The restaurant has earned two Michelin stars since 2009 and was granted three stars by the New York Times in 2015.
9. Semma
Neighborhood: West Village
Capacity: 70
Semma is a restaurant that has been awarded 1 star in the Michelin Guide and offers an opportunity to explore the culinary heritage of Southern India. Chef Vijay, hailing from Tamil Nadu, presents the deeply personal and authentic experiences of farming life on his ancestral land, delivering intense flavors and ingredients specific to the region.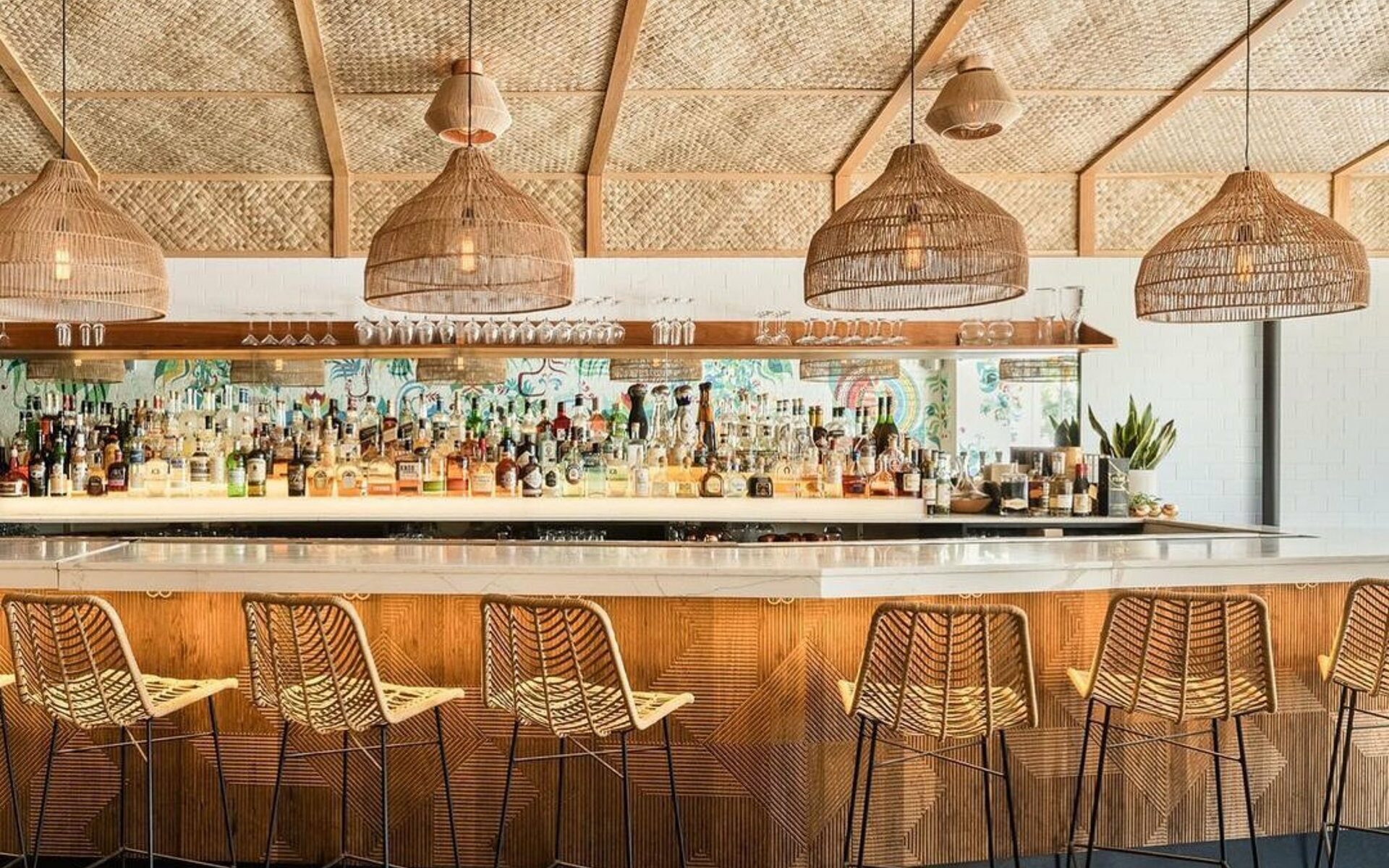 10. La Mercerie
Neighborhood: SoHo
Capacity: 200
La Mercerie is an upscale restaurant, featuring a pastry counter and home decor showcase, housed within Roman and Williams Guild. Chef Marie-Aude Rose expertly blends her classical culinary training with cutting-edge techniques, resulting in a reimagined French cuisine that is both thoughtful and refined. Whether you're planning an intimate gathering of 8 or a larger event of up to 200 guests, La Mercerie offers a range of indoor and outdoor options for both seated meals and receptions.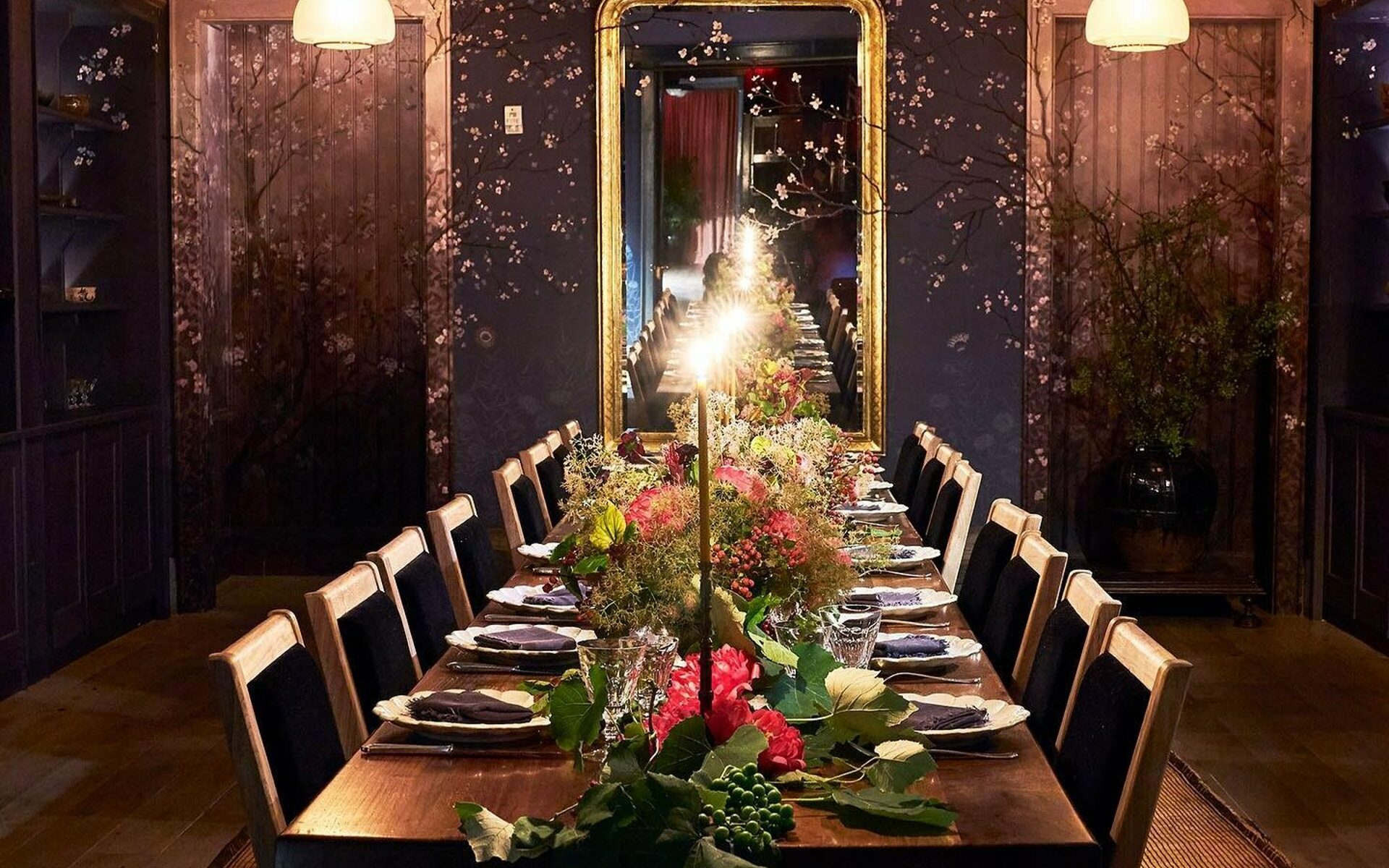 How to Choose the Best Restaurant for Your Event
Choosing the best location for your event can be a challenging task, as there are numerous factors to consider to ensure that your guests have a great experience.
Consider the type of event: The type of event you're planning will influence the type of restaurant you should choose. For example, a formal dinner party will require a more upscale restaurant than a casual lunch.
Look for a restaurant with a private dining area: If you're planning a private event, look for a restaurant that has a private dining area. This will give you and your guests more privacy and ensure that you can enjoy your event without any distractions.
Consider the menu: Make sure the restaurant you choose has a menu that caters to the dietary needs and preferences of your guests. Check if they can accommodate vegetarian, vegan, or gluten-free diets.
Check the location: The location of the restaurant is an important factor to consider. Make sure it's easily accessible for your guests and has parking facilities if needed.
Consider the ambiance: The ambiance of the restaurant should match the tone of your event. If you're planning a formal event, choose a restaurant with an elegant and sophisticated atmosphere. If it's a casual event, opt for a more relaxed and laid-back setting.
Find the Best Acclaimed Restaurants on The Vendry
New York City's dining scene offers an unparalleled experience that attracts foodies from all over the world. From the eclectic flavors of street food to the elegance of Michelin-starred cuisine, the city has it all. The 10 best acclaimed restaurants in New York City showcased in this article are not only the pinnacle of the dining experience but also a testament to the city's diverse culinary landscape. Each restaurant has its unique style, personality, and flavor, making them an unforgettable experience for anyone looking to create a special night.
See the full list here:
Read More:
The 8 Chicest and Trendiest Hotels on the West Side for Your Next New York City Event
Versatile Venues in New York City for a Pop Up Event
Gorgeous Raw Event Spaces in New York City