Article updated 2/2/2023
Once the COVID-19 pandemic forced people to socially distance and work remotely for their overall health and safety, companies and other professionals had to get creative on hosting big in-person events like conferences. Enter the virtual conference. Turns out, hosting a virtual conference has many more benefits beyond social distancing: moving your event virtual means you can reach more people, save money, and plan more events throughout the year.
If you're looking to host a virtual conference, whether that's an event that's completely online or a hybrid event of some sort, we've revealed all the information and resources you need to not only make it happen, but also make it a success.
What Is a Virtual Conference?
As the name implies, a virtual conference is a professional event that's hosted online to be streamed to people remotely. But unlike a simple online meeting over Zoom, virtual conferences are often large events that require careful and strategic planning, different departments of people to execute, and smart marketing to make sure it gets the best reach. Virtual conferences are often held to build brand awareness, increase revenue, lead generation, and networking opportunities.
Virtual conferences are also typically held over the span of a couple or a few days, and include events such as keynote speakers, panels, discussions, live entertainment, training and certifications, educational sessions, product demos, and more. These events are also often held on specific streaming platforms that can accommodate a large group of attendees and offer fun interactive functionalities.
Hybrid Events
Hybrid events offer the best of both worlds: an option to attend on-site while also offering virtual capabilities. While some events make more sense to be held fully in-person, such as team bonding events or client dinners, hosting a conference as a hybrid event gives attendees the option to attend in person or virtually. Opening up the conference to be held virtually also widens the amount of guests who can attend, since travel and accommodations might not be feasible for everyone.
To plan a successful hybrid conference, think about what makes an in-person event feel special that can also translate to a virtual audience. If there's a particularly big name keynote speaker, make sure there is a proper audio visual setup and logistics in place to broadcast the event virtually. And while people traditionally think of in-person events as having more of an impact, incentivize people who can't make it in person to attend virtually by offering engaging content that stands out (such as panel discussions with industry leaders), having a set itinerary ahead of time so people know what to expect, and encouraging remote discussion and engagement (i.e. chat boxes and virtual Q&As with the audience).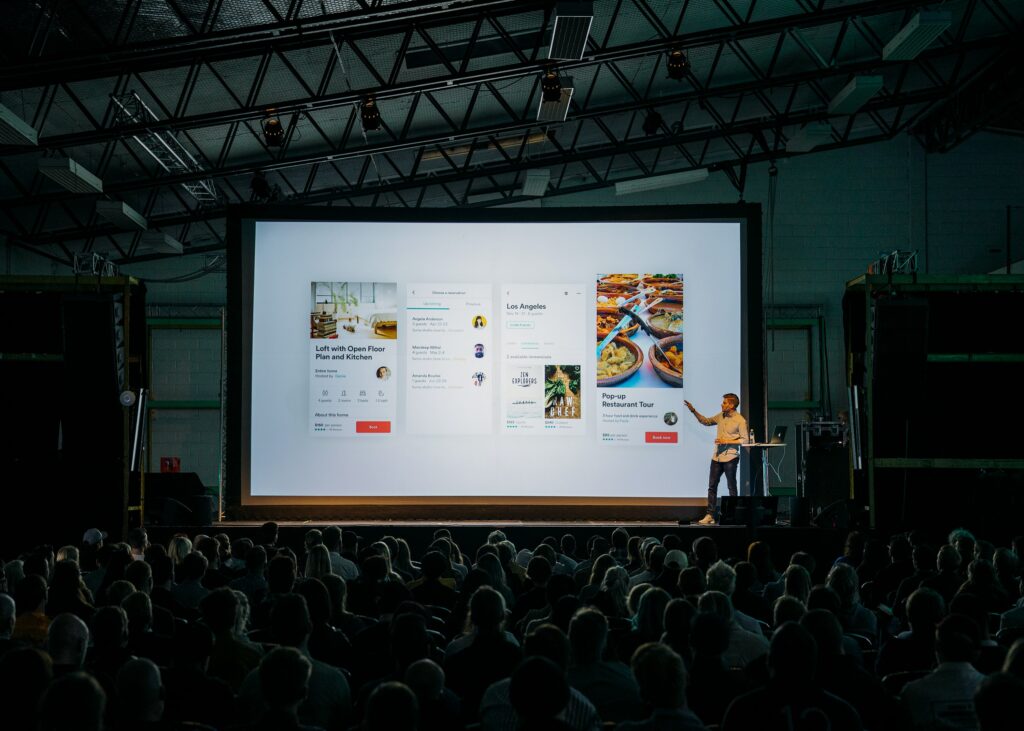 Why Go Virtual?
While hybrid events are a great way to reap the benefits of in-person and virtual events, not every conference needs to be in person or even a hybrid event. In other words, don't hold a hybrid conference just because—if it makes sense to hold a conference completely virtually, this is a great way to save money and resources to spend on other in-person events in the company's budget.
In addition to saving money with virtual conferences, some other reasons to go virtual include wanting to reach a wider audience, like if a majority of attendees will be spread out across different countries and time zones. An added bonus? With virtual conferences, you can record events to look back on for reference, or to offer to guests who weren't able to make the live-streamed version. Virtual conferences are also more accessible to people because they are often cheaper (and don't require the money to spend on travel), and easier to accommodate for people with disabilities.
Another perk of virtual conferences is the flexibility. Since you won't need to book event space that will hold hundreds or thousands of people, you'll be able to stream the events from a smaller space that's easier to set up (and often cheaper), and can be planned with a quicker turnaround time. And while in-person events do have their own impact, a major advantage of virtual conferences is the ability to collect valuable data from attendees to track major KPIs. It's much easier to get people to fill out online surveys, track event participation and engagement, and process real-time feedback with a virtual event.
Use AI to Help Plan a Virtual Conference

Planning a virtual conference in the digital era of 2023 can be significantly enhanced with the assistance of ChatGPT and AI technologies. One notable application is the utilization of AI-powered chatbots during the event registration process. ChatGPT, integrated with a chatbot platform such as Chatfuel or Dialogflow, can handle attendee inquiries, provide registration information, and even assist with personalized recommendations based on participants' interests and preferences. This not only reduces the workload on event organizers but also ensures a seamless registration experience for attendees.
AI can also aid in content curation and scheduling for the virtual conference. ChatGPT, with its natural language processing capabilities, can analyze speaker profiles, session topics, and participant demographics to recommend an optimal agenda and track selection. By considering factors such as speaker expertise, session popularity, and attendee preferences, the AI system can suggest an engaging and balanced conference program that caters to the interests of the participants.
Looking for a venue but don't know where to start?
Read How to Find a Great Venue- 5 Things to Keep in Mind to help you find the perfect spot!
Virtual Conference Strategies
As we've established, there are a ton of perks for hosting your conference virtually, but you need to be smart about planning and executing it. You must start by first understanding who your audience is. Nailing down your target audience will help you determine what type of events and programming you should plan, how much each person is willing to spend for the event, and how to market the event. Once you have your target audience in mind, then you can begin to create a schedule. You'll need to think about how to program your events for the conference to keep people engaged, such as balancing keynote speeches and panel discussions with breakout sessions and workshops.
Since it's harder to hold people's attention when they are tuning in remotely, you also need to be strategic with how you plan to engage attendees. This will require more than just a chat function (although this is one way to engage your audience). Will guests be able to submit questions for a live Q&A? Can you set up live polls to get real-time feedback, set up discussion groups, and send push notifications ahead of scheduled events? Can you also give attendance prizes for those who are the most engaged throughout the conference?
It's also important to have a technical SOS plan in case you run into some technical difficulties, which are bound to happen during a virtual conference: a microphone could cut out, a presentation might not load, or people could have trouble logging into the event itself. Make sure you have a backup plan in case you run into any technical difficulties (maybe that's a few extra mics on hand or hiring an IT expert to troubleshoot as issues arise), and doing a tech rehearsal ahead of time will help you work out any kinks and plan for the unexpected. Finally, make sure you follow up with attendees after the conference to get their feedback, and use the event data to help with customer retention and plan for future events.
Setting Goals
Every virtual conference has some goal in mind, but before you plan your event, you should be very clear on what those goals and KPIs are ahead of time. This will help you assess how your event is going as it progresses, and utilize real-time feedback and data to track against your goals. And while you may have a number of things you hope to achieve with a virtual conference, narrowing down to the most important goal(s) will help you streamline planning and measure success.
You might set goals for the business itself and also goals for the attendees. Some business goals include brand awareness, lead generation, revenue, membership growth, and customer loyalty. Some attendee goals might be networking, training, or simply entertainment. Understand what your goals are for each segment, and how your strategy will help you be successful in your execution.
Virtual Conference Platforms
One of the biggest perks of hosting a virtual conference in the 2020s is the wide range of platforms available. Some key tools you'll want to consider the platform you choose are:
Live and pre-recorded video streaming
Chat messaging
Screen Sharing
Breakout rooms
Mobile app capabilities
Registration
Audio and video recording
Interactivity and gamification
Engagement tools like Q&A functions, hand raising, reaction emojis, and polls
Integration with social media platforms
File sharing capabilities
In addition to the requirements of your event, the size will also determine which platform is best. A virtual conference for less than 100 people will look much different than a virtual conference designed to host thousands. Some top picks in the industry include:
Cisco WebEx Events

Browser-based software.
Can host up to 3,000 viewers and 200 video feeds.
Offers screensharing, event recording, Q&A tool, polling tool, survey tool, file sharing, a screen drawing tool, and more.
Accepts payments via PayPal or credit cards.
Can integrate with external tools like Jira, Google Drive, and Slack.
WorkCast

Cloud-based and no need to download.
Can host up to 5,000 participants.
Offers live, pre-recorded, and on-demand digital conferences with a max of three video feeds at a time.
Online and email registration and reminders.
Also offers Q&A features, public and private messaging, live polling, dial-in access, unlimited panelists, and more.
BigMarker

No need to download.
Can host up to 1,000 attendees and nine simultaneous video streams.
Integrates with YouTube and Facebook Live, and can stream online events from a company website.
Offers features like live and pre-recorded video, screen sharing, customizable email invitations, built-in translation, Google Form surveys, and more.
Using the Right Tech
In addition to choosing the best platform for your virtual conference, you'll also need to select the right tech for your event. There is a lot of tech involved in hosting a virtual conference, from registration to video streaming to microphones and cameras, and more.
First and foremost, depending on how big your conference is, you might want to consider having a dedicated event website to host the event, track registration, collect payment, and update attendees with important news and information. Speaking of registration and payment, make sure guests can easily register on your website and that they can pay safely with a platform that ideally takes PayPal and credit cards (being able to pay with Apple Pay is another bonus).
Since the majority of the content will be streamed, make sure you have a video streaming service, either with the conference platform or something like Facebook Live or YouTube live. And since capturing content is so important, you'll need to use quality video cameras, microphones, and have proper lighting. Depending on the size and scale of your event, you might want to consider hiring a professional videography team. Other logistics to consider are utilizing planning software to track important factors like invoices, managing venue and vendor contracts, track RFPs, and more. Finally, using event marketing software will also help you generate buzz for your event and reach more attendees.
And of course, reliable WiFi is a must. The virtual conference is only impactful for the guests if they are able to actually access the content.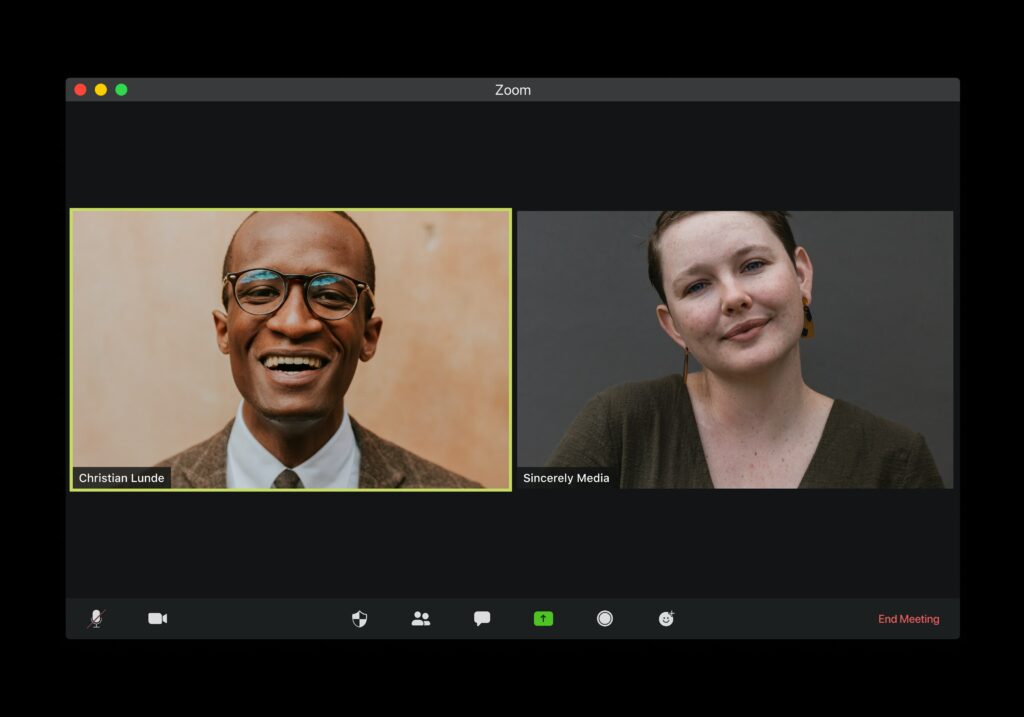 Finding Sponsors for Your Virtual Conference
Getting sponsors is key to making sure you can fund part (or all) of the event and connect attendees with companies and organizations. Sponsors can get placement at your conference with video ads at the start of sessions, virtual trade show booths, sponsoring dedicated sessions, social media takeovers, and more. To get the best range of sponsors, break down clear levels of sponsorship and cost with what the sponsors will get for their money.
Ultimately, the best way to bring in sponsors is to show them the numbers. Make sure you have the data to back up why sponsoring your conference is a worthwhile endeavor, whether that's the projected number of attendees or informed data from previous events.
Sourcing a Virtual Event Venue
Choosing the proper venue for your conference will depend on if you are going entirely virtual or doing some type of a hybrid event. If you're going completely virtual, consider renting a virtual event space. These are broadcast studios designed to optimize your event for streaming and webcasting. Virtual event venues typically come fully equipped with audio, video, personnel, and other tools to make your event a success. If you already have an event space in mind, such as a company office, then you can hire a full virtual event production company to execute your event with professional-level equipment and knowledge.
If you're opting for a hybrid event, then make sure you secure a location that is big enough to accommodate all the attendees in person comfortably and with enough personal space, while also leaving enough room for the audio and video equipment necessary to broadcast the event virtually. Think about other accommodations guests will likely need in person as well: are there enough restrooms that are easily accessible? Can you accommodate wheelchairs and people with disabilities? Will there be food vendors on site or will you have the capability to cater in food? You want to make sure your guests are comfortable and can focus on the content of the conference.
Promoting a Virtual Conference
One of the most important parts of your event is making sure people know about it and sign up. Standing out among a sea of other virtual events and conferences can be tricky, but one perk of promoting a virtual event is that you can plan it with a quicker turnaround time. Some key ways to promote your event are with email marketing, social media marketing, paid ad campaigns, and cross-promotion.
Even though planning for a virtual conference takes less time, you still need to come up with a marketing plan for promoting your event before, during, and after. Before your event, identify your audience, create registration events, and begin social media campaigns and email marketing campaigns (including email reminders). During the event, continue to send reminder emails, create live social media posts, consider hosting branded content experiences, and have a live chat to answer attendee questions. After the event, send follow-up emails to thank participants, send out surveys, share event highlights on social media and on the event or company website, have your sales team contact leads from the event, and begin planting the seeds for the next virtual conference (sending out save the dates, for example).
Hosting a Virtual Conference
Finally, hosting a virtual conference takes a different skill set than hosting an in-person event, but there are so many perks to going virtual: a wider audience reach, saving money, and flexibility, to name a few. To host a successful virtual conference, make sure you are providing useful and valuable content people can't get anywhere else and make the experience easy and entertaining for all attendees. Plan to use a combination of events like live presentations, panels, keynote speakers, an integrated social media experience, audience Q&As, and more.
Strategic planning is also key, so make sure you give your team and company enough time to properly host the most engaging and impactful virtual conference that's beneficial for attendees, sponsors, clients, and your company's KPIs.
Check Out More of Our Virtual Event Planning Resources
Make sure you browse our virtual events planning guide and other resources— like services and activities, platforms, production agencies, FAQs and more—to make sure your virtual event is a success.
Want to make your networking event a memorable one?
Read: 8 Tips to Successfully Host A Networking Event at a Conference