As we face a future where shaking hands is a no-no and hugging is frowned upon (for right now anyway), it's not surprising that the use of contactless activations within event marketing is on the rise.
"We now have to look at spaces a little differently, put more emphasis on flow, and consider how we expect consumers to interact and move through the space and ensure provisions are in place to make it both within guidelines and a place which feels safe for everyone to use," explains Alan Smith, lead creative designer at Is Instore, an agency that specializes in retail marketing.
To help event pros make sense of this "new normal" and get inspired to create safe yet effective experiences, we asked some industry experts to share how they've designed contactless activations that still managed to be engaging, entertaining, and above all eye-catchingly cool.
What is a contactless activation?
Contactless activations allow guests to interact with a branded experience, usually through the use of high-tech features like augmented reality, QR codes, or even a palm signature thanks to Amazon. This no-touch method of event marketing engagement aims to cut down on the spread of germs and viruses like COVID-19.
Vans Family store activation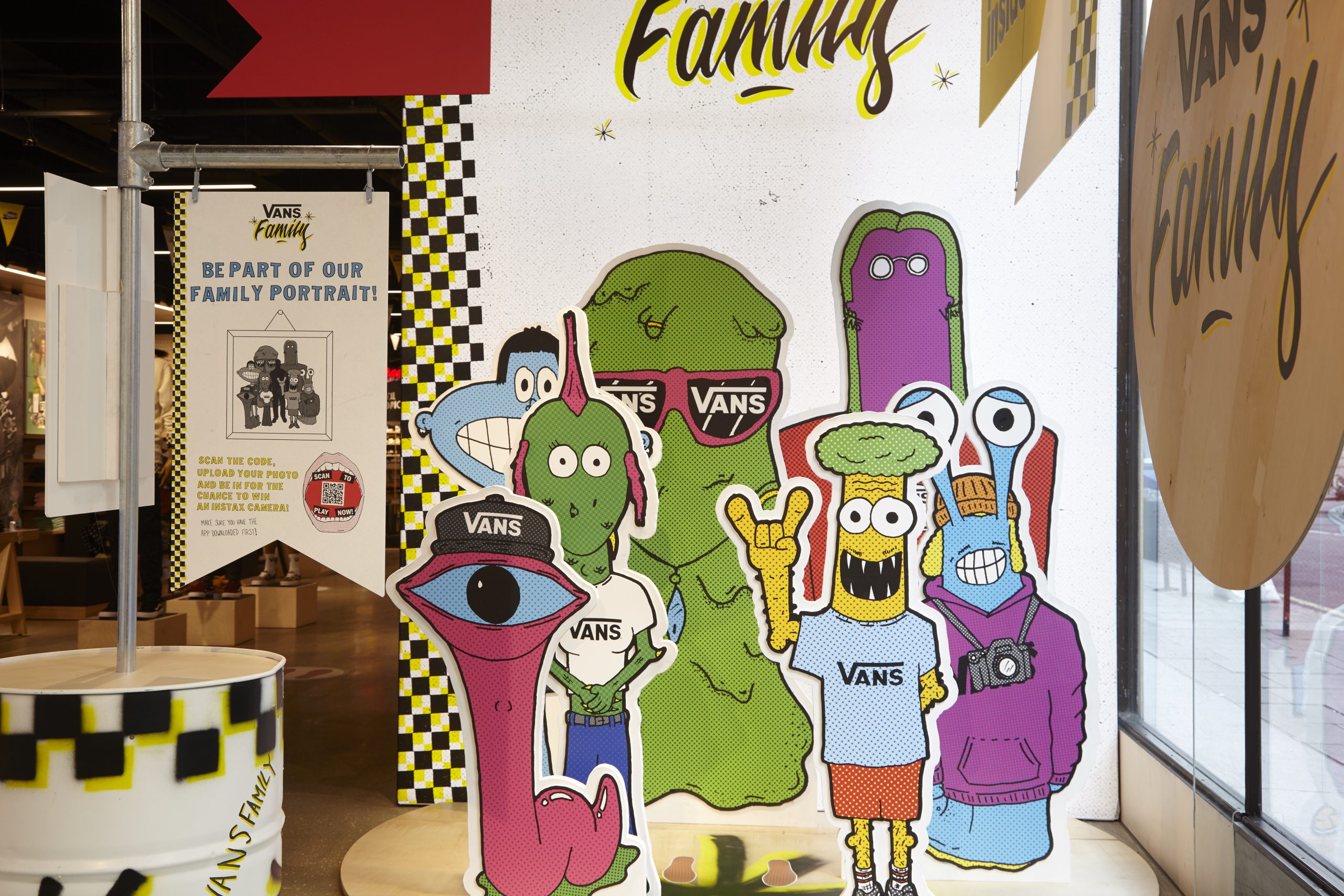 You don't have to invent holograms and employ state-of- the-art wizardy to build a successful contactless activation. Sometimes an existing technology like QR codes can get the job done just as easily. For example, U.K.-based agency Is Instore designed a contactless activation at the Vans Oxford Street store to promote the Vans Family app. The company transformed the London flagship store's entrance into a brand awareness campaign, promoting engagement through a playful contactless experience for post-lockdown shoppers. The campaign launched in July, shortly after retail stores had reopened across the U.K.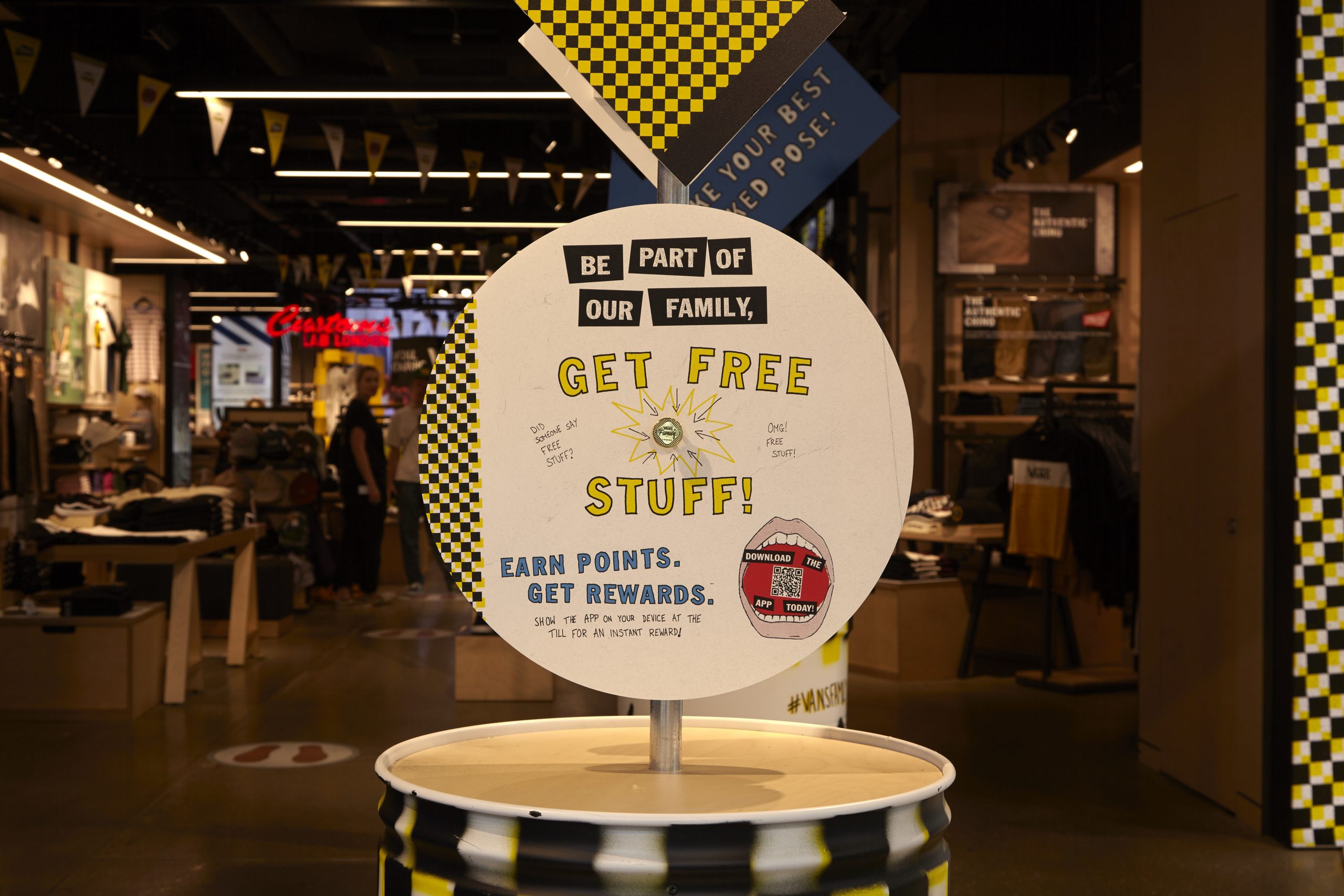 The activation included several contactless call-to-action points throughout the store—including QR codes that linked to app content, photo opportunities, and a treasure hunt, which featured small cut-outs of the Vans Family characters that were placed throughout the store. Each character had their own unique QR code that visitors could scan to gain points towards the rewards program.
"This gamification of the space really brought to life the idea of the digital and the physical crossing over in a way that enabled the user to explore and enjoy the space while remaining comfortable," Smith explains.
Also, a "magic mirror" photo opp combined the reflections from two different people (each standing on either side of the mirror), creating one image that could be uploaded to the app to unlock a reward opportunity. "This really emphasised the concept of connecting with other human beings from a safe distance," Smith says.
St. Louis Aquarium's "Otter Chat" attraction
"Otter Chat," an interactive talk show attraction at the St. Louis Aquarium at Union Station, features an improvisational convo with Tommy the Otter, a North American river otter. Designed by Groove Jones, a creative and technology studio based in Dallas, the show is a combination of computer graphic techniques and comedic improv by behind-the-scenes staff. Tommy asks questions and responds to the audience's reactions in real time. Through the experience, visitors are able to learn about otters, their conservation, and facts about how they live.
The contactless activation uses GrooveTech's proprietary Performance Capture System, which allows the actors to control the animated character. The tool consists of a facial tracking camera system that lets the actor talk to the audience, automatically lip syncing their voice and movements to the character, explains Dan Ferguson, co-founder and partner at Groove Jones.
Via mounted cameras, the hidden actor is able to see the audience, allowing them to personalize the experience. Plus, the application can plug into live streaming services like Facebook Live, Instagram Live, or even Twitch.
Pose with the Pros
Similar to the talking otter idea, but definitely not as cute, the "Pose with the Pros" activation allows fans to get up close and personal with pro sports players. But at a safe computer-generated distance of course. Last year, Wasserman transformed 10-foot-tall touchscreens into "magic mirrors" (or selfie mirrors) to provide visitors a "live" moment with players. Fans are able to select a player and then place them in different positions around the user. Via augmented reality, the selected player (or cheerleader) walks into the frame and poses for a photo.
This season, due to health restrictions around COVID-19, the agency, which has created touchless experiences using QR codes, RFID and NFC scanners, and authentication codes for other clients, needed to transition this activation into a totally touchless experience. This time around the user controls the experience on their personal device where they can enter their information, make selections, and submit content without having to touch any other surfaces.
"We had to think through every possible scenario and outcome in the user journey while making sure it was still functional and easy to use," explains digital strategist Miles Gantt who worked on the project. "When thinking through a contactless experience, each desired action has to be outlined clearly for the user to ensure a positive outcome and the best user experience possible."
So what makes a successful contactless activation?
As we mentioned, contactless doesn't necessarily equate to complicated or technologically convoluted. "While there are a lot of high-tech contactless solutions, what we have found to work are some of the technologies people are already accustomed to using," Gantt says. "Since QR codes are used in other industries—especially in a post-COVID environment—it helped reduce the learning curve and barrier to entry of the activation."
He added that he and his team are already seeing "higher throughput rates because of that lower barrier to entry, usage familiarity, and the consumers' ability to start the experience on their phone before getting to the big screen."
Smith echoes that sentiment, saying that "innovation is about using the tools you have available in a new way to find a unique solution."
And just like live streamed and virtual events, contactless activations aren't a new concept within the industry, but because of the coronavirus pandemic, we will be seeing a much broader adoption of their use among event pros.
---
Are you planning a hybrid or live experiential activation? Get inspiration from photos of activations in our galleries!
---