When the COVID-19 pandemic halted in-person events, the nonprofit community took the hit particularly hard. That's because these organizations typically receive large portions of their donations from annual events such as large-scale galas and benefits.
And since folks have been prohibited from gathering — and digging into their pockets — in person, nonprofits have had to pivot their efforts by carving out unique ways to fundraise online by hosting virtual benefits.
Now it's 2022 and its time to be inspired in the new year. Spark some creativity with these virtual gala ideas below, and turn your next fundraiser into a money-making machine of goodwill.
What is a virtual fundraiser?
Simply put, a virtual fundraiser aims to raise funds, just like a comparable live in-person event. But rather than relying on fancy dinners and decor to woo donations, nonprofits need to create a compelling digital experience that will inspire folks to give. And although they might not have as much razzle-dazzle as IRL parties, virtual fundraisers allow organizers to reach a wider audience and introduce their cause to more people, as well as offer the chance to enlist folks that might not have been able to help in the past. Plus, there's typically less overhead costs such as transportation.
Need help executing a flawless virtual event?
Browse the top AV & Production companies that can make your vision a reality.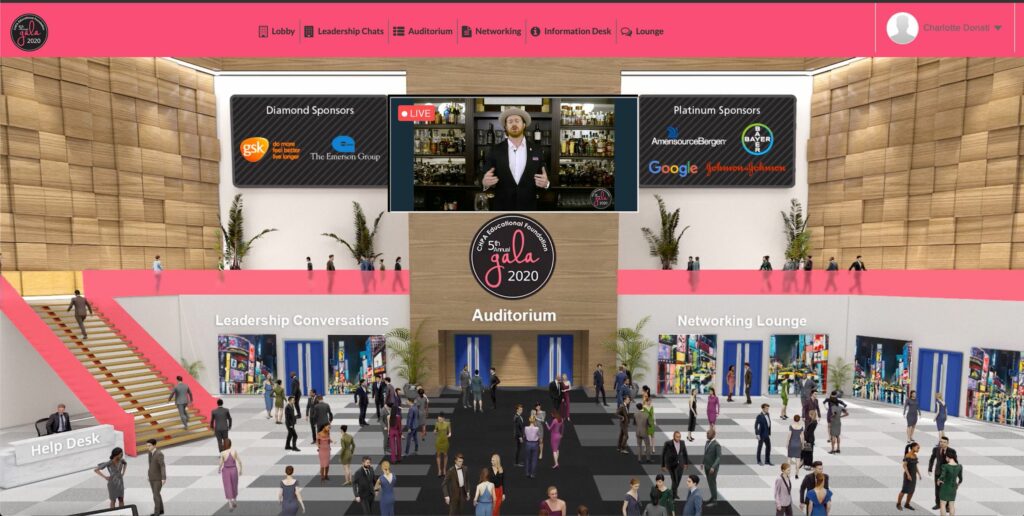 How can nonprofits raise money online?
Rather than selling tables for an IRL gala, nonprofit organizations need to engage their audience virtually, using digital methods to bring in money such as setting up a donation page and promoting the event on social media. Some of the tried-and-true fundraising methods like detailed calls to action still apply to virtual events, though, and help potential donors see how their money supports recipients.
For example, during its recent #SeeAPlateFillAPlate challenge, Panera encouraged folks to give to TogetherWithoutHunger.org, stating that "a $3 donation will help put a freshly-prepared meal on the table for a person in need."
Another common practice is peer-to-peer fundraising, where each participant or competitor helps raise money toward the cause via their own shareable online fundraising page, which includes setting their own goals. Organizers can then offer incentives like T-shirts to participants for reaching $X amount.
Also, depending on the event, organizations can also choose to charge a registration fee or ticket price or offer free admission with a suggested donation amount.
Ready to raise some moola? Keep reading for virtual fundraising event ideas and examples.
Ready to amp up your fundraising skills?
The Benefits of a Virtual Gala Vs. In-Person
While an in-person event is often considered the favorable option, a virtual gala shouldn't be thought of as it's ugly stepsister. Thanks to a shift in global attitude, many donors might very well anticipate and welcome a virtual gala. Here are unique perks that only a virtual benefit can bestow:
Wide community/donor engagement. With a traditional gala, you might be restricted by how many people the local fire department allows in the ballroom. Or your ticket price point (albeit fair for reflecting the cost of the event) might be too high for some to attend. Whatever the reason, an in-person event does come with its restrictions. Enter the virtual gala! Pull back the curtain to allow ALL with an internet connection to learn more about your organization and hopefully open their wallets.
Lower production cost. Big ticket items like room rental, catering, and liquor are no longer a strain on your event's spreadsheet. A virtual gala eliminates a lot of financial strain. With that said, investing in good tech and the correct event platform with ensure your event goes off without a glitch.
Social media enhancement. Promote and advertise your event with ease. Special event hashtags, calls to action for your virtual attendees, or tagging your nonprofit in a post are all ways to beef up your benefit. This spreads your message out to your future donors all within the comfort of their own home.
Ease. In-person galas require a big commitment of time from your guests. It might also force them to put aside precious weekend time to attend. With a virtual gala, your event not only can be short and sweet (all the while engaging!), but it can be held on a Tuesday night during the workweek.
Busting a Few Myths about Virtual Galas
Misconceptions abound when it comes to hosting a virtual gala. Don't be discouraged if your event is shifted to be held online. Not only are the myths below not true, they shouldn't deter you and your team from any opportunity to raise money:
MYTH #1: Virtual galas have to be over the top.
Big, small, or anything in between will fly when it comes to a virtual gala. Today's audience is looking for authenticity when delivering the important message of your organization. Don't skimp on the crucial, mission-focused messaging to this your captive, at-home audience.
MYTH #2: There's only one playbook.
How boring would it be if there was only one way to host a virtual gala and only one way your guests wanted to see it? Creativity is on your side when it comes to putting on a benefit online. There's lots of paths and no wrong way.
MYTH #3: Virtual galas can only be live.
Pre-record your event if it calls for it. This might allow for smoother transitions and the opportunity to sidestep any bloopers. But again, the quality of your tech makes all the difference in the world!
21 Virtual Gala Ideas That'll Make Your Event a Success
Whip out that pre-event checklist and put on your thinking cap! Now's the time to land on what you want your virtual event to look like in 2022. Below are 21 ways to churn up the dollar bills for your important nonprofit's mission!
1. Host a Virtual Race or Walk
Similar to a live race, participants pay a registration fee to enter and are expected to meet a target, either distance or time, such as run five miles or run for six hours straight or complete 100 miles over a month. Participants usually choose to complete the task whenever they like. Some virtual races are scheduled to start at specific times, but most can be done whenever it's convenient either indoors on a treadmill or outside (while practicing social distancing of course). Oftentimes, the runners/walkers are encouraged to share photos via social media as "proof." Those that complete the run/walk might be able to win a medal or prize.
For example, this year, Buffalo Trace Distillery's annual Great Buffalo Chase 5K was hosted virtually. So instead of running around the distillery grounds, participants were asked to run or walk in their local neighborhoods, from July 3-5, wearing patriotic gear (since it took place over July 4th weekend) or Buffalo Trace attire. Runners were sent a commemorative T-shirt and race bib and were encouraged to follow along on social media via #ChaseTheBuffalo. All proceeds benefited the Kentucky distillery's local VFW.
2. Host an UnZoom
To counter Zoom fatigue (yes, it's a real thing), DIFFA (Design Industries Foundation Fighting AIDS) recently launched a new fundraising campaign called "Zoom No More," which includes not hosting a virtual gathering to raise money. The donation tiers feature cheeky references to common Zoom features: $150 (Mute All Participants); $100 (Video Off); $50 (Raise Your Hand); and $25 (Change Background).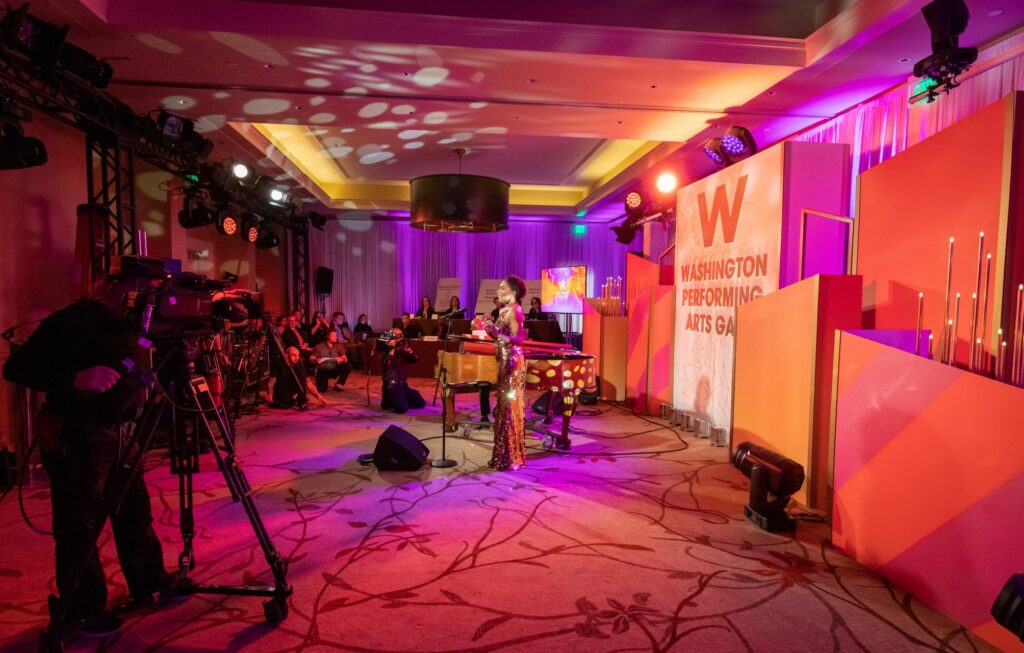 3. Host a Social Media Initiative
Instead of asking folks for cash money, organizations can use social media to promote their cause and engage patrons in a fun, easy way. For example, Support + Feed recently partnered with Plant Based Party and Reverb on its #plantbasedparty initiative, encouraging people to post a photo of their plant-based meals (from a restaurant or homemade) on social media with the corresponding hashtag. For every mention, sponsors Gardein, Péla, and ChowNow donated up to $40,000 to Support + Feed, which provides plant-based meals to people in need including women's shelters, senior centers, and people experiencing homelessness, as well as Reverb, which works to unite the music community in the fight against climate change.
4. Host a Virtual Gala
Many nonprofits are being forced to reimagine their annual in-person black-tie galas into virtual versions that still offer "tables" and tickets for purchase, but guests can attend in their PJs instead of gowns. These events generally forego the catered meal and awards presentations for digital programming that's more commonly found at a conference. For example, the 11th Annual Glide Legacy Gala, A Virtual Gathering, which is set to take place on August 15, will feature a panel discussion and live Q&A with the 2020 honorees of the Cecil Williams Legacy Award and the Janice Mirikitani Legacy Award, followed by a digital dance party with a DJ. A donation of any amount (the suggested minimum is $25) will grant attendees access to the live-streaming event; those who donate $1,000 or more will receive VIP room access, plus a "gala kit" with branded swag, cocktails, and treats.
5. Host a Virtual Symposium
In order to create a connection between the cause and its donors, consider hosting a virtual symposium where folks can hear directly from leading experts and leaders in the field. This October, the Breast Cancer Research Foundation is slated to host its inaugural virtual symposium and awards luncheon, which will include "virtual tables" featuring private discussion groups with BCRF researchers.
6. Host a Celeb-friendly Event
One of the upsides to hosting a virtual fundraiser is that it allows organizers access to more people, including popular celebs. If possible, enlist the help of a well-known star or even an influencer to promote your cause either during a virtual event or via social media. For example, Panera, in conjunction with fundraising partner DKMS US, was able to deliver 500,000 meals to Feeding America with its Together Without Hunger initiative. Celebs like Kim Kardashian West and Drew Barrymore brought awareness to the cause by decorating empty plates and sharing selfies with their masterpieces on Instagram with the hashtag #SeeAPlateFillAPlate.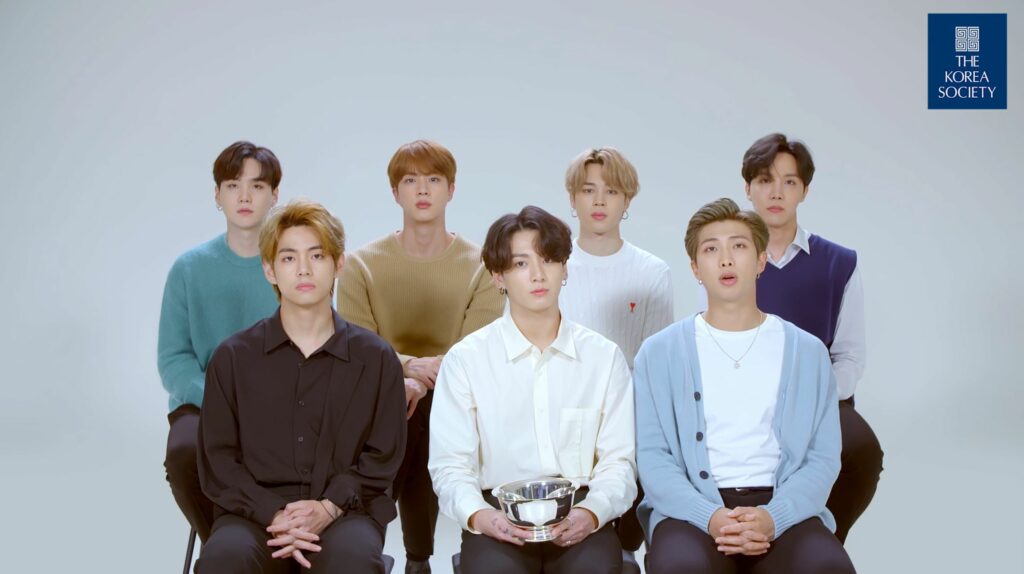 7. Host a Virtual Concert
Whether it's a full roster of performers or one major headliner, a live-streamed concert can raise awareness and needed funds for your cause. During LA Family Housing's recent virtual fundraiser titled "Home Together," viewers were able to enjoy musical performances by artist India Arie and actor/ singer Ed Helms. For the digital gathering, which took place in lieu of the organization's annual awards gala, the organization partnered with local vendors to provide special menus and tasting flights for sale. While the program and concert were offered free of charge, a portion of the proceeds from each wine and food purchase went to LA Family Housing.
8. Host a Virtual Cooking or Tasting Event
During the pandemic, more and more folks have been practicing their at-home cooking and baking skills. Embrace this trend and organize a virtual cooking class or tasting for donors. You could enlist a chef, mixologist, or sommelier to lead the lesson and partner with local vendors to offer custom prep kits for purchase.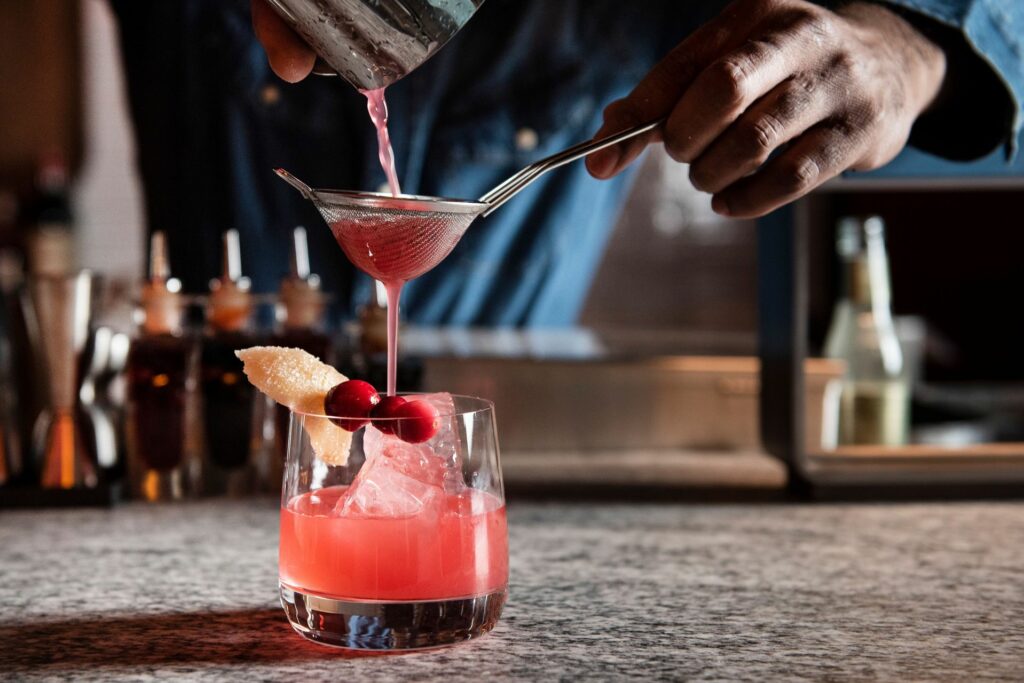 9. Host a Virtual Food Festival
In lieu of the annual Harlem EatUp! food festival, executive producers Marcus Samuelsson and Herb Karlitz presented Harlem Serves Up!, a televised fundraiser that featured chefs and restaurateurs broadcasting live from Harlem. Viewers were able to virtually visit local restaurants like LoLo's Seafood Shack to hear how they have been affected by the pandemic. Proceeds raised from the show benefited Citymeals, World Central Kitchen, Harlem Park to Park, and Uptown Grand Central.
10. Host a Drive-in Event
Since large gatherings inside venues are still a no-no, some organizations are thinking outside the box and hosting outdoor drive-in events. Tribeca Enterprises partnered with IMAX and AT&T for this summer's "Tribeca Drive-In" movie series, taking place in California, Florida, Texas, and New York. For each event, Tribeca works with local vendors to support small businesses and make the experience unique to the community.
11. Host a Virtual Auction
Online auctions aren't a new concept, but the shutdown of live events has made them more necessary than ever. Similar to an in-person silent auction, bidders are able to digitally place their bids on donated items via an online auction hosting platform. In July, The World's 50 Best Bars (which is owned by William Reed Business Media) launched its "Bid for Recovery" auction to support the hospitality sector. The global gastronomic event featured lots from bartenders and brands including three nights of bar hopping in New York and courtside seats at the French Open ladies' final in 2021.
12. Host a Charity Sale
Make giving easy by creating an online store where patrons can buy products from a local business, then either have the goods delivered or coordinate safe pick-up spots. In an effort to support the Equal Justice Initiative, Food Bank of New York City, and Crew Nation, Governors Ball organizers launched a special line of merch, with all proceeds going to the charity partners. Festival fans can also purchase pro photographs from past fests, with proceeds going to the charities as well as the participating concert photographers.
13. Host a Social Media Takeover
In order to bring attention to your cause, reach out to a brand, sponsor, influencer, or prominent figure to ask if they would be willing to "donate" their social media account. By posting content through their handle, you'll be able to link back to your organization, thus educating a larger audience. The #ShareTheMicNow social media campaign for the Black Lives Matter movement involved Black women taking over the accounts of white women with a large Instagram following to help magnify their voices and stories. For example, beauty editor Kahlana Barfield Brown teamed up with Julia Roberts to take over her account for the day. (ICYMI: Instagram is also currently testing out a new way to raise money for a personal cause, small business, or friend.)
14. Host a Virtual Raffle
Sometimes the best way to encourage folks to give is to give. That's the idea behind an online raffle. For example, boutique owner Hala Moawad recently launched an online charity raffle called "It's Lebanon's Anarchy That Bothers You" to benefit Beit el Baraka, a Lebanese nonprofit organization that's committed to providing families with basic products, food, and medication. Visitors could win a prize by purchasing tombola (a.k.a. lottery) tickets for each specific item. (Or they could simply buy their favorite piece using the "buy-now" option.) Prizes included contributions such as a Jacquemus micro-size Le Chiquito bag, photographs by Nicolas Niarchos, and more.
15. Host a Virtual Masterclass
For National Lipstick Day on July 29, beauty brand Charlotte Tilbury presented a live charitable masterclass via Zoom, which was hosted by celebrity makeup artist Sofia Tilbury and influencer Niomi Smart. During the class, Tilbury shared her tips and tricks for the perfect pout, and each participant received a discount promo code to use on their next purchase. Proceeds from the ticketed event benefited Women for Women International, a nonprofit organization that serves women in crisis and provides resources to impoverished communities around the world.
Also consider these angles in order to engage your soon-to-be donors:
16. Offer Cocktail Hour in a Box
Everyone likes to bond over food and drink. Send your attendees a party box to fit your theme ahead of time. The box will not only build excitement, it will be a reason to engage with the virtual gala when it's happening in real time. The box can include a cocktail kit, some decorations for your home, or food from a local business or restaurant.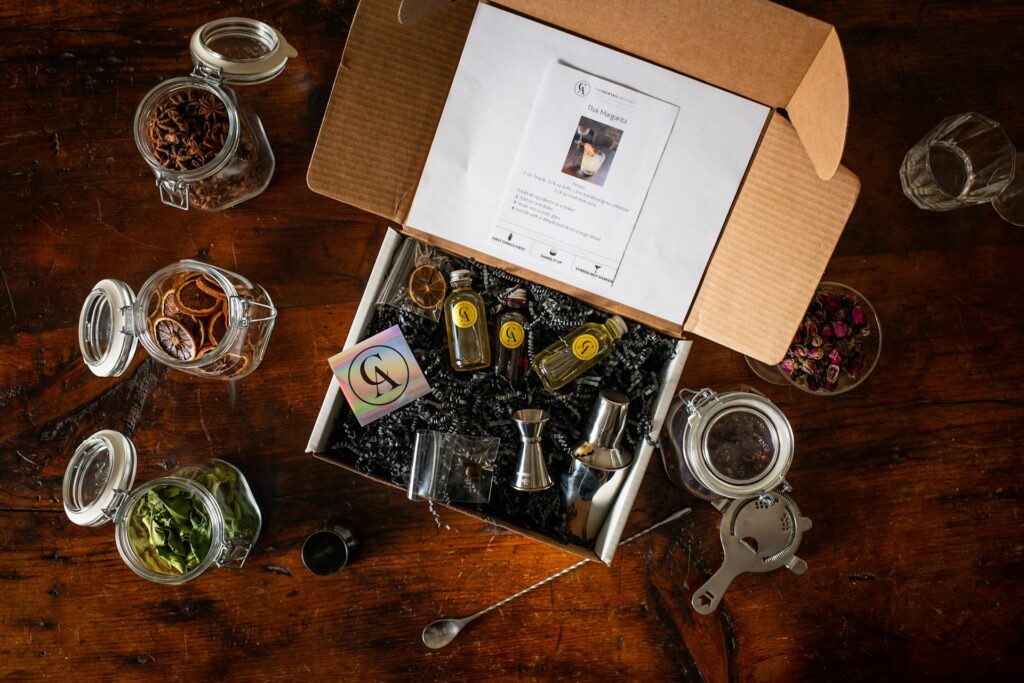 17. Choosing a Fundraising Theme
Making a virtual gala engaging is oftentimes as simple as adding a theme. When choosing an event theme, sometimes it's more fun to go off-topic. Perhaps choose something that's a 180-degree turn from your organization's persona. A buzz-worthy theme like a 1980s party increases engagement and opens the door for the entertainment portion of your night. What about highlighting some of the abilities of your biggest donors with a talent show? Themes make it easier on the planner, as well as amusing for the guests.
18. Peer-to-peer Fundraising
This type of fundraising is where supporters collect money from their friends, family, and business associates to drum up more funds for a cause, all the while raising awareness. This type is often associated with races, but it shouldn't stop there. Virtual gala organizers could appoint "captains" to group up donors to compete against each other. Or the same idea could be applied for simply online event registrations. Either way, it is all about getting the numbers higher.
19. Hire Entertainment
Everyone spends enough time talking daily as it is, so simply setting up a livestream to listen to some one drone on isn't going to engage your guests. Consider booking entertainment for your virtual event. Performances by a notable band or some kind of talent act will break up your event, as well as engross your target audience. Drawing from local talent is even better, as it demonstrates your commitment to the community at large.
20. Offer Online Ticket Sales
Tickets can be sold to your virtual gala if you have something of value being offered during the event. Charging for tickets or not, registration for a virtual gala is a MUST. This way you capture the attendees' information, which then allows you to send them the necessary log-in for the event, as well as future solicitation opportunities. As guests sign up, have a "suggested donation" button, as well as an opportunity to register for any raffles.
21. A New Way to Manage Sponsorships
Yes, corporate sponsorship budgets might be shrinking in this day and age, but there are ways to make the most of it. It's imperative to have a strategy for landing sponsors. This is the time to start thinking of other business types to solicit, which might very well be the start of a beautiful friendship. Businesses with lower overhead – like insurance companies – might be a good start. Tiered sponsorship packages that are flexible and don't require cash outlays are a creative way to think out of the patronage box. Maybe ad space splashed across the screen during your virtual event can be sold.
---
New to planning virtual events?
---