While it might be difficult to gather for happy hour drinks with coworkers or meet up with a client for a three-martini lunch right now, we can still plan social "outings" from home like a virtual wine tasting.
Of course, sampling wines while social distancing does require a bit more forethought than simply stopping by a winery to sip on some Chardonnay, but thanks to video conferencing platforms like Zoom, it's now easier than ever to dial up a sommelier to guide your group through a few bottles. We'll toast to that! So read on to get tips from event pros on hosting a virtual wine tasting.
How to host a virtual wine tasting
Before the COVID-19 pandemic, David Landgraf, chief experience officer of Make It Happen Management, used to host IRL wine tastings for a roster of corporate clients. So after growing tired of a slew of virtual cocktail parties via Zoom, he decided to turn them into "an educational moment."
His virtual wine tastings, which he calls "Chill and Connect," typically run 90 minutes, allowing for opening remarks and an introduction, then the tasting and Q&A session, followed by time for networking. The events are usually hosted by a sommelier, wine ambassador, or mixologist, and/or in conjunction with a spirits brand or winery.
Landgraf also collaborates with his clients to design a curated program that's usually based around a theme such as Rosé All Day, which includes four varieties of rosé from different regions. Adding that, during the summer months, this is, not surprisingly, the most popular request.
In addition to customized experiences, Biondivino, a San Francisco-based retailer that specializes in wines from Italy, also offers turn-key options such as an Intro to Italian Reds, which includes an educational overview of the country, along with a tasting of three "entry-level" Italian reds. The shop's tastings also feature tips on how to open a bottle, how to decant wine, and how to store it, as well as advice on glassware. Guests are also encouraged to begin opening and tasting the wines immediately. "Nothing worse than having to listen to a stranger yammer on for 30 minutes while you're hankering for that first sip," says Shelley Ryan of Biondivino.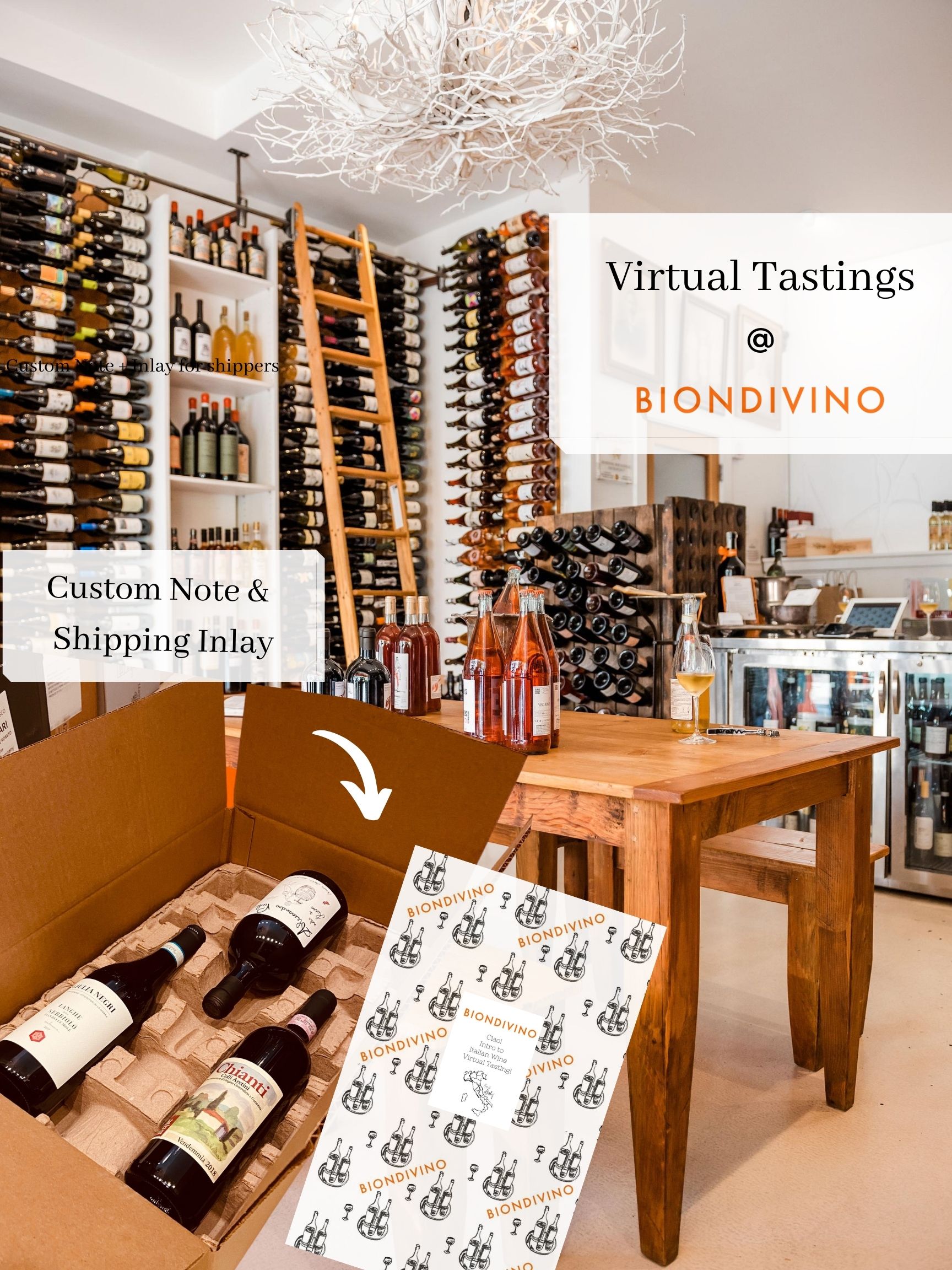 The retail shop aims to keep its tastings to 45 minutes, but she says that they often last longer, turning into impromptu happy hours for coworkers. Adding that groups typically range in size from five to 30-plus, but that the shop can accommodate more.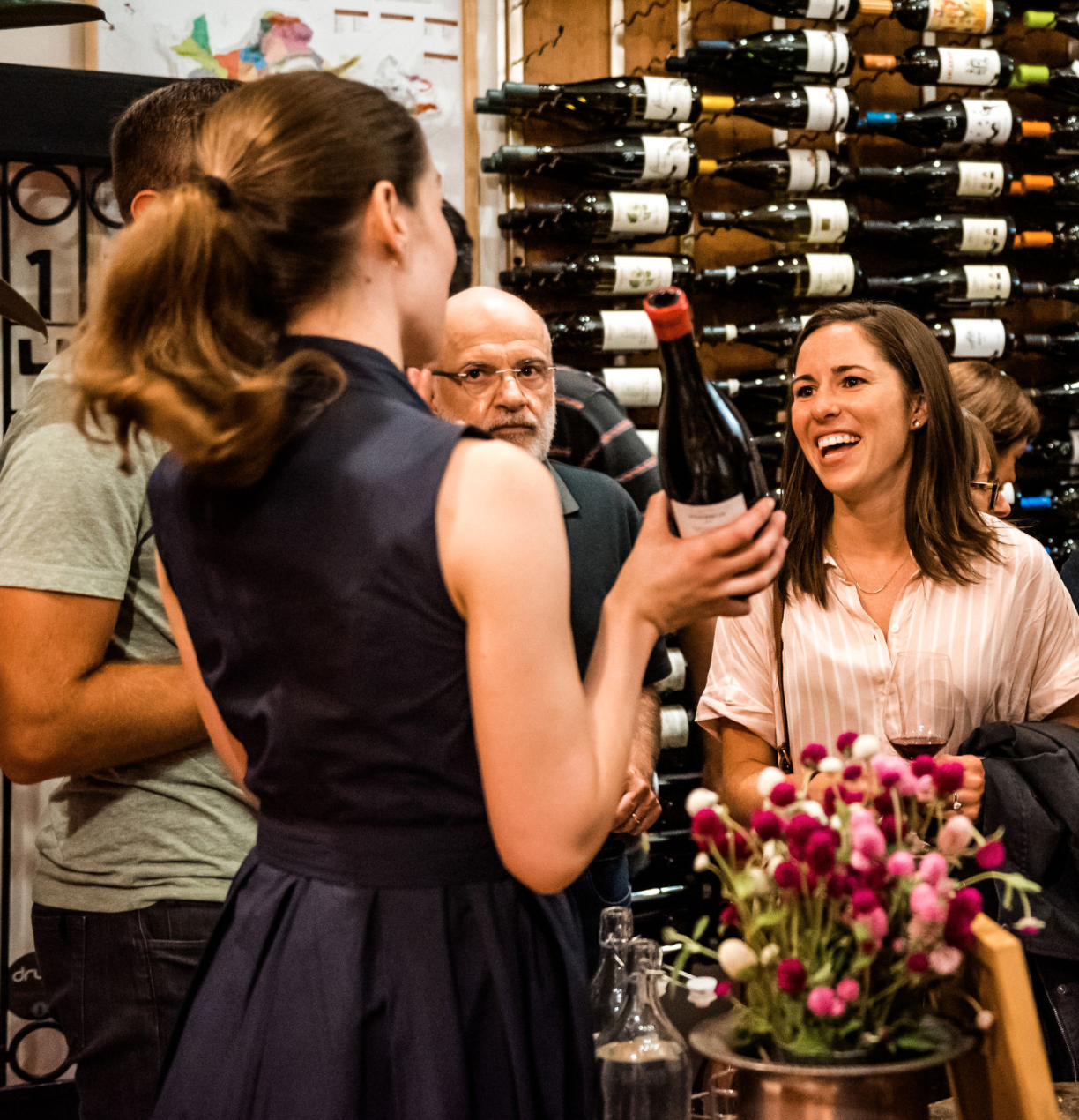 "We want this to be fun. We want this to be educational. We want it to be time for people to learn something and also engage with their co-workers that they haven't been able to see face to face," Ryan says. "And it's never meant to be stodgy and boring. We really try to make it a happy hour and one that's educational."
Which wines to use for a virtual tasting
As for the types of wines that work well virtually, Ryan says that she tries to offer a variety, selecting wines from different geographies and production styles. "Because I think being able to taste differences opens up the conversation and just makes it more fun. At the end of the tasting, we ask which one was your favorite and why?"
Besides following the client's request, perhaps for a certain region or varietal, Ryan says that Biondivino tries to choose wines that conjure up questions. "Why does it taste like this? Why is it this color? Why are these two wines so different despite being made from the same grape? We think wines that present juxtaposing interpretations of a grape or region always allow for interesting discussion, allow the discussion to flow a bit more naturally, which can be tough in virtual sessions."
Also, don't stress about tailoring the tasting to fit every guest's level of expertise. That's because there will inherently be something for everyone, Landgraf explains. "You could have never tasted wine in your life and this is your first bottle and you learn something. Or you could be a master sommelier and you learn something about the region or the process."
A virtual wine tasting can also make wine more accessible to folks—in more ways than one. "It's very approachable," Ryan says. "We don't want anyone to ever feel intimidated. There are no stupid questions. [A virtual wine tasting] really opens it up for people to ask those questions that they might have been too embarrassed at the restaurant to ask or make them feel more comfortable with wine." Adding that, some guests feel more at ease asking questions via chat as opposed to in front of a large group.
For the tastings, Biondivino ships the wine, along with a wine opener and custom inlay with the client's logo, to the virtual attendees, while Landgraf provides links where guests can purchase the wine for shipping. He says that sometimes the biggest challenge in hosting a virtual wine tasting is the guests who forget to order the wine.
Ryan notes that since guests receive entire bottles of wine, not just a sampling, Biondivino limits tastings to three wines, whereas an in-person event might feature four or five wines. "We don't want to overwhelm people with getting four full 750ml bottles."
Landgraf says that the amount of wine also depends on the number of guests, the duration of the event, the budget, and the rest of the event programming. But he says that typically tastings feature three or four wines. For example, a 30-minute tasting can cover three bottles and a 60-minute event, four.
Ryan also suggests that guests have three glasses at the ready (she recommends glasses with stems as opposed to stemless) and a pen and notepad. And for those who don't drink, Biondivino sends them a non-alcoholic beverage like Italian sodas.
"I think if people are looking for a way to engage their employees as we work from home, if you're looking to engage your business, build your client relationships, I think it is a great opportunity to bring people together," Landgraf says about the idea of virtual wine tastings.
So whether you hire a pro to host a tasting for your company or go D.I.Y. style for family and friends, digitally raising a glass (or three) of wine can be a great way to stay connected.
---
Are you planning a virtual wine tasting? Browse these amazing companies that can bring the experience to life!
---