Conferences, trades shows, and exhibitions – oh my. Your team has spent the entire day walking around the more than 800,000 square feet of space at the world-acclaimed Javits Center in Manhattan, dutifully taking in each and every product launch and sales pitch. But the team-building doesn't stop at the day's end. It's time to find a New York City private dining space to accommodate your group that fits all their needs and tastes. So where to begin?
Fear not. The Vendry has compiled a list of 11 private dining options near the Javits Center, all surrounding that spot "where New York meets the world." Below are standout restaurants and event spaces that will make sure your team stays in sync, even outside the walls of the Javits Center.
Private Dining Rooms Near the Javits Center
They say at the Javits Center "whatever is happening, it's happening here." Play off the energy of New York's largest convention center by booking a private dining spot for your company. Whether a power breakfast before you get down to business, or a post-convention, easy dinner, The Vendry lists the finest options below.
1. Legacy Records
Capacity: 44
Opulence is the name of the game here at Legacy Records, a sophisticated, hip spot on W 38th, steps away from the Javits Center. The folks behind popular Charlie Bird offer up steak, duck, crudo, and pastas for hungry patrons. The options for hosting your private event here are plentiful, including a full restaurant buy-out. The Test Kitchen is adjacent to the open kitchen, and can seat 30. When combined with the mid-century modern Drawing Room next door, more than 44 can sit for dinner. Ty's Place, a Japanese whiskey lounge, is the utmost in privacy, with rich Moroccan-inspired design, large enough to accommodate 15. Finally, Ada's Place serves as a 20-seat bar with two rooms. When Ada's is combined with the Wine and Record Lounge, more than 200 can enjoy a reserved space up on the second floor, as well as the private outdoor area.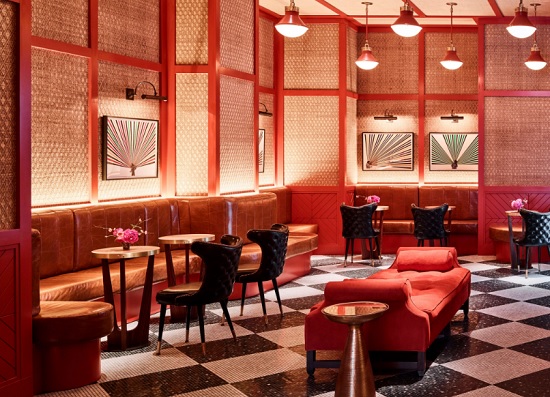 2. Peak
Capacity: 300
The aptly-named Peak makes itself known by occupying the 101st floor of the 30 Hudson Yards Building, and providing totally unreal views in a stylish setting designed by architect David Rockwell. Enjoy the full restaurant, which faces north and offers 3,500 square feet of event space all enclosed in glass. There's no pesky columns and the room offers loads of tech and audio/visual capabilities. If something more intimate is your speed, the Sky Cellar is a glass-enclosed private dining room that can seat 14 at a long, communal table. (Hot tip: if you need to be swift when checking availability, Peak's website has their pre-booked dates pop up immediately!)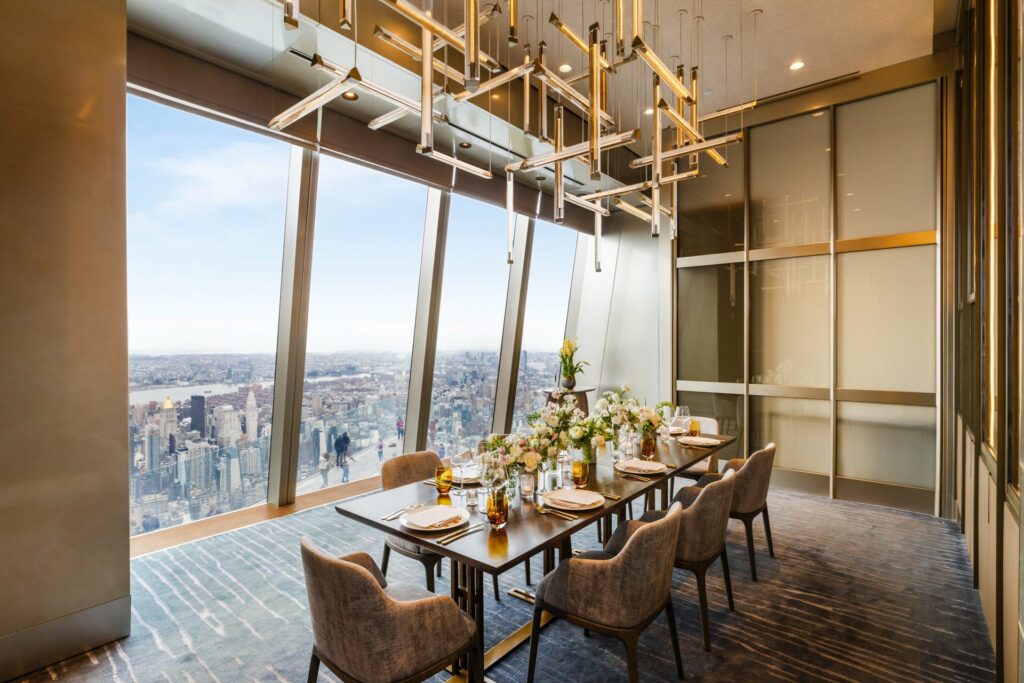 3. Ci Siamo
Capacity: 60
You and your team have put in the hard work at your conference, and now it's time to let your hair down. There's no better place than Ci Siamo, which is Italian for "we've finally arrived." Chef Hillary Sterling uses seasonal ingredients to bring Italian fare to life, as prepared around live-fire cooking. Because of the Union Square Hospitality Group's vast experience, they breakdown private events easily for patrons: there's simply a three-course lunch package, or a four-course dinner package. The private dining room parameters are laid out, so leave it to the professionals at Ci Siamo to make your post-Javits event virtually stress-free.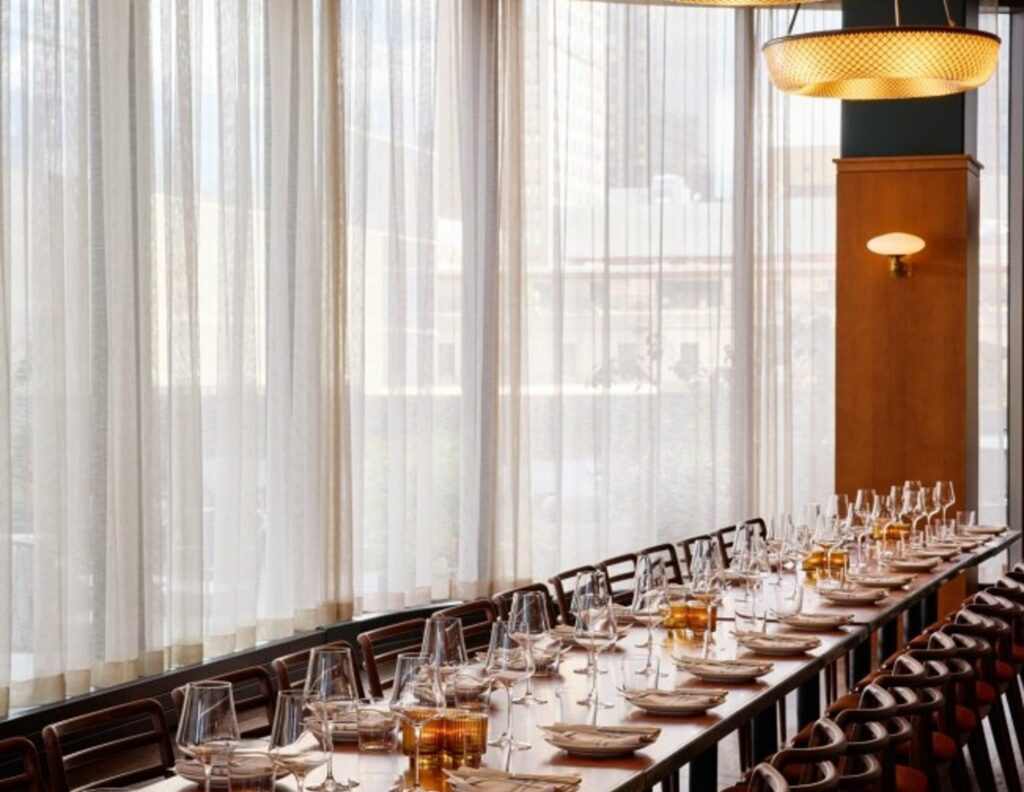 Your event isn't complete without the right tunes. Find the top live music providers in New York before your next event!
4. Mercado Little Spain
Capacity: 300
No event to small or meal too big will be turned away from Mercado Little Spain, a 35,000 square-foot food hall dedicated to Spanish food and culture, walking distance from the Javits Center. The team created by legendary chef José Andrés will accommodate private parties at Leña, a spot within Little Spain where nearly everything on the menu is cooked over embers. Or perhaps La Barra is more your party's speed, offering out-of-this-world tapas with a wide selection of wines.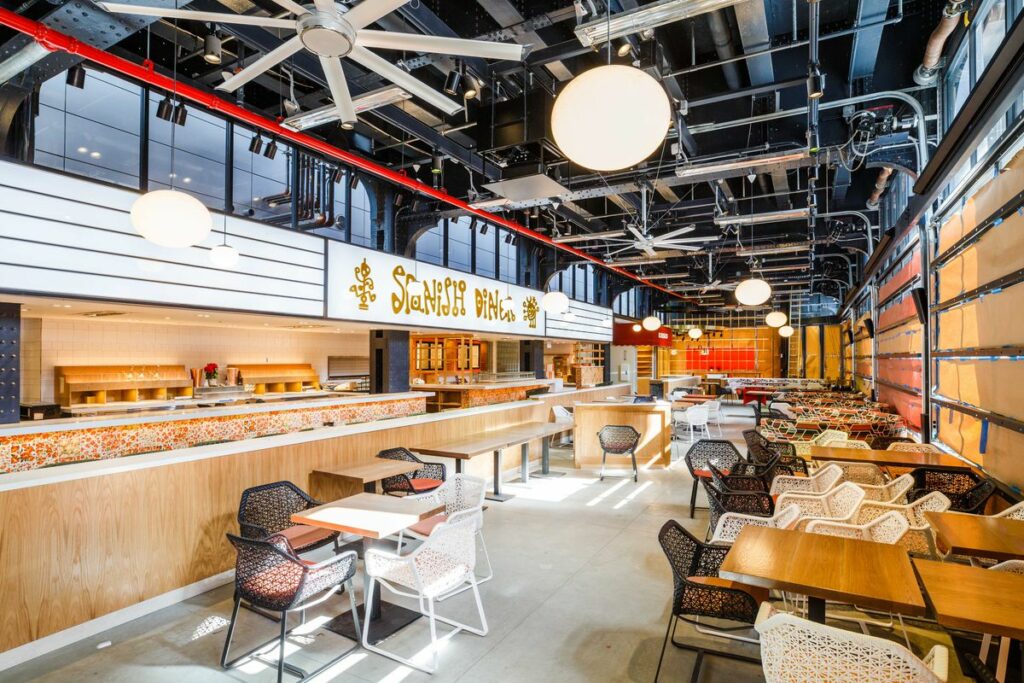 Meet up with your team in style. Host Your Next Team Gathering at One of the Most Beautiful Meeting Spaces in NYC!
5. Il Punto Ristorante
Capacity: 75
Established in 2004 and steeped in Italian tradition, Il Punto Ristorante is a classic locale for good reason. Il Punto translated means "the point" – the spot where you get to when planning a corporate dinner here. The Main Dining Room is relaxed, and can accommodate 50 seated guests, or 75 for a cocktail reception. The white-tableclothed Semiprivate Dining Room has two entrances, and can accommodate 20 seated, or 30 standing. If you want excellent food steps from the Javits Center, this is your place.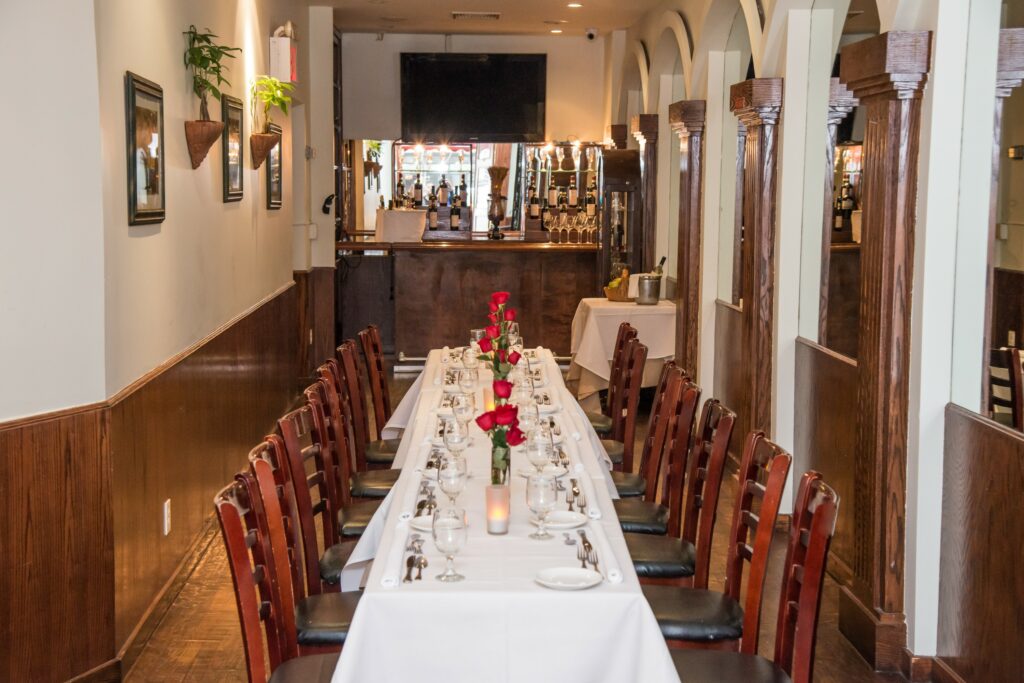 6. Kyma
Capacity: 75
If sleek and impressive are must-haves on your short list, then Kyma is the spot for your next corporate dinner. This Greek eatery – which places lots of emphasis on their delicious seafood – boasts their Santorini Room, which can be a private spot for 8 or can be spread out for 75. This white room with elegant touches has all the audio/visual needs you require, and all the feelings of coastal Greece.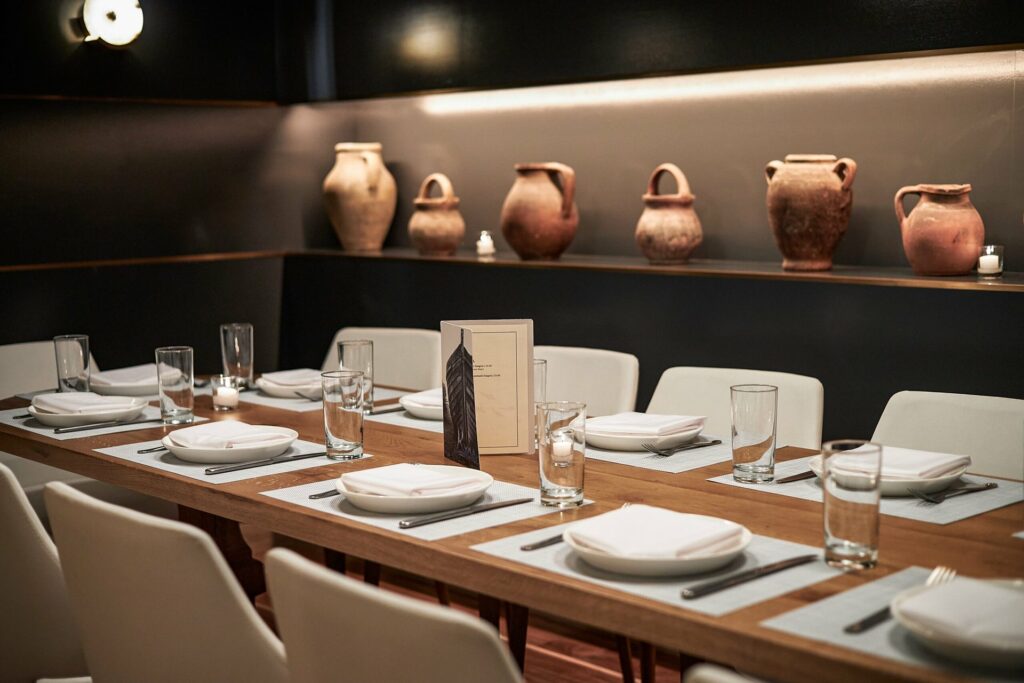 7. Nick + Stef's Steakhouse
Capacity: 250
Nearly equidistant from the Javits Center and Empire State Building sits Nick + Stef's Steakhouse, a turnabout from the stuffy steak places of yore. You'll find this to be a perfect spot to hold a dinner after a long day of work, as they serve up wildly impressive dry-aged steaks and fresh seafood. A full restaurant buy-out is always an option, but book their outdoor patio for up to 80 seated, offering up views of the Empire State Building. In need of something more intimate? Their appropriately-named Alcove seats 25 and gives your party the attention and privacy it deserves. Last on the list of options is their Bar & Lounge, the right spot if you want the steakhouse vibe without the formality of a sit down dinner, as they can host 70 for cocktails.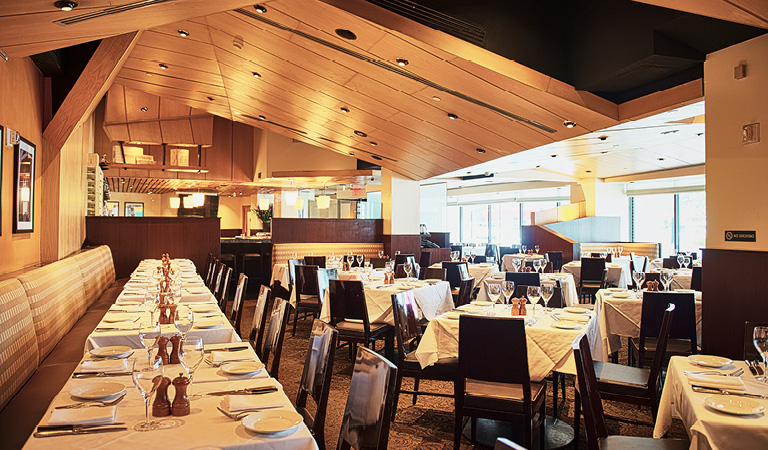 8. Serafina in the Sky - Pod Hotel
Capacity: 400
Serafina Restaurant Group – which was begun by two friends who were stranded at sea together and vowed to start a restaurant if they survived, now with chic spots all around the globe – opened the speak-easy style Serafina in the Sky, within the capsule quarters of the Pod Hotel Times Square. Come behind the velvet curtain to discover this moody, hip European-style spot, which offers virtually endless options for private dining. Their indoor options include The Tasting Room, Gold Lounge, and Arty Dining Room, able to accommodate up to 120 seated or 200 standing. The chic outdoor seating can seat 100, or 250 for cocktails. All these options can be combined or made individual, and under the guidance of the Serafina Restaurant Group, you'll be treated like the VIPs they are used to satisfying.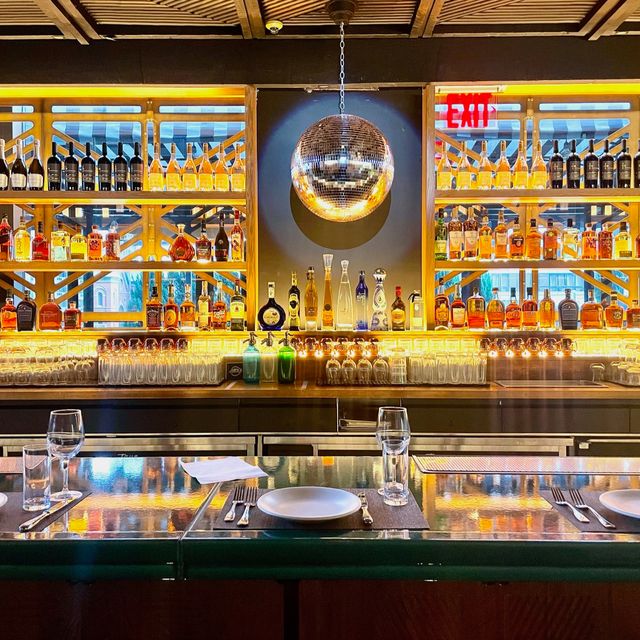 9. The Press Lounge
Capacity: 500
The Press Lounge promises a one-of-a-kind experience for your post-Javits, corporate event. And with their 6,400 square feet of glass-enclosed interior and unreal outdoor terrace, they will deliver. Set high atop Ink48 Hotel in Hell's Kitchen, there are five spaces in which to book your event. The Main Space when combined with the Greenhouse can host 120 for a seated dinner, or 240 for cocktails. The Sun Room has retractable glass walls and a fireplace, sitting 30 comfortably for dinner. The North East Terrace is open-air with a reflecting pool, wonderful views, and room for 120 for cocktails. Their newest addition to these killer choices is the Rooftop Garden, an open-air private garden where the restaurant's vegetables are grown, complete with glass walls and panoramic views of the Hudson River, seating two to 12 for dinner.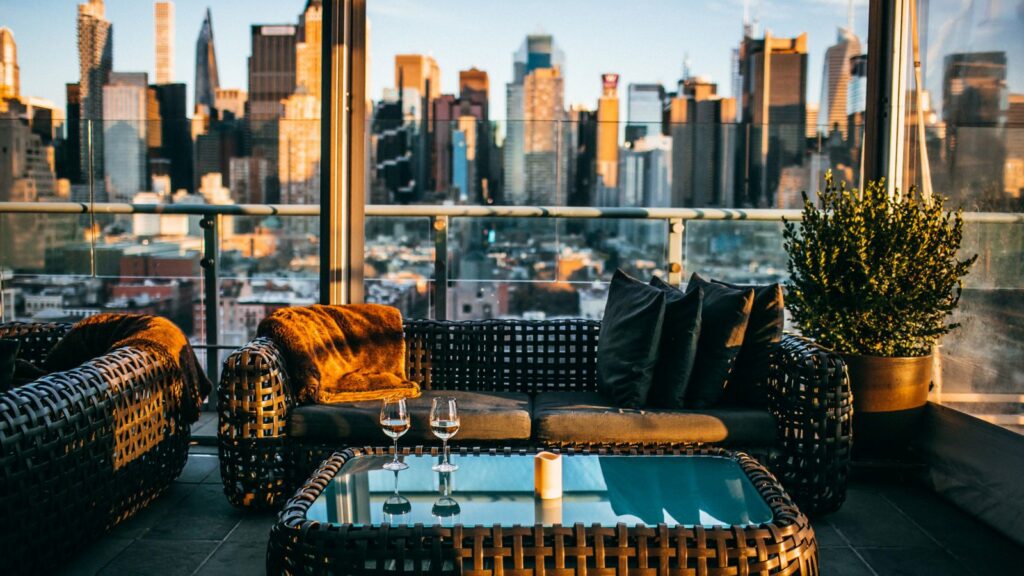 10. Electric Lemon
Capacity: 100
On the 24th floor of the Equinox Hotel proudly sits Electric Lemon, a seasonal restaurant celebrating the passionate farmers, growers, and artisans of the Mid-Atlantic through their American fare and high functionality space. Head up one more floor to their private dining room, which can host 72 seated, or 100 standing. The views from Electric Lemon are outstanding, from their big dining room to their outdoor terrace. This might just be a great place to start the day before your group heads to the Javits Center, as this nourishing spot will happily host breakfast events.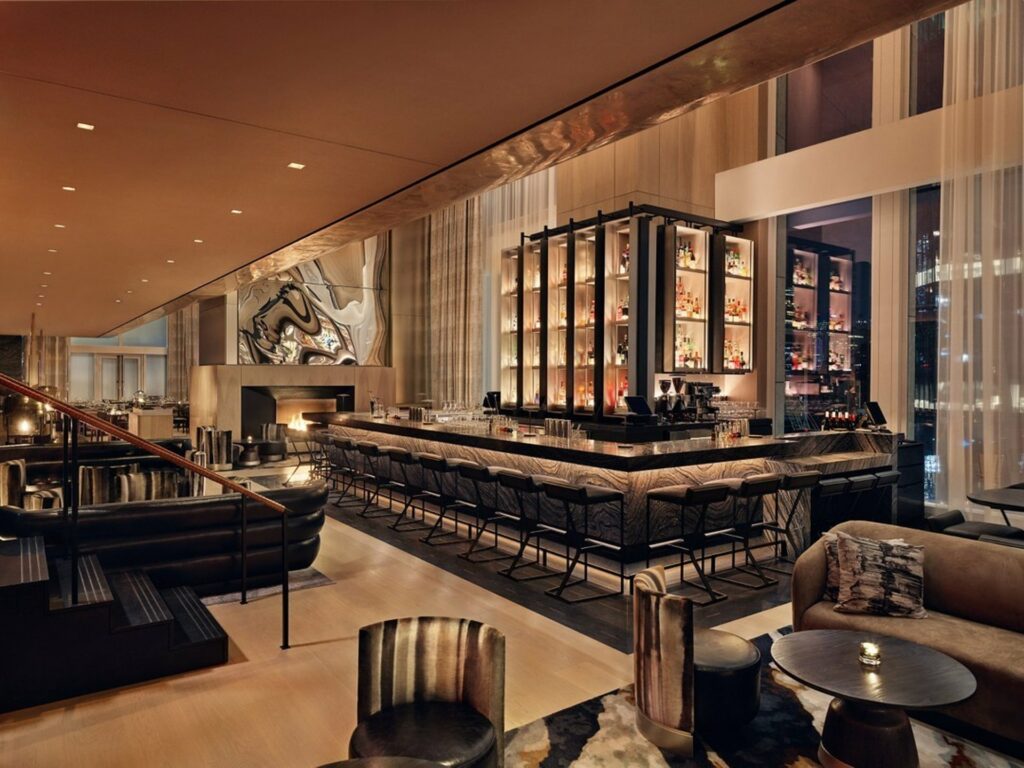 11. Bea
Capacity: 35
Bea is cool. With their white brick, black chairs, wood bar, and industrial bulbs, it makes each guest feel as if they are stepping back in time. The creative drinks are the star, and the small plates get the conversation flowing. Their Atrium Room is completely private, but still plays off the lively dining room, and can seat 35. With black-and-white movies flickering on the wall and delightful fare, this place is laid back, and the perfect spot to host a casual experience after a long day of conferencing.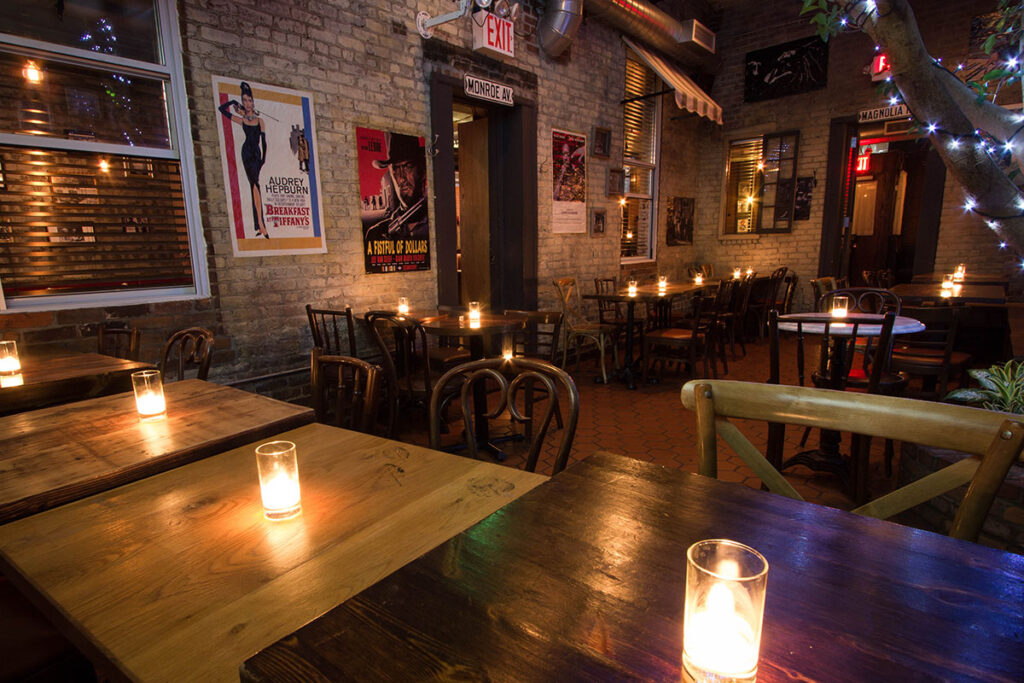 Why Finding the Right Venue is So Important
If your company has spent the day (or days) at the Javits Center, finding a spot for one-on-one time will be key. While this seems like it could be a relatively easy task, NYC and its many options doesn't make it easy. Finding that "hidden gem" of a spot to hold your company's private event helps set the tone for your gathering, likely to boost morale and make people feel at ease. The more you frontload your research and planning, the more you'll get out of your pre- or post-Javits Center private dining experience.
The Top Things to Consider When Booking a Private Dining Room Near the Javits Center
Before you begin your search on the best private dining rooms near the Javits Center, you'll need to ask yourself (or your team) some questions to make sure you land on the right spot:
Is this event a time to get more business done? Or is it time to let the team relax?
Are you entertaining more than just your company? Do you need to impress clients and customers, too?
What is the mood of my group? Do they like to be adjacent to the hustle and bustle or is a completely private room the vibe?
How big is my group? If the event is for dinner, do we need to allow a space for cocktails?
Will you need tech capabilities or have audio/visual needs?
Is the group okay to walk on foot before or after a long day of a trade show or conference?
Find Unique and Versatile Event Venues on The Vendry
You know you want your event in Brooklyn. Good news because The Vendry knows Brooklyn. Use our search functions and filters to find that perfect venue to host your next large-scale event in New York's largest borough.
Read More:
The Most Uniquely Stunning Venues in New York City to Host an Event
Gorgeous Raw Event Spaces in New York City
The Eight Best Offsite Locations Near New York City