As we're all painfully aware, last year's in-person company holiday parties were a no-go, with COVID-19 serving as the ultimate Scrooge. Fortunately the end of 2021 is shaping up to be a lot brighter (as long as vaccination rates keep increasing and coronavirus variants stay at bay).
So to help get you into the spirit and to provide some inspiration for your end-of-year event planning, we asked industry pros about the corporate holiday party trends they're most excited about seeing this year and their predictions for the upcoming holiday party season.
From smaller, local events to gift bags for remote teams, here are the corporate holiday party trends that they shared.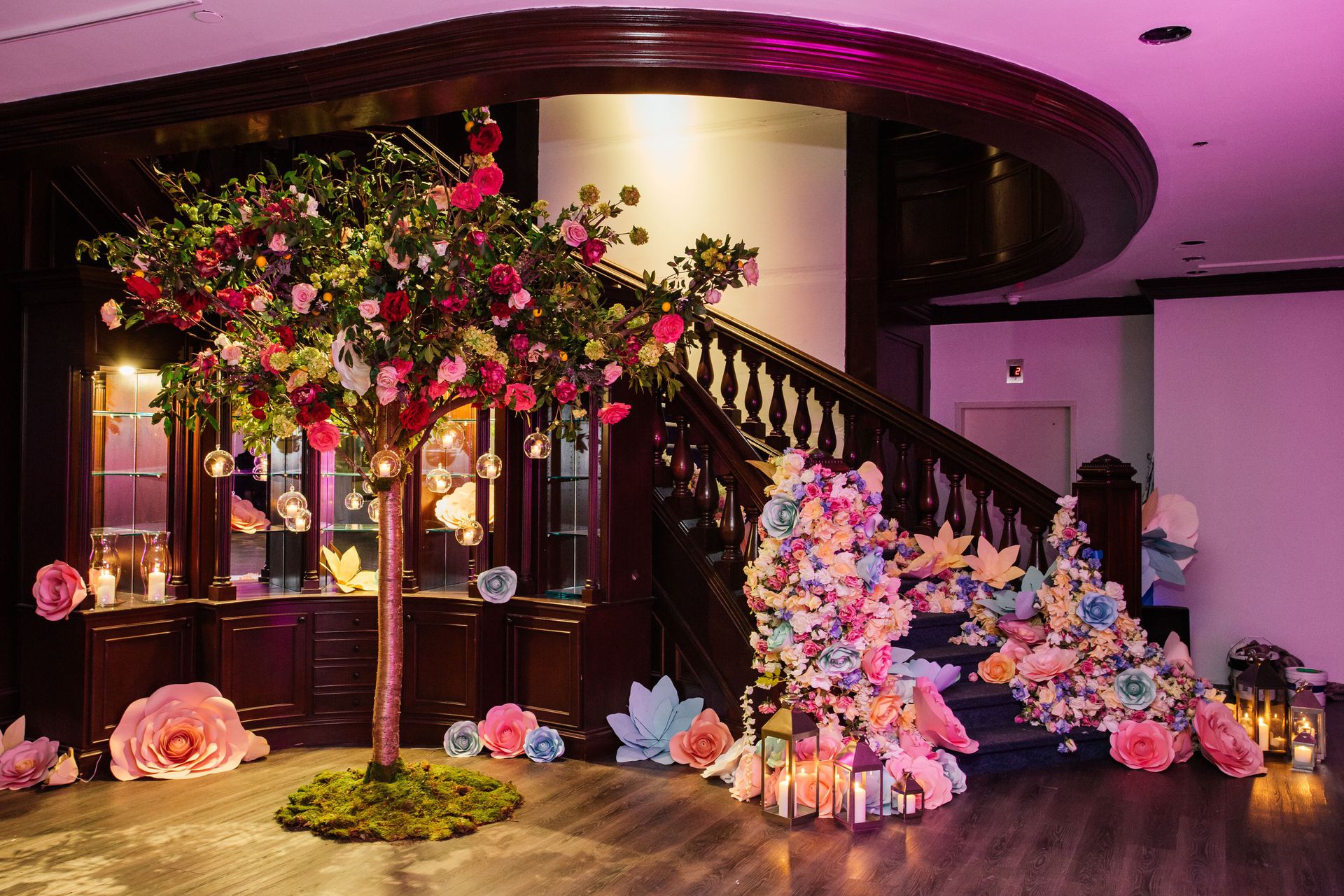 Fun and Engaging Corporate Holiday Party Entertainment Ideas
1. Virtual Office Party
While some employers are returning back to the office, many are choosing to remain remote for now, which means no in-person holiday parties this year. Instead, like last year, in-house organizers are planning virtual gatherings with WFH colleagues and clients. Of course, as we've all learned, digital shindigs don't have to be boring. You can arrange for the festive feast to be sent to at-home attendees, plan a wine tasting for some holiday cheer, or present end-of-year awards.
"Virtual celebrations with dynamic programming that incorporate 'main stage' entertainment, small-group experiences, and thoughtful gift boxes delivered to employees' homes may replace many parties of the past with 1,000 employees in person," said Casandra Mead, C.E.O. of BlackHouse.
2. Think Small
Since some folks are still concerned about attending large in-person gatherings, consider hosting several smaller holiday parties, especially if you're located in an area with a rising number of coronavirus cases. "One of the biggest event trends we are seeing is smaller metro-based events versus one large company event where they would typically fly employees to a single location," said Melanie Zelnick, C.E.O. of Glow Events. "With COVID variants still being top of mind for many companies, they are finding that there is less of a risk if they can host smaller parties by region."
Courtney Armbrust, owner and events director of Meridian Events, echoed that, saying "in terms of format, we're seeing a mix of smaller team holiday parties within one large company, as well as just one holiday party for the whole company. The reason for smaller team holiday parties would be due to employees' comfortability to gather. Companies are finding that offering a smaller format will help employees feel safer. Many are even sending surveys to their employees to gauge their comfortability and what they'd prefer."
Mead added that "organizations with geographically dispersed teams may take an intimate and hybrid approach to holiday parties. Smaller departmental parties in person paired with a virtual party for all employees can create the IRL connections many crave and still bring the whole team together."
This change to the typical holiday party plan allows organizers to get creative. "It's going to be an interesting exercise to explore new formats for traditional event structures like seated dinners and dance parties in a way that allows for everyone's mid- and post-pandemic comfort levels," said Alexa Jensen, head of creative production at Tinsel Experiential Design. "It's fun to conceptualize options like elevated dance platforms or dining lounges that allow smaller groups to gather in the midst of larger event environments."
3. Remember remote employees
Whether you're hosting a virtual or hybrid holiday party, you'll want to make the experience extra special for those whooping it up at home. "Because some companies are allowing employees to continue to work from home either through the rest of this year or indefinitely, some employees may not be able to travel and attend an in-person holiday party," Armbrust explained. "However, companies want these employees to enjoy the experience regardless! So we are seeing that some are going to invest in sending gifts and kits to these employees' homes that will either allow them to celebrate at home while virtually attending or just to provide them with a gift so they feel included even from afar."
Madeline Raithel, communications specialist for Entire Productions, said that "it is likely that not all of your team will have returned to the office 100% by this holiday season for a variety of reasons. Health concerns, distance, and responsibilities at home limit employees from meeting in person. Leaving those remote workers out is not an option, so consider a faster-paced, more engaging hybrid meeting event with your message, education, and team-building segments seasoned with a scintillating musical performance, master magician/mentalist, celebrity appearances, giveaways, and more.
Ally Grubb, senior event planner and marketing manager for Foxtail Catering & Events, added that "since people have moved around the states this year, many companies are doing hybrid events where we are designing the holiday party live event for the guests who live here and creating a 'boxed version' to be shipped to those who don't paired with a virtual event."
4. Go with a theme
Whether gathering in person or online, plan your holiday party around a fun theme such as a winter wonderland or a favorite decade like the '80s. Of course, some planners and hosts are looking back to the roaring '20s—again. Armbrust points out, "I think we've seen this quite a bit but the Roaring '20s theme is becoming very popular for obvious reasons!"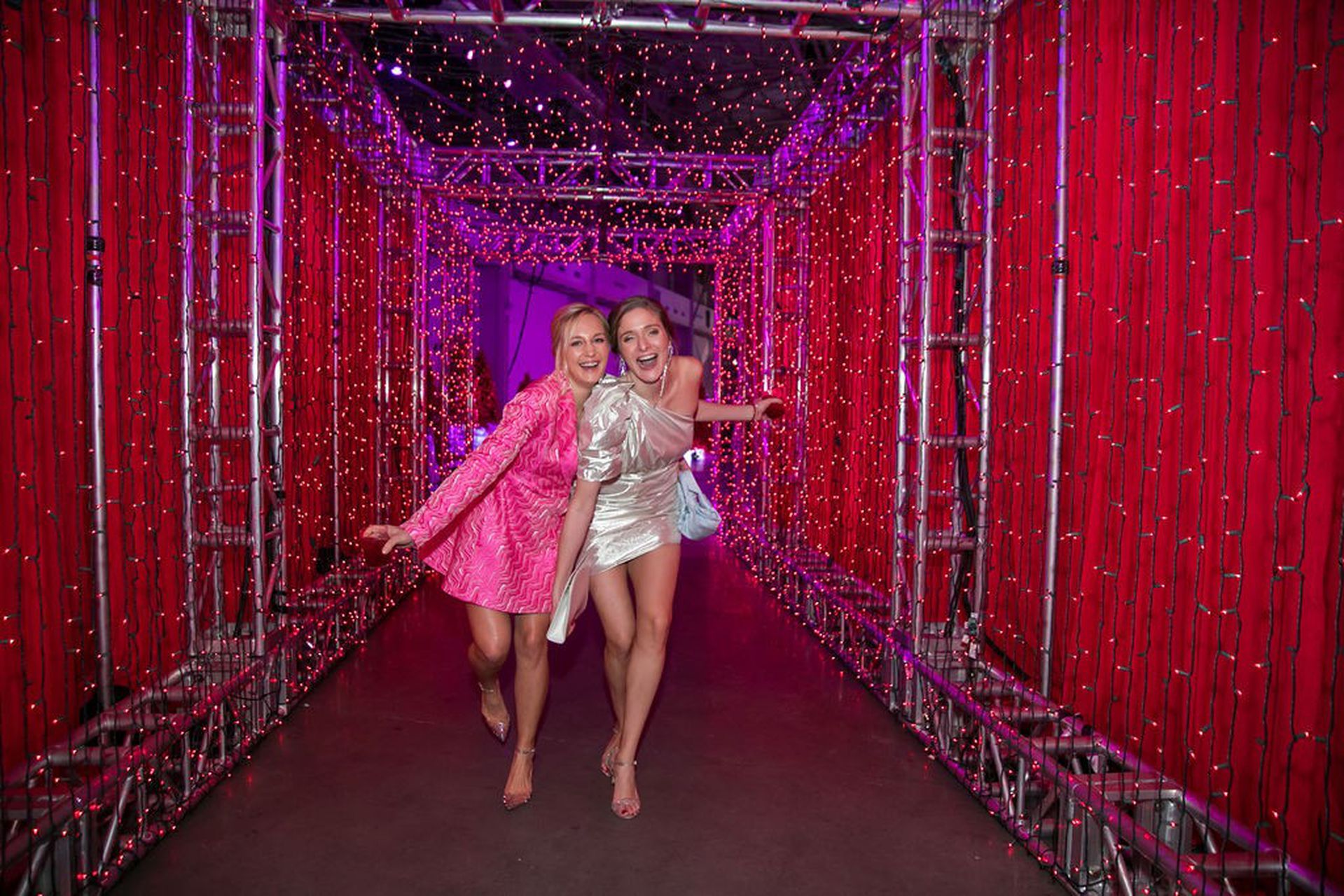 5. Create or hire an innovative photo booth
Over the past several years, photo booths have become an event staple, so don't forget to include one—even if you're hosting an all-virtual event. At-home attendees can still engage via a virtual photo booth, which can be browser based or work with an app. For in-person events, consider renting a green screen as a backdrop and allow attendees to choose their own festive scene such as a winter wonderland or Santa's sleigh.
6. Communicate COVID-19 preparedness
As we mentioned, COVID-19 has proven to be the ultimate Scrooge, so event pros need to factor health and safety measures into their planning process for the foreseeable future. "Teams that toast in person will expect proper protocols and procedures to ensure a safe environment that eases concerns of contracting COVID-19," Mead said. "Venues and event producers have spent months and months preparing the processes and procedures needed to design events and IRL experiences. It is imperative that employers communicate the measures in pre-event messaging to avoid any 'watercooler chats' about anxiety resuming in-person gatherings."
These precautions will most likely affect the design and layout of any in-person events, but attendees are requesting safety on their wish lists. "There is less of a focus this year on immersive entertainment and decor because companies are anticipating that creating a space where guests are comfortable and have space to socialize will be all that employees want this year," Zelnick said.
7. Scavenger hunt
A tried-and-true corporate party idea for any occasion, scavenger hunts are a fun, interactive way to keep attendees engaged. Also, consider awarding seasonal gifts to the winners. If you're hosting a virtual gathering, you should include items on the list that folks would have around the house such as festive décor items.
8. Bring in an impersonator/magician
Capture the magic of the season with the help of, well, a magician or a quirky impersonator. Both of these performers provide entertainment while interacting with the guests. Inviting a special guest to encourage engagement is especially helpful when a team is a mix of hybrid, remote, and in-person employees.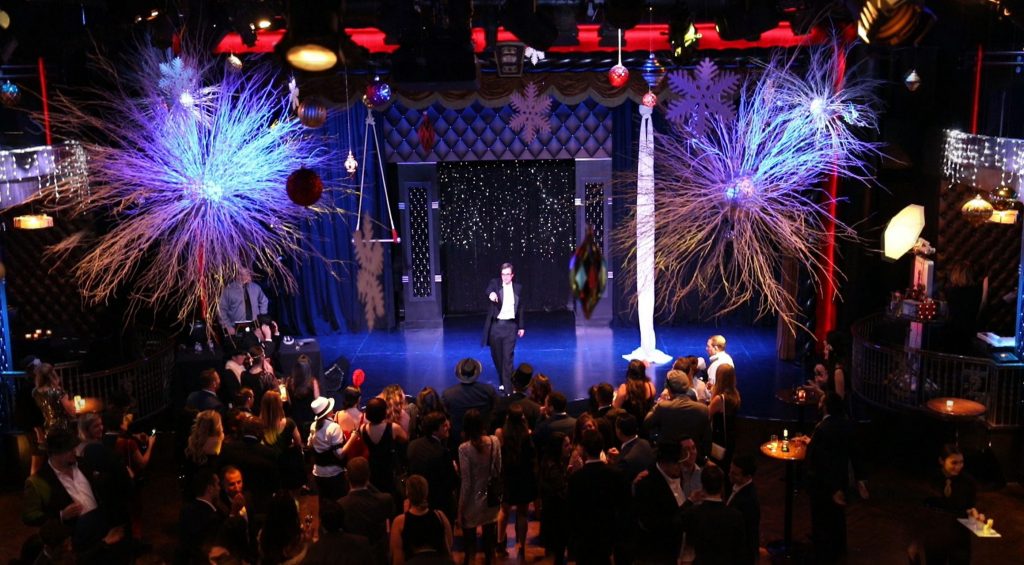 9. Expect a blowout celebration
While some companies might choose to host small, intimate parties, others are ready to party hard after missing out last year. "We are getting a lot of inquiries for corporate holiday parties, from early November to mid-December right now, and they are looking to go big," said Tyler Hollinger, owner of Highlife Productions. "I think that a lot of companies, after such a trying year, are looking to lift everyone's spirits!"
10. Pass the food
With safety in mind, some companies are forgoing the sit-down holiday dinners for parties that allow for social distancing, especially when it comes to F&B. "We are looking at more passed hors d'oeuvres and food stations with fully composed small plates," said Anthony Navarro, creative director of Liven It Up Events. "Although we are moving past the pandemic, we are still seeing more groups comfortable with food being passed or already plated. All they have to do is pick up a composed plate where they can take it and walk off with it."
Grubb chimed in that "custom-designed mini food boxes and custom bottled beverages that match the holiday theme or are personalized to the guest are at every holiday party we are planning. For many events, we have replaced the 'late-night snack' with these items so that guests can take them home. A gift and a treat at the same time." She added that "fabulous cheese and charcuterie boxes are really having a moment. They are beautiful and easy for guests to grab and go."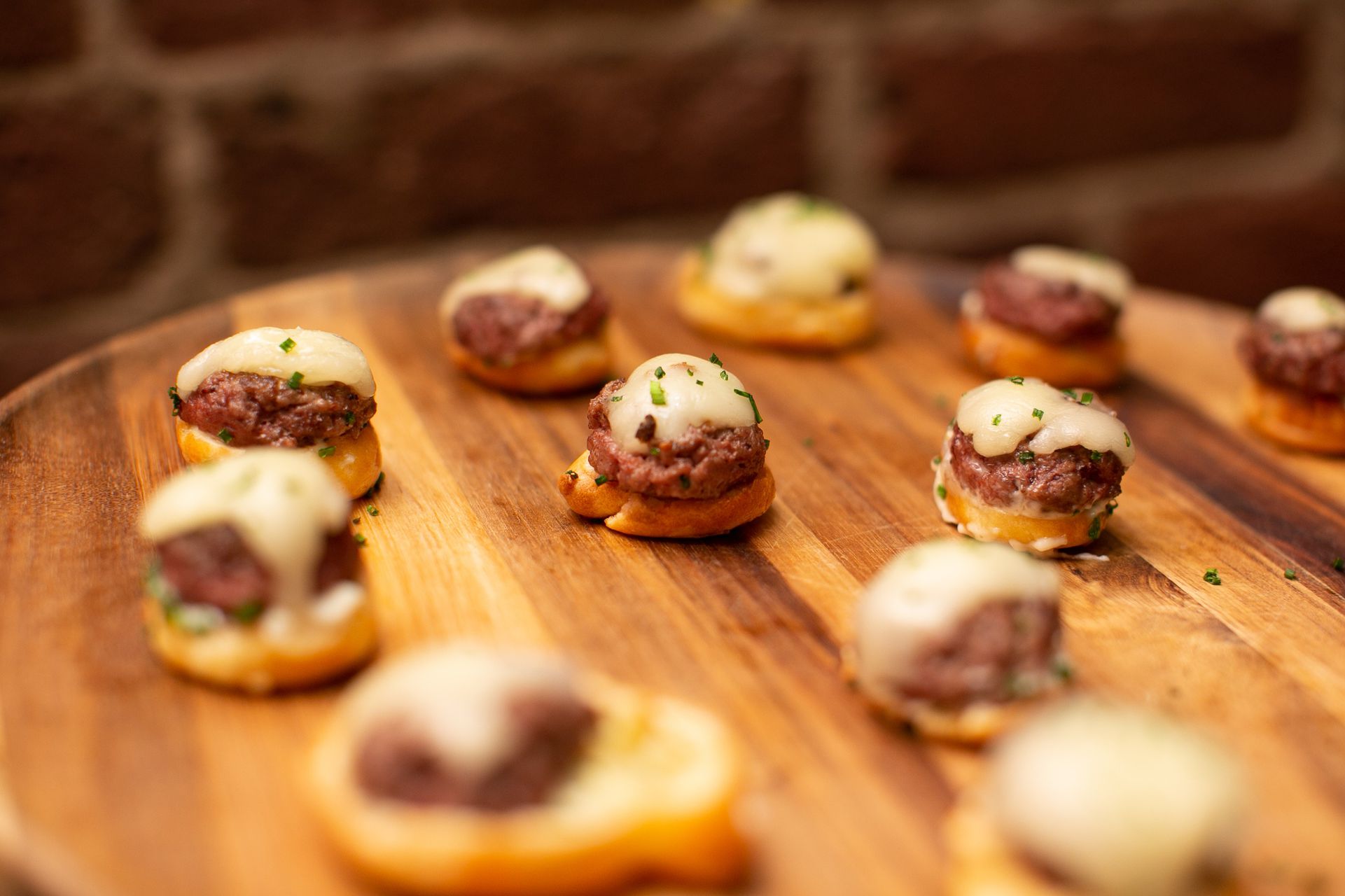 11. Keep it sustainable
Over the past several years, more and more event pros have become mindful of the ecological footprint of the parties they plan, with some making a conscious effort to make the holidays more green. "We are very big on sustainability right now. All of our cuisine and mixology is locally sourced, hyper seasonal, and super delicious. So we are very stoked about all those fresh fall flavors," Hollinger said.
12. Bake goods exchange
Give your team the chance to show off their baking skill with a baking exchange. Have every employee bring in a bake good of their choice and invite people to swap and share. It's OK if you're not a pastry chef! Let your employees know they can pick up their favorite pie or dessert from a nearby bakery instead.
13. Office talent show
Allow employees to show off their hidden (or not-so-hidden) talents with an end-of-year talent show, which can be conducted in person or over Zoom. Ask attendees to sign up ahead of time and assign a host to keep the show flowing.
14. Bring in VR Entertainment
While some employees may be suffering from Zoom fatigue, others are embracing the latest tech trends including virtual reality (VR). To add some video gaming to your holiday party, seek out suppliers that offer mobile VR entertainment.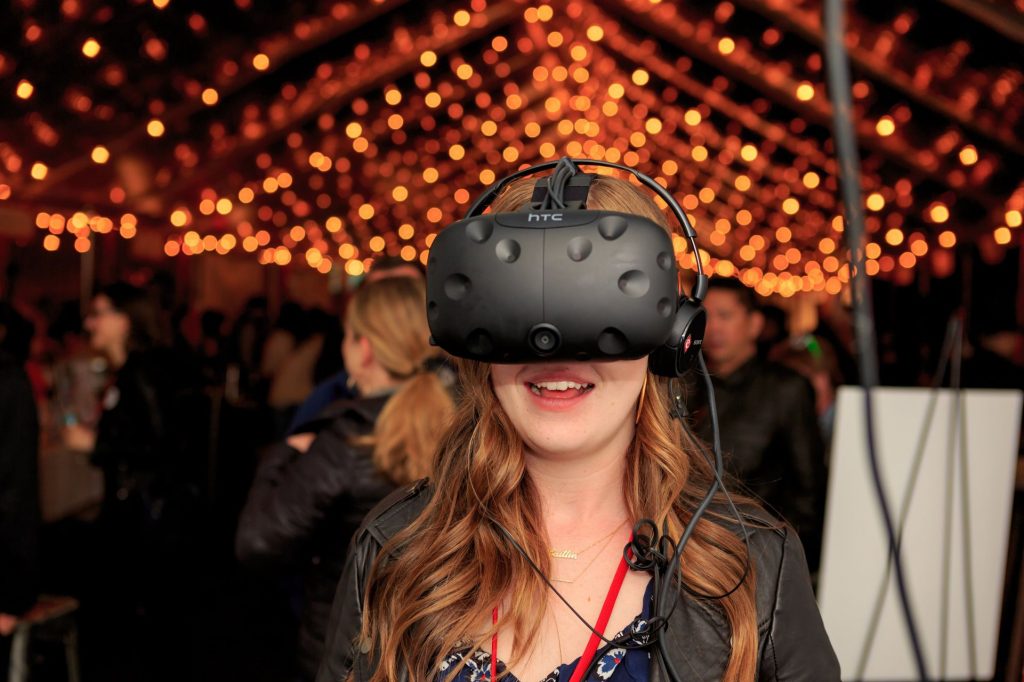 15. Give back
More than ever, employers and their staff are looking for ways to contribute and give back. For this year's holiday party, consider incorporating charitable C.S.R. activities or the option for attendees to donate to a cause. "Giving back to employees or some sort of donation element as part of the event will be very popular," Armbrust said. "Through COVID, companies have found that listening to their employees' needs, as well as giving back to their industries or communities requires more focus and they're delivering."
People Often Ask These Questions
Q: How do I throw a holiday party in 2021?
A: First, determine if the event will be virtual, in person, or some combination of both. While some IRL features translate to digital, others do not, so consider the best option for your company and its employees. Also, you can conduct a poll to gauge people's interest in gathering.
Q: What do you do in lieu of a company holiday party?
A: Instead of a traditional party, plan an outing such as volunteering at a local food bank or animal shelter, host a potluck dinner, or simply give the employees an extra day off.
Q: How do you make a business event fun?
A: Work-related social events like happy hours or holiday parties allow employees and staff to connect on a personal level while participating in (hopefully) fun activities. Instead of awkward chit-chat, plan a few activities to keep people engaged and to help build camaraderie.
---
In a party planning rut? Browse Real Corporate Holiday Parties to find inspiration and ignite creativity.
---