Lake Michigan, the Chicago River, an iconic skyline, and a thriving cultural scene are just some of the perks to be had in America's third most populous city. When it comes to venues in Chicago, there are a surprising amount of stellar rooftop spaces to enjoy. As it turns out, rooftop venues year round are not just applicable to people in temperate climates—to be fair, Chicagoans tend to be hardier when it comes to weather. This is the city that survived and oddly thrived in the 2019 Polar Vortex. So, why would they be turned off of a rooftop venue in winter? They lean into it, with firepits, warm drinks, and in the case of one of the following spots, include curling as an activity. Read on if you're looking for a Chicago rooftop venue in the cool spring, warm summer, mild fall, and yes, frigid winter.
15 Gorgeous Rooftop Bars in Chicago for your Next Event
As it goes with many if not most major cities in the States, this is a metropolis made up of distinctive neighborhoods with their own identity. If you're planning an event in Chicago, we got you covered! We've narrowed the list down to 15 of our favorites throughout the Windy City to blow you away. 
1. Offshore Bar & Restaurant
Neighborhood: Navy Pier
Capacity: 750 
What better way to start a rooftop listicle than with the (Guiness Book of Worlds Records-verified) largest rooftop venue? Offshore Rooftop clocks in at a humble 36,000-square feet, including the 20,000 square foot terrace, which up to 750 of your nearest-and-dearest can enjoy. It's a sprawling rooftop complex, but doesn't overwhelm. Offshore is open year round (enter those cozy firepits), there's a dedicated games and entertainment area, and if you're looking for a Great Lake view this is pretty much unbeatable.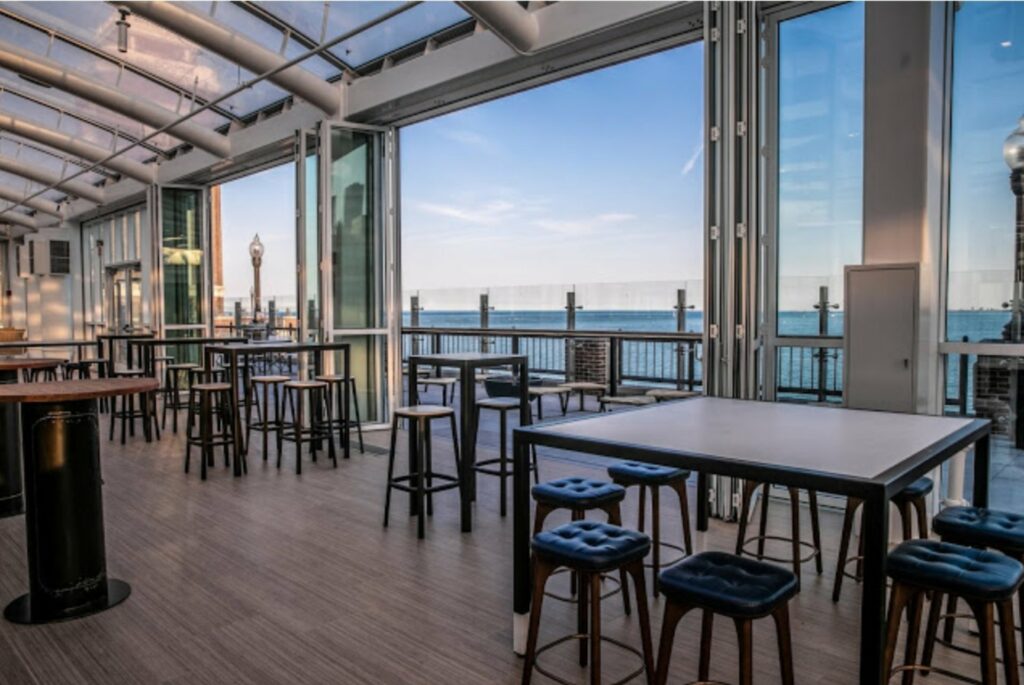 2. Celeste
Neighborhood: River North
Capacity: 90
Architect Louis Sullivan has earned sobriquets including "a father of skyscrapers" and "father of modernism." He mentored Frank Lloyd Wright, and both are roundly considered amongst "the recognized trinity of American architecture" along with Henry Hobson Richardson. Celeste Rooftop is found in/on one of Sullivan's iconic Chicago buildings.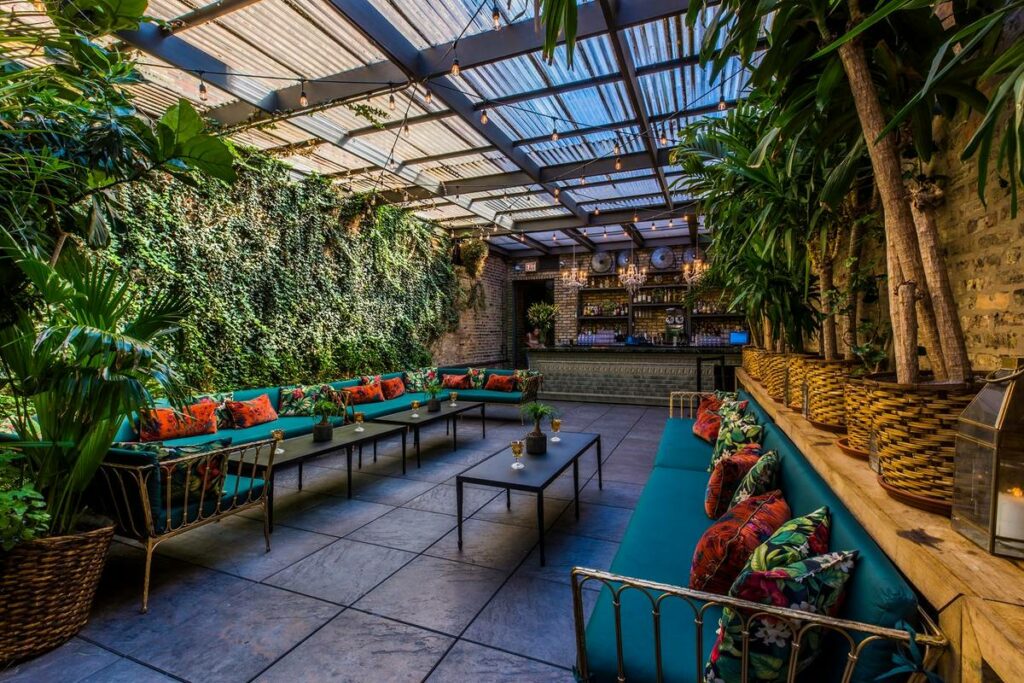 3. Joy District
Neighborhood: River North
Capacity: 220
The multi-level Joy District has a lot to offer for any occasion, but the vibrant 3,000-square foot rooftop really hits the spot. Panoramic Chicago views abound, while eye-catching murals bring a colorful pop year-round. The American cuisine food offerings hone in on small bites, like their fried Amish chicken or much-appreciated lollipop menu. True to its moniker this is a spot where good vibes abound. 220 people can enjoy milling about the lounge style seating while gramming sunset views.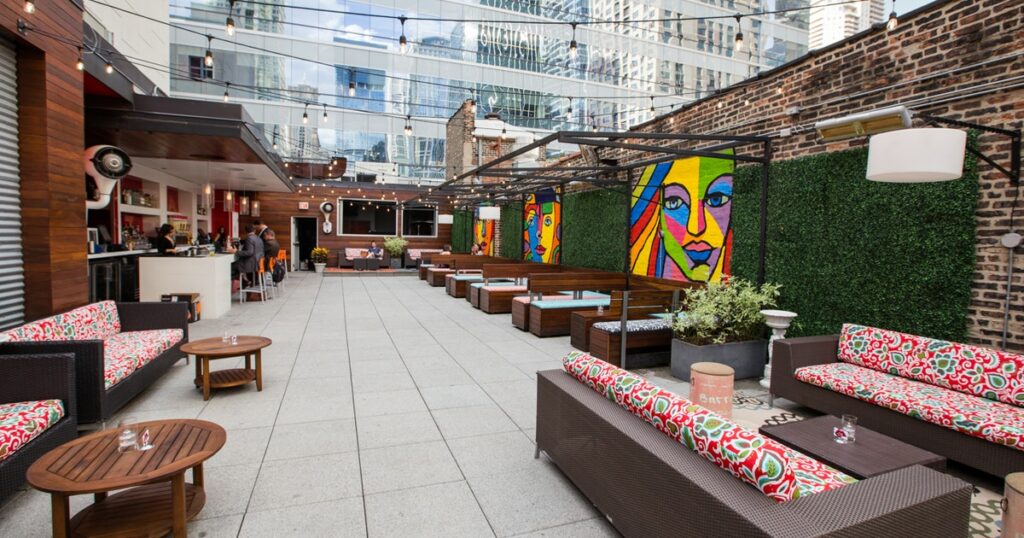 4. ROOF on theWit
Neighborhood: The Loop
Capacity: 325
ROOF on theWit (case sensitive and spacing intentional) seamlessly transforms between a day, evening, and night atmosphere. First off, this 5,394-square foot venue has earned some exclusive stripes. Travel + Leisure named it one of the Top Three Rooftop Bars in the World while the premier industry Nightclub & Bar awards anointed it Hotel Bar of the Year, full stop. It's a gorgeous setting with views on views and there's six distinct areas within the venue to play with for any occasion up to 325 people. Those without a fear of heights or propensity for vertigo can enjoy Hangover, a glass-enclosed spot that literally suspends off the building 27 floors up.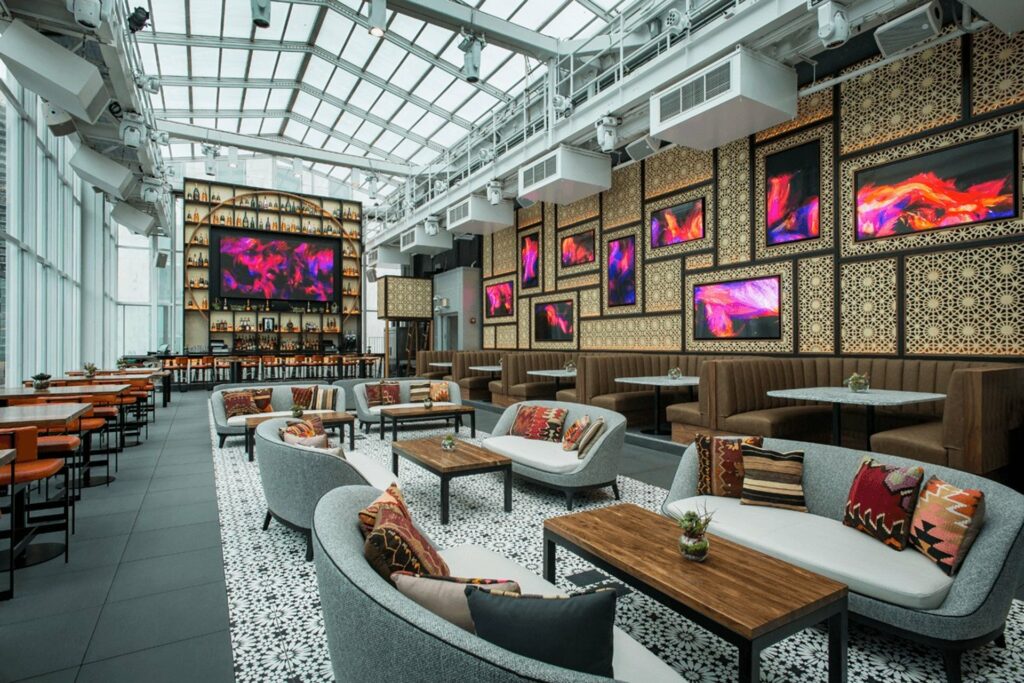 5. VU Rooftop
Neighborhood: South Loop
Capacity: 500
Panoramic views in all four directions abound 22 floors up at VU Rooftop. Upscale modern design permeates throughout the 13,000-square foot concept where you can go small, like an intimate meeting for 15 in The Boardroom, or a blow-out soirée for 500 in The Block. Amenities are top notch here, from the A/V capabilities to the valet parking. The food options are not extensive per se but definitely worth writing home about—the Scallion Kimchi Flatbread is a religious experience.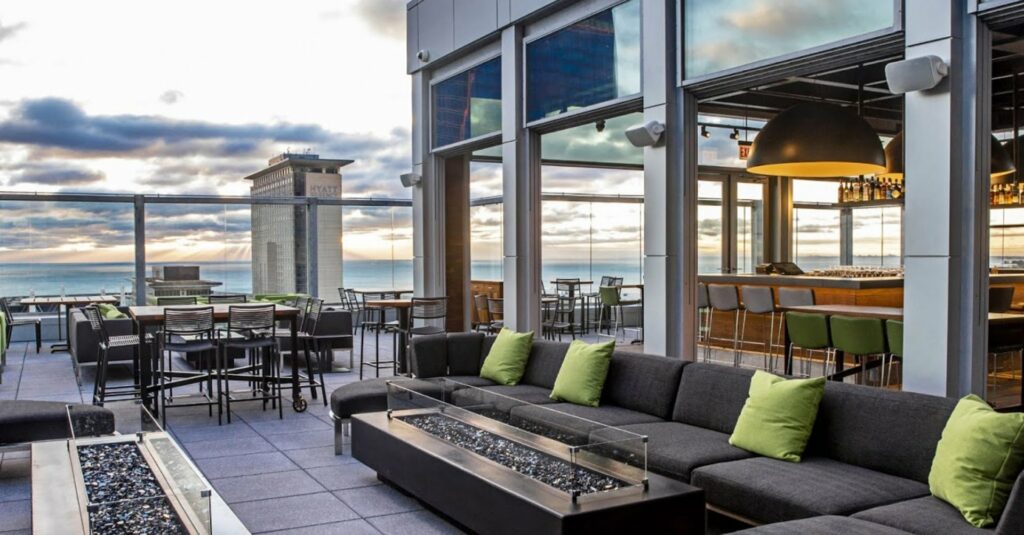 Satisfy your guests' sweet tooth. Browse the top dessert caterers in Chicago!
6. Homestead on the Roof
Neighborhood: East Village
Capacity: 100
True to its name, Homestead on The Roof is a delectable farm-to-table treat. While it's earned accolades from myriad outlets, this actually remains something of a secret, hidden gem. Perhaps it's the no frills location above a pizza joint (Roots Handmade Pizza to be precise). However, that pizza link only adds to the distinct Chicago charm. The outdoor rooftop patio is a cozy 1,000-square foot, L-shaped space for 100. Their cup runneth over in the flower department and two massive vertical hanging gardens round out the greenery department. Chef Bryan Collante's Filipino heritage and travel experiences are a driving inspiration behind their self-professed sour, sweet, salty, and funky flavors.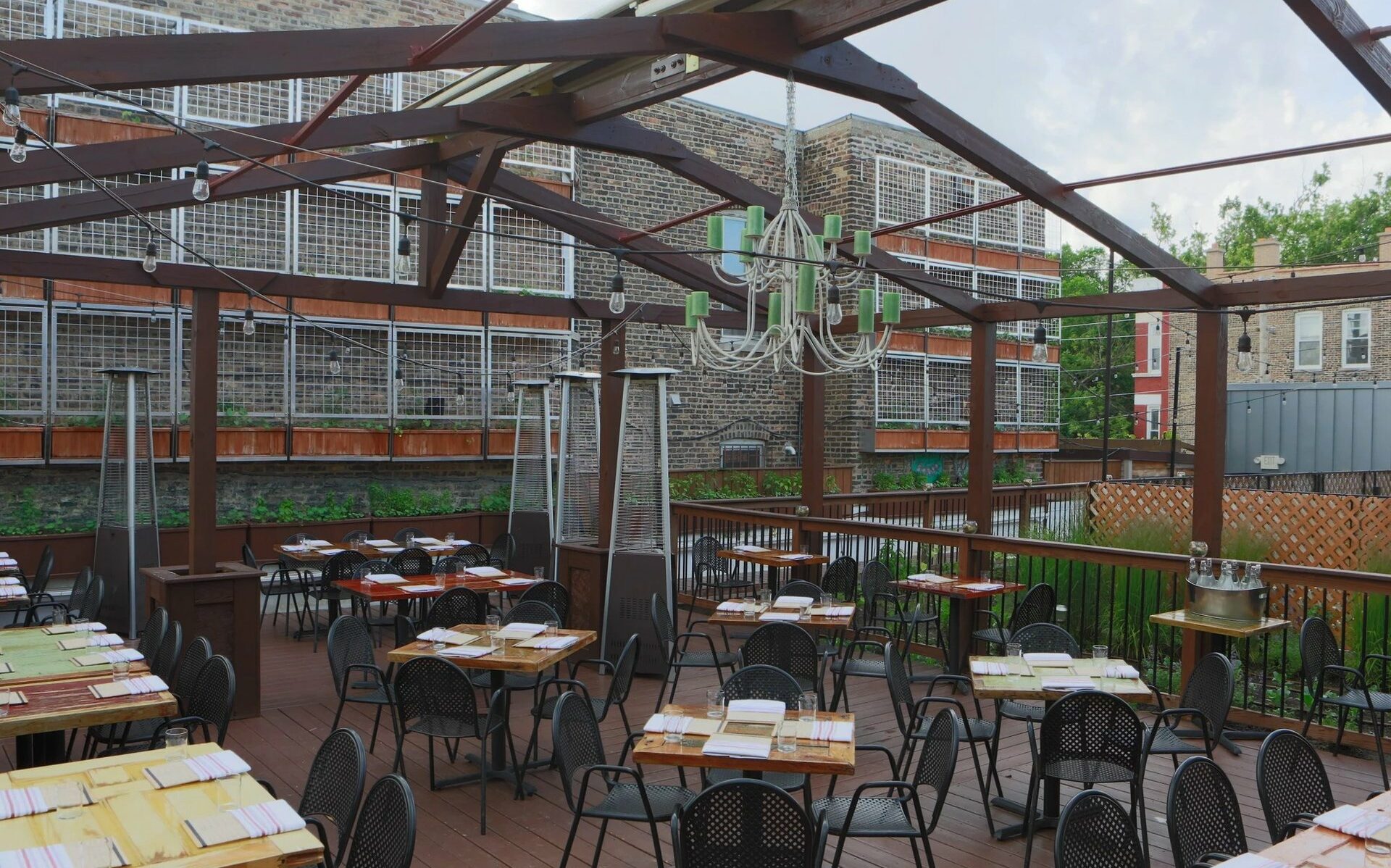 7. Soho House Chicago
Neighborhood: West Loop
Capacity: Contact for more info
The posh, private members' Soho House collective has grown from its landmark London location in 1995 to almost 40 worldwide as of today. The Chicago location is housed in an old belt factory, and the entire place is imbued with a vintage feel. The rooftop itself is relatively intimate with a bar, outside fireplaces, and a black-and-white Mosaic floor. There's still room for a pool though, which can be enjoyed along with the views out over the city's West Loop.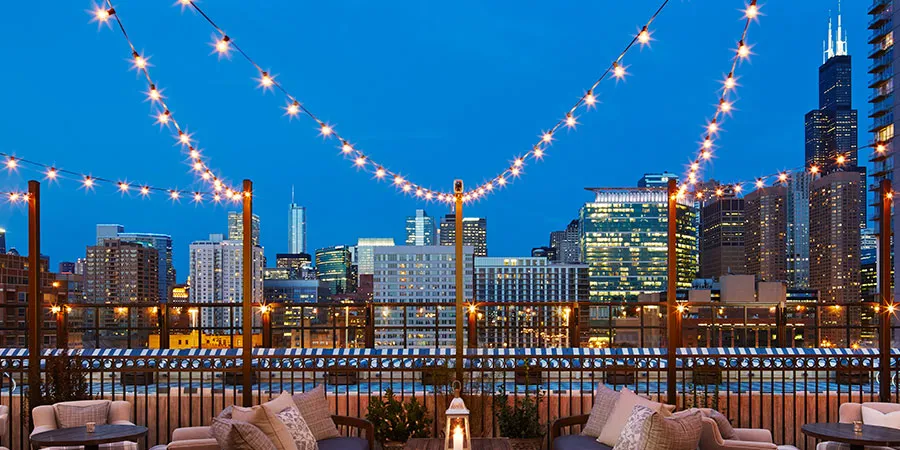 8. Cindy's Rooftop
Neighborhood: The Loop
Capacity: 160
The Chicago Athletic Association Hotel is a landmark 1893 establishment that adds a flourish of Venetian Gothic architecture (it was modeled off the Doge of Venice's Palace) to Michigan Ave. It's a stone's throw from Millennium Park, The Art Institute, and Lake Michigan so it's virtually impossible to find a more central downtown location. Women were initially persona non grata at the CAA back in the day. Not so anymore, and the newer but sympathetically designed Cindy's Rooftop is in fact named after a woman—the late billionaire and doyenne of Chicago society, Cindy Pritzker. It makes sense since a huge chunk of the Pritzker fortune comes from Hyatt, the group which now owns and operates the building.
Cindy's Rooftop is 2,000 square feet and can host up to 160 standing patrons. The rooftop restaurant comes complete with an open-air terrace and delicious menu with award-winning cocktails.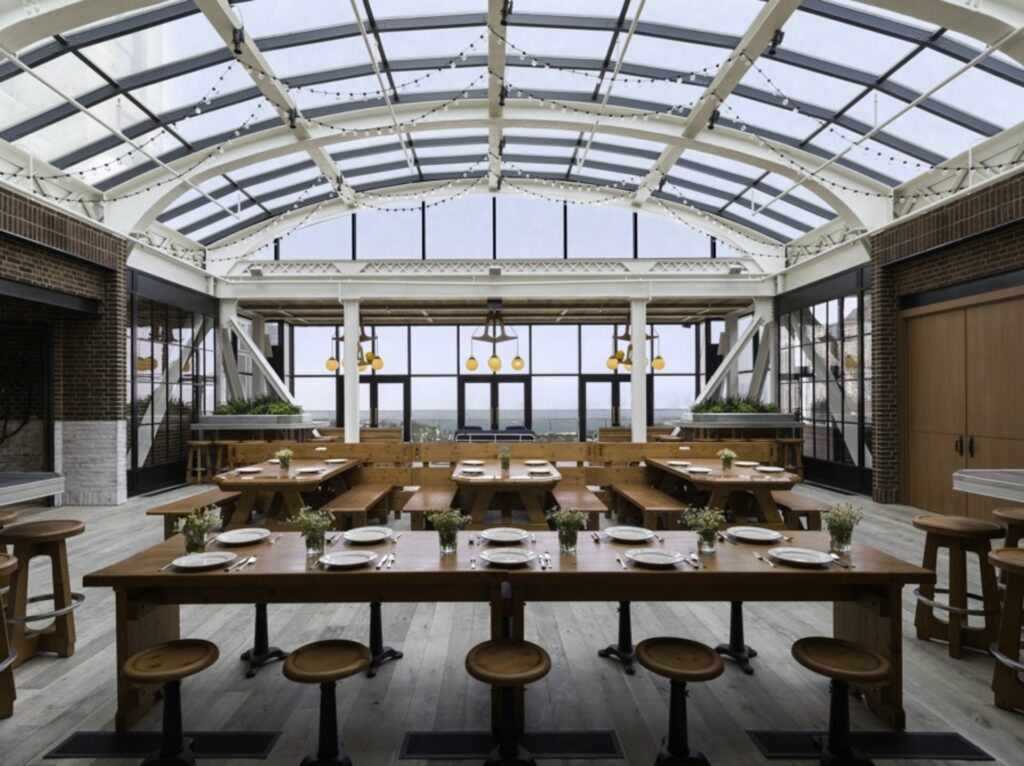 9. Raised
Neighborhood: The Loop
Capacity: 200
Raised is only three floors up, but that provides the perfect vantage point out onto the Chicago River. It's a spot that really epitomizes how Chicagoans have figured out the indoor/outdoor feel regardless of the season. There's a fire pit to gather around in the fall and then come winter, their greenhouse-style dining still provides that perfect view. For a buyout you can host up to 200 standing and the menu lives up to all the other hype.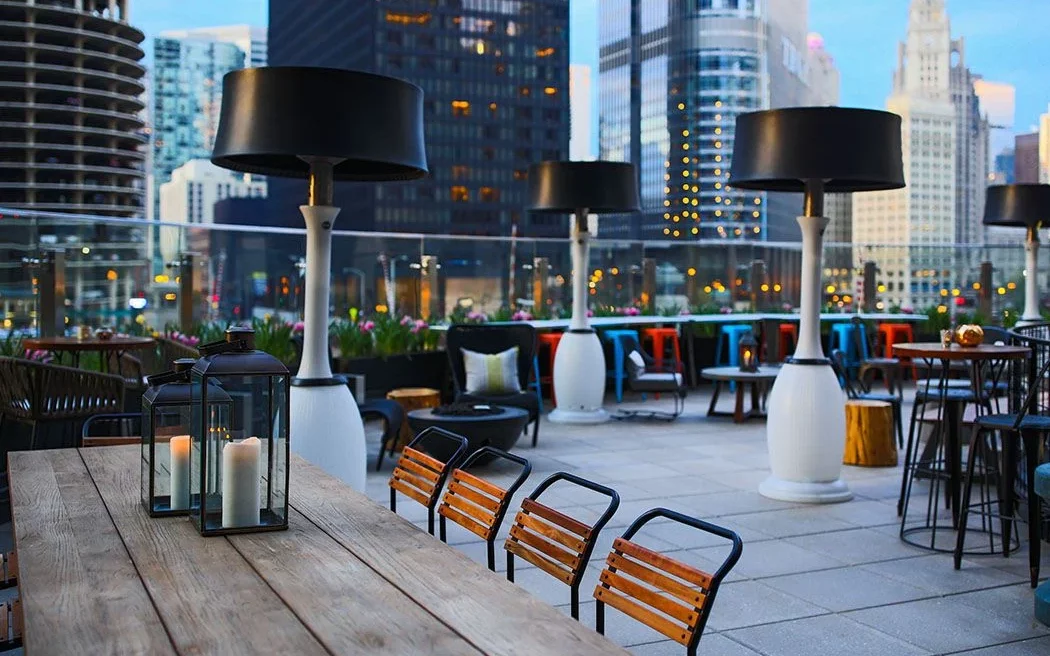 10. Upstairs at The Gwen
Neighborhood: River North
Capacity: 60
Upstairs at The Gwen is a hotel rooftop bar that serves up an intimate twinkle-light setting and Art Deco aesthetic. We could rave about their open-air terrace for a breezy summer rehearsal dinner, but winter is where they really one-up themselves: your 60 standing guests can get cozy around their firepit with a warm drink and instead of bocce a CURLING setup.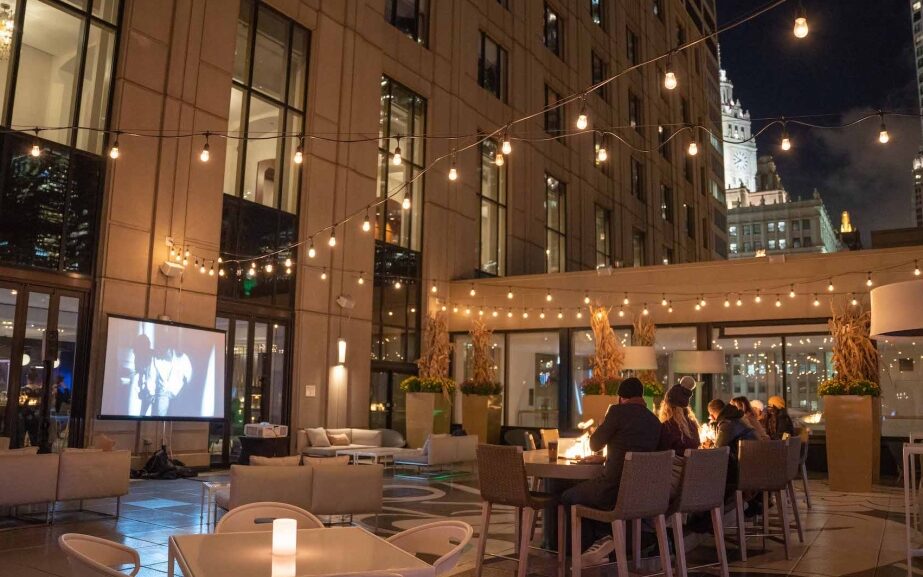 11. Sky Terrace Rooftop Lounge
Neighborhood: Streeterville
Capacity: 120
Sky Terrace Rooftop Lounge, the Ivy Hotel's epicurean aerie, is right along The Magnificent Mile, an iconic stretch of upscale establishments. This spot is 16 floors up and open May-September for a cocktail that looks out to skyscrapers and the cityscape, Sears Tower included. It's 120 standing here and is 100 % outdoor space, so do think of contingency plans if your event is weather-dependent.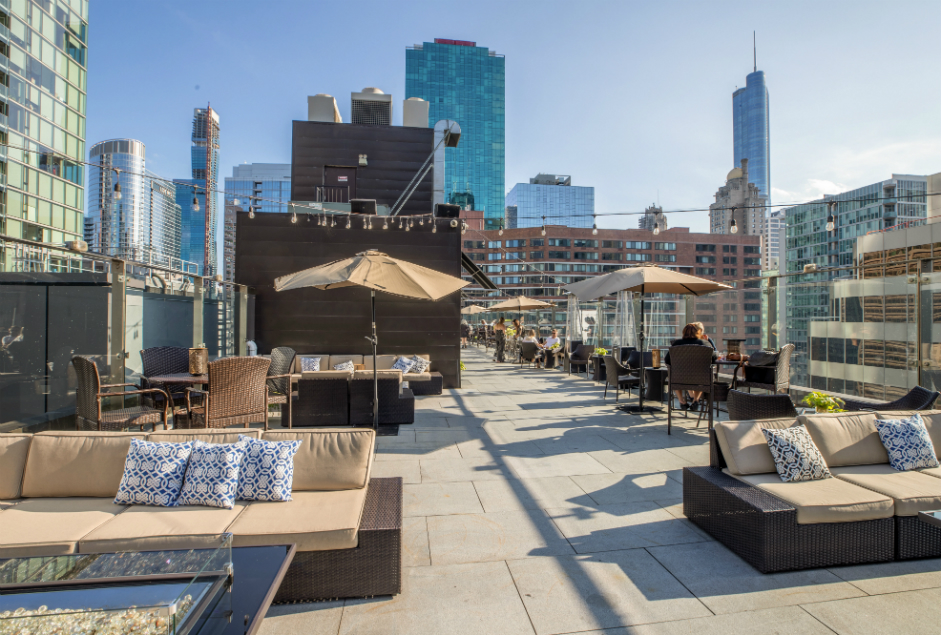 12. Utopian Tailgate
Neighborhood: Old Town
Capacity: 300
Utopian Tailgate is indeed a party paradise for all people, from 21-year-old college students to nonagenarians living their best life. This newish 10,000-square foot locale is atop Piper's Alley, the complex which houses The Second City. (The internationally famous comedy enterprise and SNL talent feeder.) The bar serves up traditional tailgate fare, albeit much more elevated than what you'll find in a stadium parking lot. The drink options are extensive, the views are ace, the colors popping, and the games raucous.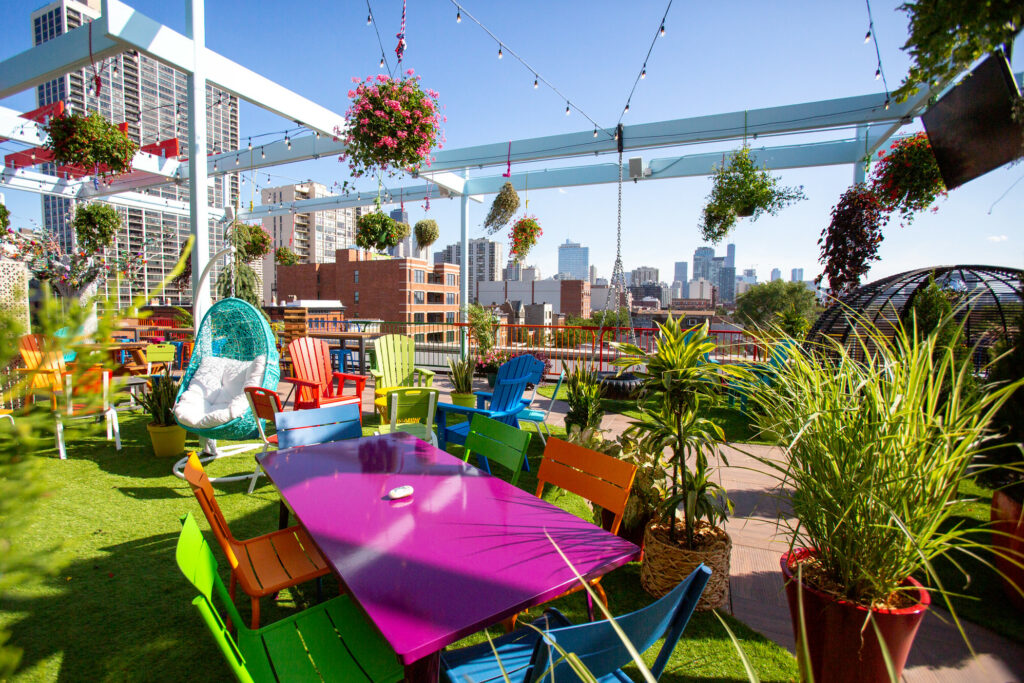 13. Cerise Rooftop
Neighborhood: The Loop
Capacity: 120
Go up the elevator 26 floors at Virgin Hotels' delightfully quirky Chicago location and you'll land at Cerise Rooftop. It's trendy and stylish but unpretentious and brings a touch of London to an otherwise quintessentially Chicago space. Live DJs rotate throughout the weekend, and it holds up to 120 people. One Tip: On your way in or out, stop by Miss Ricky's on the ground floor for an old school diner feel with delicious food.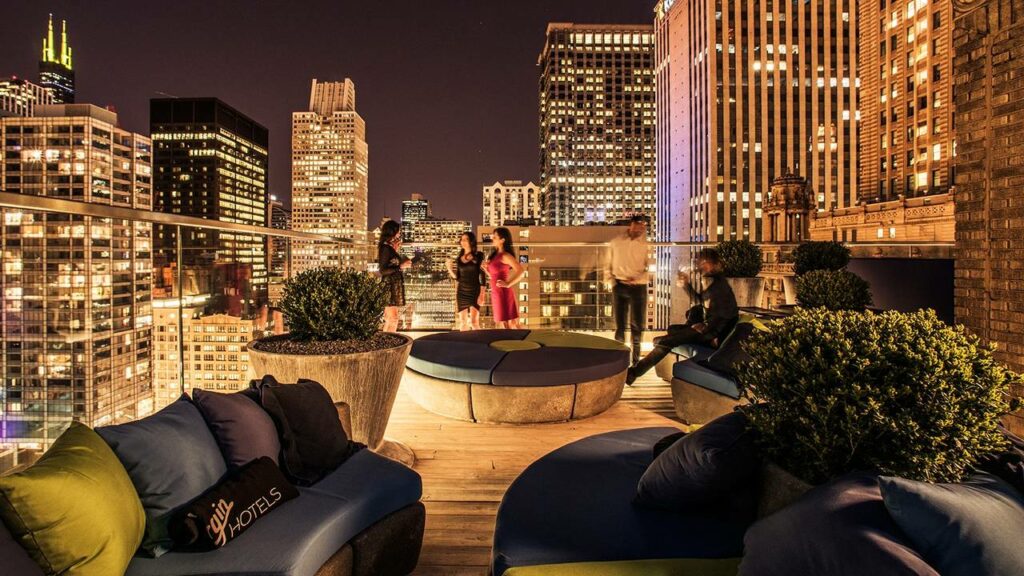 14. Bar Avec
Neighborhood: River North
Capacity: 120
Bar Avec is a nod to the Iberian Peninsula, finding its inspiration in the coastal Spanish and Portuguese leisurely approach to food and drink experiences. Views: check. Decor: woody, industrial, very bright, plenty of greenery. (There's also hanging lanterns for nighttime mood lighting.) The flavorful food and drink menu is also infused with Spanish and Portuguese highlights, from the "Livin La Vinho Verde" to savory tapas.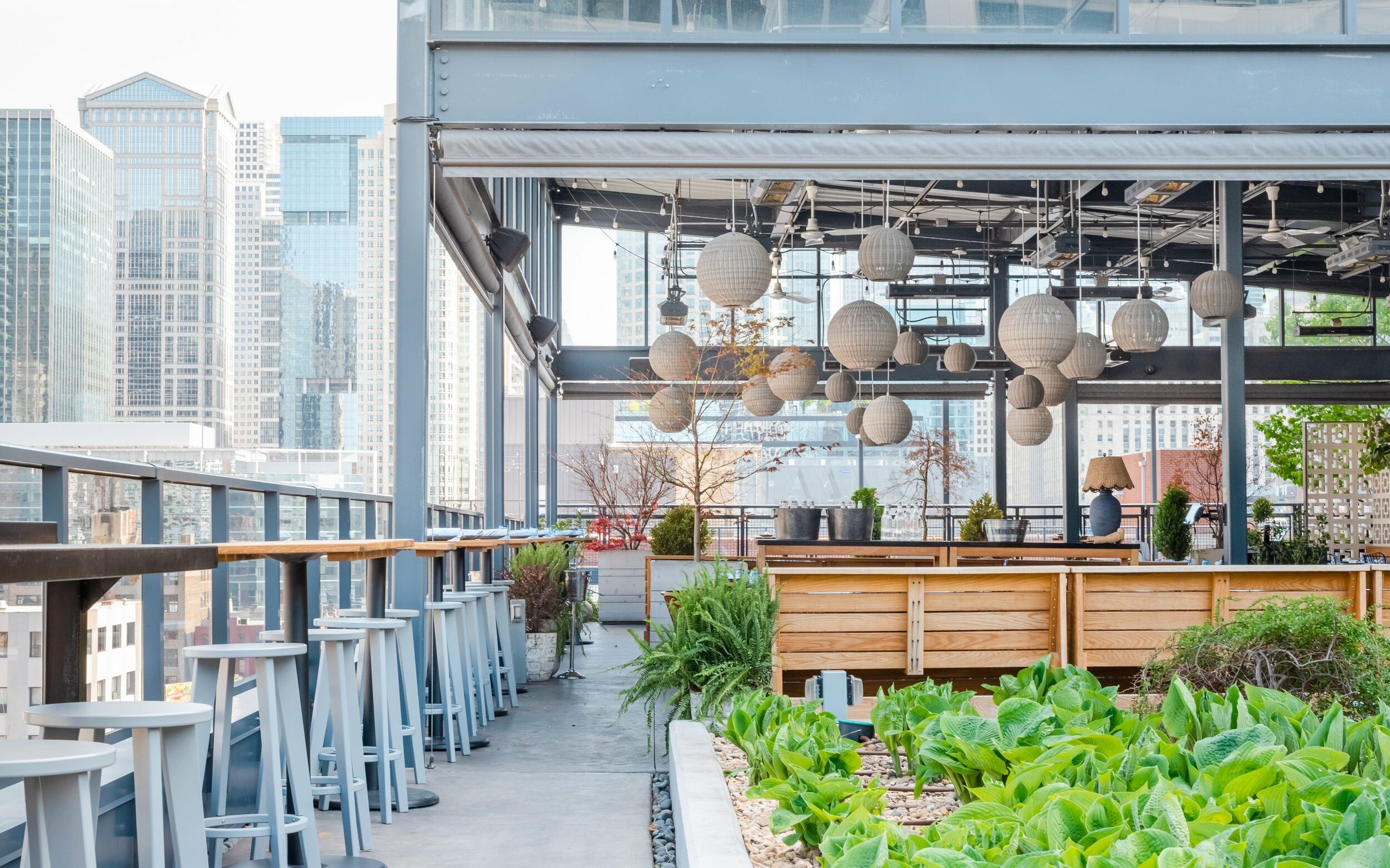 15. Gibsons Italia
Neighborhood: West Loop
Capacity: 150
Gibsons Italia is part of the restaurant group behind Chicago's legendary Gibsons Steakhouse. It's a carnivore's dream here as well, but the views will please people of all diets. The decor at this Italian steakhouse is well-appointed and the bar area has an almost vintage clubhouse feel, but it's so light and bright with floor-to-ceiling glass windows it catches you off guard. The capacity for the 1,600-square foot rooftop is 150, but it's a tri-level restaurant where a buyout will accommodate 750 total so also keep this relatively new location for larger events.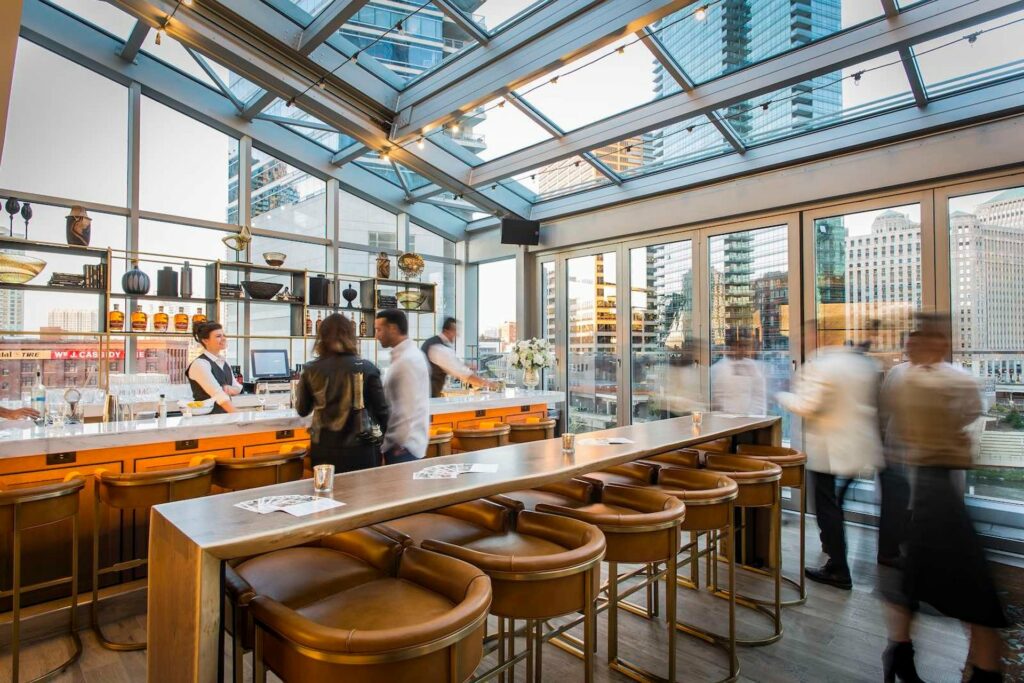 Why Finding the Right Venue for Your Event is Key
There are many ingredients that go into producing an event, and as event professionals know more than anyone it's in the details. That said, the venue is the ultimate top of the tree from which all other items spring and sets the tone for everything else.
Top Things to Consider When Booking a Rooftop Space
A working list to get you started includes:
Weather or season dependent? Will you need heaters?
Parking, if applicable–it's more important in some cities than others.
Food and beverage situation.
Find the Best Rooftop and Outdoor Spaces on The Vendry
The Vendry loves a good rooftop, and even more so loves connecting industry professionals who are looking for a good rooftop venue. We're here when you're ready to break ground on your next off-the-ground event. Get started on your venue search today.
Read More:
Jaw-dropping Rooftop Venues in Brooklyn You'll Fall in Love With
The Best Large Event Venues in Chicago
Incredibly Unique Venues in Chicago For Your Next Event