Swag bags have always been a staple of in-person events because who doesn't love a present? But moreover, hosts can use giveaways as a promotional tool, serving as a way for attendees to remember (and ideally think fondly of) the product, person, or message of the event.
And now that most events are virtual, corresponding at-home mailers are becoming increasingly important to engage potential attendees, give them a sense of what to expect, and help spread the word.
"Adding a physical experience via a gift box is such an upgrade from our standard Zoom sessions right now," says Lacey Hoff, owner and creative director of Crush Studio. "You can either send these as an interactive element that all guests open on cue together. This could be a gift to be opened at the end of the session, or it could be some type of interactive game that allows everyone to participate in an interactive session. Additionally, the whole Zoom session could be programmed around the package itself. So perhaps it's an online tutorial for clients or employees to learn a new skill or craft—basically an interactive MasterClass."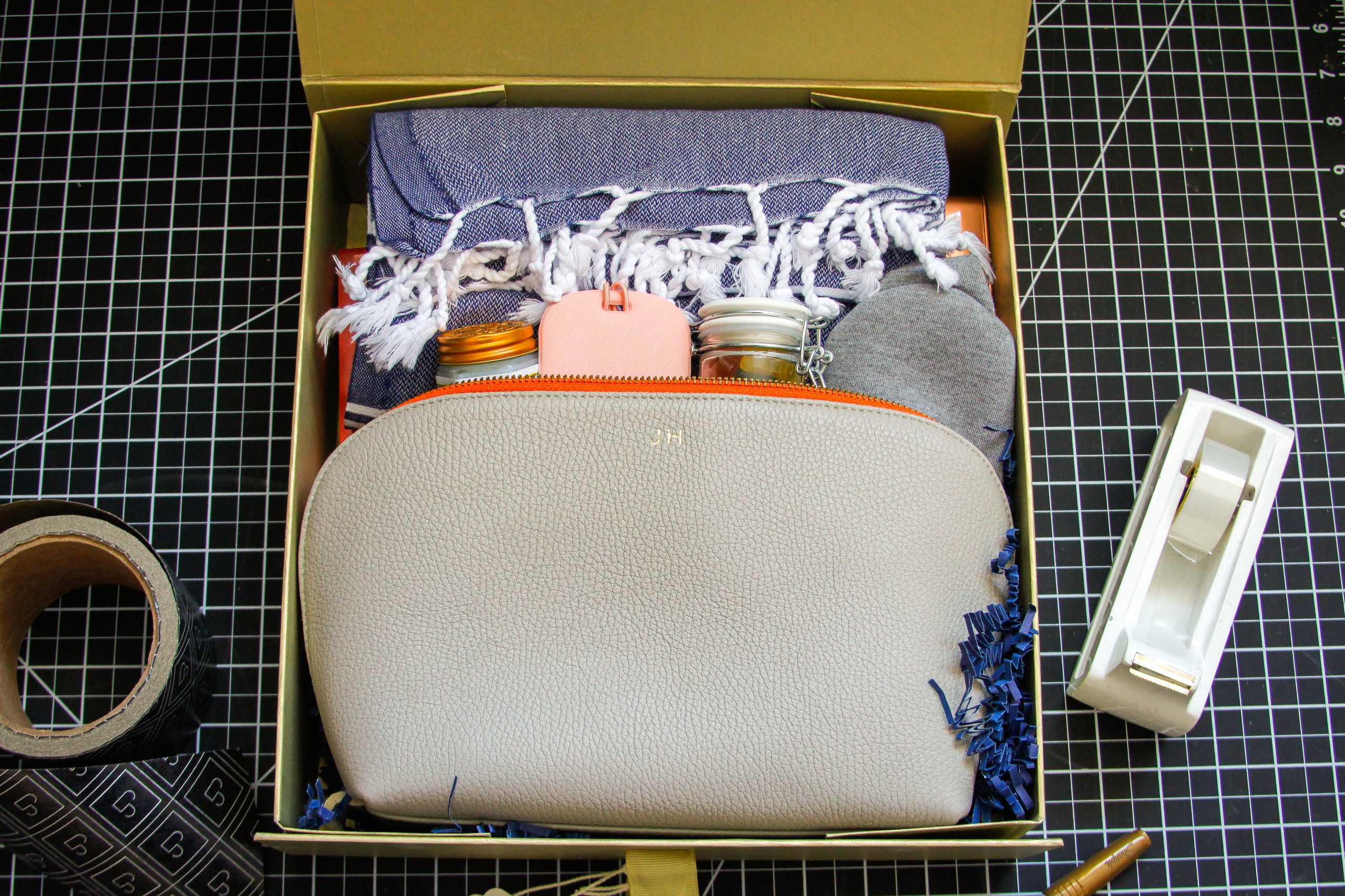 When it comes to curating swag for virtual events, the same rules for in-person events apply. "People come to your event because it makes them feel a certain way and provides a specific value," says Erik Zamudio, co-founder and C.B.O. of Fooji, an experiential tech company that offers delivery services for brand campaigns. "If you can create a mailer or package that helps them feel that same connection and value, your relationship with your fans will continue to grow."
And just like IRL events, there are certain guidelines to keep in mind when you're planning to send some goodies. "I believe that there are three basic 'hooks' for strategic gifting on behalf of a brand," says Kate Wolff, founder and C.E.O. of Los Angeles-based Lupine Creative.
1. Philanthropic: "This is worth sharing to do good."
2. Premium and tailored: "This item is worth sharing because it's high-end, uniquely mine, and brag-worthy."
3. Weird and wacky: "I had to share this…. it's bizarre and amazing!"
"Each one of these [strategies] is based on human behavior and a persuasion principle that prompts a person to 'show and tell,'" Wolff explains.
For example, last year, while at RQ Agency, Wolff lead the creative and production process for the promotion of HBO's new season of Big Little Lies, which included a series of kits that contained strategic props and costume items thematically aligned with each episode to drive organic social content creation from selected superfans including LGBTQIA and ally influencers.
In this case, the virtual event was a TV show, but the idea was the same: Encourage recipients to spread the word. "Well over half of the 52 influencers posted at least once about their experience with the kits or BLL in general, with most posting multiple times and engaging throughout Season 2. The kit garnered 562 posts from influencers with no fee associated, reaching 5.2 million people," Wolff says.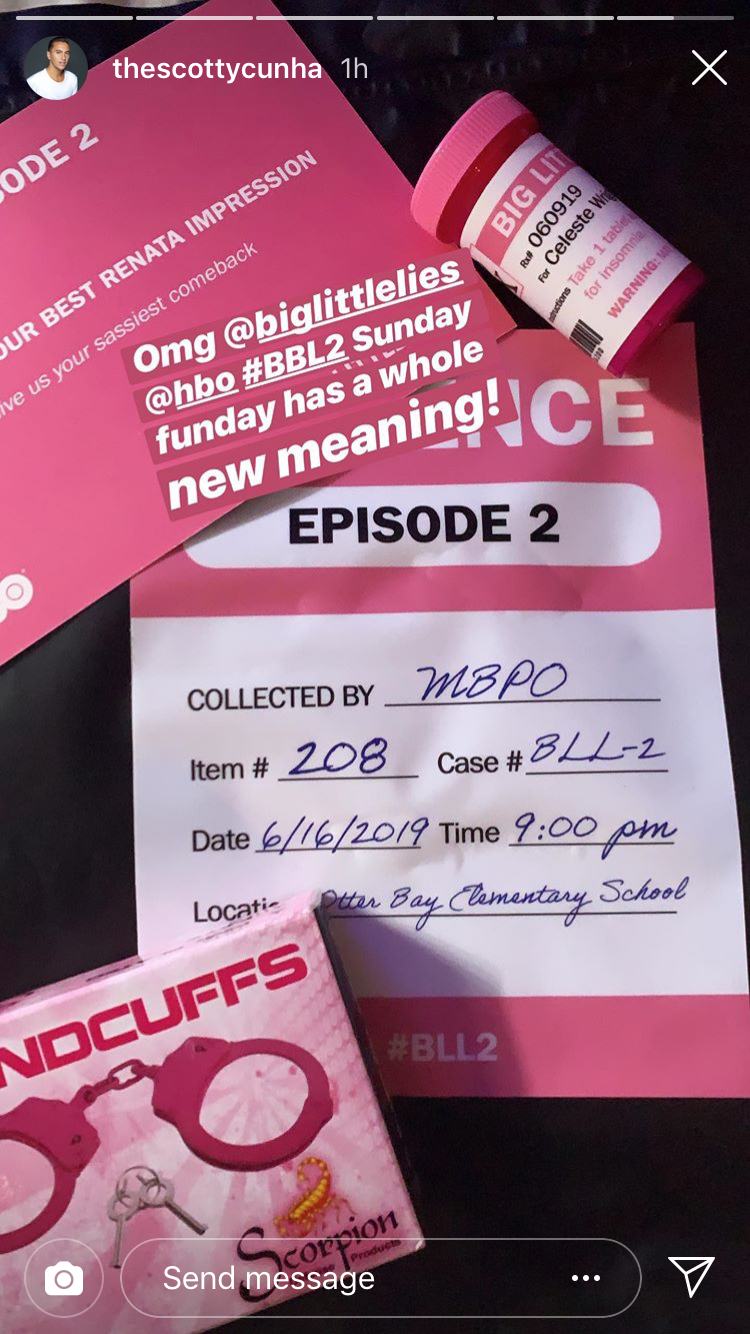 Back in March, Fooji also utilized social media for a Call of Duty launch event, but instead of "likes" folks scored free pizza.
"Activision reached out to help celebrate the record-breaking launch of Call of Duty: Warzone," said Zamudio whose clients have included Stella Artois, Paramount, Mountain Dew, Hulu, IKEA, and HBO. "With more than six million players online, they wanted to find a way to keep gamers fueled up while they played and there's no better way to keep gamers going than pizza."
Via Twitter, the video game company encouraged fans to tweet #FreeCallOfDuty, the pizza emoji, and #CODPromo for a chance to win free pie. Fans were then directed to a microsite where they could input their name and delivery information. Zamudio explains that Fooji was able to "intelligently select a courier in [the fan's] area and route their on-demand delivery." Pizzas from local joints in Chicago, Philadelphia, Los Angeles, New York, and San Francisco arrived in branded Call of Duty boxes in less than an hour, with more than 55,000 unique users participating overall.
"This drove a huge amount of conversation online and ultimately helped the activation trend worldwide, nationwide, and in the top 10 target markets." Zamudio says.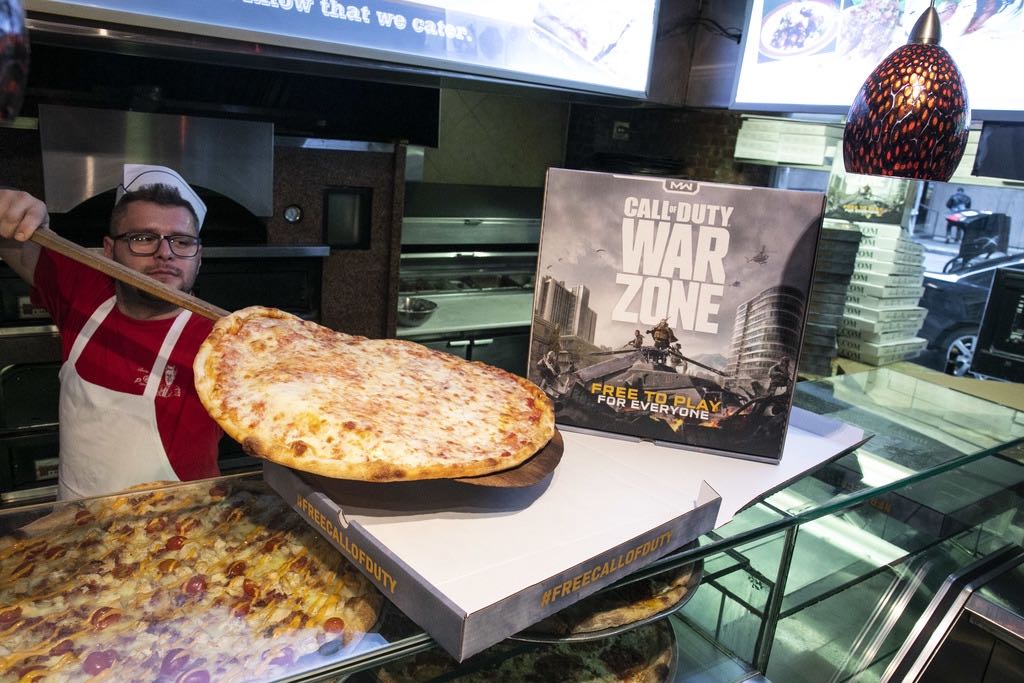 Of course, pizza might not always be the right kind of swag (although it's a safe bet) for your virtual event. For meetings and conferences, practical, useful items geared towards work-from-home attendees can hit the mark.
"We always think towards creating an experience. Right now, WFH is prevalent, so we love to include fun accessories for a home office like a self-watering plant kit for their desk, as well as tools for accessing online meetings like a live streaming kit," explains Susan Turnock, chief experience officer for Gifts for the Good Life.
For the RISE x LIVE Courage conference by Rachel Hollis for The Hollis Co., Gifts for the Good Life sent out branded swag that reinforced the conference messaging through a deck of quote cards, branded pins, and custom pencils.
"A virtual conference kit usually contains some of the same elements as a live event," Turnock says, such as tools for learning, F&B treats, and some swag to wear or adorn your space like pins. "We like to amp up virtual engagement with some fun items that designate that the attendee's work space is now a conference space like a custom door tag, fun notebooks, a deck of inspirational branded cards, and motto pencils…. In addition to an agenda, we like to call out specific ways attendees can use their swag to connect with others."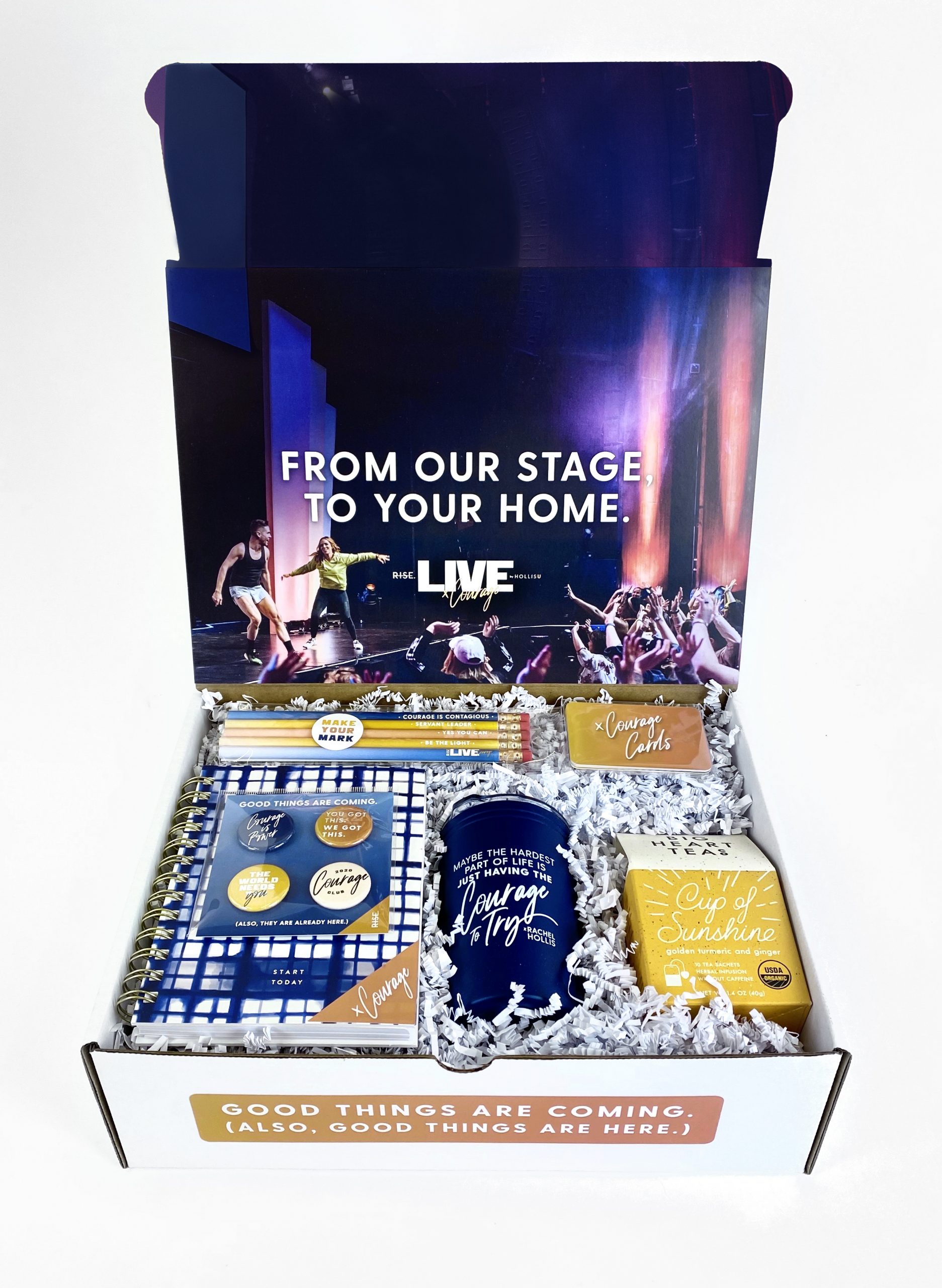 Wolff says that mailers should play directly into the audience's wants and needs and be delivered in that audience's language. "Basic throw-away item ideas are a waste of time and money," she adds. "Make sure your choice of both recipient and product makes sense for each other."
Hoff echoes that thought, saying "our m.o. is to care less about branding and slapping logos on things and instead to focus on clever items or luxury goodies that craft an experience…. I remember receiving a branded hand-sanitizer from a floral company, and was always puzzled by this. If you are a floral company, why not give a plant or a plant-making kit as a thank you?.... If it's likely that your gift items are going to end up in a landfill shortly after receiving, go back to the drawing board."
To make sure the mailers arrive on time and in the right hands (especially if there are personalized contents), Turnock says a well-vetted shipping list is critical. Hoff also recommends doing a test shipment to ensure the package will survive the wear and tear of the delivery process.
"The entire unboxing experience is more important than ever, so make sure that the contents arrive assembled in perfect order and that the vessel itself looks enticing to open," Turnock adds.
When it comes to using mailers for your virtual event, customizing the content and thinking outside the cardboard box is key, and will ensure it's not stamped "return to sender."
---
Check out virtual event SWAG boxes that will leave your guests with a lasting impression. Have any other awesome SWAG tips and products for virtual events? Email us at

[email protected]

for a chance to be featured!
---