As event planners slowly and cautiously dip their collective toe back into the world of in-person events, the need to screen attendees for coronavirus has been gaining ground as a possible safety measure. But is it realistic? Read on to learn more about the different methods that are currently available.
COVID-19 screening options for in-person events
Currently, guests can be screened for COVID-19 through temperature checks using thermal imaging or thermometer readings; lab and rapid on-site testing via swab or fingerstick; and the most low-tech method: a questionnaire.
Temperature checks for COVID-19 at events
"Temperature has always been an important part of medical care at events, primarily at music festivals. And so temperature management has always been an important part of [treating] heat stroke as well psychostimulant drug intoxication. We've always been concerned about temperature but even more so now," explains Connor Fitzpatrick, executive director of CrowdRx, which provides event medical services.
That's because a fever is one of the most common symptoms of coronavirus, making it an easy way to pinpoint potential carriers. But keep in mind that asymptomatic or presymptomatic folks (meaning they're infectious before they experience symptoms) may not be exhibiting a fever, so temperature checks need to be used as part of a larger event safety plan.
CrowdRx uses thermal imaging technology as a fever screening tool to detect folks with an above-normal temperature, comparing skin temperature against an average set temperature.
Similar to getting wanded by a TSA agent after walking through a body scanner at airport security, CrowdRx also provides what they call an "active" approach to temperature checks. This includes a secondary screening done by technicians with noncontact infrared thermometers.
"A lot of times it's necessary to have a secondary screener or a higher level of medical care on site," explains Dr. Matt Friedman, CrowdRx's medical director. "Because depending on the prevalence of disease and how much community spread of COVID there is in that particular area, you may have a fever due to COVID or you may have a fever due to a number of the other thousands of conditions people have a fever for. So it's helpful at times to have a higher level of care on site to really identify."
A fever equal to or higher than 100.4 F is a red flag, according to the Centers for Disease Control and Prevention (CDC). But sometimes a high body temp is the result of other factors such as sitting in a hot car. This is why manual temperature checks may be a more reliable option for your event.
Plus, handheld contactless thermometers are less expensive than thermal imaging devices. But planners need to consider the added labor costs of manually taking temps. Also, you don't want guests waiting in long lines with the possibility of crowding (a big pandemic no-no), as they wait to get their readings.
Founder of Washington, D.C.-based Temperature Check Bruce Pike says that because thermal imaging devices can scan temps in less than three seconds, they help eliminate this kind of bottlenecking at check-in areas.
Temperature Check offers a range of products, starting at $1,295, that read elevated skin temperatures. (The products are also available on a rental basis.) Plus, some of the devices are equipped with AI facial recognition software and are able to detect if a person is wearing (or not wearing) a mask.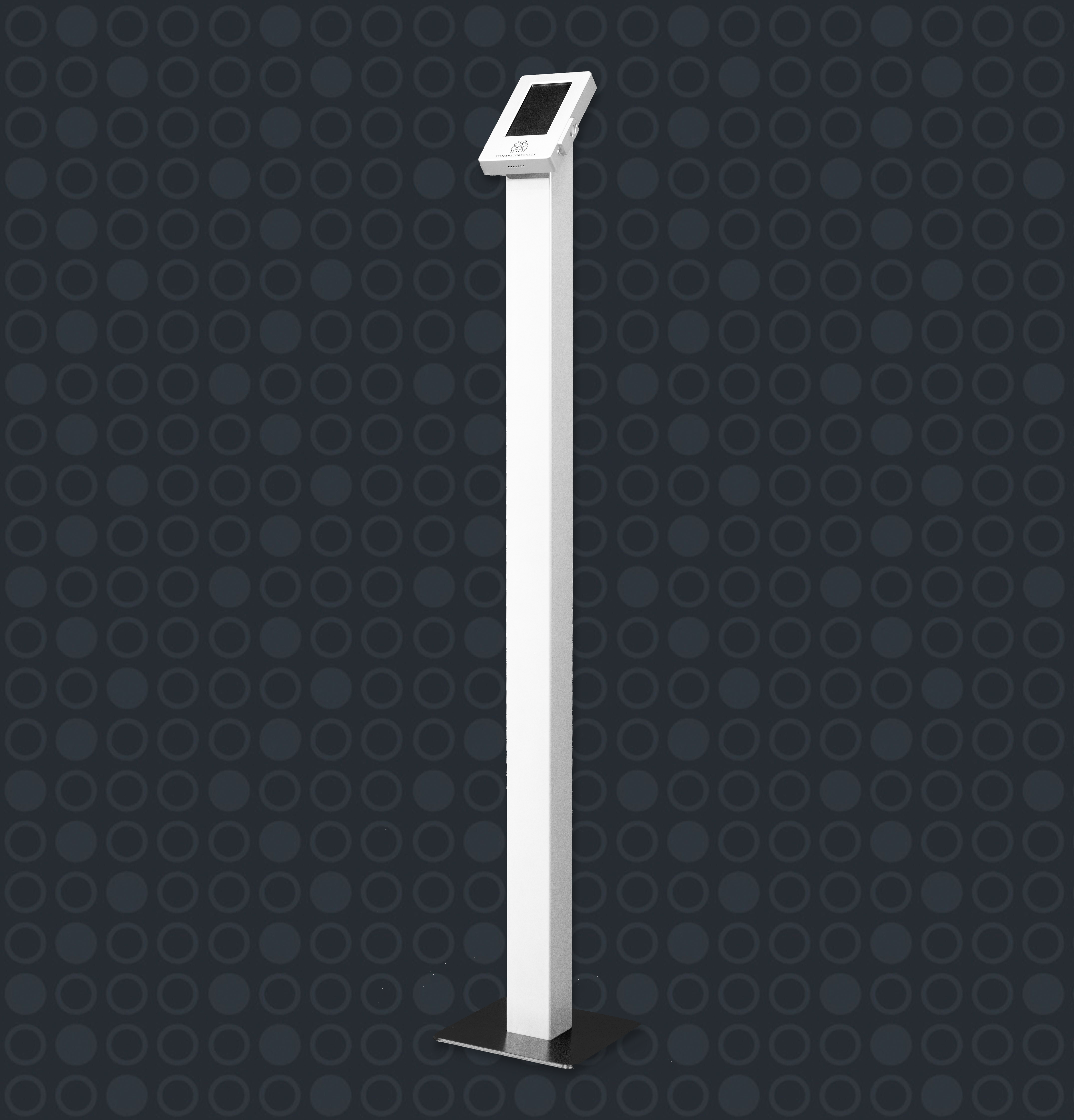 While temperature checks may not be a totally foolproof way of detecting COVID-19, Pike says that they should be part of an event planner's safety arsenal, in part to offer guests peace of mind. "Every prevention measure should be taken to give assurance that the venue, event planner, and client is doing everything they can to keep their guests from the spread of germs. ...Prevention measures are tools that we can use to give our guests confidence to gather again."
COVID-19 testing options for events
While temperature screenings can be a cost-effective line of defense, as we mentioned, thermal imaging and thermometers may not detect all those infected with coronavirus, especially asymptomatic folks.
So to increase safety measures, some companies, workplaces, and even event organizers are implementing on-site testing. For example, Choura Events, based in Torrance, Calif., produced a two-hour event on July 23 that featured panel discussions with industry pros. At the outdoor event, which was held at Choura Events' headquarters, attendees were required to wear PPE and maintain six-foot social distancing to mitigate risks.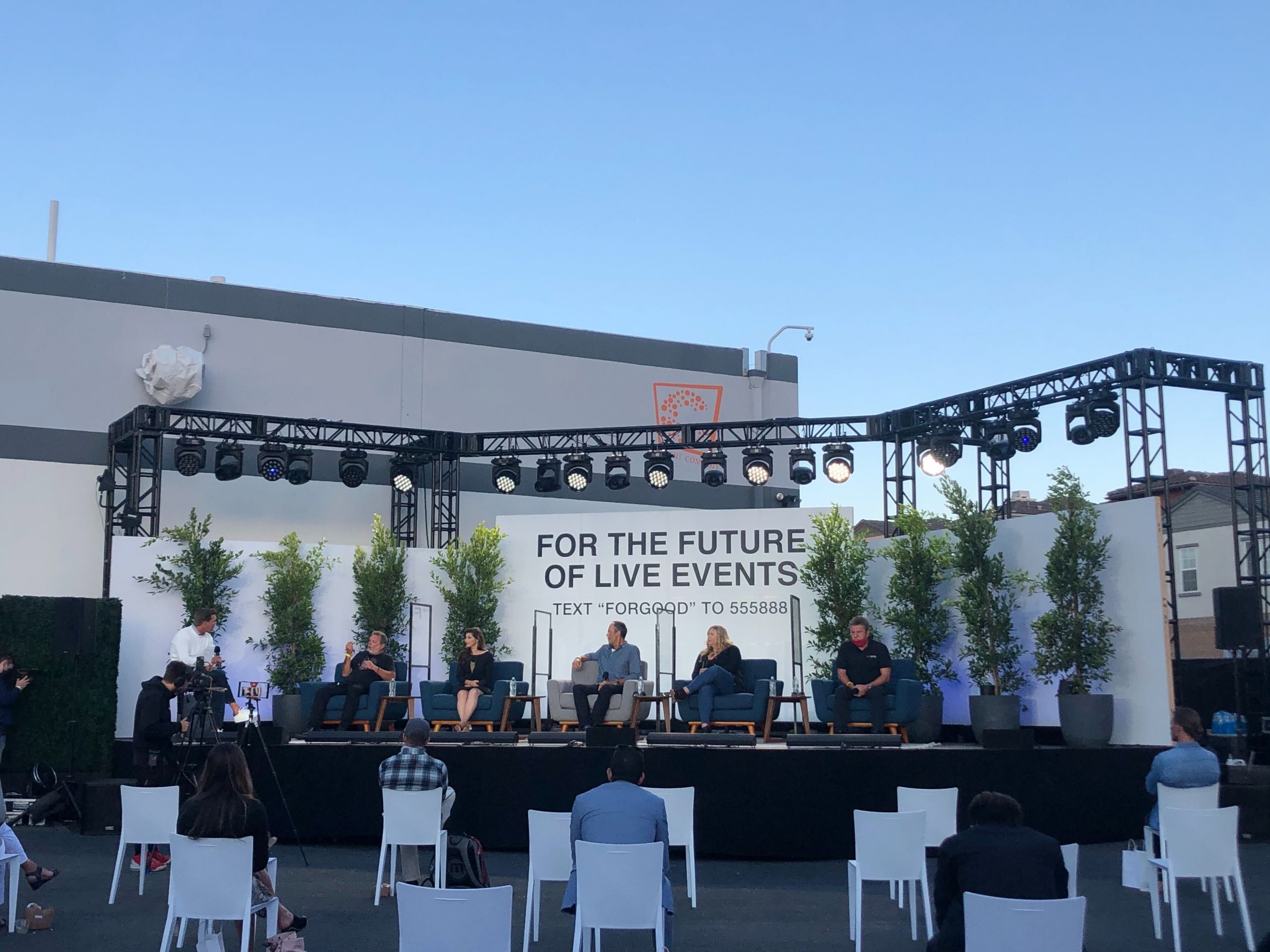 Plus, all attendees, vendors, and staff received free day-of COVID-19 testing that was administered by COVID Clinic before setting foot on site. CEO Ryan Choura said that all the guests, who were notified about the testing prior to the event, complied with the request. "We told everyone upfront that this is not an event for everyone. We told everyone what the testing procedures were," he said. The event was also live streamed for those who weren't able to attend.
Setting up makeshift medical facilities isn't new to Choura, who worked with hospitals to build triage tents and other infrastructure at the start of the pandemic.
For the panel event, each of the 90 attendees was assigned a set appointment time for when they should arrive on site. They were then tested in their cars and sent the results via text. If someone did test positive, they would not be allowed into the event (fortunately, no one tested positive). Choura said that test results were available in 30 minutes.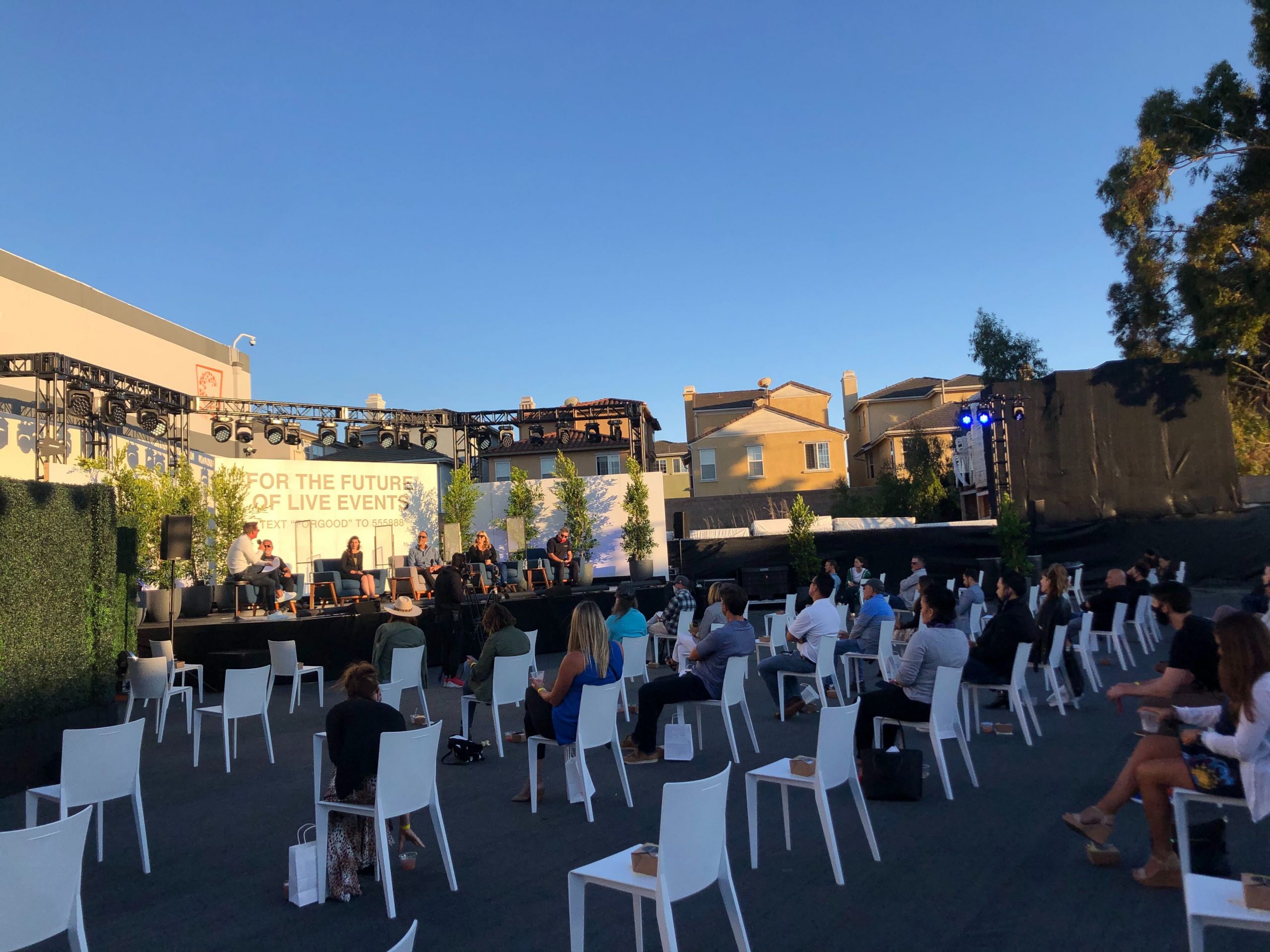 At the check-in area, guests also received temperature screenings. Other safety protocols during the event included wiping down the microphone and sofa seating after each use. Choura said that his goal is to test a thousand people per hour at the next event and ramp up exponentially from there.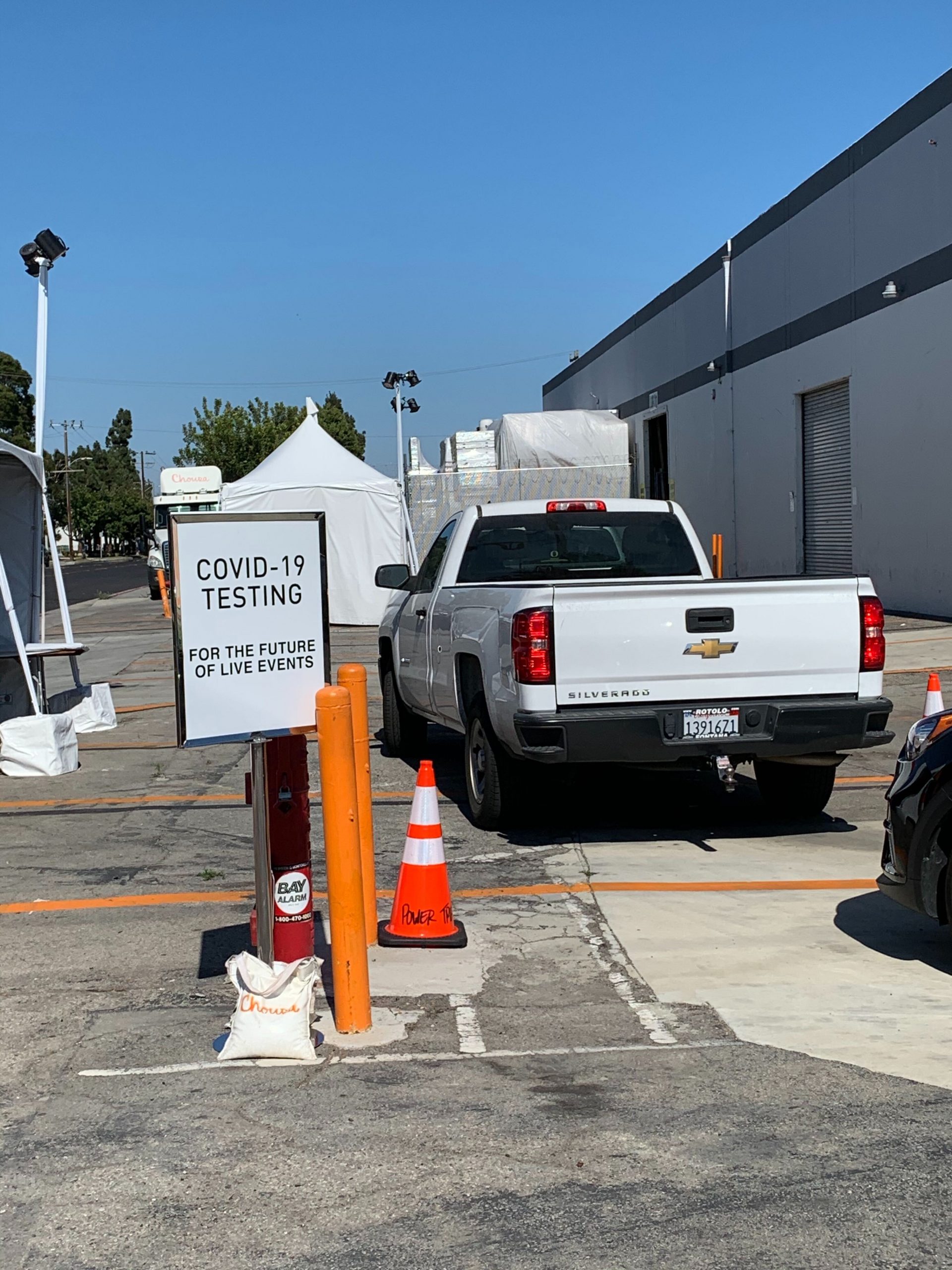 So far, when it comes to testing, doctors and researchers have relied heavily on polymerase chain reaction (PCR) tests, which are extremely accurate but time- and labor-intensive because samples need to be processed at a lab. Only a few of the tests that have been granted emergency use authorization by the Food and Drug Administration are quick and simple enough to be used at a point-of-care setting, such as an event, without the need for lab equipment.
For Choura Events, COVID Clinic used Quidel Corporation's Sofia SARS Antigen FIA test and collected specimens via nasal swab. Although antigen tests are reportedly not as accurate as PCR tests (which detect viral genetic material), the Quidel Corporation recently shared data showing its antigen test has 96.7 percent sensitivity within five days of the onset of symptoms, which is comparable to PCR tests.
Antigen tests cost as little as $1 to $2 each and have been compared to pregnancy tests in terms of ease of use, giving a yes or no readout within minutes. These tests are already used to detect influenza, HIV, and other viruses, and are currently being touted as a more sustainable way forward as schools and businesses try to reopen.
While this type of rapid testing sounds promising for live events, CrowdRx's Dr. Friedman is still cautious about deploying it on a large scale. "Is a mass gathering with 10,000 people really available for on-site testing? No, we're not at that scale yet."
He said that CrowdRx currently provides testing services via a lab, with results in about 24 hours, as well as point-of-care services, with results in one to two hours. The company is also planning to introduce 15-minute on-site testing in the next few weeks. On-site testing is offered on a case-by-case basis, taking into consideration regional demand and overall public health.
"Right now, certain areas with a high prevalence of disease, they're being overwhelmed, the healthcare resources are being overwhelmed, so it's not really available in those areas," Dr. Friedman says. And because of the current surge in cases across the country, along with a shortage of supplies, it's taking at least three to five days (or longer) for patients to get results from PCR tests.
Fitzpatrick also says that "I think everyone needs to manage their expectations on what is an appropriate turnaround. Keep that in mind as [planners] look for testing options and obviously as a certain lab's volume of testing increases so will the timeline for that."
If you're considering implementing testing at an upcoming event, Fitzpatrick also says that planners should seek out the help of a doctor-directed vendor such as CrowdRx or the advice of a medical professional. "I think it all starts with having a qualified physician captaining your ship or guiding you. And so having a physician who has frontline experience or virology experience is super important."
He added that "I think one of the most important parts is that there's so much mixed advice and messaging out there that it's important for that physician to give you a spectrum for you to choose from. So at the end of the day you're making your own decisions but you have to be fed the right information. We oftentimes see a lot of producers and event production teams going off standardized advice that they're seeing or policies that don't really apply to them. And so it's really a dynamic situation and as such you have to dedicate the appropriate resources to that."
As event planners try to figure out how to make in-person events as safe as possible, some are looking to on-site COVID-19 testing for the answer. But as always, remember to consult your local and state guidelines for hosting IRL events.
---
Have you tested on-site at an in-person event recently? Email us at

[email protected]

for a chance to be featured.
---