Remember going to actual in-person parties? What's the one thing they almost all had in common? Cheese! That's because it's a universal crowd-pleaser. (Apologies to the lactose-intolerant folks out there.) And thanks to our savvy video conferencing skills, we can still nosh on some ooey-gooey goodness together with a virtual cheese tasting. Plus, there's no better time than the holiday season to plan a digital get-together with your team where you can indulge in a decadent cheese smoragesboard that's perhaps paired with some wine as well.
To help you figure out brie from blue cheese, we asked some experts for advice on hosting a virtual cheese tasting.
How to host a virtual cheese tasting
Typically, a cheesemonger host leads the tasting, describing the styles of cheeses, the specific ones offered, and the stories of their makers, and if the cheese is matched with a food item such as chutneys and jam, the host will describe the duo and why the two were paired together, explains Kendall Antonelli, co-owner and founder of Antonelli's Cheese Shop in Austin.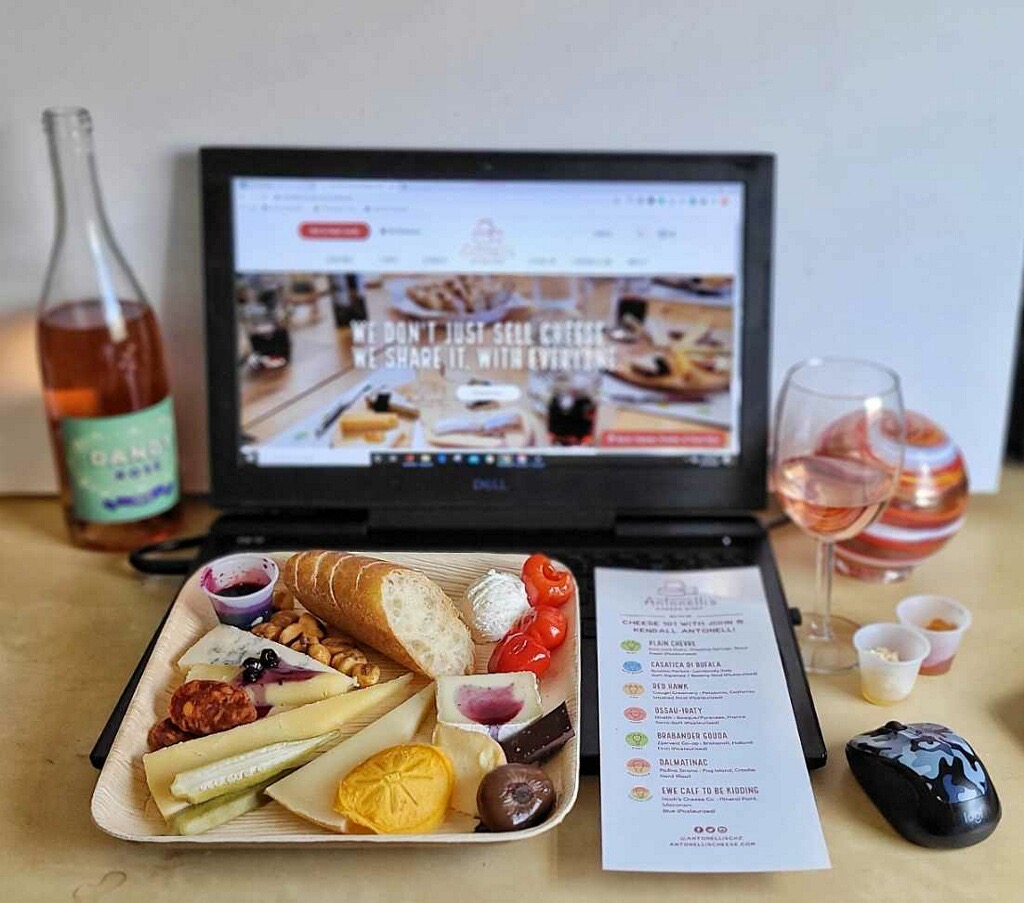 Maria Gaube, manager of hospitality operations at Murray's in New York, says that the popular shop's cheese tastings are "designed to walk through a variety of cheeses and the perfect monger-picked pairings" and include anywhere from four to five cheeses, covering a variety of milk types, textures, and styles, each with their chosen accompaniment. As for nibbles, attendees receive an assortment of jams, honeys, nuts, charcuterie, crackers, dried fruits, and more, along with a guide on how to plate, cut, and store the cheeses.
And unlike a wine tasting, which sometimes requires guests to purchase the wine themselves, most cheese shops and purveyors will deliver or ship the cheese selections to attendees. Antonelli allows local guests to pick up their plates via contactless curbside. For those further away, the shop offers a "Class in a Box" option, which comes with a recorded 10-minute video on how folks should set up their guided tasting plate before the actual event begins.For area events, Gina Freize, founder and "cheese wiz" at Venissimo Cheese in San Diego, says that her team will usually deliver ready-to-eat cheese plates, along with a tasting card and possibly a wine or spirit, to participants on the day of the tasting. The shop can also ship cheese wedges and paired accoutrements along with tasting notes around the country. Then, via Zoom, a host from Venissimo Cheese offers a "fun, informative, and interactive tasting, working our way from mild to wild flavors, answering questions after each cheese."
How long should a virtual cheese tasting last?
In terms of the length of the virtual tasting, our experts agreed that 45 to 60 minutes seems to be the optimum time frame, but that can vary depending on the quantity of items.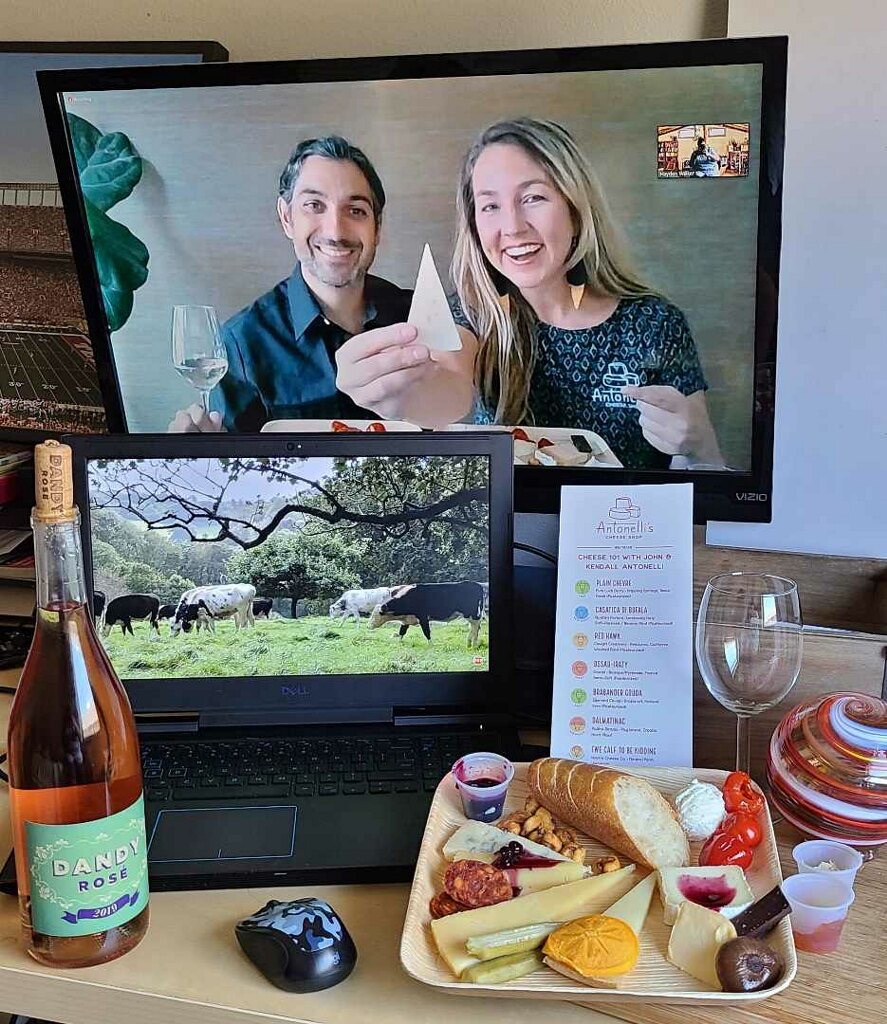 "Folks are tired of screen time and talking heads," Antonelli says. "Virtual tastings are a blast as long as they're experiential (i.e. your participants get to eat the products too and not just watch you)." Antonelli's Cheese Shop also offers a flight of four cheeses and pairings for a 30-minute tasting. "Folks often add that on after a 30-minute meeting as a sort of happy hour conclusion," she explains.
Is there an ideal group size for a virtual cheese tasting?
"The smaller the group, the more folks can interact. The larger the group, it still works. But you need really engaging hosts who can still make it feel interactive," Antonelli explains, adding that her shop has hosted groups ranging in size from 12 to 250 people. For larger groups, she recommends having two guides lead the tasting, with one designated to run the chat room and help moderate and respond to comments. "Especially in these isolating times of physical distancing, folks need to be seen and heard," she says.
For private events, Gaube recommends groups of 10 to 25-plus attendees. "If you are looking to do a virtual tasting with family and friends, the more the merrier. Keep in mind, we suggest a minimum of two to three ounces of each cheese per person to enjoy."
What cheeses work best for a virtual tasting?
For virtual classes, Antonelli says that her shop provides guests with all different styles, milk types (i.e. cow, goat, sheep, and water buffalo), and geographies "to ensure everyone likes something."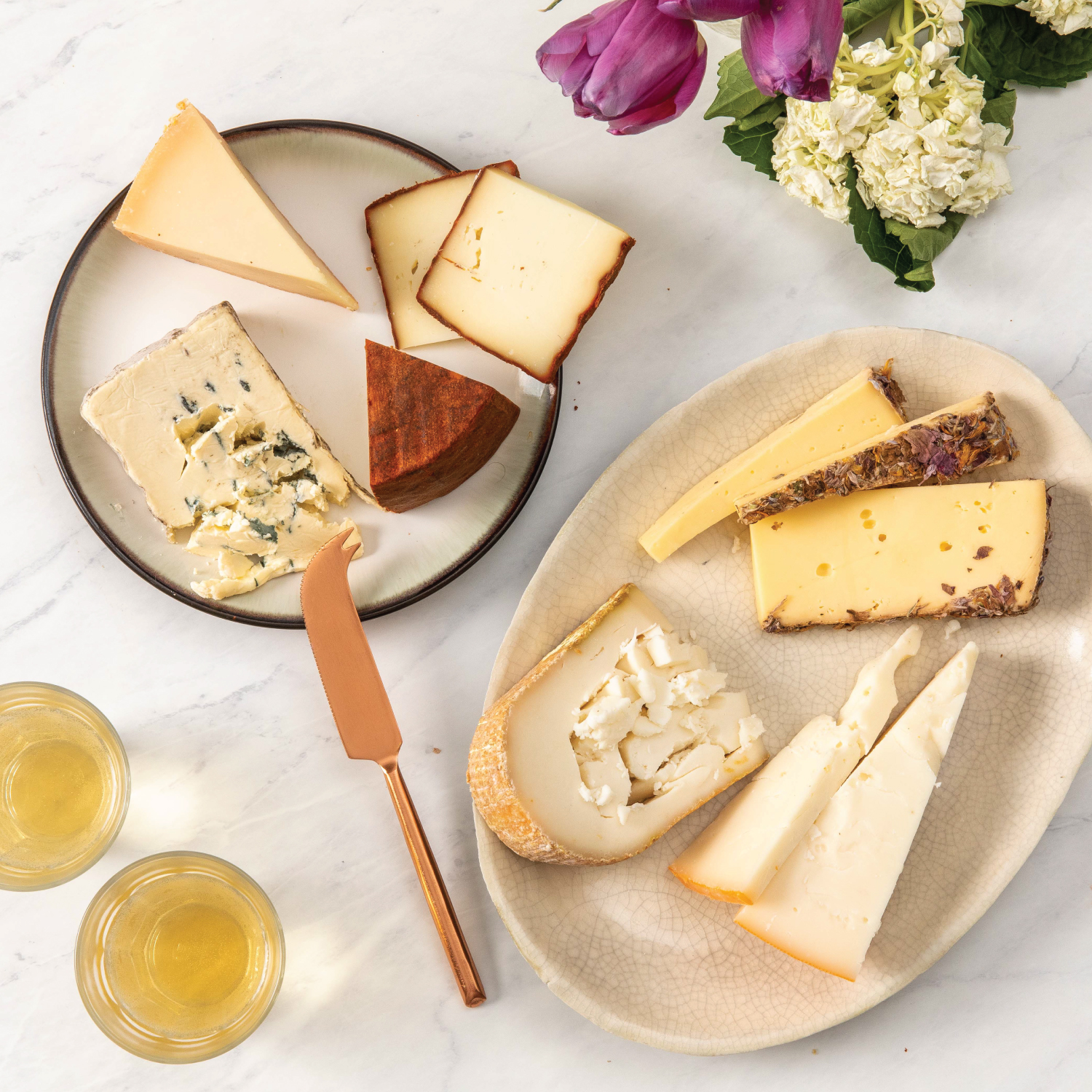 Freize agrees with this strategy, saying that "it's important to mix textures, milk types, and countries for the best overall cheese experience. For example, soft cow brie from France, semi-hard sheep gouda from the USA, and hard-aged goat cheddar from England. [It's] always fun to toss in something more adventurous, like pungent blue or buffalo milk treat." Adding that, four to six cheeses works best.
When planning a virtual tasting, don't worry so much about serving a bad-tasting cheese, but rather cheese that's gone bad because it wasn't properly packed and shipped. Antonelli explains that for shipping reasons, hosts should "keep in mind that softer babies don't always travel as well. So choose wisely. No one wants a box of mushy cheese." That means the cheeses need to be appropriately packed on ice and in proper insulation. "We see too many gifts being shipped without ice and they're not holding temp," she adds. "While it's true that some products are shelf stable, not all products are." Also, ask yourself, where will the package be sent? "If it's going to be over 50 degrees anywhere in transit, it needs to be carefully packed," Antonelli says.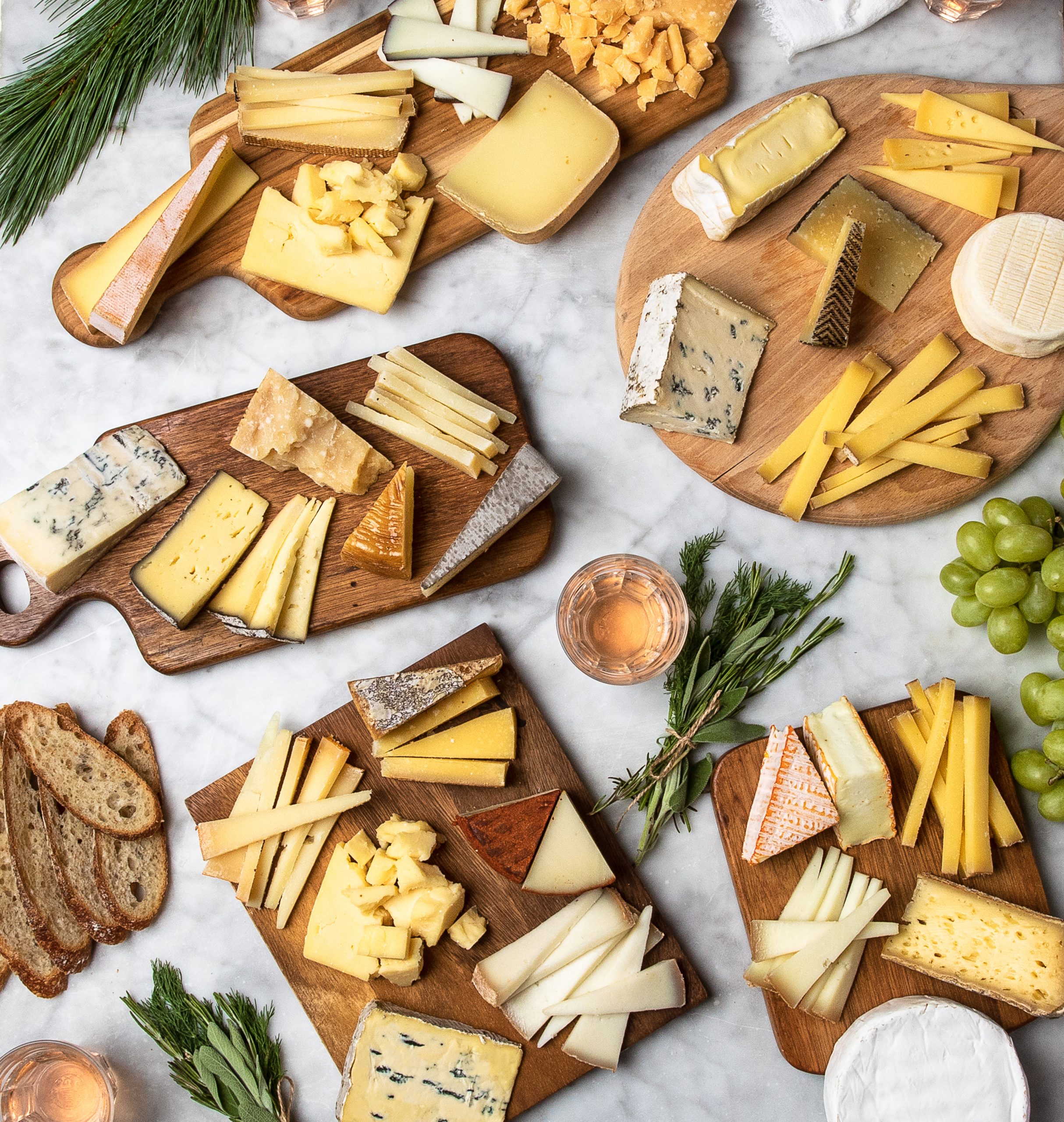 Whether you're looking for ideas for a virtual holiday party or simply want to gather your team for a yummy group activity, consider organizing a virtual tasting like this, which is cheesy in the best way.
---
Interested in having a cheese tasting at your next virtual event? Check out these virtual cheese tastings on The Vendry!
---