Potential. That's all a seasoned event planner can see when they come across the perfect raw event space. When it comes to event venues, the San Francisco area is simply loaded with blank canvases, ready to be transformed. San Francisco is already positioned at the forefront of tech, retail, cuisine, and organizational best practices, so any professional event thrown in this city will already lead the way. Check out The Vendry's list of raw event venues in San Francisco below, certain to wow your savvy crowd. 
11 Raw Event Spaces in San Francisco Ready for Transformation
A raw event space gives you a blank canvas from which you can let your creativity run wild. San Francisco offers several start-from-scratch options, each with its own amenities, price ranges, guest capacity counts, and aesthetics. Dive deep into all that San Francisco has to offer below.
1. The Laundry
Location: Mission District
Capacity: 210
The Laundry is an experiential art gallery in San Francisco's Mission District, spanning two floors and offering 6,000 square feet of workable space. This venues is truly multi-use, so here's a spot to plan your film screening, corporate off-site, fundraiser, musical performance, or all of the above. There's always the option of a full-venue buy-out for your event for just over 200 people, but this cultural spot also offers four different gallery options if you'll be hosting a smaller affair. Not to worry about certain details, as this space offers staffing, audio/visual, beer, wine, and other beverage services. The Salon Gallery is a real stand out, with its exposed brick and lofted ceiling, making it perfect for cocktails, a seated dinner, or even a large meeting. Do what you want within The Laundry – it was built to house creativity after all.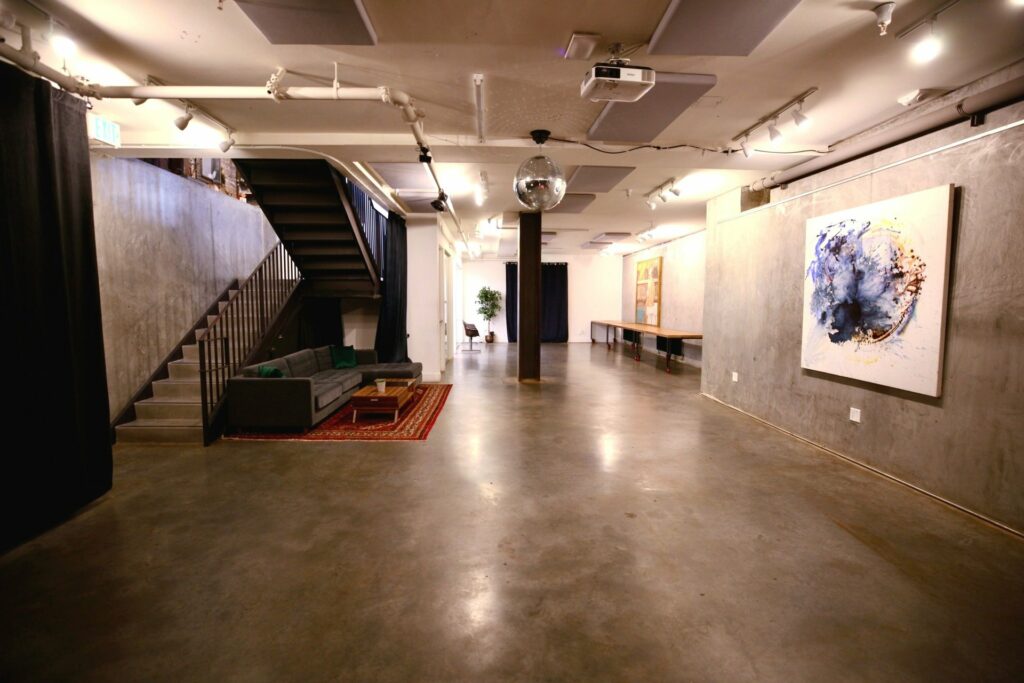 2. SVN West
Neighborhood: South of Market
Capacity: 2,429
Wow. What to do with 100,000 square feet? Well, the choice is yours at SVN West, a seriously rocking raw space at the intersection of South Van Ness and Market. This spot just begs to be transformed – there's three levels of space, including the outdoor rooftop. There's a whopping 217 parking spots (a rarity!), rigging, dedicated 400 amp circuit, and loads of Wi-Fi bandwidth. While this is an obvious choice for a concert event, corporate gatherings and product launches fit in perfectly here. SVN West provides you with a list of preferred vendors and off you go to plan one memorable event.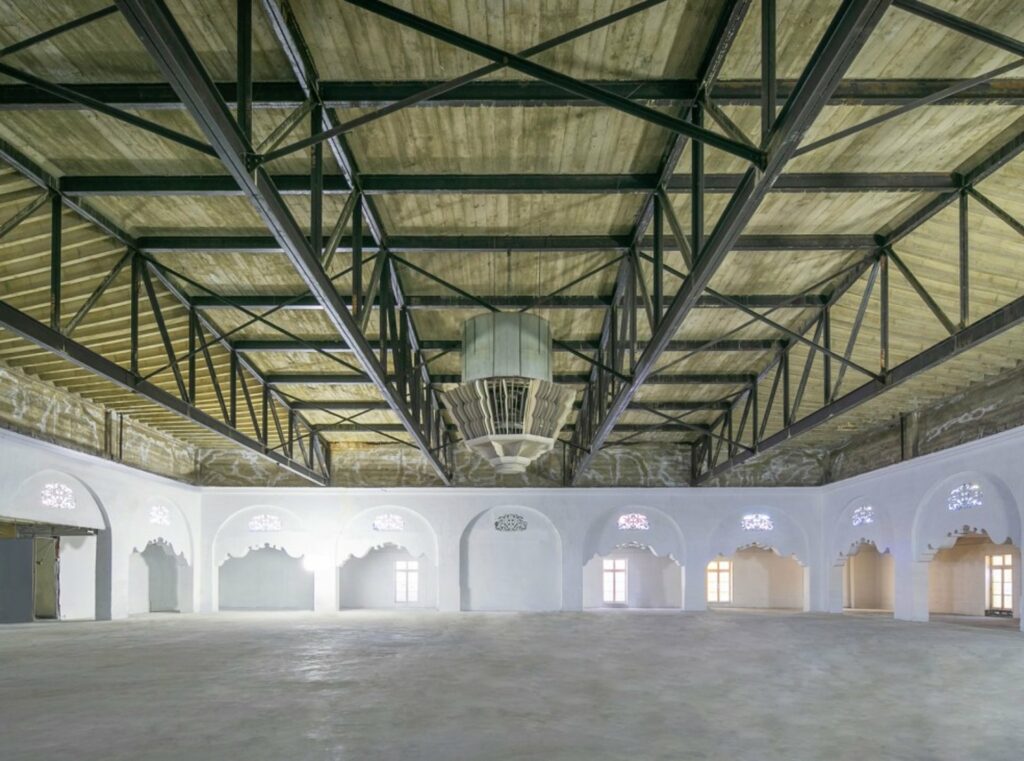 3. Bespoke
Neighborhood: Downtown
Capacity: 1,800
High above Market Street, Bespoke is just as its name implies: a perfectly customizable event space. Just right for your next conference or gala, this 18,000 square foot venue is genuinely "tailored for tech". Imagine the style of an art museum, then blend it with Times Square, and top it off with interactive capabilities. Bespoke is in Westerfield San Francisco, considered the center of downtown commerce. There's space to rent under the historic Emporium Dome, a 4,100 square-foot gathering spot in San Francisco since 1896. And then there's atop the dome, a completely workable rooftop of endless possibilities. Bring in your own rentals, furniture, food, décor, and music all to Bespoke, while they provide the clean slate of top-of-the-line tech.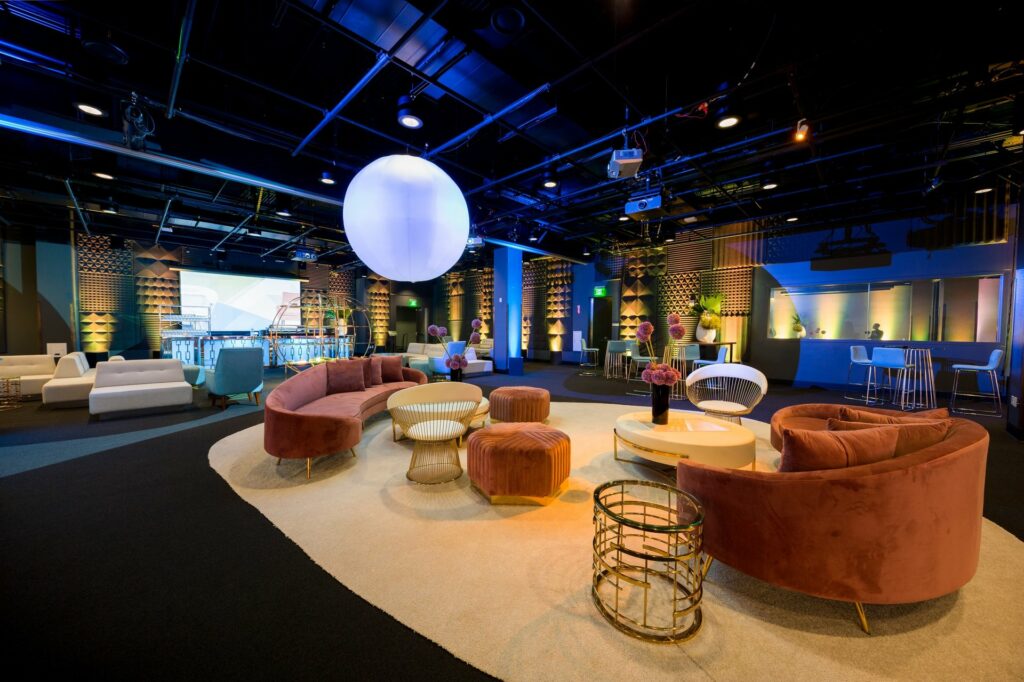 Terra Gallery & Event Venue
Neighborhood: Rincon Hill
Capacity: 725
Two floors of versatile space makes Terra Gallery & Event Venue one of the most unique corporate venues in San Francisco. Close to some of the area's finest hotels, this open-layout is just right for networking events or dinner parties. The upper level boasts 5,000 square feet of Brazilian cherry hardwood floors, white gallery walls, and even a reception area with floor-to-ceiling windows that transform in the evening into a glittering showcase of downtown lights. Mer, the downstairs level, has a serpentine bar and a built-in oak stage with lighting. Bring in your own caterer and rentals, and – poof – Terra takes care of the rest.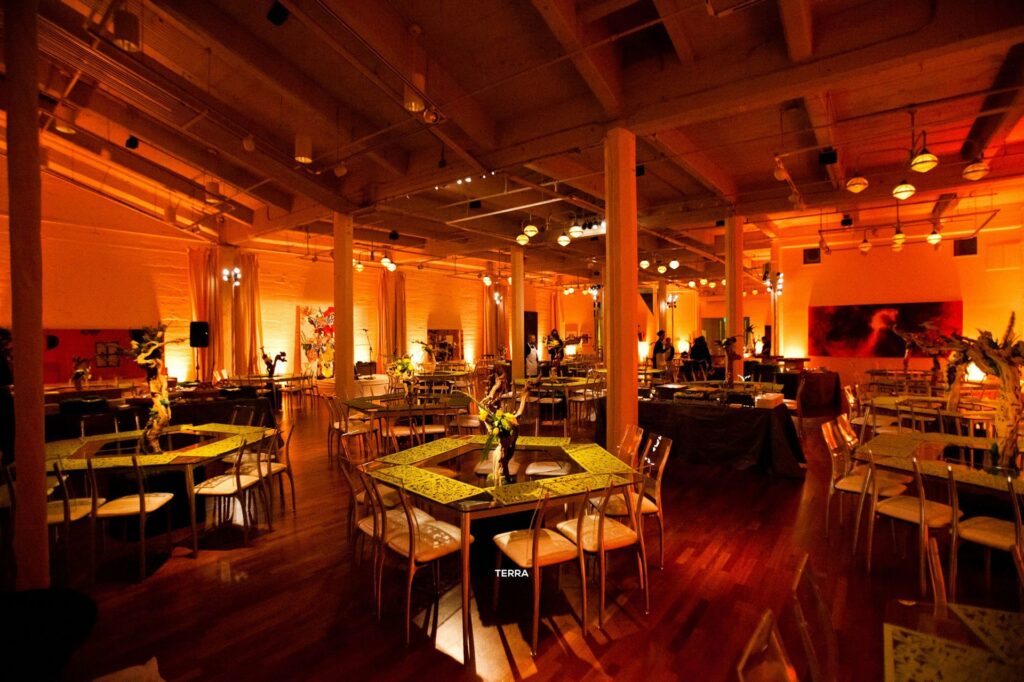 5. Alloy Collective
Neighborhood: South of Market
Capacity: 200
There are three separate floors at Alloy Collective, with three distinct opportunities to make your event as unique as your organization. Host 200 standing in The Avenue, a wide-open, industrial space with concrete floors and white walls just awaiting your inspiration. The second offering is The Alternative, which has breakout offices, a kitchen, a lounge area, and boasts huge windows that flood the space with natural light. Finally, The Anomalous truly stands out as the super sleek rooftop with enclosed floor-to-ceiling glass and completely breathtaking views of downtown. This South of Market distinctive space will make all your meeting, networking, or product launch events take on a new life.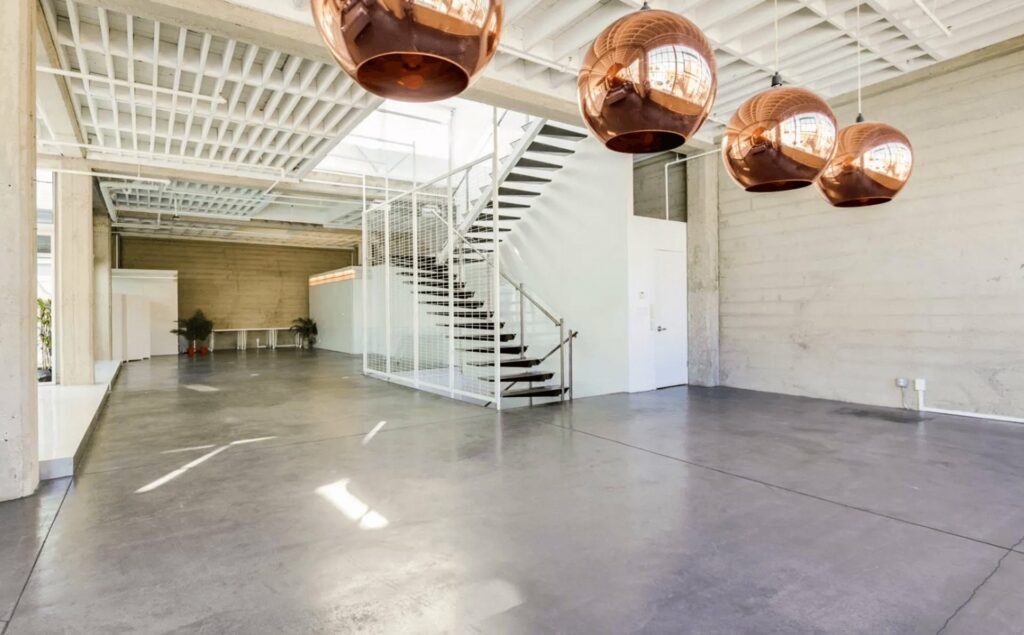 Your guests are gonna need something to cheers with. Browse the top beverage service providers in San Francisco!
6. Dogpatch Studios
Neighborhood: Dogpatch
Capacity: 450
Whatever you can imagine, it can happen at Dogpatch Studios. They are ready and willing to cater to all your large-scale needs, as the entire building is wired for 1800 3 phase electricity. There's three floors of possibilities, perfect for corporate events, photo and film productions, fashion shows, or dinners. Dogpatch Studio's ground floor is considered their large presentation space, while the two upper rooms are well suited for breakout or reception rooms. This is genuinely a world-class, state-of-the-art venue, that is the epitome of what forward-thinking, tech-savvy San Francisco is all about.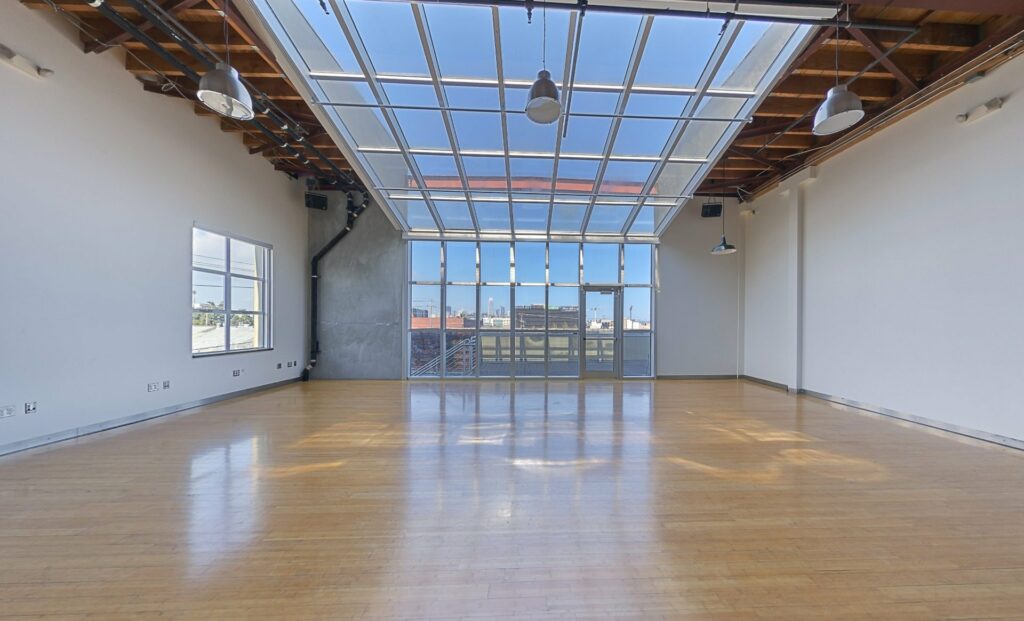 7. Pier 27
Neighborhood: Northern Waterfront
Capacity: 1,200
San Francisco's Embarcadero is home to Pier 27, an industrial-chic space filled with remarkable views. The aptly-named City View offers a flexible, open floor plan for unlimited creation, and can accommodate 1,200 guests. Directly in focus from its floor-to-ceiling windows is the entire San Francisco-Oakland Bay Bridge and Financial District. The Bay View and Embarcadero rooms are large reception areas, and have plenty of tech and rigging capabilities. Pier 27 provides a list of vendors for everything from catering to rental furniture, to photobooths and even waste management.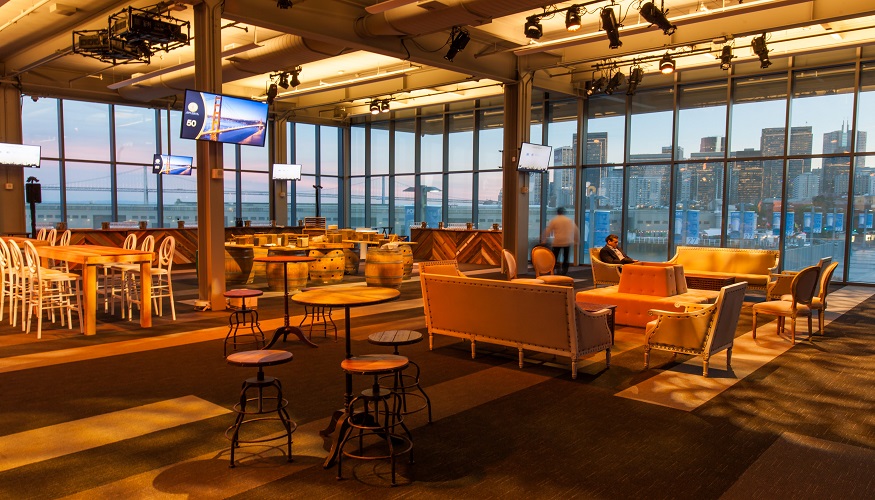 8. The Pearl
Neighborhood: Dogpatch
Capacity: 800
As a large blank canvas, The Pearl in Dogpatch eagerly awaits your ideas. The Main Floor has it all – a full-scale catering kitchen, in-house lighting, beer and wine on tap, a green room space, and even a 31-foot reclaimed cedar ceiling with skylights. The Pearl's Mezzanine provides a great transition space to the main event. Finally, their Rooftop awaits, which was voted #1 by Time Out Magazine. One step onto this rooftop and one can clearly see why so many are drawn to hosting their corporate events here. There's unreal views of The Bay and Oakland Hills, a garden, and plenty of spots from which your caterers can work. If a pearl is considered a rare and beautiful find, then this location lives up to its name.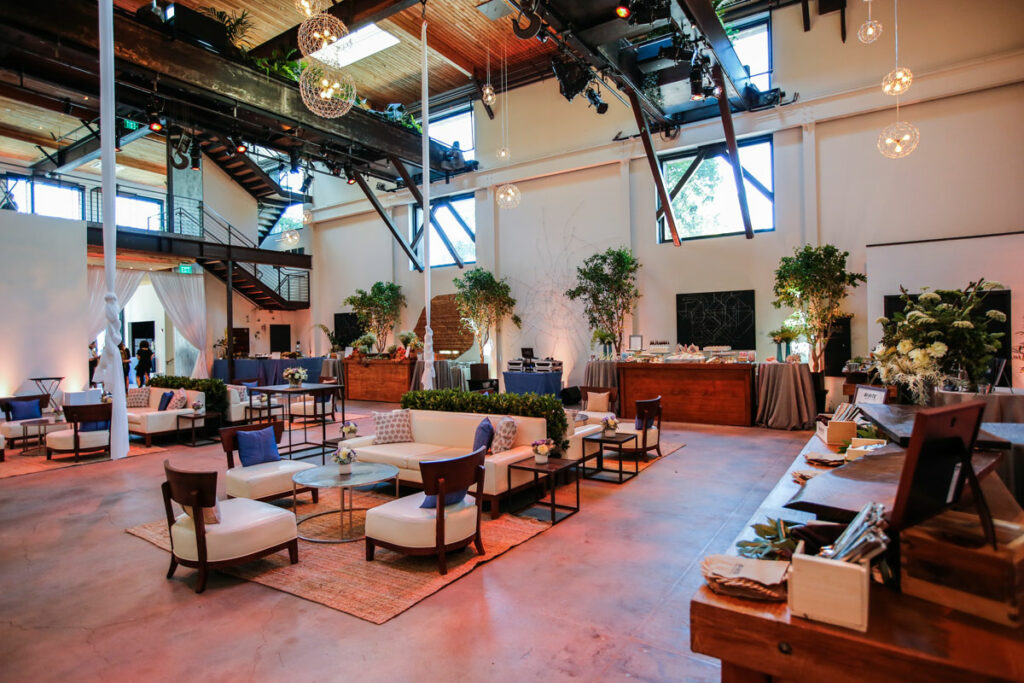 9. Gallery 308
Neighborhood: Marina District
Capacity: 430
Have your guests take in a little bit of San Francisco's past at Gallery 308, a National Historic Landmark once host to the maritime trade and repair shops at Fort Mason. The panoramic views of the iconic Golden Gate Bridge and Alcatraz are what draws so many planners here, but the endless canvas of possibilities is what makes them sign on the dotted line. There's more than 3,800 square feet of polished concrete floors, state-of-the-art lighting, and blackout shades for presentations. Gallery 308's list of preferred vendors is vast, so you'll have no trouble partnering with a trusted source for food all the way to audio/visual.
10. Pier 29
Neighborhood: Northern Waterfront
Capacity: 3,600
The experienced folks at Metro Events want you to think BIG when it comes to Pier 29. A 250,000 square-foot unadorned space along the San Francisco waterfront, Pier 29 shrewdly pulls off old time-y train station vibes. This venue is delighted to take on anything you've got: product launches, award presentations, seminars, concerts…the list goes on. You can hook this spot up to its sister space Pier 27 for a truly epic experience. With a full list of vendors and a well-trained staff, Pier 29 might be just what your large-scale event needs.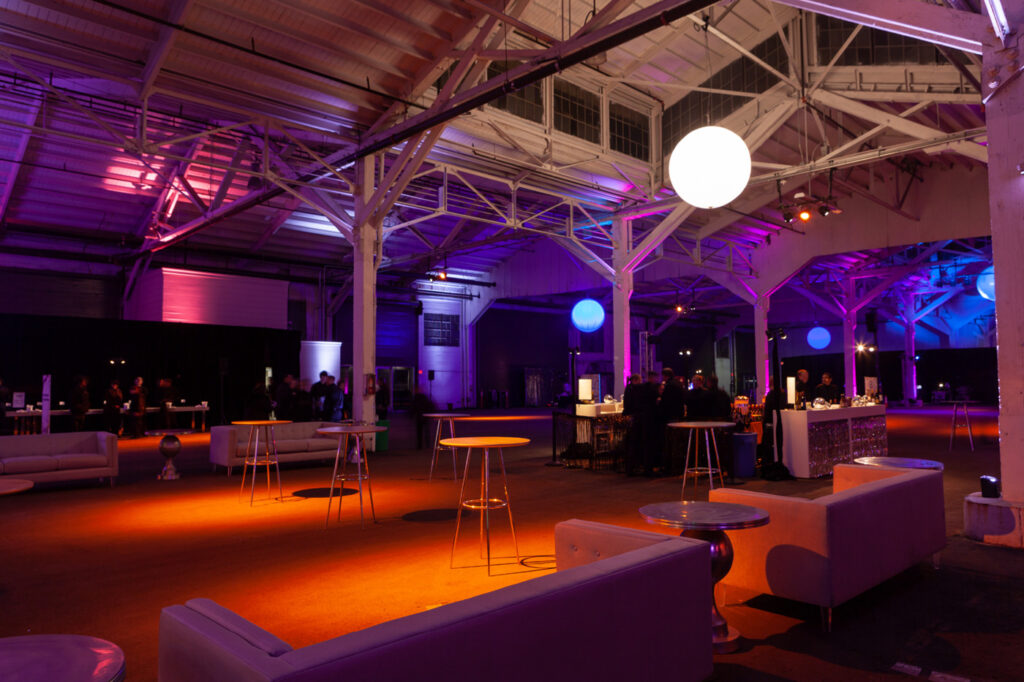 11. Capitol Art
Neighborhood: Mission District
Capacity: 98 standing
Nestled in the heart of the Mission District is Capitol Art, a chic photography and events studio that is long on style. Turn instantly cooler when you step foot in here – there's a self-contained, privacy feel that can only be captured in a more intimate space like this. There's two studios that can be combined as one event space. When put together, these two venues come complete with 7,000 square feet of workable space, street level load-in and load-out, a private conference room, and massive white walls that lead up to a peaked 35-foot ceiling, making a powerful impression. The feel of the urban-industrial space makes Capitol Art a real destination for those in the know.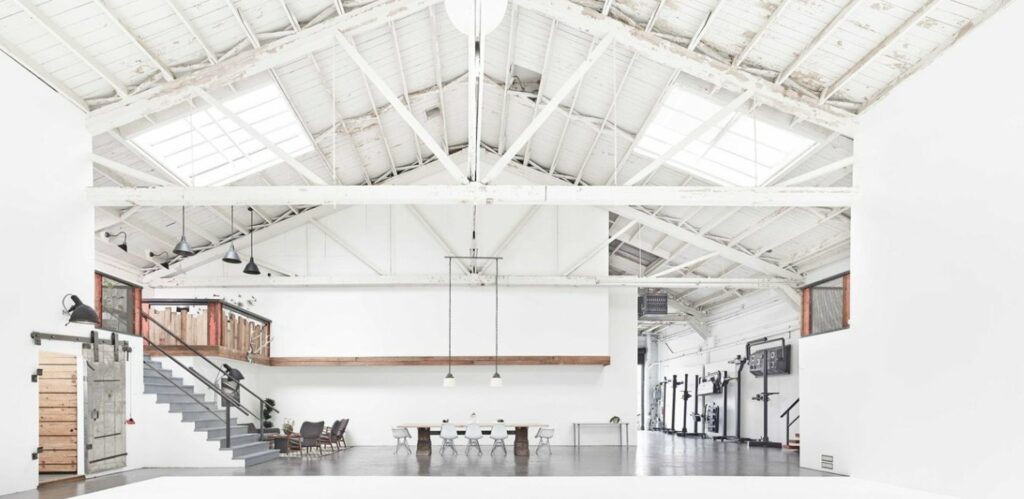 Why Finding the Right Venue for Your Event Is So Important
San Francisco is discerning. The city knows a good event when it sees one. Picking the right space to capture the mood you desire is key to a successful event in this town. The space you select will convey strength for your company and brand. It's likely to be your event's biggest ticket item, and will serve as the showplace for the image you want to project. Finding the right venue is crucial, so be sure to do your homework then visit in person if possible. 
Top Things to Consider When Booking a Raw Event Space
Does your next corporate event, product launch, or gala in San Francisco require a raw space? Asking questions of what you and your team require is the best place to start. When booking a raw space in San Francisco, you'll want to ponder this:
How many guests? It seems simple, but the size of your group is most crucial in finding a raw space that suits your needs. Since the venue is indeed blank – which comes with the implication that there's lots of space to fill up with people, furniture, exhibits, demonstrations, or experientials – you'll want your guest count to make sense for your space. Also, in our new normal of social distancing, keep in mind a little extra elbow room never hurt anyone.
What is the budget? The cost of renting raw spaces can certainly vary. Blank canvas venues each offer different amenities, so examine carefully. In order to make your guests feel special while putting your best foot forward, really look at putting your dollar bills into what matters most.
Should my event include an indoor/outdoor element? San Francisco and its mild temps really do make an outdoor component appealing for your affair. If your event calls for it, try to bring in that Northern California air when you can, but just make sure you aren't in the middle of the rainy season.

What tech do I need? If you are hosting an event into the hundreds, best make sure your venue has the bandwidth for everyone to be on Wi-Fi simultaneously. What about those speakers? Do they reach everyone in the back? Tech needs are an important criteria in today's world, so take the time to do it right and always run a tech check before the big day.
Find the Best Event Venues on The Vendry
The Vendry has all the finest places to hold your important corporate events in San Francisco all in one place. Research and request proposals from incredible event spaces with just a few clicks. 
Read More:
Stunning Raw Event Spaces in Miami For Your Next Event
Host Your Next Offsite at One of these Stellar Venues Near San Francisco
The Most Fabulous Large Event Venues in San Francisco