How do you take the deeply personal and individual experience of listening to a podcast and translate it into an interactive social event?
---
In 2018, podcast company Gimlet, whose popular shows include the internet-themed Reply All and aptly named Startup, boldly tackled this problem. The idea: give fans a chance to meet their beloved hosts and create a space where fans could form a sense of community around their favorite podcasts. Thus, GimletFest, a festival featuring the full range of Gimlet's podcasts, was born in their hometown of Brooklyn.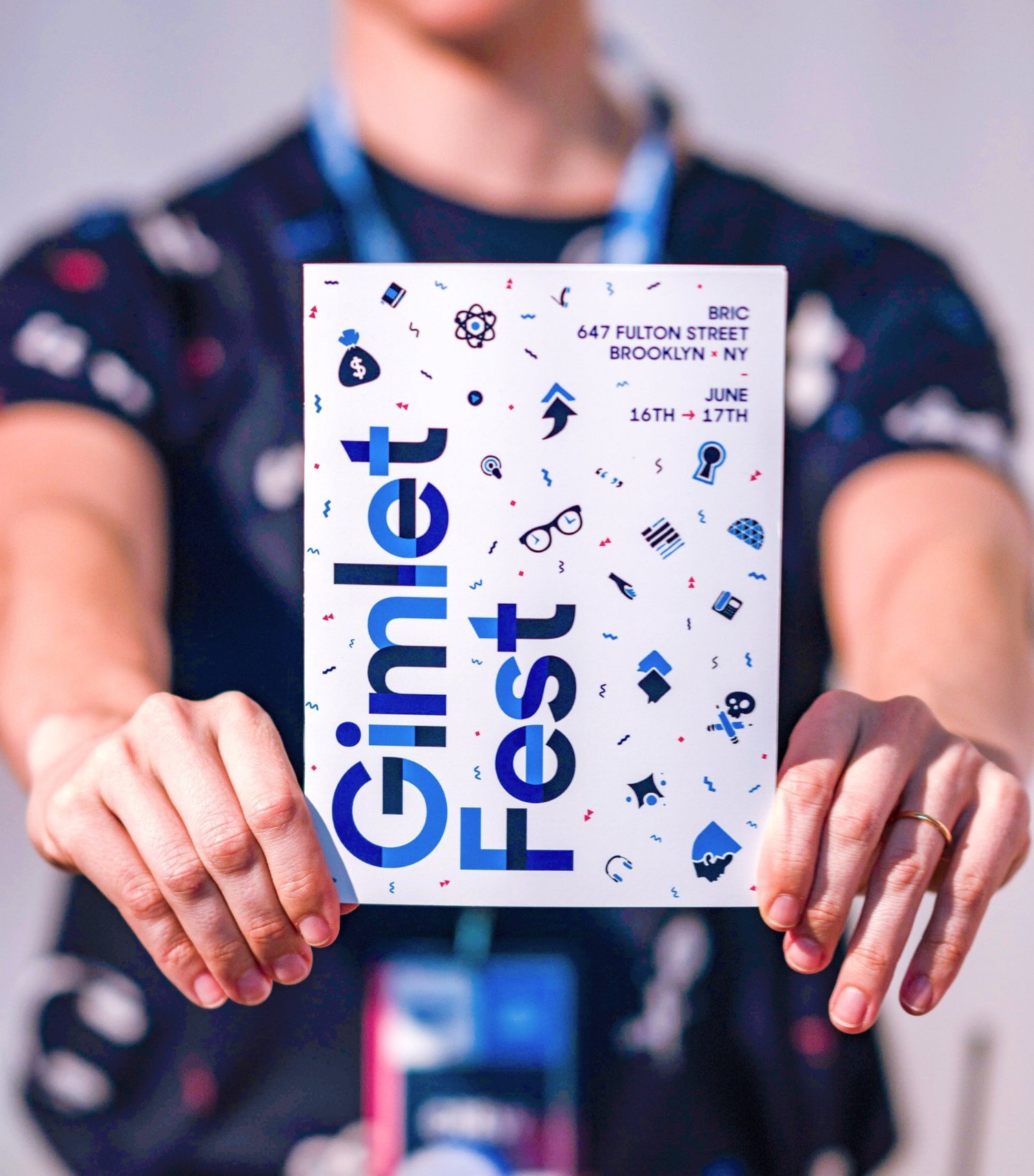 To execute their vision, Gimlet called on NYC experiential agency Makeout to reflect the deep, personal connection that fans feel with hosts and the prolonged period of engagement driven by listening to podcasts. In 2015, Ann Friedman of the podcast Call Your Girlfriend explained this phenomenon to Columbia Journalism Review: "Unlike the audience online, which tends to click through and then bounce away quickly, podcasts draw people in for the duration of the episode."
With that in mind, Makeout chose the intimate BRIC Theater in Brooklyn as the setting and composed spaces for fans to come together. In the communal areas of the theater, Makeout designed and hung flags to represent each of Gimlet's shows. In between events, fans were then able to congregate with their fellow listeners and meet the hosts of their favorite shows. "We even worked in a few surprises, like a secret late night show on one of the evenings for people who had stuck around," said Makeout's project director Victoria Barner.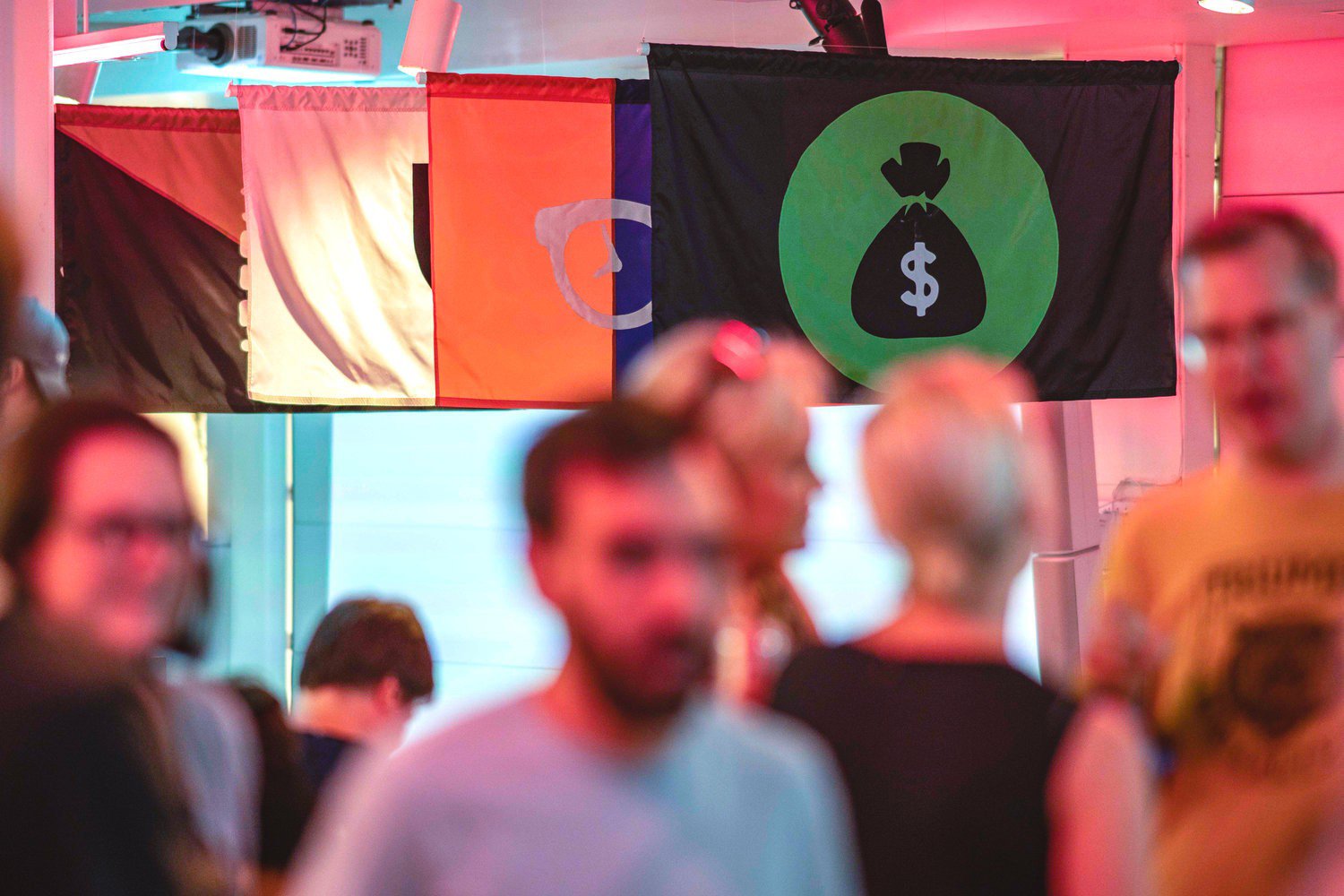 The arrival of GimletFest to the event scene signifies the massive growth that the podcast industry has experienced in the last few years. In 2013, only 12% of Americans listened to podcasts on a monthly basis. By 2017, that number had doubled to 24% or 68 million people. The market continues to grow as a 2018 study revealed that 65% of active podcast listeners were new to the genre and had only been listening for the past three years. "There was a huge audience of people who were fans of Gimlet since the first season of Startup," Barner said, referring to the podcast that founder Alex Blumberg made about starting Gimlet (which was recently acquired for $230 million by Spotify).
For podcast producers, events do more than just engage with a community: live shows generate real revenue. "Events will always, by an order of magnitude, just radically eclipse any sort of advertising model," says Jeremy Kirkland, who started his menswear industry podcast Blamo! in 2016. Kirkland recorded his first live show this January in Florence, Italy, at the biannual men's clothing exhibition Pitti Uomo, holding fan events with brands like Brunello Cucinelli. Brand sponsors pay more for the deep engagement and specific attention of podcast fans.
Meetups like these are simple, small-scale affairs, but other podcasts are going bigger, looking to host intensively designed and interactive shows. "With podcast events, generally they're pretty informal, they're chatty, or they're interview shows, or things like that," says Audrey Mardavich, a Managing Producer at Radiotopia. That wasn't the kind of event that Mardavich and Radiotopia, a curated network of independent podcasts including 99% Invisible, Criminal, and The Theory of Everything, wanted to put on. "What we really wanted to do is create a show that would really match the work of our [podcasts], which is highly designed, incredible story telling."
Last year the network sold out a six-city "Radiotopia Live" circuit featuring seven podcasts, a house band, live coffee-grinding, and even a machine-learning houseplant. "We try to add surprising elements to our shows and think a lot about giving our audiences something they can only get from joining us in person," Mardavich says. She credits the success to their production team, led by director and producer Lynn Finkel, who works with TED and has run TV events like the Emmys and Grammys.
Radiotopia also maintains their own community space and educational hub in Boston called The Podcast Garage, which can accommodate events of up to 70 people. And with the podcast market booming, the company plans to increase its number of live events.
One format that Mardavich and Radiotopia are interested in exploring further is the "guided listening tour." At the Australian podcast audio festival Audio Craft, Radiotopia personality Ian Chillag (of Everything Is Alive) played a sequence of audio stories to an audience sitting outside on picnic blankets, each of them wearing headphones. "The pictures were awesome, the response was awesome," says Mardavich. "We want people to feel like they're coming out for a night out where they're going to be entertained, they're gonna be amazed and awed with the world. And I think that we have successfully done that."