Virtual events have been a popular way of engaging groups in different locations for many years. But opportunities and use-scenarios are increasing with the coronavirus (COVID-19) pandemic. Consumers, employees, and event planners alike understand the relevance of using virtual tools during these times to reach a wider audience. Virtual events have come a long way, especially the gamification for virtual events, and you can count on it to continue to evolve to suit the needs of all consumers.
Online event production can allow you to connect with current customers or even with a new, global audience. Find new ways to make the most of your next event to foster community and create a memorable virtual experience.
---
Are you looking for fun ideas for your virtual event? Our Virtual Event Guide lists dozens of team activities and experiences that you can book with ease.
---
What Is a Virtual Event?
A virtual event is a program that participants can attend from anywhere, rather than from a physical event venue. During these times, most attendees of virtual events are joining on a streaming platform from the comfort of their own home.
Virtual events are increasingly being used to replace in-person events like trade shows. Software now makes it easier than ever to follow through on your event marketing goals. Help your live event run smoothly with reliable audio, video, and content sharing features. Popular platforms and software options include Zoom, Google Hangouts, Adobe Connect, Instagram Live, GoToWebinar, and Cisco Webex.
Growth of virtual events is up 1,000%, according to data released by Forbes in May 2020, and it's expected to continue to grow as companies, schools, teams, and communities rely on online conferences and webinars.
Hosting a virtual event doesn't have to be difficult or boring. Let us help you kick off your next event so that it's an enjoyable and memorable experience.
Virtual Event Ideas
Below, you'll find a range of virtual event ideas and categories—from wine tastings to comedy shows.
Virtual Food & Drink Classes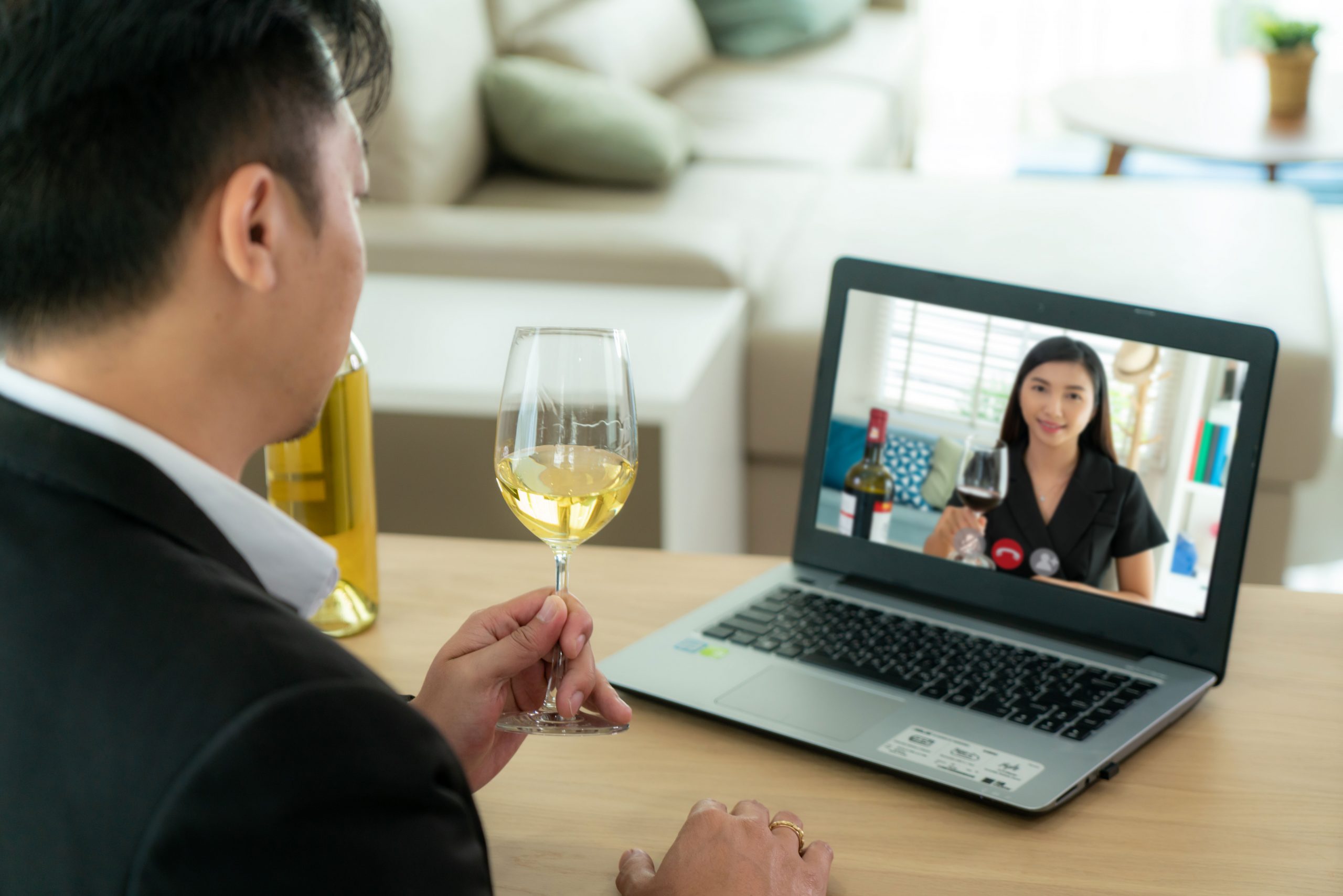 Host a virtual chocolate tasting (with kits!)
Nibble on a collection of craft chocolates with a guided tasting experience. Indulge your virtual guests with a customized sampling of fine chocolates, while professional culinary experts provide background on how the chocolate is made and educate on flavor profiles. Attendees receive samples of each chocolate before the tasting.
Interested in virtual chocolate tasting? Here are some classes we recommend!
Host a virtual cocktail making class (with kits!)
Whether you're looking to showcase a new beverage or add a splash to a virtual happy hour event, consider a mixology class. Guide at-home amatuer mixologists through the art of making craft cocktails and mocktails using delivered ingredients. Offer a memorable, informative experience that can be enjoyed by groups of all sizes. Hosts provide added insight into barware and its uses, and offer custom packages and menus to suit the needs of your event.
Interested in a virtual cocktail making class? Here are some we recommend!
Learn to cook together
Challenge your crew to put their skills to the test with a virtual cooking class. Explore culinary greatness with international recipes from chefs hosting from around the world.
One-on-one classes are available for solo adventurers looking to expand their horizon from the comfort of their own home, but classes are also ideal for larger groups such as work colleagues, or even to make a meaningful quarantine experience to bring your extended family closer together. Recipes are easily adapted to dietary restrictions.
Interested in a virtual cooking class? Here are some we recommend!
Host a virtual wine tasting (with wine shipped!)
Online wine tasting programs make it possible for vineyards and distributors to add an educational component to a virtual event and for connoisseurs of all levels. Tasting experiences range from winemaking seminars to private tastings, and customized programs are available to suit the needs of your event to make it memorable.
Interested in a virtual wine tasting class? Here are some we recommend!
Host a virtual cheese tasting (with kits!)
All your virtual guests will be saying "cheese" during your next Zoom event with this communal tasting idea. Most shops and purveyors will supply a selection of cheeses along with crackers and dried fruits to at-home attendees, guiding them through the assortment over the course of the tasting and pointing out the similarities and differences among the choices.
Interested in a virtual cheese tasting class? Here are some we recommend!
Host a virtual beer tasting
Your guests will be able to learn about the basics of beer and the different types of brews with a virtual tasting. Hosted by breweries and industry experts, just like wine tastings, beer tastings generally cover a handful of beers. Keep in mind, the products are not always included in the ticket price, and guests may receive a shopping list prior to the event and will need to purchase the chosen beers. Hosts will also answer questions in real time and possibly quiz the group on their beer knowledge.
Interested in a virtual beer tasting class? Here are some we recommend!
Host a virtual olive tasting
Discover the what, where, and how of premium olive oil production with a virtual tasting session. Guests are guided through the process, learning the correct tasting techniques and how to describe the different characteristics. Participants are usually shipped the bottles of olive oil, including extra virgin and flavored varieties. Guests are also encouraged to accompany the tasting with small bites like cheeses, salami, and bread.
Interested in a virtual olive tasting class? Here are some we recommend!
Host a virtual tea tasting
As a possible alternative to a boozy happy hour, guests can enjoy a spot of afternoon tea with a virtual tasting that includes a variety of different brews plus treats such as cookies. You can tailor the virtual experience to your group's needs and focus on specific topics such as how tea affects health or using tea for stress relief. You can also select one type of tea such as rooibos, green, black, oolong, and others and get a deep dive into that specific choice. Shops and purveyors typically provide tea samples, along with add-ons like a tea infuser, mug, and customized teaware.
Interested in a virtual tea tasting class? Here are some we recommend!
Host a virtual charcuterie class
Combine all of the above faves by offering a virtual charcuterie class that will show your at-home attendees how to assemble a delicious assortment of cheeses, artisanal meats, spreads, and more, with the possible addition of wine. This trendy option allows attendees to experiment with their meaty (or vegetarian) masterpieces by personalizing their cutting boards with their preferences. Typically cheese shops offer virtual charcuterie classes and will ship the selection of meats, cheeses, and other accoutrements like pickles, jams, honey, crackers, fresh fruit, and more.
Host a virtual whiskey tasting
Similar to other tasting experiences, a virtual whiskey tasting lets attendees learn more about whiskey, how it's made, and other tidbits like why experts swirl the glass under their noses. Hosts will explain how to nose, taste, and evaluate whiskey like a pro distiller while trying a selection of products. Tastings can usually be customized to include a range of whiskeys. Suppliers also provide consultation sessions prior to the event to help you select the whiskeys based on your preferences, the amount you want, and your liquor budget.
Interested in a virtual whiskey tasting class? Here are some we recommend!
Host a virtual gin tasting
Bars, distilleries, and spirits brands offer online gin tastings and classes where your virtual guests will get an introduction to this spirit, followed by a tasting of gins, served neat and paired with different mixers. Tasting kits with snacks and garnishes can be sent to at-home attendees before the session, so it's easy for them to sip and learn.
Interested in a virtual gin tasting class? Here are some we recommend!
Host a virtual coffee tasting
A good option to wake up team members during a morning meeting or conference, a virtual coffee tasting (sometimes known as virtual cupping) teaches attendees how to properly prepare a cup of joe, as well as how coffee beans are grown and processed. Depending on the tasting supplier, guests might also learn about different coffee regions. Some companies like Greater Goods Coffee Co. are able to provide coffee samples as part of the ticket price, but guests may need to purchase, if they don't already own, a grinder and other items.
Interested In a virtual coffee tasting class? Here are some we recommend!
Host a virtual ice cream party
Choose to either take a class on how to churn your own ice cream or skip the D.I.Y. and have pints sent to guests for an instant party. For example, the Museum of Ice Cream's virtual Sundae School lets attendees learn how to make ice cream. For a grown-up version, Tipsy Scoop hosts virtual ice cream socials with cocktail kits that include booze, ice cream, garnishes, and instructions. Guests follow along with the bartender to learn how to create two ice cream cocktails. And food tour company Local Food Adventures offers virtual ice cream socials for private groups with its Sweet & Smiles ice cream gift box that includes all the ingredients to make Rocky Road ice cream. The experience also includes trivia games and a "create your own flavor" contest.
Host a virtual honey tasting
Book an interactive virtual tasting experience to learn about the sweet, sticky world of honey. Guests are able to discover the differences between varietal, wildflower, and whipped honeys and how to correctly identify what the honey is made from. In addition to the tasting, some companies such as Big Island Bees also offer a beehive demonstration.
Virtual Event Entertainment
Book a DJ to keep things lively
Invite a live DJ to host your next virtual event and set the tone for your brand and deliver ambiance to your guests. High-quality audio services can offer either a virtual DJ livestream or pre-recorded playlists, along with custom lighting to enhance the virtual experience, so you can turn an ordinary Zoom party into a dance party. With a livestream, DJs can even take requests in realtime.
Interested in booking a DJ? Here are some we recommend!
Host a virtual concert
Just because your event is now virtual doesn't mean that you have to compromise the atmosphere. Musical performers haven't stopped booking gigs, and can easily deliver through Zoom, Twitch, or other streaming services. Create ambiance with warm musical personalities for a virtual wedding, a retirement party, a happy hour, or any special moment.
Interested in booking live music for your event? Here are some musicians we recommend!
Hire a magician (adults love them too!)
Virtual magicians are engaging and entertaining, and can be just as interactive onscreen as they are in person. Consider how you can incorporate magic and illusion into your next on-demand event to deliver a fully captivating experience. Full sets and shorter sessions alike can be used to add interest to session breaks or interstitial transitions.
Interested in booking a magician for your event? Here are some we recommend!
Organize a virtual photo booth
Browser-based tools make it easy to incorporate photo booth elements into any virtual event. Fully-customizable experiences make it easy to use branded graphic overlays, filters, and green screen backgrounds. Shoot stills, animated gifs, looping Boomerangs, and more, and encourage your guests to share their best shots on social media. Some services also include analytic reporting to measure engagement and shares from your event.
Interested in booking a virtual photo booth? Here are some we recommend!
Hire an artist to sketch your guest portraits
Invite an artist to your next event to engage guests by way of live sketching, cartooning, fashion illustration, or mixed-media design. Or hire an illustration artist to capture scenes from an event including sketching out big ideas through graphic recording. Activating a virtual event with the help of an artist brings a unique wave of creative energy. In addition to live painting and sketching, artists can also offer Q&A sessions or lead guided drawing tutorials.
Interested in hiring an artist? Here are some we recommend!
Hire a comedian to host a show
Add a live or prerecorded comedy performance—from celebrity comedians to clean stand-up to sketch comedy—to help keep the attendees' attention during your virtual event. Some performers even incorporate elements like juggling, and can customize the act and jokes to fit the at-home audience.
Interested in hiring a comedian? Here are some we recommend!
Hire a poet to write live poetry
A popular trend at in-person events, live poetry can also work for virtual gatherings and can be customized to your event needs. Typically, guests are able to join a poet in a breakout room to receive an on-demand personalized poem about anything they want. The poem is then mailed (or digitally delivered) to the guests after the event. Some poets also offer the option to receive a recording of them reciting the poem for an additional fee.
Interested in live poetry? Here are some poets we recommend!
Virtual Team Building Activities
Host a virtual fitness class
Wellness and fitness has never been more important as employees continue to work from home and families continue to quarantine. Guided seminars for groups big and small can be used to educate on wellness, offer exercise demonstrations for fitness, and promote stress reduction and meditation.
To enhance the at-home experience, consider offering these classes as part of your ongoing programs to support teams and prioritize employee and community health.
Interested in a wellness or fitness class? Here are some we recommend!
Do a virtual team building game
Climb out of a work rut by engaging your teams with active, exciting, and fun games to virtually bring the group back together. Get competitive with a virtual game show, explore virtual reality technologies, simulate an escape room, or execute an engaging scavenger hunt. A variety of programs can accommodate teams of all sizes and work on many platforms.
Interested in a virtual team building game? Here are some we recommend!
Learn music together
Come together with music during your next team building event. Join with the purpose of learning a new instrument, or with a plan to learn how you can be the in-house DJ when you're back in-office. Virtual music lessons offer opportunities for those who thrive from learning new things. The pros are ready to teach you their tips and tricks, even if you don't yet have the equipment.
Interested in a virtual music class? Here are some we recommend!
Take a dance lesson
Practice your footwork from the comfort of your own home with a guided lesson in a virtual dance class. Instructors offer groups easy choreographed tutorials over instructional video. Even if you're not sure the whole group would go for such a team building event, the virtual setting can make it easier for your shy participants to let loose. Fun for friend groups, or as a breakaway session that's part of a larger event, a virtual dance class might just be what you need to mix up your time at home.
Interested in a virtual dance class? Here are some we recommend!
Volunteer as a group virtually
Although COVID-19-related restrictions and physical distancing measures have limited large team building events, work groups and teams can still make a difference in their communities safely and responsibly. Virtual volunteering opportunities and corporate social responsibility (CSR) activities range from mentoring via videoconferencing and counseling service through text to playing online video games for a cause.
Interested in virtual volunteering opportunities? Here are some we recommend!
Learn how to do floral design
Both florists and floral companies are now offering a variety of virtual classes and workshops for groups—from flower arranging to terrarium building. Virtual attendees can follow along to step-by-step instruction. Most florists also provide the supplies and tools to attendees.
Interested in a floral design class (with kits sent!)? Here are some we recommend!
Take an arts & crafts class
From calligraphy workshops to drawing and painting classes, virtual art instruction allows your guests to get creative and possibly learn a new skill as a group, and then show off their work. Some workshops provide the necessary supplies, along with worksheets and reference guides to virtual attendees. Courses can also be customized to fit your event needs and your group.
Interested in a virtual arts & crafts class? Here are some we recommend!
How Do You Organize a Virtual Event?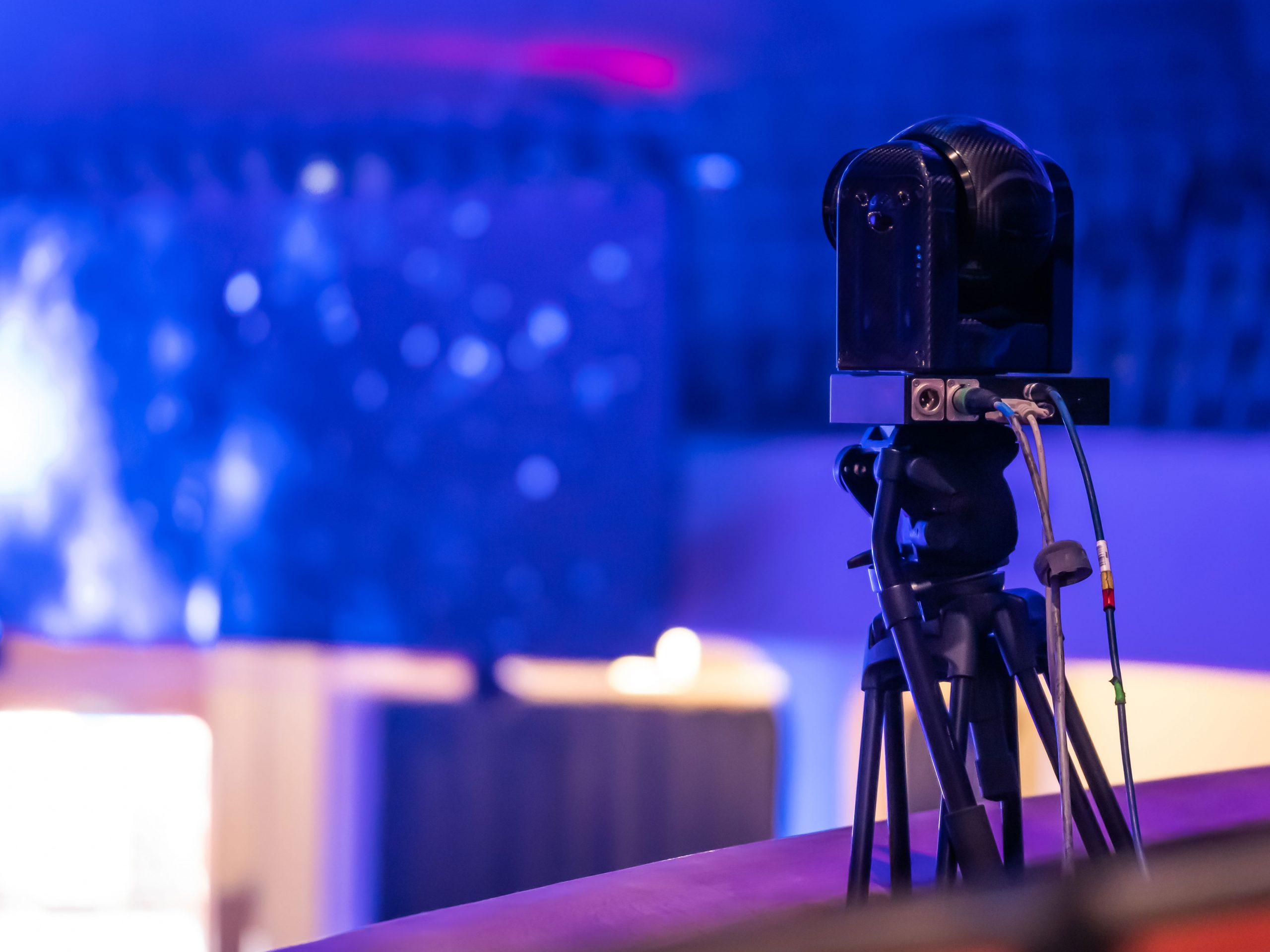 Check out our Virtual Event Production page to find pros that make planning, organizing, and executing virtual events a breeze.
What to do before the event:
1. Understand what technology and production components need to be incorporated to run a professional event; obtain lighting, audio, and video equipment that will meet your needs
2. Test software to guarantee that your host and presenters' internet connections can support the platforms you are using
3. Consider any challenges your audience might face with technology or means of communication
4. Coordinate any at-home deliveries, such as "event in a box" kits to complement your on-screen seminar
5. Plan the conversation
6. Set expectations with event attendees and influencers; you may want to communicate any hashtags and social media guidelines with your invitation
What to do during the event:
1. Set the expectations of participants in the forum
2. Manage engagement tools; a host might opt to manage mute settings, and allow guests to ask questions in chat format
3. Set a realistic timeline, and establish a timekeeper
What to do after the event:
1. Follow-up with any recordings of the event that were promised to recipients
2. Invite attendees to give feedback
3. Encourage future breakout sessions with smaller groups
4. Outline anything that went wrong that needs to be improved upon for future events
5. Provide data to measure the success of the event, to determine if virtual meetings can be an ongoing part of your marketing strategy
Get Started Hosting a Virtual Event
Visit The Vendry's Virtual Event Guide to help you plan and guide your next virtual event. Make it a fun, memorable experience for your participants, and a productive event for your client or company. Lean into the technology available to embrace virtual events for your current and future event needs!