The Vendry's new search experience brings over 1,000,000 data points on global venues and vendors together with live insights from our community of corporate event pros.
Searching for venues and vendors has always been a mess. Ask any event planner what the process entails, and you'll get a long list of responses back:
Search Google for venues or vendors that might meet key requirements
Sift through websites to find photos, service details, capacity info, etc.
Read reviews and editorial to gauge what's new, hot, and trending
Scour social media to find photos of past events and previous work
Track down and refer to internal company spreadsheets built by colleagues
Text trusted peers and message industry groups for advice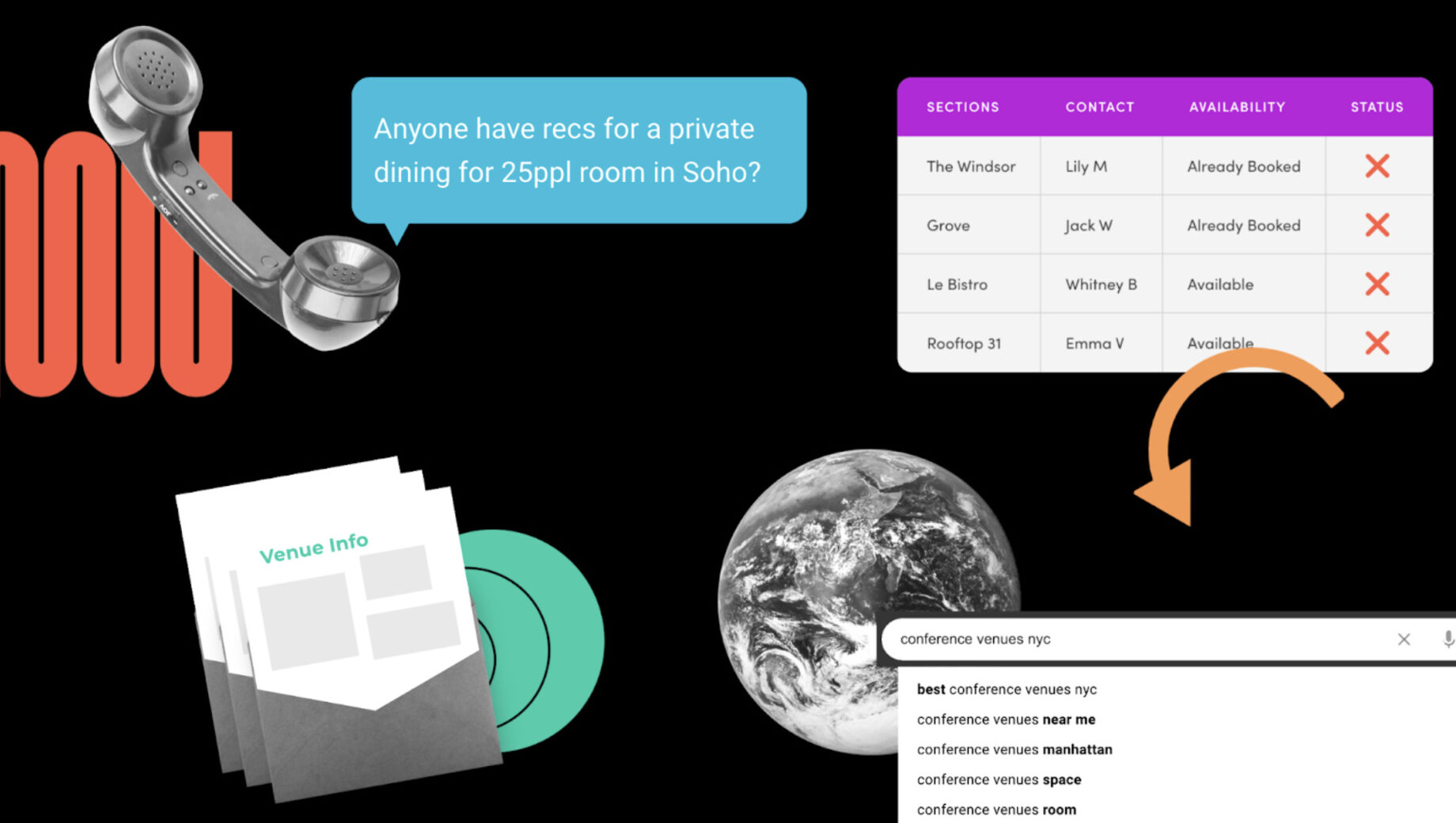 We wanted to re-imagine a search experience that could bring each of these sources of information together into a single, comprehensive set of results.
Today, we are thrilled to share our new search engine with the world and give a peek at how we've built it.
Discover venues and vendors in one place, with just one search
Searching for a venue or vendor is a complex process, so we wanted our search engine to put the richest, most informative set of results into the hands of each corporate planner and producer. That's why our search experience is now powered not just by our rich database of information, but also by the community of planners who use The Vendry every day to find their venues and vendors.
Let's take this example:
A planner needs to find a hotel in Midtown Manhattan that has capacity for at least 300 people…
When a planner searches on The Vendry, they can easily deep dive into the relevant options from a variety of perspectives:
Business Directory to browse information on over 130,000 spaces and services in 87 cities around the world
Community Discussions to read previous conversations that mention pertinent venues or vendors, with the ability to jump in and ask follow up questions
Team Knowledgebase to access private lists, notes, and files shared by others in their organization
News to read recent, applicable press from over 500 publishers, powered by our IndustryIQ technology
Lists to browse curated collections of businesses created by top publications and industry members
Galleries to see over 92,000 photos of real, previous events those businesses helped bring to life
Our algorithm displays and orders these search results based on over 1,000,000 data points from our database and community. We believe planners deserve better than having to sort through a heap of business listings across different websites, or click around on Google maps to find nearby hotels, restaurants, or event spaces.
That's why – with just one search – we're empowering them to explore and find their perfect venue or vendor in the way that suits them best.

Give it a go and try it out yourself: Search for a hotel in Midtown Manhattan that has capacity for 300 people.
A search engine curated by the pros – for the pros
Venue and vendor discovery is part science and part art, and our team has an unwavering commitment to perfect it.
We know that at the core of every venue and vendor search is data, so we engineered our platform to quickly aggregate information about event businesses from the highest-quality sources across the web. These data points allow an event pro to not only see, for example, which hotels match their requirements for neighborhood and capacity, but also to see which ones were just featured in Condé Nast Traveler, or which spot just hosted the hottest event in town with photos to prove it.
But we also know that in high pressure situations, where success rides on an event going well – all the data in the world doesn't beat a personal recommendation from someone who's been in the same shoes before.
Since we launched our Slack community a year ago, thousands of vetted corporate planners and producers have posted, answering the call of their peers by sharing their personal venue and vendor recommendations.
Time and again we watched our community members pull through for one another, but we saw a glaring problem – we didn't want these helpful exchanges to get lost with time. Our re-imagined search experience aims to fix that by automatically preserving and making accessible all of the valuable insights shared within the community.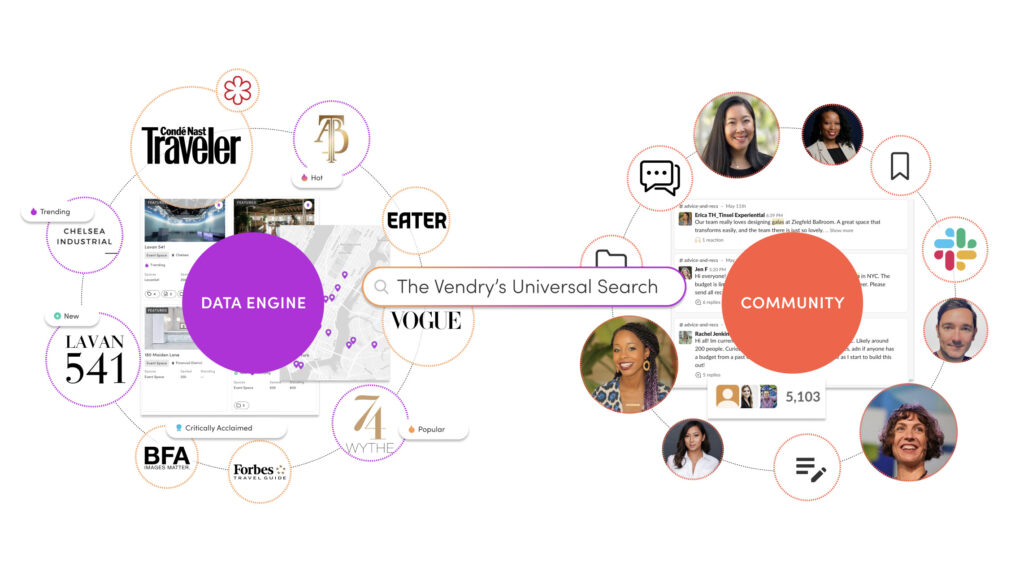 Now, when a planner searches for something like a caterer in Los Angeles, their search results will include catering companies that community members have mentioned by name in the past. On the company's profile, planners will see the discussions in which that caterer was mentioned and be able to chime in with any additional questions.
Only vetted planners who have been approved to join our community, our Event Pro Circle, can view and participate in these discussions. However, the good news is that joining is free and new members can take two minutes to apply here to gain full access.
Supercharging your search with a private Team Knowledgebase
Teams that leverage one another's recommendations, cautionary tales, and other insights about venues and vendors save time. They not only avoid repeating mistakes, but they can move to book suppliers more quickly and more confidently.
When event pros create a free Team account on The Vendry, they can invite their coworkers to collaborate by saving notes, files, custom data fields, and lists all in one place - and only visible to their team. They can import and sync all of the spreadsheets that currently live on their team's shared drives and individual desktops with our database – and then have those team insights appear in their search results on The Vendry.
Event pros see all of the rich information from their teammates' previous work layered on top of that of our platform's data and community discussions for a unified, seamless search experience.
Never search the same again
Planners and producers who are not already part of our Event Pro Circle can apply to join for free in order to take full advantage of the magic of this new search experience.
All new members of our Event Pro Circle will be automatically upgraded to a free Team account so they can immediately start incorporating their team's notes, files, and lists into their search experience.
As for us, our new search engine is live, but our work isn't done. We look forward to continuing to evolve our search product to serve planners in all facets of their sourcing experience.
Are you a venue or vendor interested in getting listed on The Vendry? Learn more about our Venue and Vendor Partner Program.