Since spring 2020, The Vendry has thrown over 100 virtual events for our community of event pros. We've seen firsthand the power of connection and collaboration between our members, whether they were acting as sounding boards, as resources, or (sometimes) as therapists for one another.
We saw friendships, mentorships, and new business connections blossom out of these gatherings, highlighting the greatest power of virtual events -- the ability to meet the world from wherever you're calling in from.
As we enter this new era of events, head back to the office, and figure out Delta's impact, we wanted to introduce something to our community we feel has been missing from the industry over the past year and a half -- curation, intimacy, and a tight-knit community to call your own.
That's why we've launched Circles, exclusive networking groups for event professionals on The Vendry.
We're excited to continue to support our community of event pros with this new feature -- learn more about Circles below and apply to join today!
-Hannah Foley, Head of Community at The Vendry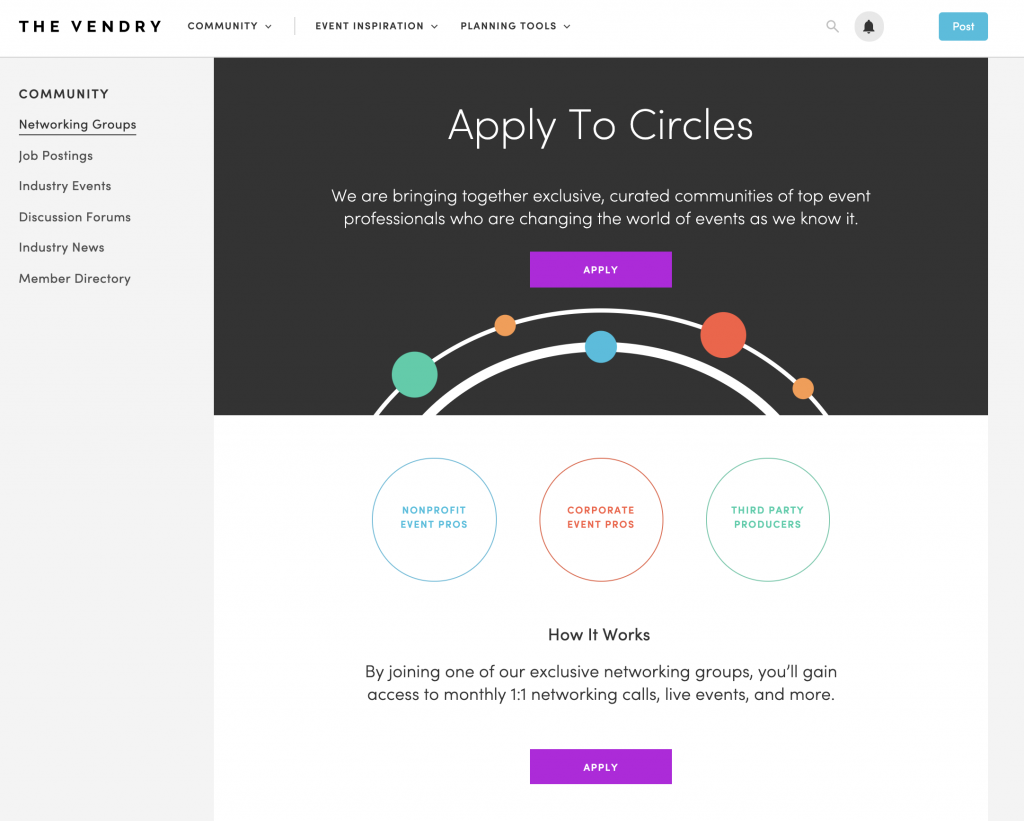 It's curated networking, just for you
By joining a Circle, you can gain access to monthly 1:1 networking calls, live events, and more with a group of industry peers. We're matching up event pros based on experience, industry, topics of interest, and much more.
We're kicking things off with Circles dedicated to corporate event pros, nonprofit event pros, and third party event producers, with many more launching over the coming months.
It's free to join
We don't think meaningful connections should be limited to those who can pay hundreds or thousands of dollars to access them -- acceptance into Circles is based on criteria such as event experience and seniority.
It's meaningful and fun
But don't just take our word for it.
"The Vendry allows me to connect with event professionals at other companies I otherwise never would've been in touch with!" - Leslie S. Event Marketer at Facebook | Instagram
"I've never used a more impactful networking tool. The connections are inspiring, helpful and most importantly, fun!" - Sara G. VP of Events at Rakuten
"It's fantastic to chat with other event professionals on The Vendry as we all reinvent how to safely produce unique experiences." - Jenny J. Head of Events at Twitch
Find your Circle
To apply for a spot on the waitlist, visit thevendry.co/circles.