Defining Power through a Powerful, Virtual Experience
AV & Production: Projection
Event: Simmons Virtual Leadership Conference
Client: Simmons University
Partners: Cisco, vbrick
Platform: Webex, Webex Teams, vbrick rev
A sold-out crowd of 3,000 was set to attend the annual Simmons Leadership Conference, the nation's premier one-day women's professional development event scheduled for April 16, 2020. When COVID-19 intervened, Joe Faulder and his AV production company, Projection, found themselves tasked with transforming the conference into a virtual gathering for the first time in the event's 41-year history.
"Our client (Simmons University) was determined to deliver the same value as their traditional in-person conference, which features a diverse array of high profile speakers, breakout sessions and a host of networking opportunities," said Faulder.
"And we succeeded. 3,000 people came at 8 am and stayed until the end—at 2 pm. Many of our attendees said this is the way they want to consume events going forward. Next year, regardless of the course of the pandemic, our conference will include a massive virtual element."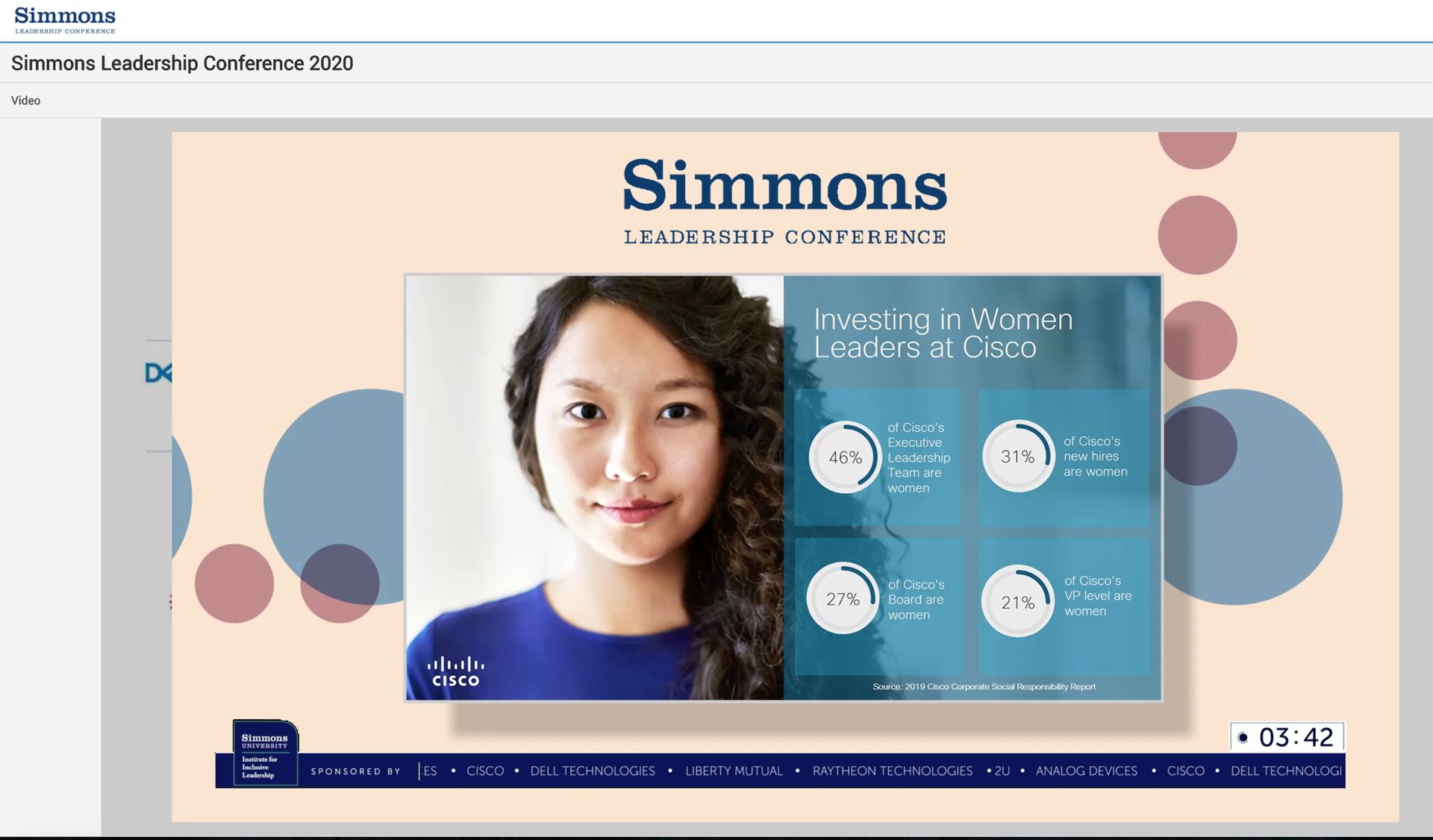 Players and Sponsors:
With a five-week turnaround, Faulder said there was no room for second guessing. He teamed with Kristen Palson, Vice President of Innovation and Custom Learning Solutions at Simmons University Institute for Inclusive Leadership. Faulder understood production, Palson understood the consumer learning experience. The two served as co-quarterbacks for the conference.
Event sponsor Cisco made their top managers available to the team, with Cisco's streaming partner, and recommended enterprise platform vbrick Rev turning out to be ideal for the job. Offering chat, polling, Q&A and more, the platform delivered an exceptional virtual experience for the 3,000 guests.
Content and Experience:
"We wanted to give people a more intricate networking experience so, working with Cisco, we built a main space for each attendee using Webex Teams," said Faulder. "Access to the live stream was only available through Webex Teams. This prompted participants to access and become familiar with different networking spaces before entering the main stage and keynote speakers—as well as see and engage with every aspect of the event."
"We modeled our graphics on Trevor Noah's The Daily Show, employing the graphic transitions, the tickers. Each keynote speaker had her own graphic animation—an abstract tennis racquet for Serena Williams, for example, which provided a feeling of something unique and special."
Cisco provided a tech support team that provided immediate assistance to attendees throughout the day.
And scheduled breaks were included: two eight-minute breaks over the six-hour conference. "Providing breaks meant that people waited to get up from their screens so they didn't miss anything. That was important," said Faulder.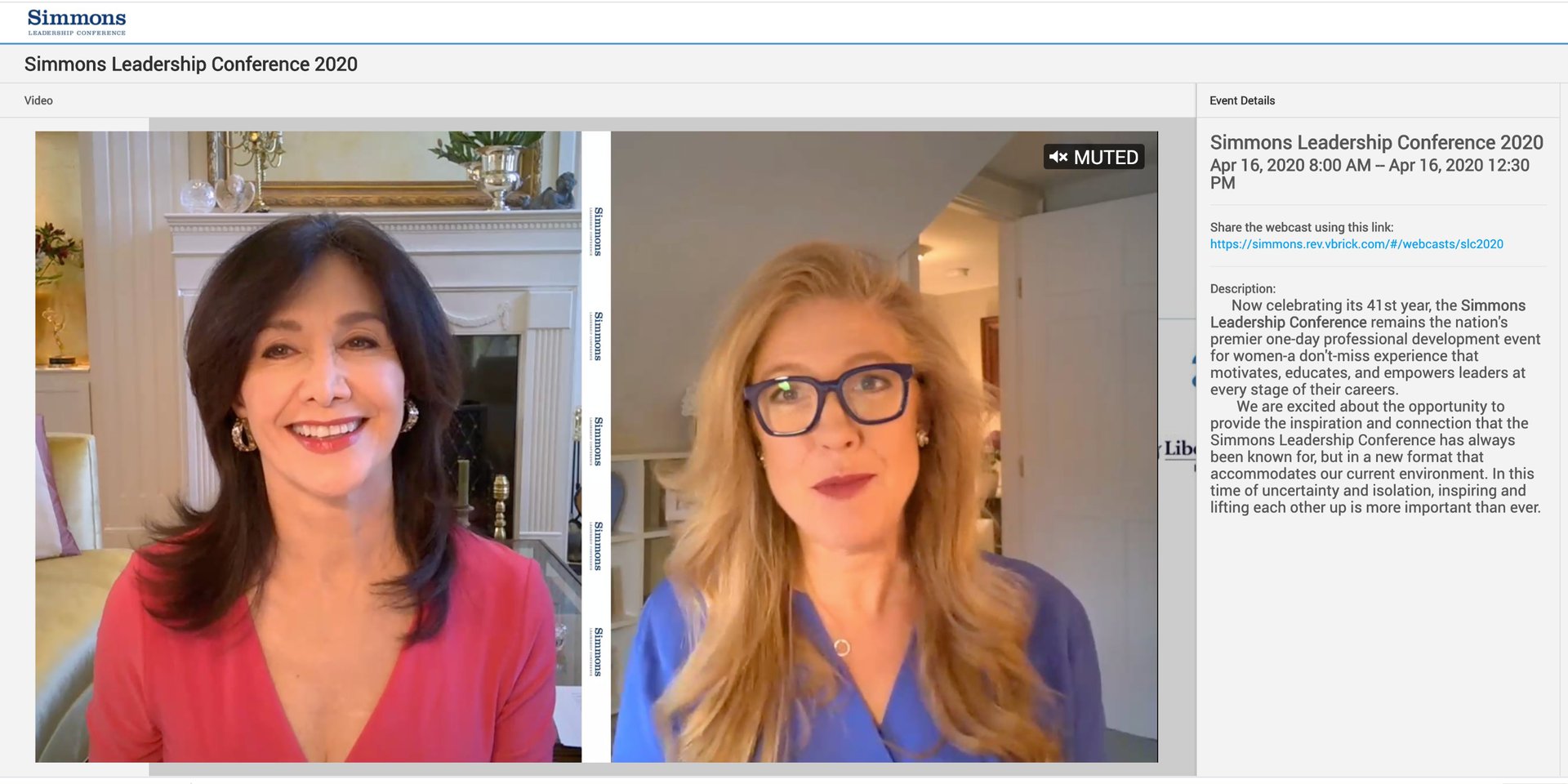 Implementation:
Projection used a barebones TV studio with only five people running the actual stream, including a director, video engineer, audio engineer, graphic and playback operator, and an IT technician. They sent every presenter a video conference device and provided set up assistance. Speakers dialed in to test their audio, picture and lights before their live presentations. This ensured a high-quality show.
The Cisco network provided full HD video conferencing, with high-quality audio and video that sets it apart from other platforms. Projection used the Simmons University network bandwidth, setting up their studio in an empty classroom.
"The full technical plan didn't come to fruition until a week before the event. We went back and forth with Cisco on what was possible with the technology. I had to change my crew out as quarantine rules changed," said Faulder.
Takeaways:
1) Leadership: "The co-quarterback model was crucial to our success. Kristen provided the customer experience expertise. I provided the production expertise. People trusted us and said, 'Just do it.'"
2) Engagement: "Cisco's Webex teams were brilliant. People are hungry to talk to other people, especially when they are consuming inspiring content. Attendees felt like they were participating in the action, rather than listening to a one-way stream."
3) Reprogramming content: "Simmons was brilliant, condensing the content to 6 hours by reducing keynotes from 60 to 30 minutes, and reducing breakouts to 15. We delivered a 'what you missed' video of the six sessions that were cut from the breakout so folks could watch later."
---
---