New York-based Victoria Gutowski is the strategic events manager at consumer-led digital health company Noom, where she executes, on average, 20 events annually, having started at the company in 2019. She chatted with The Vendry about an upcoming hybrid event in Scottsdale, Arizona, the importance of making guests feel at ease, and why It takes a village to execute an event.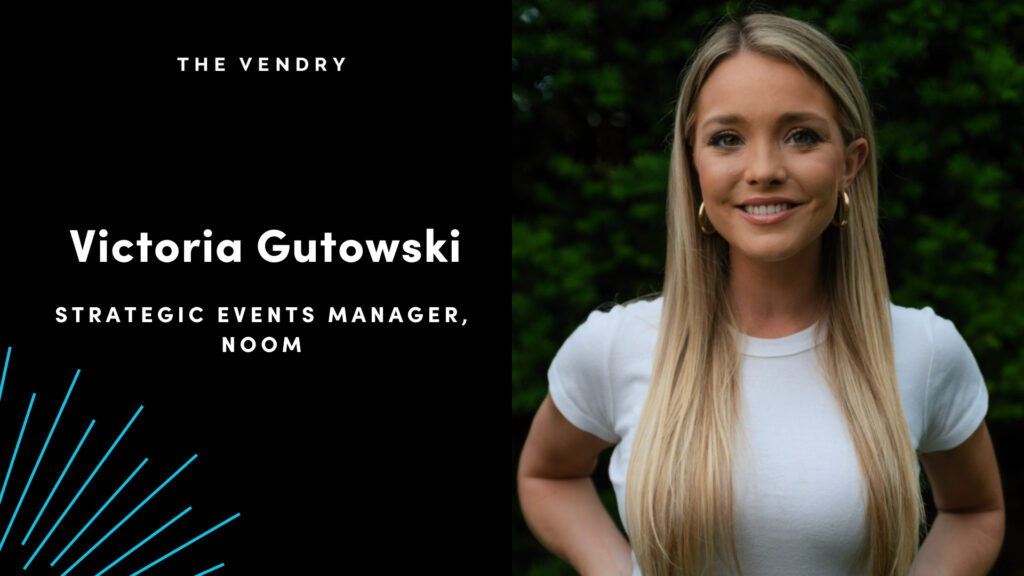 You plan and produce events for Noom. Can you talk a little about what your role entails?
Gutowski: I am the engagement and strategic events manager at Noom. Noom is a behavioral health change company. We focus on not only weight maintenance, weight loss, but we have just entered into a space for anxiety prevention and anxiety maintenance. We have two core products that we're working with, and I oversee almost all of our events—from our internal events, from a community level for both our coaching and HQ team, as well as a series of external partnership events.
The Vendry: Where do you find inspiration for your events? How do you stay on top of event trends?
Gutowski: I utilize The Vendry a lot for any event knowledge that I either want to explore or if I want to tap into anywhere within the event network. A lot of the connections I've made thus far have actually been through The Vendry.
Outside of The Vendry, shamelessly I can admit that TikTok has become an incredibly valuable source for at least exploring different aspects of the event industry. It's definitely a new social media platform that I am exploring, but it's fascinating and definitely allows me to stay on trend…. It's less about the event industry and more so getting inspiration for events that I can put on myself and a lot of my community development events. I'm catering to such a large population of folks outside of the New York metropolitan area, so I have to get a bit savvy, specifically when I'm moving away from in-person events in an area I'm super familiar with—finding what's on trend in that specific city I'm looking to host the event in.
What is your superpower as an event planner? What are you known for?
Gutowski: I would say my strong suit is definitely overall logistics. My weak spot happens to be creativity. I would say if you were to ask any of my colleagues what I am the best at, it is executing large programs with lots of different variables, lots of moving parts seamlessly without a hitch is my area of expertise.
Has there been a recent event you were particularly proud of?
Gutowski: I can speak on behalf of an event that we are executing in two weeks. It's our first in-person event. I'm executing my first internal leadership conference for roughly 350 people, half of which are hybrid and half are in person. And this is the first time that I've ever executed an event that is required to have a hybrid component to it. I feel like I am planning two very separate events at once, and I am incredibly nervous, very excited.
We require our team members to be vaccinated, and not everyone can abide to that protocol, and therefore we offer accommodations to make it equitable for those who are unable to attend.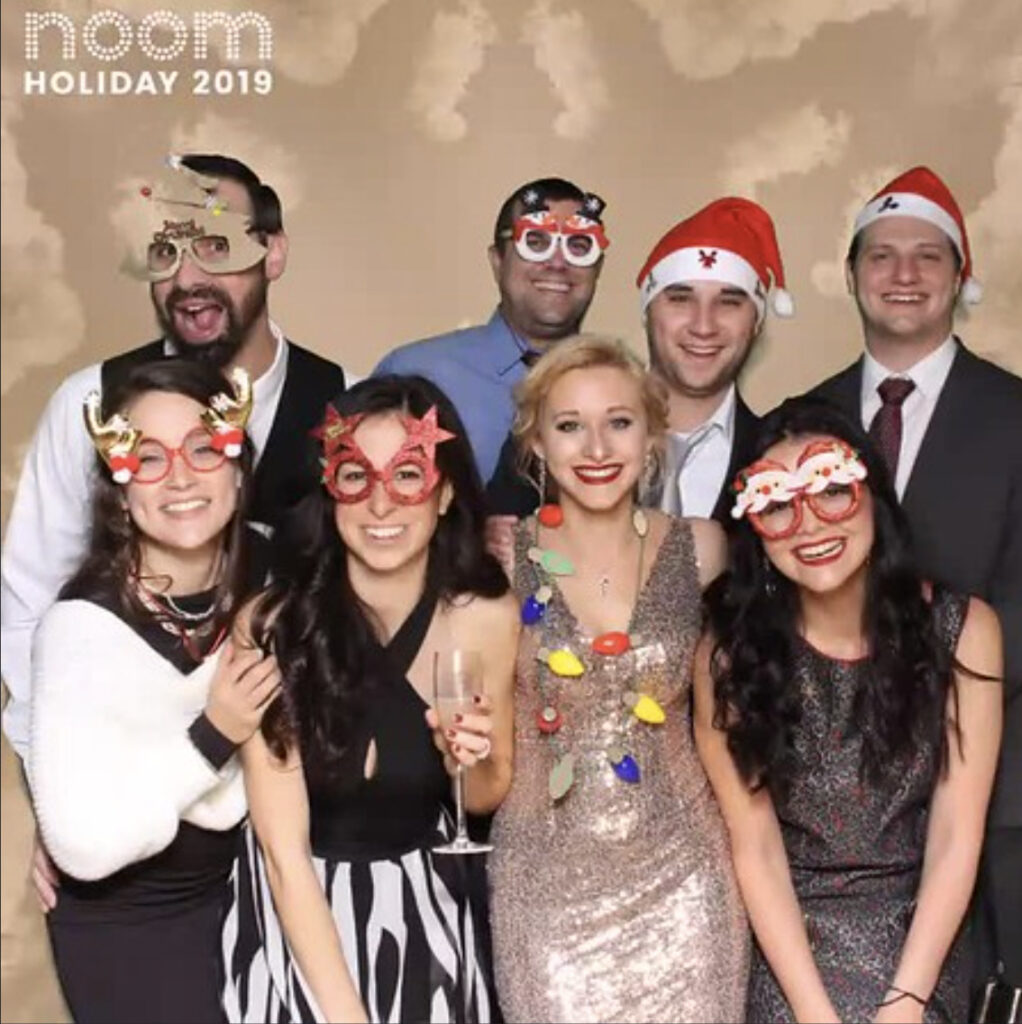 What is the "secret sauce" that makes a great event?
Gutowski: As someone who feels really strongly about the actual execution, making any guest feel like they've walked into an experience and all stress associated with traveling or booking their own accommodations, as soon as they walk into the event, they feel at ease, so that can vary according to any event that you execute, whether it's a wedding or a large corporate event.
There's a need to have guests feel like they can have a sigh of relief whenever they walk into an experience—that should be the focus for anyone that oversees events.
You plan events all over the U.S.—how do you discover local vendors to work with? What qualities do you value when evaluating service providers?
Gutowski: I've been in the event industry for quite some time, and most of the connections that I've made have been in the greater New York area. But really it's word of mouth. I struggle with Yelp or Google reviews because I find that they are not always incredibly accurate or it can be a little bit subjective. So I think for any event professional, there is a need to tap into your internal and external network to really make connections with vendors that people can attest to their level of professionalism or expertise or whatever you may need to source.
My best advice is always to tap into your network and ask for suggestions. Word of mouth, I believe, is the best marketing tool.
What are the main things you look for when choosing a venue for your events? What helps them win that RFP?
Gutowski: It really varies according to the specific event that I'm hosting, and what the nature of that event is—that can be size, location, cost…. I always want to know the capabilities, especially when there's catering involved, their size capabilities and having an on site, either kitchen or staff. Am I going to need external resources? Because it depends on what venue you are sourcing. But if I am going to a pretty comprehensive all-in-one venue where they don't necessarily allow for outside catering or any external staffing, what are their capabilities there? Because that's when things can go a bit haywire during an event.
What was your background before your current role?
Gutowski: I've had my eyes set on working in the hospitality industry since I was a teenager. I went to undergrad for hospitality and hotel management at Purdue University. I had worked at the Waldorf Astoria Hotel. I did food and beverage there. I did events there, and they ultimately shut down for renovations in New York, which left me in a tough position, which was, do I want to continue working directly within the hospitality industry related to restaurants or banquets or find another hotel property that would be best suited to my previous work experience?
But then I ultimately went into special events and recruiting for a law firm, which had less of a creative element to it but required a lot of strategic and logistics planning, overseeing their events from a business development perspective, but also traveling on campus to do their law school recruiting programs. I really fell in love with the execution side of events versus the creatively driven side of events, which is really why people should acknowledge that they may not be the best at everything but to utilize their network and resources to make an event excellent.
It takes a village. It's not always just one person. So then ultimately from there I've always had my eyes set on tech and Noom came to me with a really incredible opportunity and it allowed me to break into tech from the legal recruiting world.
Looking to expand your network?
Apply to Circles - our exclusive, curated networking groups for top event professionals.
What is the professional experience that prepared you most for the role you have?
Gutowski: What definitely prepared me for my current role is less about actually the events, the management of events, but actually managing the personalities of lots of different people. I worked at the world's largest litigation firm, so there were a lot of personalities there and a lot of competing objectives and a lot of competing stakeholders and being able to manage their expectations and personalities really set me up for success in my current role.
Any advice for young adults thinking about doing events professionally?
Gutowski: My best advice is to keep an open mind. There was a huge part of me that was really adamant on doing wedding planning in college, and I was seemingly shocked when I executed my first wedding as an intern and realized this was exactly the opposite of what I wanted to do long term. So keeping an open mind and really getting as much exposure to different areas of the event industry as possible. And I think for myself, I've been exposed to hotels and wedding planning and a law firm, and now tech and all of them offer really different scope of work.
Just being able to diversify your professional experience within events will A. make you more marketable and B. you can find your niche and what you really enjoy doing. Do not write off any area of events, even if you have your heart set on something that you haven't tried
Rapid-Fire Round
What is a dream venue you'd love to produce an event at?
Gutowski: Rose Bowl Stadium in Pasadena, Calif., is a place that you could magically transform into an incredible event.
What's the coolest city you have ever traveled to for work?
Gutowski: Berkeley, Calif. for a recruiting trip for my previous law firm.
What is the best event you ever attended?
Gutowski: Outside Lands. I remember thinking to myself, the amount of logistics that have been involved to kick this off. It takes a village. It was less about the experience and moreso, how did they get all these people here?