The coronavirus pandemic has made finding innovative solutions to meetings and events more critical than ever. Staying visible isn't the only challenge: Virtual events should provide the same value that physical events do.
Fortunately, virtual event technology has made tremendous strides, offering high-quality options for streaming live video, managing bandwidth, and creating memorable experiences. The best virtual event platforms continue to evolve and improve, upping their own game. Companies and attendees alike are growing more accustomed to the idea of virtual events like virtual conferences and virtual trade shows, as well as recognizing their value in reaching not just local but also global audiences. 
In short: Now is the time for event planners to establish themselves as leaders in the virtual event space.
What's a Virtual Event?
A virtual event is precisely what it sounds like: a summit, an event, a party, a gathering—you name it—but in the virtual space. It's much more than logging on for a Zoom call. There are opportunities for interaction, personalization, networking, and beyond. Presentations, virtual drinks sessions, fun competitions and giveaways… Event planners can make it a truly bespoke experience that perfectly highlights your brand's message.
What is a Virtual Event Platform?
One unintended positive of the pandemic in the technology space is that industries across the board have either reimagined or at least greatly improved upon the software used to keep the wheels turning. Two years on from (cue Jaws theme) March 2020, virtual event technology is no longer a default or an "in lieu of meeting in person" modality. In fact, pandemic or no pandemic, virtual events in some form are here to stay even as restrictions are lifted.
In a nutshell, virtual platforms provide virtual event organizers with the means to oversee the entire event lifecycle of a virtual event, including registration, marketing, analytics, and post-event feedback. The main purpose is to provide attendees a virtual experience that still conveys the tangible aspects and perks of business and networking at in-person events.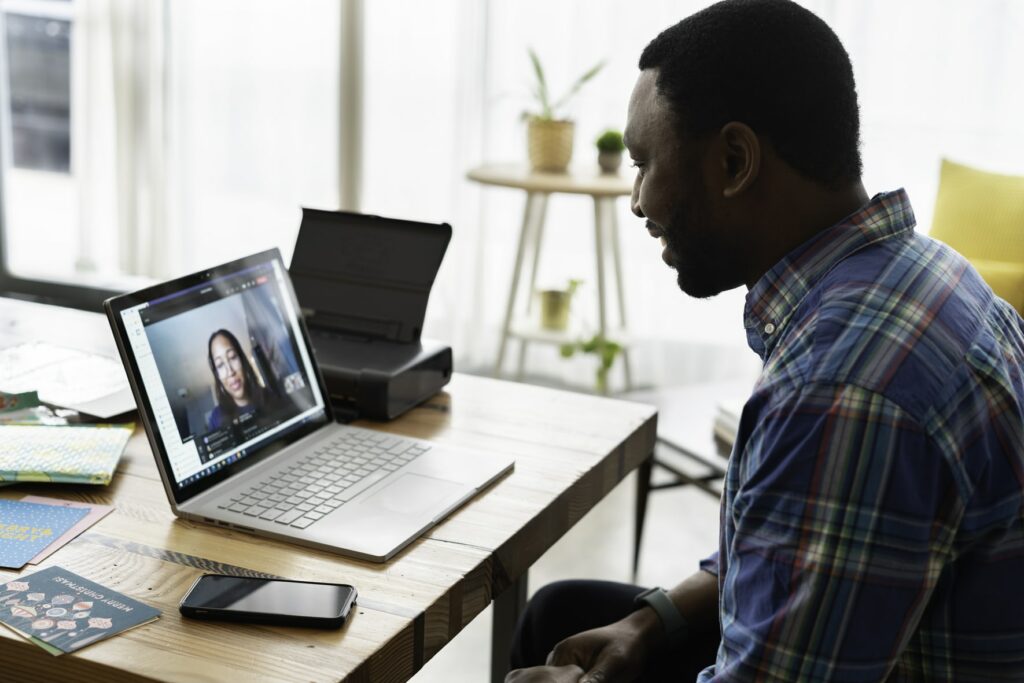 What's the Difference Between Virtual Event Platforms and Event Management Platforms?
Virtual event platforms and event management software offer similar features, but serve different purposes.
Event management platforms focus on managing in-person events. For example, Eventbrite is a popular choice for event registration and ticketing for events like meetups and concerts. Whova, an award-winning all-in-one platform, helps with event marketing, event website creation, and a mobile conference app for attendee engagement and agenda management.
Virtual event platforms share many of the same features, except for the purpose of digitally simulating in-person event experiences.
Looking for virtual event activities?
Browse out-of-the-box ideas — from virtual chocolate tastings to virtual cooking classes.
Virtual Event Platforms vs. Video-conference Tools and Webinar Platforms
Zoom, Google Hangout, and other video-conference tools have been the bread and butter of daily work life these last two years. While they remain an integral and much-appreciated part of our daily work lives, VE platforms are actually more robust in what they can offer for your event purposes. VE platforms now usually enable roundtables, speed chats, live discussions in sessions, group chats, polls, and surveys, all using the same software.
What Can You Do with a Virtual Event Platform?
There are myriad and multi-use opportunities to be had by using full-fledged VE platforms for your event. Think:
Interactive workshops
Q & A sessions
Free handouts
Live streaming
Audience polls
What Are the Benefits of Virtual Event Platforms?
Utilizing VE platforms ultimately enables you to consolidate your offerings. It also:
Provides a safety net: no social distancing or masks required.
Saves on costs: rather than paying for multiple technologies you have a one-stop-shop. You also clearly save money by not being in person, if this is the route you choose by necessity, or by choice.
Amplifies global reach: aside from no travel needed, VE platforms can seamlessly link up participants worldwide, while simultaneously expanding the reach you wouldn't have gotten in person. Brand awareness is thus amplified on a larger scale.
Analytics: Data, Data, Data! There is so much real-time feedback you can keep an eye on through these platforms. ROI and ROE is more trackable than ever with these platforms. It takes event analytics to the next level.
Features to Look for in a Virtual Event Platform
How do you organize a successful virtual event? For starters, when looking at virtual event software, make sure platform capabilities include: 
Webcast options for real-time or on-demand video content
Webinar software integration
Mobile event apps
Depending on the type of event you're throwing, you may want to look for specific tools for engaging audiences. (Need virtual event ideas? The Vendry has plenty of suggestions.)
For instance, if you're coordinating a virtual trade show, look for functionalities that replicate the physical experience of a show. These include various event spaces like a lobby and a theater, virtual booths for visiting individual exhibitors, an agenda builder, and of course, high bandwidth.
Hosting a webinar? Interactive content such as Q&As, live polls, and group chats can keep audiences actively engaged and focused throughout the event.
Other potentially useful tools and features include:
Event landing page: Having a website set up for your event will give attendees a clear idea of what your event is about, how it can offer value matching a physical event, and aid with event promotion.
Social media integration: Integrating social media increases your audience's engagement within the event, as well as boosts word-of-mouth marketing, with your attendees promoting the event to their friends and followers on your behalf. 
Access to pre-event content: Build anticipation and hype for your virtual event with pre-event content, such as teaser campaigns for agenda items during the event or an on-target blog post.
Gamification: It's much easier for audiences to get distracted during virtual rather than in-person events. Add an element of gamification—such as real-time polls and Q&As or scavenger hunts—to keep audiences focused on and engaged with your event. 
Calendar syncing: Periodically send invites and reminders to build up to your virtual event. 
Surveys: Keep abreast of your audience's interests and needs during all points of the event lifecycle so you can make sure your event provides value.
Support for specific virtual stream engines: This is especially helpful if there are livestream engines you or your audiences prefer to use. For example, a gaming audience may favor Twitch, a top livestreaming platform for gamers.
Automation: Automating event management can save you a lot of time and energy, especially with processes like managing registrations, event promotion via email marketing, and collecting event feedback. Event planners can automate the creation of event websites, ticketing, generation of detailed event analytics, all from one place. 
Security: Recent months have highlighted the importance of privacy and security with online gatherings, especially during company meetings that require guarding of sensitive proprietary information. Prevent virtual event bombing—where uninvited trolls pop in to disrupt virtual meetings—from happening to you. 
List of Top Virtual Event Platforms
What's the first step when you're reading to start hosting a virtual event? Identify which virtual events platforms work best for your event planning needs (do you need screen sharing, polls, surveys, etc) Also identify whether you need high bandwidth to host a large number of event attendees or are working within a budget. 
Best All-in-One Virtual Event Planning
SpotMe: A highly rated platform for its flexibility and range of navigation options. Allows event planners to create fully branded experiences on the web or with native apps on iOS and Android. Must-have tools include:
Secure livestreaming
Engagement tools like polling and Q&A functionality
Support for webcasting and breakout sessions
Templates for everything from town halls to medical meetings
Integration for CRM, marketing automation systems, and other event registration systems
Accelevents: An economic, all-in-one event platform for creating virtual event experiences to match the impact of traditional events. Deliver high-quality broadcasts and on-demand videos at scale with an enterprise-grade solution. You also get valuable features like:
Attendee agenda management
Customizable exhibit booths
Direct integration with Google Analytics to track event success and promotion in real-time
The ability to sell tickets
Access to full API documentation for event organizers to scale and build their own solutions
6Connex: Designed specifically for virtual summits, trade shows, and job fairs. Attendees can "walk" through the showroom floor and "visit" exhibit booths. These booths can be customized to each exhibitor's branding, including promotional materials and pre-recorded product demos that can be downloaded by visitors. 
Livestreaming
Limited real-time interactive features besides basic live chat
Lead generation
Survey/poll management
Leaderboard feature for audience engagement, with points awarded for performing specific tasks at the virtual event
INXPO: A trusted, longstanding industry leader among video-based digital platforms, INXPO is especially conducive for virtual event planning around talks by keynote speakers and breakout sessions, whether streamed live or watched on demand.
Robust reporting and analytics
High-quality streaming and webcasting capabilities
Customizable branding
Feel of a live event thanks to lobby and theatre features
Exhibitor list that attendees can scroll through and click to visit
Ability to interact with virtual booth staff when they are online and schedule product demos
vFairs: Ideal for trade shows and virtual job fairs. Besides rendering 3D models of a physical event with trade show booths, it also makes it easy for attendees to book one-on-one meetings with potential employers at said booths.
Customizable exhibit booths with on-demand videos and presentations that can be viewed on the spot or downloaded
Real-time, live event interaction with text, audio, and video chat options
Offers e-commerce and in-event buying experiences
API integration to the rest of your stack
Attendee management and online registration
Socio: Used by the likes of Google and Microsoft, Socio powers virtual, hybrid, and live events from a single, branded hub. It seamlessly pairs event apps, video streaming, and powerful engagement tools—including its Virtual Event Suite, Mobile Event App, Lead Retrieval, and Live Display solutions.
Multi-device functionality
Integrates with all leading livestream providers
Drag-and-drop functionality and intuitive event technology
Super customizable white-label Event App
Lead retrieval: Captures leads with a mobile app and instantly exports them to CRMs
Live display for turning all live and virtual venue screens into branded digital displays
Best Video Conferencing Tools
Zoom: Now a household name thanks to COVID-19, Zoom is the easiest video conferencing platform out there to use. Even non-users who don't have the program downloaded can join calls within seconds. However, privacy and security concerns have plagued Zoom in recent months, so much so that "Zoombombing" has entered the modern online lexicon.
Best for: Ease
Less ideal for: Security
Google Meet: Google has been offering free access to Google Meet's premium features until September. They include video calls for 250 participants, livestreaming, and recording. While it doesn't provide end-to-end encryption for video calls, it does encrypt messages, as well as require external users to be invited by meeting administrators.
Best for: Reliability, Access to the rest of G Suite programs (like Gmail's business email applications, shared calendars, and Docs word processing)
Less ideal for: Recording meetings
Webex: Cisco's platform has a similar look and feel to Zoom. In response to COVID-19, Webex has expanded the capabilities of free Webex, removed time restrictions on video calls, and offered support for up to 100 participants since March. Webex offers end-to-end encryption for its calls, but it's not automatic.
Best for: Easy software and device integration, clear video
Less ideal for: Pricing, back-end management of users
Microsoft Teams/Skype: Microsoft offered Teams, its workplace collaboration tool with video meetings, for free, although it's mostly ideal for existing Office 365 users. As an alternative, Microsoft-owned Skype now offers Meet Now, which lets any user initiate or join a video call as a guest, without having to sign up as a Skype user. The drawbacks: Anyone with a link can access meetings, and links don't expire.
Best for: Existing Office 365 users
Less ideal for: Security
BlueJeans: Provides the highest security of this category, with calls encrypted by default. But BlueJeans offers no free access, with accounts starting at $9.99.
Best for: Security
Less ideal for: Pricing, High bandwidth
Best for: Augmented Reality
8th Wall: While not a virtual event platform per se, 8th Wall is worth keeping an eye on if you're looking to deliver quick and easy AR experiences. The company's one-stop shop authoring platform allows customers to create and ship AR experiences, providing an opportunity to create memorable branded marketing interactions.
The best part? 8th Wall's WebAR technology works inside mobile browsers. That means users won't have to download apps or any other software to access AR experiences—all they need is a link or QR code.
How to Boost Your Virtual Event Engagement
Replicating that in-person connection in the virtual space has, and still can be, a challenge–and not just in this ongoing pandemic landscape. Some tips for the host to boost engagement:
Interactive sessions
Networking events
Virtual event booth
You can get creative, too. If it's a smaller event, send participants a drink set to host a virtual happy hour in breakout room-style. Also, remember in general people are much more comfortable socializing and interacting online in an organic fashion than they were two years ago.
Virtual Event Planning: The Takeaway
Thanks to these and other virtual event solutions, event planners have become increasingly informed about the unique pros of virtual events, especially in accommodating visitors who are located far away or are mobility impaired.
Not only that, but a wide range of creative online events beyond just corporate meetings, teleconferencing, and remote work collaboration can be supported, including but not limited to:
Trade shows
Job fairs
Training sessions
Association meetings
Town halls
Multi-session conferences
Dating and matchmaking events
Weddings
Even as the pandemic response continues and the world slowly opens back up, expect growth in virtual and even hybrid events, which combine elements of in-person and virtual events.
Take a page from these vendors offering services for virtual events to see how you can take the virtual event platform of your choice and make it work for your event.
---
Are you planning a virtual event and need technical backup?
Browse AV Rental & Production companies that can help you with your event!
---