Jason Naylor is a New York-based artist, graphic designer and muralist whose vibrant works have captivated brands and the public alike. After leaving his job in the creative department of MAC Cosmetics, he has gone on to collaborate with Fenty, Lululemon, Coach and more, creating large-scale murals for events, advertisements, and popups as well as products and packaging. His signature artistic style is easy to spot: Day-Glo lettering on a black background telegraphing positive vibes to all who pass by.

The Vendry talked to him about the appeal of temporary artworks, virtual reality, and being inspired by billboards.
---
The Vendry: How did your work as an art director inform your career as an independent artist?
Naylor: Working as an art director opened my eyes to the fact that there was this other world of artists and creatives doing things that I wanted to do. It led me to desire that life. Being on the art director's side of things, I also learned what not to do when you are an artist delivering a project. Looking back, I was able to create a roadmap for how I would function as a successful creative.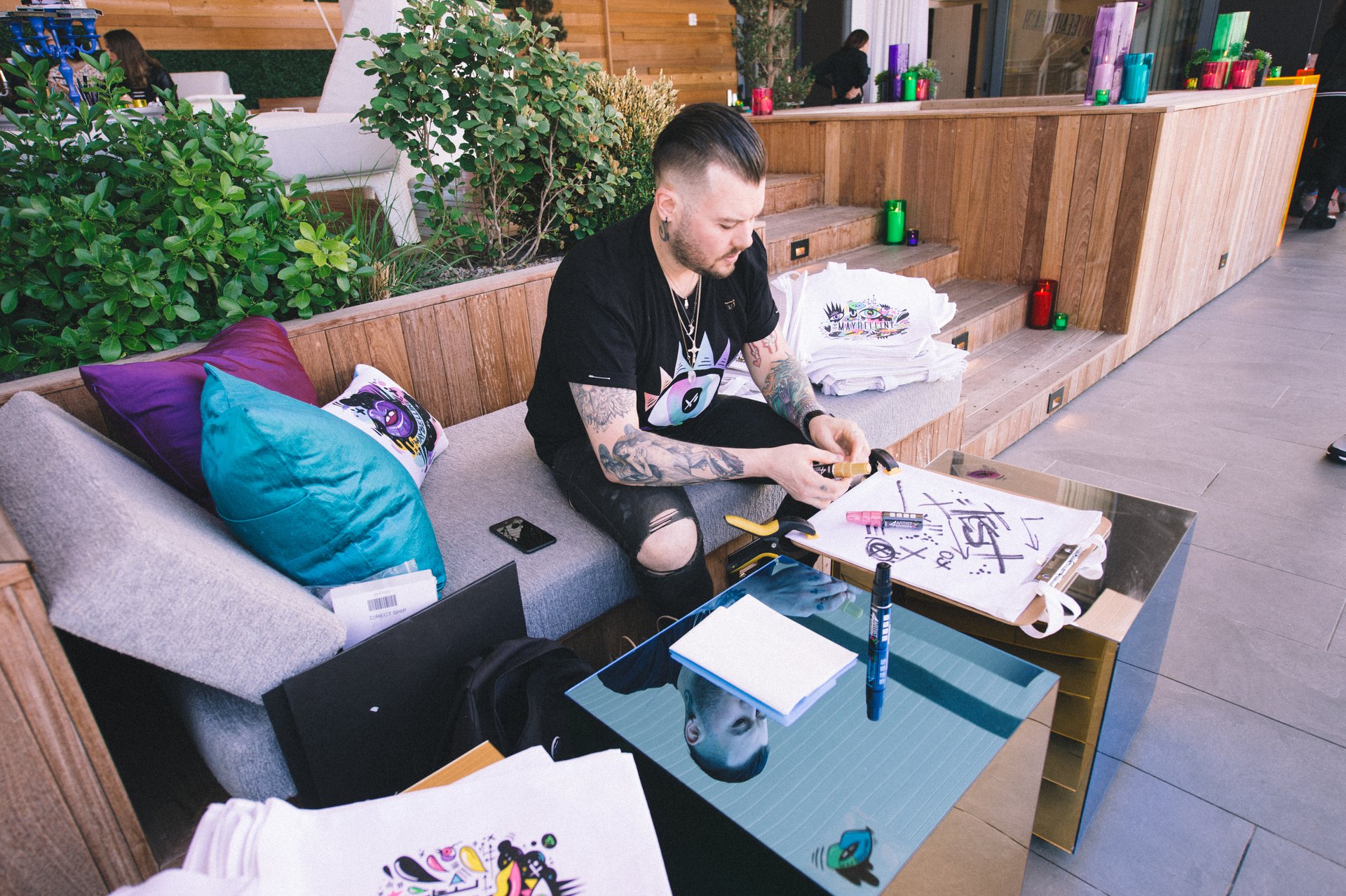 The Vendry: When you're approached by brands to do a collaboration, do you have certain criteria of what you look for in a brand partner?
Naylor: Yeah, I do. My body of work is all about messaging, and the first thing I look for is whether the brand has wholesome values, or DNA that aligns with mine. Thankfully, I am at a place in my artistic career where I can be selective about which brands I choose to work with.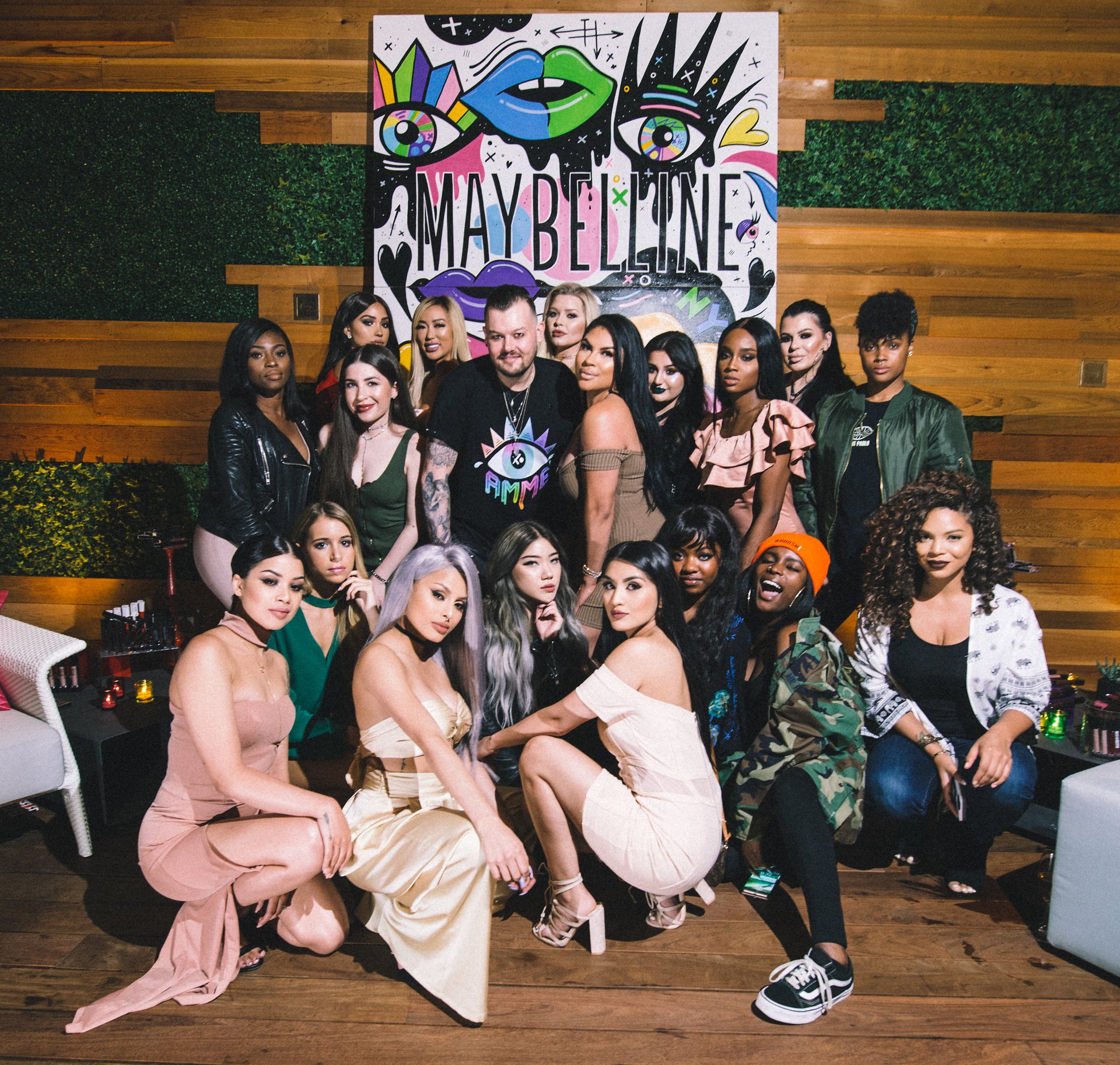 The Vendry: A lot of experiential marketing now revolves around pop-ups. Have you seen an increase in brands asking you to do work that is more temporal, or ephemeral? How do you feel about that versus a mural that will be in the same spot for years?
---
"There is a romance to knowing your piece is only going to live for a week or a day."
---
Naylor: Yes, I have seen that increase. There is a romance to knowing your piece is only going to live for a week or a day. I create something that I know is going to have an impact for that day, for the right audience, and I am happy when it's over because it's easy for me to gauge whether it was successful. On the other hand, putting a mural on the street that is going to live for years, you can't track whether people like it. To me, a mural is a way to show off what I do. The permanent murals get the pop-up ones booked. They get the experiences booked.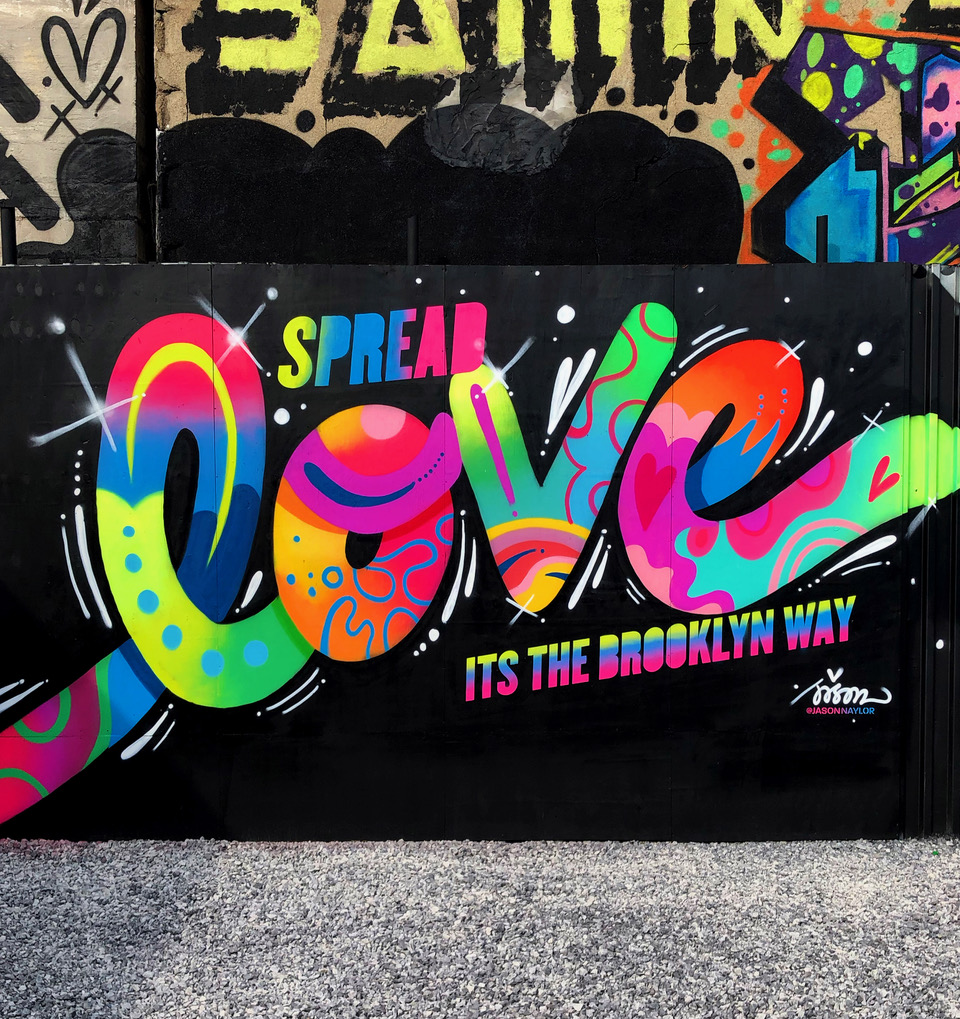 The Vendry: Do you consider your murals to be interactive?
Naylor: Not literally. Not like a pair of butterfly wings that you can stand between. However, my messages resonate with people who post and repost the mural. And 50 percent of the time there is nobody in the photo, just the art. They definitely do provoke engagement.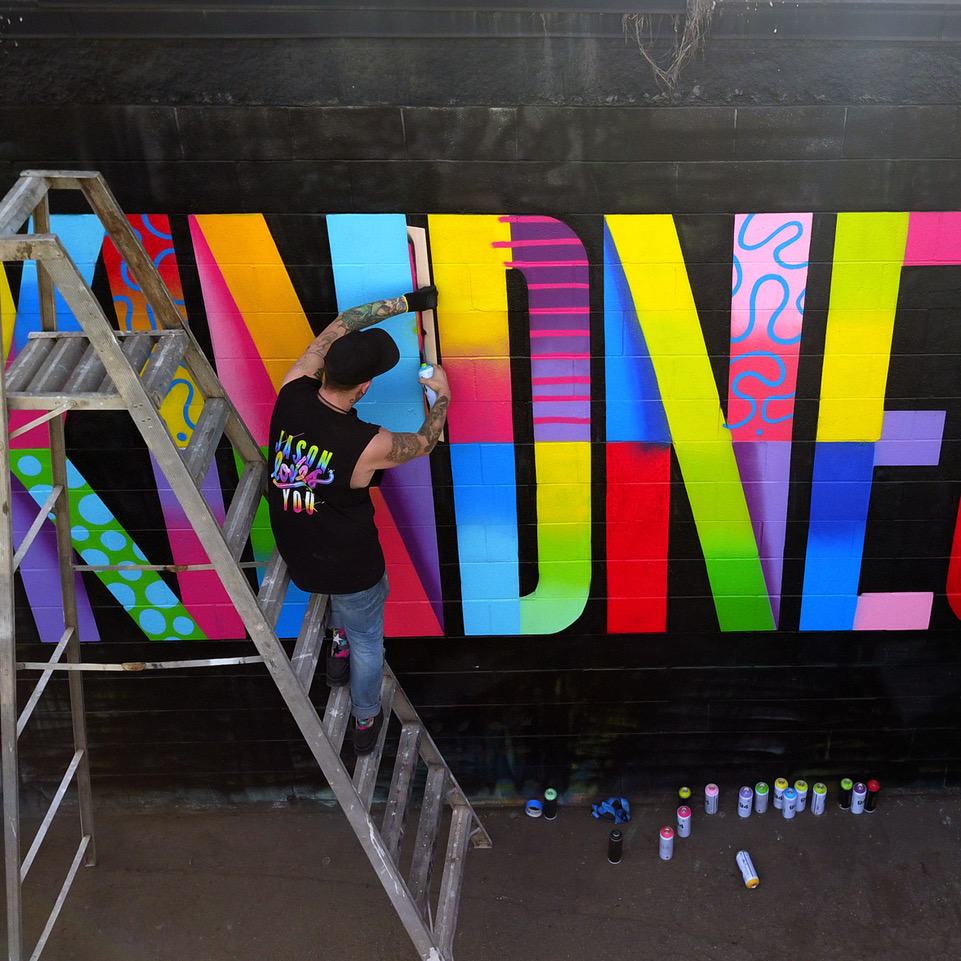 The Vendry: The definition of interactive is always in flux. Someday you might have an AR or VR version of your work.
Naylor: I haven't done that, actually. I'm dying to do it.
---
"The way inspiration works for me is like filling up a well. I try not to seek it out, because that is how you end up copying things."
---
The Vendry: You're based in New York City. How do you take inspiration from your surroundings?
Naylor: New York is so dense and saturated with visual inspiration. The way inspiration works for me is like filling up a well. I try not to seek it out, because that is how you end up copying things. But I fill the well by keeping my eyes open and soaking up signage, colors and the other things that accompany everyday life. When I'm in the car I'm looking at the signs on the side of the road — not the safest way to live life, but it's a habit. When it comes time to feel inspired, I dip into the well.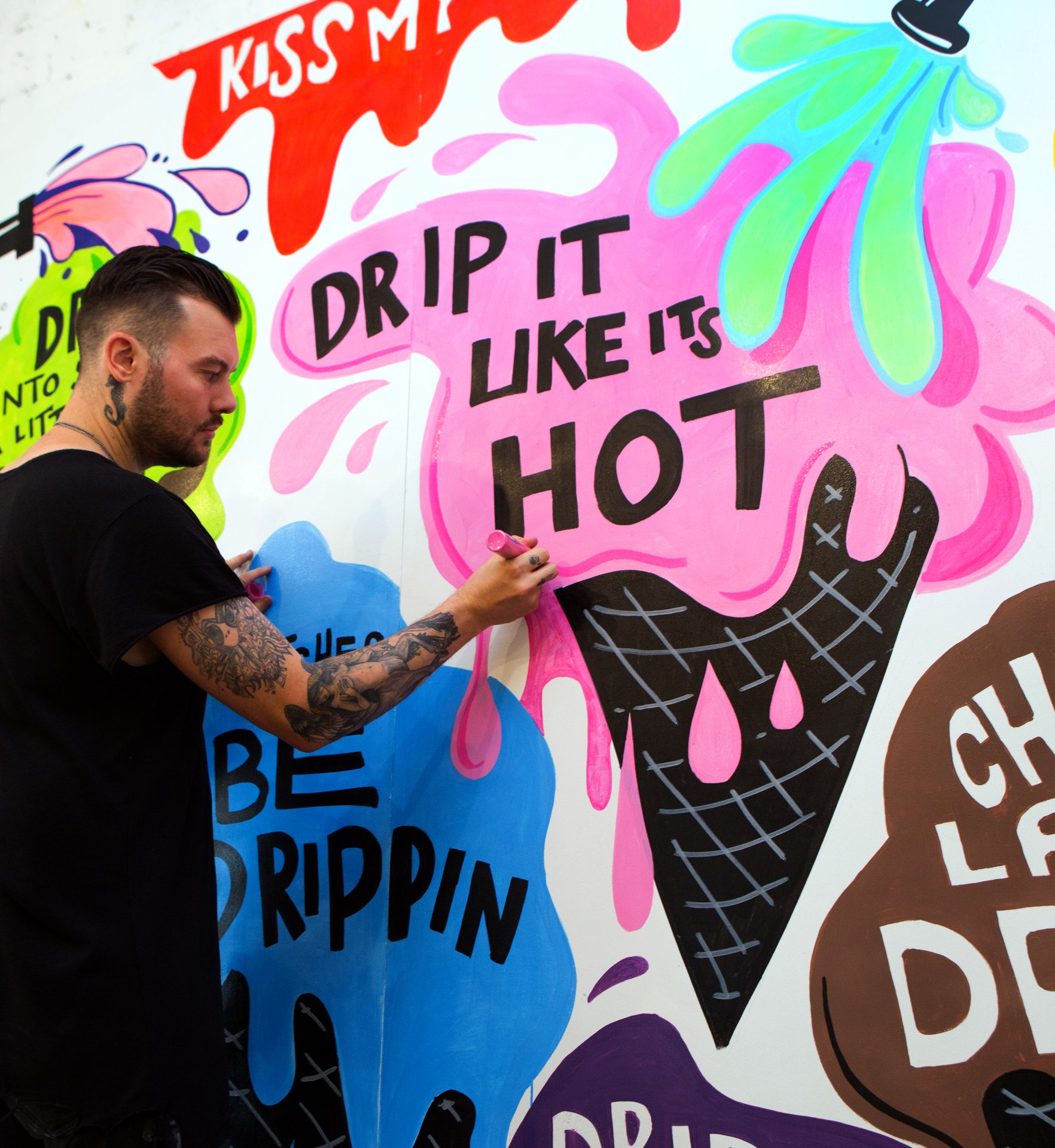 The Vendry: What would you tell people about your work that isn't obvious to an outside observer?
Naylor: There is the hidden backend part of the process which I think people don't know about. That's how you get from actually booking a job to painting a mural. There's a lot of rendering and measuring that goes into it. It's more than me showing up the day of the job to paint. There's also more to the messages of positivity that I put on the street. I feel happy when I treat people well, and I feel good when I'm being kind or when I'm being loving. Kindness is on trend, and I'm happy that it is, but I really just want to put myself on the wall. The deeper layer of my art is not kindness for its own sake — it's Jason.
---
Learn more about Jason Naylor by clicking here to see photos of his work on The Vendry.
---