In case you missed it … Paramore and My Chemical Romance will headline When We Were Young fest … according to a survey by event marketing tech company Splash, most companies still expect to host hybrid events this year … and noms for the NAACP Image Awards were announced.
Hot Topics: What event profs are talking about right now
The Recording Academy announced that the 64th annual Grammy Awards will now take place on April 3 and will be held at the MGM Grand Garden Arena in Las Vegas.
The award show was previously set to take place in Los Angeles at the Crypto.com Arena on Jan. 31.
"We are thrilled to become part of the Grammy Awards legacy and have the opportunity to host this year's prestigious event at the iconic MGM Grand Garden Arena," MGM Resorts International's vice president of entertainment Chris Baldizan said in a statement. "We are ready to celebrate the biggest night in music in the Entertainment Capital of the World, and can't wait to show artists, and music fans everywhere why Las Vegas throws the best party."
Additional details about the dates and locations of other official Grammy Week events have yet to be announced.
Related Reading:
Must the Shows Go On? (The New York Times)
What to Watch: Everything to Know About Award Season 2022 (WWD)
Full Lineup Announced for Coachella 2022; Harry Styles, Kanye West and Billie Eilish to Headline (The Los Angeles Times)
Event industry news, event trends, and more.
Subscribe to our weekly newsletter.
Beijing Olympics Sets Strict COVID Policy
Strict containment measures at the Beijing Olympics, which takes place Feb. 4-20, will aim to create a virus-proof "bubble" for thousands of international visitors.
Athletes and other participants including team staff and news media need to be fully vaccinated to be allowed in the designated Olympic areas without completing a 21-day quarantine.
Organizers announced that no tickets will be sold to the general public and only selected spectators will be allowed.
Behavior by athletes that violates the Olympic spirit or Chinese rules could be subject to punishment, a Beijing 2022 official said, after rights groups voiced concern about the safety of competitors if they protest.
Related Reading:
Jamaica is Sending a Four-man Bobsled Team to the Olympics for First Time in 24 Years (Yahoo! Sports)
Climate Change Will Limit Choice for Winter Games Hosts, Says Study (Reuters)
Team USA Wants Athletes to Use Burner Phones at Beijing Olympics (Daily Beast)
How Samsung Entered the Metaverse
For CES, Samsung hosted its product showcase in Decentraland, an open-source, blockchain-powered platform with virtual "plots of land" that users can explore via digital avatars.
"Knowing that there would be a smaller contingent going to CES than in the past, hosting this experience inside of a metaverse world like Decentraland just made a whole lot of sense," said Keith Soljacich, vice president of content at Publicis Media, an agency that helped Samsung develop the activation.
Dubbed 837X, the experience took inspiration from the brand's flagship store in New York City. The virtual venue featured attractions like a Connectivity Theater displaying Samsung's CES announcements and a Sustainability Forest promoting the company's tie-up with Veritree, a climate solutions platform.
Guests could enter using 837X-branded NFT badges and participate in activities like a "mixed reality live dance party."
Related Reading:
Microsoft to Gobble up Activision in $69 Billion Metaverse Bet (Reuters)
Meta Wants to Track People's Facial Expressions in Metaverse (The New York Post)
Walmart is Quietly Preparing to Enter the Metaverse (CNBC)
Want to read more industry news?
Circles: Join our exclusive, curated communities of top event professionals. Apply today!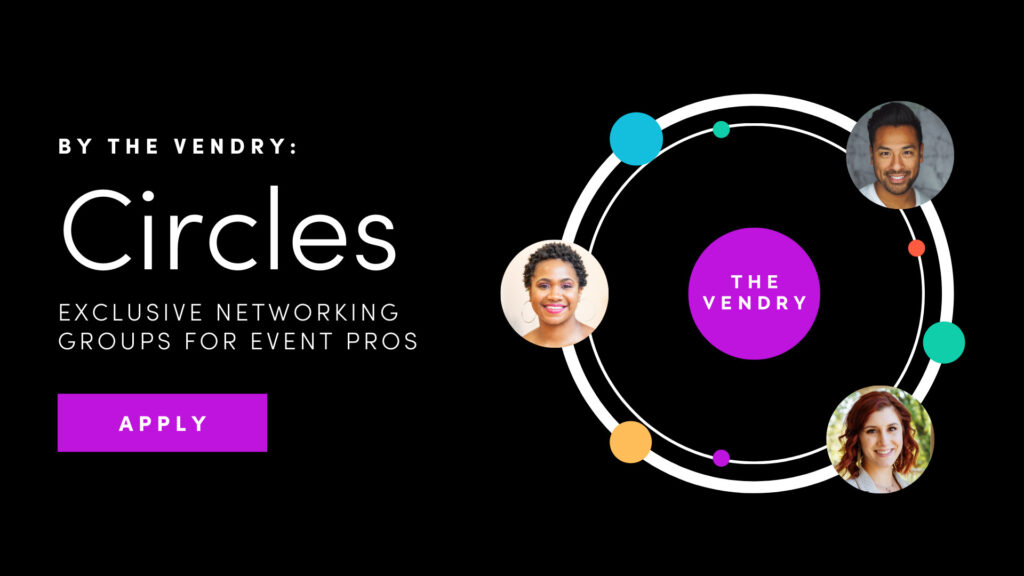 Jobs: Part time, full-time, you name it...
Event Planning Manager | Hyatt Hotels Corporation | Washington, D.C.
Event Manager, Tradeshows | Amazon | New York, NY
Employee Experience Coordinator | BetterCloud| Remote
Browse more event industry jobs.
New Events Featured on The Vendry
Stay up to date on industry news, cool case studies and new events.